Little girl haircuts with bangs are just that – for some reason, bangs look much cuter on young girls than they do on adults, but then again, babies have always been cute. It's no surprise then, that a little girl with bangs hair can capture the heart of many moms and dads all around the world.
Lovely Bangs Hairstyles for Little Girls
If you are looking for little girl bangs for inspiration, we think we might just have the list for you! We believe that every little girl should have a haircut with bangs hairstyle at least once in their childhood – a childhood would just seem off without it!
Without further ado, let us take a look at our list of little girl hairstyles with bangs below and pick your favorite!
This toddler girl haircut with bangs style is as straightforward as it gets – straight long hair around the back and eyebrow-level bangs at the front. Remember not to let your baby girl's hair grow too long or her hair might not be able to grow healthily otherwise!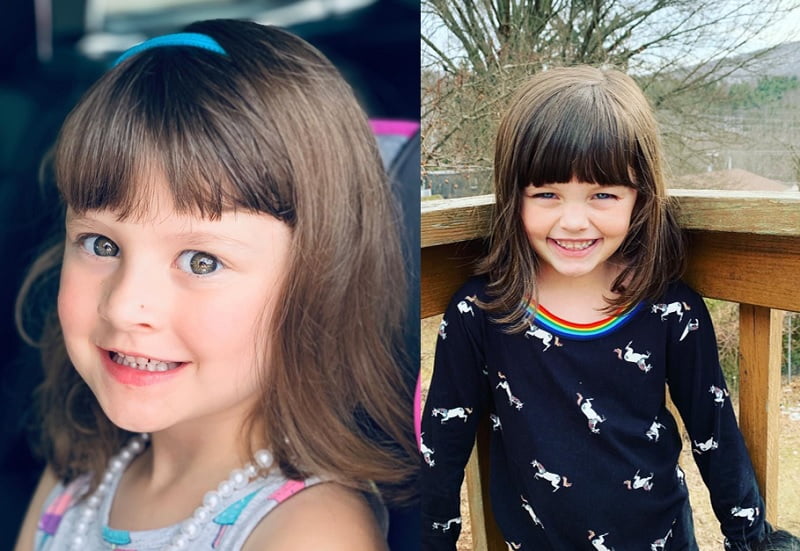 Western girls usually have their hair a little more loosely curled. This would often be their natural hairstyle, which has a certain allure and charm to it too! When you see this little girl bangs matched with naturally curly hair, you'll see just how cute these little girls can be.
3. Adorable Pigtails with Bangs
Tie two pigtails at the side and leave some bangs at the front, and you'll have yourself the ultimate Asian little girl haircuts with bangs! If you ever visit the Asian countries, chances are that you will find a few girls with hairstyles just like these ones. It's just so cute!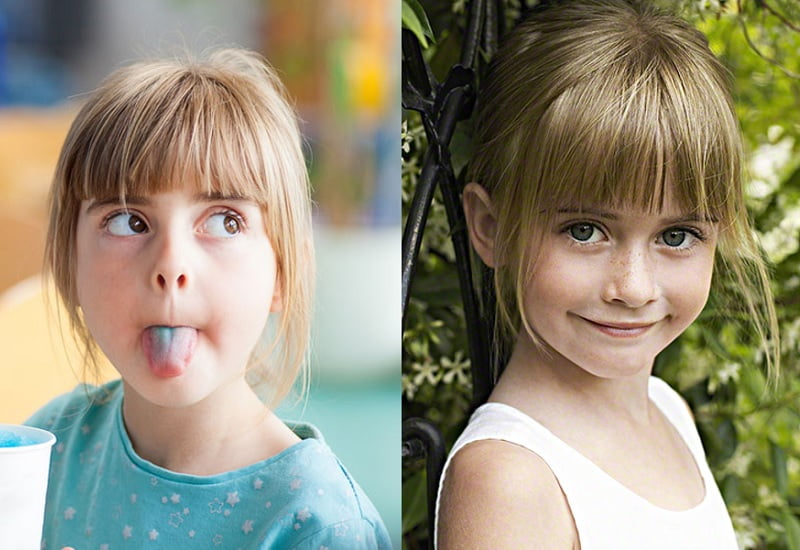 Little girl's bangs don't necessarily need to include equal length bangs all around. Having longer bangs at the side will wrap around your face nicely to make your face look smaller. This trick works on babies and adults!
5. Short Bob with Bangs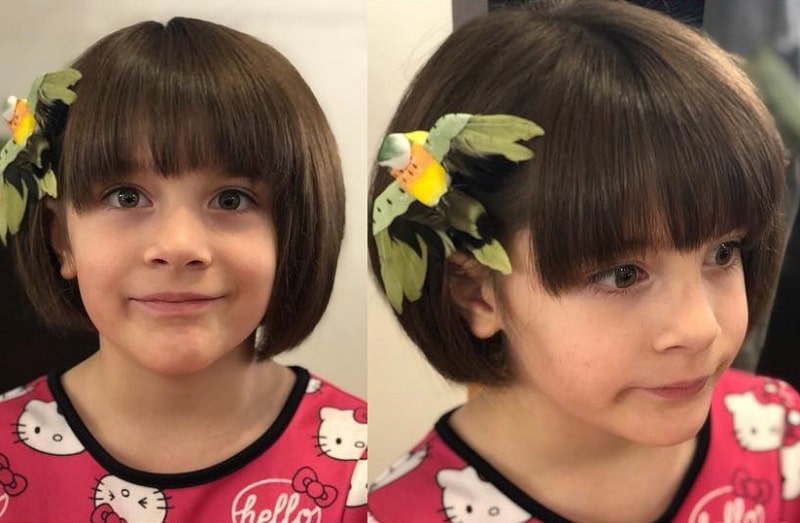 If all else fails, know that you can always keep your hair short and still match it with bangs. Little girls who can rock this bangs hairstyle are likely still able to sport it well into their teenage years and longer still!
This little girl with bangs hair is a little different from the rest in this list. You see, her hair is all tight curls naturally! These little girls are going to look nothing short of amazing with the cute little bangs barely covering their faces.
7. Bangs with a Ponytail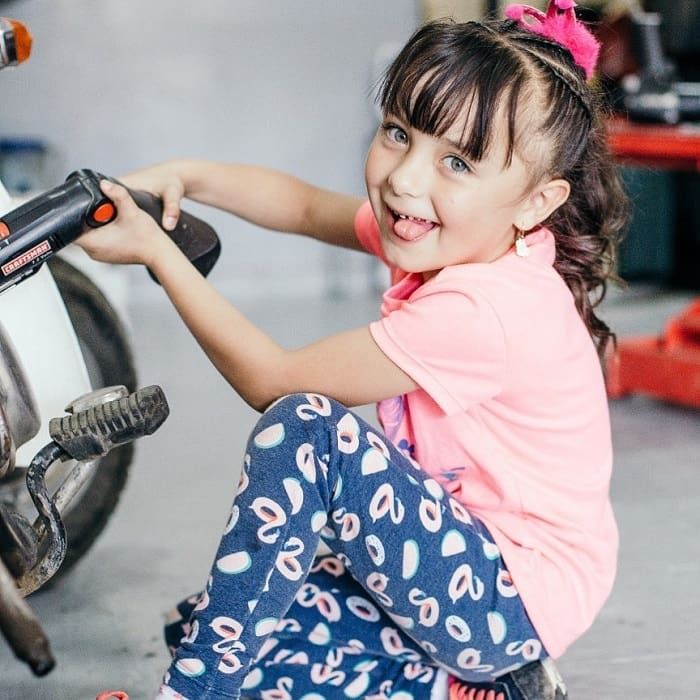 Little girl's ponytail hairdos with bangs are always going to be a hit among girls. This adorable bangs style is going to require at least some medium length hair to pull off, but you will soon see that your little girl can't look any cuter than she does with this hairstyle!
8. Long & Loosely Curled Hair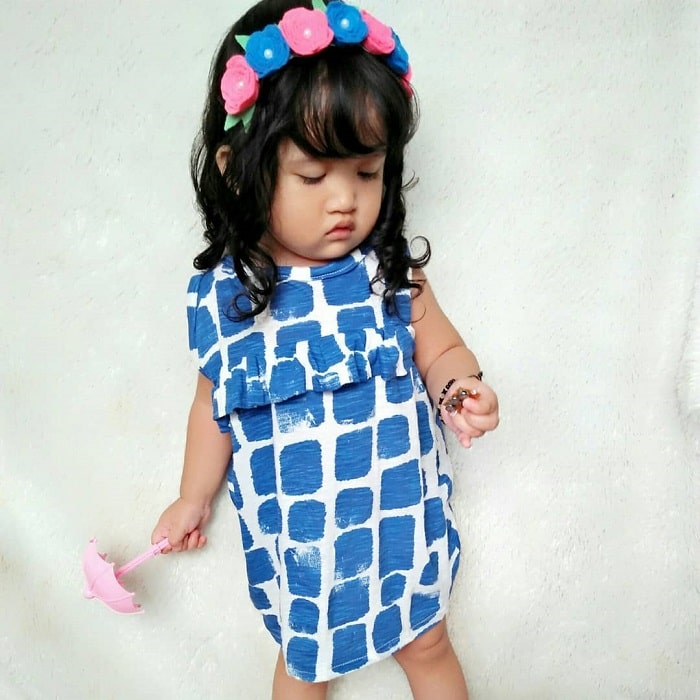 Look at this charming bangs hairstyle! This little girl wears her blue and pink flowers atop her long bangs, and her cute curly hair just gives her look even more charm. This can be your next option for longer bangs for little girls!
9. Cropped Short Hair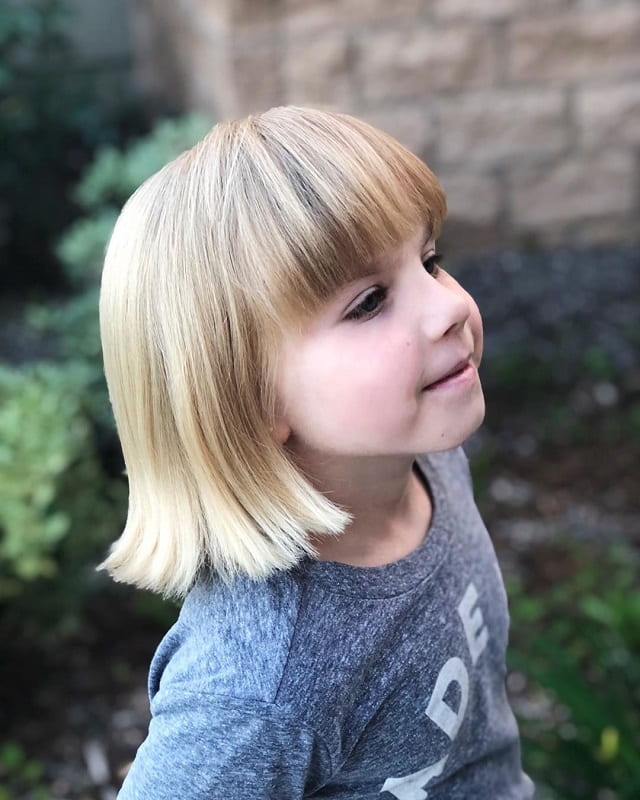 Your little girl can also sport short hair that has been cut blunt and straight like this girl's here. The bangs and hair at the back are both cuts along a straight line, making it look neat and tidy too!

This little girl bangs hairstyle is all centered around her thin curls. It's a charming look just like any other in this list, with her curls looking gentle and soft around her face. Isn't this a charming look? We love it!
That would be all for our little girl haircuts with bangs for now, but stay tuned for other hairstyles for little girls and boys from us!
There are plenty of adorable hairstyles that we're sure you'd love if you just browse around, so why not take some time to check the other options that might just inspire you?