School requires neat and sleek hairstyles like braids and ponytails to make sure your child looks disciplined.
If you're looking for ways to style your little black girl's hair for school, you're at the right place because following are 21 hairstyles for school that we think will be perfect for her.
Trendy School Hairstyles for Little Black Girls
It's common knowledge that handling the hair of little black girls can be a little harder than others since they're much kinkier and curlier than the rest.
So when it comes to school, you're stuck trying to find ways to tame your little girl's afro to make sure she looks prim and proper for school. Worry no more! Here we have 21 hairstyle ideas that are school appropriate.
1. Tight Curls + Bow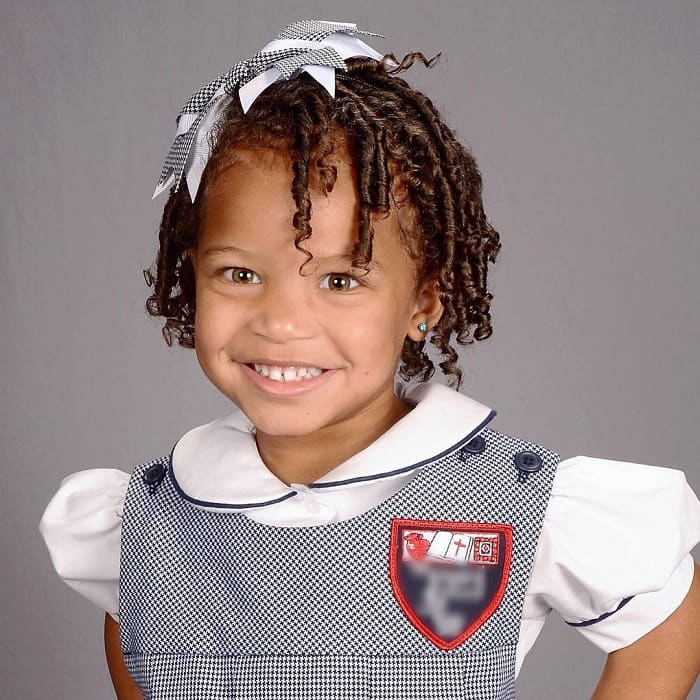 Our first option would be letting her luscious and tight curls loose and accessorizing it and pulling it all together with a large bow to give your black little girl an adorable and neat school girl look.
Adorable Black Baby Girl Hairstyles
2. Natural Double Ponytails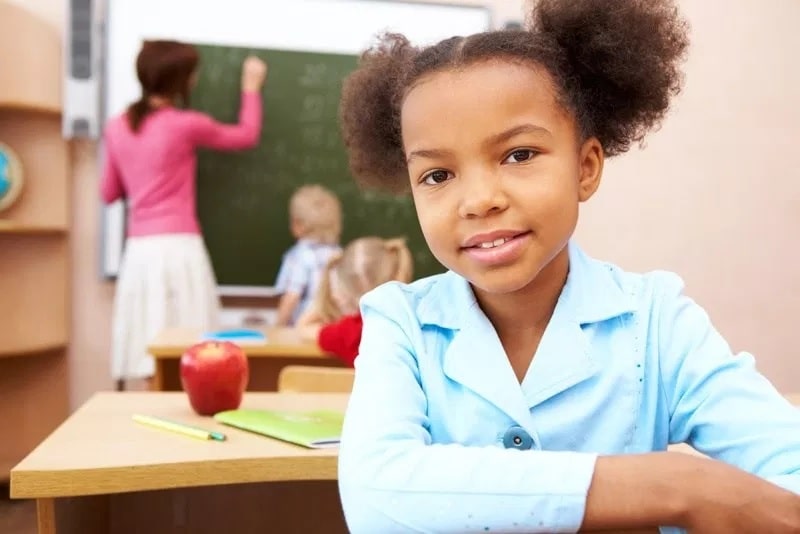 Another great option would be parting her hair down the middle and tightly tying them into two high ponytails like two smaller afros to make your little girl look neat, put together, and ready for school.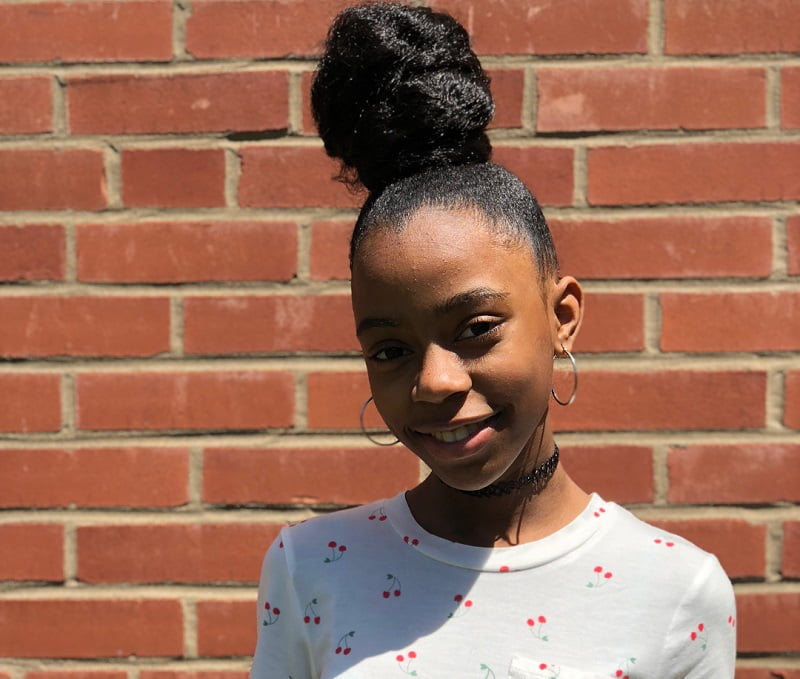 Give your little girl a Beyonce look with this gravity-defying top bun which is the epitome of all things chic and trendy. All you need to do is neatly comb back her hair and gather it all into a high bun.
4. Half Up Half Down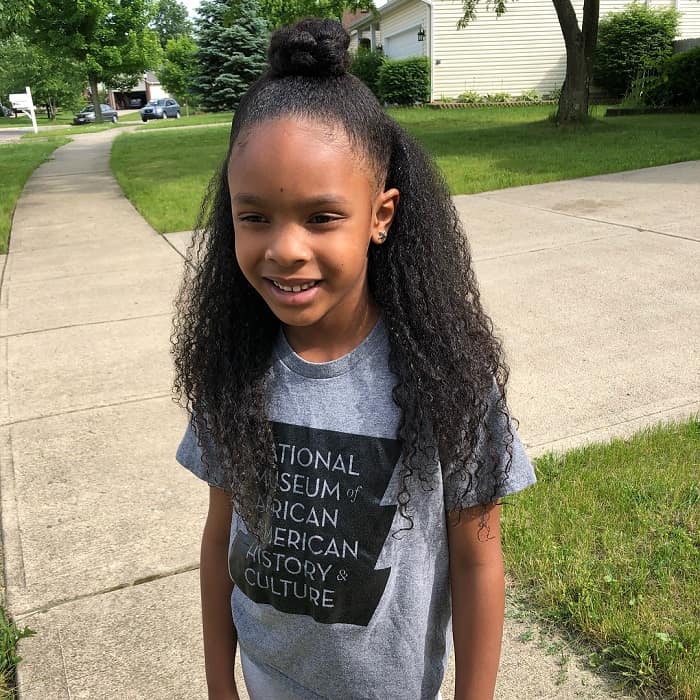 After thoroughly brushing out her hair, precisely tie half of it into a top bun or high ponytail using a cute scrunchie for a look which allows her to look neat and fresh without restricting her natural curls too much.
5. Braids and Pigtails
This little black girl's hairstyle for school may seem complicated but it's unbelievably easy. All you need is a bunch of colorful hair ties and 5 minutes to spare for this seemingly intricate but hassle-free look.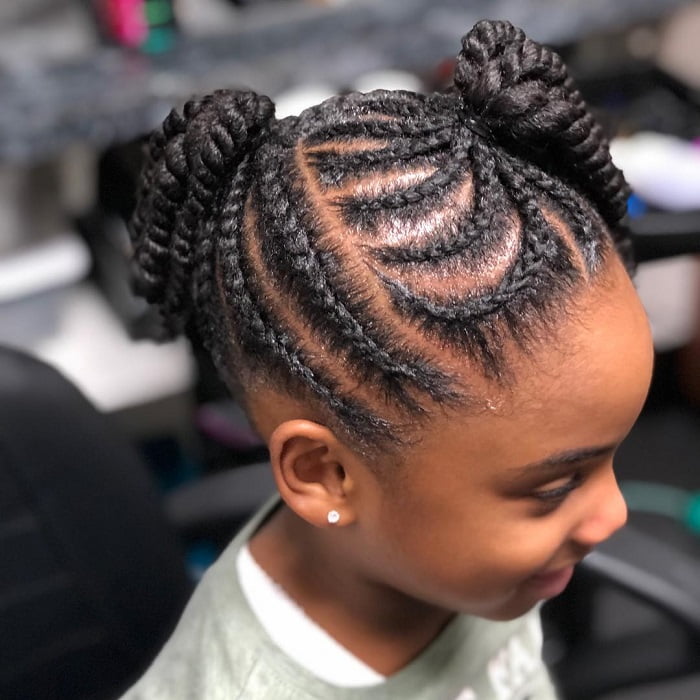 Cornrows are ideal hairdo for school as they keep the hair out of your little black girl's face in a chic and sharp look which is why throwing a couple of top buns into the mix will only make things better.
7. Natural Loose Curls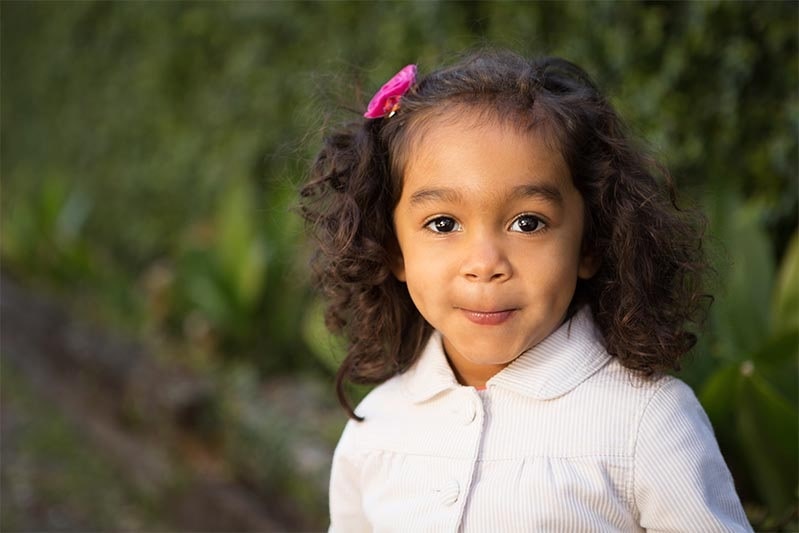 If you're looking for an adorable school hairstyle which doesn't restrict your little black girl's natural hair too much, then this one is all you need. Don't forget to accessorize with a trendy barrette or bow.
8. Criss Cross Braided Buns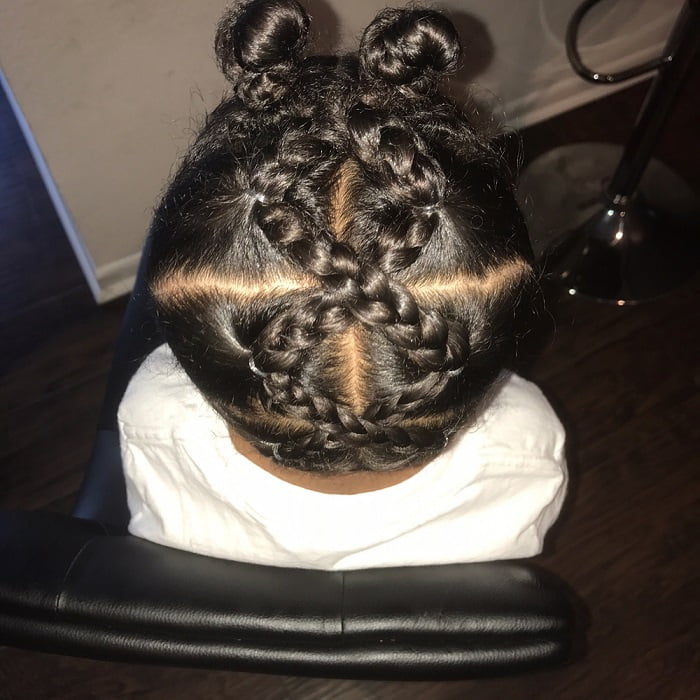 This style is incredibly prim and proper and makes sure your little girl's hair stays in place throughout her school day and the two small buns will make her look innocently adorable.
Gorgeous Bun Hairstyles for Little Black Girls
9. Multiple Tight Buns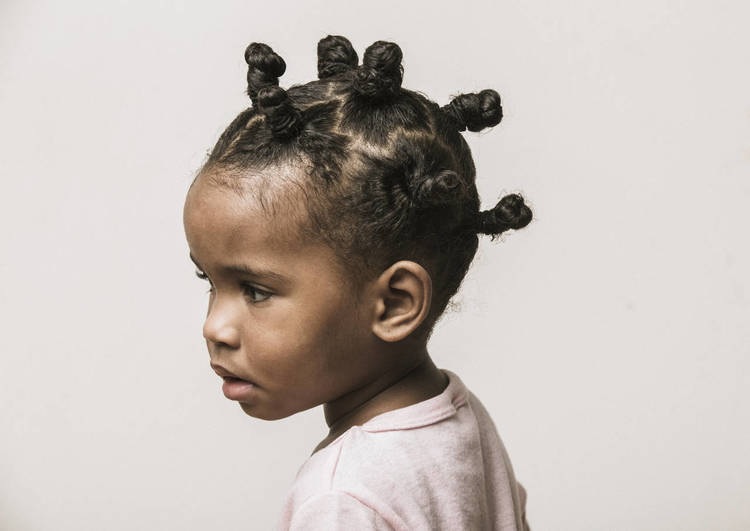 This look is ultra modern and trendy and even the Kardashian's kids are seen rocking it.
If your little girl is the type to stay fashionably up to the minute, this black hairstyle would be perfect for her to rock at school as it's modish, tidy, and seriously adorable.
10. Pigtail Plaits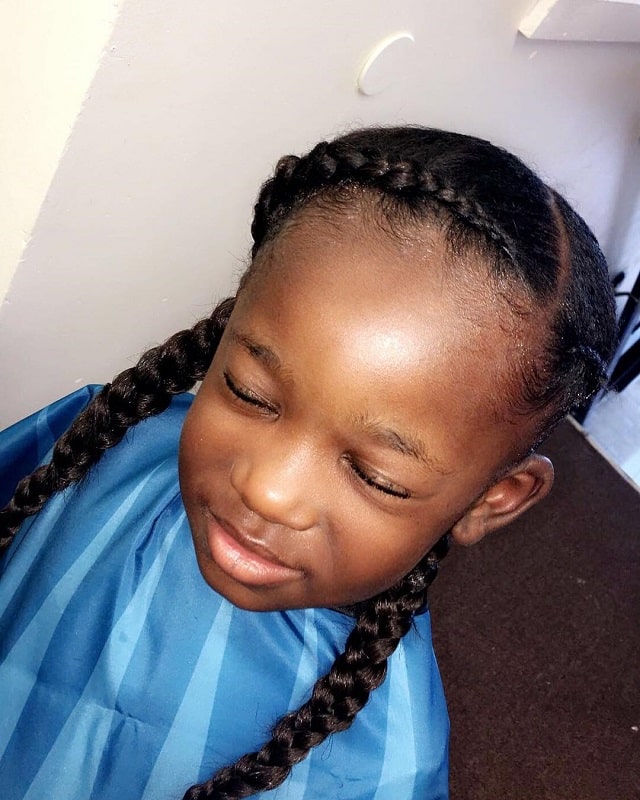 This is a classic hairstyle for black little girls which barely takes 5 minutes to accomplish and is the ideal school girl look. Begin French braiding the sides of her face, then transition them into two pigtail plaits.
11. Bubble Pigtails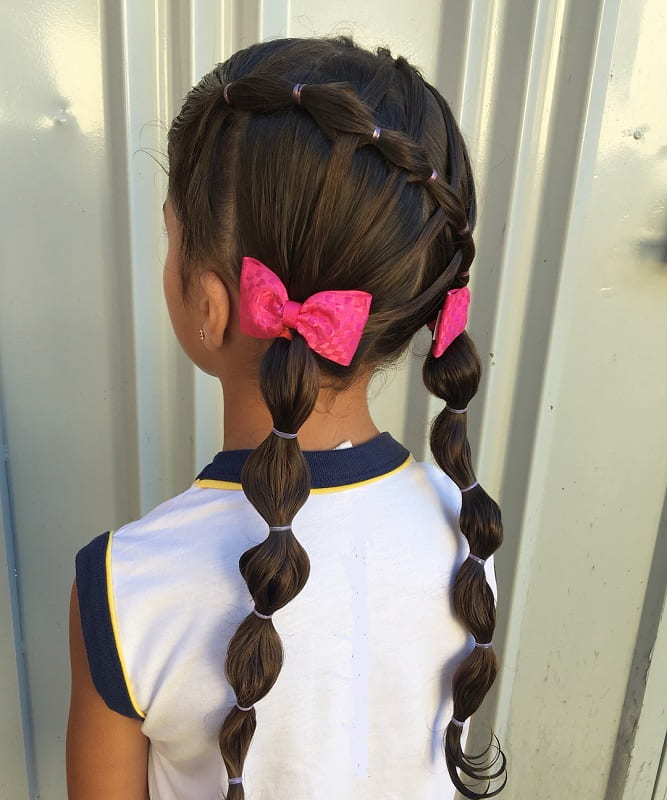 Bubble ponytails are a super easy and super fun hairstyle that could easily become your go-to. What's more is that accessorizing it with small pins and bows will add extra points to her look.
12. Double Tight Braid Buns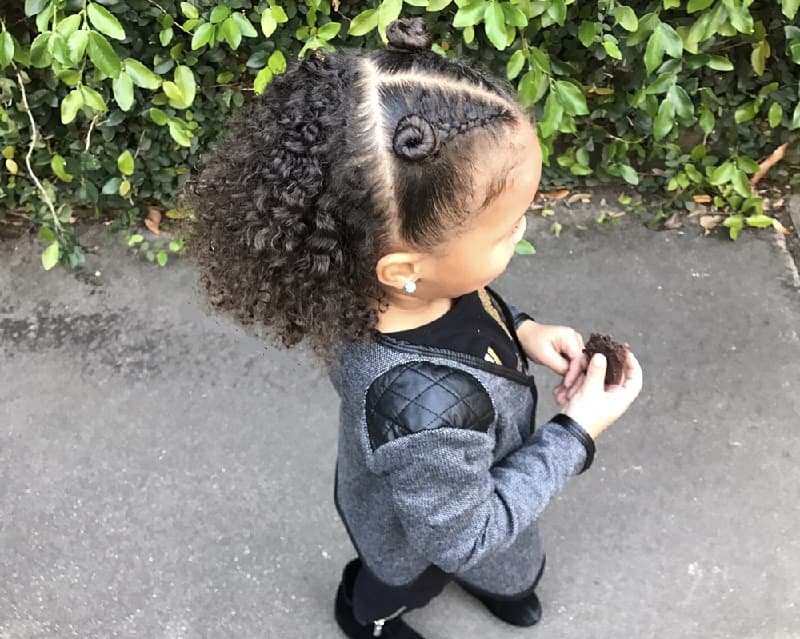 Begin with two tight braid buns at the crown of her head and then let the rest of her natural curls flow. This look is all things trendy and adorable and will make your black kid look the cutest in school.
13. Thin Cornrows
As classic as normal cornrows look, thin cornrows just look much neater and fresher. This hairstyle might be time-consuming, but when you see the end result, it's seriously worth it.
14. Cornrows Pigtails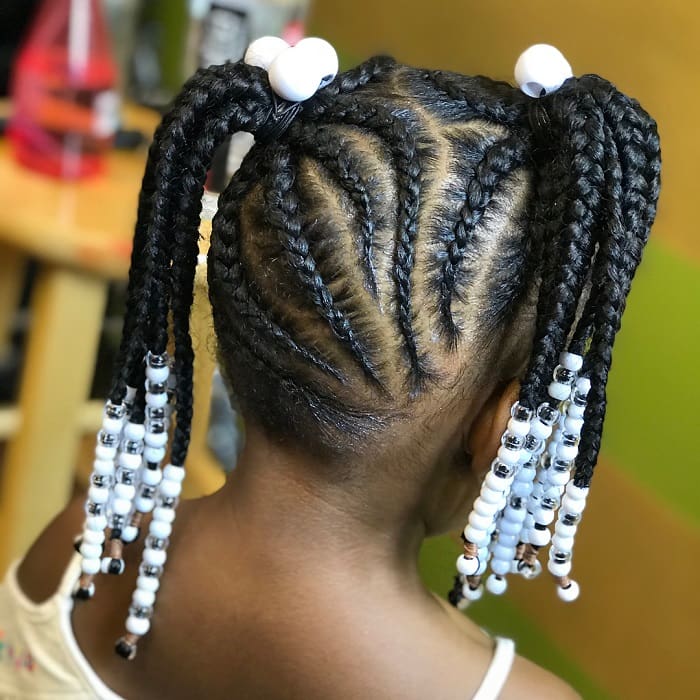 This school appropriate hairstyle will make sure any little black girls hair is well kept and pulled back. Begin by braiding her hair into tight and thick cornrows and tying them off at the top into two bundles of braids.
Beautiful Hairstyles with Beads for Little Girls
15. Thick French Braid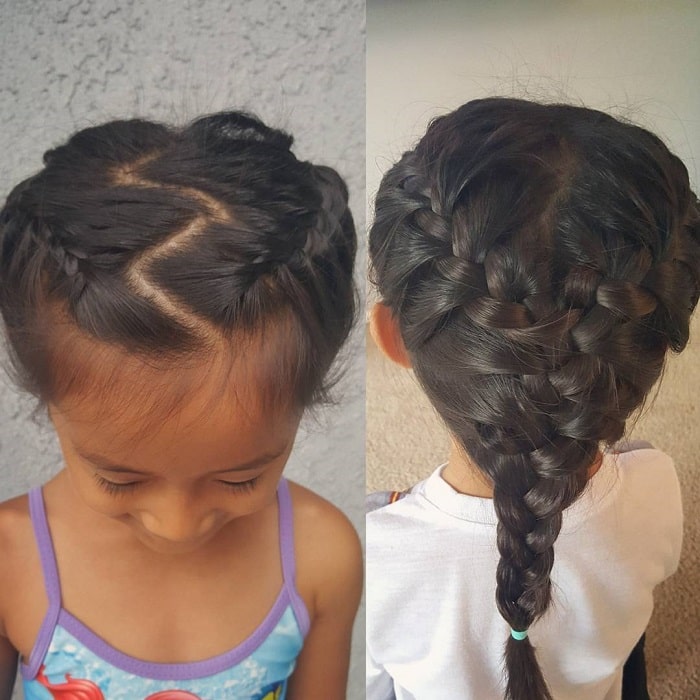 French braids are a classic hairstyle which is why they'll always make your kid look amazing, but adding a zig-zag pattern, in the beginning, will be the perfect cherry on top of your look.
16. Multiple Bubble Braids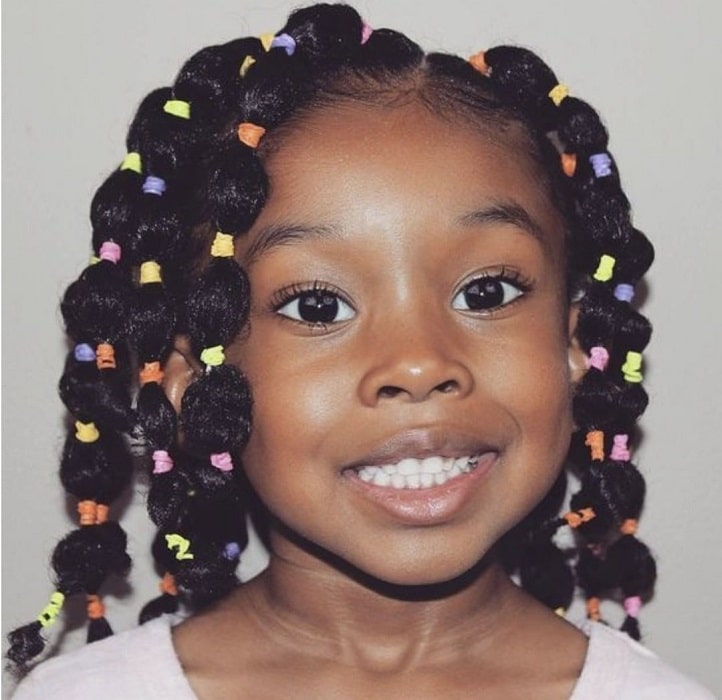 Here's another cutesy look with bubble braids; grab a bunch of colorful hair ties and get done with this super quick but eye-catching school hairstyle for black little girls under the span of 5 minutes.
17. Twisted Braid High Ponytail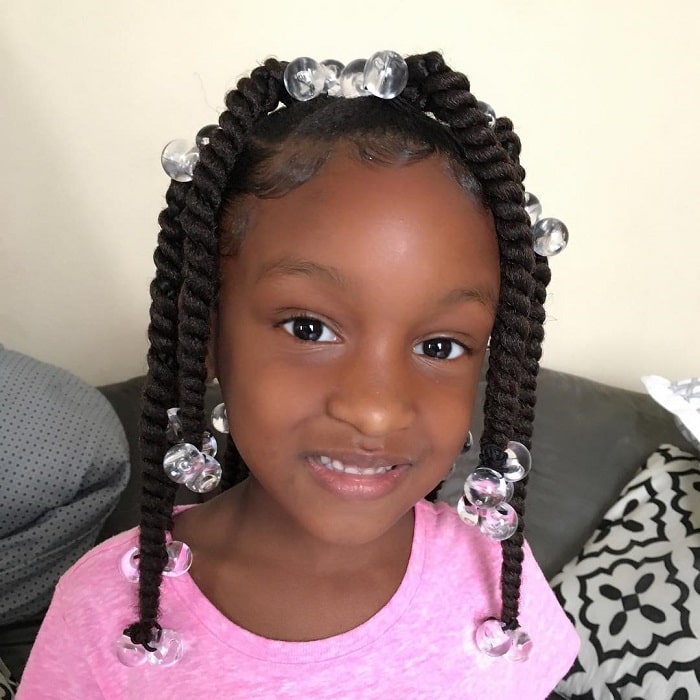 Neatly comb back her hair and tie it into a ponytail. Then style them into thick twisted braids and accessorize with sparkly hair ties. Don't forget to lay down her edges precisely.
Lovely Twisted Hairstyles for Little Girls
18. Braid + Space Buns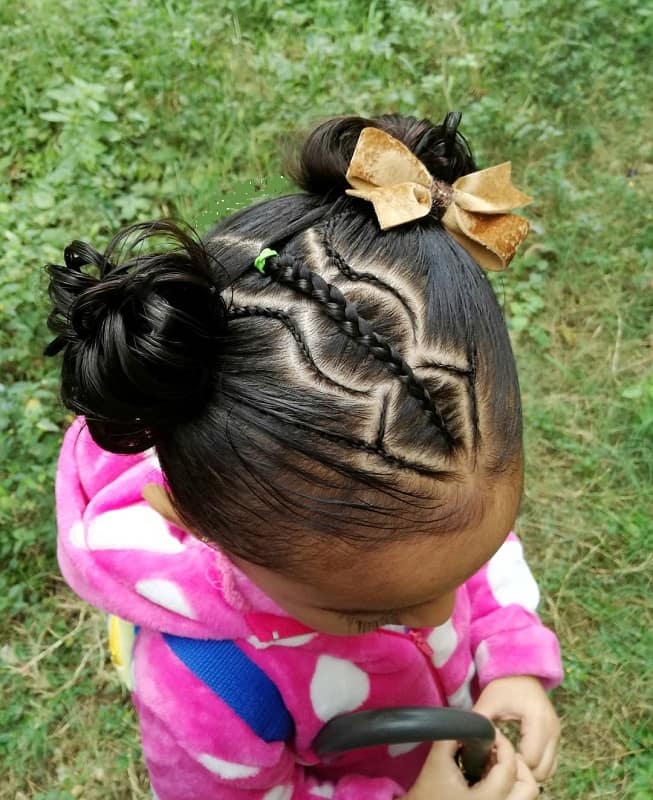 This little black girls hairstyle is incredibly intricate which is why it's ideal for making your girl look school ready.
All you need is a little precision when it comes to braids and a colorful little hair bow to accessorize.
19. Webbed Ponytail
This look might look time taking, but it's really not. All it's requires a bunch of hair ties of your preferred color and, if your little black girl's hair is super curly, a hair straightening iron.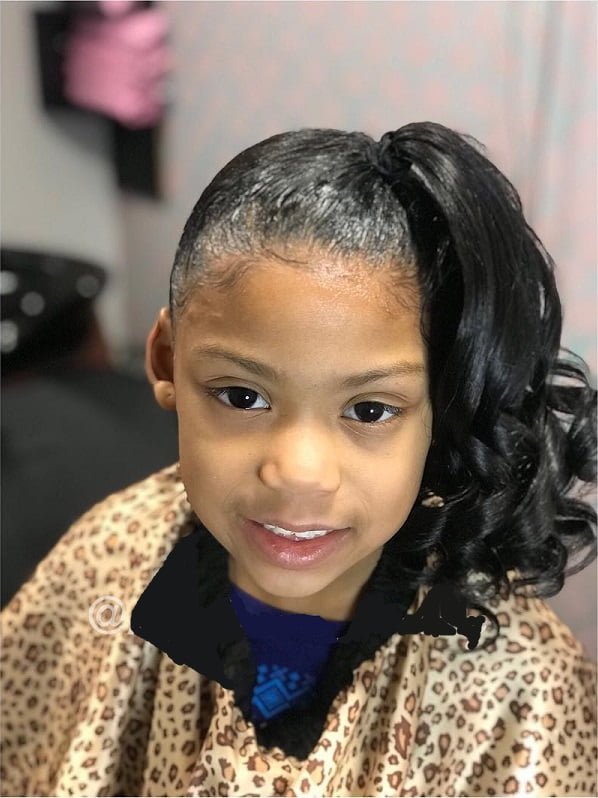 For a simply sophisticated hairstyle for school, all you need is a comb, some gel, and a hair curling iron. Neatly brush back her hair and tightly tie it into a side ponytail.
After gelling down her edges, curl the ends of her ponytail. Top it all off with her favorite colored bow.
21. Natural Afro
Last but not least, it's best to sometimes let her kinky and beautiful hair loose into a gorgeously adorable afro to show off her natural beauty just the way she wants it.
Accessorize with a headband for a pop of color. This is a simple & short hairstyle for little black girls to wear at school.
Glamorous Hairstyles for 10-Year-Old Black Girls
FAQs on Little Black Girl Hairstyles for School
Are these hairstyles practical and stylish?
These hairstyles for school are extremely practical as they are easy to do and take up less time. What's more is that they're incredibly stylish and modish, making your little black girl the chicest kid in school.
Why should I choose these hairstyles for school?
It's ideal to choose one of these 21 hairstyles for your black little girl going to school because these hairstyles are super practical and easy to do.
Are these hairstyles suitable for school only?
Although these hairstyles are best to make your little girl look neat and fresh at school, these hairstyles are also ideal for other places and events when you want your kid to look stylish and sophisticated.
Now that you've read our list of 21 little black girl hairstyles for school, you'll never have to fuss about taking too much of your time in the morning and opting for the same old hairstyle again and again!
Because now you have a list of easy and hassle-free hairstyles to help you out each morning before your little girl goes off to school.