Has your child been asking you for a new hairstyle lately? If so, lemonade braids are the next style to try.
Lemonade braids are a gorgeous go-to hairstyle for black women's hair but it looks adorable on children as well. They are famously named after Beyonce's "Lemonade" album where she sported the style.
Lemonaid Braids For Kids
They're usually styled to one side and take anywhere from 4-7 hours to style, depending on how long you want your braids.
What are you waiting for? Give your little one a celeb-worthy new look with one of these 12 styles of lemonade braids!
1. Jumbo Lemonade Braids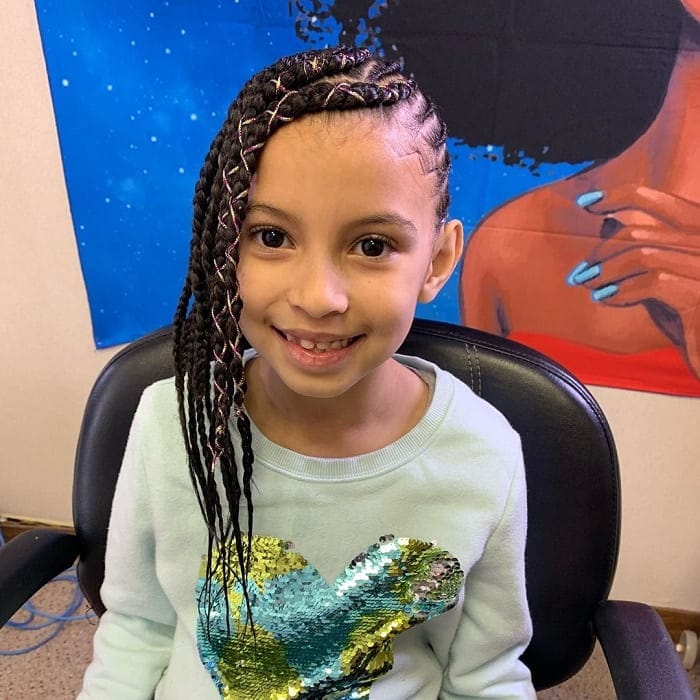 These thick lemonade braids are accented with a pale pink string interwoven in the braids. With all the braids falling over to one side, your kiddo will look very grown-up.
2. Small Lemonade Braids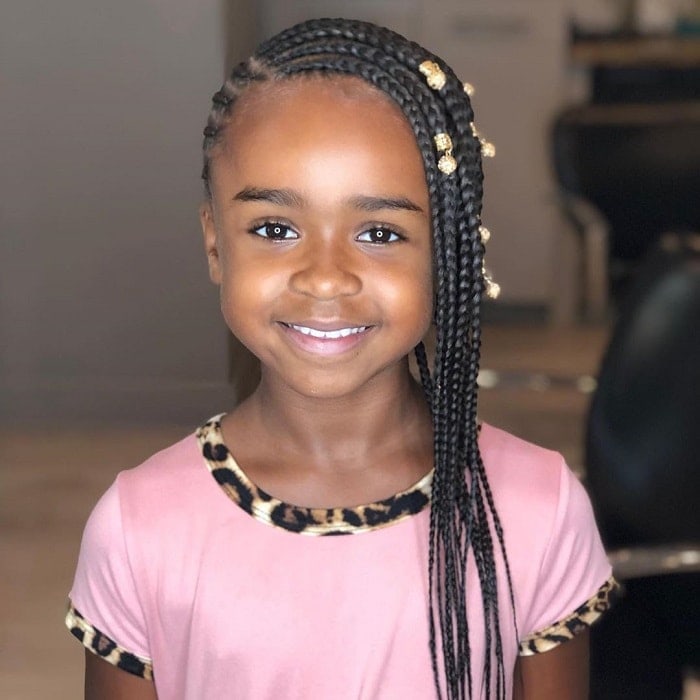 For a sweet hairstyle that your child can wear for school or holiday photos, small lemonade braids with gold beads for accent at the top are the perfect option.
3. Medium Lemonade Braids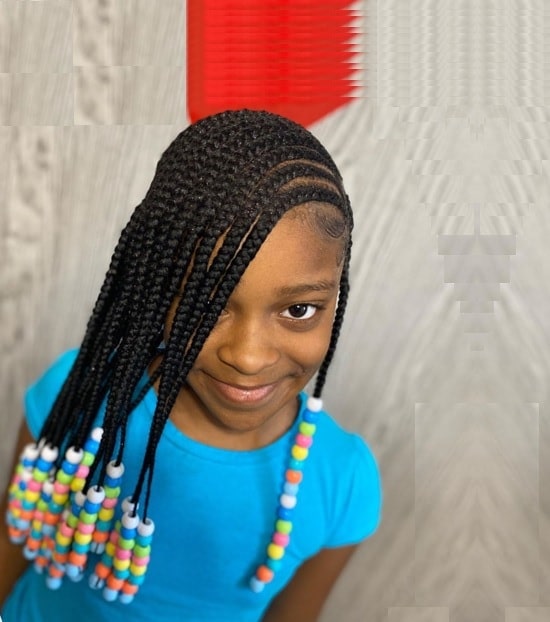 Medium lemonade braids thicken up the overall hairstyle. They also hold colorful beads better, a beautiful detail your child will love to use to express her personality.
4. Curly Lemonade Braids
Instead of wearing lemonade braids straight, curly locks are more girly, the best option for any girl who loves to feel like a princess, not a tomboy.
5. Long Lemonade Braids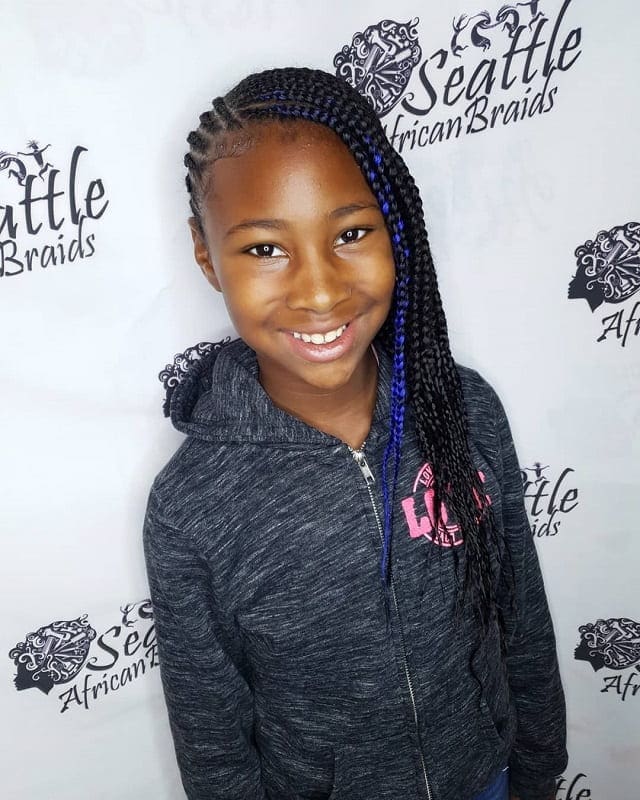 With long braids, they're easier and more versatile for forming low styles like buns or side ponytails. A streak of color, like this dark blue, complements dark skin.
6. Short Lemonade Braids
For the little girl with short hair, these lemonade braids are painted with a light blonde weave. The braid is slightly chunkier at top and thins out at the bottom.
7. Lemonade Braids with Beads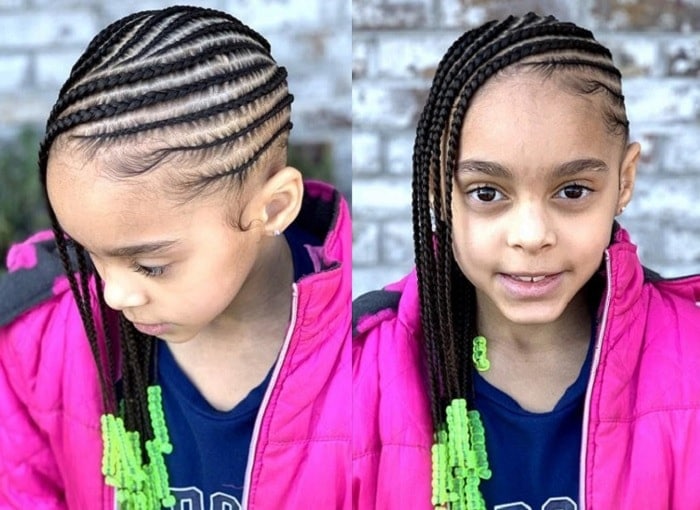 The wrapped braided hairstyle gets a pop of color from lime green beads, but let your little one choose their favorite color so the look has their personal touch.
8. Weave
A weave is a great way to incorporate color into a child's lemonade braids. Choose just a couple strands in a bold color, like dark purple or blue, and fancy it up even more with gold hair jewelry.
9. Lemonade Braids for Natural Hair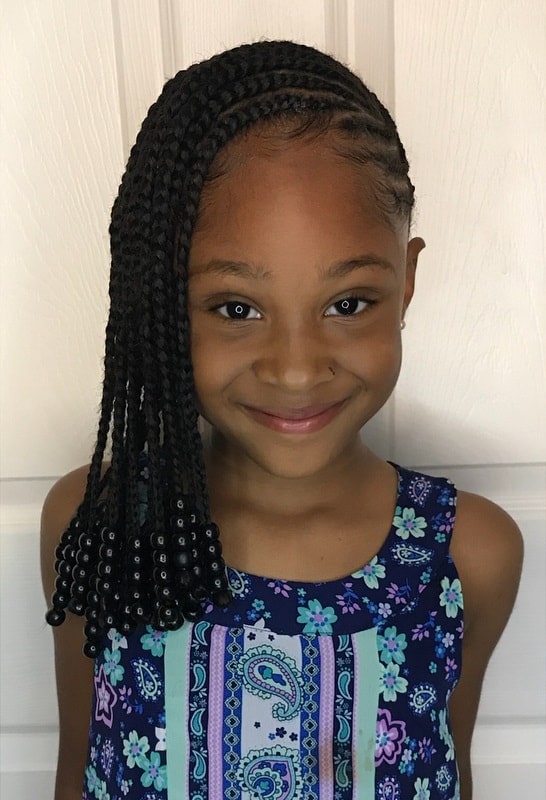 Helping your child's natural black hair grow out is easy with lemonade braids. To accentuate the rich black color, layer the ends of braids with black beads.
10. Micro Lemonade Braids
Micro lemonade braids are the tiniest braids you can get. Instead of letting hair hang down loose, pull it up into a fun side ponytail complete with colorful beads.
11. Bohemian Lemonade Braids
Like the way boho lemonade braids look? Get the style with alternating colors and a mix of braids with loose curly hair.
12. Ponytail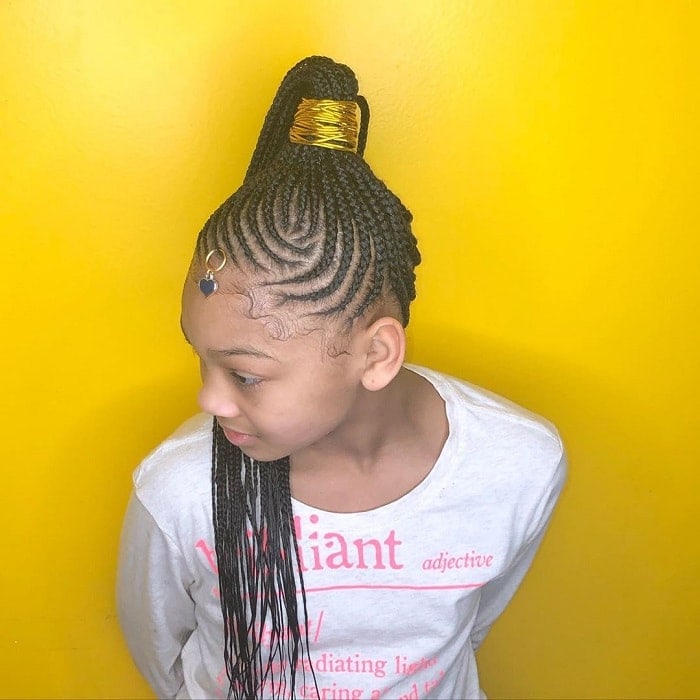 A special charm that hangs at the forehead of a braided ponytail will make your kid feel like Princess Jasmine.
For lemonade braids, you can expect to pay anywhere from $65-$150. With regular maintenance, the hairstyle will last 4-5 weeks. A worthy price to pay for a beautiful protective hairstyle your child will love.