Are you planning a kids' party and run out of ideas thinking – which snacks can be added to the menu?
I decided I'd share my in-a-flash plans for creating snacks for a kids' birthday party that will take the stress out of planning. At least where food is concerned, you're on your own for entertainment!
Finger Licking Snacks for Kids' Party
You don't need to be a master chef or know how to frost things like your Perfect Patty friend over there that makes you gag when she comes up in your newsfeed. We all have a friend like her.
These snacks for a kids' party will make you the cool mom on the block and they take little time at all to throw together all while looking pulled together so you'll have enough time to change into something without stains on it.
1. S'mores Mix
You could absolutely put out a bowl of chips, but where's the fun in that? S'mores Mix makes you look like you did something more. Plus, if your kids are little, they can help make this and they'll be proud they did something.
All you need to do is mix 2 cups of mini-marshmallows, 2 cups of mini-graham crackers, and 1 cup of mini-chocolate chips together. Make it even cuter by swapping the mini-graham crackers for the teddy bear-shaped variety and you're done!
2. Fruit Cones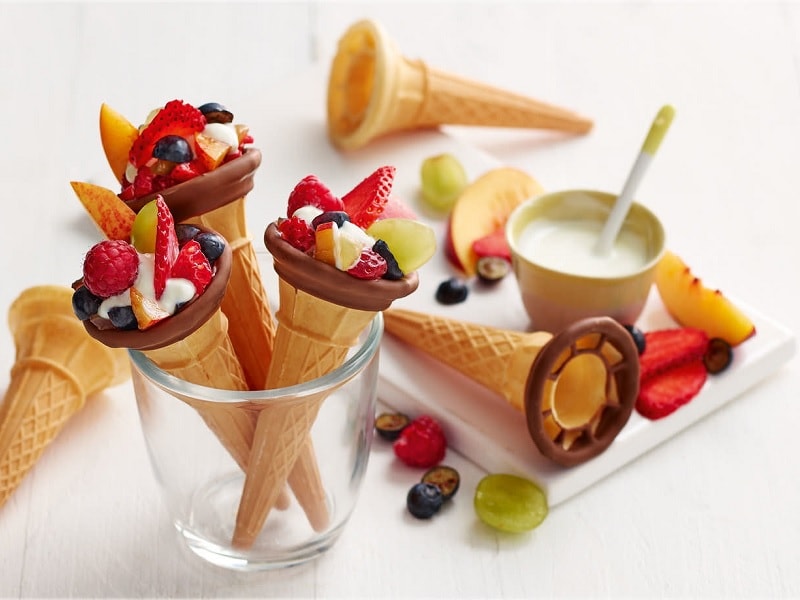 It's not a good idea to serve too many junk snacks at a kids' birthday party. That's why I love to make Fruit Cones. They're fun, refreshing, and healthy.
Kids that never eat fruit suddenly want it when it's served to them in a waffle cone. That's all you need too – waffle cones and the fresh fruit of your choice like berries, fresh slices of peaches, or seedless grapes (slice them up to prevent choking). Inside the cone, line it with parchment paper before putting the fruit in or else it will get soggy.
3. Mini Pizzas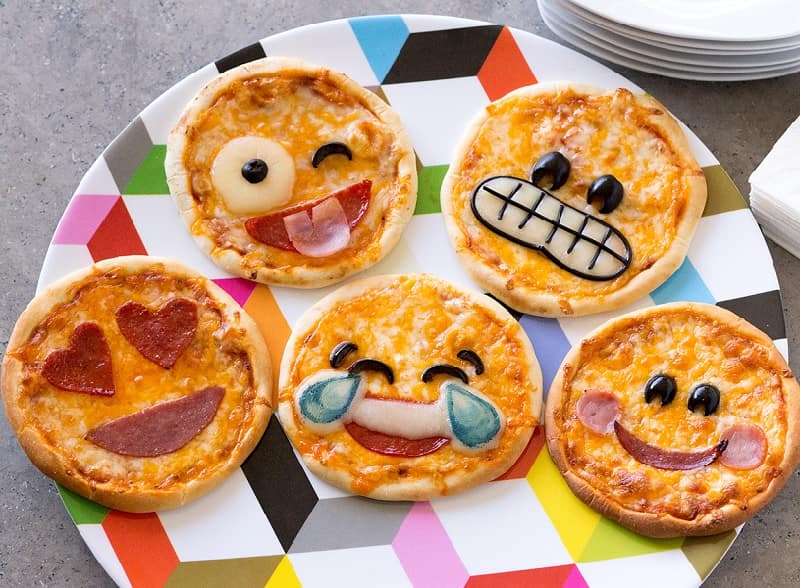 Some moms buy pizzas for their parties. I say that's great if it's not going to break your budget. But budget aside, the worst part about buying pizzas is that kids will take a slice and eat half of it and then leave it.
Plus, if you'd rather have more easy nibbles that kids and adults alike can graze on during the party, making mini pizzas can be a great addition to the kids' party snacks list.
I love using mini-pitas for a healthier version, but you can also use English muffins, or if you'd like that baked-up taste, try ready-made biscuit dough or pizza dough itself. Roll it out and use a glass to cut perfect circles. Then, top it with sauce and toppings.
These snacks are perfect for a kids' birthday party because you can make a ton of them without a fuss. I always make a tray of just cheese-topped mini pizzas as well as some with pepperoni. I make one with veggies too for the adults and always smile when one of the kids eats them.
4. Homemade Ice Cream Sandwiches
A few years ago, it was raining like crazy one weekend and the kids were restless. When the internet went out, that did it. I had to find something to keep the kids from going insane besides rustling through old DVDs. I thought about making ice cream sundaes but then had a brilliant plan.
I had chocolate chip cookies I'd baked the night before. I took them and sandwiched ice cream between them, added sprinkles and chocolate chips, and voila! Ice cream sandwiches! Since then, this has been a staple for my snacks for the kids' parties roster because it's so easy and my kids love making them the night before the party too.
5. Chicken & Waffles Sliders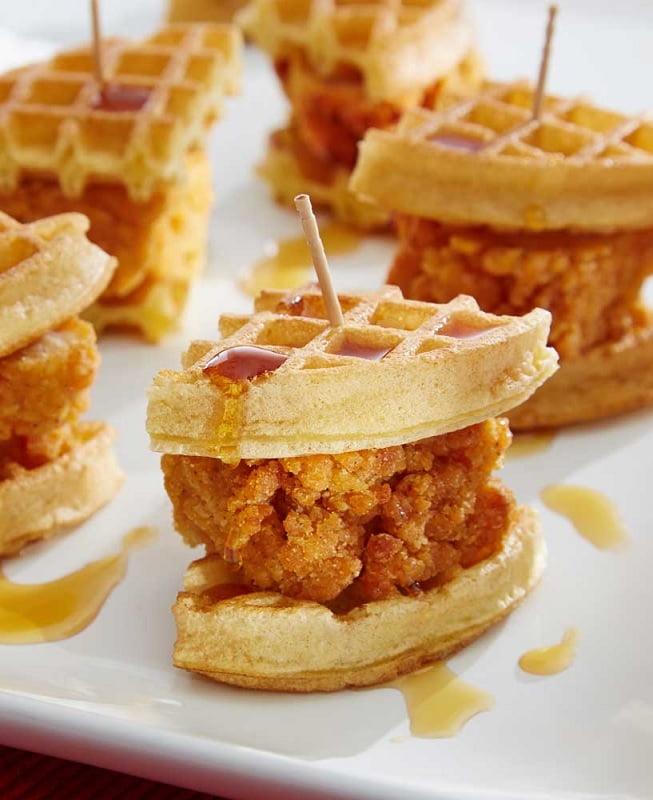 Most kids love waffles, and most love chicken tenders. Getting in on this kids snack trend will rock no matter it's a birthday party or some other gossip party. All you need are frozen waffles and chicken tenders, and toothpicks to hold them all in place. Keep some syrup on the side too!
6. Crispy, Crunchy Taco Cups
Tacos are a great idea for a kids party as most of them love this snack. The fact is, Tacos can be messy. An easier way to give them what they want and avoid leaky shells is to cut up flour tortillas in little circles that fit inside your muffin pan. Add your cooked taco-seasoned beef (or chicken if you'd like!) and top with cheese. Bake it at 350F for about 10 minutes and you're ready for this fiesta.
You can top it with chopped lettuce, tomatoes, guacamole, and sour cream, or even set up a bar of condiments nearby so picky eaters can omit anything they don't like.
7. Baked Cheeseburger Cups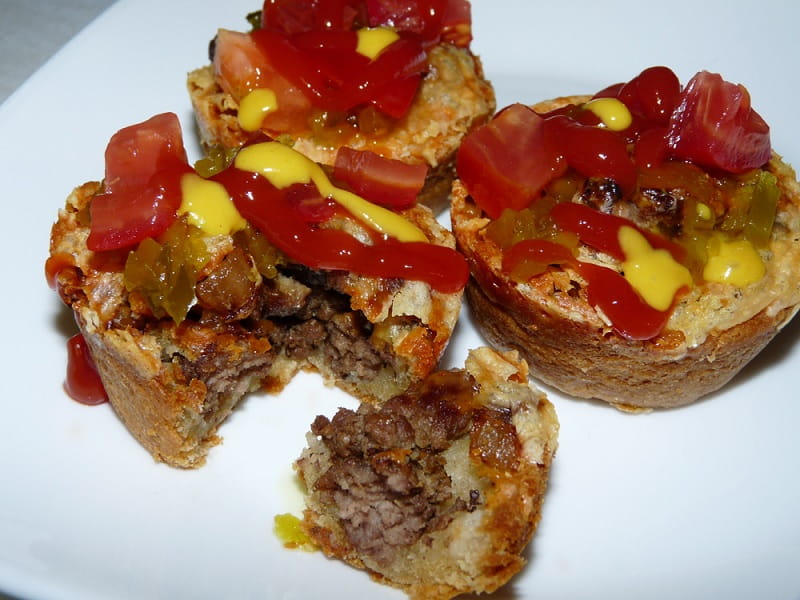 Just like serving whole slices of pizza, if you serve burgers, you're bound to find plates of abandoned burgers gone to waste. Instead, use my favorite hack which is to flatten halves of burger buns and stuff them in muffin tins.
In a pinch, you can use premade burger meat (or even use those meatless vegan ones) or you can cook your ground beef up, seasoning it to your liking. Then spoon some into each cup, top with a square of cheddar cheese, and bake like the taco cups above.
You can garnish with pickle slices and a drizzle of ketchup. It looks pretty that way, but I always err on the side of caution and leaves ketchup, mustard, and pickles on the side.
8. Pull-Apart Grilled Cheese for Everyone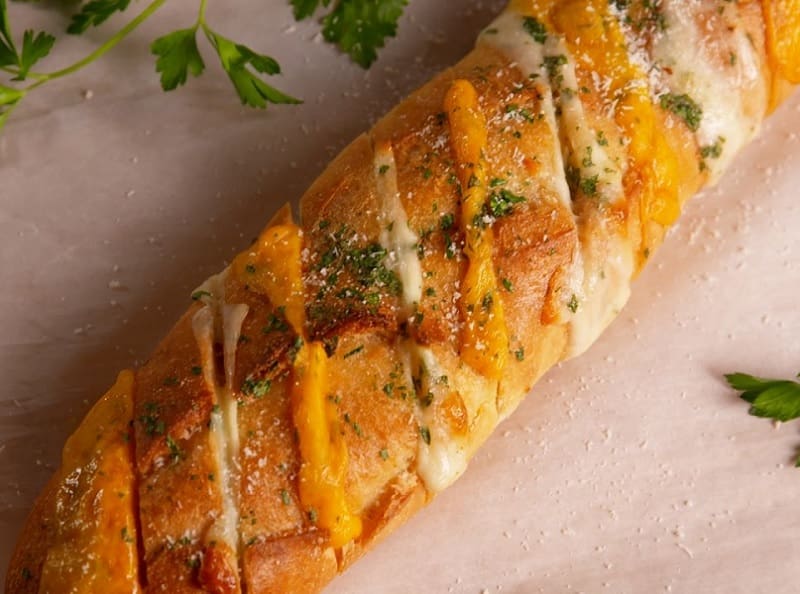 Everyone loves grilled cheese! When it comes to snacks for a kids' birthday party, you could go insane making a ton of perfect grilled cheese sandwiches, or you could make one big pull-apart version.
Take a baguette and slice it diagonally without cutting all the way through. Then stuff each segment with a slice of cheddar and slice of mozzarella. Melt butter and brush it over the top of the whole thing. Bake at 350F for 10 minutes and it should be perfectly golden. You can easily prep it before the guests arrive and then finish it off as everyone is coming in.
9. Magical Unicorn Dip
Are the snacks for your kid's party magical enough? If not, better pull out my secret weapon for girls' parties…Magical Unicorn Dip. It's easy and it will definitely delight every child. Mix softened cream cheese, marshmallow fluff, and powdered sugar until it's well-blended. Then add heavy cream and vanilla and beat until it gets that fluffy texture.
Split this up into as many bowls as you have food coloring for. I like to use pink, purple, green, and blue. When each bowl has been tinted, spoon a little of each into a bigger bowl, alternating so the colors have that magical touch. Swirl it with a knife and top with rainbow sprinkles. Keep graham crackers nearby for dipping. This one goes fast!
10. Cookie Pops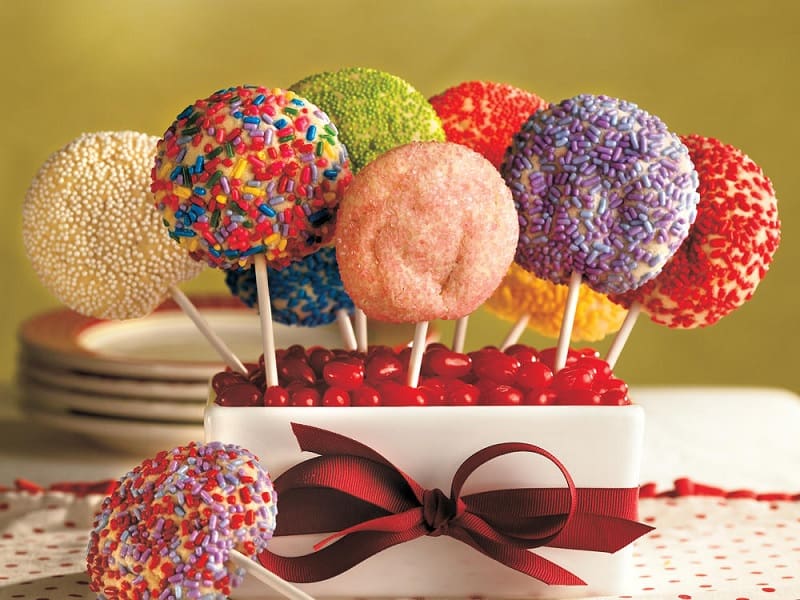 Here's a no-fail solution for moms that have trouble baking. Get pre-made sugar cookie dough and insert a popsicle stick into it. Roll it in fun sprinkles, then bake according to the package. Now you have cookie pops! Kids love cookies and they love things on a stick. But cookies on a stick? Now that's genius!
11. Mini Pancake Stacks
Going for more of a brunch? Make mini pancakes and stack them up in 3's. Top with a swirl of whipped cream and a strawberry. You can use a fun party skewer to keep it together. Syrup on the side is a good idea too!
12. Melon Letter Cutouts
Want to be that totally extra mom? Of course, you do! One easy way to add absolute panache to the list of snacks in your kids' parties is – keep it simple with the ingredients and go all out on the presentation.
You can find alphabet cut-outs and use them to spell out the names of your child's guests. It takes less time than you think and it looks fantastic. Use cantaloupe, watermelon, or honeydew and you can add blueberries on each end to give it a perfect finish.
13. Easy Mac n' Cheese Bites
Every kid loves mac n' cheese. But at a party, it can be hard to serve. That's why I love making easy mac n' cheese bites.
My version is super-simple. Simply make your mac n' cheese on the stove as directed. Take wonton wraps and put them in your muffin tin. Spoon the mac n' cheese in each one and then top with more cheese. Bake at 350F for about 10 minutes or until the wonton has become crispy.
14. Veggie Cups
One thing I hate about serving veggie platters as kids party snacks is that kids either double-dip into the dressing or they ignore it completely. I found a wonderful solution that keeps things clean and allows those that like veggies to enjoy in a portable way.
After all, who wants to hang out by the dips when they can be running in the yard or bouncing in the bounce house? I use those clear, plastic party cups and fill the bottom of each with a bit of dressing, like ranch, and cut up veggies.
15. Healthy Apple Donuts
Want to make a healthy snack that'll grab all the attention in your kids' party? Core an apple and slice it so it looks like a donut. Then add food coloring to yogurt to make it look like frosting. Smear it on each "donut" and add sprinkles. This one is perfect for hot summer days.
16. Sprinkle Bread Sandwiches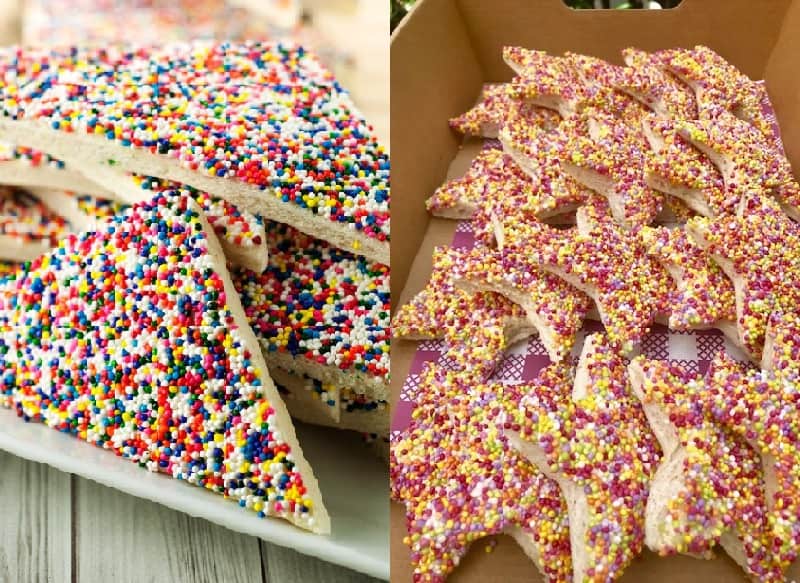 These sandwiches are sure to be eaten quickly! Cut slices of white bread into quarters, then smear cream cheese onto half of them. For the others, use cookie cutters to cut out shapes. Put them together, then add sprinkles (rainbow or chocolate) into the cut-outs.
17. Popcorn Bar
One thing I love about popcorn is it's everyone's favorite snack, and it's easy. If you have an air popper, it's even better. If not, using microwave popcorn isn't a felony. Make several different batches of flavored popcorn and put them in cute containers. The possibilities are endless. You can have kettle corn-flavored, cheese, or even chocolate! Have fun with it!
18. Marshmallow Sticks
This easy snack for kids' parties requires minimal effort and maximum payoff. Simply skewer jumbo marshmallows, dip them in melted chocolate, cover with your choice of sprinkles and allow them to set. These look fabulous as an edible centerpiece too.
19. Homemade Popsicles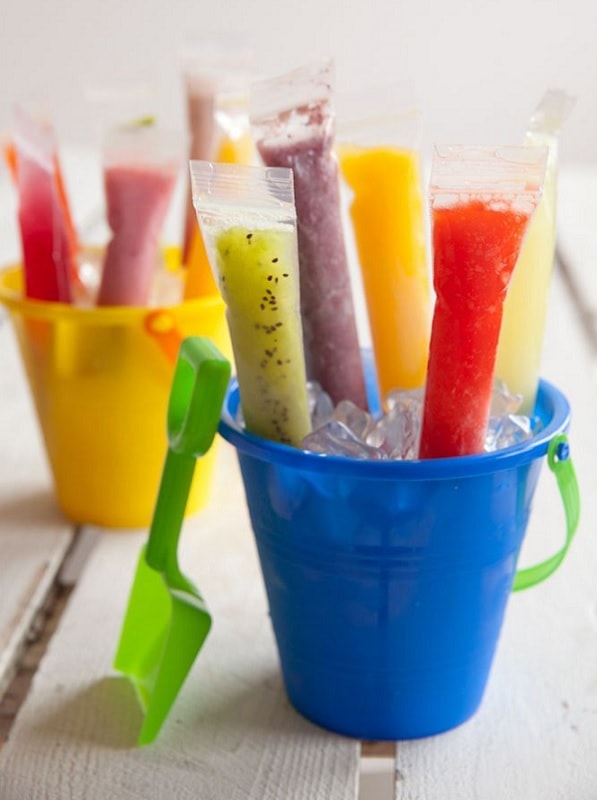 For kids birthday parties, this snack is an all-time hit. For a summer party, I use a staple I keep around the house to make my own kids happy. All you need are those popsicle bags and your favorite juices.
You can make your own juices in your blender or you can use store-bought juice in a pinch. Just fill the baggies, freeze, and serve them when ready. Keep them in a cooler for an outdoor party where the kid can grab them at will.
20. Ham and Cheese Crescents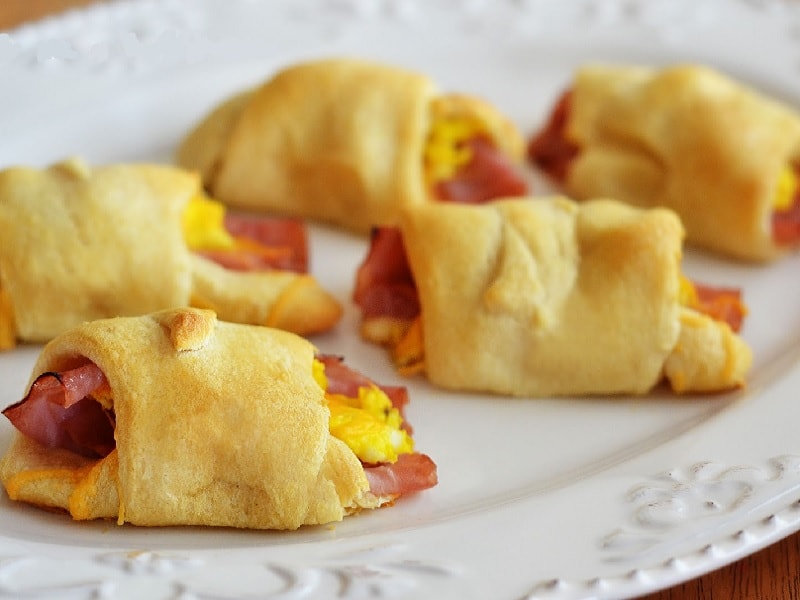 And finally, the last trick up my party sleeve is Ham and Cheese Crescents. This is perfect if you feel overloaded planning everything yet feel guilty just serving sandwiches. All you need is crescent roll dough, ham, and cheese. Roll the ham and cheese together in the crescents and bake according to the package directions. They come out nice and melty and no kid can resist.
Kids love parties too as we all do. The key point you need to focus on grabbing their attention as they mostly will be busy having fun themselves.
Vibrant, colorful, yummy looking snacks will be in the spotlight among the kids and as a parent, you'll need to think about the healthy side too. With these snacks for kids' birthday parties, your kids will be known for having the best party food on the block!