When kids have their own space to work on homework or special projects, then they are likely to feel more productive, confident, and able to handle any issues that may arise.
Parents who want to give their kids a sense of self-achievement will want to consider giving their child a study desk. A great desk for kids provides plenty of workspaces and allows to express themselves in their own area.
Best Desk Ideas for Kids
Finding the right desk for a child can be overwhelming, but it doesn't have to be. Parents need to make sure that they consider how large the desk is, if it has enough storage and workspace for their child and if it will grow with them to meet their needs as they get older.
Doing so will help parents buy a new desk with confidence.
1. Long and Open in Front of a Window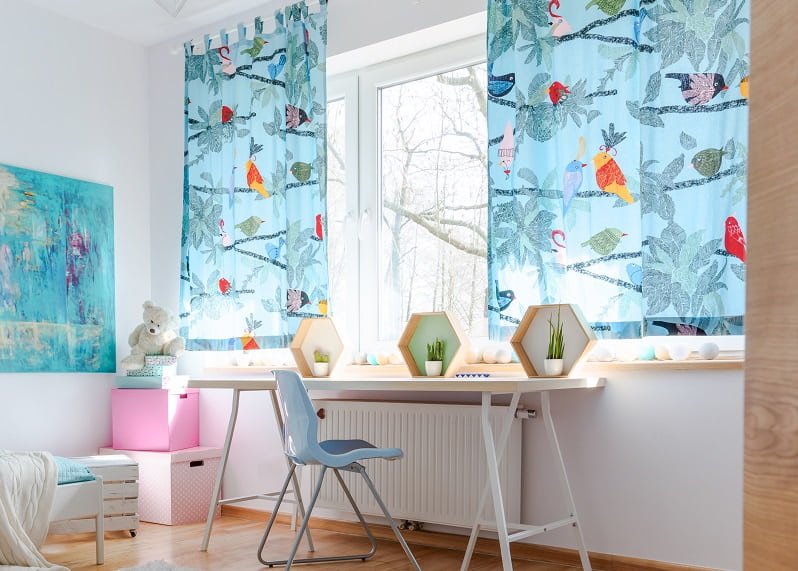 Natural light is very inspiring and is sure to make any child feel more creative. This long desk offers plenty of space for kids to spread out when they are working on a project and is conveniently located in front of a window, which is perfect for daydreaming.
The thin legs stay out of the way so kids don't feel like they are cramped.
Best Baby Boy Nursery Ideas for Small Spaces
2. Tipped and Topped with Gold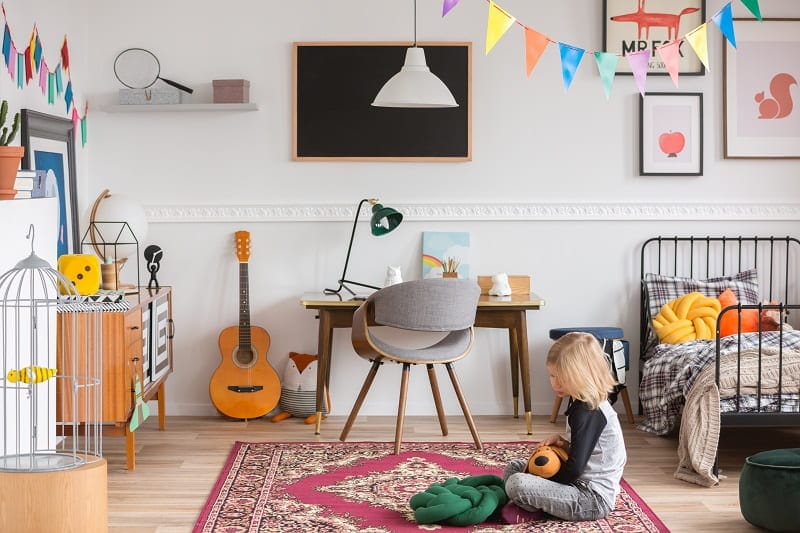 What really makes this kid's study desk look great in this room is that it is topped with gold and that the legs are dipped in gold.
Even though the desk is solid wood and a darker color, this helps make the workspace shape and design really pop and keeps it from looking too visually heavy.
3. Sleek Space without Storage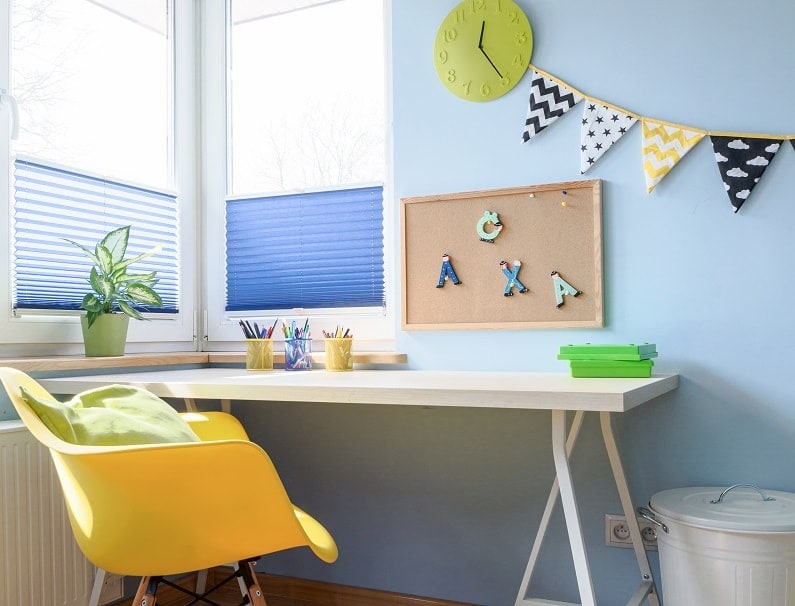 Not all desks have storage, and this sleek desk is no exception. It does feature a corkboard on the wall, which is great for pinning up ideas, as well as a nearby trash can.
Having a place to throw scraps will help keep kids from making a mess when they are working on a large and involved project.
4. Flat Top with Simple Legs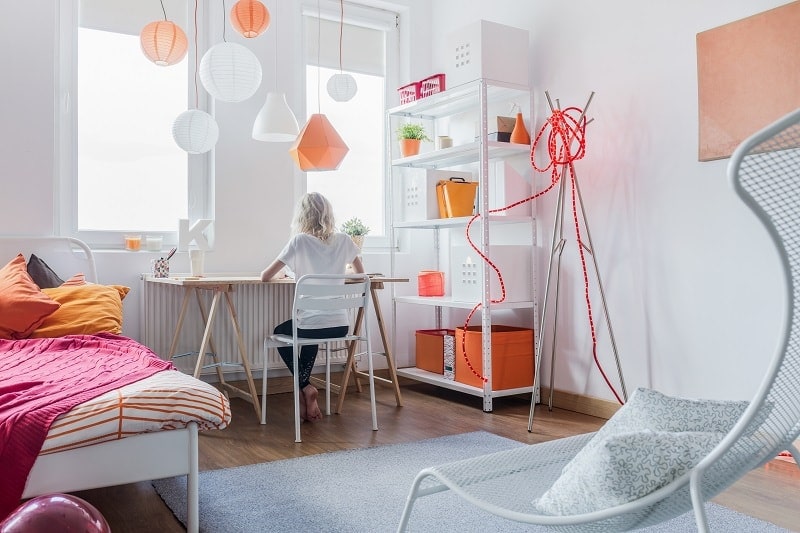 This kids desk is very simple in its design, but that is part of its beauty. The flat top is open and great for working on a project, and the simple legs don't make it look too weighty or heavy.
Located by windows and directly next to a large storage shelf, kids are sure to love working in this space.
5. Rustic Design with Side Storage
Rustic design is a nice alternative to highly modern study desks for kids, and the exposed wood that makes up this station and the surrounding storage looks great.
It's a bit bulkier than some of the other options that parents can choose from, so it's important that the room is large enough to support both the larger size and the visual weight of the desk.
6. Natural Wood
Natural wood looks great in any space, especially when there is more natural wood furniture throughout the room.
This homework station design is very basic, but it's that simplicity along with the exposed wood that makes it such an impressive piece of furniture. The simple wooden chair used with the desk adds a lot of contrast.
7. Modern White with Built-in Shelves
Chic and white, this modern desk is updated and perfect in any room thanks to its bright and clean design.
Not only is there plenty of room for working, but the space offers tons of storage, which means kids can keep their supplies on hand.
It's one of the best kids desk ideas for highly modern or updated rooms and looks great in a bright space.
8. Tripod Legs for Stability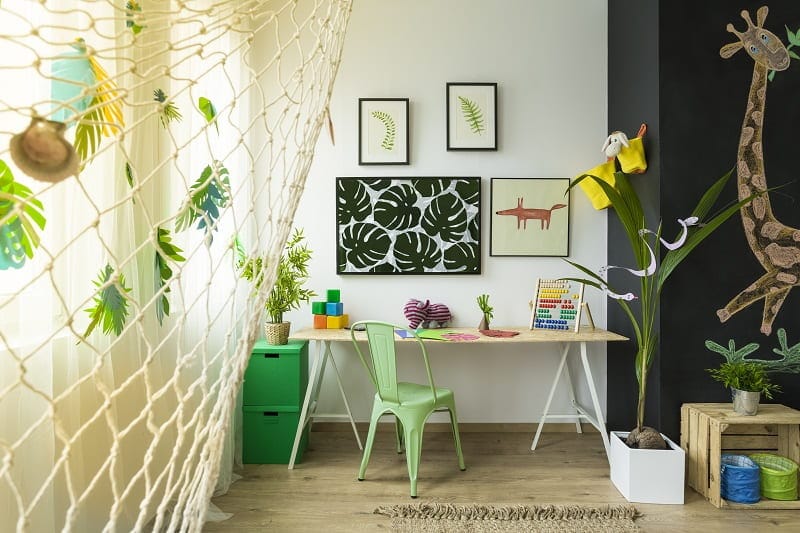 Stability is key when choosing any desk, especially one for a child. What makes this station so great is that the legs are tripods, which helps to prevent the desk from wobbling or rocking when a child is working.
That, combined with the flat top and security of the table being pushed against the wall, make it a safe and secure option.
9. Topped with Geometric Storage
Storage is important with any desk, and the fun hexagons on the top of this study space work as a great backdrop, as well as a place for kids to stash their belongings and office supplies.
It's a fun way to break up the monotony of a white wall while also making sure that the desk offers plenty of function.
10. Smaller Desk for a Little Kid
Little kids don't need nearly as much room as a larger kid will, which means that parents can look for significantly smaller options without feeling like they are going to sacrifice usability or function.
This smaller desk sits lower to the ground but doesn't offer any storage, so it needs to be located by some type of storage in the room.
Some of Our Articles about Toddler You May Find Useful
How to Prepare A Healthy Meal for Toddlers
11. Built Next to Storage Cubbies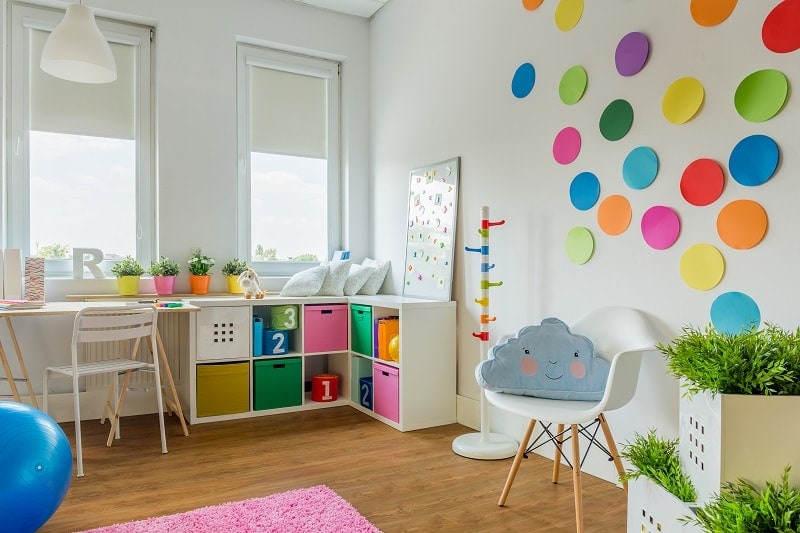 Since storage is key, parents who know the importance of having all office supplies readily available will put cubbies next to the desk.
Being able to keep markers, paper, glue, and glitter nearby, but out of the way, makes it easier than ever for children to work on their latest project. These cubbies make a simple and basic kids desk much more usable.
12. Modern and Black with an Open Shelf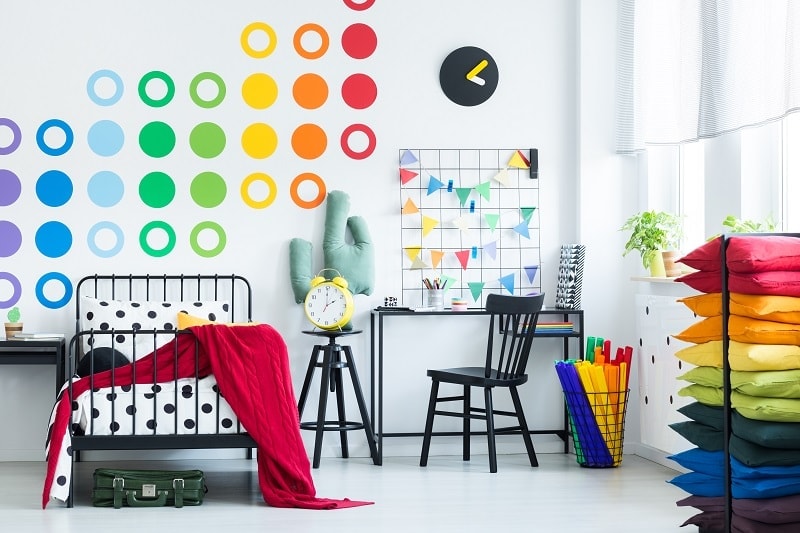 Modern rooms that are bold and bright can sometimes do with a dose of black to help ground the space. This sleek and modern desk features fine lines that are straight and unadorned.
A single open shelf hangs under the workspace so that kids can stash some paper or a coloring book by them when they work.
13. Gray and White Design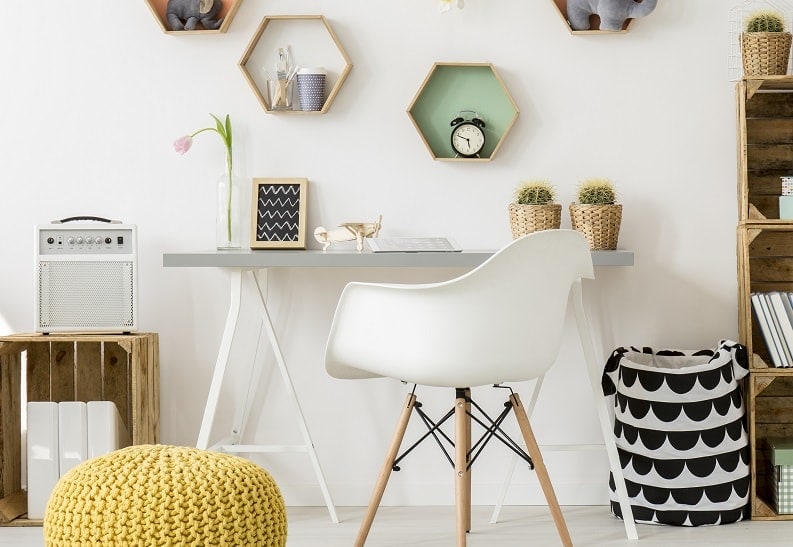 Grey and white look great together and create a very chic and neutral look. A calming desk, such as this one, looks especially interesting when paired with a great bucket chair.
The ample art on the wall over the desk and the plants on the surface will help to contribute to creativity and make children fall in love with their space.
14. Longer with Large Drawers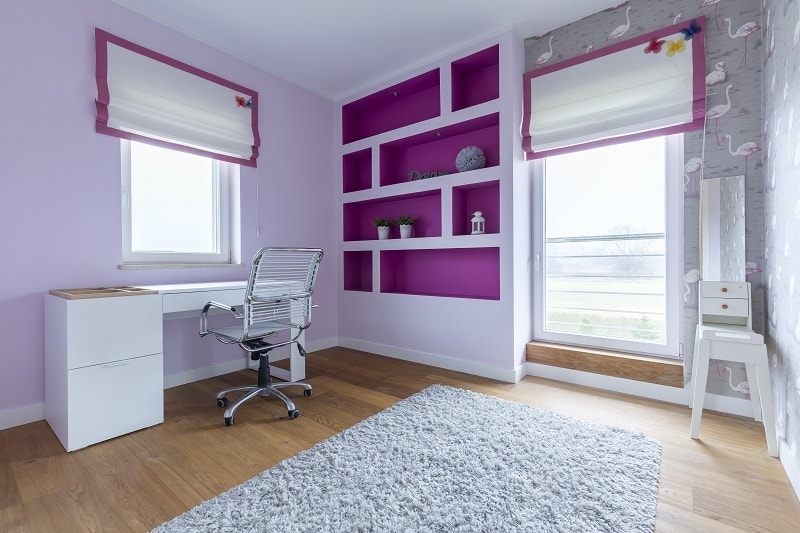 Drawers are key to keeping messy supplies out of the way when working, and this kids study desk features two incredibly long and deep drawers. They provide all of the space that a child needs to clean up their work area.
The top of the desk is very large, and there is even a long and shallow drawer under the workspace for more storage.
15. Sleek Top with a Modern Feel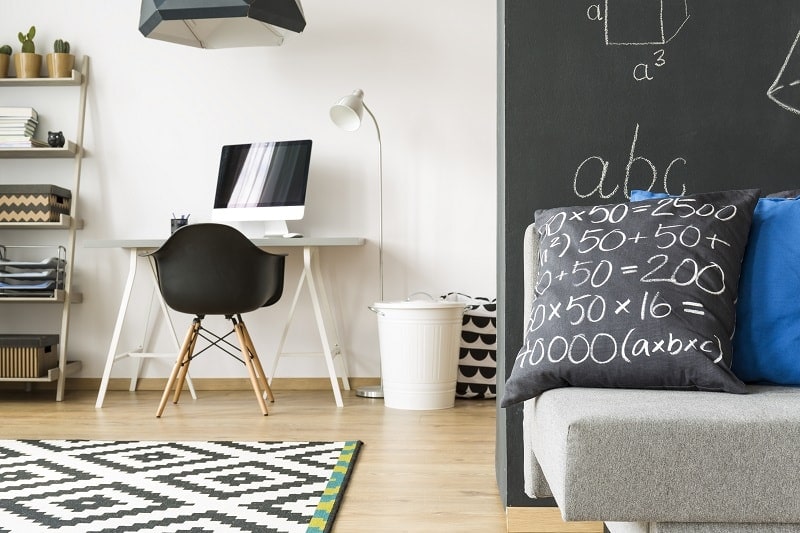 Sleek and modern desks won't look out of place when they are topped with a computer and there is a fun lamp next to them.
The tripod legs on this table provide it with a little visual weight, which is great, as otherwise, it is very sleek and light. A storage shelf next to the desk holds everything that a kid may need when working.
16. Tucked Against the Wall
Desks don't have to be in front of the window to look great, as long as there is plenty of light in the room.
This desk is pushed out of the way on a wall but is surrounded by cubbies and storage, so it looks built into space. This helps it feel like a more integral part of the room.
17. With a Simple Chair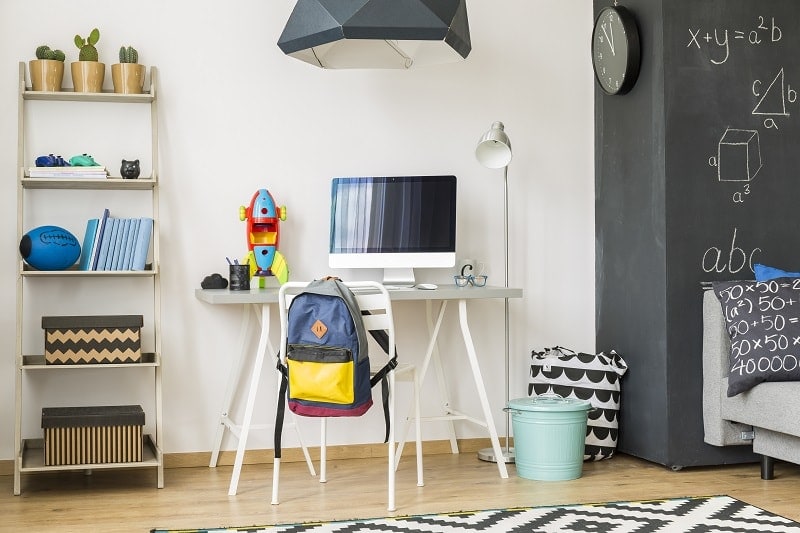 Desk for kids need to have a great chair for working, but not all chairs are built the same. Rather than using a chair that is cumbersome or simply too large for space, this simple option is a great choice.
It's light enough for kids to easily move on their own and incredibly sturdy thanks to its design.
Some Games Ideas for Kids
18. Heavier Wood with Drawers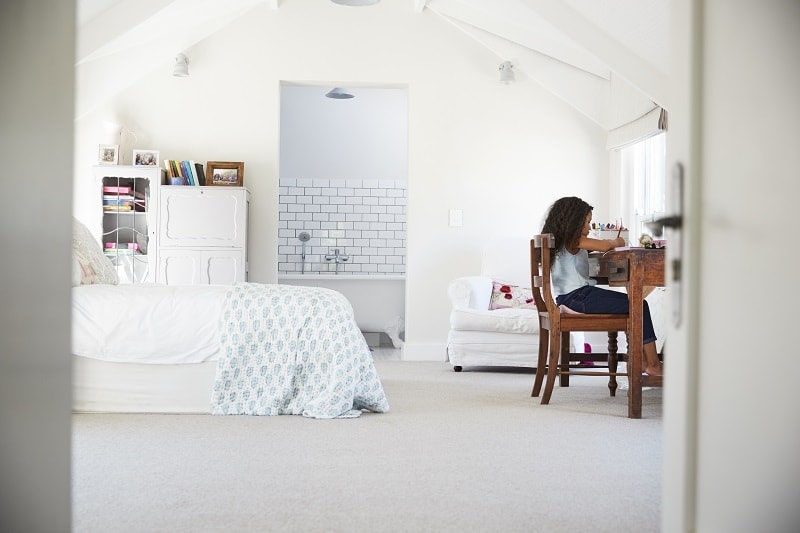 Not all desks are light and airy, and heavier desks can add a feeling of security to a room.
This heavier wood table features storage drawers, which is great for kids who are constantly working and creating. It has very sturdy legs and an attractive, matching, wooden chair.
19. Placed Next to Storage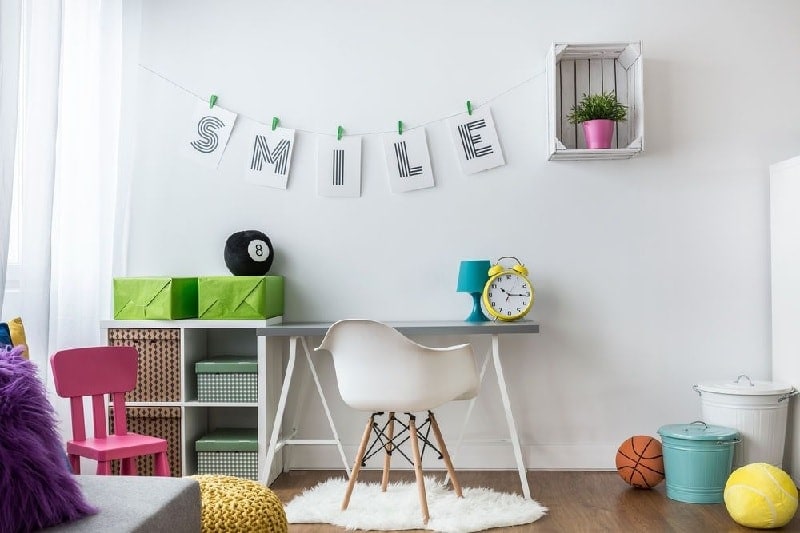 Storage for a desk doesn't have to be oversized, as this space shows. The smaller cubby still offers plenty of space for putting supplies and finished crafts, but doesn't take up an entire wall.
Keeping the cubby around the same height as the desk creates a very finished and polished look without making the space too busy.
20. Multiple Shelves and Storage
Tons of shelves on the top of the desk, as well as shelves underneath, make this one of the most functional study desks and one that kids are sure to love.
It's important for parents to help their kids learn how to decide what to keep on the shelves and what to store elsewhere so that the desk doesn't become too cluttered and turn into an eyesore.
21. Built into the Corner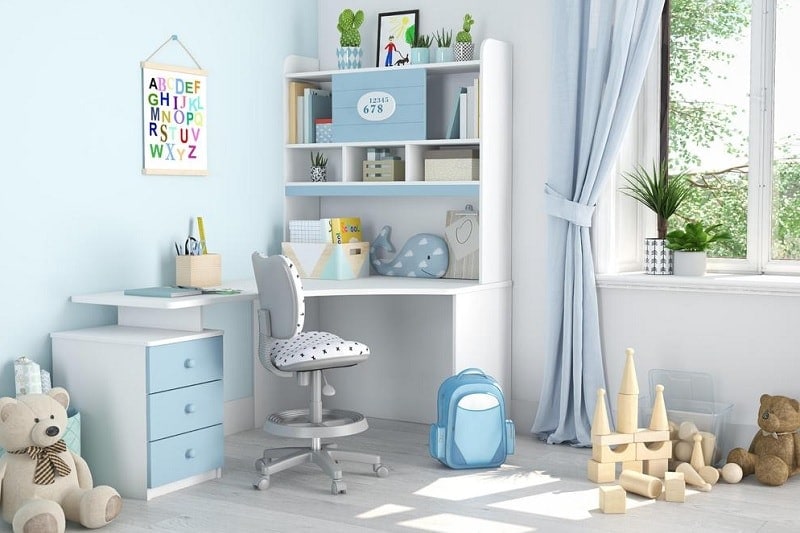 Workstations that fit into the corner do a great job staying out of the way and still allowing children to easily access everything that they need.
This desk for kids has a fun shape as well as storage shelves above the desk and drawers underneath. There is plenty of room for everything that a kid will need when they are working on a project.
These 21 kids desk ideas are all great options for any family to consider. Not only are they roomy, but they are fun and exciting, which is sure to make any type of work much more enjoyable.