There are so many ways to say 'happy birthday big sister' and we are here to add more to them! Big sisters are special, and they deserve great birthday wishes for big sister on their birthday.
No matter the age gap between siblings or how close the siblings are, big sisters tend to be an important part of a person's life, which means that knowing how to celebrate them and make them feel special is important.
Not all big sisters are the same, and they don't all like the same things, which is why it's important to really think about the relationship between the big sister and the younger sibling.
With these great 20 big sister's happy birthday wishes to choose from, however, it's easy for most any younger sibling to choose a birthday wish that the older sister will love. Sharing birthday wishes with an older sister reminds her that she is not only important but is celebrated on her big day.
Sweet Birthday Wishes for Big Sister
If you are a younger brother or sister and want to make sure that your big sister feels loved and celebrated on her big day, but you don't know what to say, then you can simply rely on our great birthday wishes.
We know that all sibling relationships are different, which is why we have so many great happy birthday big sister quotes for you to choose from when talking to your sister. No matter whether you offer her birthday wishes verbally or write them in a card, we'll make sure that she feels special.
1. My beloved older sister, Heartiest congratulations on your birthday! For me, you are not only my big sister but also my second mom. Without you, I'm incomplete. Thanks for loving me, taking care of me and guiding me on the right path. Love you!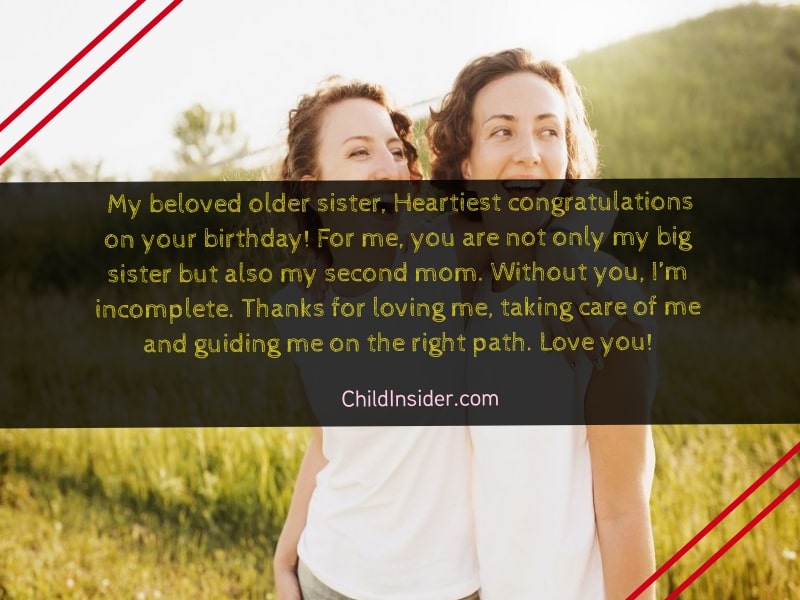 2. The prettiest girl in the world, happy birthday! You are a person with a beautiful heart whom I always find by my side in all ups and downs. I'm fully dependent on you and can't think of living without you. May God fulfill all your dreams and always keeps us together!
3. I'm so lucky having a sister like you. You are my role model and my inspiration. I can never forget what you've done for my happiness. I hope our bonding always remains strong. Happy birthday, sister! Lots of love and good wishes for your life!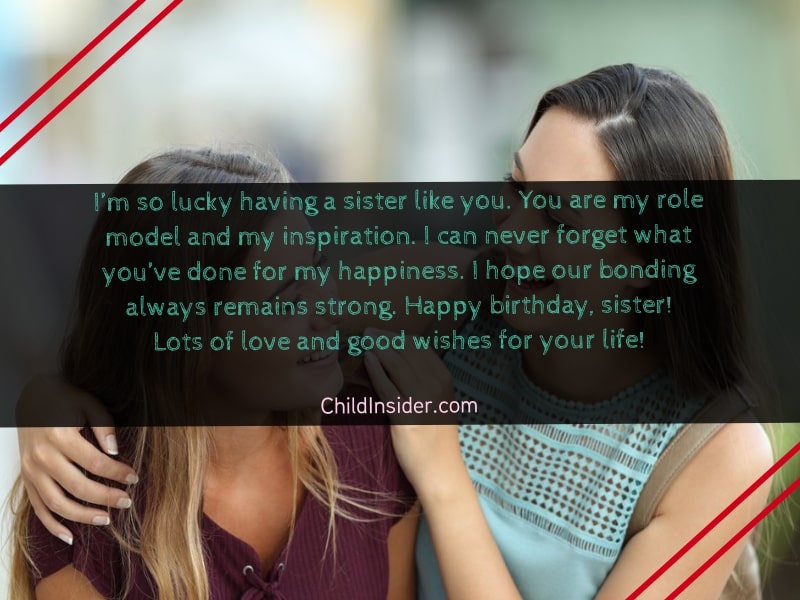 4. You are my elder sister, but sometimes it feels like I'm the elder one. Today on your birthday, I pray to God to give you some maturity. By the way, happy birthday! Have lots of fun and enjoy your special day!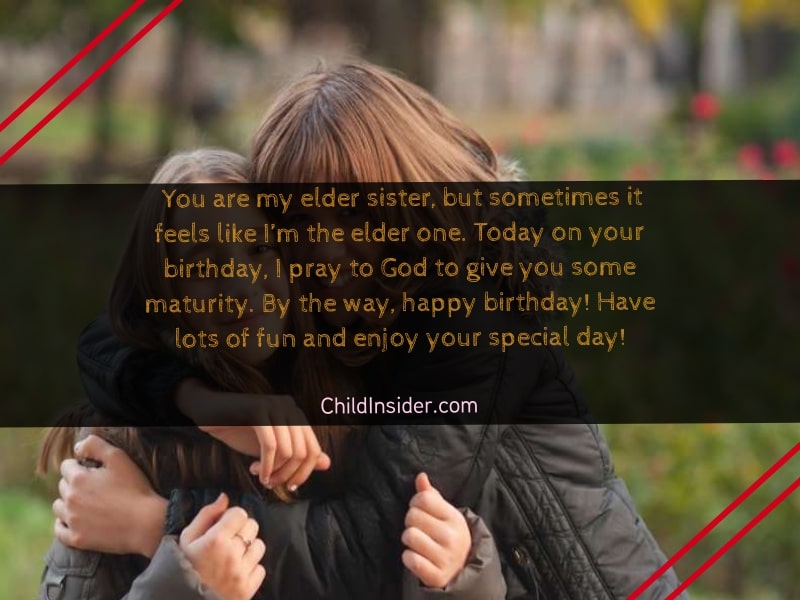 5. My sister cum my best friend, happy birthday! You are the one with whom I share all my secrets. You've always fought for me and supported me in all my decisions. May God continue blessing you and makes you the happiest person in the world!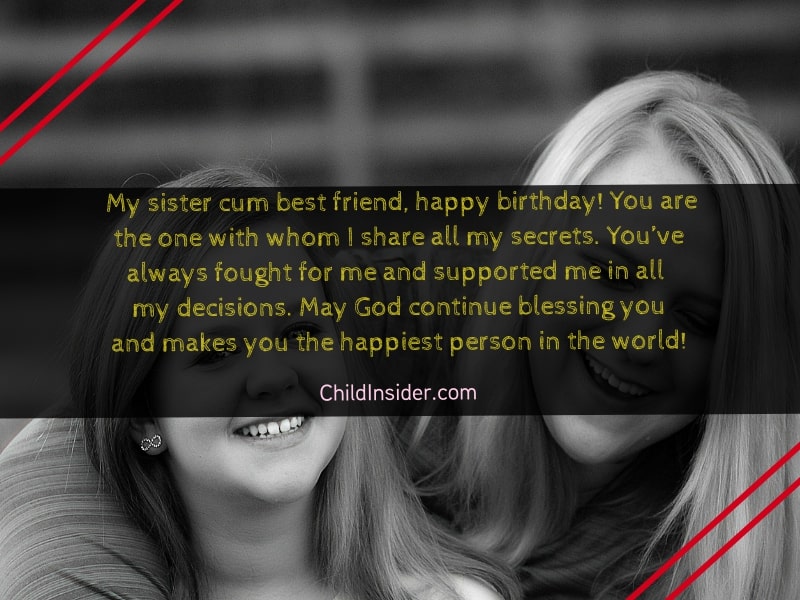 6. One of the most important days of the year has come again. Happy birthday, my beautiful sister! Since I was born, you were always there for me. I feel so proud that I have a sister like you. I pray to Lord to give you much success and joys because you truly deserve!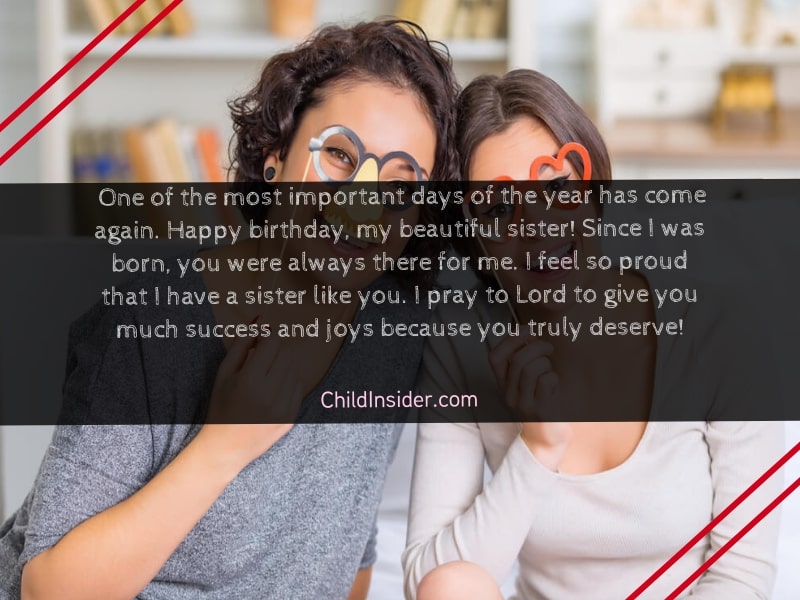 7. Happy birthday, lovely sister! This is the first time I'm not with you on your birthday. I miss you badly and wish to meet soon to give you a tight hug. I hope you get many blessings, warm wishes and tons of love!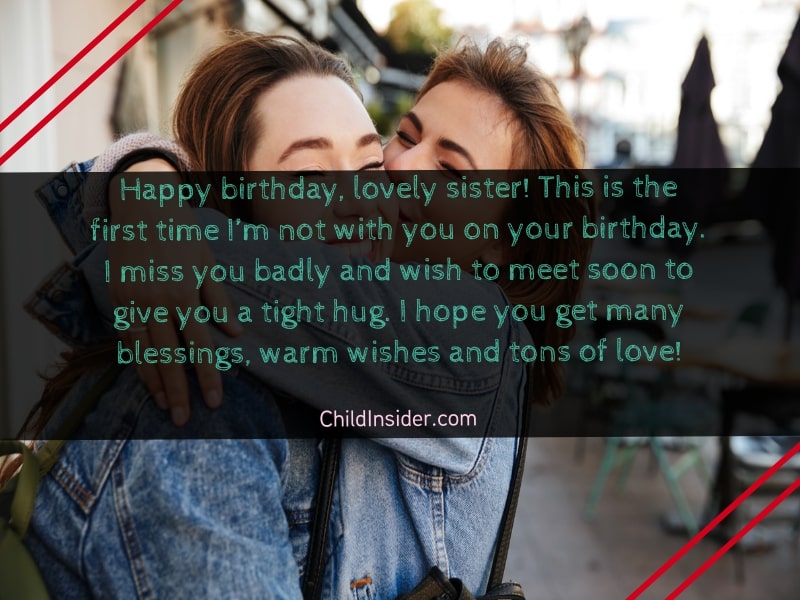 8. I owe you for making me whatever I'm today. My big sister, thanks a lot for being such a great human being. You are simply wonderful and deserve only the best. Happy birthday! May this day be repeated in your life for many years!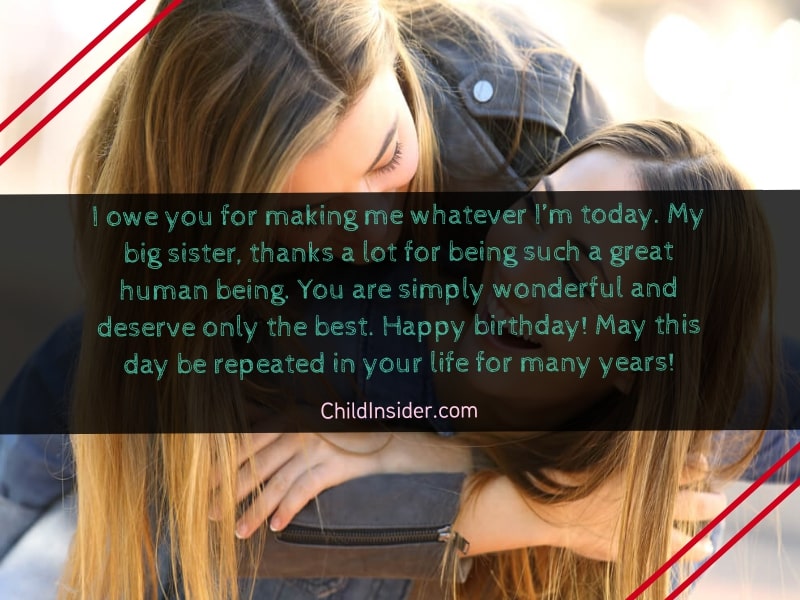 9. Happy birthday, big sis! I know that you feel so proud of having a brother like me. Though I'm your little brother, I promise I'll always protect you and you don't need to be thankful for that. Just kidding! Wishing the best sister to have the best birthday!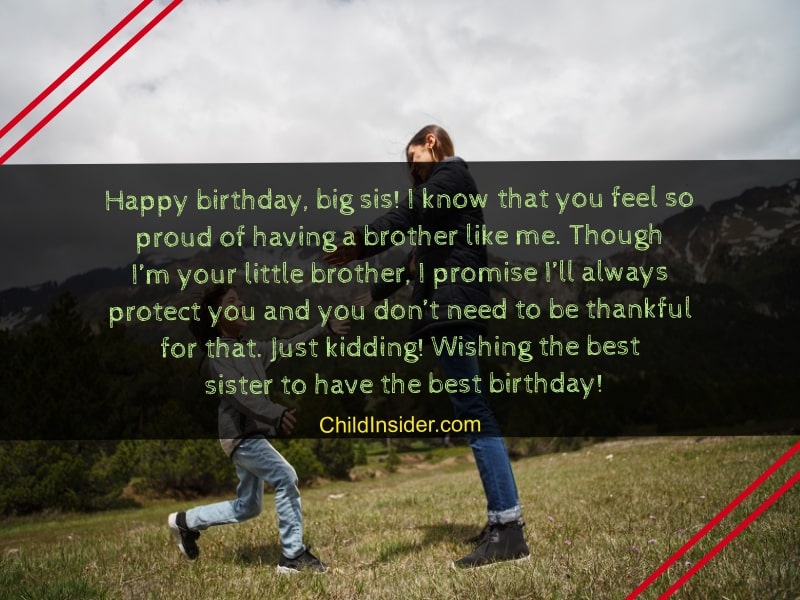 Warm Birthday Wishes for Younger Brother from Sister
10. It's a blessing for me to be a part of your life. I can't explain in words what you are mean to me. Loving sister, continue to be the best companion and my best friend. Wish you a day full of happiness and surprises. Happy birthday!
11. Happy birthday beautiful big sister! Today I want to tell you that you are the best sister, perfect daughter, lovely wife and I'm sure you'll be a wonderful mother also. Have a blissful day! Love you today and forever!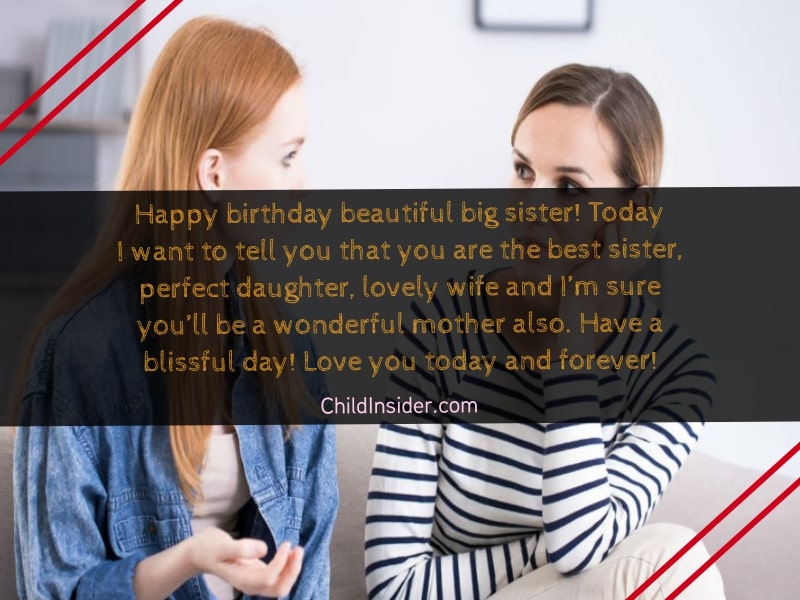 12. My favorite person, my elder sister, my heartiest congratulations on your birthday! You are the best sister that anyone can ever have. Wishing you the endless shower of peace, prosperity, and happiness!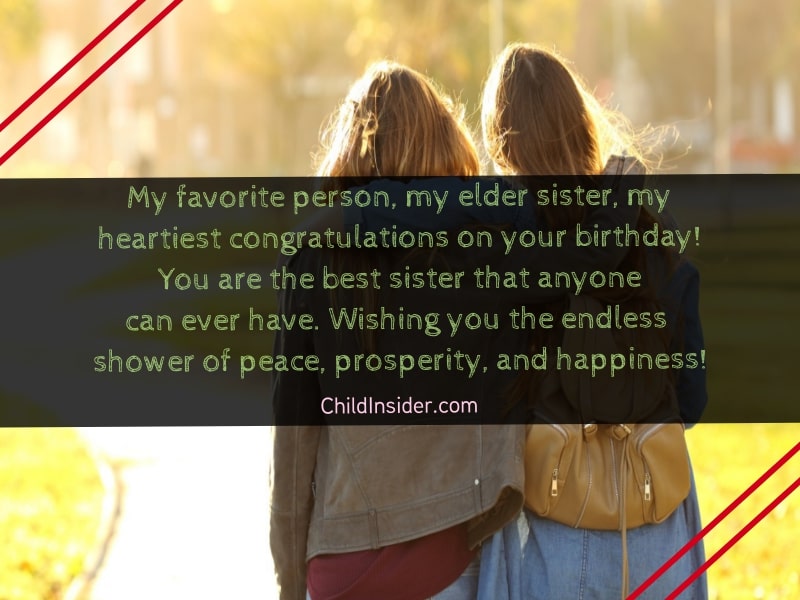 13. It's a great thing that today is your 25th birthday but the sad thing is you are still single. Get married soon, sister. On your birthday, I pray and hope that you find the best life partner. Good luck!
14. Today is your birth anniversary so I've decided not to quarrel with you and I know that this will be the best birthday gift for you. Enjoy this special day as much as you can as this offer only valid for today. Happy birthday!
15. There is an undeclared rule that a younger sister has the right on everything belongs to the elder sister. So, you better share your birthday gift with me. Happy birthday my elder sister!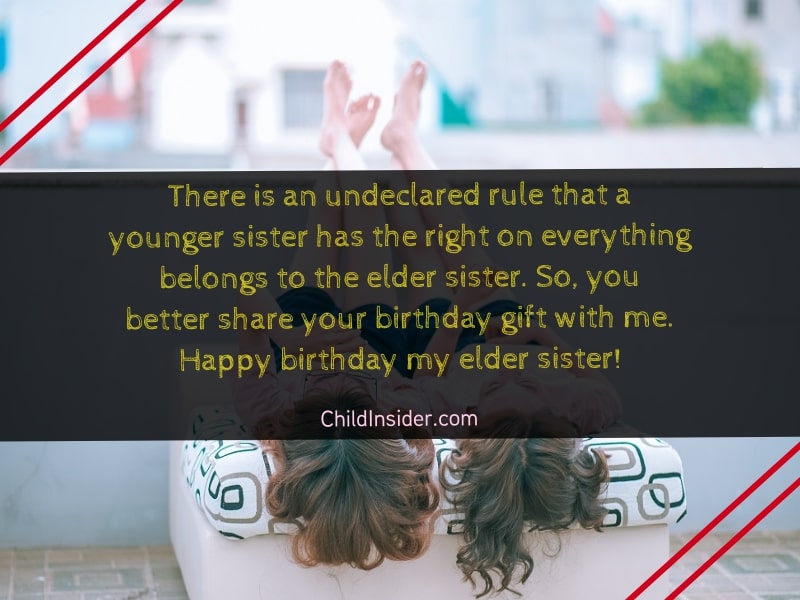 Tender Birthday Wishes for Your Younger Sister
16. Every day, I give thanks to God for making me your younger sister. You are a full package; you're like a mother, a sister, my playmate and my best friend. Love you today, tomorrow and forever! Happy birthday!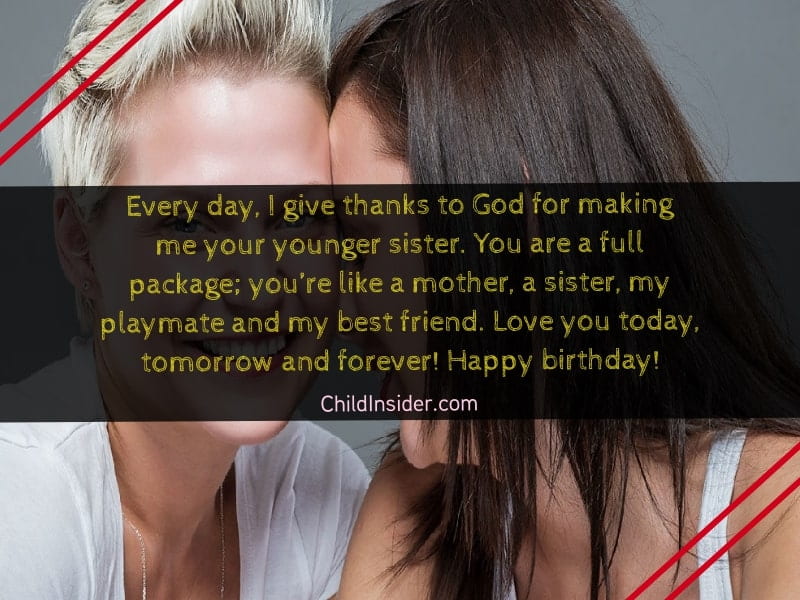 17. Congratulations big sis on your 18th birthday! You are an adult now, so stop fighting with your little sister and learn to sacrifice things for the younger ones. Enjoy your adulthood!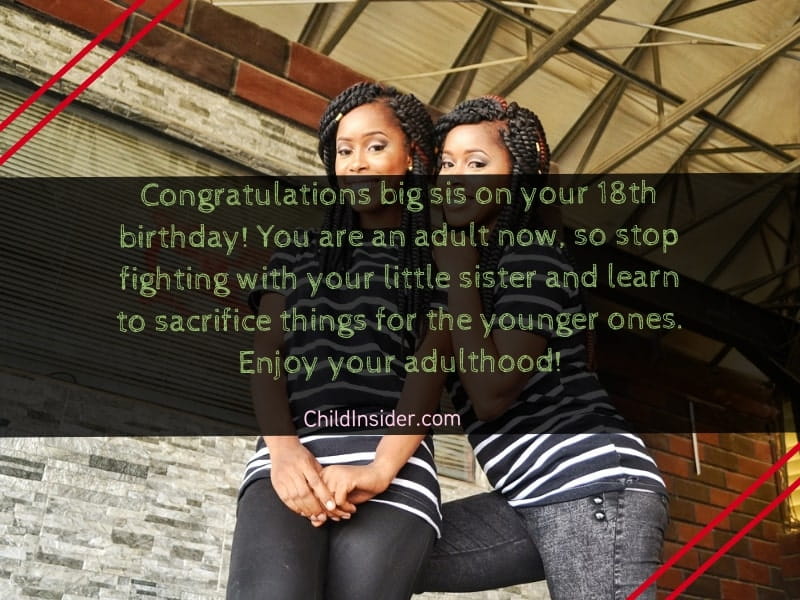 18. We fight with each other, sometimes we have disagreements but I love you with all my heart, big sister and I know that you feel the same for me. Happy birthday! One more thing, it's true that dad loves me more than you.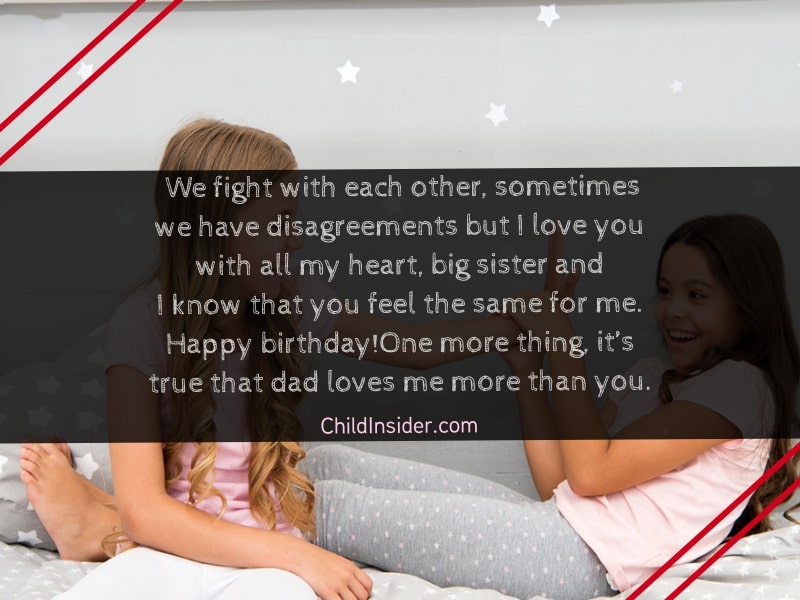 Amazing Birthday Wishes for Twins
19. There are only a few people in our life whom we always keep in heart. Dear sister, let me tell you that, you are at the top place in my heart. Wish you a very happy birthday! May this day overflows with joy! I love you sister; you are the best!
20. They say that if you have a sister, you can never feel alone in life. This is the absolute truth as I can feel the same having you by my side. Congratulations my big sis for completing one more year of life! I hope your life never lacks love, success, and wisdom!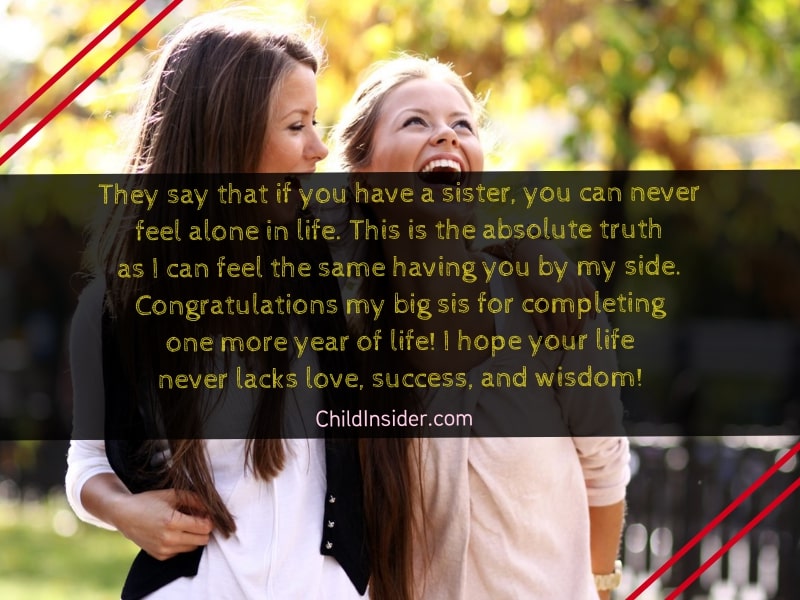 Wishing happy birthday big sister is important and will make your sister feel special and loved. If you use one of these great birthday wishes, then we would love to know about it.
All of our wishes are specifically chosen to help you express yourself, so let us know which ones you use and how your sister felt with her birthday wish.