Nothing can beat the memorable time of turning 4. When it comes to girls finding the best happy 4th birthday girl wishes can be pretty tricky. So, it is always preferable to carefully choose the birthday greetings that come straight from the heart and truly express your feelings.
The most magical moment for your little ones is when they turn a new age. Considering that your little girls aren't little anymore, but also knowing that they aren't big girls either is very important.
Because this is the time when what they need from you is something which they can actually relate to. Putting in a little effort and pouring out just the right amount of humour, wonder, and innocence can prove to be the perfect recipe to your little girl's 4th birthday wish.
Best Happy 4th Birthday Girl Quotes
It is always advised that you choose the wish that comes straight from your heart for your loved one and not just some random wish. Below, you will find the cutest 4th birthday wishes for your baby girl that have all the right ingredients you are looking for to create the joy you have so desperately wanted for your newly-turned-four girl.
1. I hope this birthday year is four times as amazing as you are, and you are four times as amazing as this birthday year. Happiest 4th birthday to you!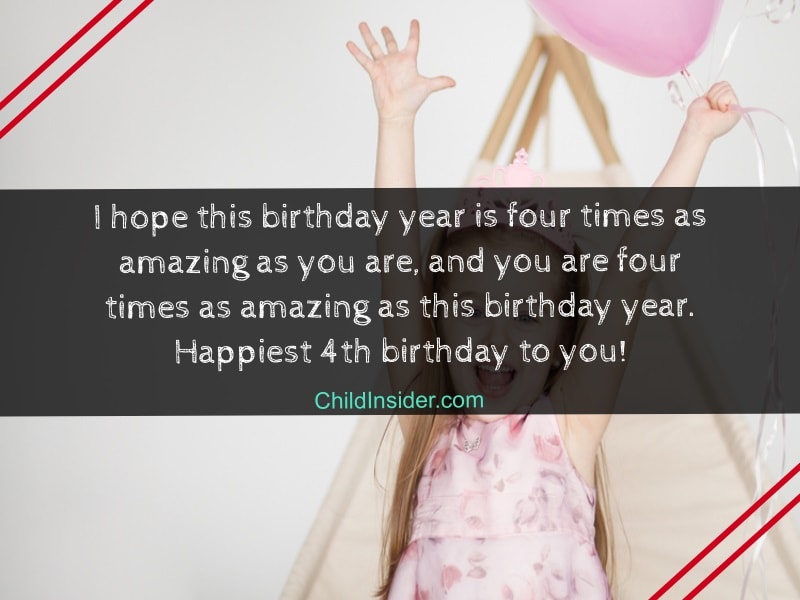 Beautiful Birthday Messages for Daughter from Mom
2. Now that you have finally turned 4, I wish you get the best of 4 worlds of happiness to share, love to give, goodness to spread, and courage to fight evil. Happy 4th birthday!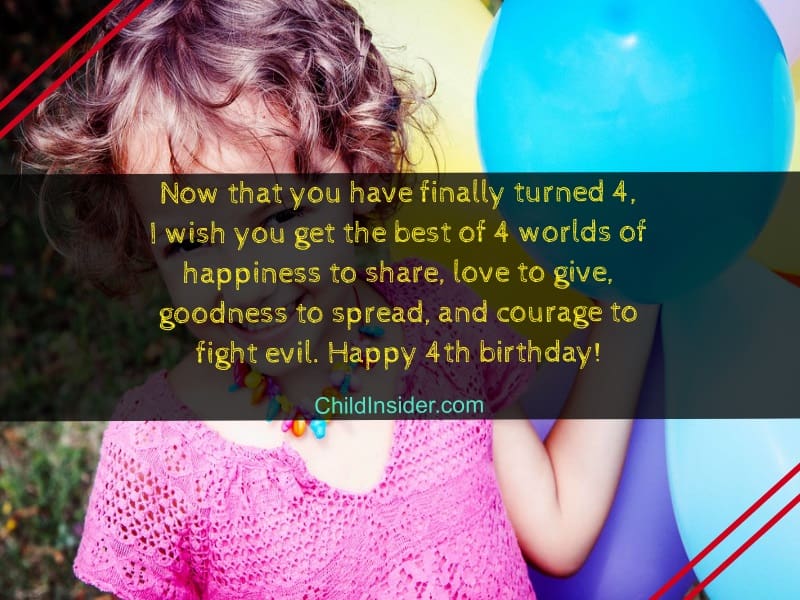 3. I wish that this year's birthday becomes the best birthday an amazing four-year-old, like you, can ever have. You are a blessing for us, and we love you a lot — happiest 4th birthday!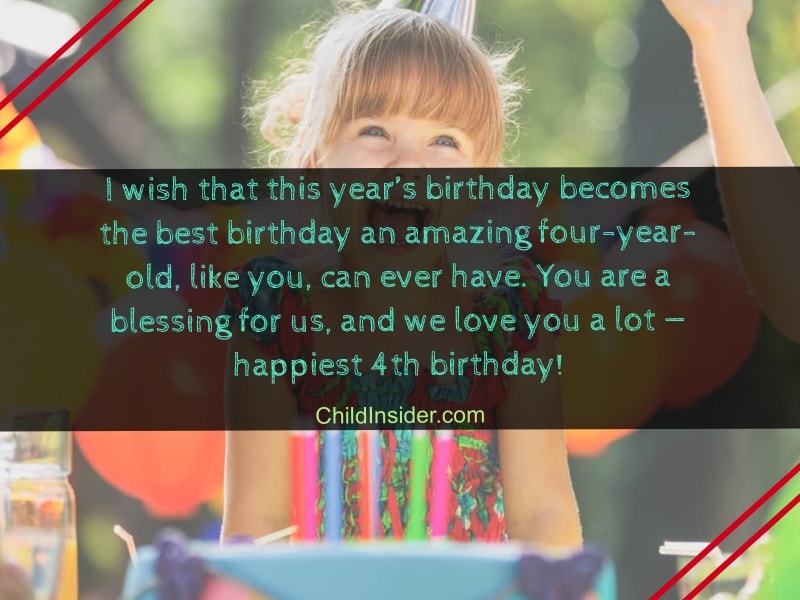 4. I know that you have the craziest sweet tooth ever and that is why I am hoping that your cake is four times bigger than the biggest cake of the whole wide world because that is the only way of celebrating my favourite four years old's birthday. Happy 4th birthday!
5. This year has become everyone's favourite year because this year has marked your precious four years in this world. Happy 4th birthday!
20 Adorable Ways to Wish Your Baby Sister
6. It is your fourth birthday, and we can't be happier to know that you are the super girl who has made our lives so beautiful during your four years in this world — happiest 4th birthday super girl.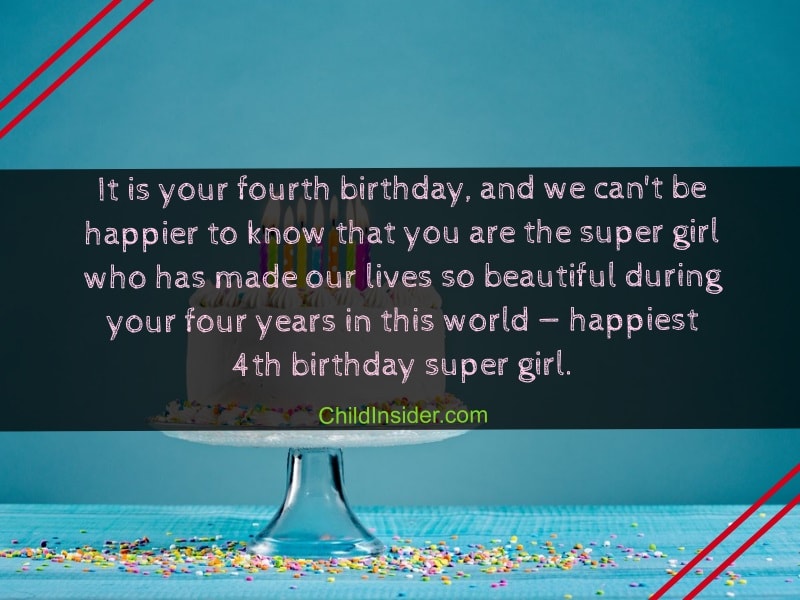 7. Bringing you four biggest and brightest candles to blow out this year because you have made this world a more brilliant place to live in for the past four years and it's incredible. Wishing you the brightest 4th birthday.
8. Wonderful, brilliant, creative, and compassionate are the four words to describe you with on your fourth birthday. To the marvellous kid of the last four years, happy birthday sweetheart!
Lovely Birthday Wishes for Sister
9. Want to know why number 4 is so magical? It is all because of you! For you have reached the age of four today. Happy birthday!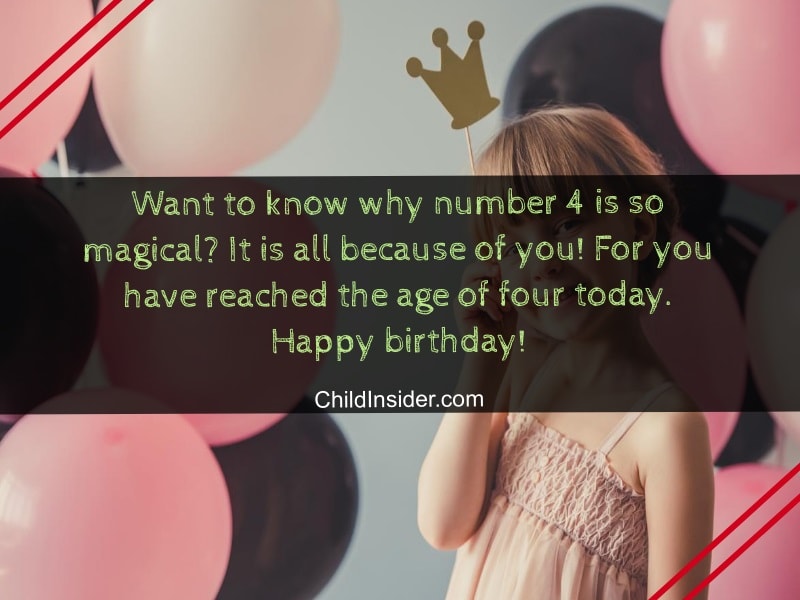 10. When you turn four years of age, every single thing you love about this world turns into the four times best version of themselves. Thanks to you, and happy 4th birthday, dear one!
11. We love the smile on your face and the shine in your eyes. It must be because you have turned 4! Yay! Happy 4th birthday precious!
12. You have brought happiness with you ever since you came to this world and I can't thank God enough for bringing a gem like you into our life. Happy 4th birthday, baby girl!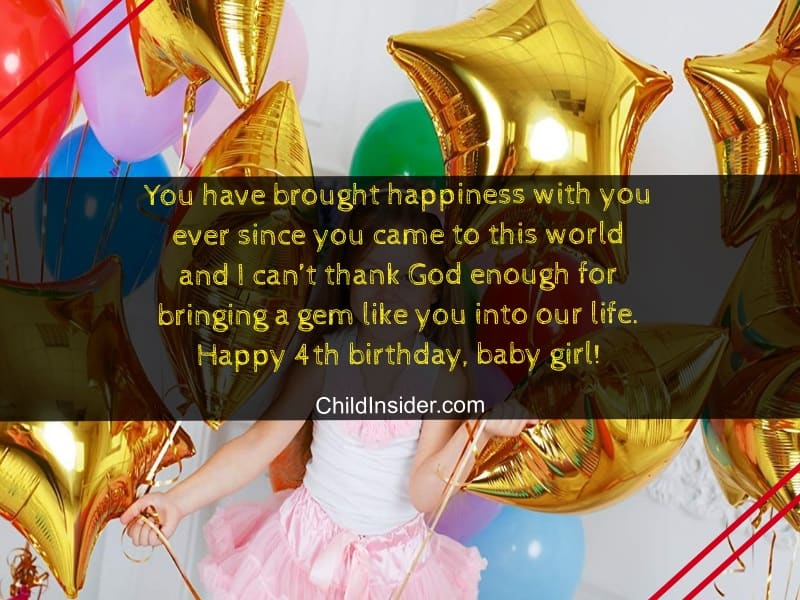 13. You were my beautiful dream, and on this very day, it came true. We are so lucky to have you in our lives. Stay blessed and happy 4th birthday!
Special Birthday Wishes for 2-Year-Olds
14. The four things that are super precious to me are the first year you, the second year you, the third year you, and then on the top is the fourth year you! A very happy 4th birthday to you.
15. You are one of the reasons that make our lives super pleasant. May God bless you with all the candies and cakes! Happy 4th birthday, Sugarplum!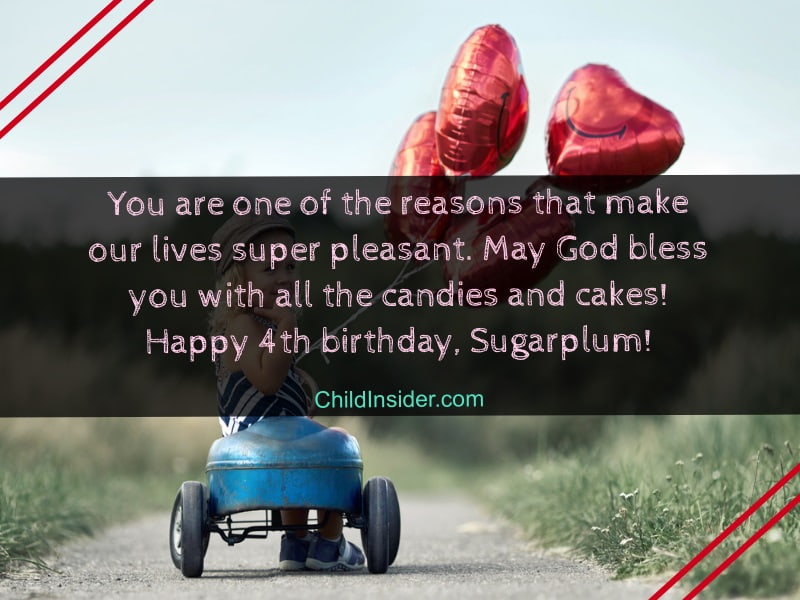 Though it is easy, and tempting, to get away with selecting any happy 4th birthday wishes for girls, since they can't properly read or understand, and skip the part where you have to go through all the fuss of choosing the right birthday greeting for them.
Picking out birthday wishes for someone no matter how old or young they are, really show how much you love them and care for them.