If you're having trouble expressing all the complex emotions of watching your girl turn 13, try one of these 13 year old birthday wishes. A girl's 13th birthday is a special time to celebrate the little girl we have known and the teenager they've become.
While the teen years ahead may come with trials and frustrations, they'll also be full of moments of pride, joy, and a new closeness as your girl faces the world with growing strength and grace.
Of course the best way to share this big day with her is through the universal language of teenagers: texting!
Lovely 13th Birthday Wishes for Girls
Check our top 13th birthday girl quotes that you can send as a text messages to the girl who is stepping into teenage life. Wish her the best things in life.
1. Happy birthday! On the day you were born, the world changed forever for the better. I'm so excited to see how you continue to change the world starting today as you become a teenager!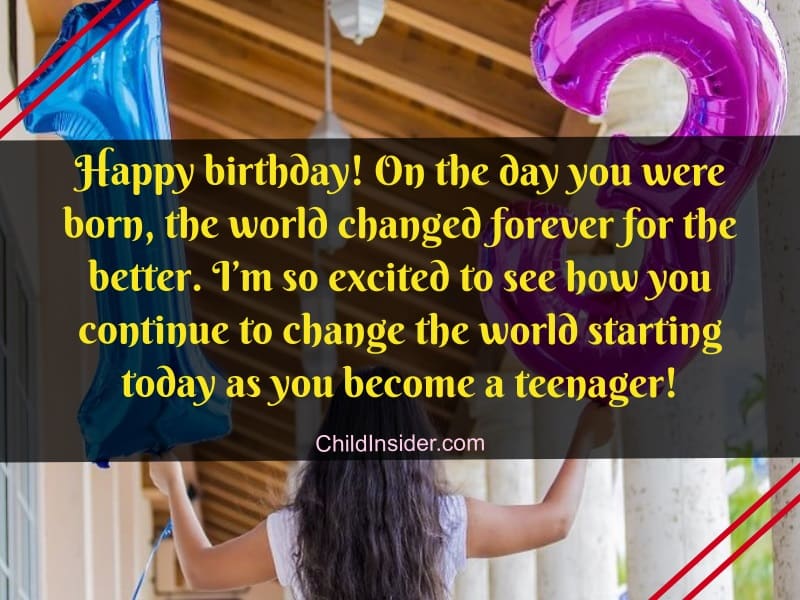 2. The past 13 years have gone by in the blink of an eye. Today, you are a vision of courage, curiosity, and caring. I can't wait to see how you continue to grow for the next 13 years! Happy birthday.
Sweetest Birthday Wishes for 4 Year Old Girls
3. Thirteen is a year of laughter and tears, joy and rage, celebration and confusion. I can't think of anyone more ready to handle it with grace than you. Happy Birthday.
4. You may have been acting like a teenager since you were a toddler, but I still can hardly believe you're really 13. Happy birthday to my granddaughter who's always been ahead of her time.
5. When you were born we marveled at your tiny toes and mini-smile. Today as you turn 13 I marvel at how strong and brave you've grown, and the beauty you bring to everyone you meet. Happy birthday.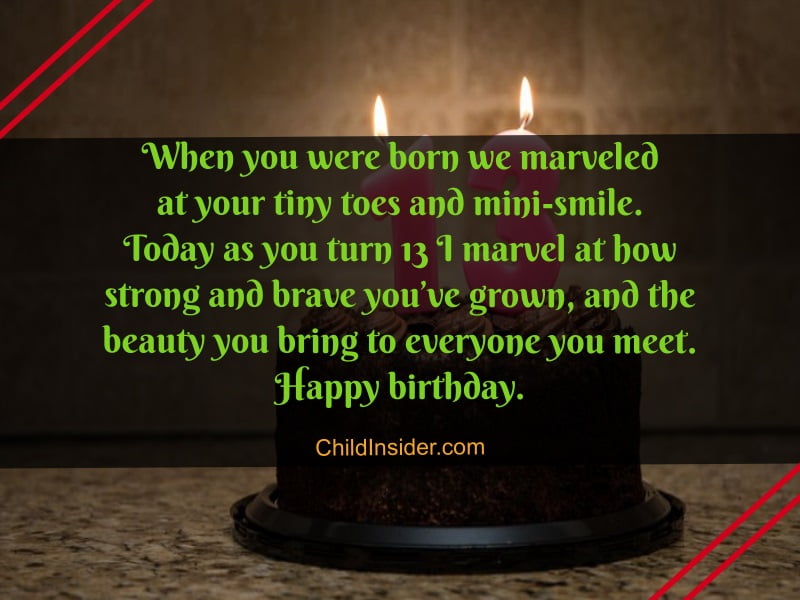 6. Teenager birthday to-do list: Eat breakfast, busy day at school, eat snacks, be with friends, eat snacks, go to practice, eat dinner, homework, eat cake . There's barely time for the most important thing! Wishing my favorite girl a happy 13th birthday!
7. Happy birthday to a new teenager who makes the stars shine brighter with her light.
8. If you've accomplished so much already and you're only turning 13, who knows how far you'll go as a teenager! Happy birthday to a girl who makes it happen.
9. Last year may have been full of drama, but 13 will be a year of triumph. Happy birthday to a girl who can weather the storms.
10. You made me a mother and now I'm the mother of a teenager. Thank you for both of those gifts. Happy birthday.
Meaningful Birthday Wishes for Daughter from Mother
11. Teenagers sleep late, smell funny, have big feelings, and make big mistakes but I wouldn't trade away one bit of it with you. Happy 13th birthday!
12. When you turned one we clapped. When you turned 5 we cheered. When you turned 10 we laughed. Today you turn 13th and we beam with pride. Happy birthday sweet girl.
13. Now that you're a teenager, there will be times when you feel like you're ready to be on your own and times when you just really want your Mommy. No matter how old you grow, I'll always be here when you need me. Happy birthday.
14. Happy birthday to a daughter who surprises me every day with her thoughtfulness, intelligence, and wit. I'm so very proud of the young woman you've become.
15. You're already rocking 13 like a superstar. Happy birthday to a girl who turns it up to 13 and deserves center stage.
Special 16th Birthday Messages for Girls
16. Nothing makes me prouder than getting to tell people I have a 13 year old daughter. Happy birthday to the best daughter a mom could ask for.
17. You used to call me Mama, then Mommy, then mom. Now that you're a teenager I'm prepared to answer to grunts and an occasional nod in my direction. Whatever you call me, I'm proud to be your mother. Happy 13th birthday.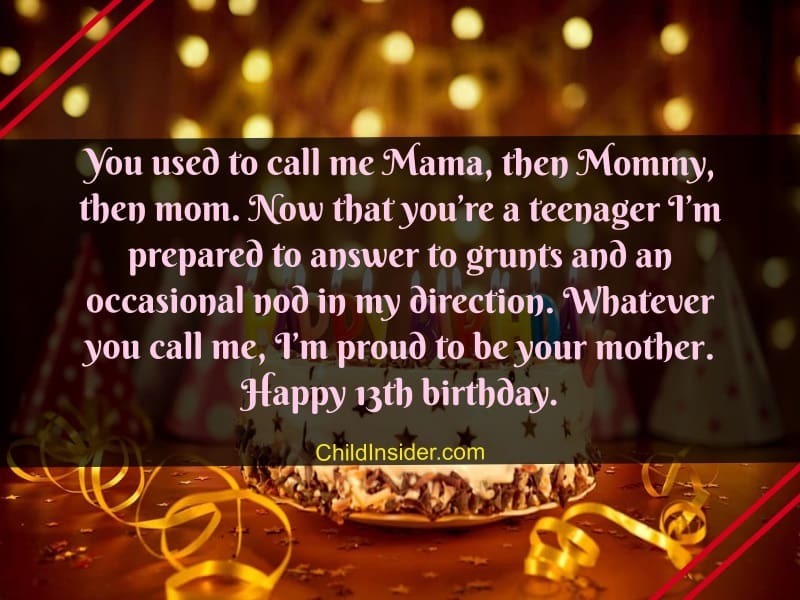 18. Happy birthday to my baby sister who is now a teenager! You're 13 now but you'll always be the center of my world.
19. On your 13th birthday, my biggest wishes are that you always find happiness, love, and joy. A smaller wish is that you share some cake with your mother. Happy birthday to a generous daughter.
20. Not everyone is lucky enough to have a 13 year old like you in their lives. Happy birthday, girl! Thank you for all the laughter, joy, and excitement you bring to our family.
21. When the doctor told us we were going to have a girl I could never have imagined just how amazing you would be. Happy 13th birthday to a girl who changed our lives in a million wonderful ways.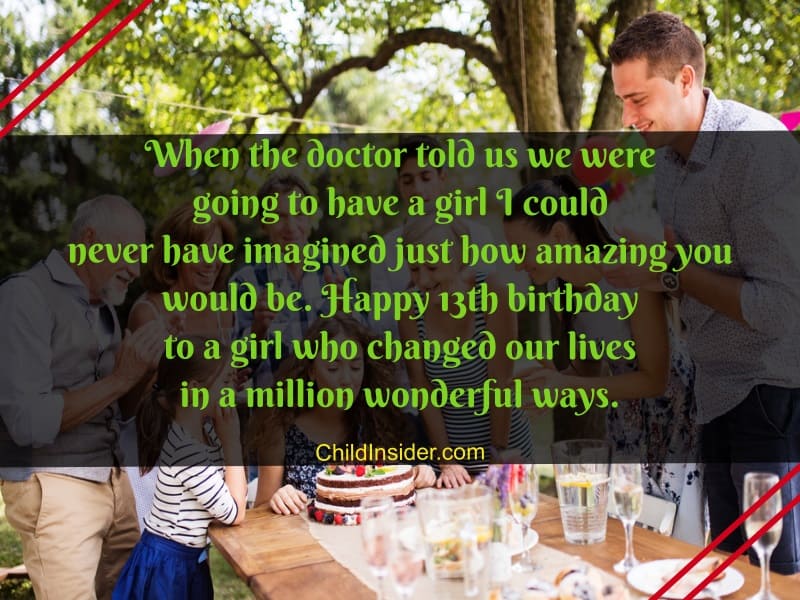 Do you have a girl you love turning 13 soon? Which one of these 13th birthday texts would make her smile?
Let us know if you got a message from your mom that let you know you were loved as you became a teenager or how your own teen reacted to her birthday text.