This wedding season goes all in with some easy yet lavish wedding hairstyles for girls to make sure that you look prettier than anybody else. Weddings are the ultimate events full of joy and merrymaking so they deserve some special wedding hairstyles.
Preparations of a wedding are incomplete without a lovely hairstyle, aren't they? So, the next time there is a wedding, you might want to go a little creative and want a fancy hairstyle.
Easy and Lovely Girls Hairstyles for Wedding
If you are ready to have jaws drop at the beautiful hairstyles that you carry then here are 15 exquisite wedding hairstyles for girls to help you.
1. Curly Half-do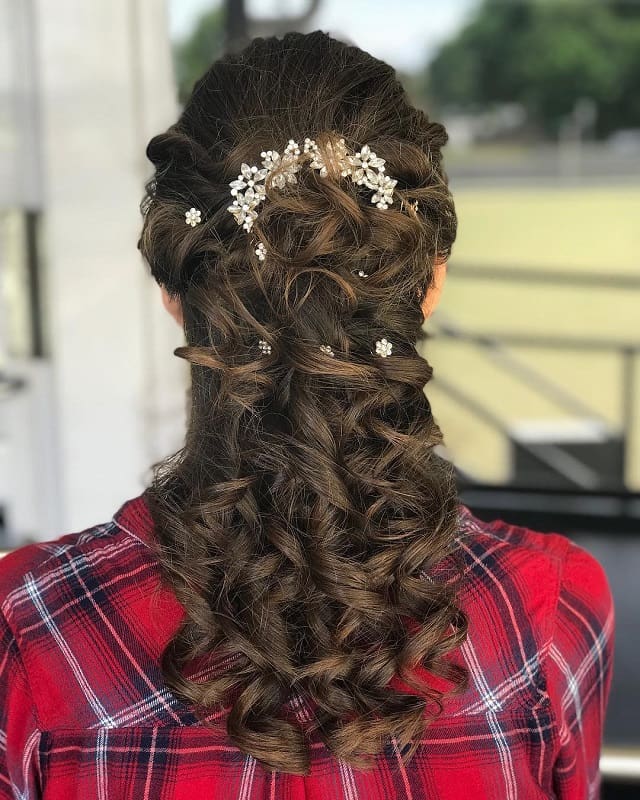 Perming is a great option for styling girls hair for a wedding. It gives your hair a neat and well-maintained look and helps you to get right in the wedding feels. This permed half up layered hairstyle is just lovely as it has a delicate half up made sweeter by the flowers in the hair. This is great for both the bride and her bridesmaids.
2. Diagonal Side Bun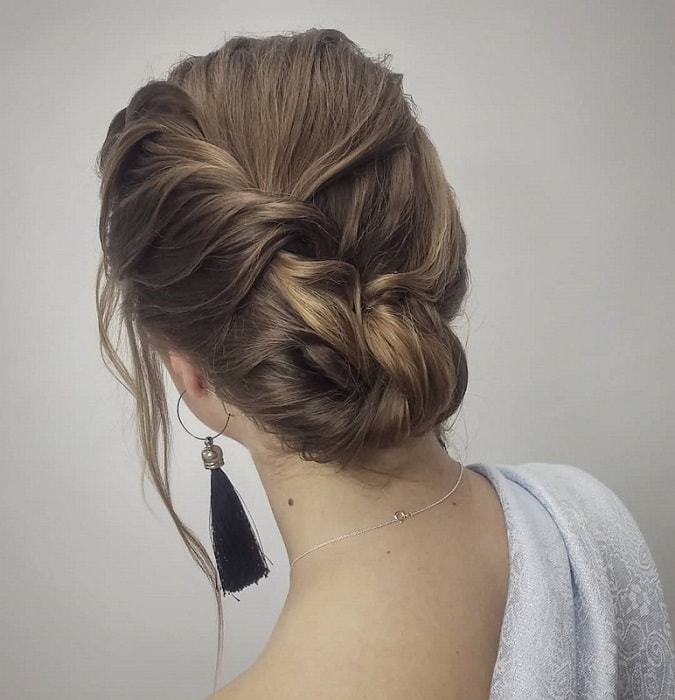 Buns have been a classic wedding hairstyle for girls for centuries and their variations have been used throughout the years. This side bun is great, particularly for summer weddings, so you should consider it since it has a very youthful and elegant feel to it.
3. Twisted Fishtail Low Updo
This is an intricate and highly sophisticated twisted hairstyle which goes perfectly with rose gold hair. The fishtail braids are twisted gently to give the required curves and volume to this low updo. It is the best hairstyle to have on a wedding as it flaunts your hair color and fashion sense well.
4. Half Up Hairstyle with Flowers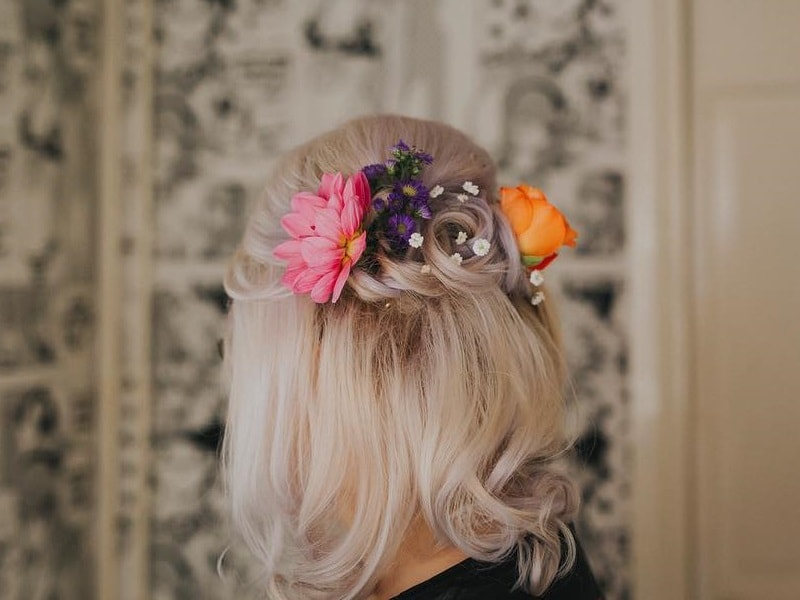 If you have short blonde hair and cannot go for those wavy hairstyles then this exquisite wedding hairstyle for girls having short hair is perfect for you. This vine is tied at the back and has some colorful flowers adorning it which make the blonde hair look even lovelier.
5. Pull Through Braid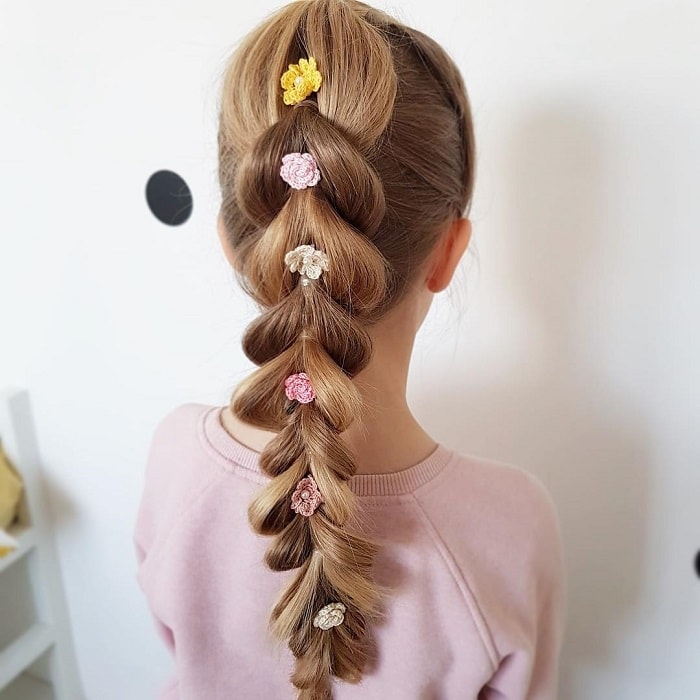 This lovely pull through braid is so lovely and exquisite that you will not want to undo it once you have had it done. The heart-shaped knots of the braid look even more beautiful with the tiny colorful flowers embedded in them.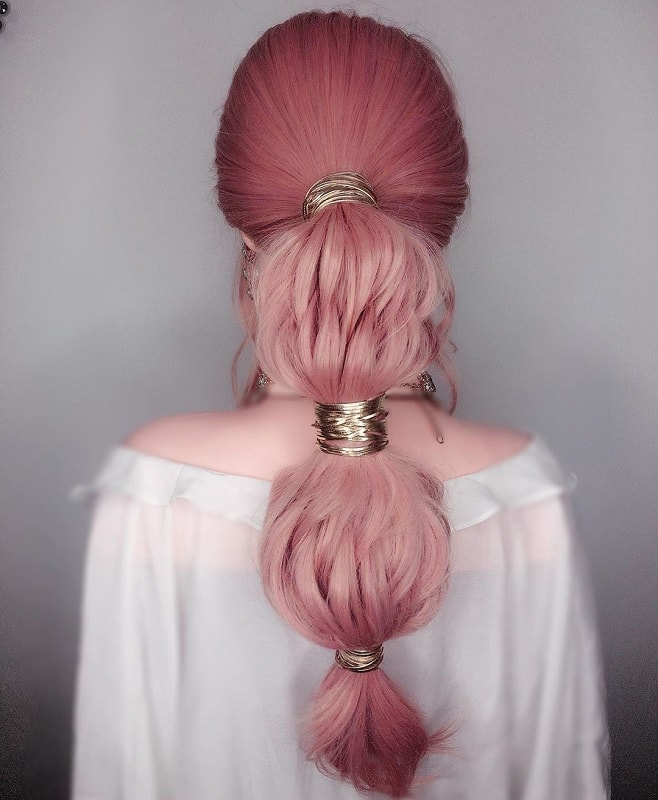 Girly wedding hairstyles are all lovely, but this one comes in the top part of the list. The bubbles are voluminous and fuller with impressive circular bands holding them in place. You can even have some extensions to get the right puffy bubbles in the ponytail to complete this look.
7. Crown Updo
This crown updo is one of the loveliest of all wedding hairstyles for girls as it has a perfect crown running along the length of your head. It has the delicate headpiece decorating the crown which makes you look and feel like a queen of the Amazons.
8. Gentle Wavy Hair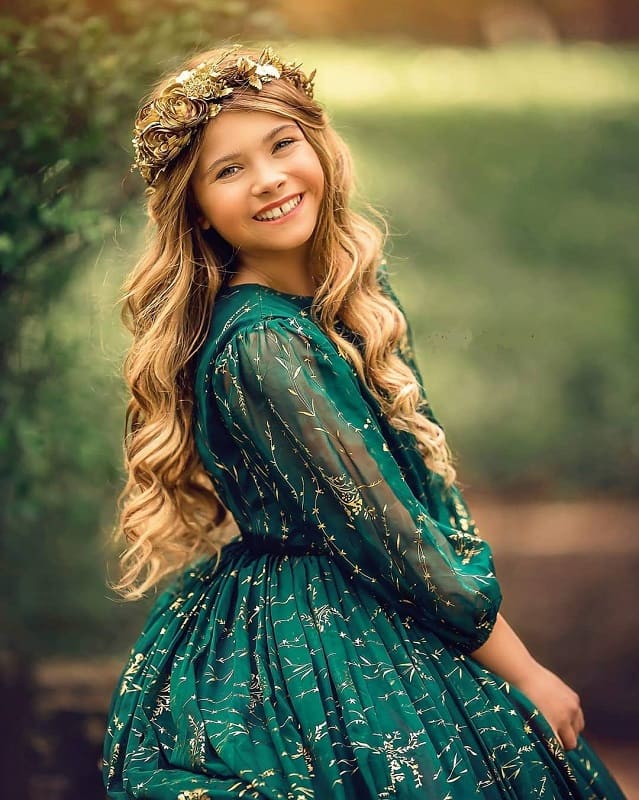 Young girls love to try girls' wedding hairstyles as well, don't they? This is our favorite hairstyle for little girls who have long beautiful hair. Just leave the natural waves to sides and put on a princess crown or a headpiece to complete the look.
The two twisters from the front are tied at the back in a lovely manner which makes you look younger and prettier. The twisters are nice and loose which makes sure that you stay relaxed throughout the wedding even if you have to dance all evening.
10. Fishtail Braid
Girls love fishtail braids since they are so well put together and give off a royal aura. This braid style has just the right charm for any wedding and is loved by girls of all ages. No matter if you are the bride or the friend of a bride, you can rock this one wonderfully.
11. French Braided Bun
This is a girly and delicate hairstyle for weddings to give you a soft and young look. The hair is kneaded in a lovely French braid which is then twisted into a low bun to make you look as exquisite and elegant as you are.
12. Short Afro Half Pomp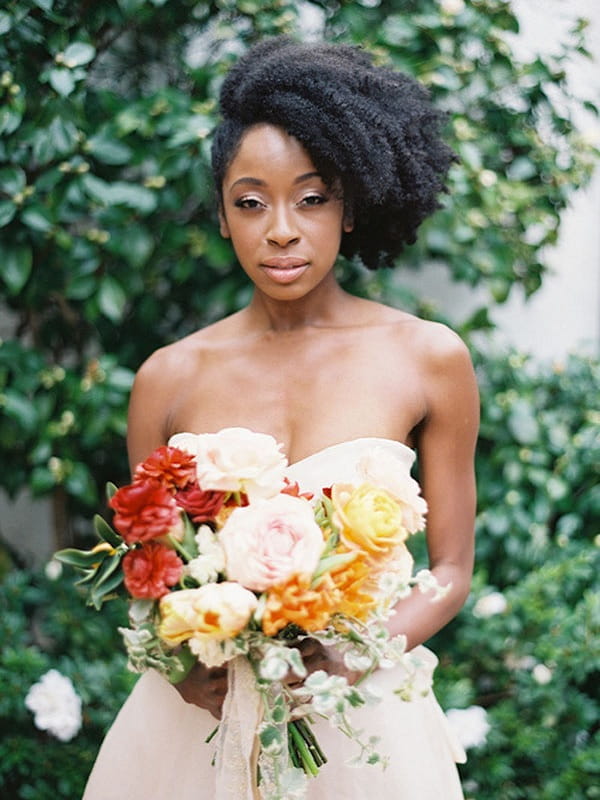 This is a natural hairstyle for African American girls who love to rock their Afro hair. The short half pomp is swept to a side and has a mysterious and impressive touch to it which makes it even more irresistible.
13. French Braided Half-Up Hair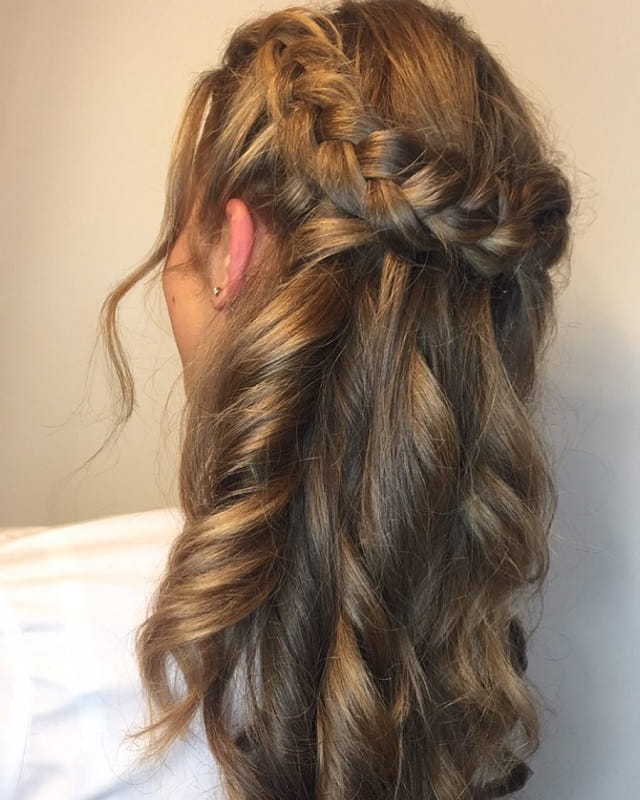 The French braids look exquisite on weddings, this is why they are in most of the wedding hairdos for girls. This braided half up can be the hairstyle that you need to have all heads turn in your direction at a wedding.
This natural updo is best for long black hair which is hard to tame down otherwise. The hair is pulled into a voluminous sleek updo with a side given an intricate look with tiny twisters running towards the back.
15. Reverse Braided Updo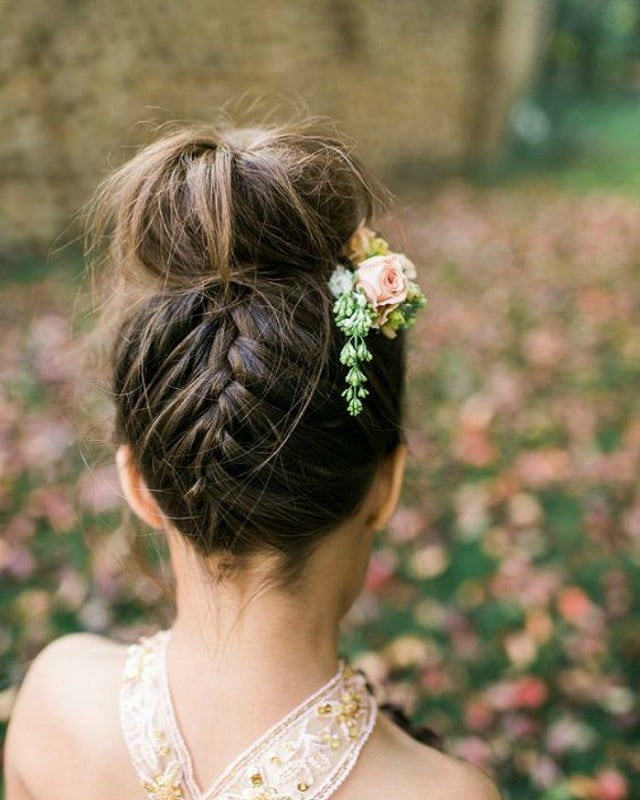 The reverse braided updo looks spectacular on weddings since it has a messy bun at the top while a reverse braid at the back of the head. You can attach some flowers in the bun to give it a more fresh and sweet girls wedding hair look.
This wedding season is all about some nice and impressive wedding hairstyles for girls, so go ahead and try some of these yourself!