If you have seen girls wearing short hairstyles with long bangs, you'll know that these hairstyles suit pretty much everyone.
For some reason, long bangs on short hair have been fashionable since the 90's, and has then continued to be a popular choice for many girls.
Top Short Haircuts with Long Bangs
When we talk about long bangs, we really mean long bangs. Some of them might even be the same length as the short hair that the girl wears.
In any case, you will soon see just how well long bangs fit on short hairdo for girls! Let's take a look at 15 such hairstyles below and let us know which one is your personal favorite.
1.  Classic Long Bangs on Short Hair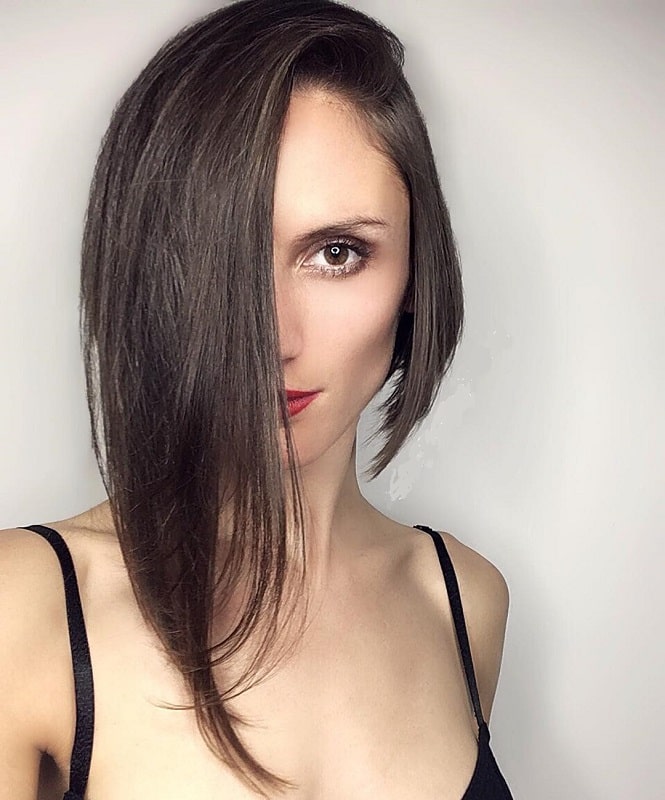 When it comes to short hairstyles for girls like this, you will definitely focus more on the bangs first – it's so long that it's almost out of proportion compared to the short hair at the back!
However, it is with a hairstyle like this that you can sweep your hair to the other side to create a unique look.
Unlike the other long bangs haircuts in this list, this lady wears her bangs just a little longer than her short hair.
This is actually the more typical style that women looking for this look will go for. It's simple and casual, and it's not too flashy. Anyone can wear this look.
Dazzling Long Hairstyles for Girls
3. Cropped Short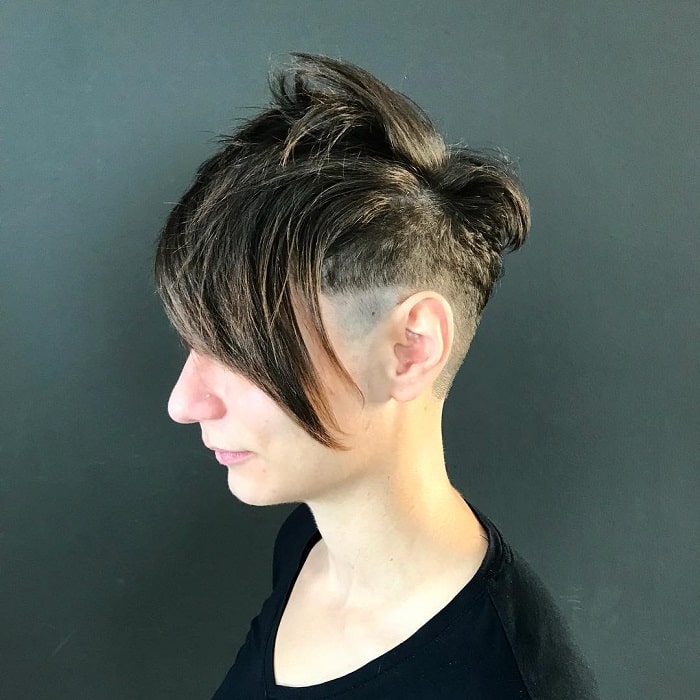 Take this hairstyle to a new extreme by cropping your short hair real short. This way, your long bangs on short hair will look even longer even if the length is actually just average.
4. Androgynous Hairdo
This is one long bangs style that can be worn on both boys and girls – we love it!
The loose curls in the bangs give an elegant look to the one wearing the hairdo, and when paired with short hair, it looks neat as well – a nice combination.
Hypnotic Curly Hairstyles for Girls
5. Wear It Like Side Bangs
If you have been online for long enough, you might also know this hairdo as the Karen hairstyle.
The long bangs featured in this image are swept to the side like how you would with side bangs. This allows the wearer to have a good-looking short hairstyle while still maintaining her line of sight.
6. Just Some Loose Curls
When all else fails, wear your short hairstyles with loose curls.
You can consider this look as one that can make you look more mature and business-like. Pair it with a nice coat and you're going to look like an amazing boss!
You've got to admit that this look absolutely rocks. It's simple – short hair at the back, long bangs loosely combed at the front.
There isn't even anything you need to do to style it! All you have to do is to keep it natural and try to get the bangs away from your eyes so that they don't hinder your sight. Easy, isn't it?
8. A Little Ash Color
Make your long bangs and pixie combo look even better with a wild look – dye it ash color and spray your hair lightly to create this slightly spiky appearance.
Here's to balancing the look between boy-ish and girl-ish!
9. Blonde & Spiked Up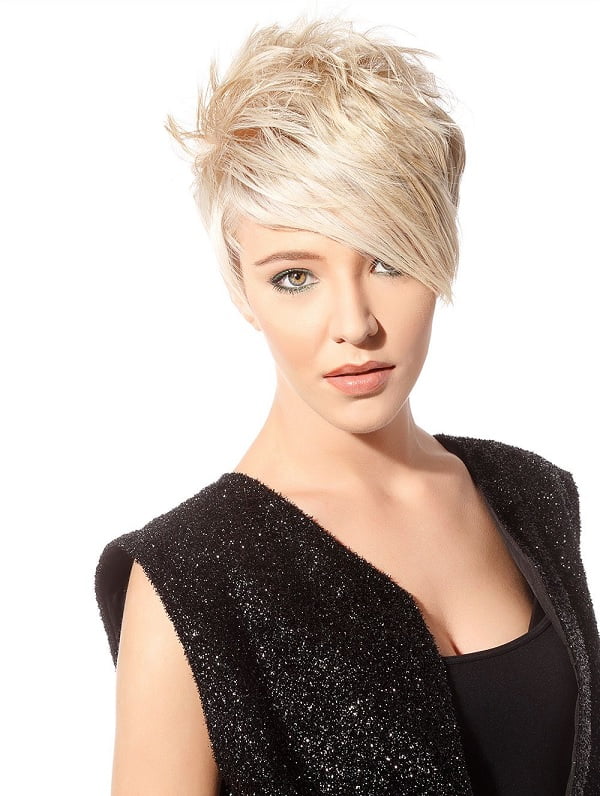 This short hairstyle with long bangs leans more towards the spiky looks than the rest in this list.
You can expect that this look requires plenty more of hair gel or at least, hair spray. Platinum blonde hair colors like this will be sure to impress!
10. Long Brown Bangs on Short Hair
Get this fun and quirky hairstyle with just some light brown dye and a short combing session.
Thankfully, this is one of the short haircuts that won't leave you worrying about taking too much time to style each and every morning.
It might not be immediately obvious, but this short hairdo has the same length for the bangs and the rest of the hair as well.
You can leave the bangs as they are, or you can tuck them behind your ear. Most girls will prefer to have their long bangs cover the side of their faces to make it seem smaller.
12. One Eye Covered
This is it. This is pretty much the look that most short haired girls are after when they want the long bangs look.
In fact, fluff up the hair a little more and you'd have yourself the emo girl hairstyle that was all the rage more a decade ago. It does look good though, doesn't it?
This lady here has shaved off one side of her head, leaving only the long bangs to give a good contrast to the other end. We love how the haircut turned out!
This lady here also chose a hair color that complements her skin color well, making them look much more gorgeous.
14. Red Highlights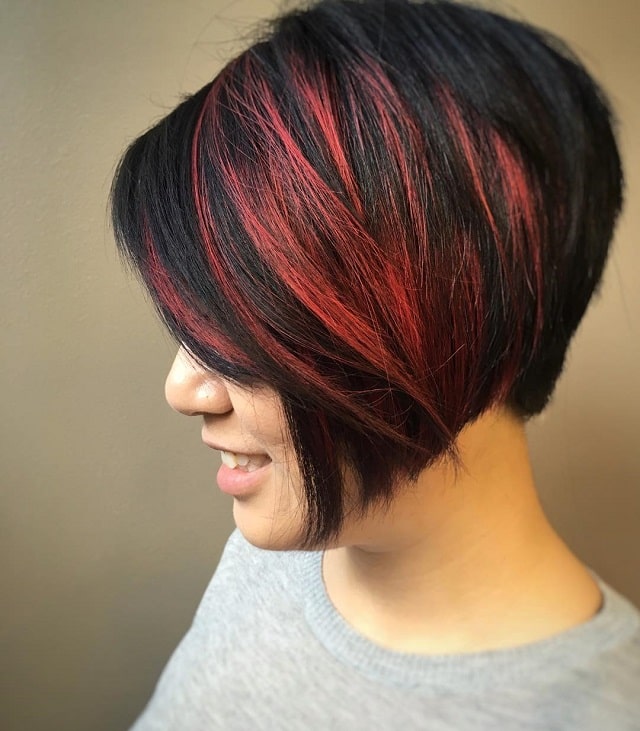 If you're into this kind of hairstyle, the trick is to keep the hair on the top shorter to create a thick hair look.
This is one of the short haircuts with long bangs that are more typical for suburban moms, and you might have a friend or two who have this hairdo themselves!
15. Rainbow Colors
Is it just us or does everyone else wonder just how long it took for her to dye her hair in so many colors?
In any case, the colors dyed on naturally black hair gives the entire look an unusual sheen that we love. That's one way to make long bangs on short hair more creative.
What do you think about the haircuts that we have compiled for you above?
Our website also caters to other hairstyle choices that you are simply going to love – browse around the site and have a look for more hairstyles focused either on short hair and long bangs or any other styles.