Summers are here and all that most of us are looking for are ponytail hairstyles for girls. The ponytails are an effective means of keeping the hair in its place without having to constantly fight the urge to cut off the hair due to the hot weather.
The ponytail hairstyles look lovely and impressive too if they are done the right way. So, you should consider putting your hair up in ponytail this season to have the fun that you deserve without being bothered by your hair.
Trendy Ponytails for Girls
If you agree with us that ponytails are exquisite and fun then you must want some stylish girls ponytail ideas. Here are 20 of these hairstyles that we love the most.
1. Twisted Ponytail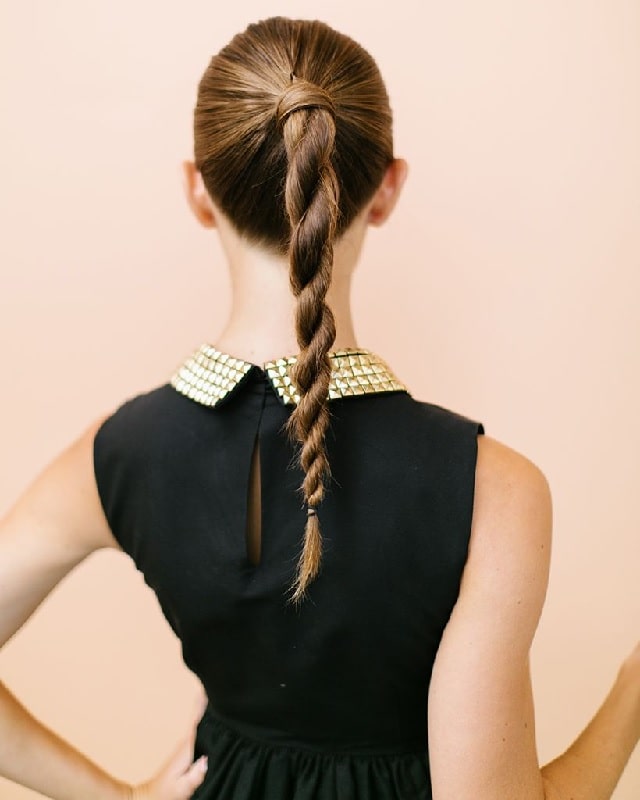 The ponytails sometimes have loose hair which falls to the sides of your face when you bend your head while working.
This can be annoying sometimes, so to avoid this you can have your ponytail braided in a smooth and easy way. This will not only be more practical but also more stylish.
2. Textured Low Ponytail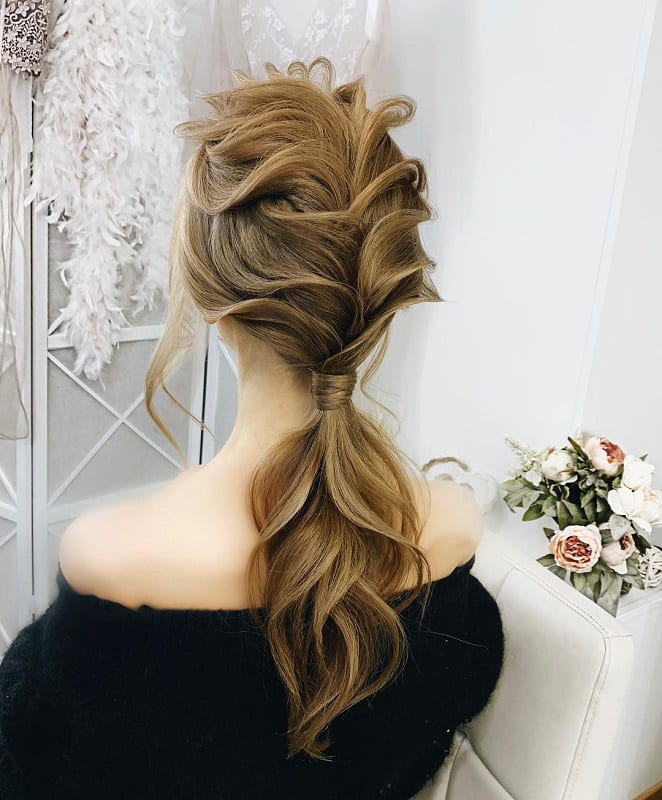 If you are in for a delicate and soft looking ponytail hairstyle for girls then this is the dream hairstyle for you.
The hair is all feathered and then delicately textured downwards as it is tied in a low ponytail. This can be ideal for summer weddings and parties as it has all the right looks and feels.
3. Knot Braided Ponytail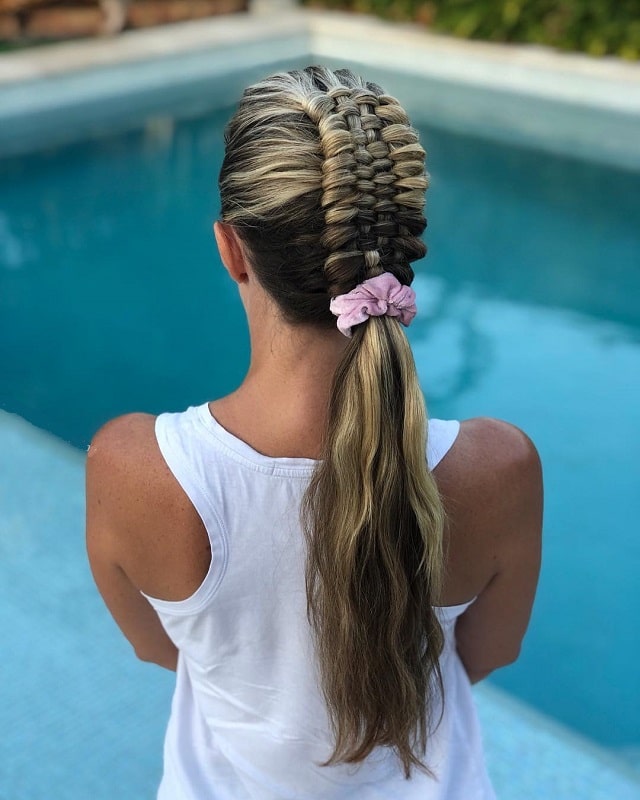 This is French inspired low ponytail with twisted knots which run down to the nape of your neck. The hair is tied into a low ponytail there and the ringed twists look so good that you cannot resist running your hands over them.
Gorgeous Braided Hairstyles for Little Girls
4. French Braided Side Ponytail
This girl's ponytail has a lovely French braid down one side of the head which is then tied into a low ponytail.
The hair is swept to one side and gives you the perfect fashionista look that you need this season to impress everyone.
You can have this side ponytail with most hair lengths so it is really a cool option.
5. Braided Bob Ponytail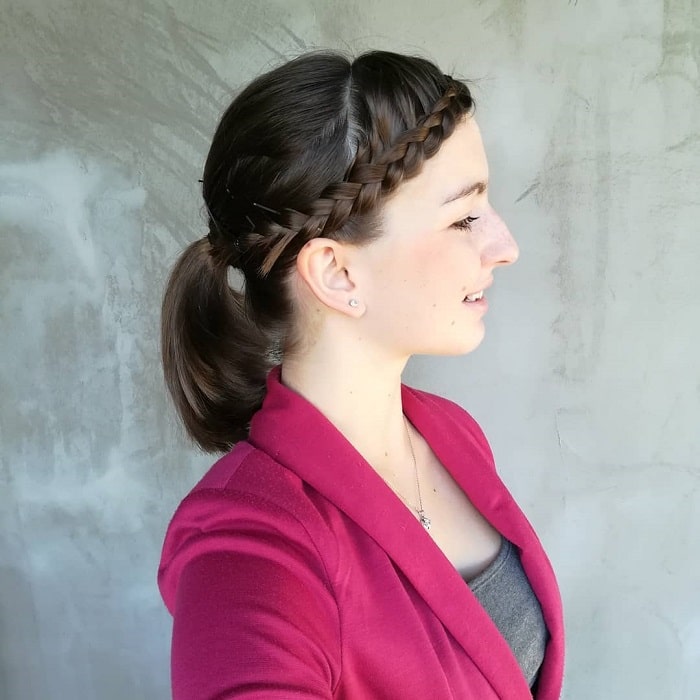 This ponytail is perfect for young girls with short hair. The front is braided and the two braids crown the front and sides of the head and then are at last tied into a short ponytail at the back.
6. Side Bubble Ponytail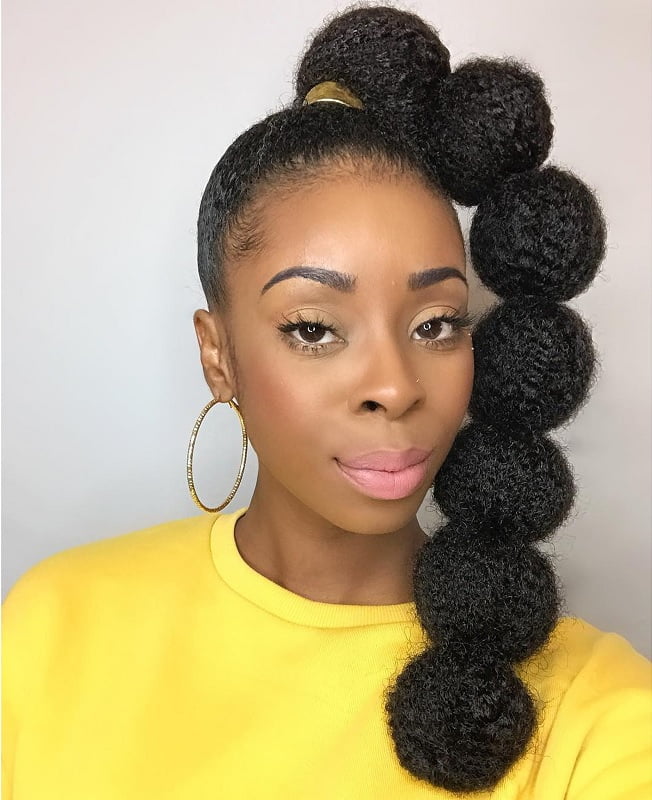 A bubble ponytail is perfect for all hair types, but it gets to a whole new level when it is done on Afro hair.
The bubbles have a nice texture and volume as they are by small hair. The bubble ponytail on girls curly hair is angled towards a side which makes it even more fashionable.
Mesmerizing Curly Hairstyles for Toddler Girls
7. Wrapped Ponytail
Having your Afro hair tied up in a ponytail can be tricky sometimes as the hair keeps flying in all directions even when it is in a ponytail.
In order to overcome this, you can have your ponytail wrapped in a lovely string which adds a dramatic feel to it.
8. Ponytail with Shaved Side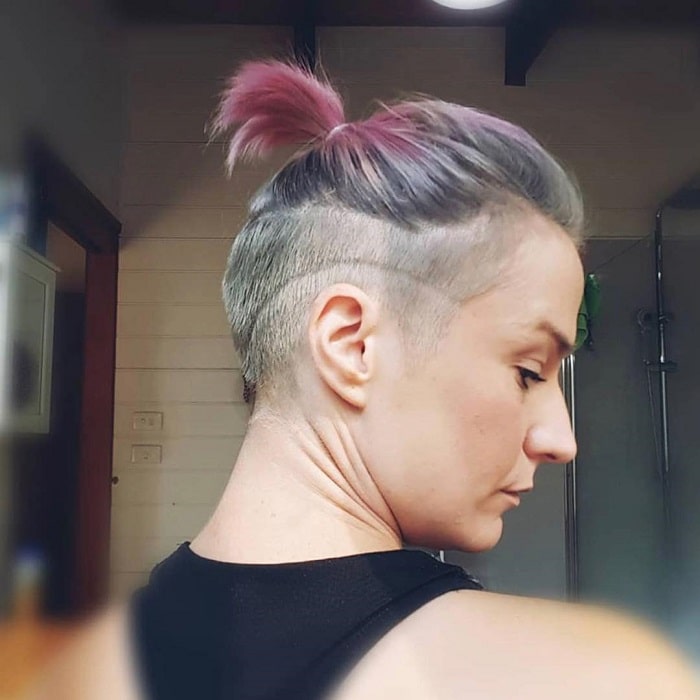 Ponytail hair ideas for girls really have no limits which are evident from this cute little ponytail.
The sides of the head are shaved and faded while the middle has short hair which is pulled into a cute and endearing ponytail at the top with just a dash of pink dye.
9. Messy Side Ponytail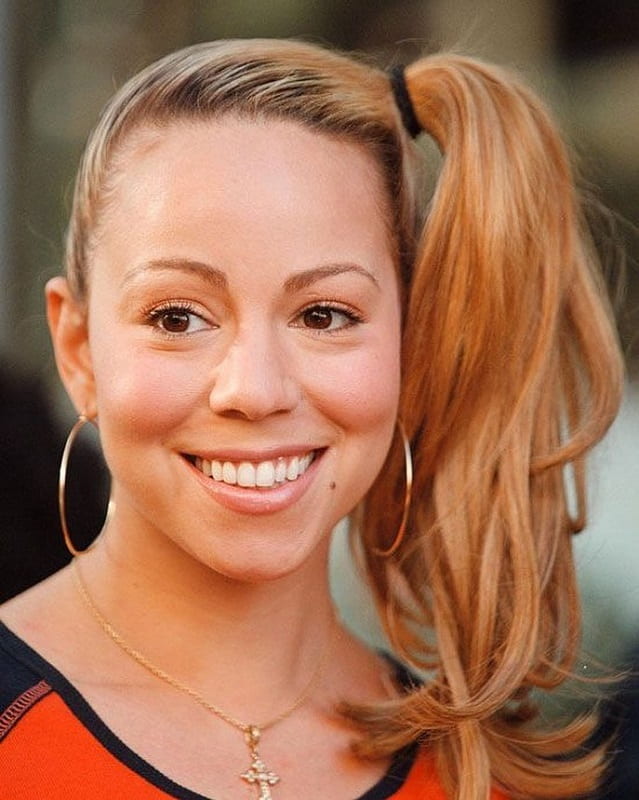 Who doesn't love a side ponytail which is fun and cute? This season brings out the fun-loving and free-spirited girl in you with this chic and trendy side ponytail.
This ponytail looks best on girls with medium hair, but you can get it with any length of hair.
10. Cornrow Ponytail
This is a fun and chic ponytail style for girls who love challenging the world and trying on new unconventional hairstyles.
The front is cornrowed while the back has a sleek and nicely done high ponytail. The ponytail is twin colored and has a unique character which is worth giving a try this season
11. Bubble Ponytail with Bangs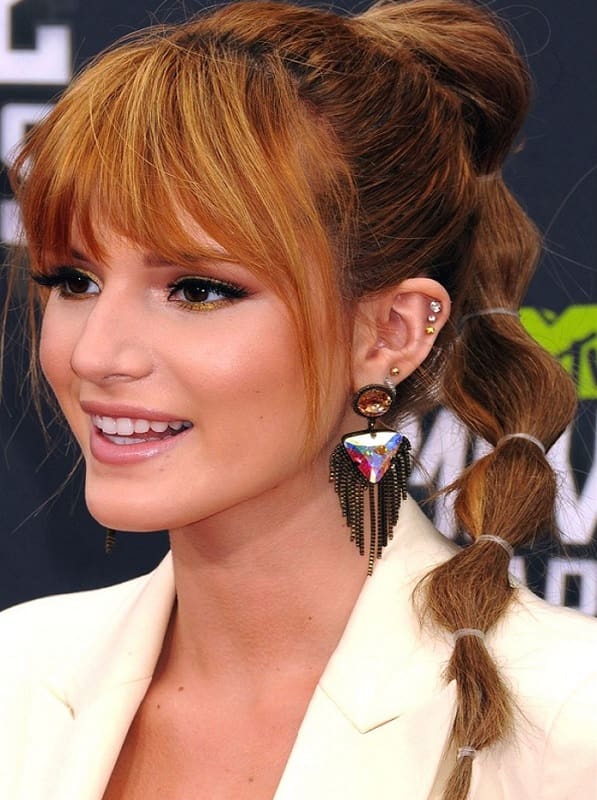 This ponytail for girls has a youthful and trendy character which shows in each one of the spirals of this ponytail.
The spirals are all separated with hair ties and are accentuated more this way. The front has fresh loose bangs which complement this look.
12. Funky Pink Weave Ponytail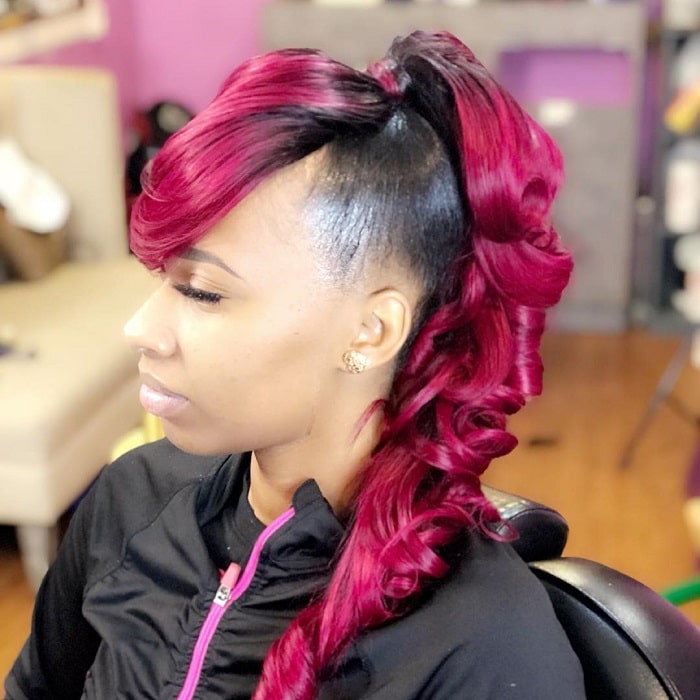 Who says to go for boring ponytails when you can have such flamboyant and attractive ponytails as this pink cascading one? The sweeping bangs at the front are just the added feature that it needs to reach perfection.
Funky Hipster Haircuts for Girls
13. Half Up Ponytail
Sometimes we just do not want strictly tied hair and want to let loose too. This half up trendy ponytail is perfect for those times as it has the right feels of a character that we all love for her simplicity and charm.
14. Funky Braided Ponytail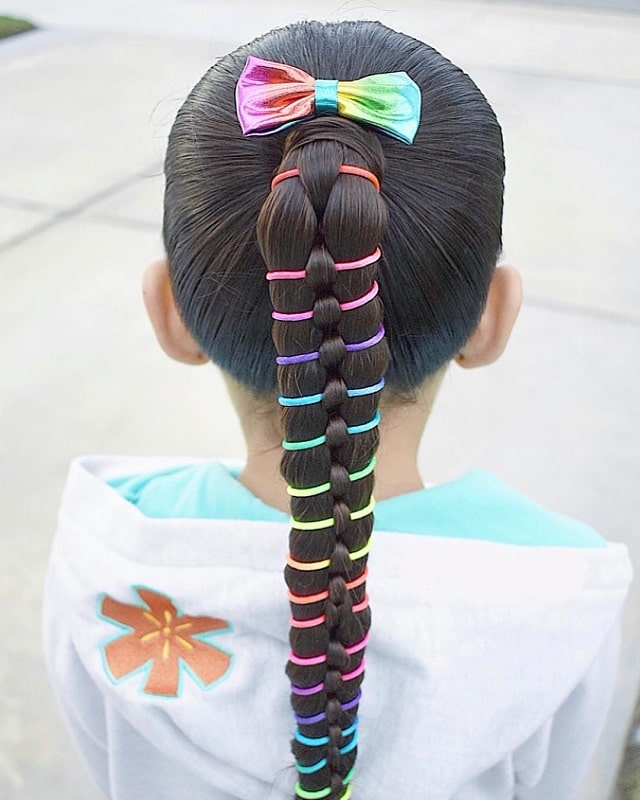 This girls ponytail here has some fun braids running down the length of the hair which is made more attractive by the colorful bands.
The colorful clip at the ponytail is lovely and goes perfectly for all the summer themed parties for kids and young girls.
15. Ponytail with Undercut
You can never go wrong with any alteration to your ponytail that you want.
This chic undercut adds more fun and liveliness to your character as you choose the perfect girly ponytail hairstyle for you this season.
The ponytail is high and lovely which perfectly balances the undercuts at both sides. It also brings more focus to the texture and volume of your hair.
 Stunning Mohawk Hairstyle for Little Girls
16. Fulani Braided Ponytail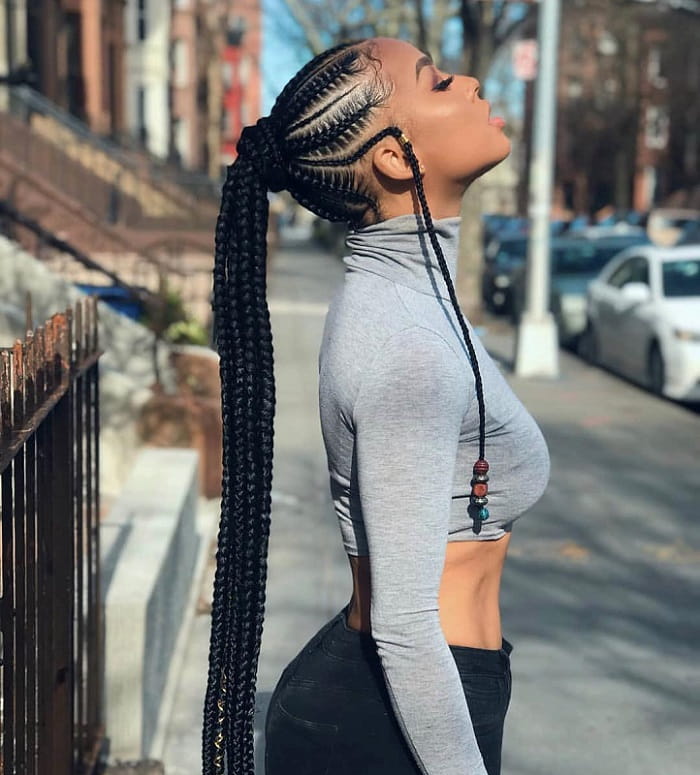 Who doesn't love an African traditional touch to their ponytail? This braided ponytail on girls hair is a perfect blend of traditional and modern hairstyles.
The Fulani braids are neatly tied in a sleek high ponytail with the accessories adorning and highlighting the braids.
17. Messy Fish Braided Ponytail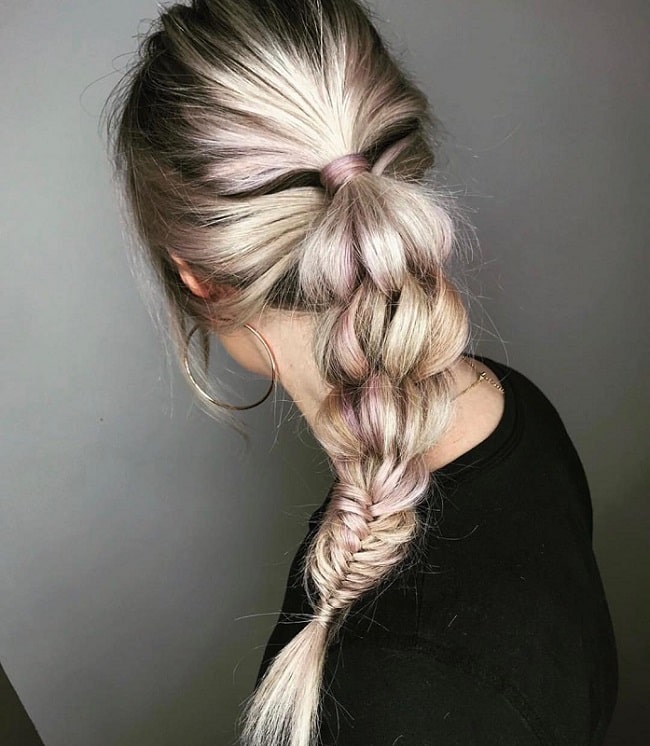 Fish braided ponytails with young girls blonde hair are lovely and chic, but the messy textured look added to this one is beyond perfect.
This can be your go-to summers hairstyle when you have to go out to hang out with your friends in all those lazy afternoon parties and beach trips.
The fact that it is a low ponytail makes it even more impressive and stylish.
18. Wavy Ponytail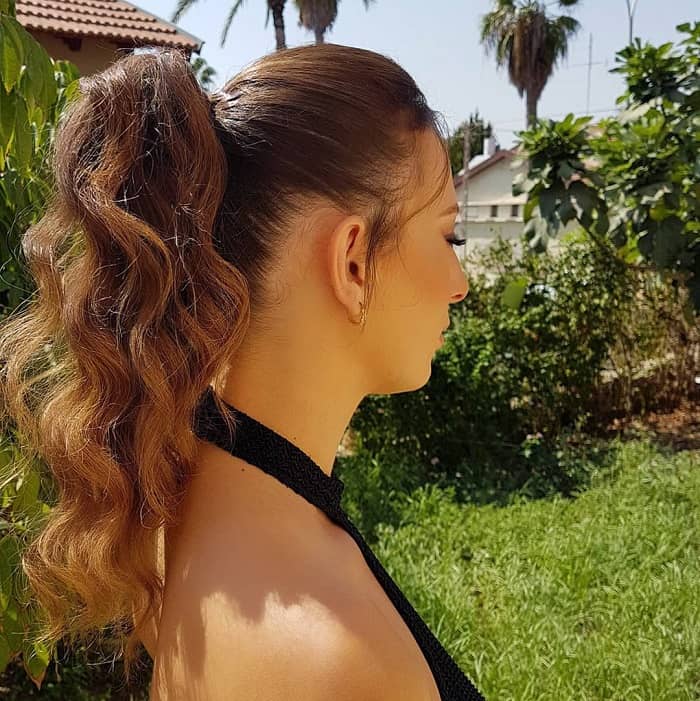 This is one of the rather natural ponytails for girls as the natural waves cascade down from the high ponytail.
The hair is not given any additional treatments and you do not have to spend a lot of time on this one as it is perfect in its natural form.
19. Intricate Fishtail Braided Ponytail
The braids of all sorts are done on the hair here and they make such a wonderful overall hairstyle that you cannot resist trying it
The front has tiny cornrows while the ponytail in itself has a thick fish braid which looks exquisite.
20. Messy Loose Ponytail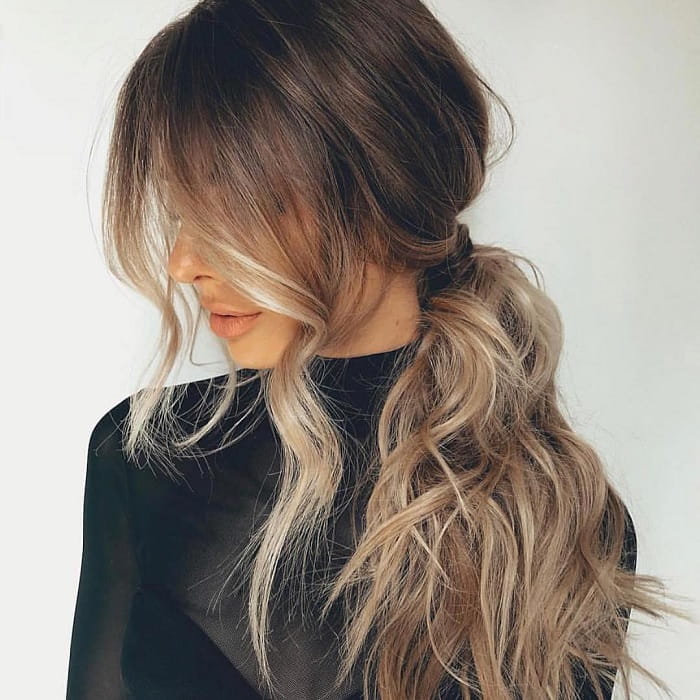 This French hair inspired lovely low ponytail has a feathery texture and many free ends. It is perfect for those lazy days when you do not want to put in much time or effort on your hairstyle.
Ponytail hairstyles for girls are always fashionable and trendy, so give these lovely variations a try and see how much you love them!