Unconventional, funky and eye-catching, emo hairstyles for girls are definitely on trend. If you are looking for a hairdo that allows you affirm your individuality loud and clear, this is the style for you. Emo (as in "emotional" or "emotional hardcore") is a style initially inspired by the lead singers of a genre of hard rock music genre.
Forget about boring classic haircuts: emo hairstyles are voluntarily edgy and head turning. You will always stand out in a crowd. With all the rules torn apart, it is the perfect way to show off your personality.
Funky Emo Girl Hairstyles
One word of caution: emo hairstyles are far from being low maintenance: the chemical used to dye the hair can be harsh on your tresses, so invest in some good protective hairstyling products.
They also require a good bit of styling to achieve that perfect salon look. Here are some of our favourite emo hairstyles for young girls!
1. Choppy Colors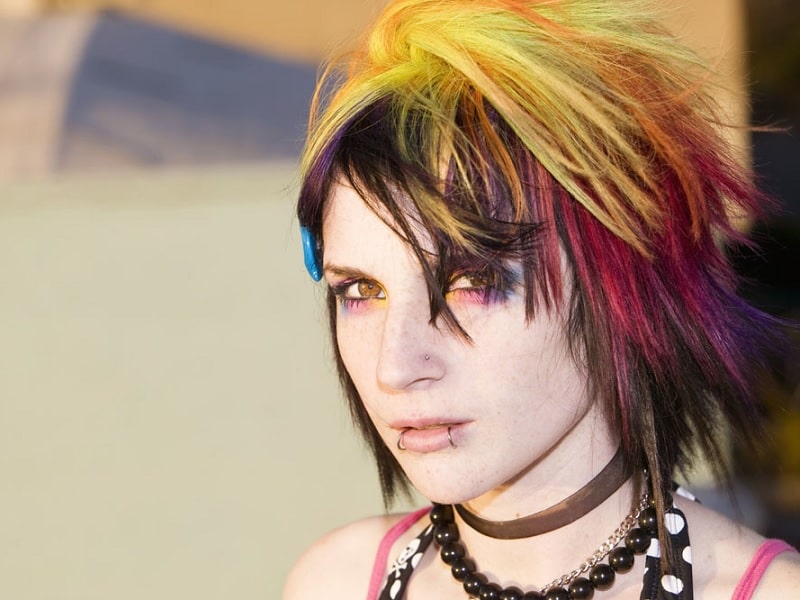 Blunt, choppy layered hair is so characteristic of the emo hair look and style and so are bright, bold unconventional colours. This look combines both for a really interesting, unique look.
2. Funky Asymmetric Chop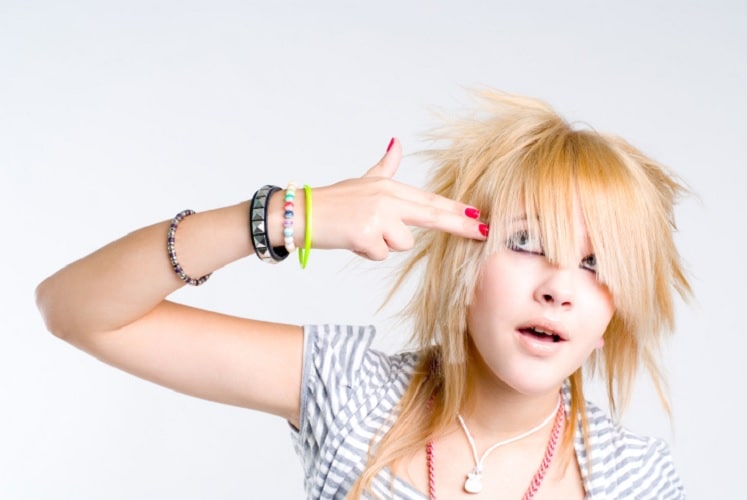 Teaming a bleached out blonde chop with dark makeup really packs a punch in terms of an interesting look. The contrast between light blonde locks and dark eye makeup creates a lovely monochrome palette to base the rest of your look around. This look also utilises the choppy layered style.
3. Bright Colour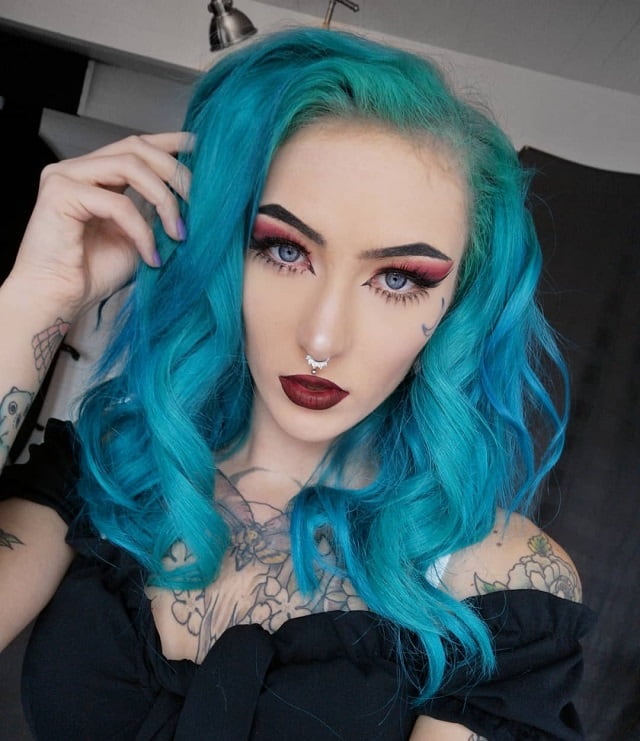 Using bleach to strip your hair of its natural colour before replacing it with a bright, unnatural colour like this blue achieves an extremely bright result. The look of an overall bright colour paired with dark, emo eye colour is very ethereal and almost cartoon-like. This pairs really well with an emo hairstyle.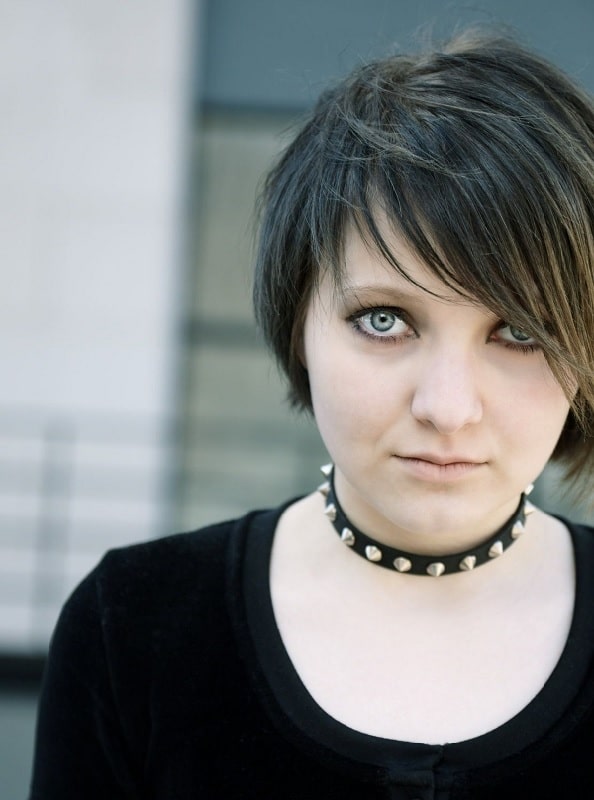 Emo hairstyles for girls (and boys) are often characterised by the asymmetric bangs or the "side fringe" and this has become the classic emo look. The dark eyes peeping out from behind asymmetric bangs is what adds depth and emotion to the look.
5. Vibrant Two Toned Curly Hair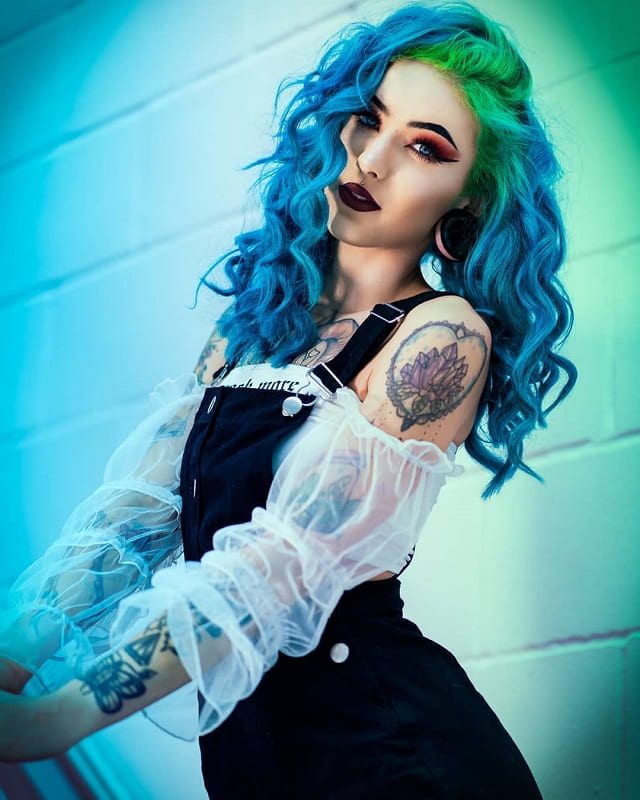 So, coloured hair is pretty wow. Coloured hair with roots that are a different colour intentionally!? Well, that's definitely a standout look. Whether this is a look you set out to achieved or an experimental way of covering up grown out roots, it really adds heaps of personality to the look.
The emo hairstyle definitely draws inspiration from cartoons, with angles and lines being very important, and this two-toned coloured look really plays into that too.
6. Lilac Purple Hair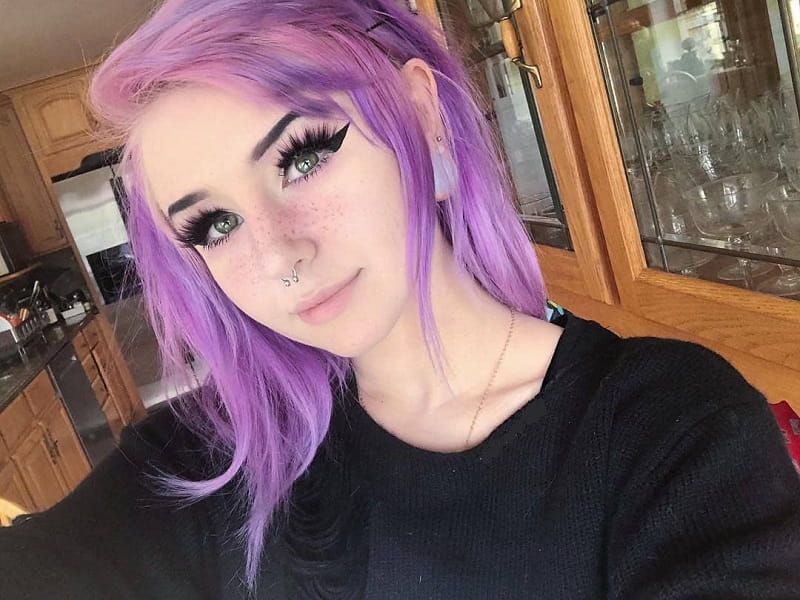 Sometimes girls emo hairstyles conjure up images of black, black and more black, but the look has moved on significantly since the days of the 'the darker the better' and is instead embracing a wider range of hues allowing for different personalities to shine through.
The lilac look is a prime example of a softer look being achieved and yet the lashes and eye make up mean the look is still very 'emo'. Whether you naturally have thinner, lighter hair or use layers to achieve the look this adds to the ethereal, airy look of this style.
7. Reverse Ombre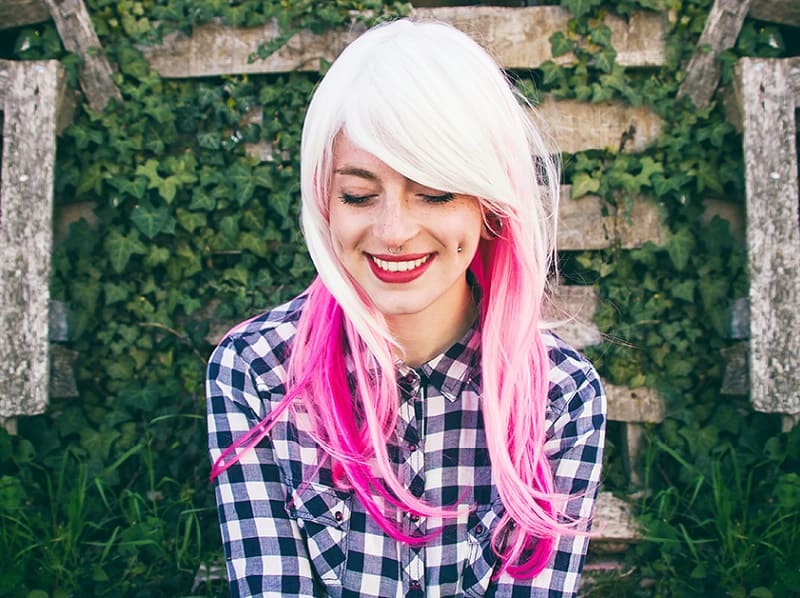 The ombre or dip-dyed look has been popular with all sorts of hair colours and styles and it is especially effective for bold colours like this pink. The hair is bleached out first to help the colour take better and the ends are then dyed the brightest shade of pink.
Taking the colour in lower concentration up the hair strand leads to the ombre effect where the bleached out white and bright pink seem to blend seamlessly into one another.
8. Choppy Green Hair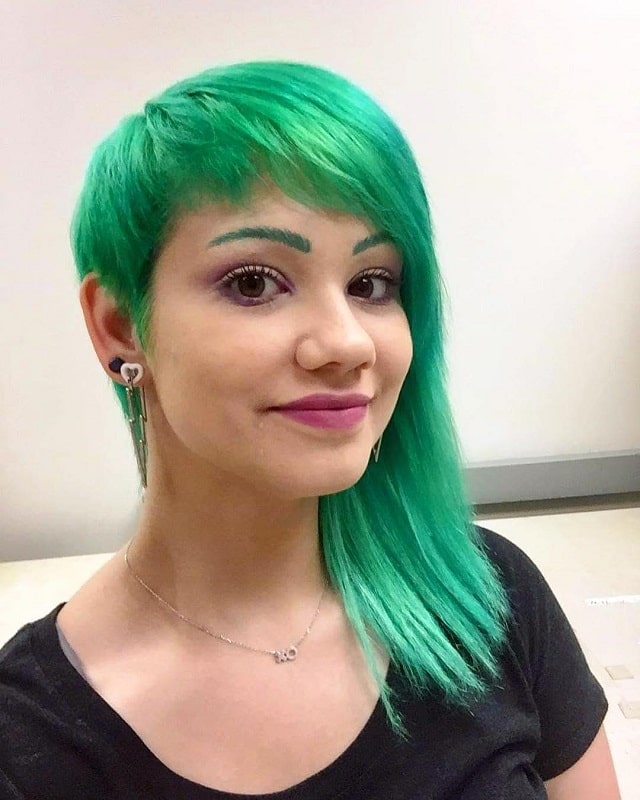 As mentioned earlier, asymmetry is a key component of the emo look and also emo hairstyles for girls and this style capture that perfectly. One side is cut short whilst the other is left long, the resulting look is very unique and different and can be added to with choppy layering or colours as the wearer wishes.
9. Long Loose snd Brightly Coloured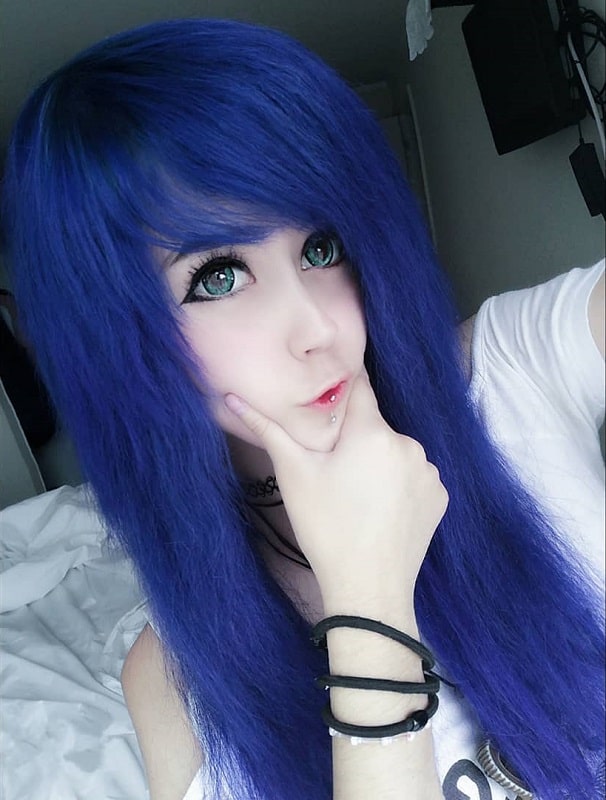 It used to be that anime girl hairstyles erred on the shorter, more unisex, side but longer hairstyles are becoming more popular and this brightly coloured look is a great example of why.
The long lengths of this look, combined with the emo styled makeup leads to a real cartoony look which showcases a sweet and innocent personality.
10. Blue Braids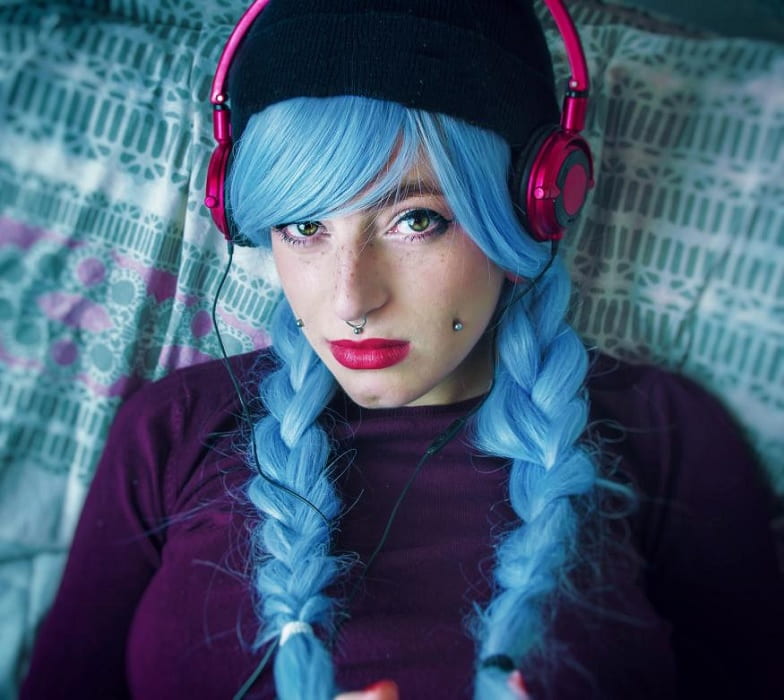 Brightly coloured, thick, chunky braids make a great look here and can be a way of styling longer emo haircuts for different occasions. Paired with a classic asymmetric fringe this look can definitely be classed amongst emo styles.
11. Fiery Orange Shade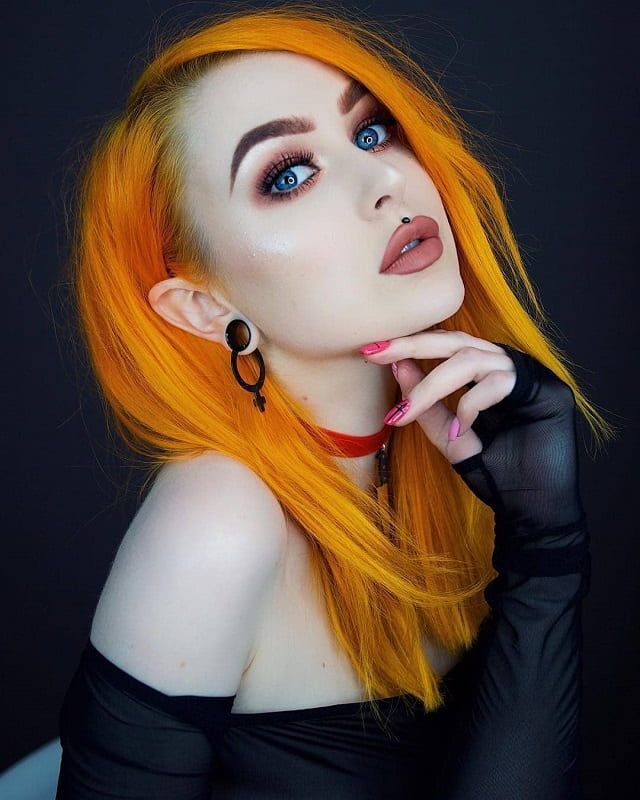 Also moving away from the classic dark black, fire tones; red, orange, deep burgundy, are really hot on the emo scene right now. If your hair is naturally dark you made need to bleach your hair out to get the vibrant colour you're looking for, but this colour palette can certainly suit a fiery personality.
12. Messy Bleached Hair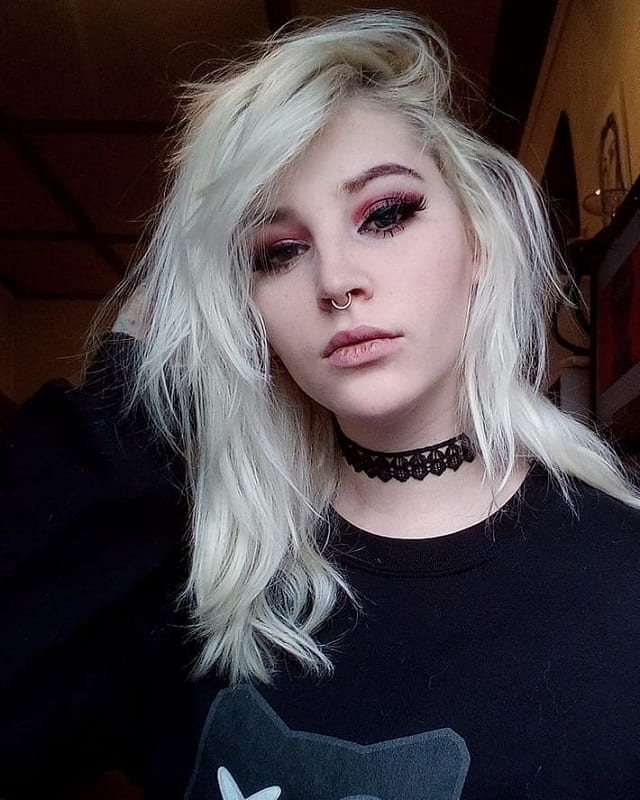 Often when we think of bleached hair we think of the more yellow barbie-inspired tones, but ash tones can offer a more emo inspired girls hair look. Using a texturizing spray to get a tousled, beach-life look can soften this look.
13. Cute Pigtails
We often think of pigtails as being cutesy and girlie and whilst that can be true, pigtails are actually quite versatile and can be used for all sorts of looks, including playing into the emo style.
14. Fiery Ends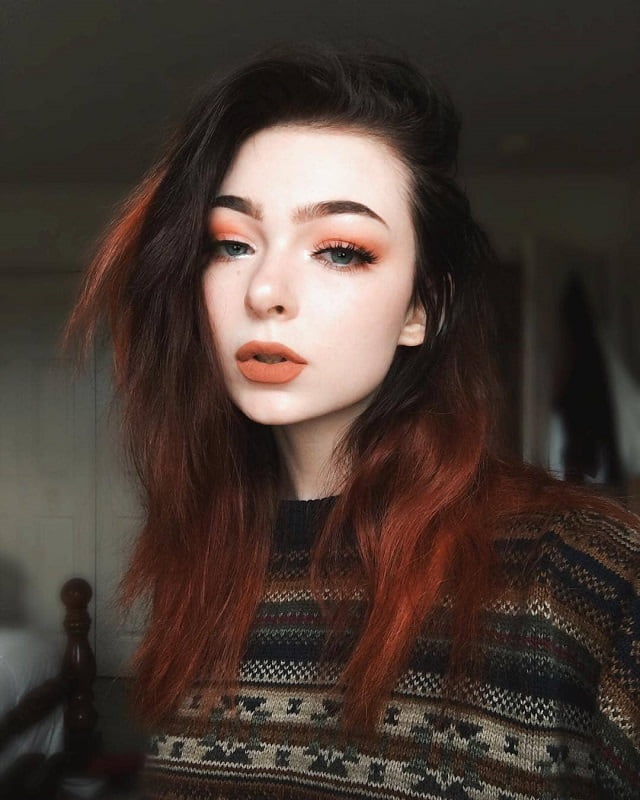 This girl's emo hairstyle adds the trendy fire tones to the tips of the hair, which is much more forgiving on the regrowth and upkeep but still adds interest and personality to the look. Paired with a choppy hairstyle this really suits the emo style.
15. Bob with Blunt Bangs
Emo hairstyles for girls are often dominated by the classic asymmetric bangs but straight, blunt bangs can work just as well. A bob hairstyle is also not classically considered an emo style but it can be spruced up with a pop of colour, or some choppy layers to make it more suited to the style.
16. Dip Dyed Ends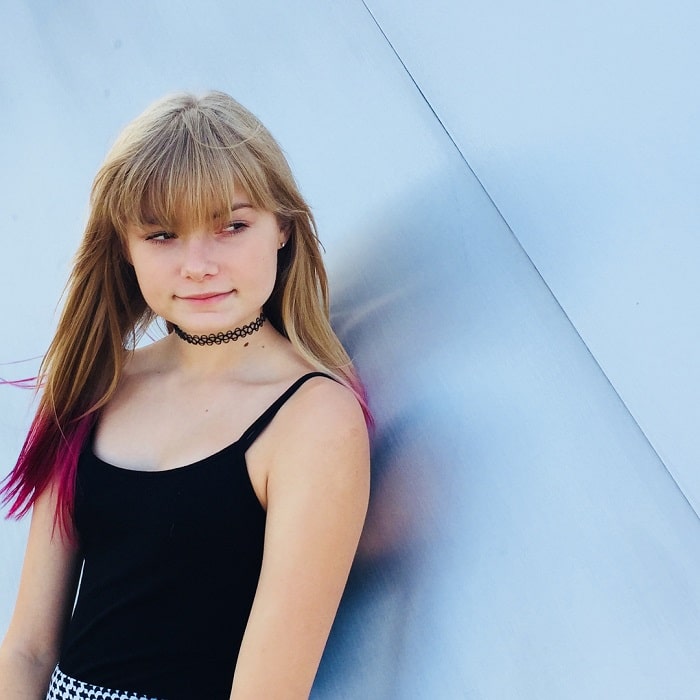 Whilst dip-dyed and ombre are very similar they are not exactly the same; ombre has a gradual fade from one colour to the next, whereas dip dyed simply means the ends of the hair are coloured as though they have been dipped into dye. This blunter result suits the emo style well.
17. Short Asymmetric Bob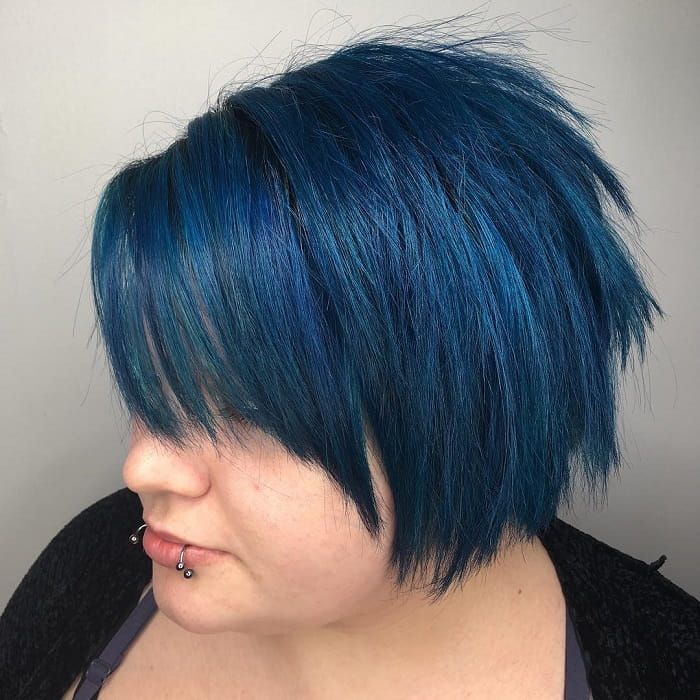 Choppy layers, bright colour and asymmetry this look has all the hallmarks of hairstyles for emo girls and can be personalised easily by experimenting with different lengths, layers and colours.
18. Faded Pink Hair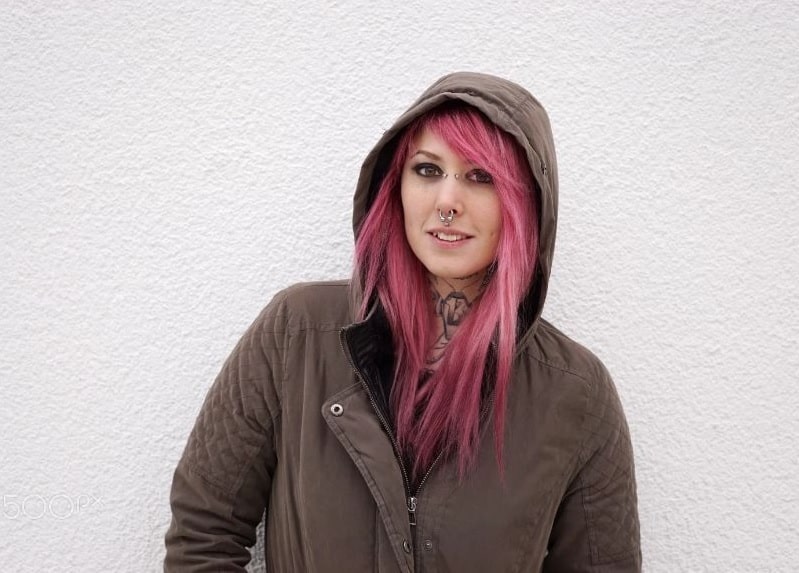 The emo hairstyle is becoming a little more distressed and undone as time goes on and faded colour is a great example of this. Instead of bright, polished colour, this look plays with the idea of faded or muted colours.
Not only is this easier on the upkeep but it also adds an element of depth and emotion to the look.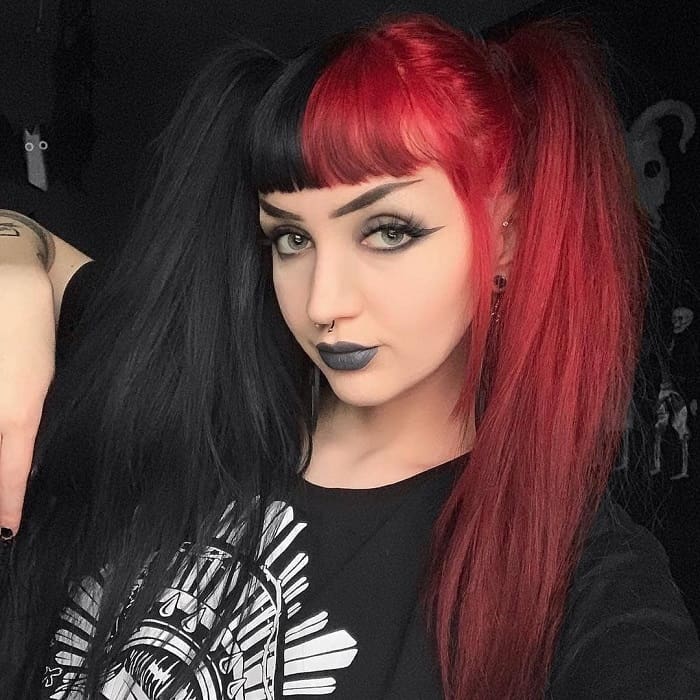 This look is super unique; half of the hair is one colour and the other half another. This is really striking and looks amazing with emo-style make-up. The colours you use are up to you, making it quite a personal look.
Shaving parts of the head are definitely dramatic and won't suit everyone but if you fancy braving the clippers there are literally thousands of looks you can go for. Taking out bits of hair seemingly randomly suits the emo affiliation for asymmetry.
21. Double Dip Dye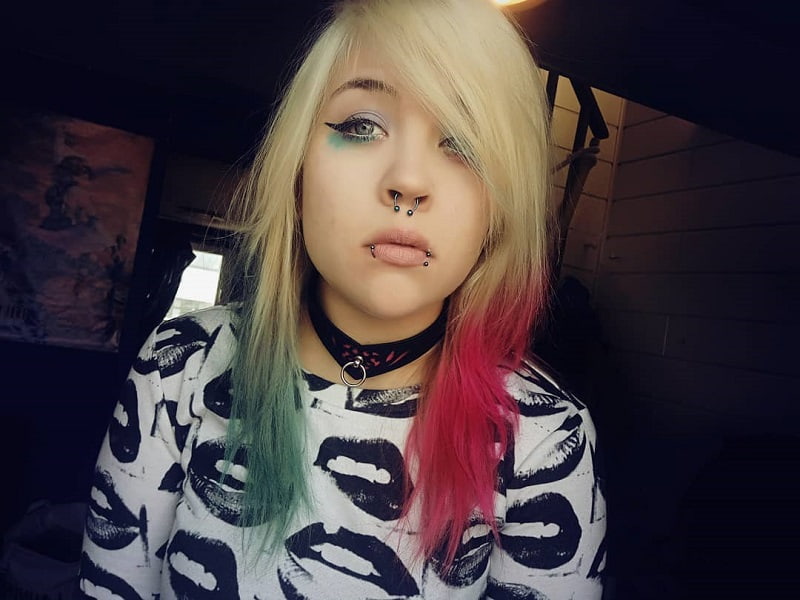 Using the dip-dye technique with a different colour on each side of the hair is a really unique way to create asymmetry and use more colours. You can choose which colours you use and really personalise the look that way.
22. Thinned Out Layers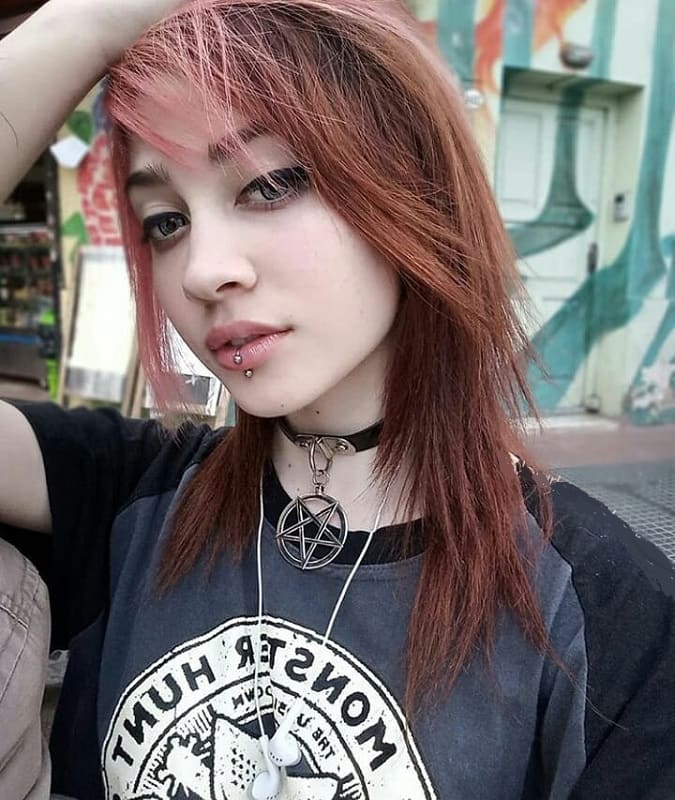 Straight, blunt-ended layers are a classic feature of emo hairstyles for girls and this one featuring thinned out layers is a great example of that.
23. Blunt Fringe And Curls
Another look that is not normally associated with the emo scene, but as this picture shows, teamed with bold makeup a real fairy-type look can be achieved and this air of magic and mystery lends itself well to the emo hairdo.
24. Thinned Out Bangs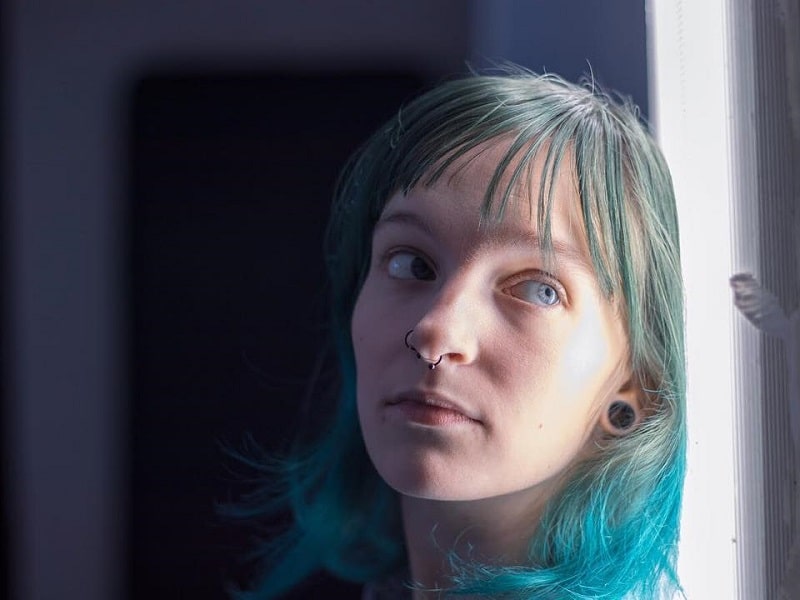 Usually, thick, asymmetric bangs are the emo thing but sometimes playing around with opposites has great results, like this, thinned out fringe which really works as part of the emo style, even though it's the polar opposite of expectations.
25. Faded Half and Half Straight Hair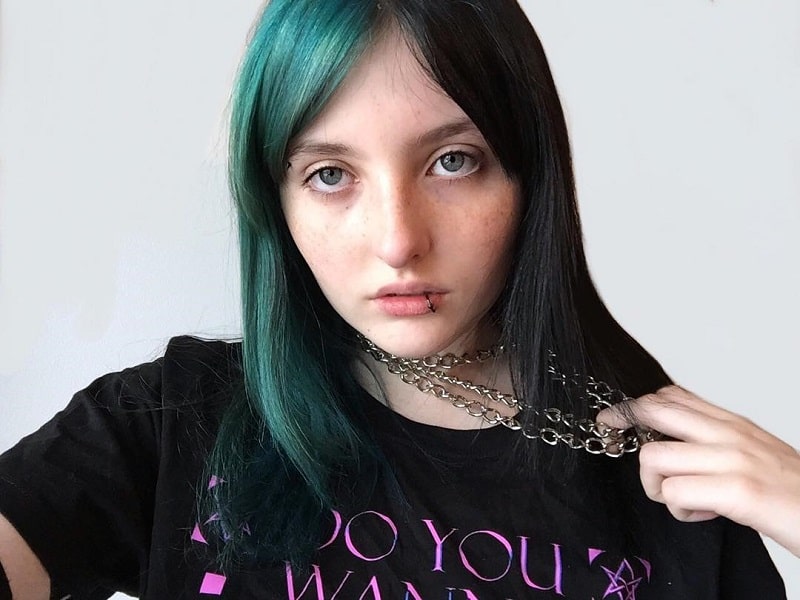 The muted hair colour in this look really works well as it shakes up expectations of the emo look. The half and half look is really unique and will certainly set you apart from the crowd.
26. Vibrant Stripes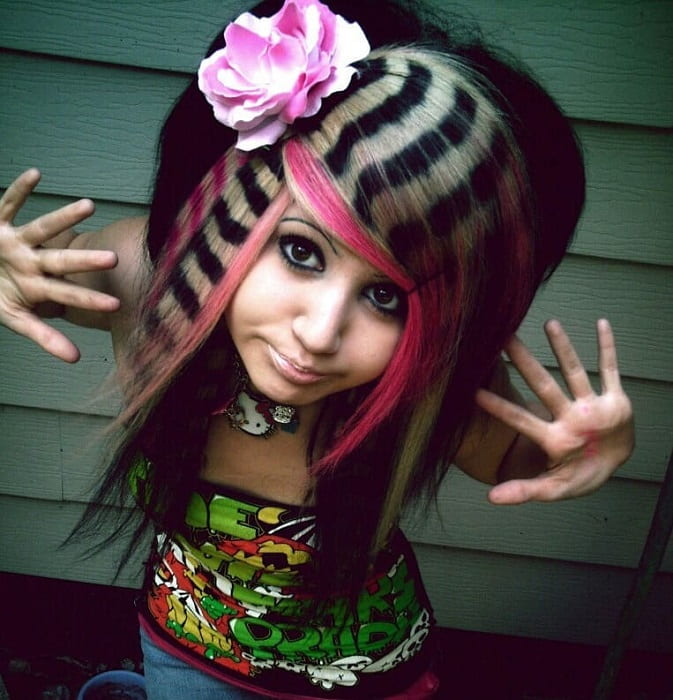 This look has so much going on, almost too much going on! And that's exactly why it works; the mish-mash of different colours, patterns, textures and styles produces an overall eclectic look that fits in with the emo scene.
27. Long Waves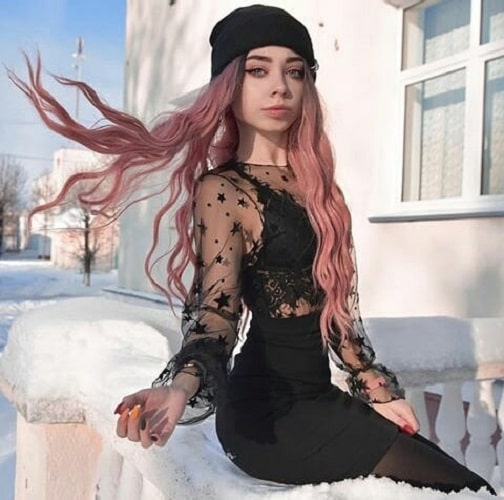 These long, muted, coloured, wavy tresses seem so effortlessly cool peeping out from under a beanie hat. The faded colour and the waves give a more relaxed look to long hair, which can often seem a bit too prim, princessy or girly for the emo hairstyle.
28. Messy Red Hair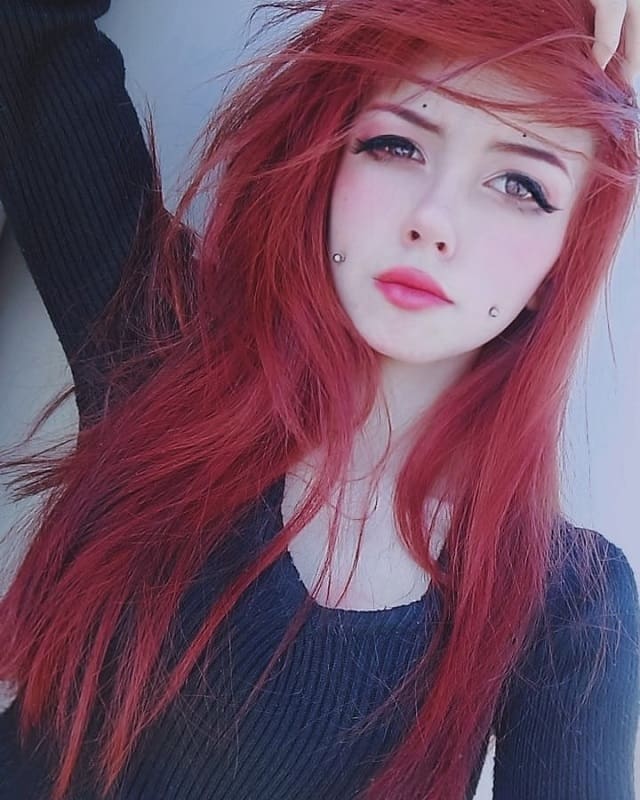 As you may have gathered, asymmetry is the aim of the game and this look takes it to the extreme by parting the hair on one side and then combing it right over to the other.
29. Dip Dye in Natural Hues
The emo hairdos for girls we've seen so far have all used dip dyes in bright unnatural colours like blues and pinks, but dip dye works just as well using blonde or auburn and if you prefer to stick to more traditional colours, or have a job that says you must then this could be a great look for you.
30. Blunt Fringe to A Point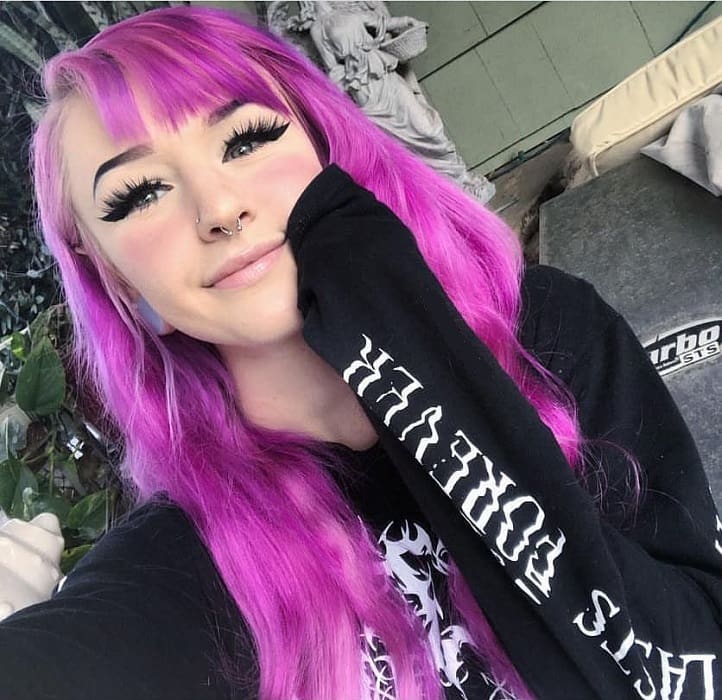 This style is cleverly mixing the super flattering blunt fringe with the emo-classic asymmetric one, as the fringe fades into a point to one side.
31. Dark Blue Hair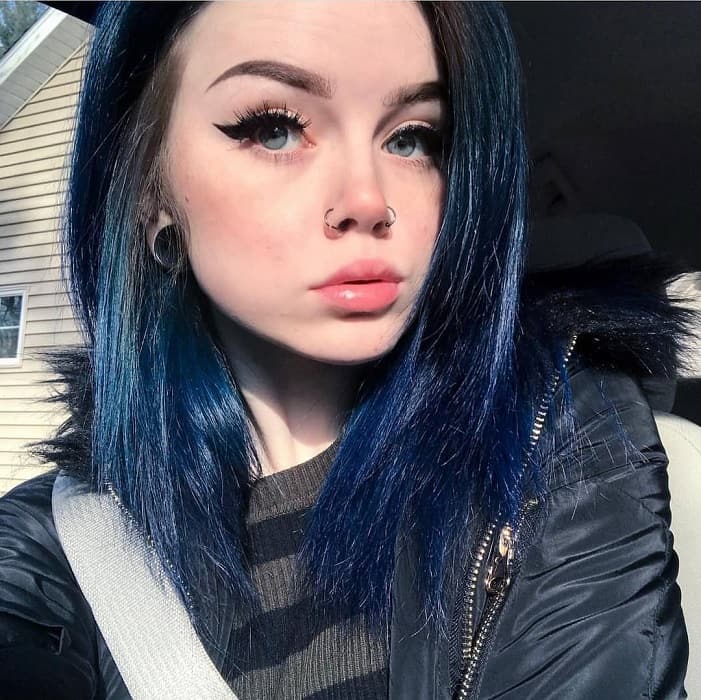 Super blunt, angular ends make this look very emo, everything is choppy with hard lines and dark colours; a real classic emo hairstyle.
Although emo hairstyles for girls sometimes are associated with raven colored locks, the style has evolved and all the color of the rainbow, the louder, the better, are now accepted, monochrome or multicolored. If you have ever wanted to dye your hair electric blue or pastel pink, this is the hairstyle for you.