Haircuts for girls with curly hair can be tricky; curls don't always behave in the same way as straight hair once cut. Here are 25 curly hairstyles for girls that may work to suit your girl's personality and preferences.
Popular Curly Hairstyles for Girls
We have shortlisted a list of 25 hairstyles for curly haired divas to flaunt their natural hair.
1. Undone Curly Bun
The undone bun is popular for black girls with all types of hair but it's especially easy for girls with curly hair to achieve as the curls naturally add texture to the look. The idea is to look effortlessly beautiful; anything too sleek or professional goes against the spirit of this style.
2. Curly Top Knot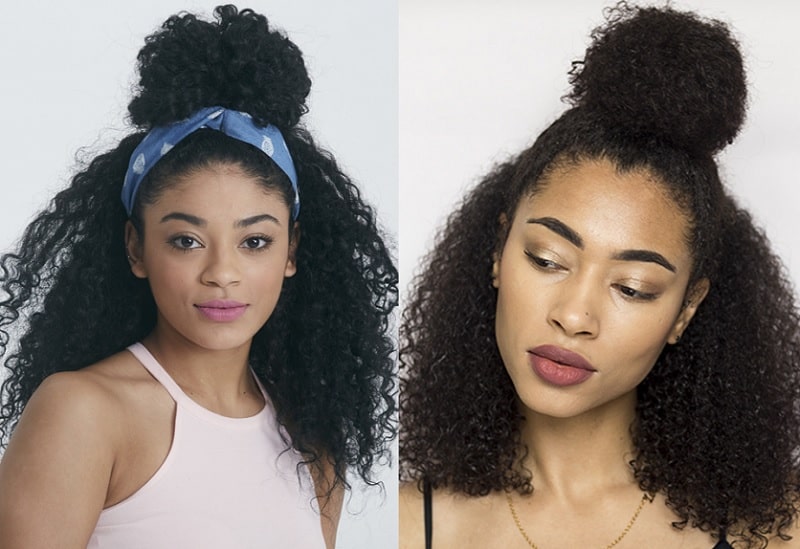 Curly hair can get unruly quickly so getting it away from the face is key to this look. The top knot seems to have gained in popularity with men as well as women recently, possibly because it is just so useful and practical.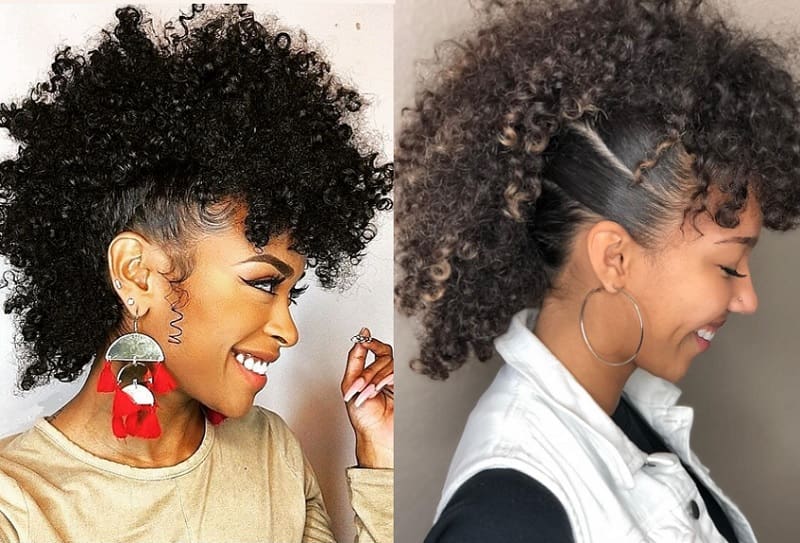 Achieving the mohawk but without getting the clippers out! Using product and hair clips hair is slicked towards the centre of the head and then the curls are simply allowed to do their thing.
When it comes to curly hairstyles for girls, making the most of curly hair's unique behavior is definitely the way to go; the Mohawk is a great example of a style that would just not look as good with straight hair. The texture and tendency for curly hair to stand up are what really makes this style special.
4. Braided Pigtails
Curly hair gets hot quickly, which is why many styles focus on keeping it off the face. This hairstyle for girls with curly hair does just that; hair is braided from the front, gathering all the hair in and off the face and then at the nape of the neck is tied off into braids and the curls are displayed in their full glory lose down the back.
5. The High Pony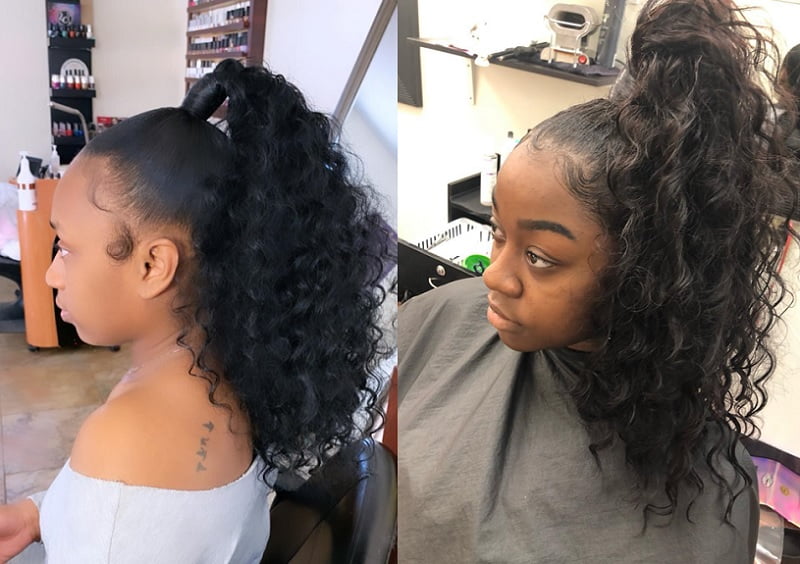 The high ponytail is a simple style to achieve; curly hairstyles for girls don't get much easier than this! Just gather the hair together and tie it up with an elastic or hair tie. For a more polished look, you can wrap a piece of hair around to cover the fastening. A great, practical way to showcase beautiful curls.
6. Half Knotted Hairdo
Scooping some hair back from around the face and securing it towards the back of the head creates a half ponytail so you can keep curly hair manageable whilst also showing it off. Secure the hair with itself by tying a knot; no elastics on show here!
7. Crown Braid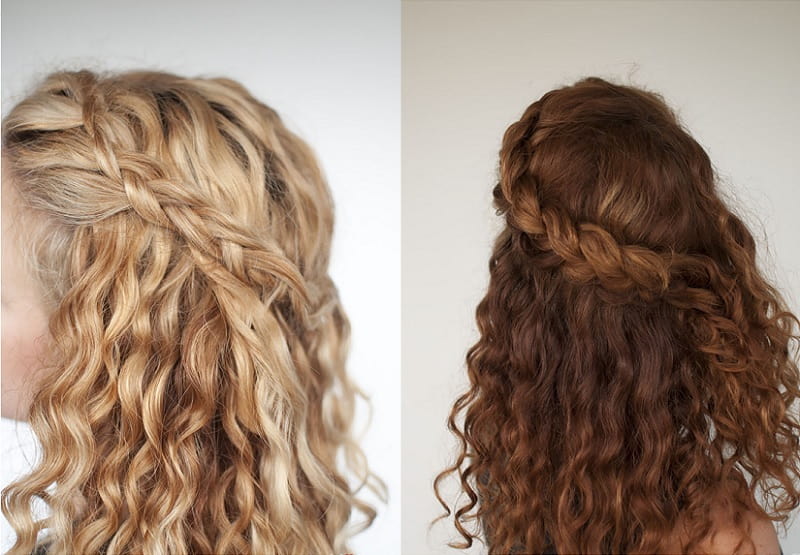 Something about the juxtaposition of wild curls and the prim, polished image of braids makes braiding very popular in girls curly hairstyles. This style utilizing braiding to secure the hair away from the face, creating a crown-like structure.
8. Double Bun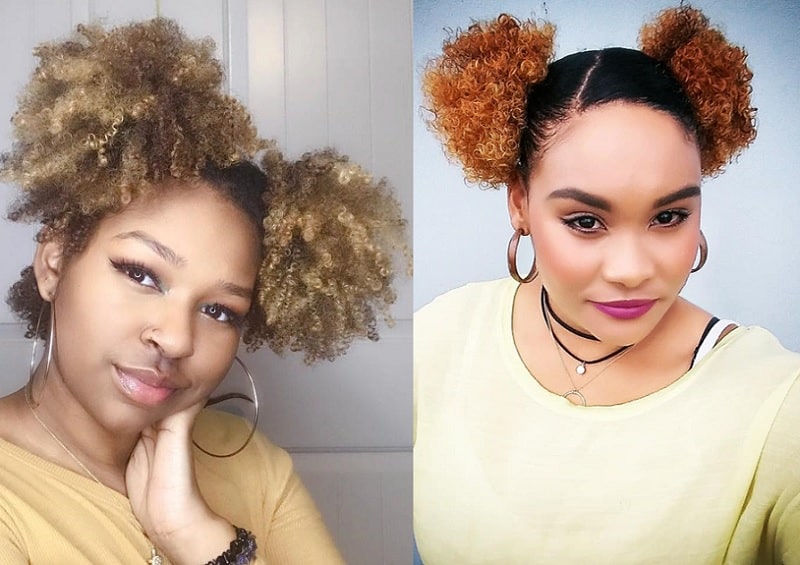 Two buns on top of the head, or "space buns" as they are sometimes called is becoming an increasingly popular style for girls of all ages. This hairstyle is particularly ideal for girls with curly hair who need to secure their hair off the neck on a warm day, or for playing sports as it keeps hair neat but contained.
9. The Pleat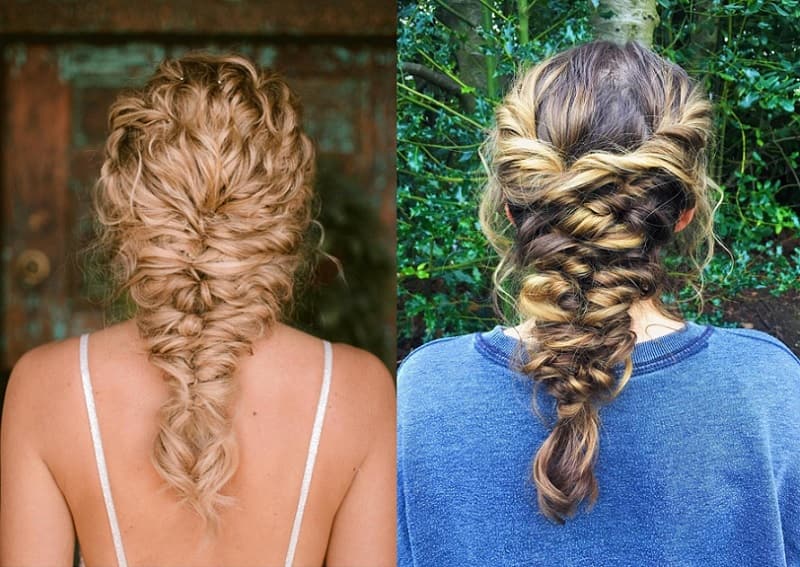 There are many ways to pleat hair; they are braiding techniques used to secure particularly thick hair and this makes it ideal for curly hair too as the texture of some curls can make braiding a bit trickier. This look, however, is definitely enhanced by being done with curls!
10. Messy Pleated Bun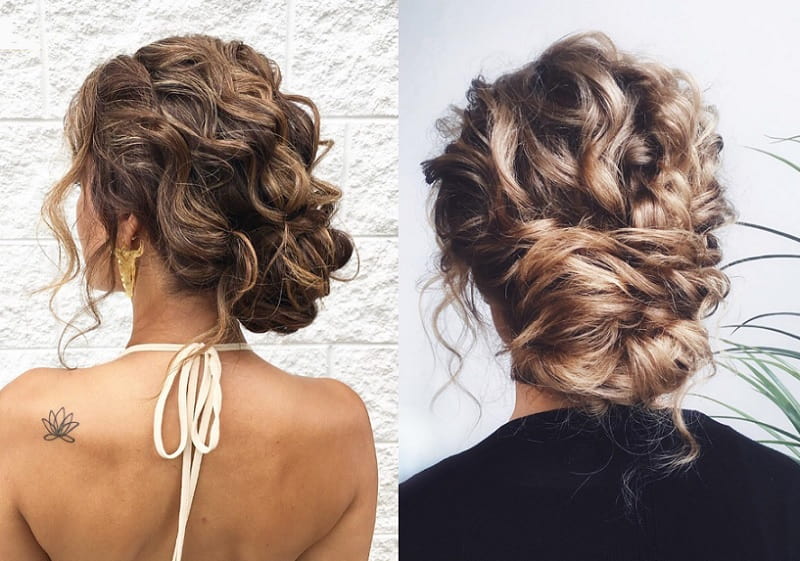 Using braiding techniques to create a pretty pleated look whilst still being an updo, a pleated bun offers the best of both styles and can be dressed up or down to suit the occasion very easily.
11. The 'Fro
Natural hair of black girls is stunning and is extremely on trend right now too. So, if you're lucky enough to have afro hair, don't fight it! By all means, enhance it with the right products and a hairdresser who specializes in haircuts for girls with curls but don't shy away from the 'fro.
12. Corkscrew Curls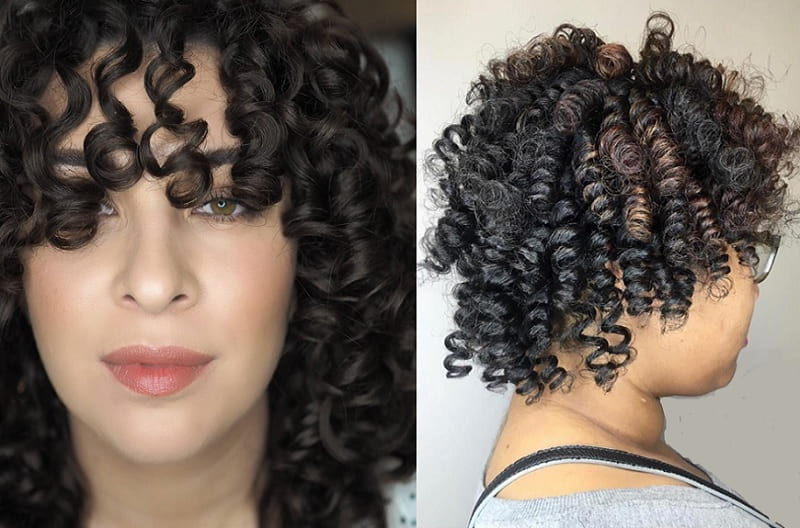 Super-defined corkscrew curls are so gorgeous, whether they're natural or you need a little help to achieve them, a little hair serum will keep them looking defined throughout the day.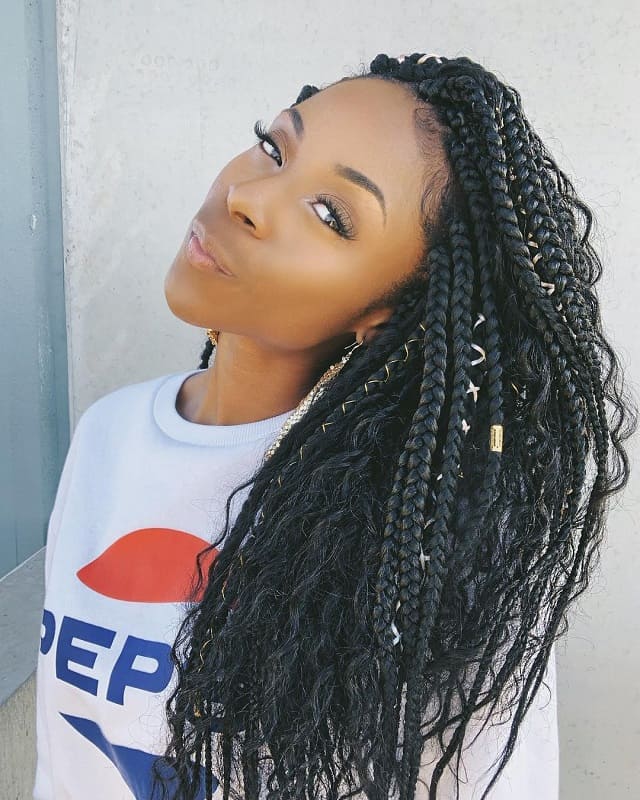 Braids are a really great way of keeping hair in check, but sometimes you want to show off your natural curls too. This style lets you have it all, by braiding the top half of the hair you get neat definition and the practical side of braids but leaving the underside of the hair to do its thing means you get to show it off in all its natural glory.
14. Mini Buns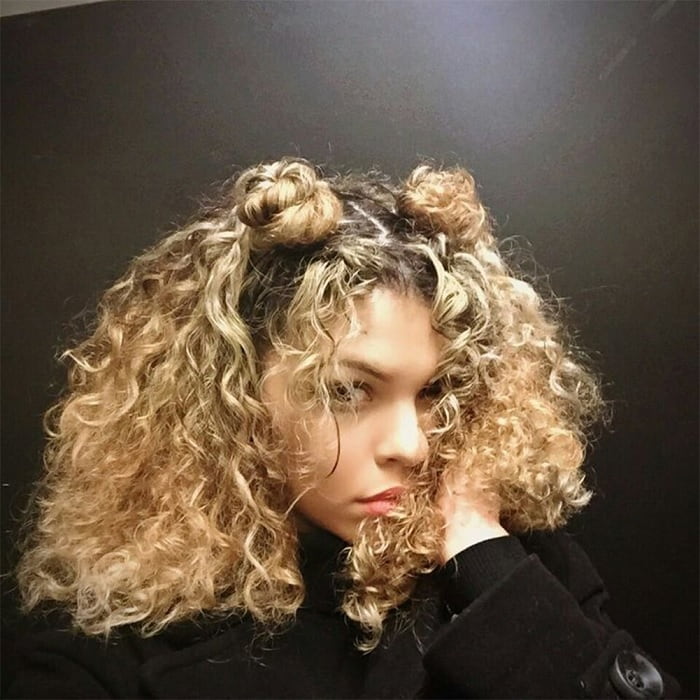 Two top knots or mini buns can be the ideal way to get some of the top layers of curls under control whilst simultaneously showing off your curls. Curly hairstyles for girls should play the curls up, not tone them down!
Using braids to control the front third of the hair by creating a braided headband this style lets you keep the party in the back whilst still being able to keep hair out of your eyes and face. It's also pretty quick and simple to achieve, saving precious minutes in the morning.
16. Curly Blonde Hair
Bangs and curly hair can be a really tricky combination, but if you're not keen on a very obvious parting you can really be left wanting. Pushing the hair back from the face without parting it and securing with pins, or product, is one way of avoiding both bangs and a parting.
17. Ringlets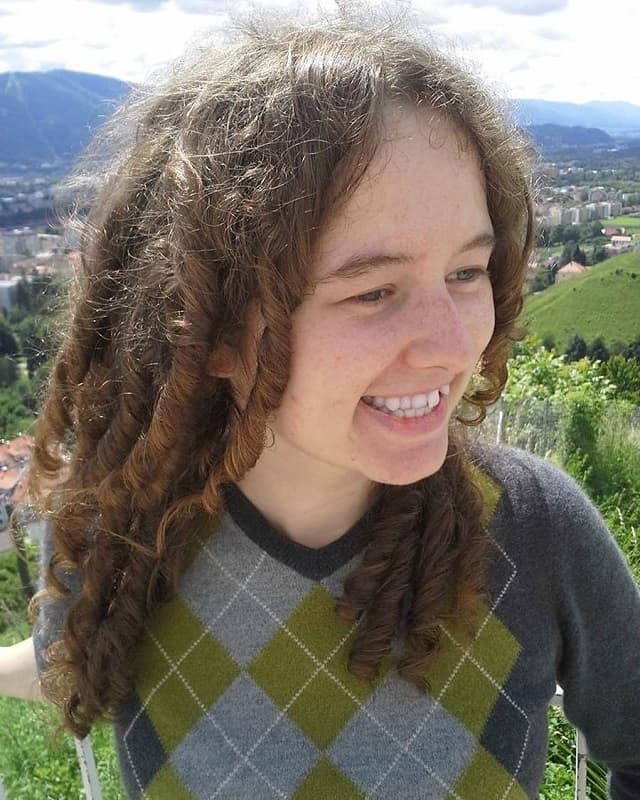 Some girls are lucky to be blessed with natural ringlets like these whilst others achieve them through any means! This style can also be known as rag curls as traditionally it could be achieved by winding wet hair around strips of rag and leaving them to dry overnight. Curls like these speak for themselves!
18. Pull-Through Braid
Sometimes braiding curly presents unique challenges. The pull through braid can help to overcome the difficulty of trying to braid tightly with thick bouncy curls, and the result is as practical as it is beautiful. It's also super simple to achieve, so if complicated hairstyles just aren't your thing then this one's for you.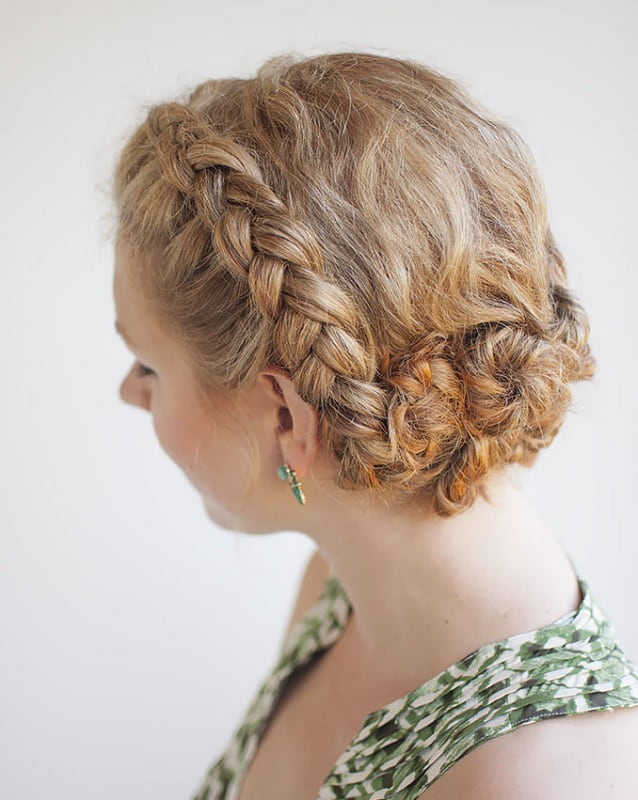 Whether it's for a special occasion or just an extra neat everyday look, a braided updo can add lots of structure and control to curly hair. They can be tricky to achieve so you'll want to practice beforehand, but the tamed result is so worth it.
20. French Braid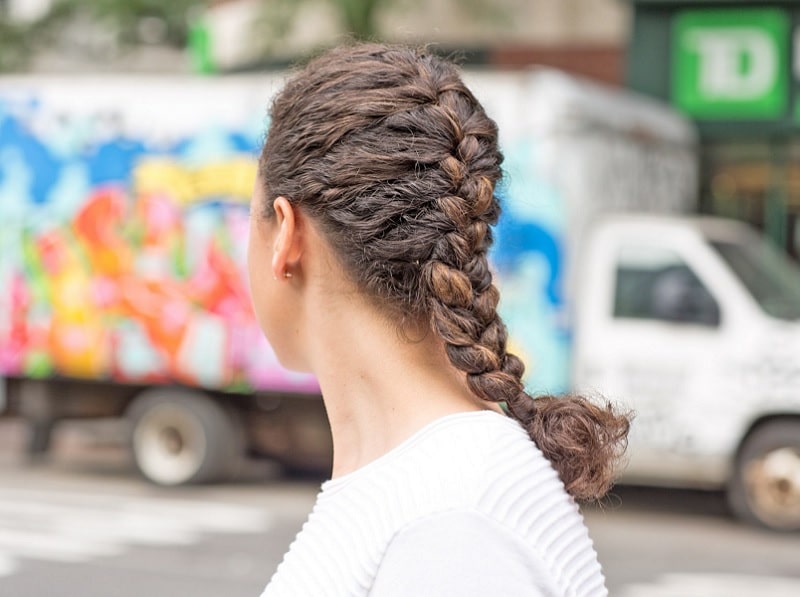 If you really need to get curly hair under control, a French braid is definitely the way forward. Gathering all the hair neatly together and using a braiding technique that tucks the hair down and under itself results in an extremely sleek look ideal for school, sports, and more formal occasions.
21. Curly Bob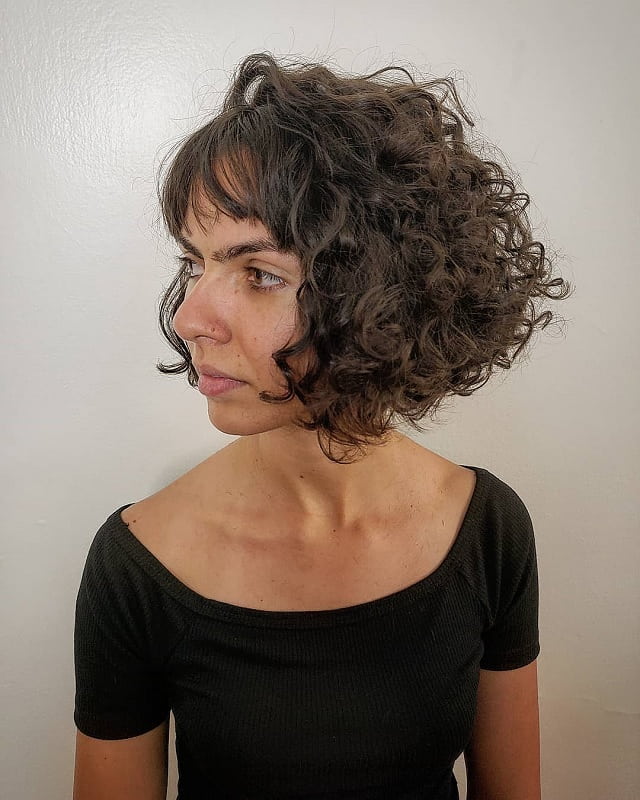 Haircuts for girls with curly hair can often be glorified trims rather than actual styles. Not so with the curly bob. The graduated bob is already a super popular style, and it works great on curly hair too. If you're looking to take your curly hair shorter then this style might be for you.
Curly haired girls often miss the shorter haircuts for black girls with curly hair because they are more experimental and not one size fits all.
Curly hair needs to be cut by a skilled and experienced hairdresser to achieve great results, but that's no reason to shy away from going shorter. The pixie is popular with straight haired girls but with skilled cutting, it can look amazing with curls too.
23. The Undercut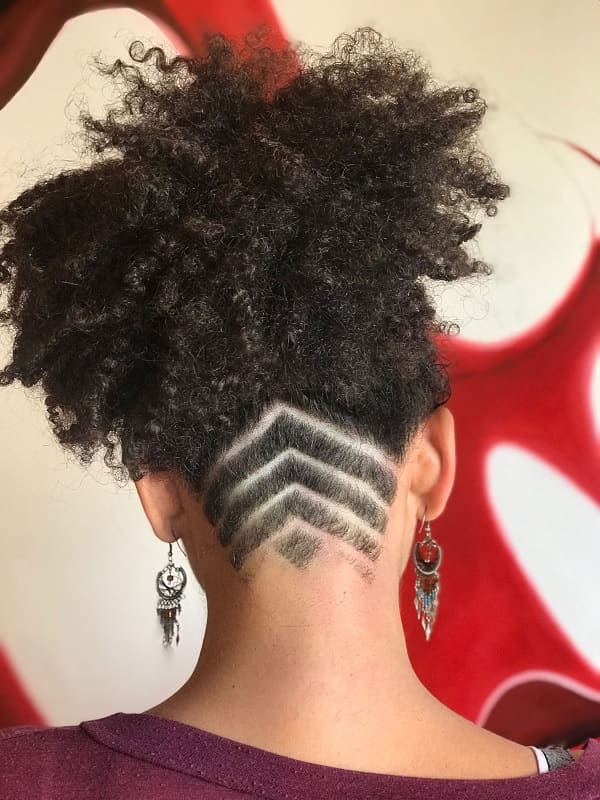 Undercutting the hair, sometimes using patterns like this, is another popular way of controlling curly hair. Taking out some of the under layers means that hair can be less bulky. Plus, it just looks super cool.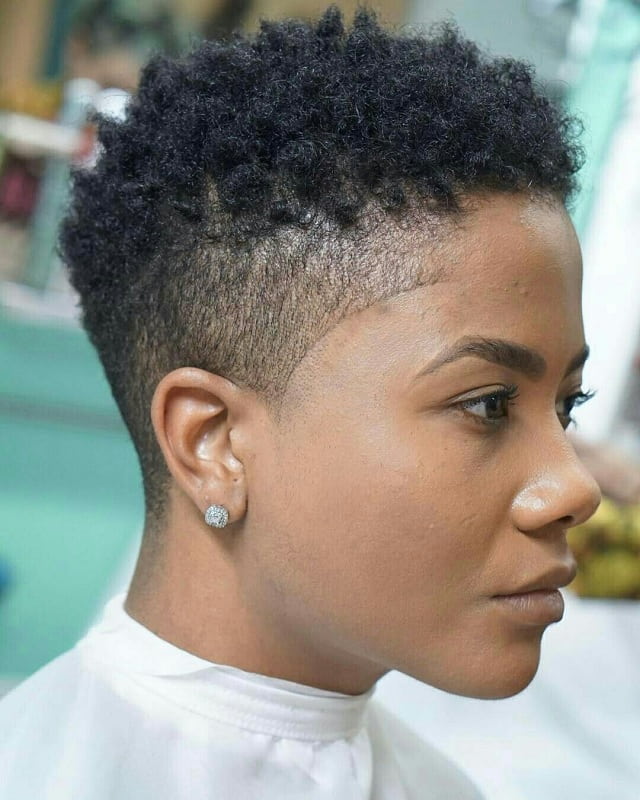 If you're feeling extra brave why not take the clippers to the sides of the hair! Showing off curls, contrasted against super-short shaved locks, adds so much interest to a look. This style shows off heaps of personality too!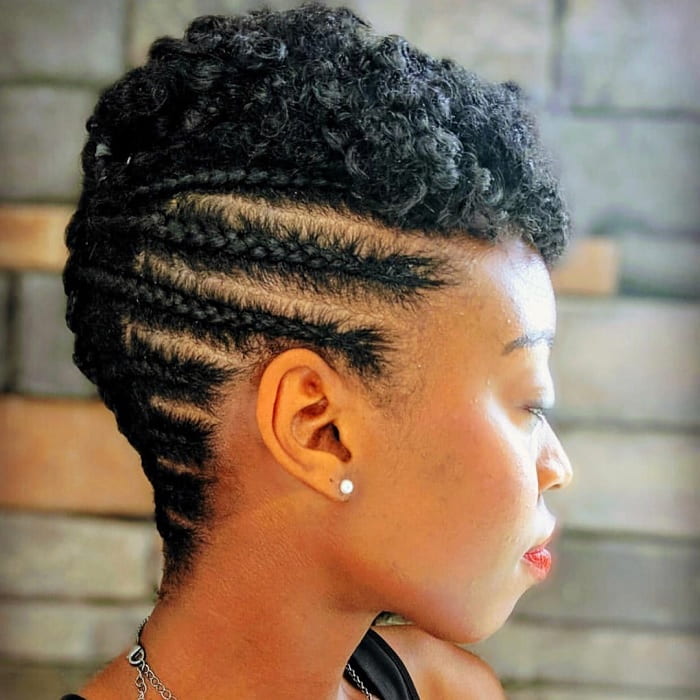 You've seen braids on top, and undercutting, this one gains the benefits of this hairstyle girls with curly hair like undercutting without actually cutting that hair away!
Using tight and controlled braiding techniques it is possible to bring the hair under control, whilst leaving hair loose and natural on top allows it to be shown off without losing control completely.
Curly hairstyles for girls are really diverse and there is something for all tastes, needs, and preferences. It's important to take your time to find out what works on your curls and to use an experienced stylist for any cutting to really get the most out of your curls.
With so many haircuts for girls with curly hair and so many styles to choose from, there will certainly be something that fits the bill.