Cornrows for girls is a huge fashion trend at present since they have an intense and sleek look. There is nothing better than some braids or cornrows when it comes to the styling of African American hair. If you are looking for a great style update for this season and want to go for some smooth braids then cornrows are a great option for you.
Impressive Cornrow Styles for Girls
Cornrow hairstyles for girls are lovely, aren't they? So, if you want to get your hair cornrowed you can choose any of these hairstyles to style your cornrows.
1. Half-Up Top Knot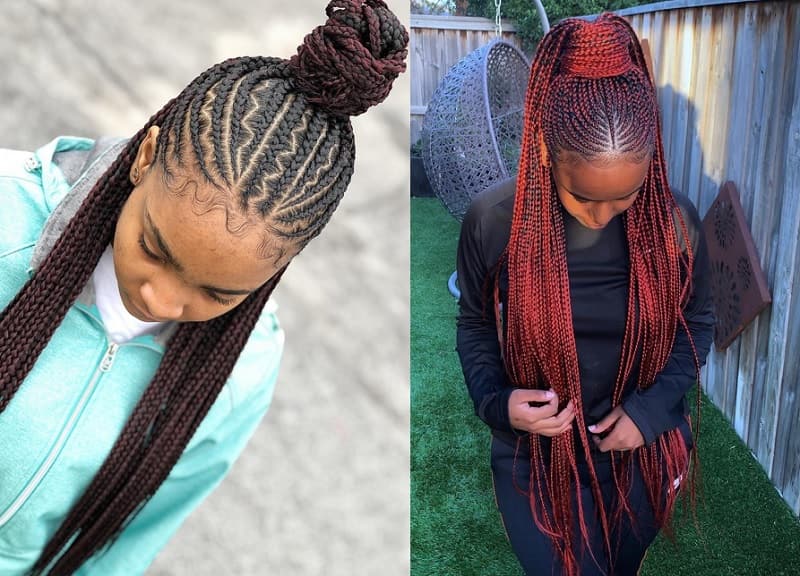 You can have a sleek and well put together half-up top knot made out of cornrowed hair just like this. You can add an intricate pattern of tiny braids at the front of you want to as it gives more character to this hairstyle with cornrows for girls. The top knot is even more impressive if it has a dab of hair dye to it.
2. Cornrowed Lob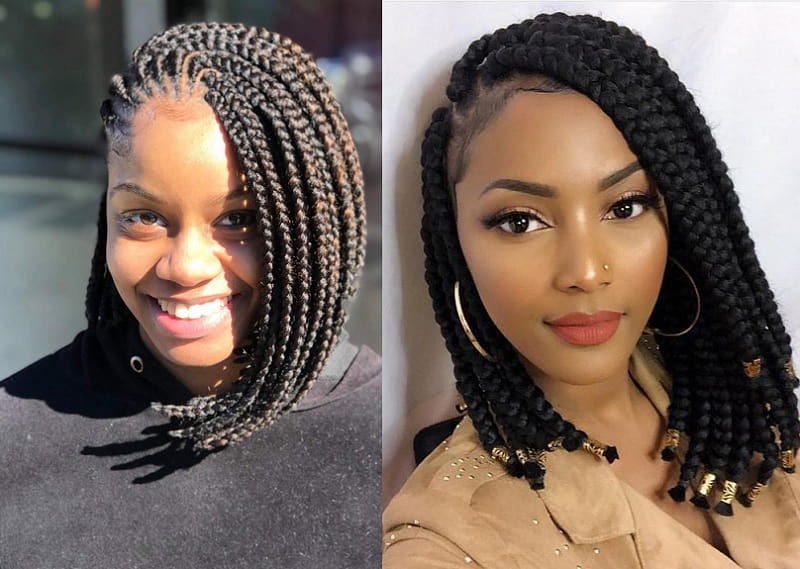 Who said that you cannot have a long bob on African American hair? You definitely can and the lob looks even more impressive if it has the hair put into cornrows. You can add some accessories to the cornrows to get right in the cornrow feels if you want to.
3. Cute Braided Space Buns
Buns are lovely and give you a sophisticated look, but you can look cute with buns too. Have your hair cornrowed and then make twin buns out of them to look young, cute and energetic. The variation of thick and thin cornrow styles on girls hair makes the pattern interesting as it dwindles into buns at the end.
Beautiful Bun Hairstyles for Little Black Girls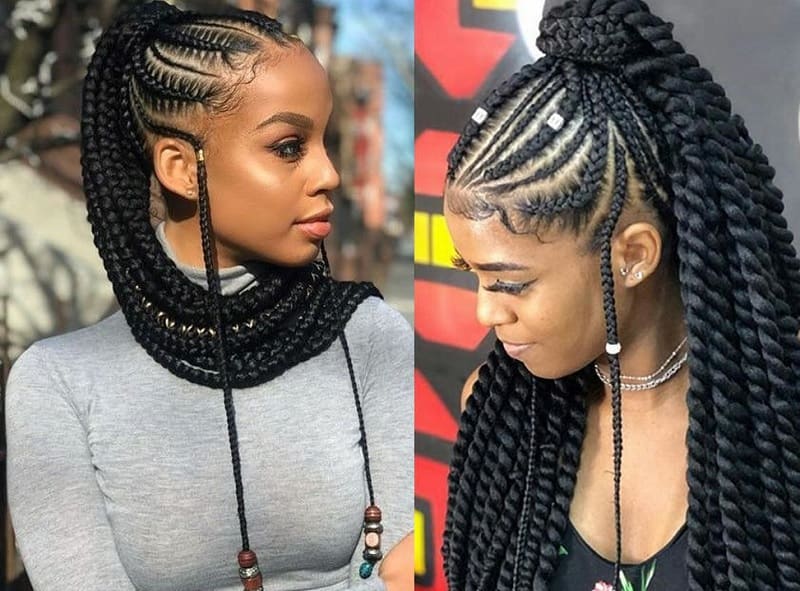 This is a sleek and chic cornrows hairstyle for girls who love to look powerful and stylish at the same time. The braids are neatly tied in a ponytail and a cornrow is left free at the front of each side of your head to have an austere feel.
5. Cornrows with Bubble Ponytail
A bubble ponytail is the most fun and chic girls hairstyle that you can have with cornrows. The front of the head has tiny cornrows which are twin colored and at the back, there is a thick voluminous bubble ponytail half of which is dyed as well.
6. Braided Updo
This cornrow braided updo for young girls is a sophisticated and formal hairstyle which does not take much time. The alteration of thick and thin cornrows at the front is intricate and impressive. You can wear it to your workplace as well as to those formal corporate parties without having any inhibitions.
7. Side Cornrows for Long Hair
If you do not want to have all of your hair cornrowed, but still want a hairstyle with cornrows then you can go for this one. A small section at one of the sides has cornrows while the rest of the hair falls about freely.
8. Mohawk Updo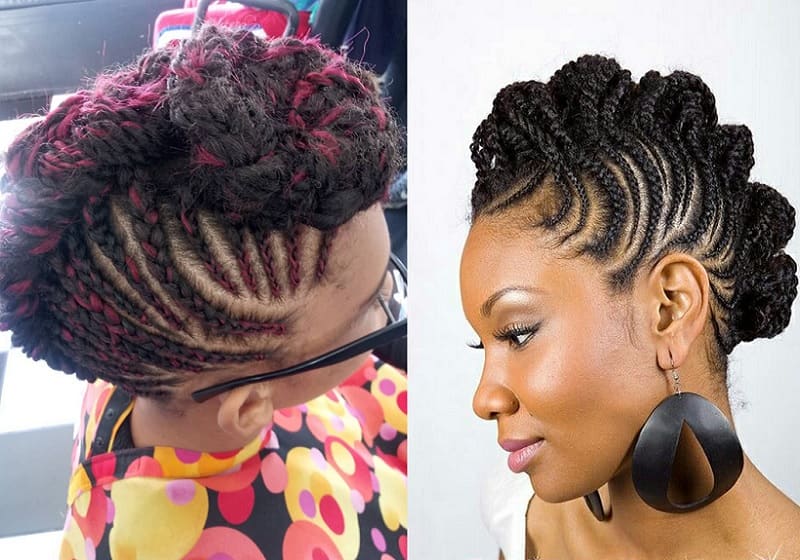 This updo is all that you need to flaunt your cornrows in a natural yet amazing Mohawk hairstyle. The girl's cornrows are all gathered in the middle from the front to the back in a formal fashion.
9. Cornrows with Centre Part
This one is for the fashionistas who refuse to settle for conventional hairstyles. The ringed cornrow at the middle gives a whole new meaning to cornrows for girls.
10. Twin Braids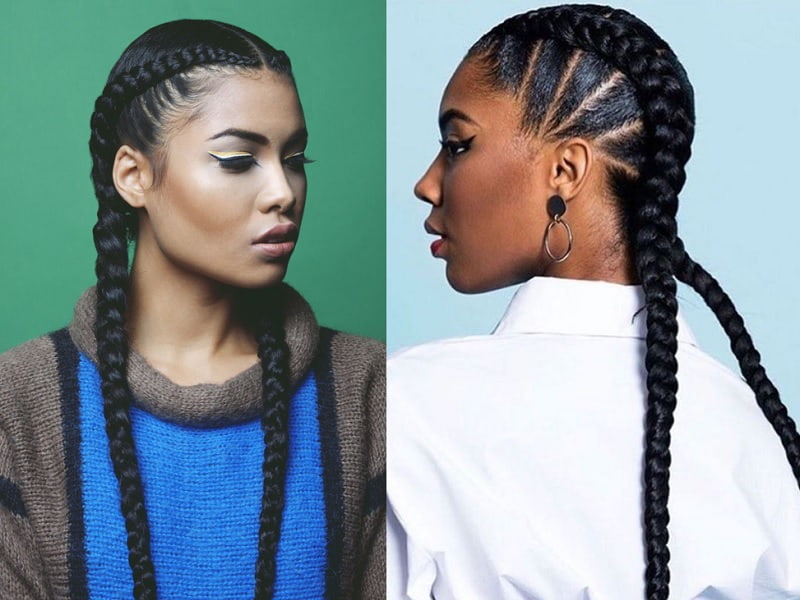 You are never too old for twin braids if you have long hair. This cornrow style for girls is great for pretty much every formal or informal setting.
The cornrows for girls are in fashion once again, so try these chic hairstyles to flaunt your lovely cornrowed hair!