Girls bun hairstyles are effortless yet so classy look anyone could ask for! For girls, there are many ways in which they can style their hair, and the bun is one of the most loved hairstyles in 2023.
Bun Hairstyles for Girls
Bun hairstyle varies into further categories, making for some totally chic and stylish hairstyles. Check out these girls with bun hair.
#1. Chic Braided Space Buns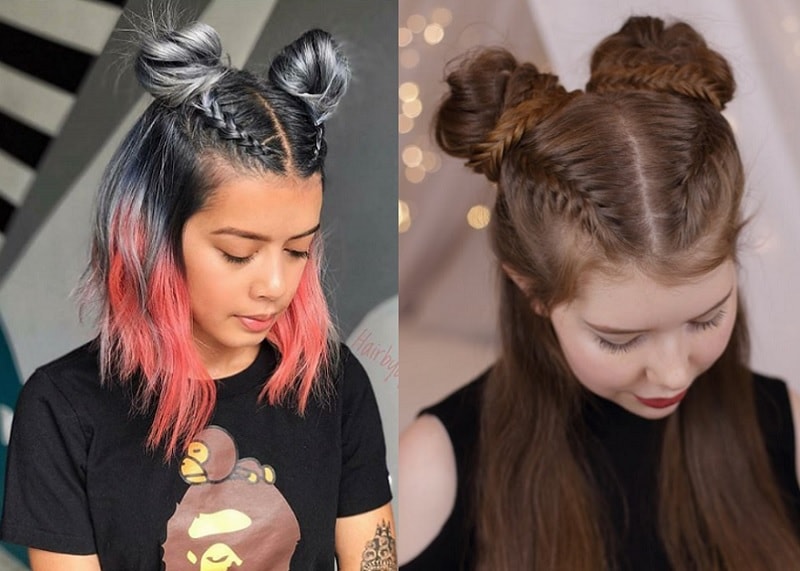 Space buns have recently become all the rage, especially among the youth. Young girls all over the world, whether they are in their teenage or early 20s, totally rock this girl bun hairstyle.
It's a perfect hairstyle for school or light brunch with your friends. They even work for a raving party!
#2. Back Braided Twists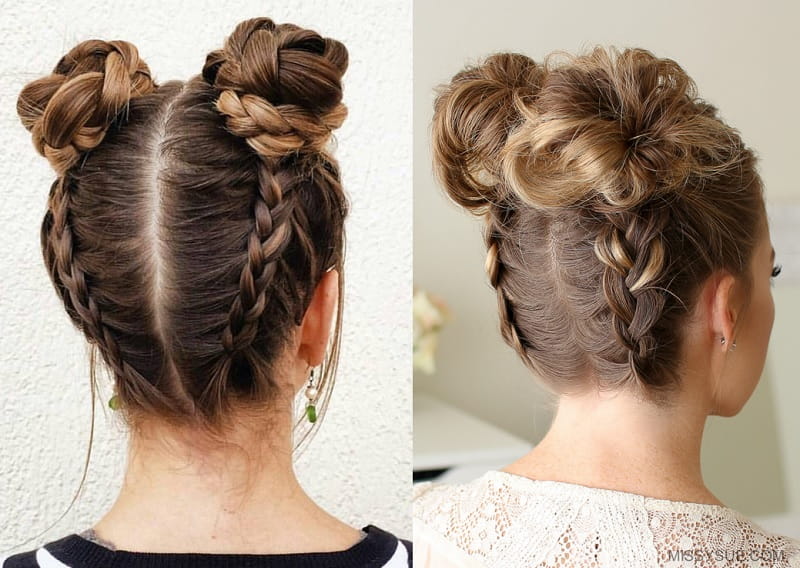 In this bun hairstyle for girls, what you have to do is part your hair into two sections, French braid them, and then twist the braids into two buns on top of your head!
This will make just the right hairstyle for an occasion where you can work a mix of casual and formal.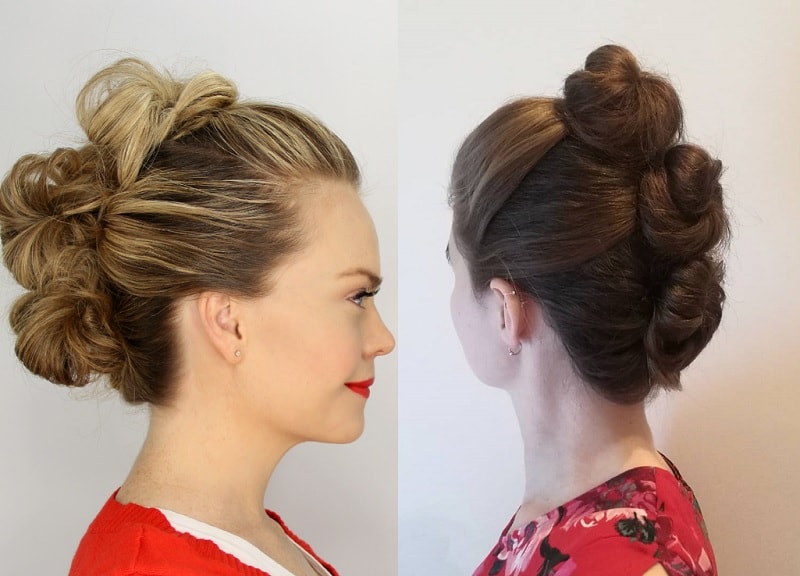 If you are looking for a classy bun for girls that is a little bit more formal in comparison, something for a fancy dinner party or a gala, then this is your answer.
Starting from the top, divide your hair into three sections horizontally, then tie each section into separate buns, either neat messy bun, according to your choice.
#4. Braids with Dreads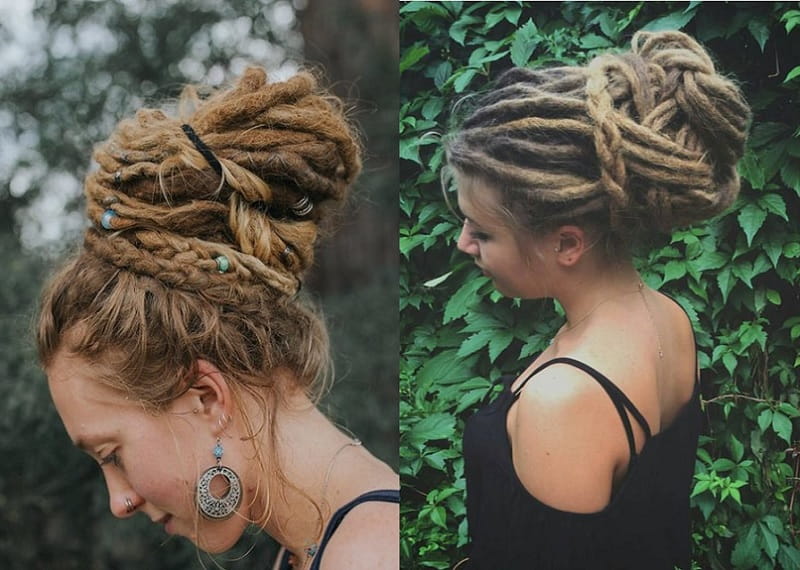 This is a hipster hairstyle you can choose for light events to remain comfortable and casual. In this girl's bun style, all you gotta do is braid or simply twist multiple sections of your dreads and pile them together on top of your head.
#5. Simple Top Knot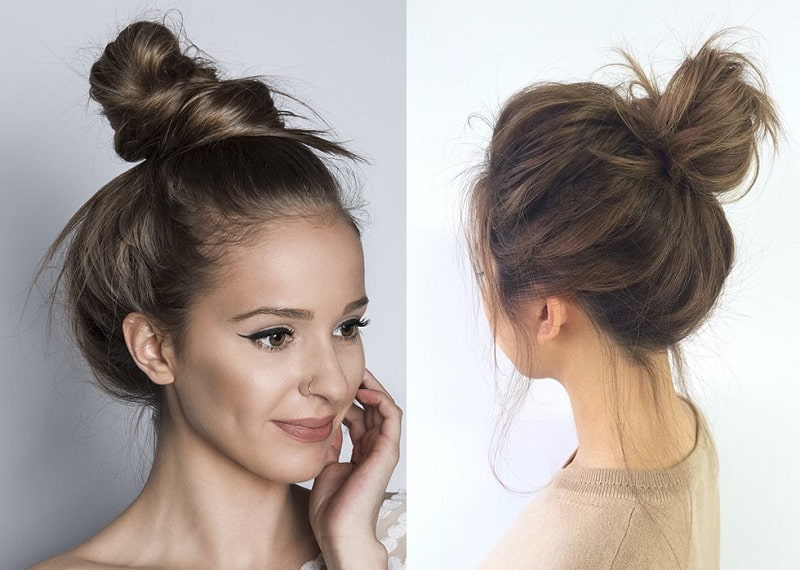 This one is for when you're absolutely rushing or just don't want anything too much. Just pull your hair back and twist it in a plain knot at the top of your head, and you're done! Simple as that.
#6. Crisscrossed Low Bun
Though this one may require some practice, attention, and precision, it is not impossible at all.
The multiple sections crisscrossed among each other connecting into a low, plaited girl bun provide for a sophisticated and beautiful hairstyle for a formal event.
#7. A Classy Plaited Updo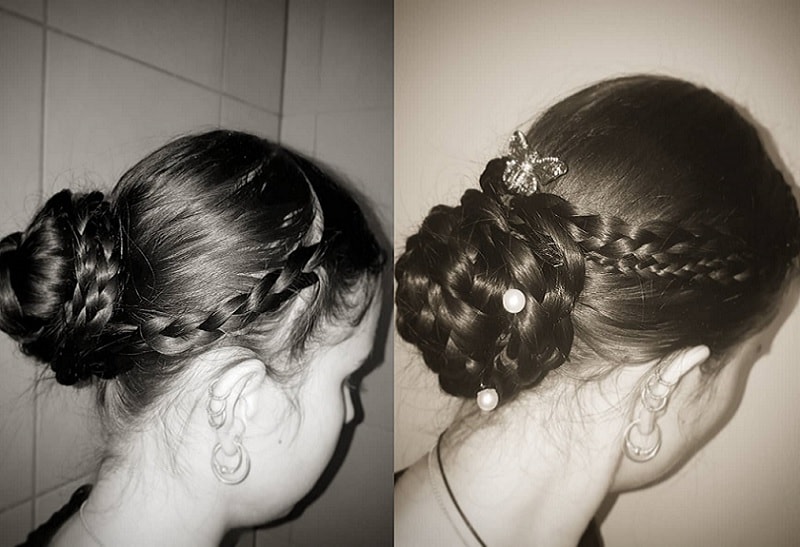 This hairstyle is a total jackpot! Pretty easy to make and classically beautiful, the braids start from both the sides of the head and then the lower half is secured into a braided wrap. This one would be an amazing idea for a bridesmaid look.
#8. Sock Bun with Reverse Braid
The sock bun hairstyle for girls is loved by many since it is such an effortless and pretty hairstyle, suiting all the seasons of the year. As shown here, a little addition to this hairstyle can upgrade its level and make it even prettier.
#9. Braided Updo
The cornrows have become a widely popular hairstyle, especially in recent times. The best thing about cornrows is that they can be styled into further designs and same is the case with buns.
So why not combine the two hairstyles and make a cooler hairstyle?
#10. The Elegant Low Twist
We can't deny that this hairstyle is just breathtakingly beautiful, it is just that elegant and gorgeous.
Simply twist the hair into loose braids and then wrap it, embellishing it with beads, flowers, or any suitable hair accessories, and you'll have a beautiful girls hairstyle for a wedding or ball!
#11. Half Updo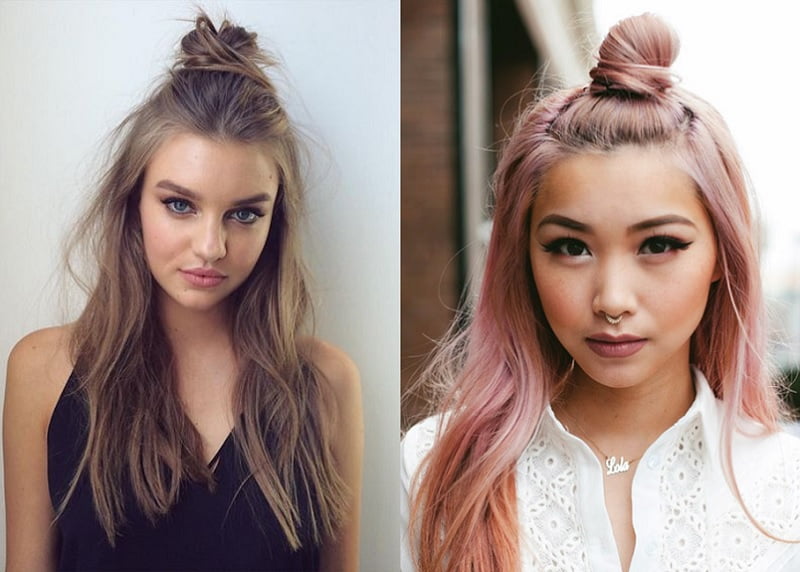 Effortless, classy, and beautiful, this bun hairstyle for girls is the answer to all of these requirements.
When you are thinking of a hairstyle for school, that will not take a huge chunk out of your time but will be no less pretty, try going for this trouble-free half updo with a top knot.
#12. The Twisted Complete Wrap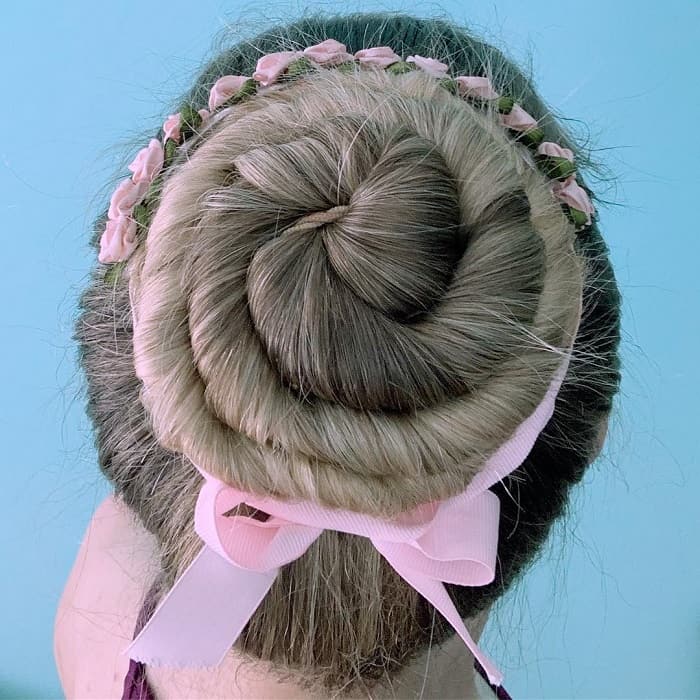 This twisted hair wrap is the very definition of an efficient time saver. It is effortlessly beautiful, gives off that vintage vibe too!
#13. Section, Braid, Bun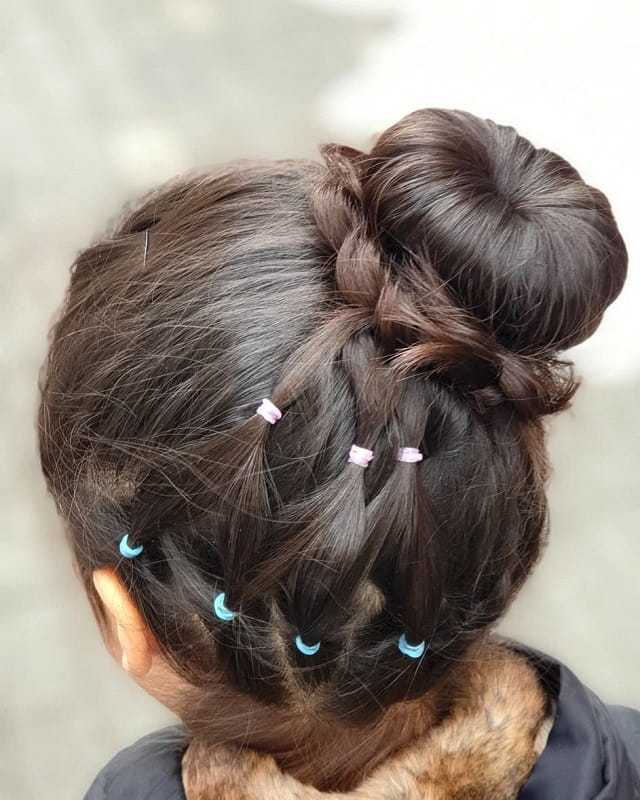 That's it, it's just that simple. Section your hair and keep them parted with little hair ties or beads, twist in a sock bun, then wrap the remaining hair around the bun in a braid. The right candidate for a casual date.
#14. Graceful Braided Side Bun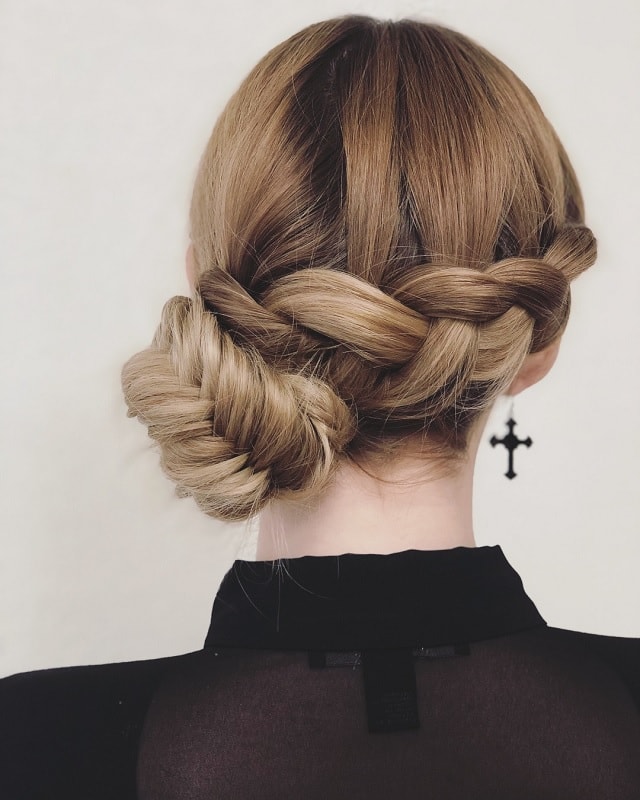 The first word that comes to mind at the sight of this girl bun hairstyle is "classy", therefore making it an excellent choice for anything formal, like a business dinner, a ball, or a fancy dinner date.
#15. 4-Way Sectioned Buns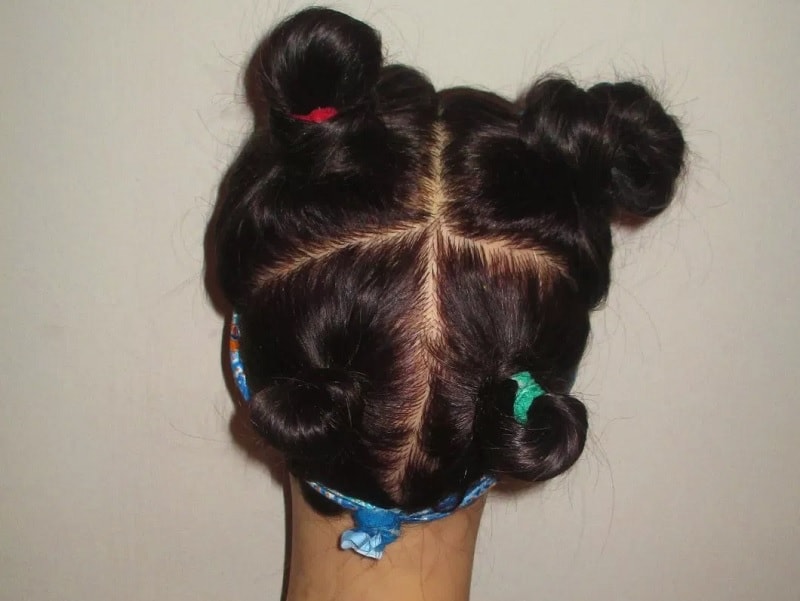 This one is a fun variety, especially for kids. Make crossroads like section, twist them into separate buns, and voila! A funky and cool bun hairdo for little girls!
FAQs on Girls Bun Hairstyles
Q1. What is a bun hairstyle?
Ans. It is a method of styling your hair in which you pull the hair back from your face and twist into a wrap, hence forming the "bun". This hairstyle can go into further variations like multiple buns, braided buns, etc.
Q2. What occasions do bun hairstyles suit best?
Ans. Bun hairstyles are best for casual occasions like going to school. Depending on the variation, they even serve as a perfect hairstyle for formal or informal parties, even for office!
Q3. Are bun hairstyles easy to make?
Ans. Pretty much. Just with a little practice, you'll easily master the art of twisting hair into those beautiful buns!
Bun hairstyles are a commonly chosen hairstyle when the requirement is something hip and modern, especially among young girls. They are pretty easy to make, don't take a lot of time, and are absolutely gorgeous, giving the wearer a youthful look and up to the minute kind of look.
Here are 15 fun and cute bun hairstyles for girls that you can try any day because as they say, "Life isn't perfect but your hair can be"!