Girl mohawk is trending like crazy over the internet. Have you ever seen a girl with mohawk hair? Don't they look absolutely bad-ass and ready for all sorts of challenges that life throws their way!
If you're here to look for some gorgeous mohawk for girls, then you're at the right place. Here, we are all about supporting beautiful looks for all kinds of hairstyles and skin colors – so let's take a look!
Latest Girl's Mohawk Hairstyles
A mohawk girl style can be slightly different from what you might see for guys.
Whereas guy mohawks are a little more rough around the edges, mohawk hairstyle for girls can look much more elegant in comparison. View our selection of girl's mohawk looks below and choose your favorite!
1. Dreadlock Mohawk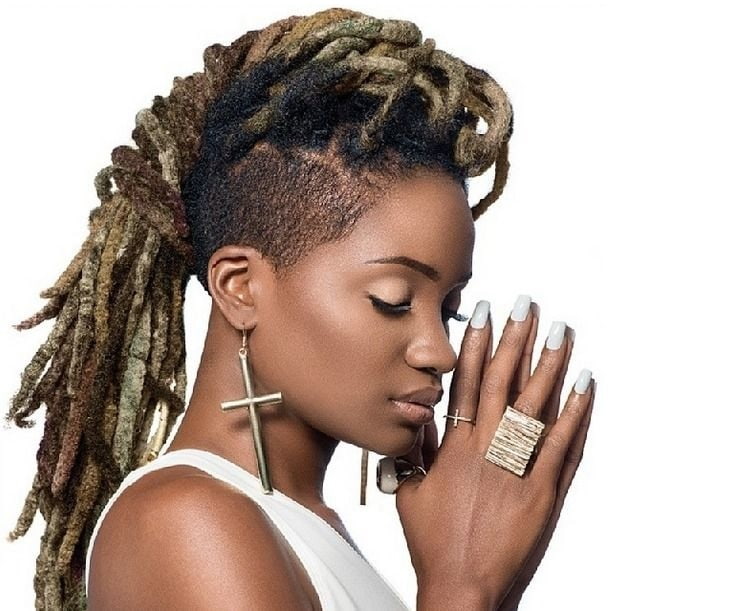 Here's one creative way to wear your dreadlocks! Shave the sides and wear the dreadlocks in a center-focused design to create this unique lock – a cross between the mohawk and dreadlock braids.
Bonus points if you also have your dreadlocks dyed in a bright color to contrast with the shaved sides.
2. Braided Down The Middle
To be honest, we aren't sure how to achieve this gorgeous mohawk look. We do know, however, that girls with medium hair can wear their hair just like this!
As you might have noticed with these two images, mohawk for girls still do require shaved sides just like they do for guy mohawk hairstyles.
3. Twisted Inwards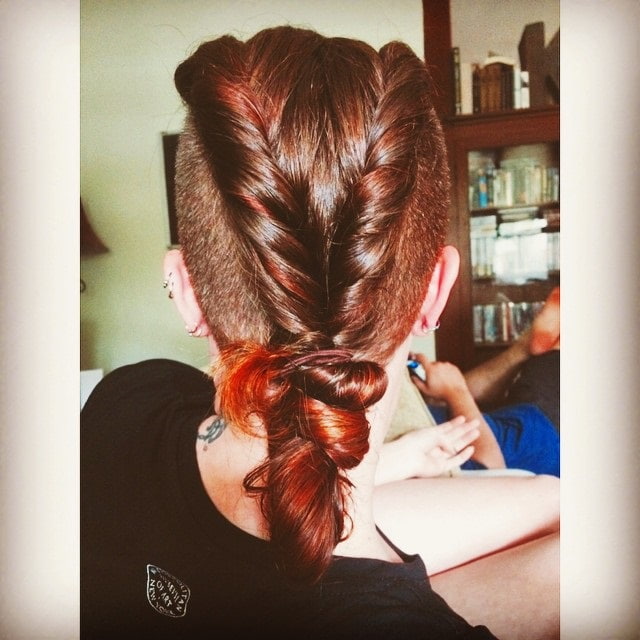 If you don't want something too complicated, you can opt for a girl mohawk like this one.
The idea is still the same – shaved sides with hair styled around the center, but there isn't much to style for this girl's bun look. Just twist your hair inwards and tie the rest.
4.  All Edgy and Weird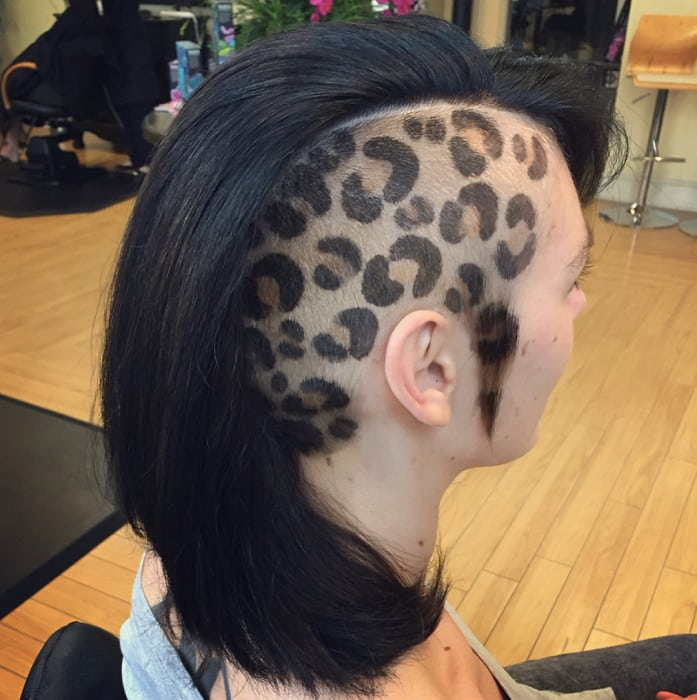 Want a mohawk hairstyle that's going to get all eyes on you? Mohawk like this one will surely do the job! Anyone will turn around for a second look at this leopard-styled hair.
It's one thing to own leopard-pattern clothes, and another altogether to have a hairstyle with these motifs.
Awesome Mohawk Haircuts for Little Girls
5. Just Like The Guy's Mohawk

It's the era of equality and freedom of expression. What's to stop you from getting a mohawk girl's hairstyle that looks just like the guys'?
The only twist here is that there is no haircut involved in making this mohawk! You can tell this by the little braid at the side of the head. You only need some strong hair gel to create this look.
6. No-Haircut Mohawk

This girl with long hair knew exactly what to do for a temporary mohawk style that does not require any form of the haircut.
She applied the idea of a centered hairdo design and managed to curl her hair in such a way that it looks like a girl mohawk. Amazing!
7. Silver and Blond

This mohawk with shaved hairdo for girls here is relatively simple as compared to some others in this list.
You can expect that she's going to need some time styling her hair, but it's going to be a minimal effort with that hair length. Simple and easy!
8. Fancy Shaving Techniques

Here's another way to spice up your mohawk hairdo – include some line-ups along the shaved sides, just like this girl did!
We also love the color of her hair – Blue, purple and emerald green mixes well together to create a lovely hairdo.
9. Little Braids in Mohawk

Aside from being eye-catching pink, this girl with mohawk hair has a stunning series of little braids down the side.
This mohawk style is more top-focused rather than the center, but it still looks amazing. Keep this idea in mind if you're thinking about trying out a mohawk next time!
10. Messy Hairstyle

You can actually think of this one as a faux mohawk style. There isn't a lot to worry about for this design – it's just a simple mohawk hairstyle for girls where you just focus on creating a spiky look around the middle. It isn't much, but it will do.

This girl's mohawk hairstyle might look like one that requires cutting at first glance, but you will soon see that it isn't the case!
This girl wears her mohawk with plenty of combing, spraying, and pinning. The pins and rubber bands are hidden, but it has to be there somewhere!
12. Two Colors

With the right hair extension length and color or even a permanently dyed section of your own hair, you can create a look like this one.
This mix of colors will be very obvious when you create mohawk girls look centered around a braided design.

The entire point of a mohawk for girls is to be a little flashy and stand out more. With that goal in mind, wouldn't it make more sense to dye your hair in a bright and showy color like this one?
14. Underside Hair Dye

This is one gorgeous girl mohawk style! If you are one of the girls who prefer not to be too flashy, you can opt for a style like this one.
Dye the parts of your hair that are more hidden, and when you style it into a mohawk, the colors are going to shine bright.

Style your cornrows along the side. Start small, then center the bigger braids to create this look. A girl mohawk style will look even better than you expect it to be with cornrows if you have a thick head of hair.
And that would be it for our collection of mohawk haircuts for girls!
We hope that this list has proved to you that mohawk hairstyles can look absolutely stunning for girls and that this is not a hairstyle that is exclusive for guys only. Bookmark our page and stay tuned for more hairstyles for girls and boys!