There's a lot of preparation that goes into getting married, including choosing flower girl dress patterns. Brides-to-be want every detail to be perfect, which means that everyone needs to be dressed appropriately and that they need to match.
Flower Girl Dress Patterns
One of the most important things for brides to remember when choosing what their flower girl will wear is that it needs to match the wedding party and still be age-appropriate.
All of the below dress patterns are perfect for any wedding and will make the flower girl look her best.
1. Simple Cap Sleeves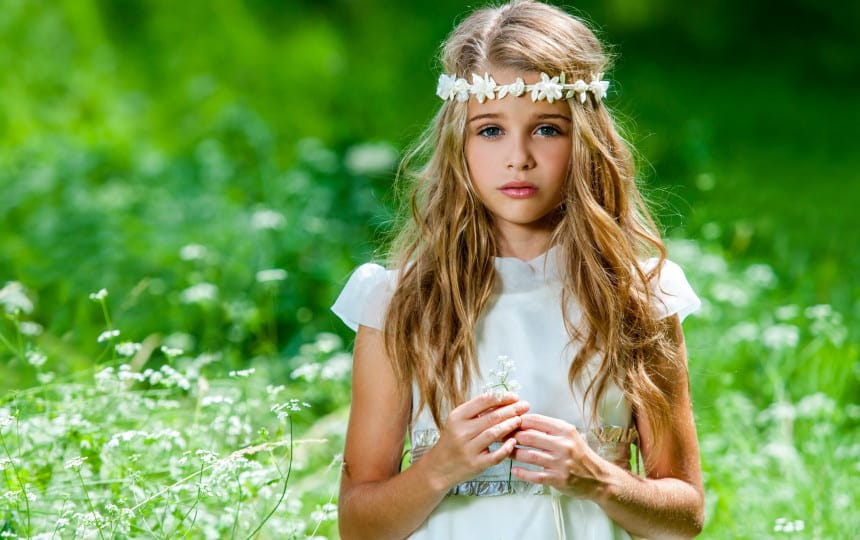 Simple cap sleeves on a light blue dress make this a very soft and age-appropriate flower girl option. The collar comes up a little higher on the neck, which creates a nice streamlined silhouette that is the perfect complement to a summer wedding.
Flowers in the hair complete the look and match the waist of the dress.
2. Puffy Skirt and Bow
A full and puffy skirt is the perfect way to offset a tighter top with half sleeves. This flower girl dress's sewing pattern has a lot of visual interest thanks to the flower designs on both the top and the skirt.
Around the waist, there is a small bow, and everything is matching in the same light lavender color.
Gorgeous Long Hairstyles for Girls
3. Long Lace Arms and Full Skirt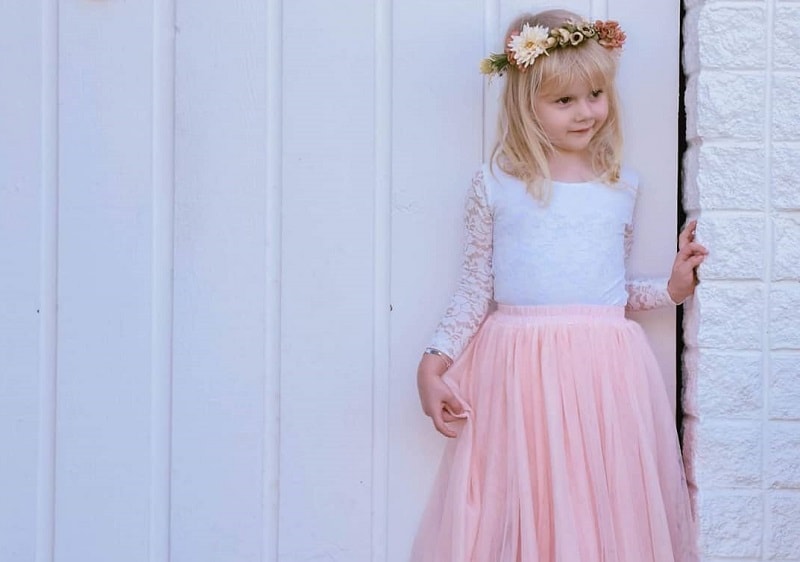 The long lace arms on this flower girl dress really set it apart from other similar options and make it a striking option. A white top and peachy bottom are a gorgeous color combination.
The full skirt has plenty of movement to it and is very long, helping to keep a flower girl warm in cooler months and creating a great visual effect.
4. Simple Slip Design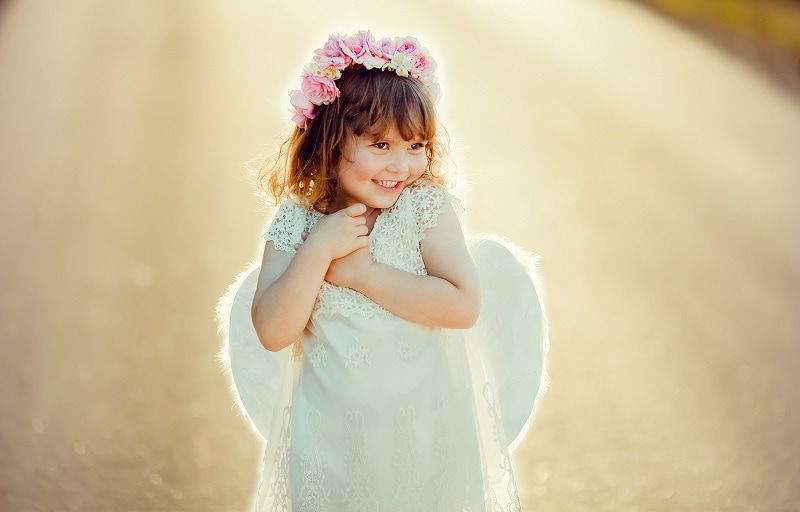 A simple flower girl dress that doesn't have a lot of embellishments is great for a modern or relaxed wedding.
This simple pattern with slip design features attractive lace around the top and shoulders of the dress, as well as a thin lace overlay that falls the full length of the dress. Pairing it with a thick flower crown is a great complement.
5. Flowers on the Shoulders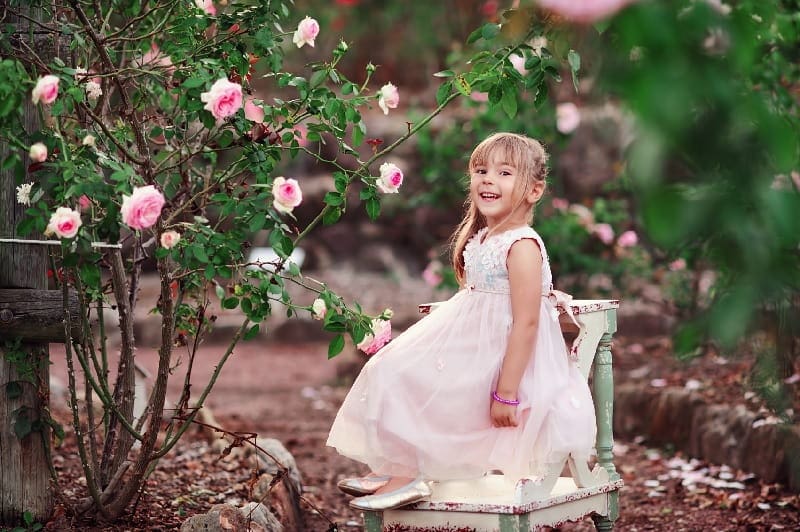 Flower girl dress patterns are often full of texture, and this pattern is no exception. It features a full and layered skirt that has a lot of movement when the flower girl is dancing or walking.
The sleeveless top is designed with a lot of flowers that add interest, as well as depth, to the dress.
6. Corset Back with Sleeves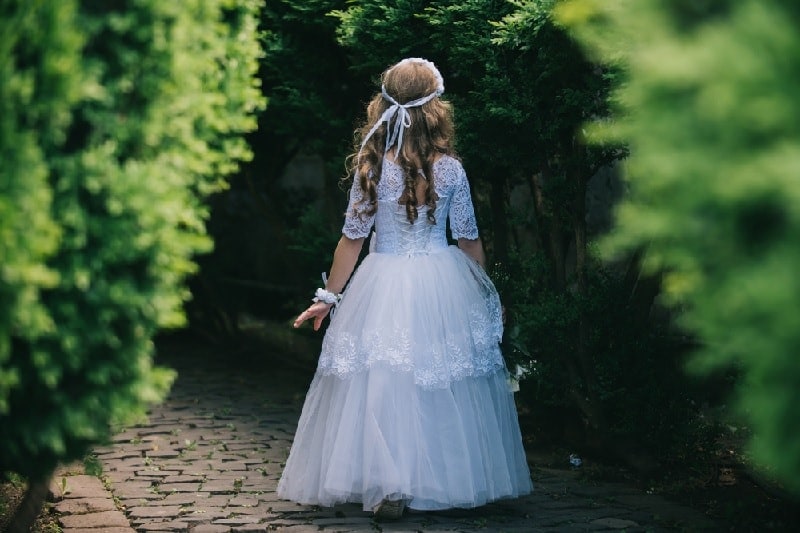 One of the fastest ways to elevate a simple flower girl dress with incredible patterns is by adding a corset back.
This takes a traditional dress and gives it a lot of interest while at the same time making it easier for girls to fit into the dress. The half sleeves are lace, and the full skirt has a few layers to add movement to the dress.
7. Covered in Flowers
A gorgeous ivory dress looks even nicer when it is completely covered in flowers. This dress has long sleeves, but they are a bit looser than other options, which makes the dress comfortable to wear for long hours. With a simple cut and a bottom that doesn't puff or flare out, it's a very modern option.
Fantastic Hairstyle Ideas for Asian Girls
8. White with Pearls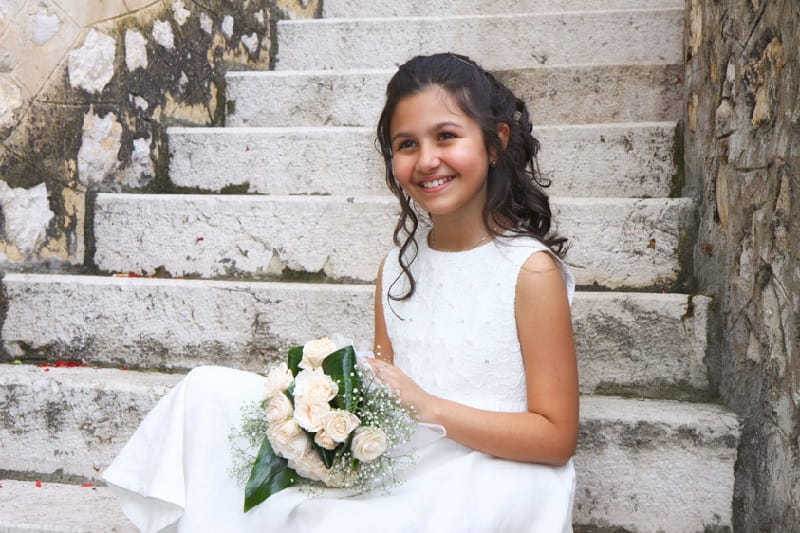 White dresses are stunning, and a great way to match a flower girl's dress to the bride is by making sure that some of the details are the same.
This dress has some white pearls that are sewn onto the top, which can mimic the bride's wedding gown and create a cohesive look in pictures.
9. Layers Upon Layers
Many girls love having layers in their dress, and this patterned dress for flower girl has layers not only in the skirt but also around the shoulders.
These layers add a ton of volume to the dress and ensure that it looks great when the girl is dancing. The layers are perfectly complemented by a strip of black around the waist.
10. Bright Purple and Puffy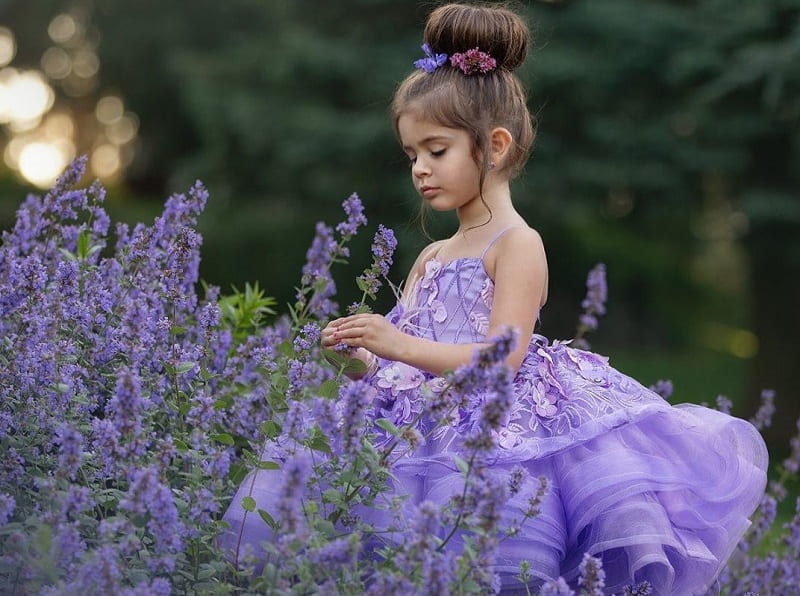 Puffy dresses have a lot of personalities, and this one looks even more impressive thanks to its bright purple color.
The dress pattern features a lot of layers, and the top layer is decorated with flowers. The combination of flowers, layers, and puffy volume all make this an eye-catching option.
11. Simple Blue with Flowers
Brides who want something that is a bit more simple will want to consider this pattern for flower girl dress. The main focal point of this light blue dress is that it has so many flowers on it.
These flowers are concentrated on the top of the dress and scattered down to the bottom. They even make up the strap of the dress, creating a fun floral look.
12. Lace Top and Blue Skirt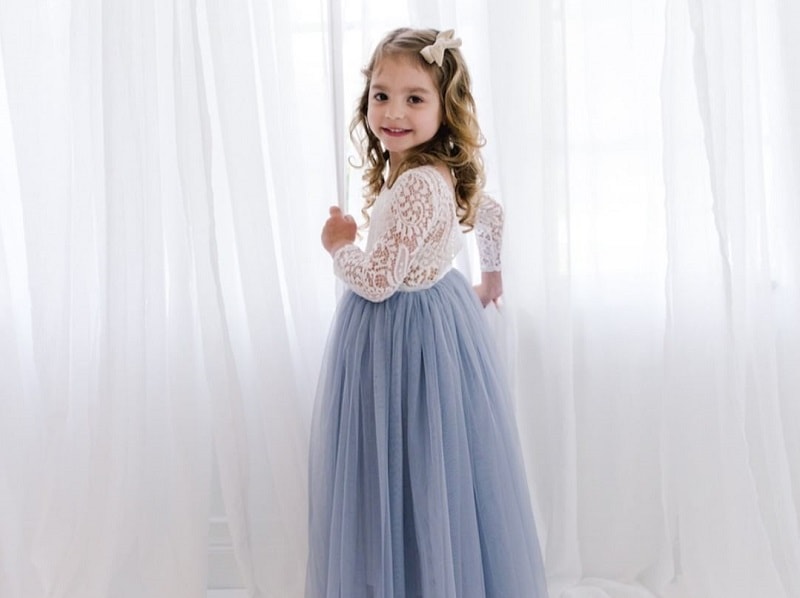 A long sleeve lace top pattern looks stunning on any little girl and instantly elevates this flower girl dress to something even more special. Paired with the white top is a long blue skirt that is light and airy.
Made with fabric that floats and moves with the breeze, the skirt appears almost ethereal, making it a stunning option.
13. Full Pink Flowing Gown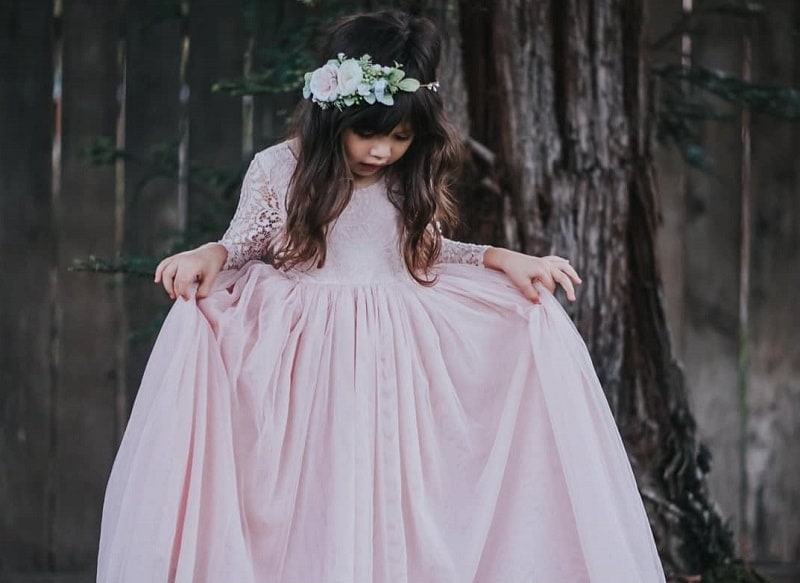 A full pink gown that is both long-sleeved and reaches to the feet is perfect for a winter wedding. This light color is stunning and pure, and the simple design of the dress is attractive.
It features long sleeves, lace on the top, and multiple folds in the skirt to ensure that it has a lot of volume and movement when walking and dancing.
14. Off the Shoulder Design
Brides who are looking for something that is a little funkier and eye-catching will likely love this off the shoulder pattern for flower girl dresses. The bare shoulders are offset with a full and puffy skirt that is made up of a lot of tulles.
The top of the dress is heavily embroidered to add interest, and there is a belt around the waist.
15. Flowered Top with Layered Skirt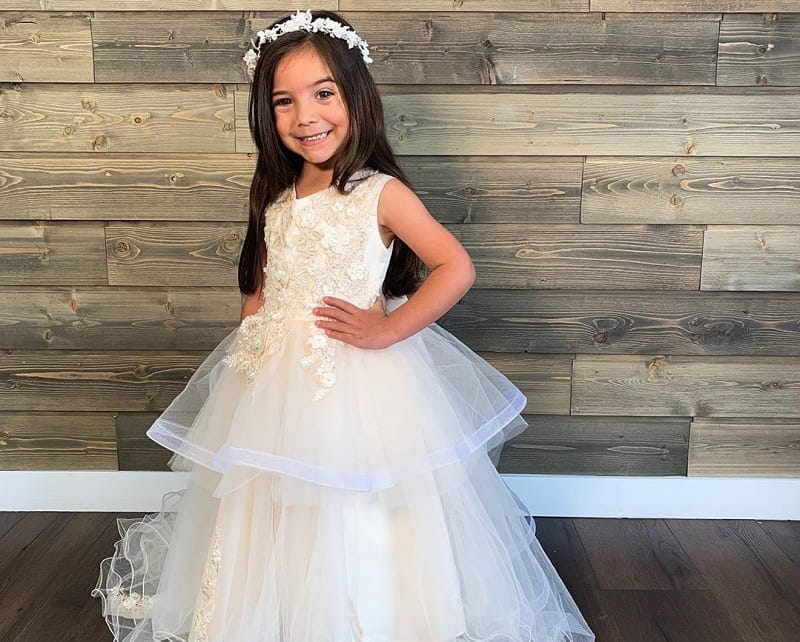 Flowers on the top of a dress are fairly common for flower girl dress patterns, but what makes this dress so special is all of the layers that are in the skirt.
The skirt has clearly defined layers that add volume to the dress. Made in gorgeous ivory fabric, this dress is perfect for weddings at any time of the year.
Adorable Haircuts for Little Girls with Long Hair
16. Capped Sleeves with Large Collar
Capped sleeves with oversized collars are stylish and are sure to make people look twice at this great dress.
The dreamy light lavender color, as well as the thick band around the waist, make the dress clearly defined and interesting. A longer length makes this dress perfect for dancing.
17. Peachy Flowered Skirt
Peach is a popular color for flower girl dresses, and this dress doesn't disappoint. It features a full skirt that has tons of oversized flowers on it.
They are large enough to be eye-catching and to add a bunch of visual weight to the dress but aren't so heavy that younger flower girls will struggle to move and dance on the big day.
18. Simple Straps in Ivory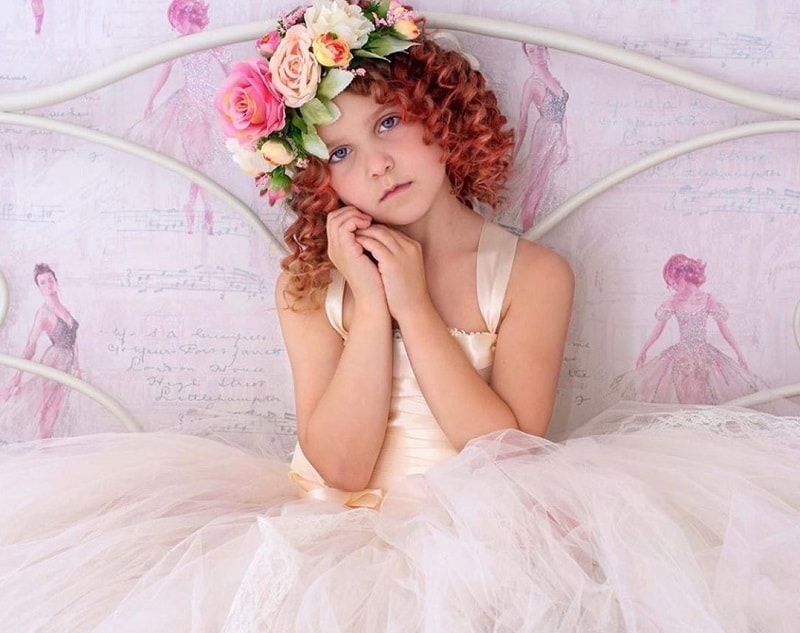 A simple ivory dress is made even more stunning thanks to the use of basic straps and plenty of floating tulle for the skirt.
The straight straps aren't adorned, which means that the full focus will be on the top and the skirt of the dress. It's a basic design that is gorgeous in its simplicity.
19. Lots of Light Tulle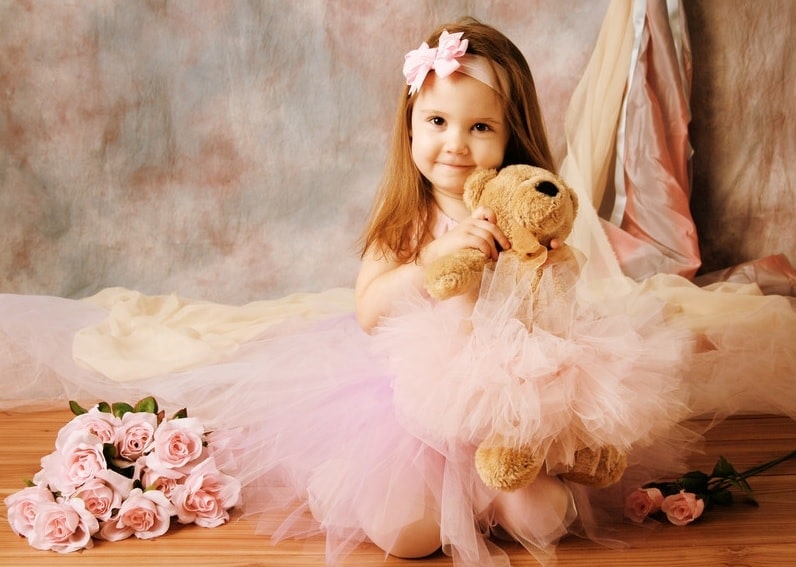 Layers of light tulle make this dress a dream come true for any little girl and ensure that she looks ethereal in all pictures.
The top of the dress features a simple collar and bare arms, allowing the full skirt and the movement of the tulle to be the focus. The light pink color is dreamy and looks great all day long.
20. White Dress with Roses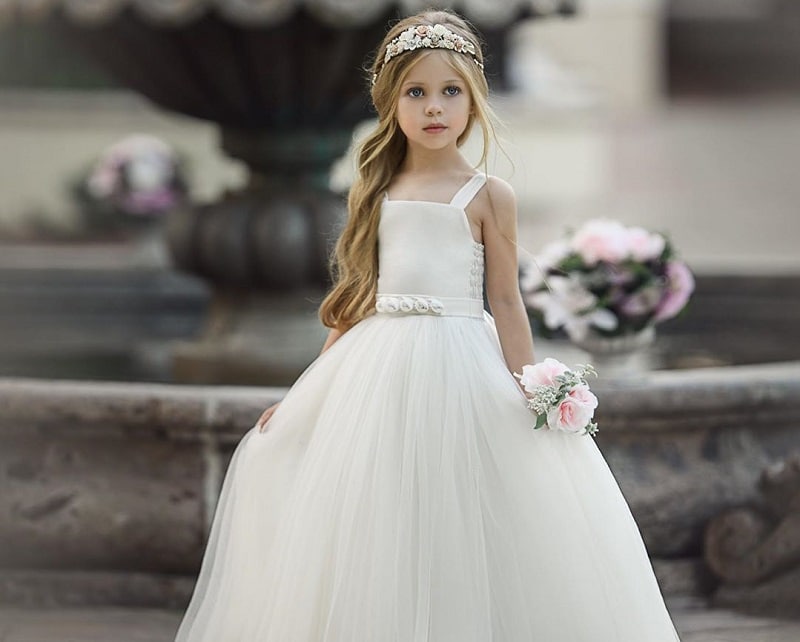 A simple white dress doesn't need a lot of embellishment, but a few small roses around the waist make the look elegant. This flower girl's dress with flowy pattern looks very chic thanks to its straight lines and the full skirt.
Although there are multiple layers in the skirt, it doesn't look messy or unkempt the way that tulle skirts can sometimes look.
Stunning Wedding Hairstyles for Little Girls
21. Blue and White Casual Dress
Casual weddings mean that flower girls can wear a more casual dress so that they will fit in and be more comfortable. This flower girl's dress pattern has a deep blue and a more fitted white top.
The cap sleeves give the dress a bit of a modern feel without allowing it to look too casual. This dress is perfect when paired with a tiara.
22. Shorter Pink Flowered Option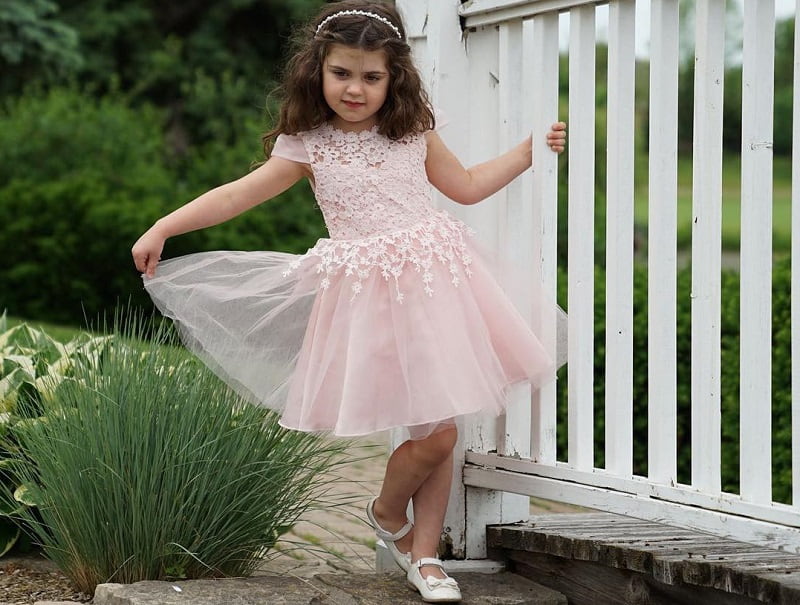 Tons of flowers adorn this short dress and fall from the shoulders and the neckline all the way past the waist. The simple cap sleeves and the shorter length of the dress make it ideal for younger children to wear and also make it a great option for a spring or a summer wedding.
Paired with a white headband and white shoes, it's a dreamy look.
23. Lots of Coral Flowers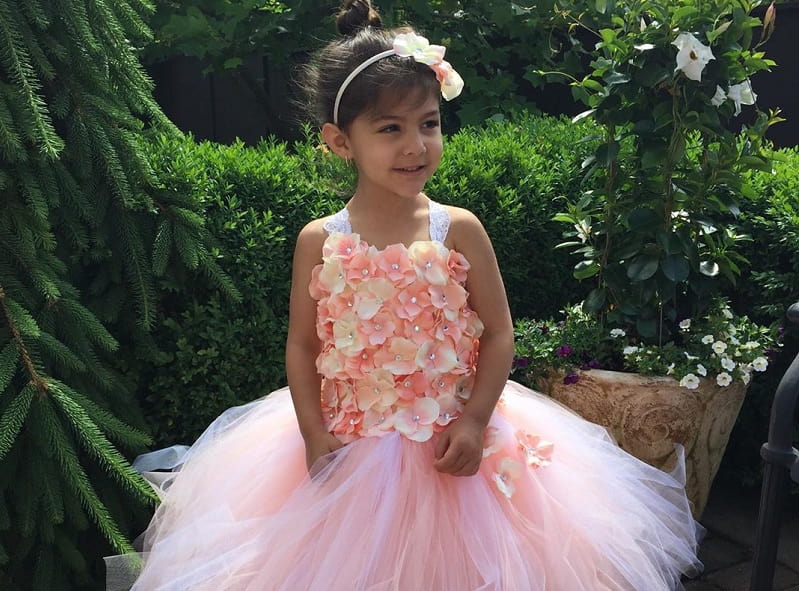 Not all brides want their wedding party to wear neutral colors, and these bright coral flowers are fun and inviting. The full skirt is the same bright coral tulle, and the attractive flowers cover the entire top of the dress.
With simple white straps and matching flowers in the hair, this is a fun and bright look.
24. Simple White From Head to Toe
All white never goes out of style at a wedding, and this white flower girl dress is a great example.
The detail around the neck and the waist set it apart from other options, while the cap sleeves and simple flowing design make it a very comfortable dress for little girls to wear all day long.
25. White with Flowered Overlay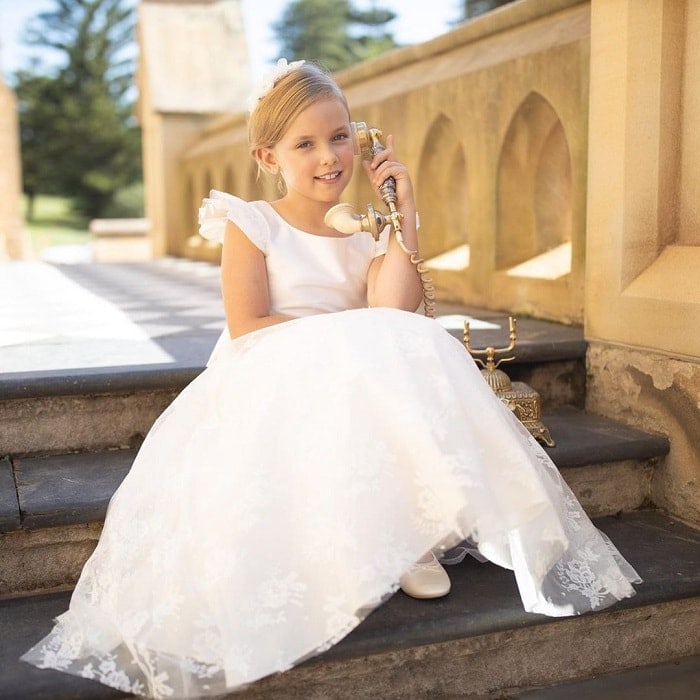 White dresses don't have to be plain, as this dress shows. It features an overlay that rests on the dress. The flowers in this overlay add a ton of interest and design to the dress and make it feel and look just a little more special.
A simple scoop neckline allows the flowers to be the real star of the dress.
Fascinating Bun Hairstyles for Girls
26. Sweetheart Neckline
A sweetheart neckline on a flower girl dress is a great way to mimic the design of the wedding dress. This simple flower girl dress has a pattern in the fabric that adds visual interest without being overwhelming.
An oversized crown of flowers makes the dress even more special and ties the whole look together.
27. Shorter and White
Not all white dresses have to be to the floor, and this shorter dress pattern is a great choice for the flower girl who is constantly on the go.
It's a simple design without a lot of embellishment and is cut to fit perfectly without being too tight. The details on the shoulder and top of the dress make it a bit more special than an everyday option.
28. Light Blue with Matching Shoes
A light blue dress can be stunning. This flower girl dress's sewing pattern has a full and long skirt with a tighter top, both in the same dreamy blue.
Flowers on the waist, as well as flats that match the same blue color, tie together the look. A simple hairpiece is all that's needed to style the hair.
29. Puffy Bottom with Gold Detail
Gold details on her dress make a flower girl really stand out in pictures and during the ceremony.
This white dress has a traditional shape with a tighter top and puffy bottom, but the cutout on the back, as well as the gold detail on the dress, really makes it stand out. It's great for a more elaborate wedding.
30. Thin Strapped Blue Dress
Thin straps on this blue dress make it comfortable to wear for an outdoor wedding. The multiple layers in the skirt of the dress, as well as the top of the dress, all have plenty of embellishments and beads. These add sparkle and interest to the dress.
Chic & Sassy Pixie Cuts for Little Girls
31. White with Pink Accents
A simple white dress really pops when accented with light pink. A small flower by the shoulder, as well as a wider strap around the waist, helps to define the dress and add some color to it. Girls will want to wear white in their hair to tie the whole look together.
Choosing the suitable flower girl dress patterns can be tricky and overwhelming, which is why brides will want to get a head start on making this decision. Finding the right dress for their flower girl will help to tie the wedding together and make the day a dream.