Face painting for kids is a fun activity and love by all the kids out there. Kids love to have fun and spend time in their make-believe world but as a parent, what better way is there to show your care and support than dousing them in the paint and letting them run wild.
Lovely Face Painting Ideas for Kids
So your kid's ready to leave the house and both of you are feeling adventurous, then here are 23 awesome face painting ideas for kids and their parents. You could hire an artist or you could do this yourself.
1. Simple Polychrome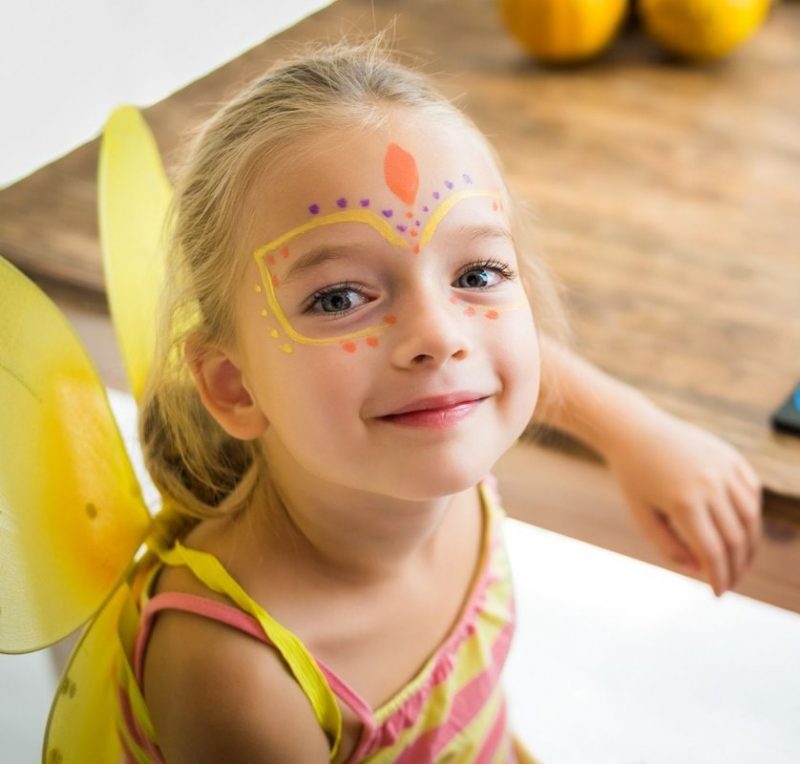 This face painting for kids is quite easy to accomplish, mostly because it's used to complement your kid's dress. Lines, dots and simple shapes make this design both workable and cute…just have fun with it.
2. Complex Bichrome Design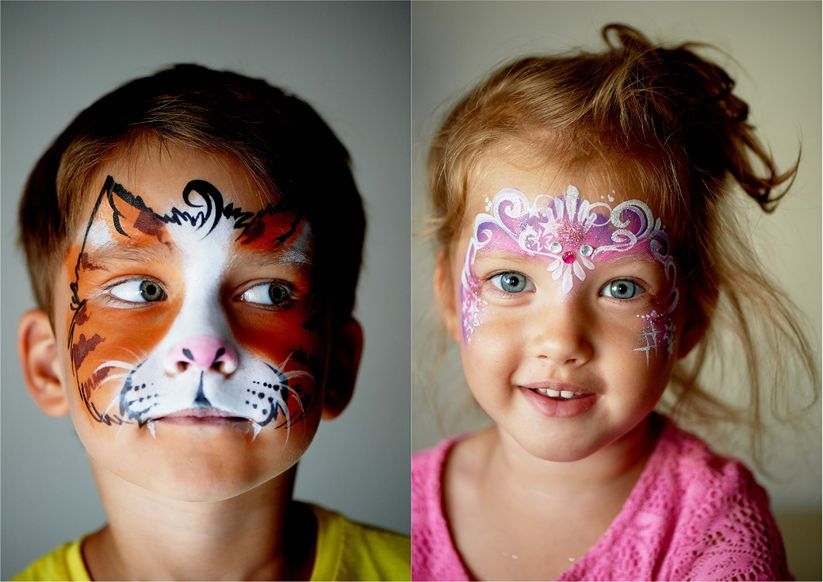 You can never go wrong here by being extra because kids love a good show. This face painting design is an attention grabber and a favorite with the kids because it makes it easy for them to slip into their dream world. The idea here is to make each color, each design stands out on its own yet sums up to the whole.
Amazing Finger Painting Ideas for Toddlers to Boost Creativity
3. Variety of Contrast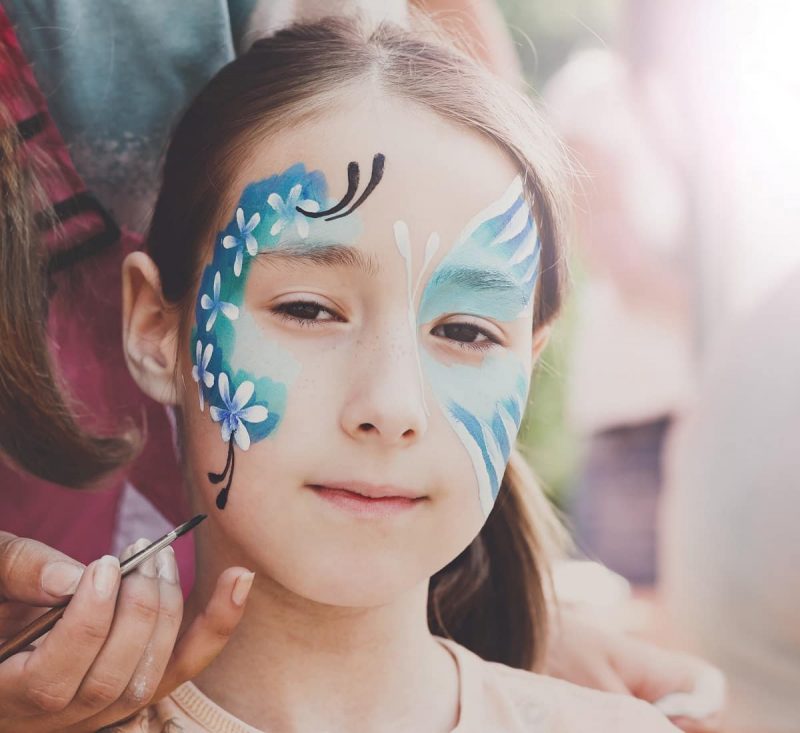 This face painting idea for kids is a lot of fun because it allows for variety and contrast. You could paint a dragon on one cheek and a dolphin on the other. You could paint the images with entirely different colors just to add variety. I like this design because your kid will look different from both sides.
4. Pink Butterfly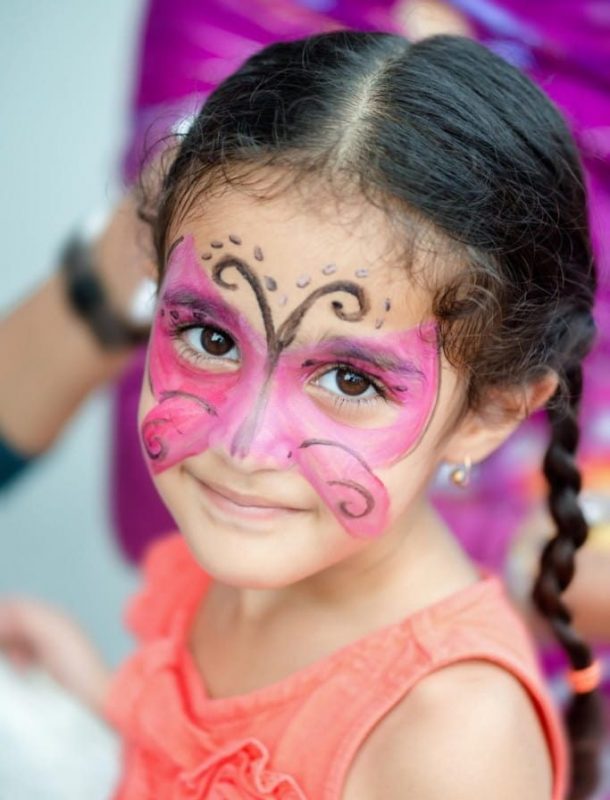 This kids face painting is easy to accomplish solely because one color is used. You can try out as many shapes and designs as you want with the same color. Go with the image the kid wants; it's easier that way.
5. Painting Around Eyes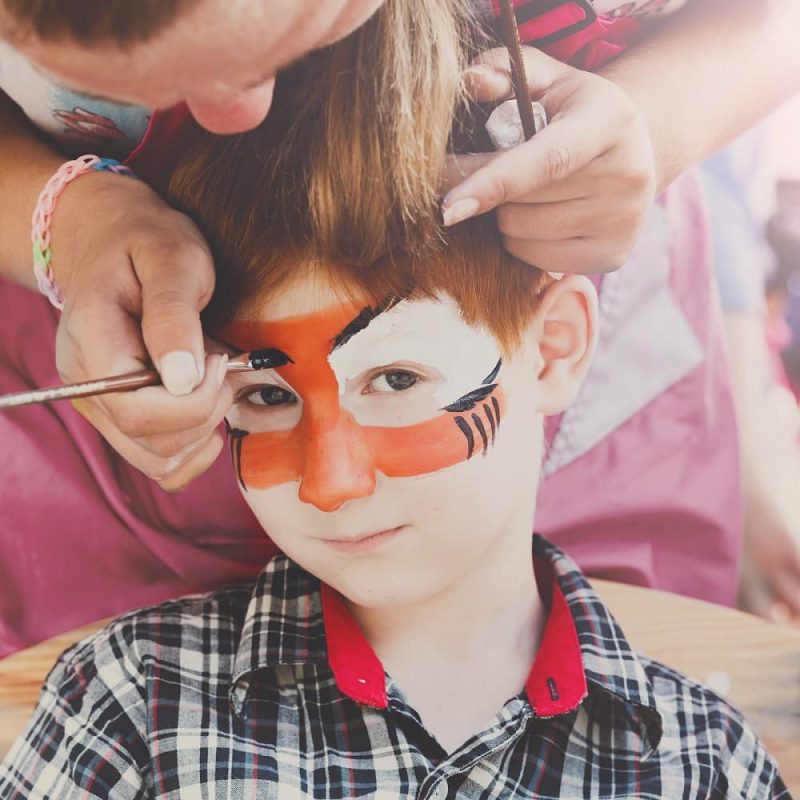 The choice of color for this design is as important as the success of the design itself. The color will surround the eyes so a color that stands out but compliments the eyes would do just fine. The lines that come afterward to embellish the background play a really important role; they help to make it pop.
6. Glittery Painting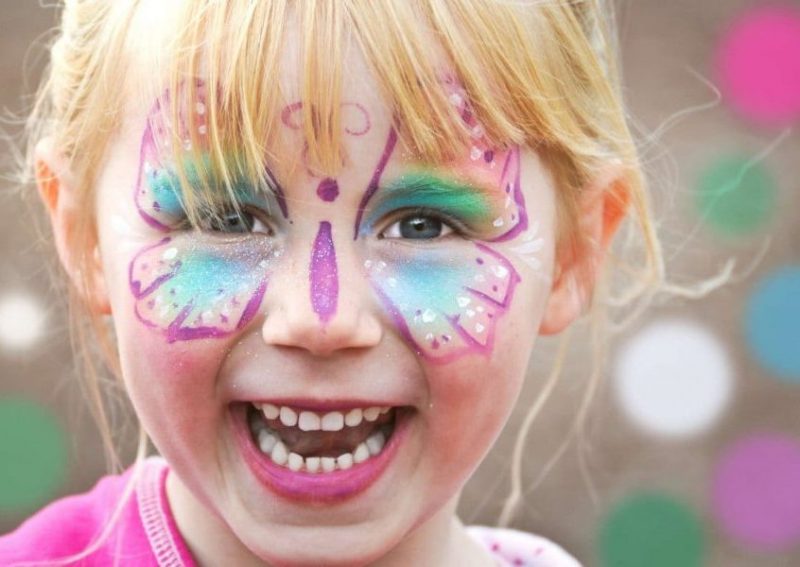 Whether it's a bird or a butterfly, a simple design here will do just fine. The mask enhances the eyes and in extension, the smile. No matter the image you go with, don't forget to color coordinate. Use a lot of patterns, lines, and dots to execute this cute face painting for kids and you won't regret it.
7. Character Designs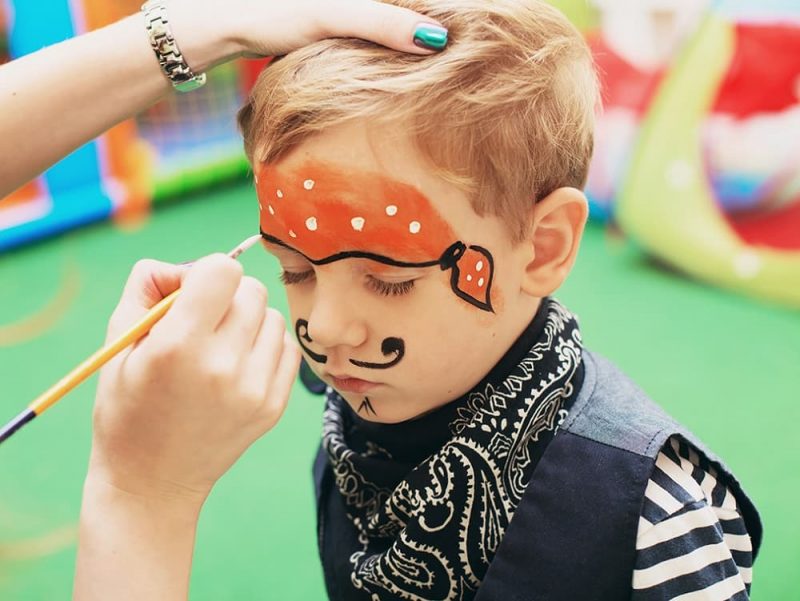 Jack Sparrow, al Pacino or Shrek inspired face painting would look marvelous on a kid…overdo it and you're gonna have a cute pirate terrorist on your hands. Prepare your background first and draw the lines afterward. You could add the patterns as the finishing touch.
8. Halloween Special Design
This easy face painting idea for kids is especially suited for Halloween. The face paint acts as a full-face mask and your kid gets to be someone else until the party's over… or until he/she goes swimming. You can afford to get carried away with this one; the crazier the better.
9. Simple Bichrome Design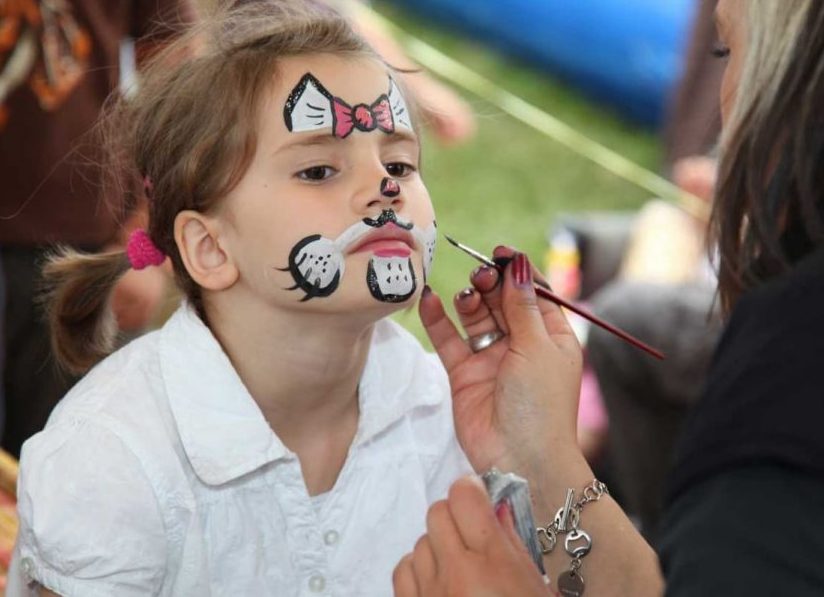 The kids face painting design here is fun to do as it takes no particular format, just have fun drawing. This design works best with vibrant colors. Since the images will be spaced out, you need to choose colors that will stand out on their own.
10. Two Toned Butterfly Design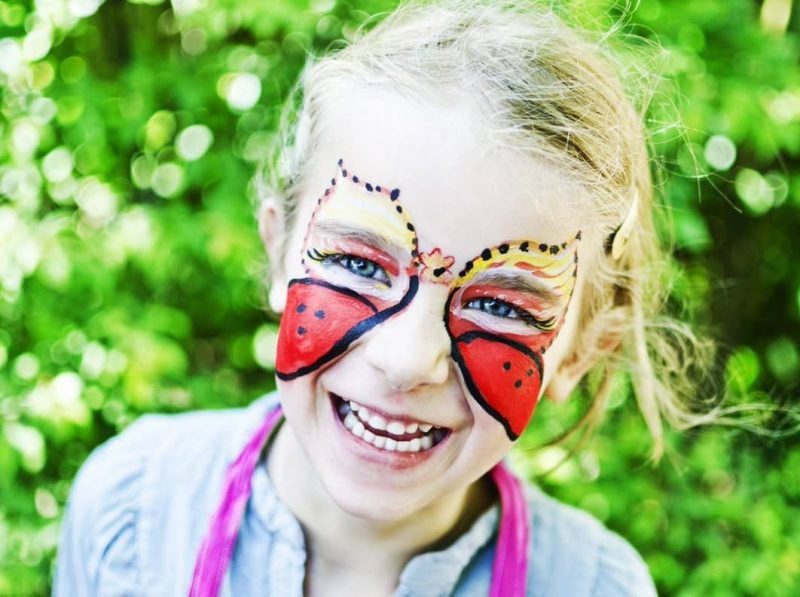 You could try a simple design like this one, but a simple design like this could also prove stubborn when you spend too much time on it. You'd need two colors and a lot of imagination to pull this off. Lay down a nice background and then use lines to create borders for it.
11. Faded Holographic Design
Have you ever wanted to dip your child's face in paint? Well, here's your chance. This kind of painting covers the face entirely but it's no Halloween painting. The faded blend of the colors creates a wonderful holograph effect.
12. Painting According to Eye Color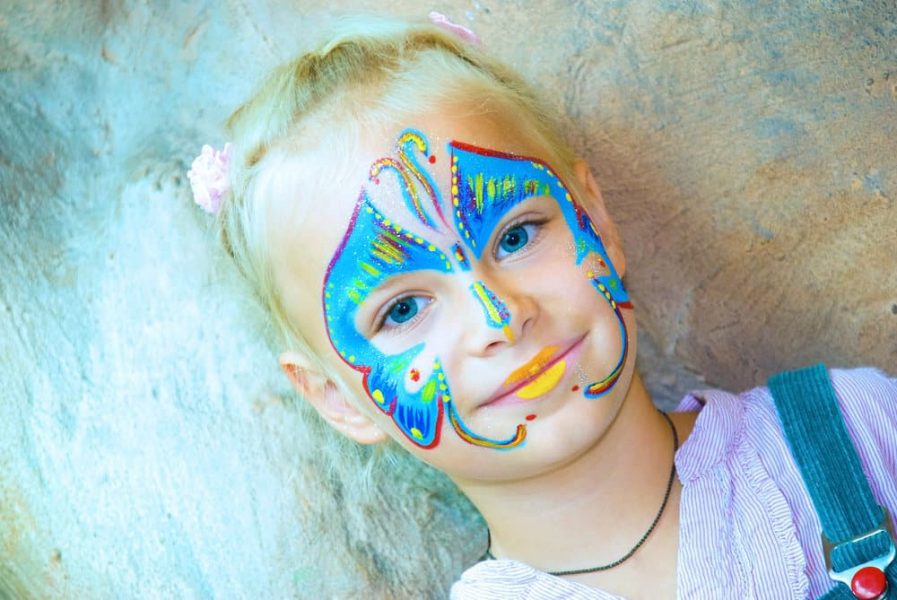 This face painting for kids is especially complex… the name gives it away already… but entirely rewarding. So many colors come together here to create a pretty blend; however, one color should serve as the background for the others while the rest are painted on it. To make it perfect, match the background color with the color of the eyes and you'll have a work of art.
13. Cat Face Paint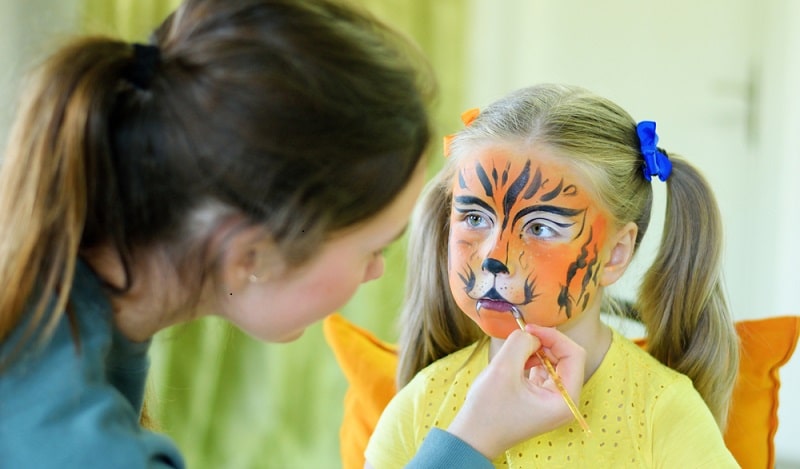 This kids cat face paint design is lovely when carried out well and is wholly rewarding when done right and quickly. Create a foundation and begin to draw the patterns winding away from the mouth and eyes.
Be careful not to smudge the paint as it can get quite frustrating. This design could transform your kid from princess to cat-princess…I don't know her powers yet.
Popular Guessing Games for Kids
14. Light and Dark Shade
Everyone loves a good costume party and with this face painting design, your kid would look like the 'belle of the ball'…even without a gown, but more preferably with one.
Make hue variations to the color, creating light and dark shades to the design and put some patterns on it to finish. Don't get caught up with trying to detail everything, just paint what you can and have fun doing it.
15. Warrior Design
Some colors here, some lines there, a smile to match and you have a beautiful warrior kid face painting look for your children. Two colors are what you need for this to work; the darker one at the bottom part and the lighter one on top. You can embellish this design with lines, dots, and shapes.
16. One Side Painting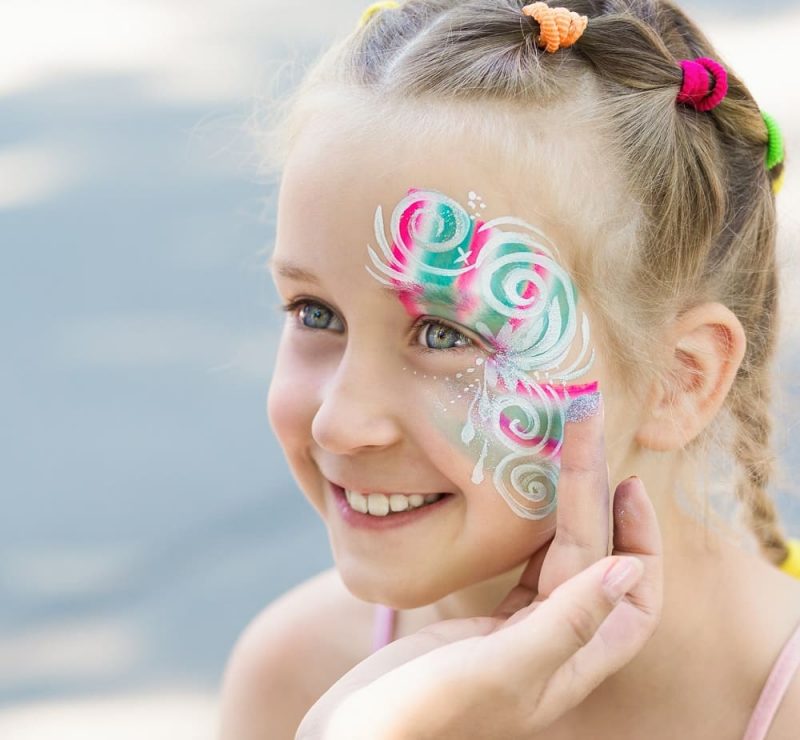 This face paint design for kids is classy, fun and eye-catching. You just need to have a pattern in mind and once you have that, you can create a background and watch it pop.
This design isn't restricted to only the top part of the face; you could also turn it into a lovely print that runs from the cheek down to the neck, and who says you can't join in the fun.
17. Design with Lines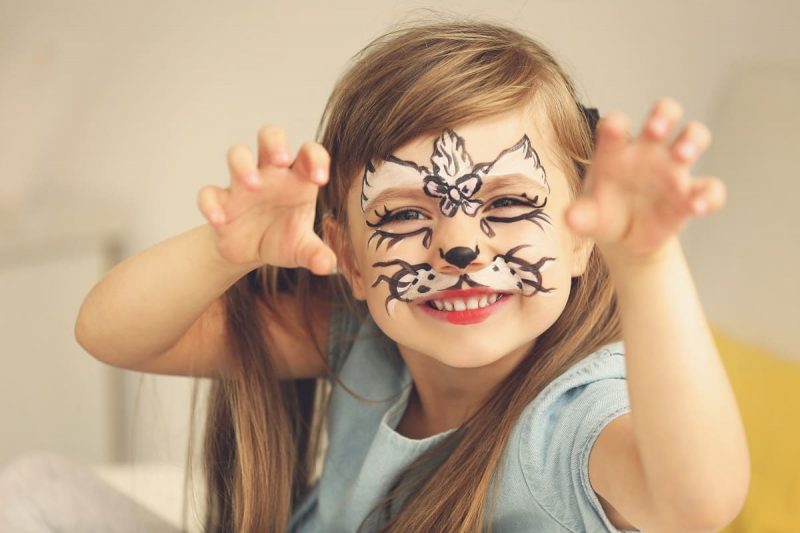 Before you embark on this particular design, ask your kid to forgive you in advance because this design is as technical as it is simple…I said simple, not easy. Paint, make-up, or a sharpie would do quite nicely for this look. Get some practice on paper or with chalk first if the design you want has a more complex pattern than you're used to.
18. Cute Wild Look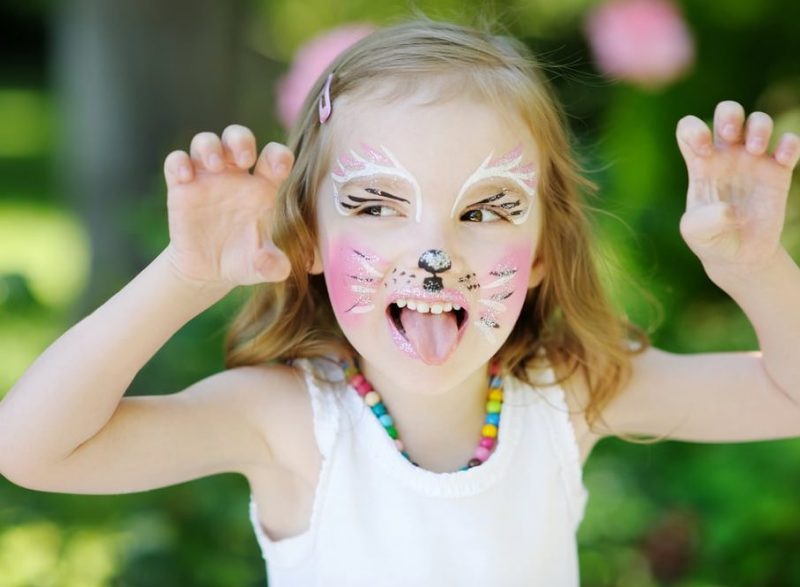 I think this might be one of the simplest face painting for kids to execute. Throw on some foundation and some blush…if you're feeling brave…and then paint some lines; whiskers, beards, lashes, run as wild as you can, the kids will love it more. A plain colored shirt is best suited for this.
19. Three-Quarter Complex Monochrome Mask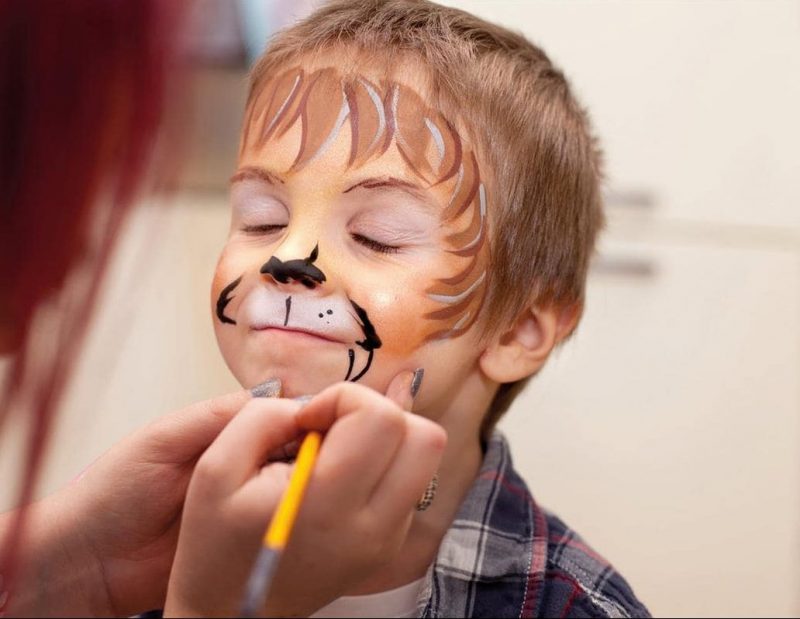 You could take one color and turn it into a hundred with this kind of design. It's especially nice for kids with short hair and works well with plaid shirts. You can't go wrong with this design; just keep painting until one pattern makes sense to you, then repeat it over and over
20. Cultural Vibes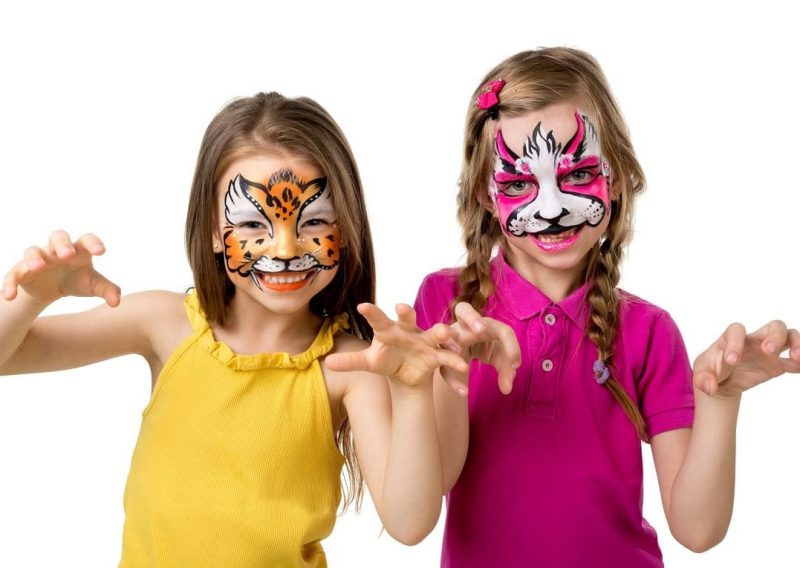 This cute face painting idea for kids with a three-quarter mask will get your kid looking like a matador. A nice blend of culture, wildlife, and good old cartoon caricature will have your kid stealing the show. Don't forget to color coordinate.
21. Simple Full Face Painting
When going for a simple design, this face painting on kids is the one to go for. Since the colors are plain, they stand out on their own against each other. Use contrasting or complementary colors to achieve this.
22. Freaky Character Design
These kids face paint design works best when there's a costume to go with it. You don't need much for this; once you've placed the foundational color, you can then paint on a character and go on to watch your kid terrorize the neighborhood.
Creative Indoor Activities for 3 Year Olds
23. Different Pattern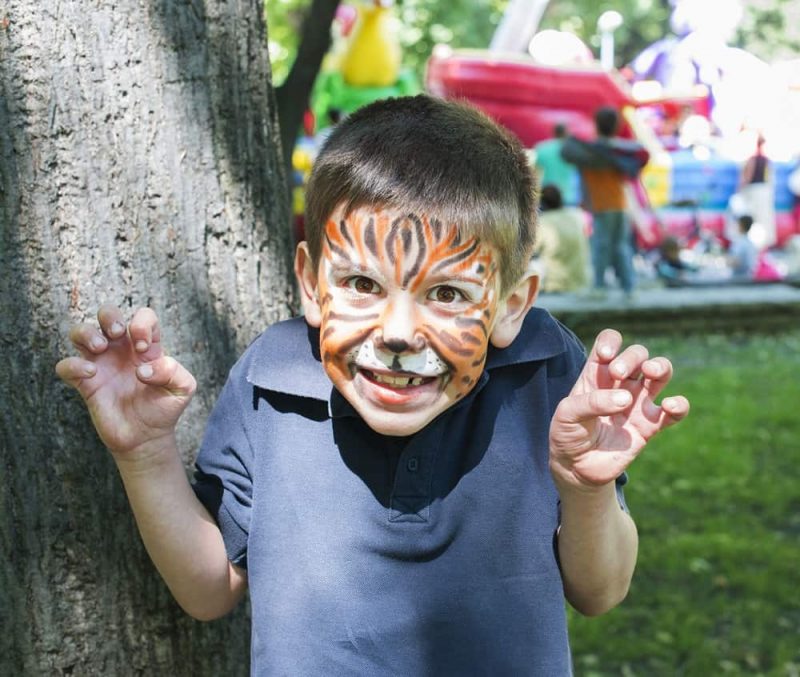 This face painting for kids goes well on plain shirts as well as simple print shirts. Two colors can be mixed into so many combinations and patterns to create very lovely designs. After you've successfully created the background, draw the patterns and interchange the colors on the face. Don't forget to factor in eye color, dress color, and hairstyle.
Remember, these face painting ideas for kids, and get their opinion on the ones they'd love and get to work on those. If you're doing this yourself, don't worry about how it'll turn out because once you're over the initial fear of it, the rest is quite easy.