Boys who are looking for a new style for the year will want to consider long on top haircuts. These fun styles are a little bit different than traditional cuts and are sure to give any boy a boost of confidence about how he looks.
The longer top adds a lot of interest to the cut and prevents it from looking boring or dated, while the shorter sides help boys to stay cool.
Latest Boys Long on Top Haircuts with Short Sides
Boy's long on top haircuts come in a variety of styles and designs, making it easy for any boy to choose one that he is sure to love.
Since they are as varied as the boys who will wear them, they are sure to help any boy look his best and stand out in a crowd.
1. Swooped with Movement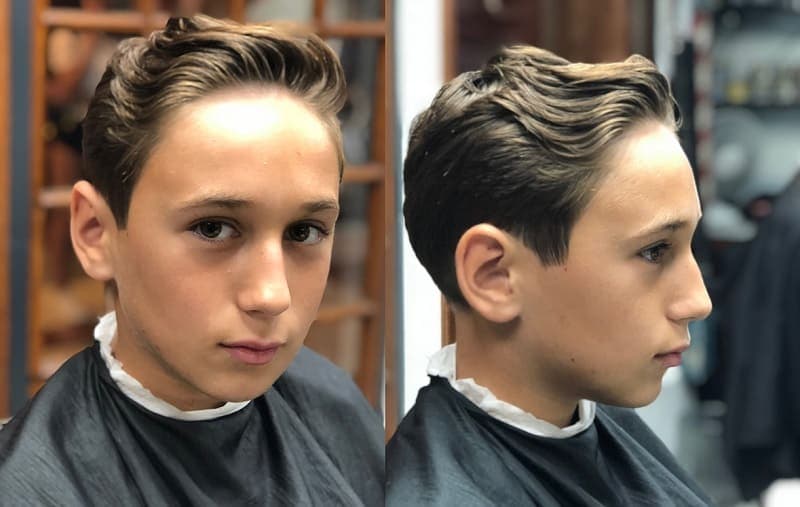 Boys who have some natural movement in their hair will look great with this style.
It allows the movement to easily be seen without requiring boys to grow their hair out so long that it will be difficult to take care of, as well as unruly.
Pushing the bangs up and off of the forehead keeps them out of the way and creates an interesting line in the hair.
2. Wild and Curly
Curly hair doesn't have to be kept super short, as this great style shows. The longer hair on top of the head shows a lot of personalities and is a great way to grab attention.
Using a bit of product to help define the curls ensures that this style is anything but boring. The shorter sides allow the curls on top of the head to be the real star of this style.
Sweeping hair to one side of the head is a pretty common option for boys who have long hair on the top, but using a hard sideline is a great way to add definition to this style.
The very short fade around the ears is suddenly cut off with a hard line, which then allows the softer and longer hair on top of the head to be the star.
4. Sleek to the Side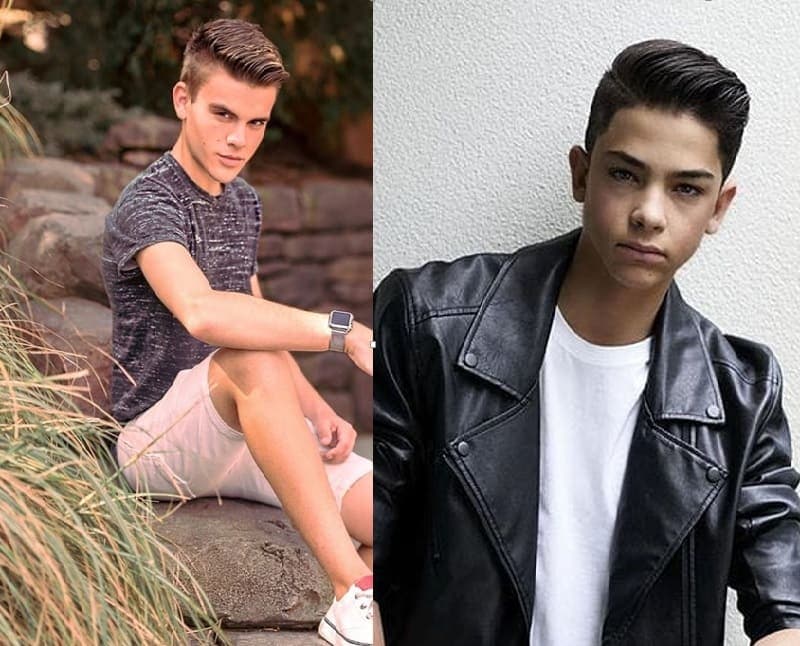 Sweeping hair on the top of the head to the side makes this one of the best long on top and short on sides styles for boys of all ages.
There is a side part, but it is not nearly as defined as on other styles, which prevents it from looking over the top or too harsh. This makes this an acceptable haircut for teenager boys.
5. Softer and Less Defined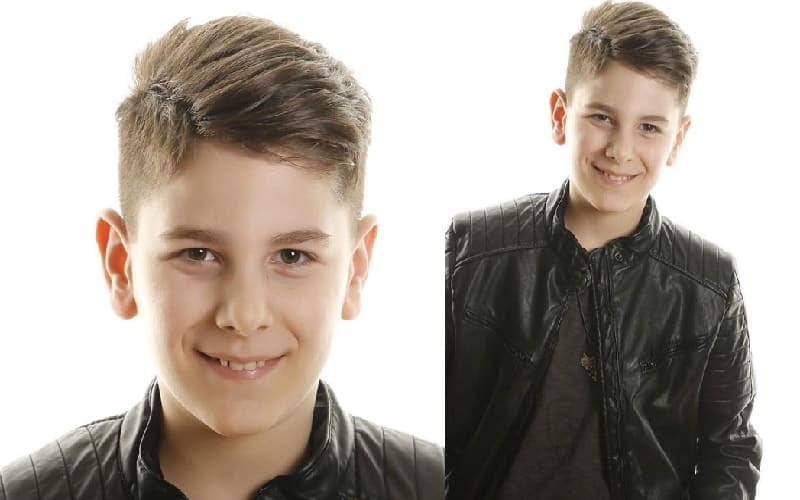 Very hard lines and lots of product can sometimes look out of place on younger boys, which is why this is such a great style option to consider.
It still looks fresh and updated, but the hair isn't cut as drastic and there isn't a hard line to try to style. The end result is hip and interesting without being over the top on a young or shy boy.
6. Gelled Bangs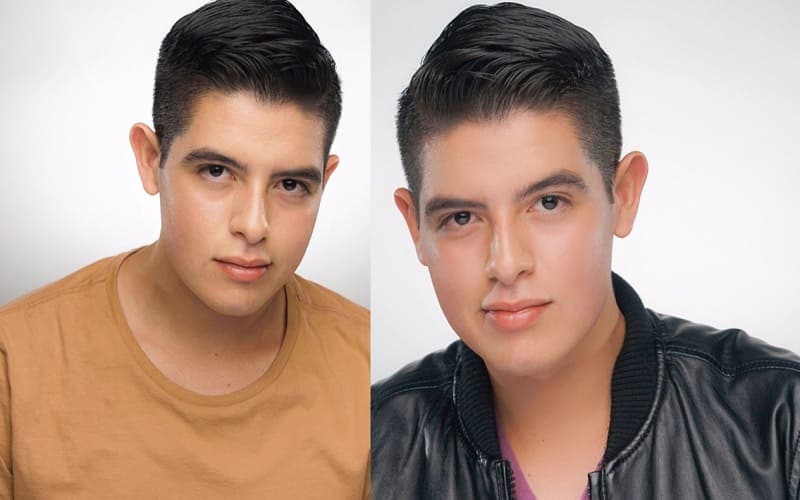 Gelling bangs is a wonderful way to keep them out and out of the way, which is why this look is so great for so many boys.
The shorter sides combined with the lift and movement of the bangs create an interesting look that is perfect for school, play, and going out with friends.
Using the right product is key to prevent the hair from looking hard.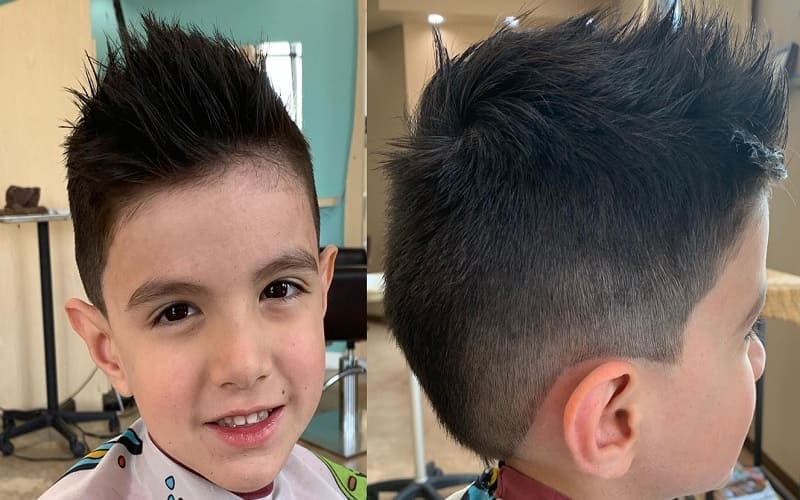 The spikes on top of this style are sure to appeal to younger boys who want something that will make them stand out from the crowd.
Using just a tiny bit of product allows the spikes to remain in place without allowing them to get hard and crunchy.
The bangs should be left just a bit longer than the rest of the top for more interest and movement.
8. Designs Cut Around The Ear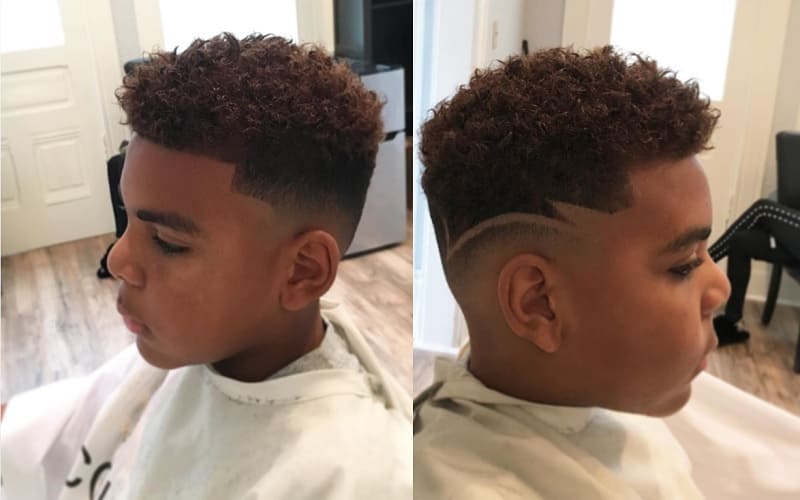 Rather than leaving the shorter sides boring with just a plain fade, boys who want to take their look one step further can add designs to the side of their head.
This is a great contrast to the longer hair on top of the head and is sure to attract attention. Simple designs are often best and will allow the rest of the style to shine, as well.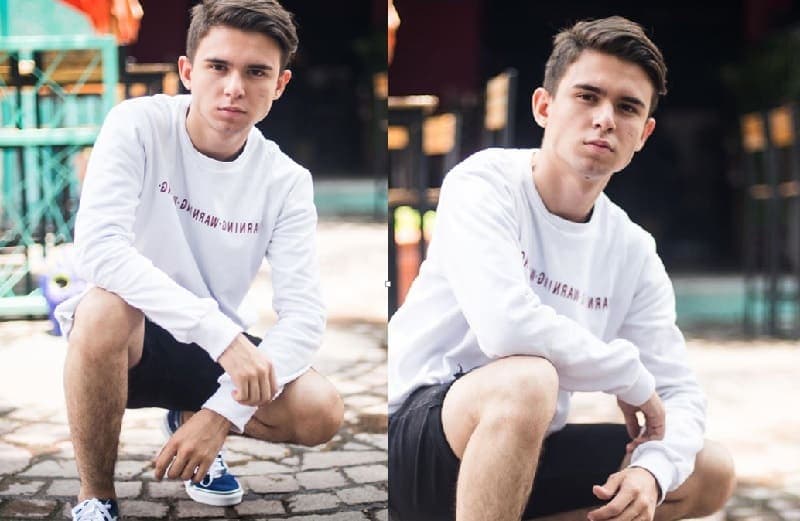 This look is perfectly preppy and great for boys who want to make sure that they look chic, stylish, and are always the center of attention.
The slightly longer bangs are pushed up and out of the way to the side, allowing the boy's face to be shown off. With shorter sides and a longer top, this is a fresh and classic style that most boys are sure to love.
10. Perfectly Curved Bangs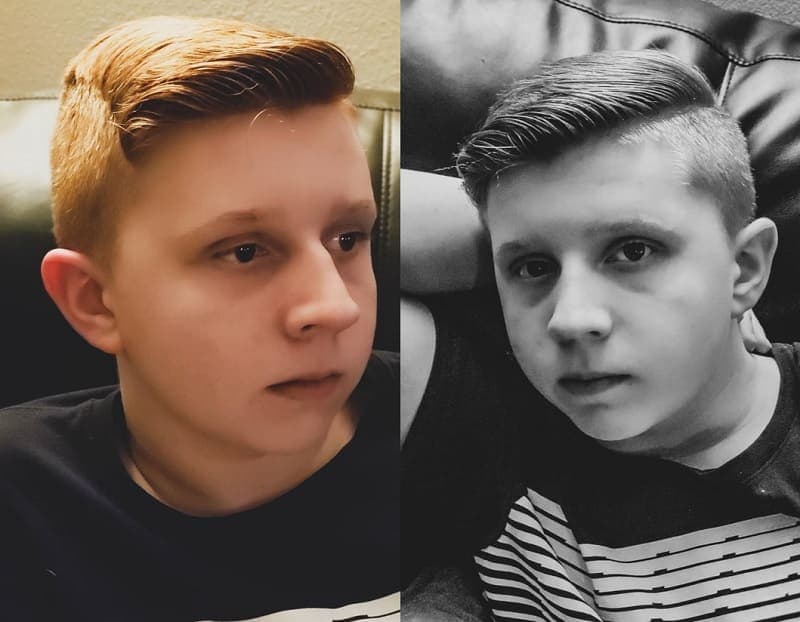 Bangs don't have to be boring or hang down in the face, as this great style shows.
This haircut for hipster boys relies on plenty of lengths on the top of the head to really show off the movement of the hair.
Super short sides help to create an interesting contrast and prevent the style from looking boring or outdated.
11. Swept to the Front from the Back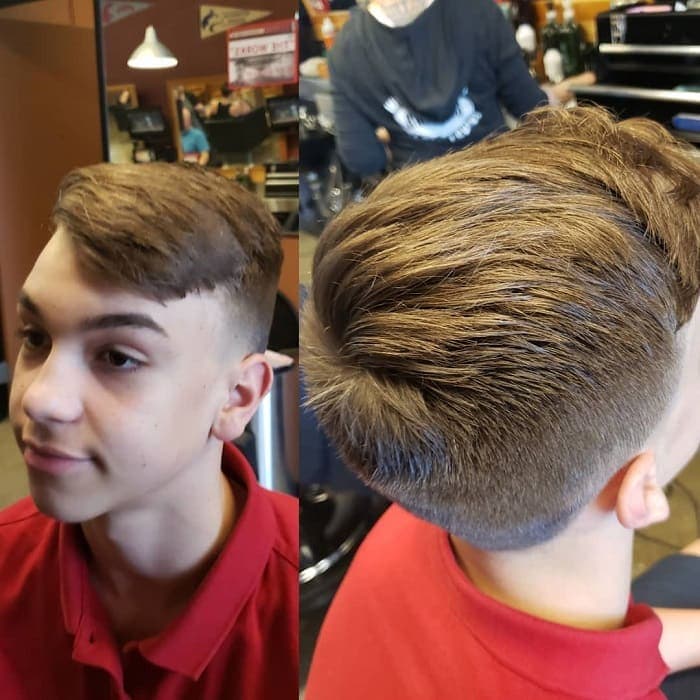 Most of the time, longer hair on the top of the head is swept from one side to the other to add movement and volume, but this style requires sweeping it from the back of the head to the front.
The end result is unique and a bit messier without being over the top. It's still completely appropriate to wear to school but is a little bit more fun than some other hairstyles that boys can wear at school.
12. A Mass of Dark Curls
Dark curls look exceptional when there is a little bit of product used to hold them in place and really help their shape and movement shine.
This style looks great not only because of the gorgeous natural curls, but also the incredibly short sides, which help to make the long top really pop.
It's a darker and dreamy option for boys who want to show off their curls and who are lucky enough to have black hair.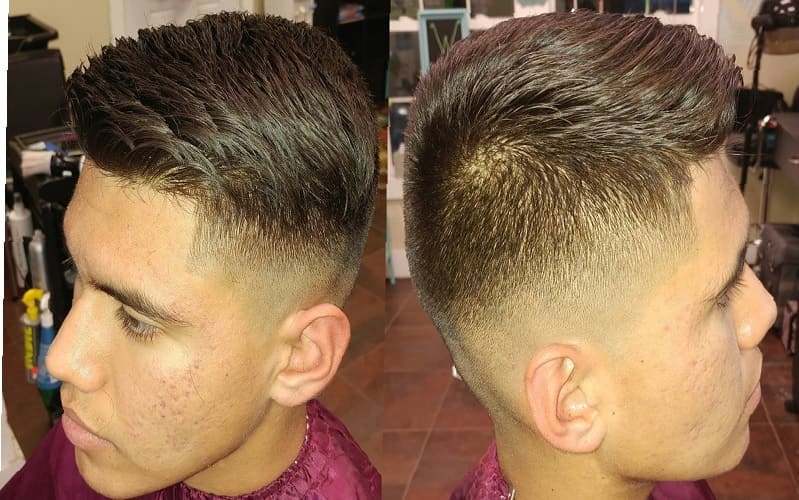 Skin fades are bold and daring, which makes them a great option for any boy who loves to stand out from his friends.
The longer top with this skin fade is not so long that the bangs will get in the way, but is long enough to provide a great contrast to the shorter side.
A little product goes a long way in styling this look and keeping it fresh.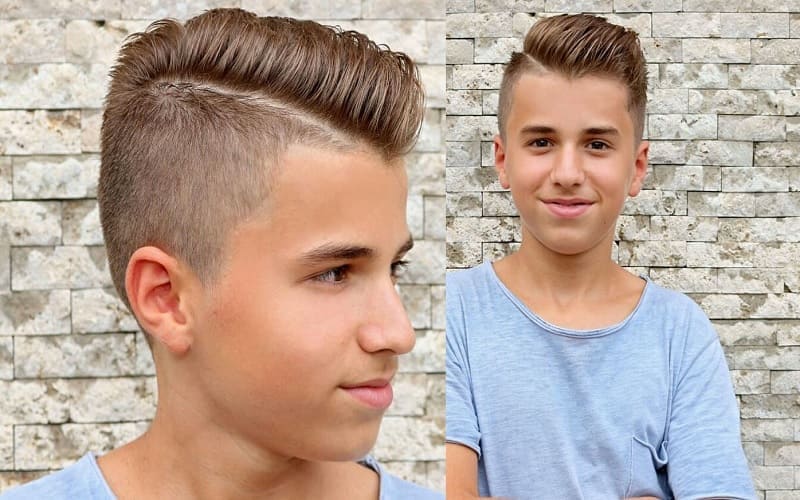 There's nothing like a hard line to really separate a shorter side fade and longer hair on the top of the head. This hard part is cut deep into the hair to make sure that the longer hair on top really stands out.
Using a bit of product to control the hair is key so that the hard-line doesn't get softened by hair falling over on the head.
15. Perfectly Designed Sides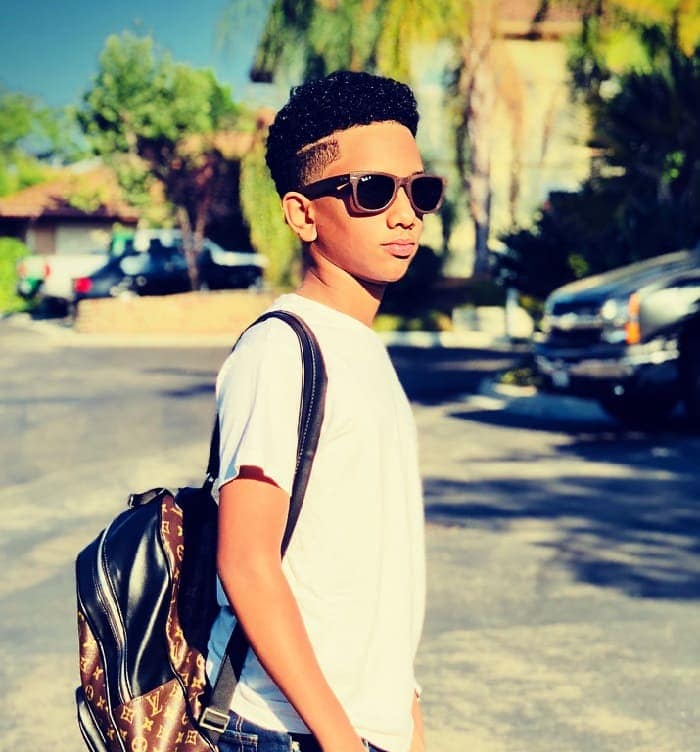 Simple designs are often the best, as this great style shows. A thick and full top head of hair combined with a great temple fade and a small line, or design, helps to set this look apart from the rest.
The thick hair on the top of the head becomes the real focal point of this style and is sure to attract attention, thanks to how healthy it looks.
Trendy Hair Designs for Black Boys
16. Slight Fauxhawk
Boys who don't want to commit to a full mohawk can enjoy the feeling of one with this great fauxhawk.
The hair on top can easily be spiked up for when boys are feeling a little bit rebellious and want something different.
17. Exposed Ears with Curly Bangs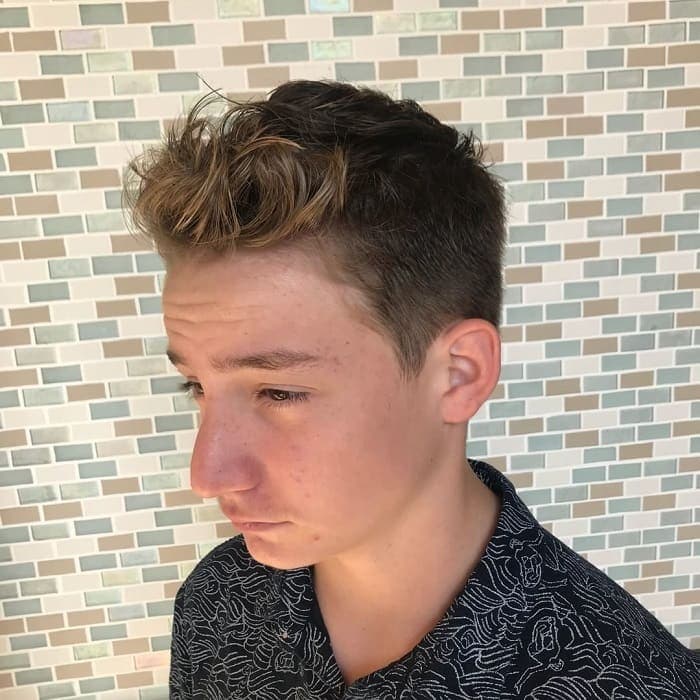 The curly bangs on this style are what will really make people stop and take a second look.
Exposing the ears with very short hair and then allowing the longer bangs to grow out enough to have some curl help to create a unique look.
The juxtaposition of short and straight with long and curly make this a great option for boys wanting to embrace their curls.
18. Messy Hair for Little Boys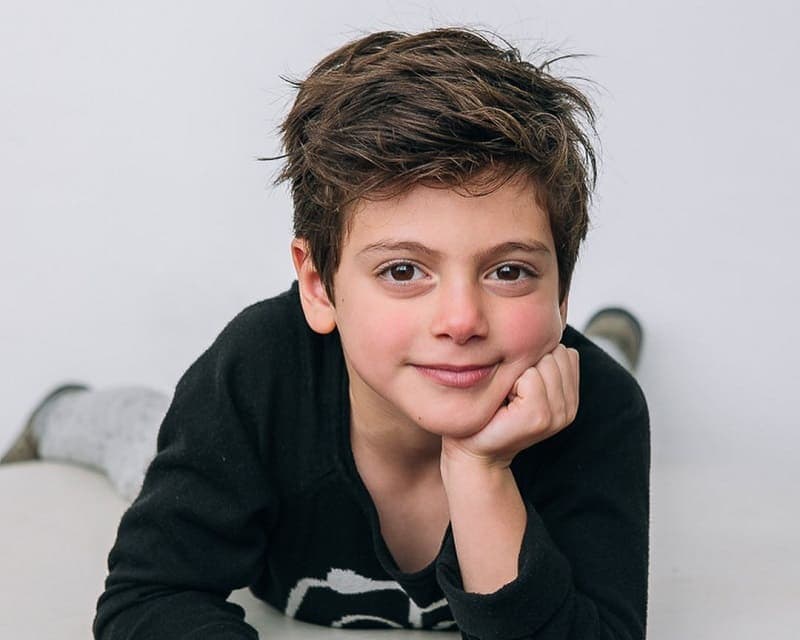 Little boys will love having messy hair, and this is one of the top boy's long top short sides hairstyles for boys who want something easy to take care of.
All of the hair on top of the head is allowed to grow longer, which adds a lot of movement and body to the style without allowing it to become weighed down.
It's easy to take care of and allows boys to get out the door quickly in the morning.
19. Bangs Pushed up and Over
Bangs don't have to fall down on the face or be pushed straight back, as this style shows. They swoop in the bangs adds both movement and body to the style and prevents it from being boring.
The larger section of bangs also provides a ton of body to this look, which can be used to help elongate certain face shapes and boost confidence.
A skin fade looks even more interesting when it is paired with longer hair pushed directly back from the face, as well as along the sides of the head.
This longer hair is controlled with a product to create a sleek and streamlined look that is quite appealing, as well as interesting.
With a skin fade to complement the longer length, this look is sure to really pop and draw attention.
21. Spiky and Natural
There's no reason why longer hair on the top of a head must be controlled with the product, as this natural and soft look shows.
It's a great option for boys who have very thick hair and who don't need to use a lot of product to control it and add more volume.
Because it is such a simple cut to take care of, it's a really great option for boys of all ages who are looking for an easy style.
22. Wet Hair with Steps
Adding enough product to the hair to make it look wet is a unique style choice that some boys can easily pull off.
To make the style even more interesting, boys can add some designs or steps that are cut into the fade around their ears.
This is edgy and, when combined with the longer top and plenty of product, makes any boy look older and more confident.
23. Bangs Pushed Way up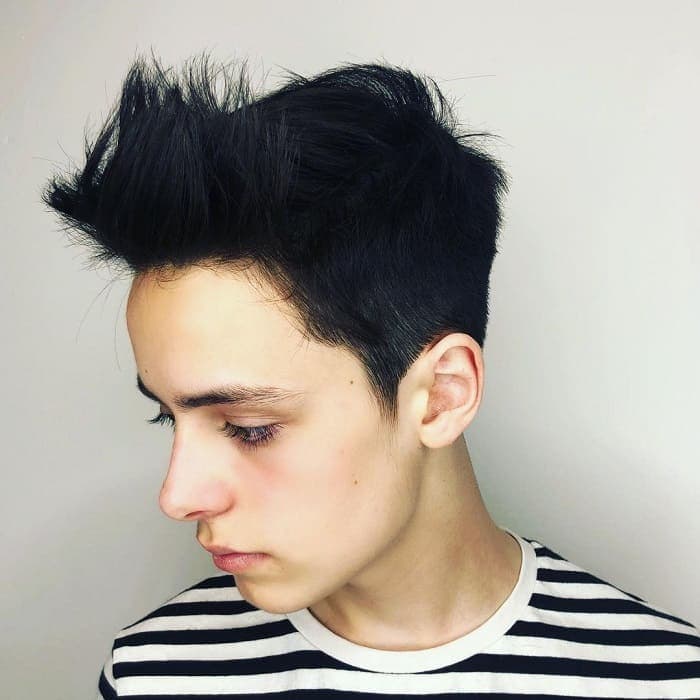 The bangs are simply pushed way up from the face and allowed to have plenty of volume and body.
It's important that they are not accidentally weighed down with a lot of product, which can cause them to look greasy and make it difficult to get their full height when pushing them up and off of the forehead.
Cool and Handsome Straight Haircuts for Boys
24. Curls All Over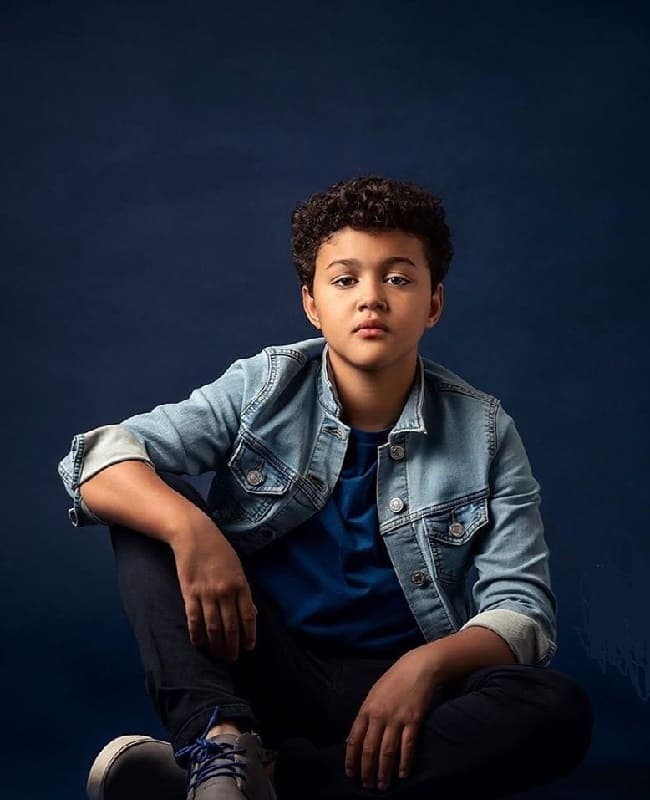 Curly-haired boys who embrace their curls are able to enjoy an incredible style that is unique and eye catching.
Thick and lush curls on the top of the head are a perfect way to finish a style, especially when the sides are shorter, but not as short as a skin fade.
This allows the curls to really pop but prevents them from looking out of place.
25. Fluffy on Top
Fluffy hair looks clean, fresh, and inviting, which is why this is a popular style. The fluffy feel of this hair is due in part to the cut, but also to the fact that not a lot of product is used to style the hair.
This prevents it from appearing weighed down and makes it possible for boys to get out the door in the morning in a hurry, without spending a lot of time worrying about their appearance.
Boy's long top hairstyles are a welcome change for boys of all ages. These long on top and short on sides styles are sure to please even the pickiest boy.
Since finding a fresh new style is so much fun, most boys will love trying something new.