Mohawk hairstyle is always about a rebellious attitude and an eye-catching appearance.  During the 80s, boys Mohawk haircuts were in vogue, and typically included long hair colored unnatural hues and styled into spikes.
While the Mohawk hairdo is increasingly seen today, it's shine is to some extent because of the variations it has taken.
Best Mohawk Haircuts for Boys
Inspired by punk culture, below, light is being shed on various Mohawk haircuts for boys who want to opt for something daring and dazzling.
1. Classic High Mohawk Style
Long hair on top is designed and styled upwards, thus creating an appealing look. This long top short sides haircut is further highlighted when the red and blue colors are added on to it.
Hair is distinct with medium fades on the top and sides which make it less dramatic, however high fades can give a more dramatic look to classic Mohawk.
2. Pompadour with Line Details
It's a pompadour hairstyle and is given some extra touch to the details between shorter sides of the hair and the faded section.
This hairstyle could not show its real beauty without styling effectively, and the shorter hair makes it easy to style.
3. Slightly Short Hawk
Some boys have short hair and love to style it as Mohawks. The fades are also very low for this look. Your short hair and low fades should be low enough for Mohawk looks.
It is a perfect example for boys who do not want to commit to the length of their hair and enjoy the Mohawk look.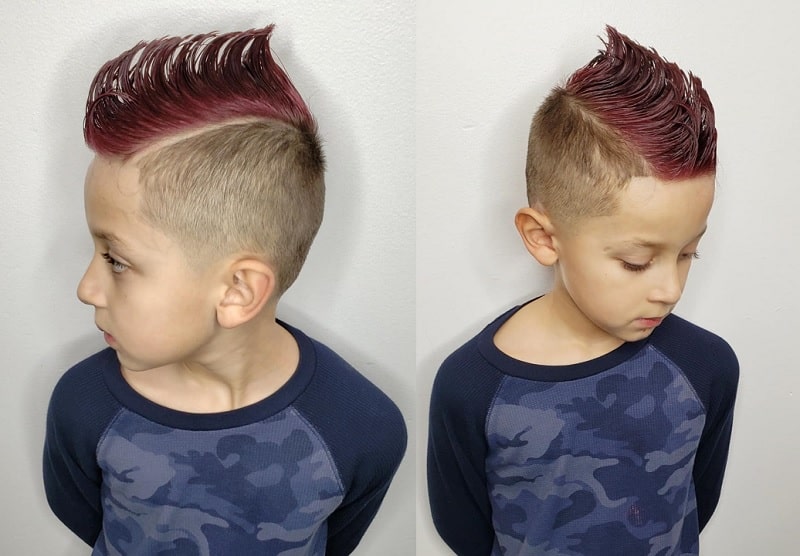 Spikes have become real apples of the eyes. Ever wondered about the grandeur of those Goth artists? Well, they are spiky! Different-colored spikes blended with a Mohawk is everywhere!
From toddlers to CEOs, it is seen with an increased proportion of spikes, which increases the volume of height and brings out the Mohawk even more.
It is fashioned with various gels and oils to keep the spikes pointy.
5. Assorted Curly Mohawk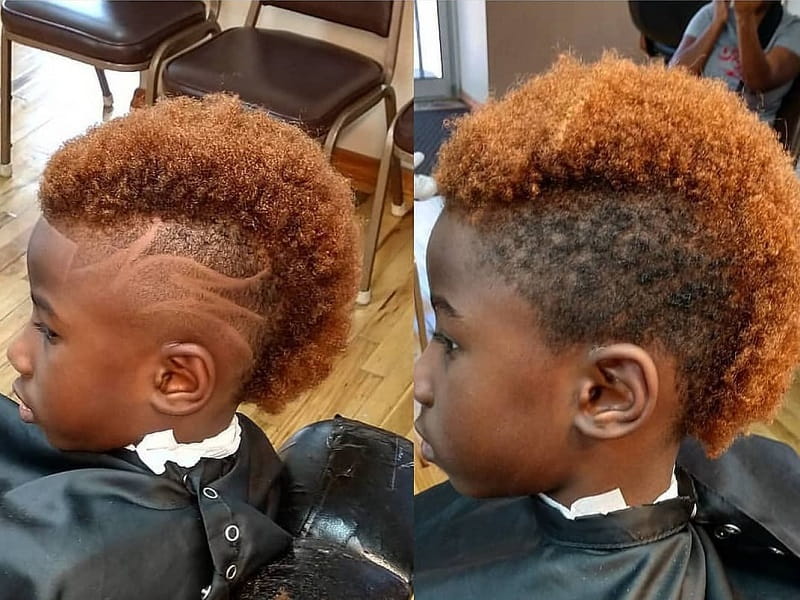 Curly haired boys prefer Mohawks with line detailing in a way that sections with different fades are assorted separately. The sides with medium fade go down the skin; however, the sides are faded in a very stylish way.
This style can only be achieved when styled from an efficient barber who knows ways to spice up boys hairstyles. You can leave the sides untouched as well.
6. Frenzy Curls with Slight-curved Fade
The frenzy Mohawk is styled with curly hair. The fade is cut in a slightly curved shape rather than evenly from top to bottom.
The little boys having curly hair look more attractive when Mohawk is made with a curve, making it more alluring.
7. Hair Design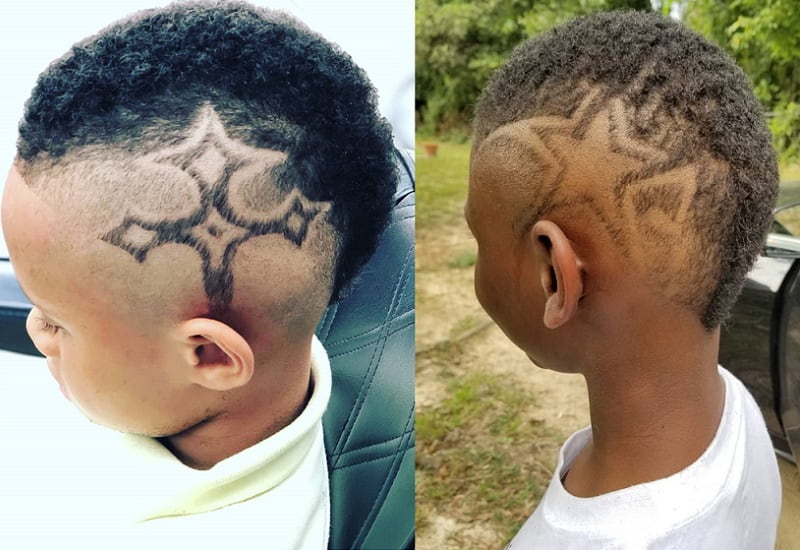 Present-day Mohawk styles leave hair a few inches wide on top. This style lightens a genuinely slender piece of hair on top, making it a champion look.
The feature that stands this style out is the hair trimmed into the sides of the head, that are clearly crafted by an exceedingly talented stylist.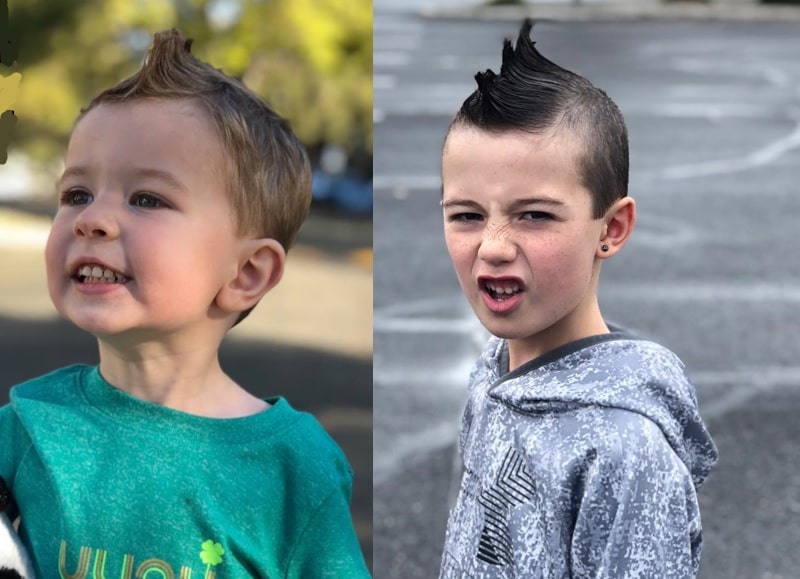 This particular Mohawk cut is in the faux hawk style, where the hawk shape doesn't continue far down the back of the head. You can also pair the look with a subtle fade.
9. Dramatic Mohawk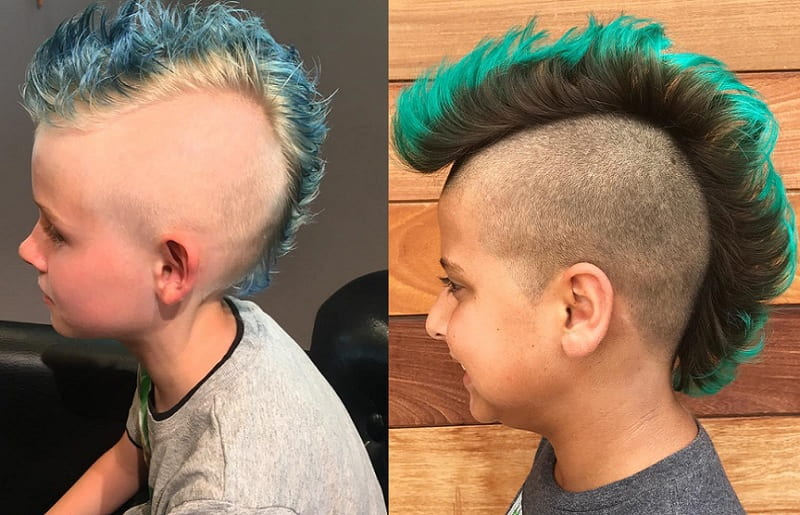 This high design boy hairstyle may hinder your vision; however, the exceptional head-turning style is absolutely justified, despite all the trouble.
This two-toned Mohawk style doesn't broaden much past the crown of the head.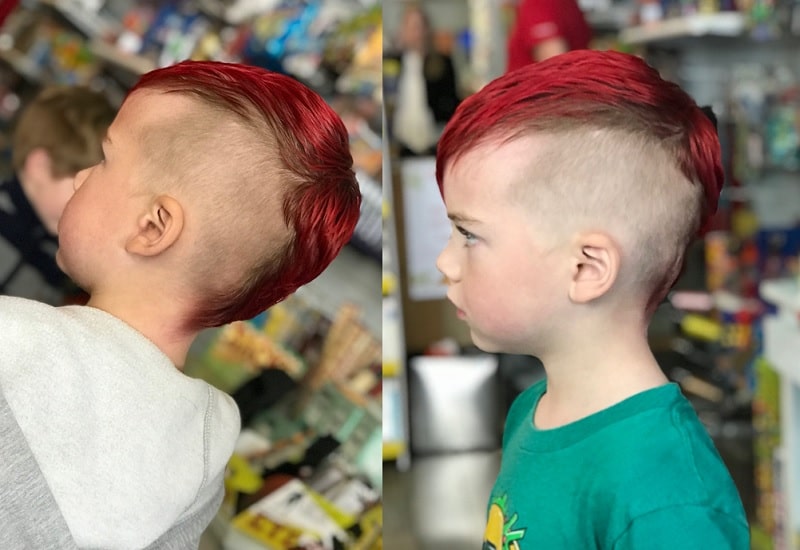 It has long hair in the front and leaves lots of hair to work with. For boys who like bangs and shorter hair at the back, style it in side-swept Mohawk. This is a decent vogue choice for boys with straight hair.
Most of the hair is dyed red and kept long in this style, featuring a temple fade that enhances the Mohawk shape when viewed from both the sides and the front.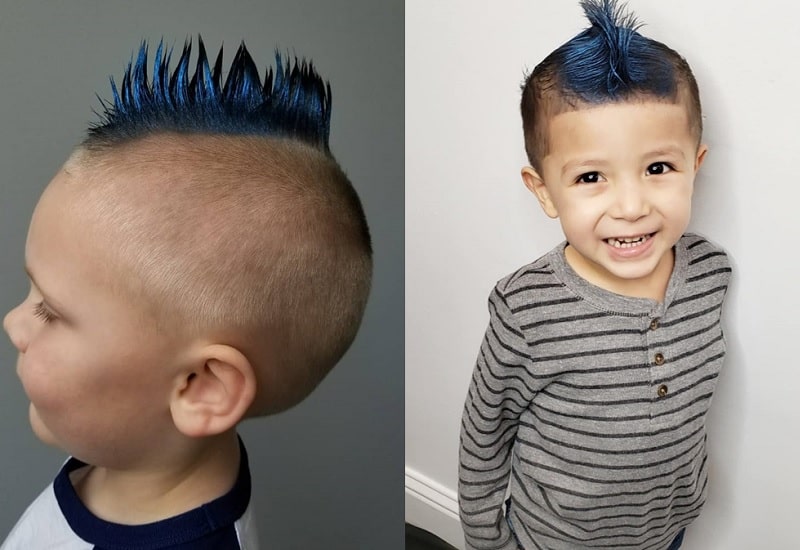 Spikes are going in vogue these days. If your hair does not have the sharpness to form spikes, you do not have good hair. What a surprise when spikes go extravagant with a Mohawk!
12. Celebrity Style
Not only has this style clinched the eye of a commoner, celebrities too couldn't stay back.
Singer and actor Jaden Smith tried this cool style. Intricately faded with precision, this Mohawk haircut attracts his fan base.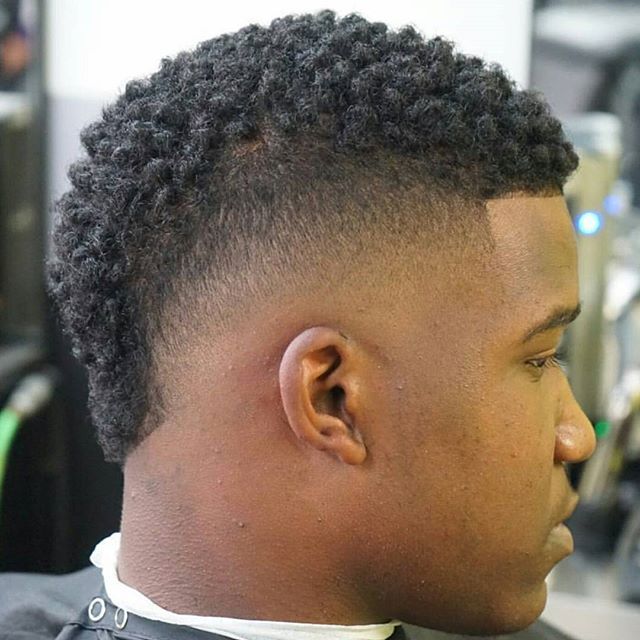 Teens and High school boys opt for the short Mohawk due to its easy requirement. You won't have to invest too much into those exotic hair tonics and whatnot.
And this goes smoothly with the curly blend in hair which brings to limelight the original texture of twists and turns.
Boys and kids who want to keep up with the fashion and also want to keep a homely touch go for this attire. Ever wondered what those Navy Seals guys go for. This style is the one!
Attractive Haircuts for Teen Boys
14. Mullet Mohawk
Exquisitely fashioned Mohawk which is shaved to the point where a ducktail is made prominent. The style became a common commodity in the early 50s and flamed the Mohawk culture.
Even today, boys who have a retro touch and also long for a style are the real keepers of this cut.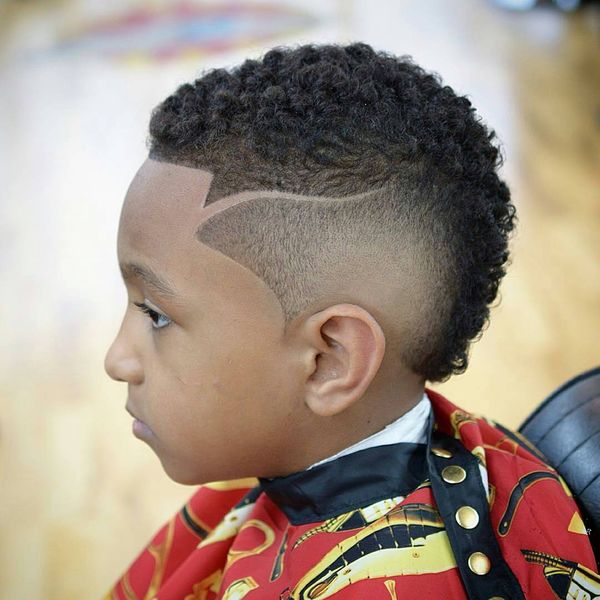 A famous black men fashion, short Mohawk, is a combo of short curl spiced up with faded sides. Boys and men who pick up extra weights go for this.
Singer and artist, Ice Cube wears this style. And when the color of the hair turns blond, don't think of anyone other the three times Grammy Winner Eminem (Slim Shady).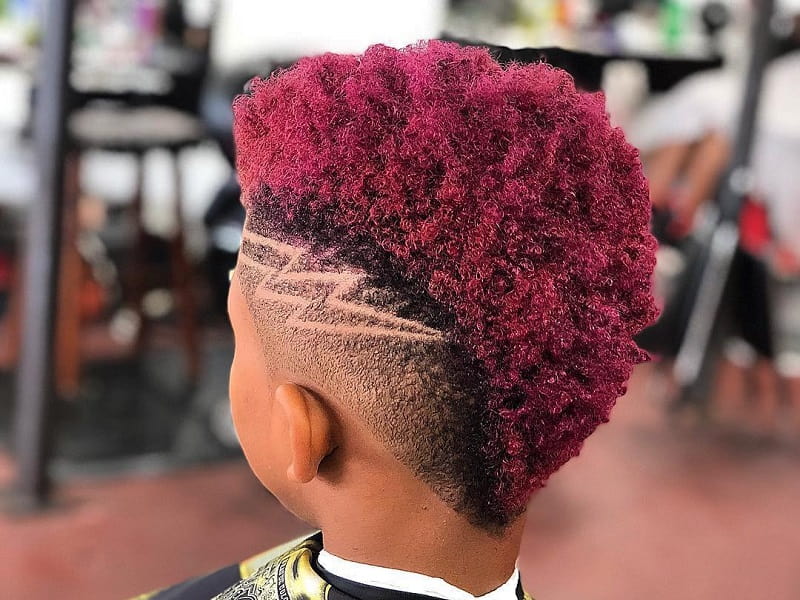 You must be into bringing out the original texture of your hair, and that too with the hand of a precision razor in adding lines into the fade.
Stylists and hairdresser's top recommendation, Curly maroon dyed Mohawk for boys could lighten up the moods and interestingly showcases your personality.
17. Punk Style with Designed Sides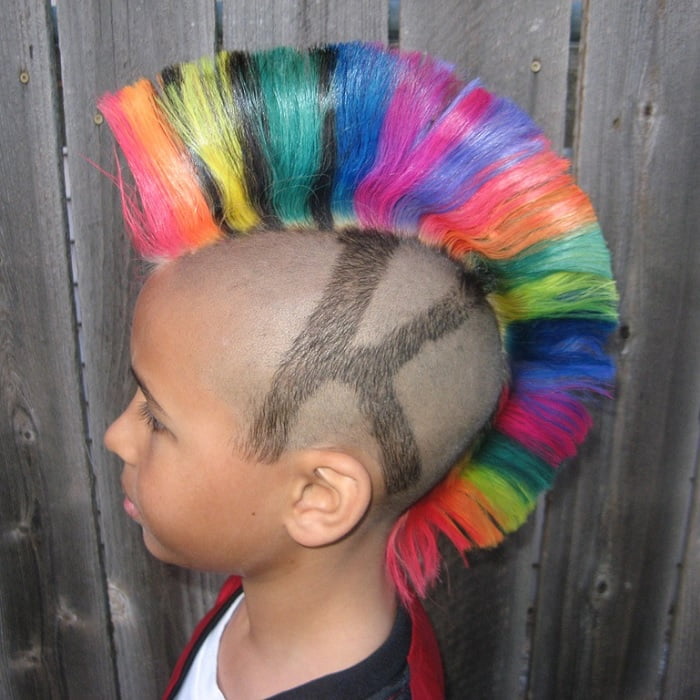 Punk culture and styles have a special place in the media. If you like a little spice of punk and a little drama, this is your pick.
Increased volume and design on the sides is essential. You can have your initials engraved on the sides too. This Mohawk style can bring out your creative genius, evermore.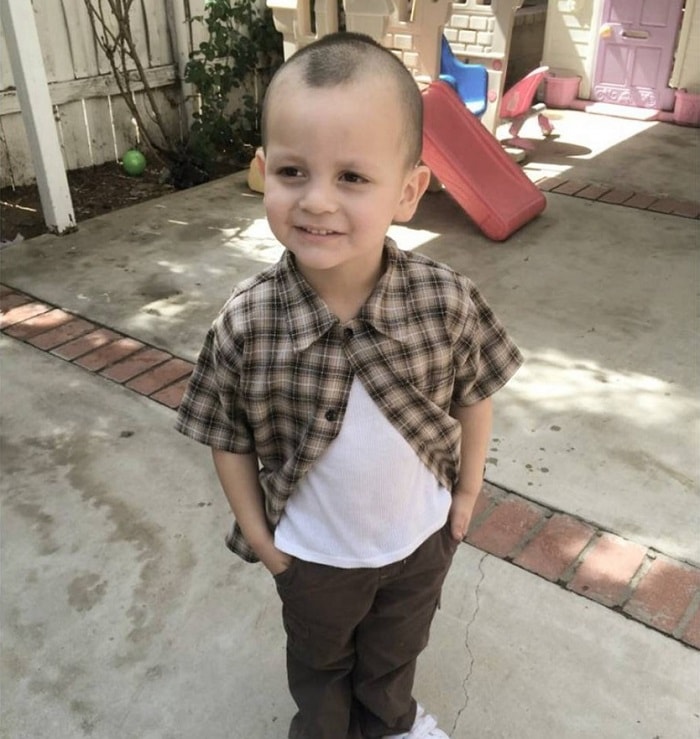 There are times when you can't upkeep with the high school discipline in charge and their rantings about a proper haircut. This is a sweet reply in their faces.
With hair on top kept genuinely short and shaved sides, this is a favorite look that consumed the Mohawk culture with its essence.
19. Business Mohawk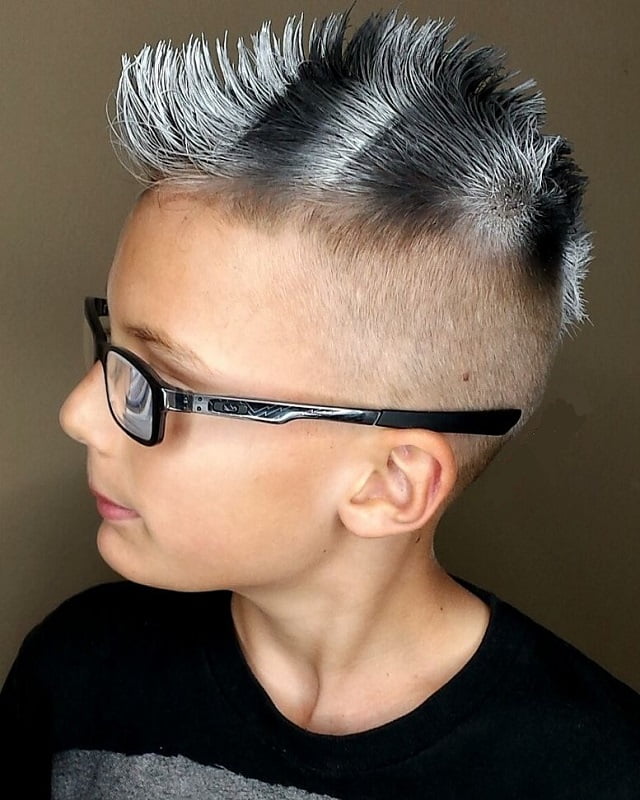 With hair dyed on top, this is the Mohawk blur style for the expert boy who would prefer not to let go of their style.
Styled at the front yet left to lie level from the crown of the head, so the general state of this Mohawk isn't affected.
20. Liberty Spikes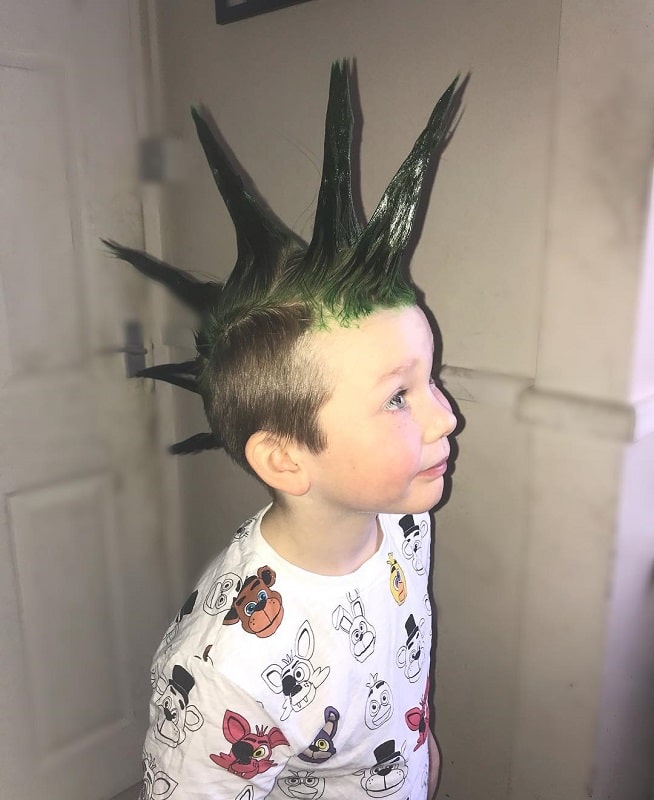 Inspired by comic book characters, this cut leaves your hair long enough to be given a liberty spike styling.
Dye your hair a dark shade of olive green and gel them up. Trim your hair low towards the sides to look magnificent.
21. Feathery Mohawk with Shaved Side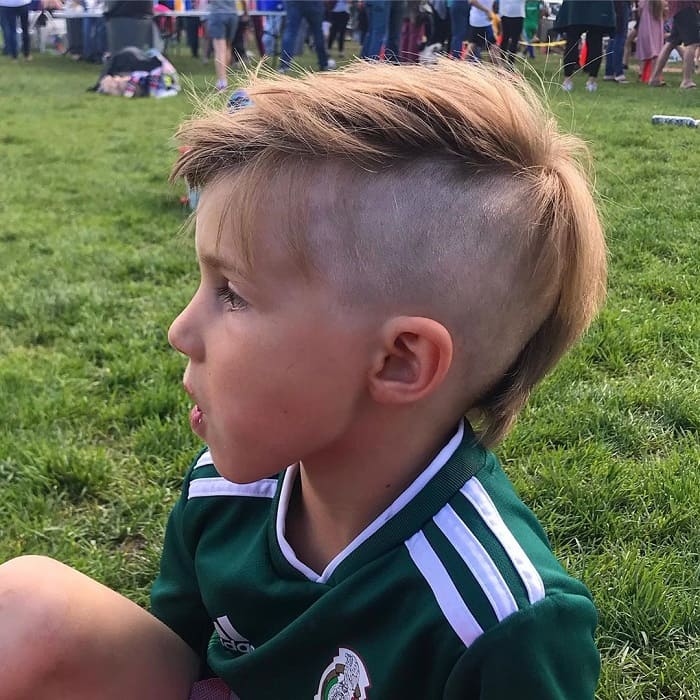 Soft Mohawk with less product and more natural look makes it more appealing than a tight intact one.
The hair retains its shape without looking locked into a place. The finished style is soft to be touched and do not fall apart.
Coolest Haircuts for Hipster Boys
22. Disconnected Pomp
Boys who like Mohawk and have thick and straight hair, volume Mohawk goes straight for them.
To achieve this look, one has to apply a volumizing spray to wet hair then make it more attention-grabbing by blow-drying them.
Finally, have your sides fade equally from top to bottom. To get a soft hold, apply the water-based gel.
23. Red-tipped Mohawk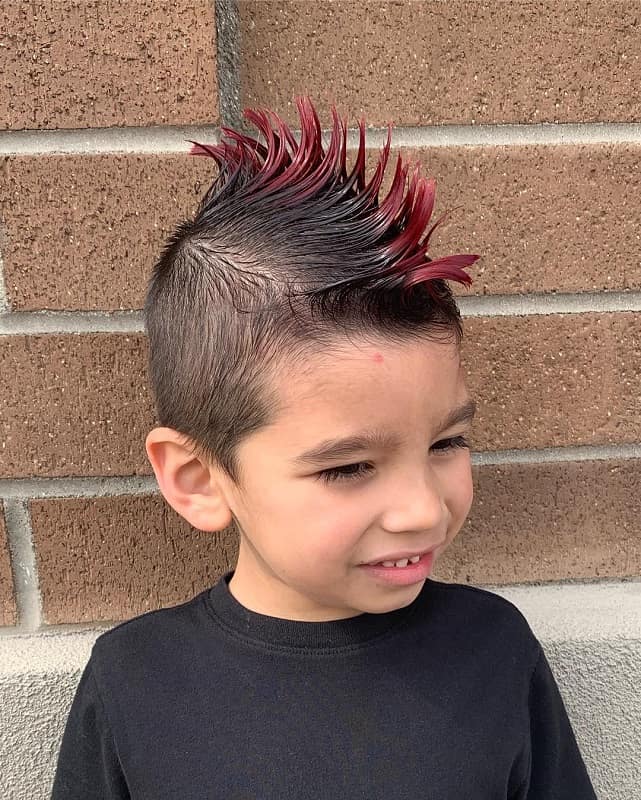 Boys add a slight color to make it look more cool. This spiky mohawk creates a soft texture and makes the boys look edgier.
24. Curled Top with Line Details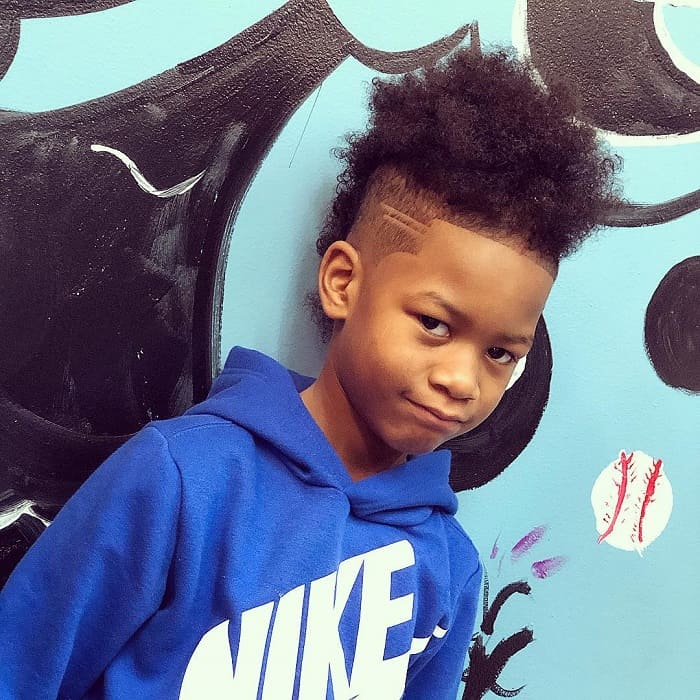 Curl sponge is used by the boys to make high Mohawk that features line detail between long hair and shorter faded hair.
25. Sideburn Fade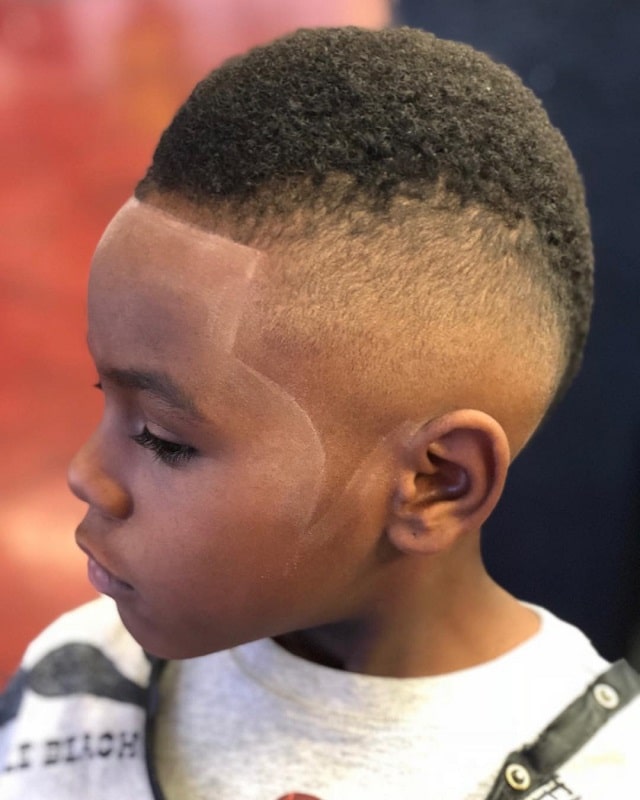 The line details of the fade and Mohawk lines interrupting the look is reciprocated with subtle design shaved like sideburns.
This hairstyle is admired by many boys who do not like sharp detailing and precision fade. They visit an efficient barber for the straight lines and exact shape.
26. Curve-shaped Mohawk
The curly Mohawk is dramatic in look due to the straight curve going into the sides of the hair. The light faded side is separated by a thin curve, which makes it more eye-catchy.
This look is best suited with curly hair, and also it goes fine with straight hair.
Bold Haircut Designs for Black Boys
27. Zig Zag Design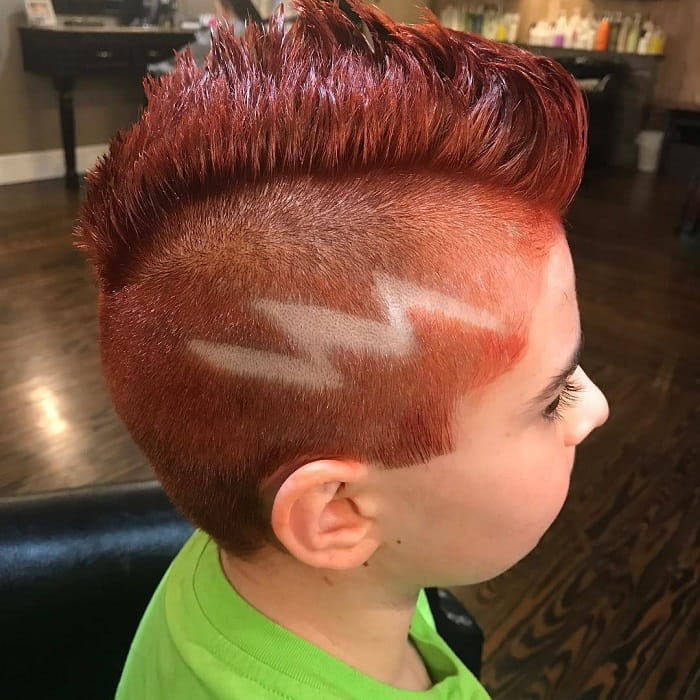 Another style of the 1950s. This hairstyle is also dramatic from front to back and is styled into a perfectly coiffed pompadour.
This precision isn't recommended for low maintenance, as it requires a lot of effort to perfectly style every day.
28. Bright Orange Hair Color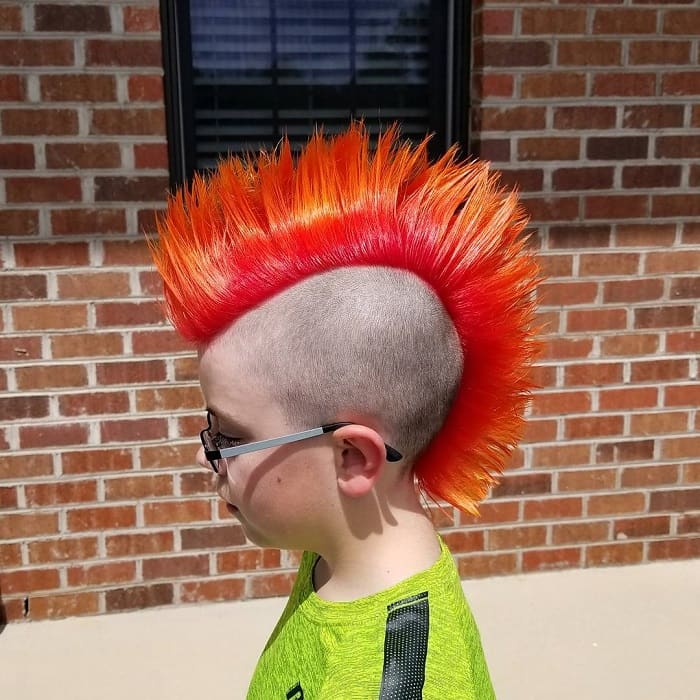 The top looking boys Mohawk haircut on our hierarchy, this high-volume style includes an extensive network between hair length at the top and shaved sides of the head.
The hair on top is fairly long as to be styled in various ways and dyed bright orange. This hairstyle should be possible in increasingly winds and twists or left untouched.
Exciting Hair Color Ideas for Boys
29. Temple Fade with Ombre Curls
In this haircut, most of the hair has to remain long. It features a fade at the temple that enhances the Mohawk style when looked at from either sides or the front.
Natural black roots with blonde edges make the hairstyle more refreshing.
30. Colored Tips
To achieve this hairstyle, hair has to be kept longer in the front and pushed into a feathery shape that runs down the forehead. Pink dyed hair on the top and blonde fade on the sides adds cuteness to the appearance.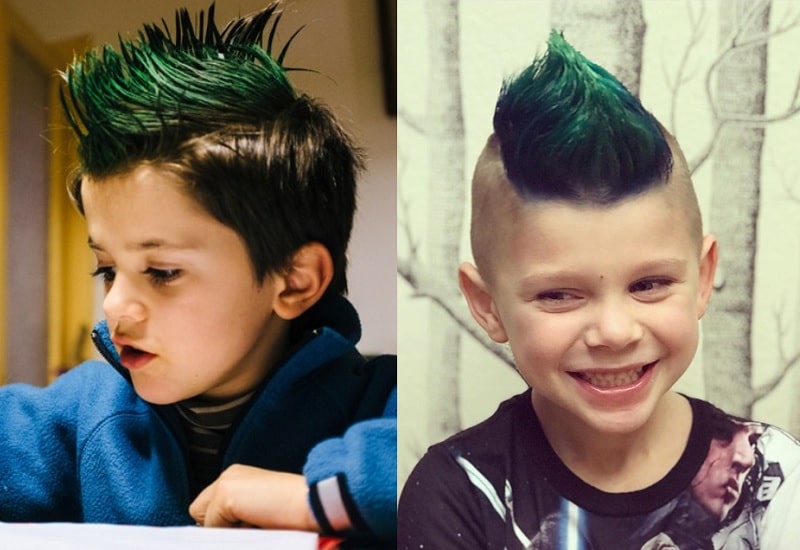 It is taken that most of the boys' Mohawks of today tend to be shorter. Quite the opposite, there's always room for a big and bold style, when you have the eye for the right products to keep hair up without making your Mohawk look rock hard or crunchy.