Boys who want a hairstyle that is a bit longer but aren't fully willing to commit to longer locks will love considering these medium-length haircuts. These are wonderful ideas for a boy to have a fun hairstyle that is updated and refreshing without being out of control.
Top Medium Haircuts for Boys
Any of these great medium haircuts are wonderful options for any boy who wants a little length on his hair but still wants to look chic and stylish.
They are all fun styles that are sure to please and are designed to help a boy express his personality.
1. Longer Bangs Pushed up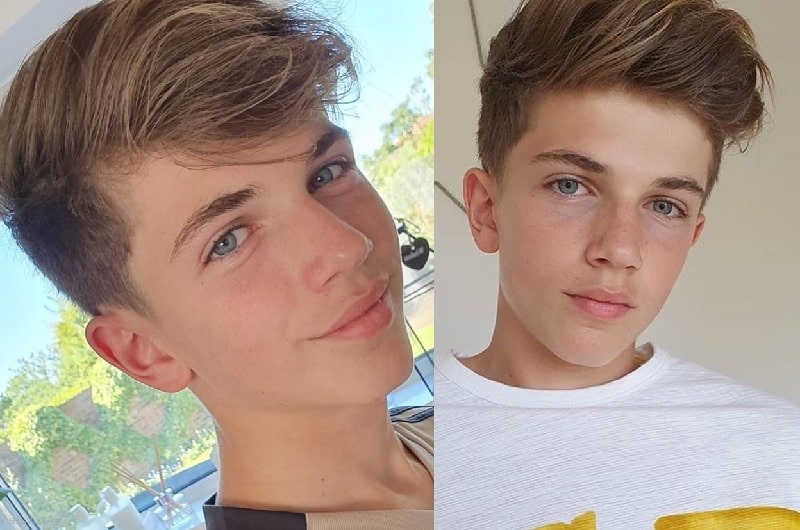 Longer bangs that are allowed to hang down and get in the face can be frustrating for boys who want to see when playing sports or during school; however, pushing these bangs up and out of the face is a great way to control them.
This style looks great when the sides are cut significantly shorter than the front and top of the head.
2. Kept in Front of the Ears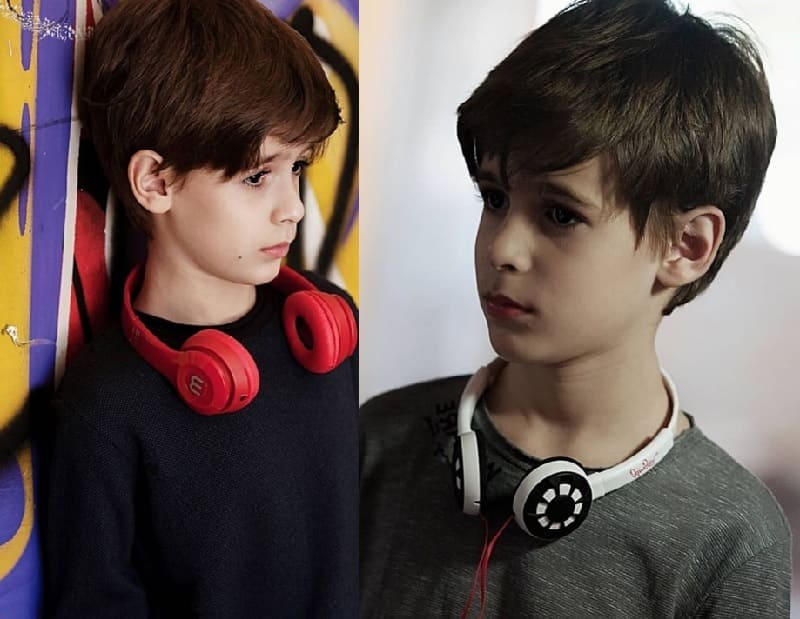 Keeping a shaggy cut hanging in front of the ears and allowing the sides to grow a bit longer prevents this style from looking too serious.
It's a great option especially for younger boys who don't want to have to worry about spending time in the morning styling their hair as it takes very little effort to look great.
Appealing Hairstyles for School Boys
3. Shaggy to the Chin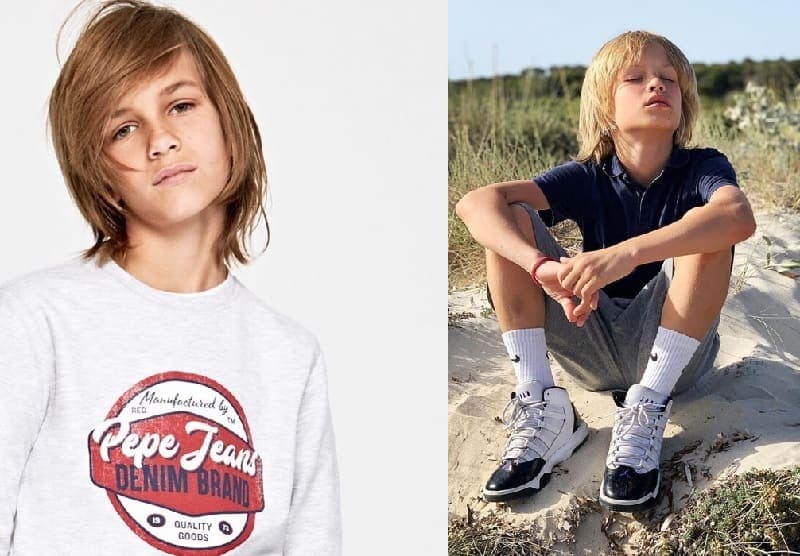 Shaggy hair that is allowed to grow all the way to the chin may be a bit messy for some moms but manages to make boys look effortlessly cool.
This is one of the top medium-length haircuts for boys, you can wear the hair completely down or even tuck some of it back if it gets in the way, making it a versatile look.
4. Curls Swept up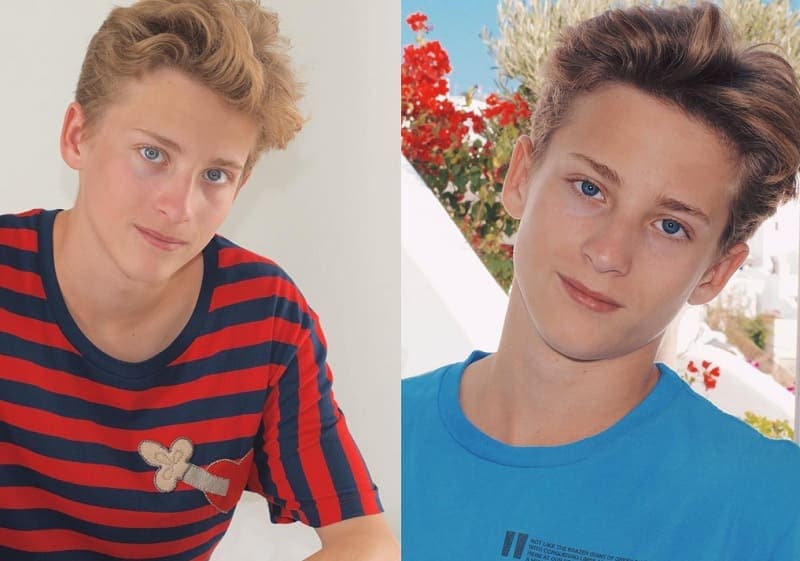 Any boy who has a little curl in his hair will want to embrace it as this curl and movement will help to set him apart from others.
This medium haircut is a great way to show off some of the body and movement of curly hair but is short enough on the sides that it won't get unruly.
5. Bangs Hanging Loose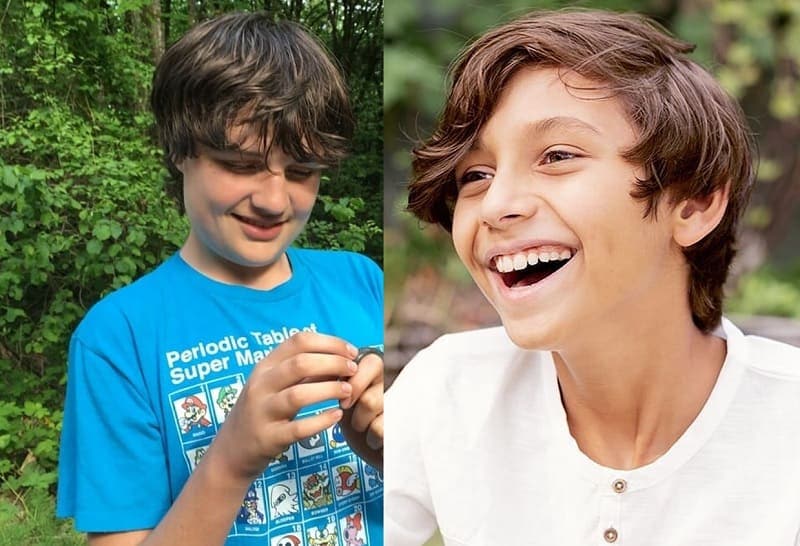 Allowing bangs to hang loose on the face is great for boys who are in a hurry and want an easy style. The rest of the hair is allowed to be the same length, which makes it easy to cut and to care for.
This is a great haircut option for boys who have straight hair as well as boys who are lucky enough to have a little natural movement and body in their hair.
6. Side-Swept Bangs
Bangs don't have to get in the way when they're swept off to the side. This boy's medium haircut can easily be made even more classy with the addition of a bit of product, which helps to control the hair and prevents it from coming loose and getting in the face.
7. Asymmetrical Style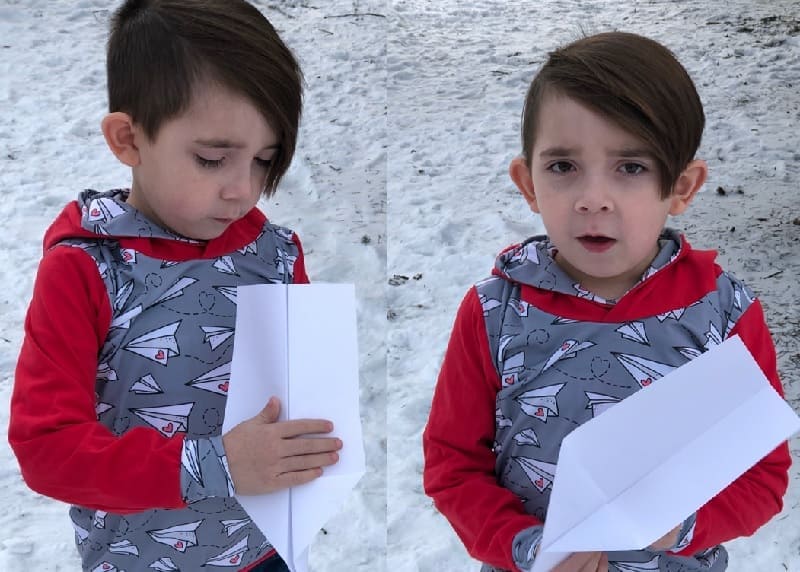 While an asymmetrical cut can sometimes be very harsh and extreme, there's no reason why younger boys can't enjoy this great style as well.
A shorter side in addition to a longer top and bangs that are swept to the opposite side makes this a striking look. It's sure to attract attention, which most boys will love. It also looks great without much effort, making mornings easier than ever.
8. Longer Bangs Swooped Over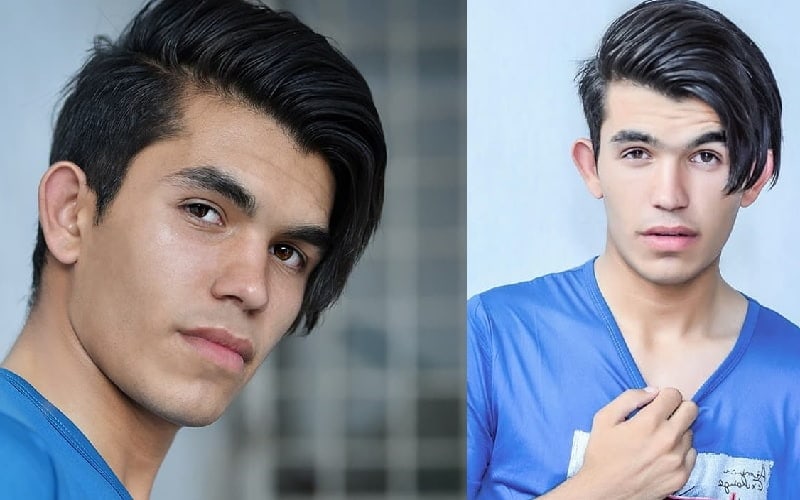 Longer bangs are especially impressive when they are pushed to the side and allowed to hang down over the face. Having a bit of curl or movement in the bangs allows them to easily curve around the eyes, drawing attention to this feature.
This medium hairstyle is a great option for boys who aren't afraid of spending a little additional time styling their hair in the morning.
9. Shoulder-Length Bob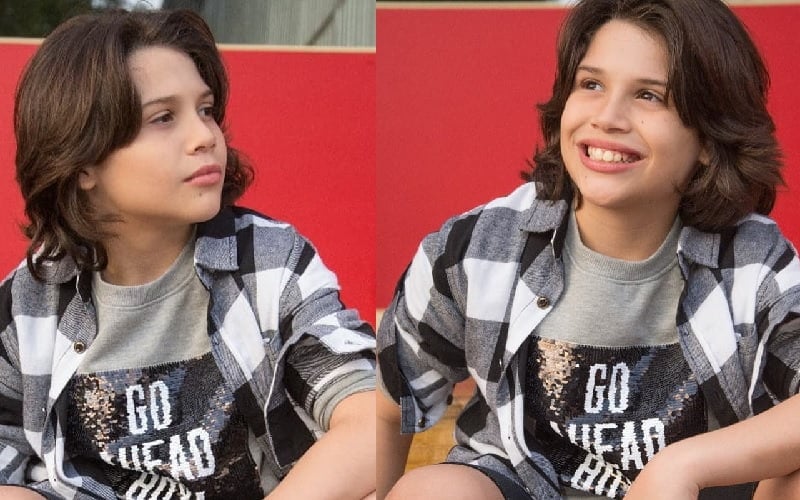 Bobs aren't just for girls, as this great style shows. The hair is full and thick, which will make any boy feel great about the way that he looks. Parting the hair in the middle reduces the need to style it in the morning.
This style looks best on boys who have a little natural movement or curl in their hair as it will add some movement to the look.
Top Styling Ideas for 14-Year-Old Boys
10. Thick Bangs to the Side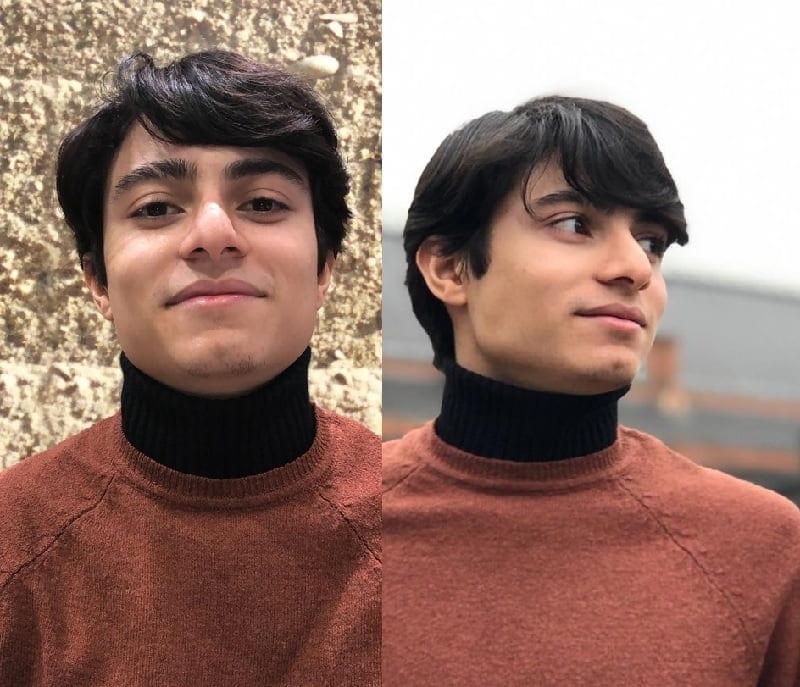 Thicker bangs are a great way to frame the face and draw attention to the eyes; these bangs are about as thick as they can be.
This cut is easy to care for and looks especially striking on boys who have thick medium hair & dark eyebrows that match the hair. It does need regular trims to keep the bangs from growing too long.
11. Longer Front with Short Sides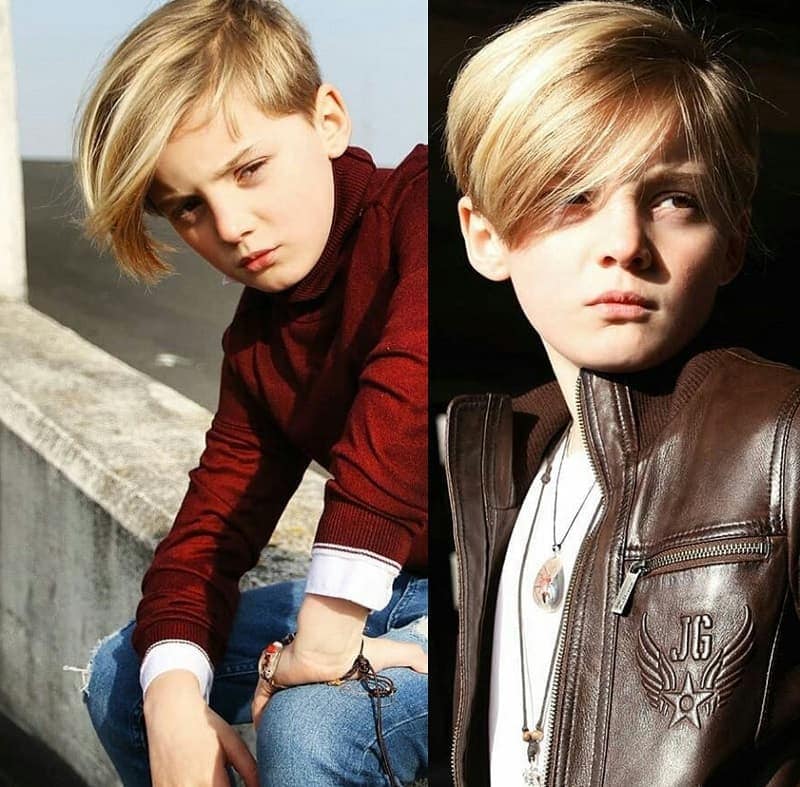 A longer front with shorter sides attracts a lot of attention. This is also one of the most versatile hairstyles for boys with medium hair as the bangs can be styled out of the way or allowed to hang a little freely in the face.
This gives boys a lot of control when they are getting ready in the morning and makes it easy to switch up the style for something a little different.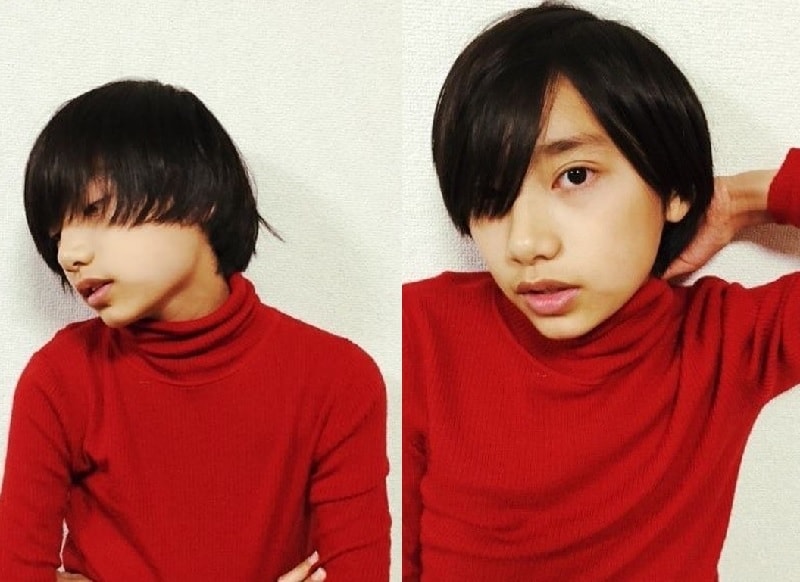 An angled part that separates the bangs and helps to give them a little bit of definition is what really sets this look apart from others. The dark color of the hair makes it even more striking.
By keeping the hair longer and allowing it to remain full, this fun style is anything but boring and manages to be very eye-catching.
13. Frizzed up and Out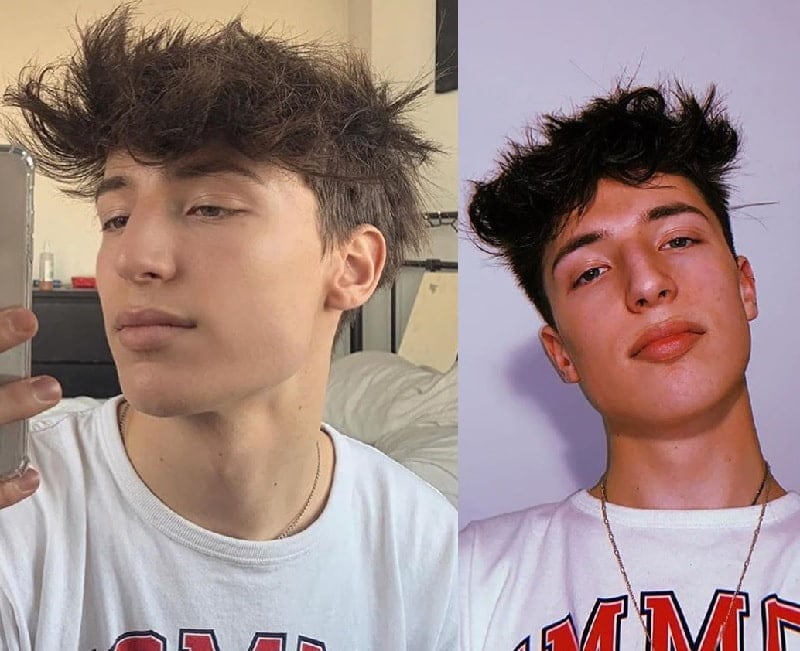 There's no reason why a medium hairstyle has to be boring, as this frizzy and fun style shows. Rather than using the product to keep the hair down and in place, the product is used to spike it up and out from the head.
The end result is something completely unique and is sure to draw attention no matter where this style is worn.
14. Parted in the Middle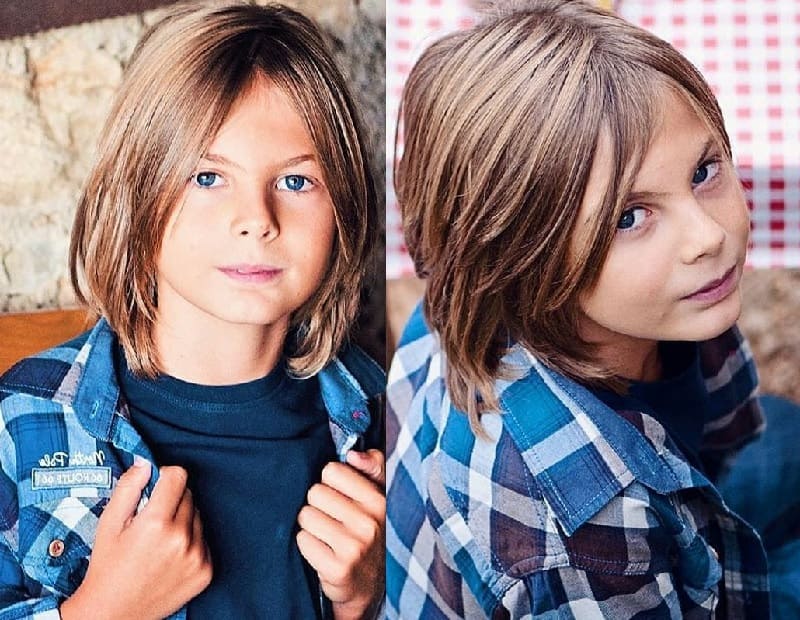 Parting hair in the middle isn't for everyone but it can look great on the right boy. A medium bob and perfectly straight hair hang just where it should when the hair is parted in the middle of the head.
This allows the boy wearing the style to keep his bangs out of the way rather than having them hang in the face, which can be frustrating.
15. Slight Wave in The Hair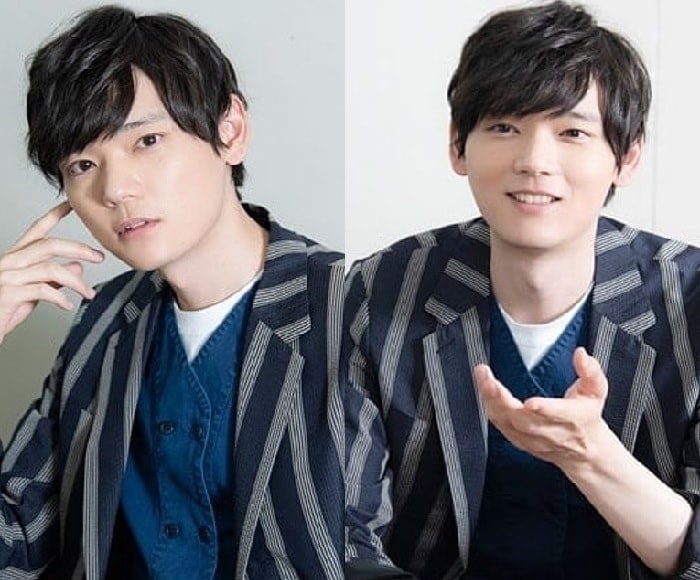 Hair that is slightly wavy can benefit from being cut so that the waves are really shown off in layers. This hair is nice and thick and the style allows the full cut of the hair to show off the movement and blunt layers.
The bangs need to be kept short enough to stay out of the eyes and the hair must be cut up and over the ears for the best result.
Trendy Hairstyles for Asian Boys
16. Medium Bangs Framing the Face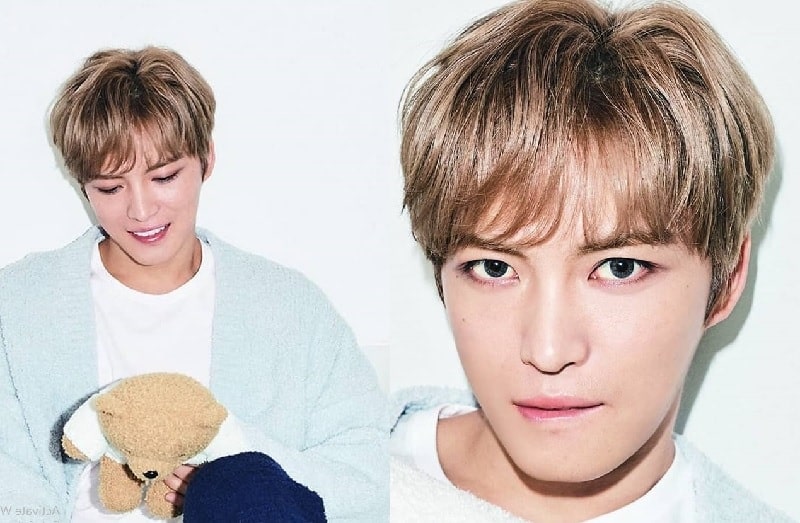 Longer bangs that brush the eyebrows are a wonderful way to frame the face and result in a fresh look. Keeping the ears exposed ensures that this cut doesn't grow out into a bob.
Rather than parting the hair sharply or right in the middle of the head, allowing it to fall naturally results in a fun and youthful medium-length hairstyle for boys.
17. Windswept to the Side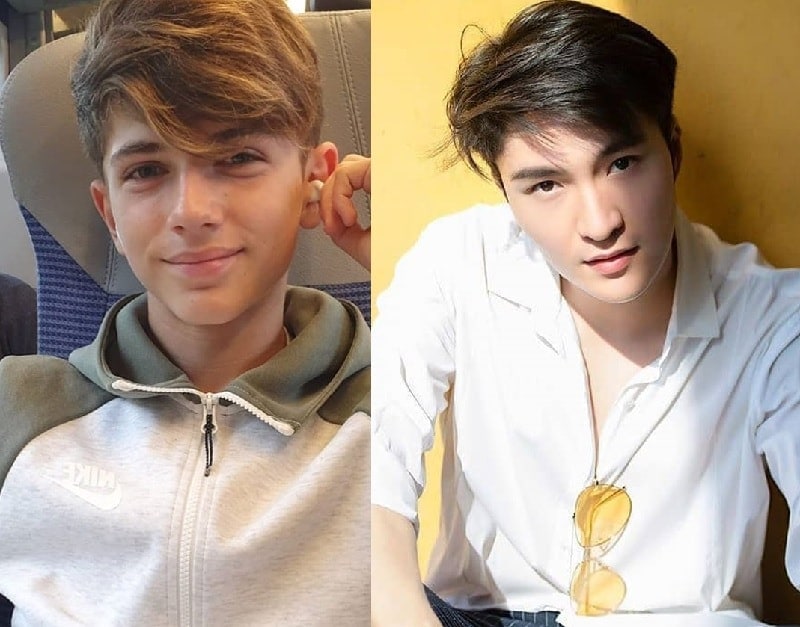 Instead of growing out longer bangs and then cutting the sides short to sweep the bangs to the side, this medium cut allows the boy wearing it to sweep all of his hair over to the other side of the head.
It does take some getting used to this style as the hair may want to fall back; however, using a little product and some patience results in a style that looks fun.
18. Full and Curly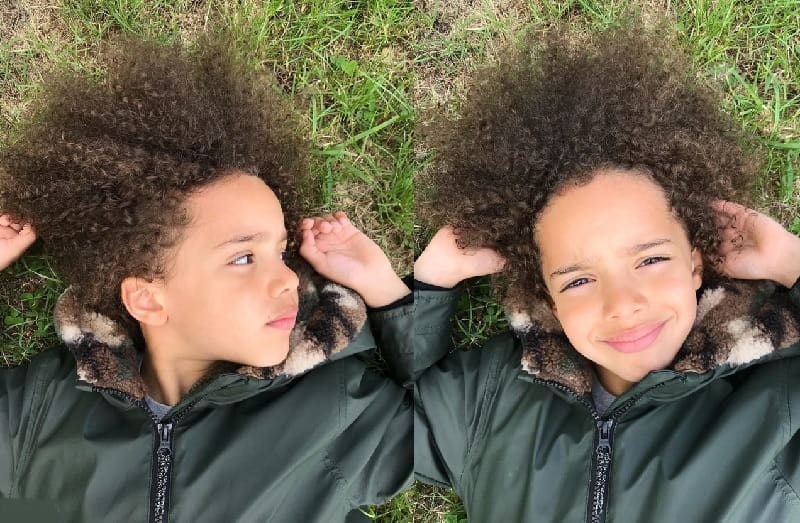 Full curls that are allowed to grow a little longer than normally add some fun volume and life to this style, preventing it from being boring.
The longer hair will frame the face and can sometimes have a mind of its own, which is why this is one of the best medium curly haircuts for boys who aren't afraid of being the center of attention.
19. Longer Locks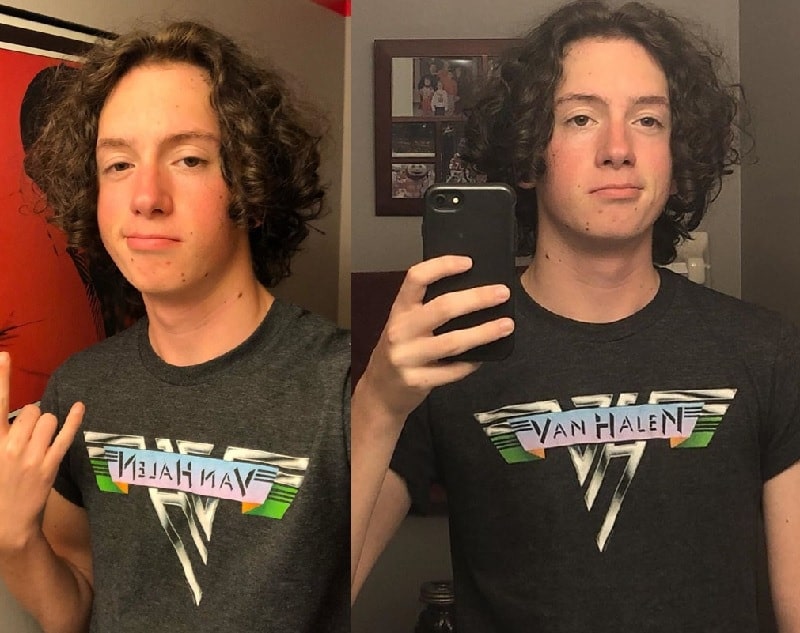 Rather than cutting the hair short, which can result in too much volume, allowing the hair to grow out a little allows the ringlets to retain their shape.
This is a great look at boys of all ages and is relatively easy to care for and to get cut, which is why it's such a popular choice.
Attractive Long Hairstyles for Teenage Boys
20. Spiked Bangs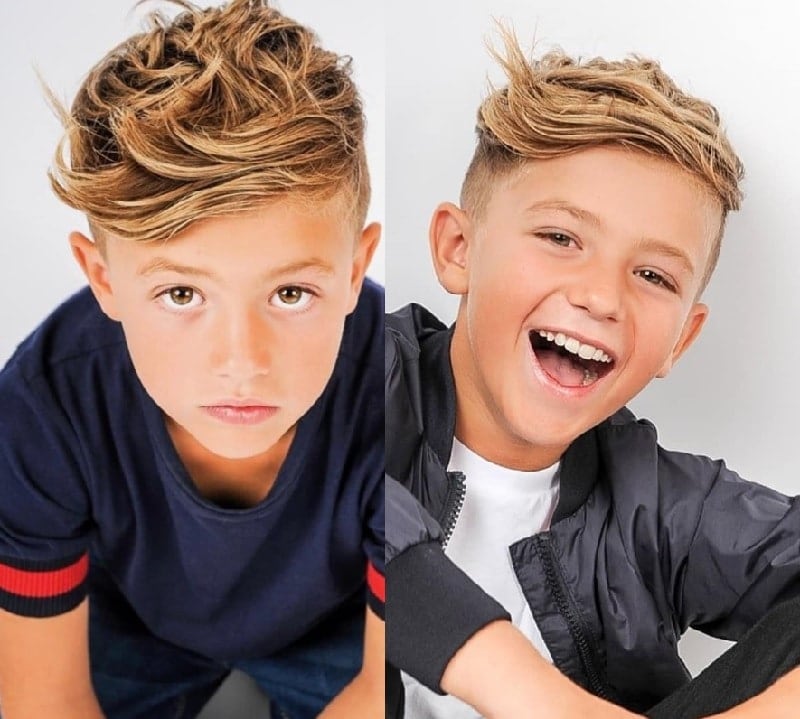 Bangs don't have to be boring, swept to the side to fall gently on the forehead, or fall flat. Using a bit of product makes it easy to spike bangs out to the side, which keeps this style fresh and updated.
The bangs are a great contrast to a fade over the ears and on the back of the head and add a ton of interest to a boring cut.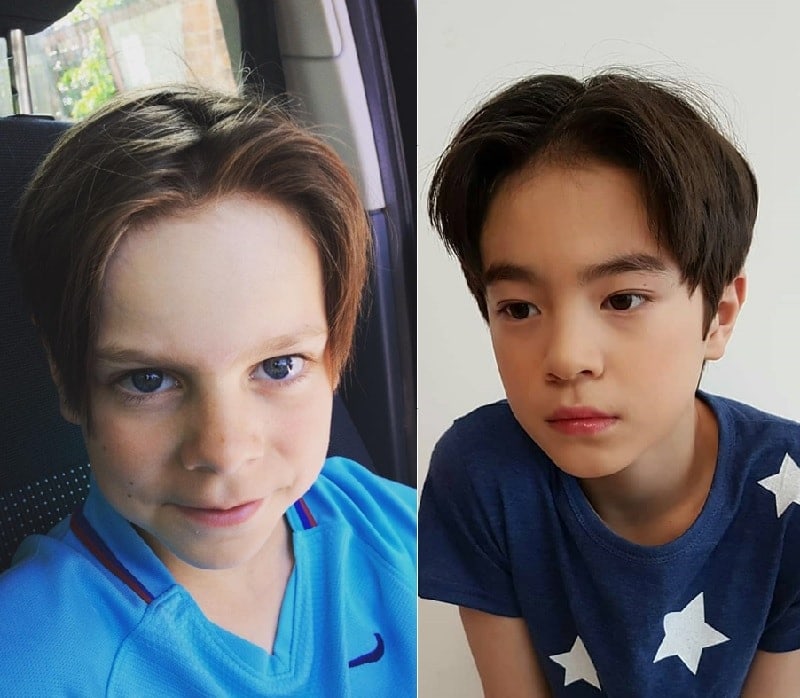 Parting the hair directly in the middle of the head and then pushing the bangs up and to each side to keep them off of the forehead makes this a style that is easy to take care of.
Any boy can easily handle styling his medium-length hair in this way as it doesn't take much effort and easily results in a fun look that is perfect for school, sports, or hanging out with friends.
22. Tucked Behind the Ear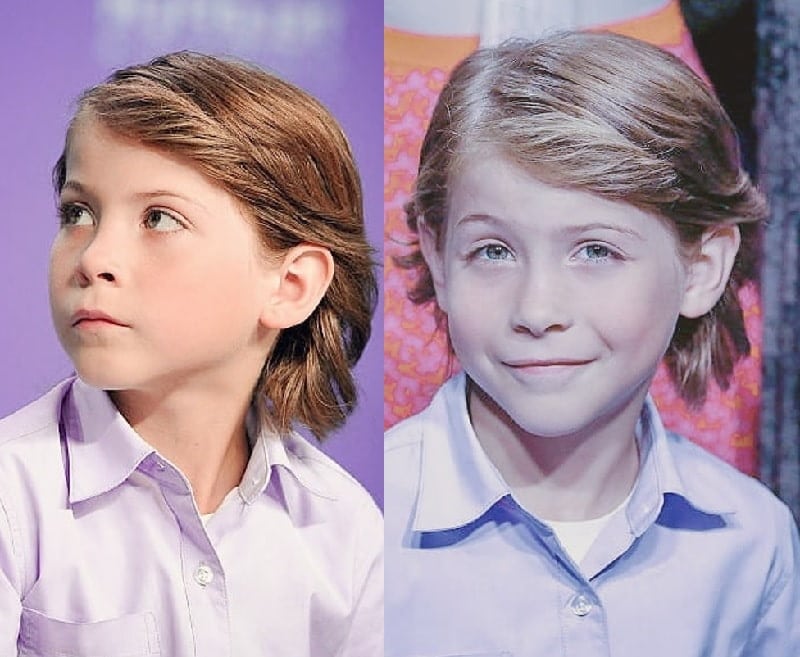 Tucking longer bangs behind the ear keeps them out of the way but still allows boys to enjoy some length from their style.
The rest of the hair needs to be kept a bit longer as well so that the bangs don't look out of proportion. This style is great on boys of all ages, no matter the texture of their hair.
23. Blonde Locs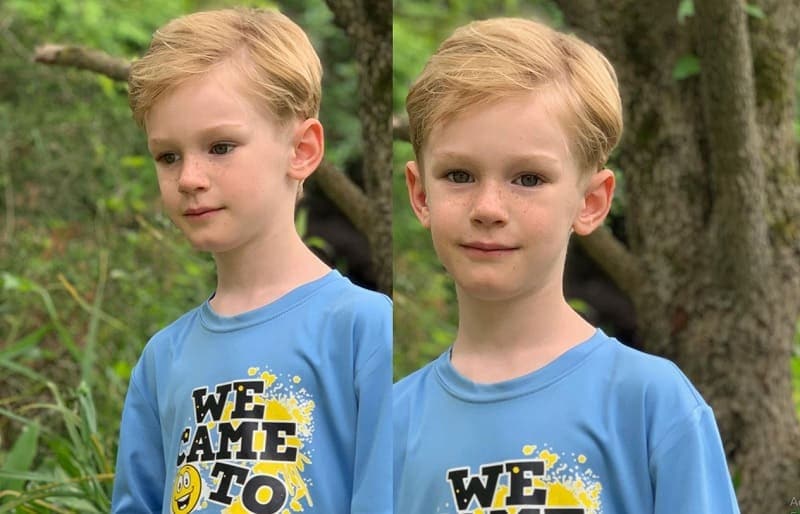 Boys who are lucky enough to have strawberry blonde hair will look great with this simple style. It doesn't require any product to style the look in the morning as the hair is simply gently swept out of the face and to the side.
The sides are kept longer and not faded, although they are cut up and over the ear.
24. Wild Curls
There's no reason to tame wild, curly hair when boys can embrace it and enjoy a unique style that is all their own.
This wild hair is refreshing and untamed, making it a wonderful option for younger boys with medium hair who are always playing and enjoying life. It's easy to cut and to take care of and doesn't require any special care in the morning to look great.
25. Middle Part with Volume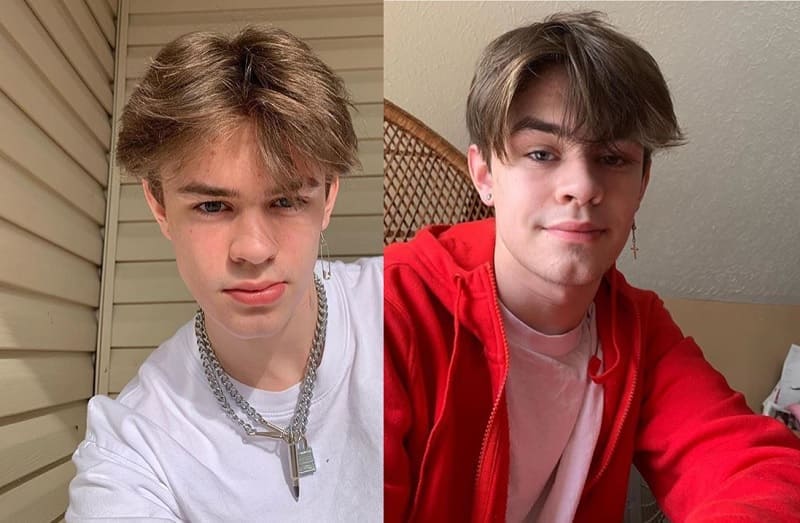 Relying on a middle part to add a little volume to a cut is a good idea when the hair is already pretty thick.
This style looks great on older boys who want something just a little bit different and aren't afraid of having bangs that seem to have a mind of their own.
Handsome Comb Over Hairstyles for Boys
26. Shaggy Bangs Pushed to the Front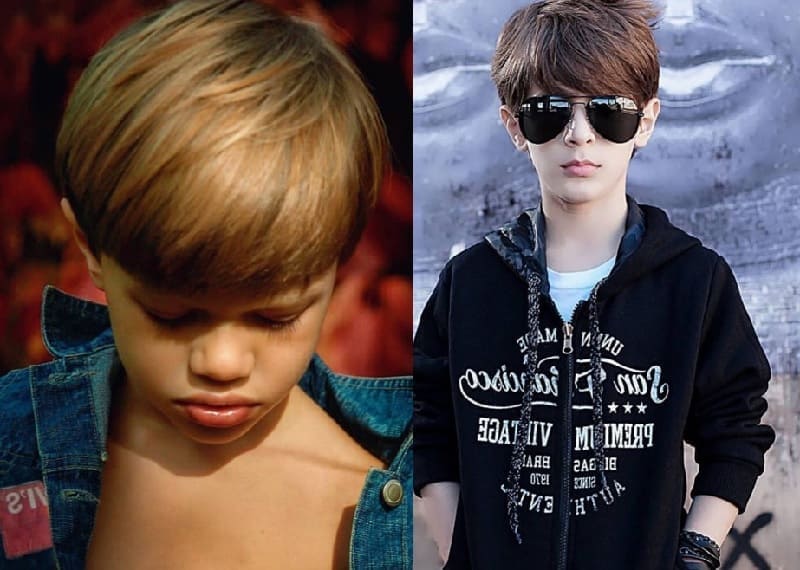 Longer bangs that are pushed from the center of the head rather than pulled just from around the face give this a unique look.
This style is fun and refreshing and a great way for younger boys to experiment with their hair without taking any major risks. It's a great option for all boys regardless of the color or thickness of their hair.
27. Wavy Bangs and Full Body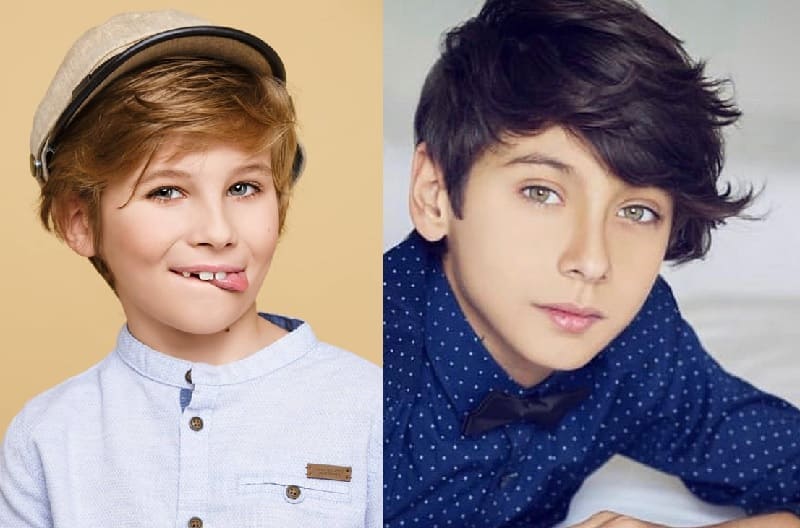 One of the best medium-length haircuts for boys involves both plenty of body and some wave. The shorter layers cut around the face allow the natural wave and movement of the hair to add plenty of body and prevent the style from looking boring.
The bangs will naturally sweep a little to the side, thanks to the body and movement of the layers.
28. Longer in the Back
Shorter bangs combined with a slightly longer back make this a unique look. It's groomed and trimmed but looks a bit messy and free, which is why it appeals to so many boys of different ages.
Unlike other styles that are perfectly shaped to the face and head, this style has freedom and wispiness to it that is very attractive and fun.
29. Gentle Fade Over the Ears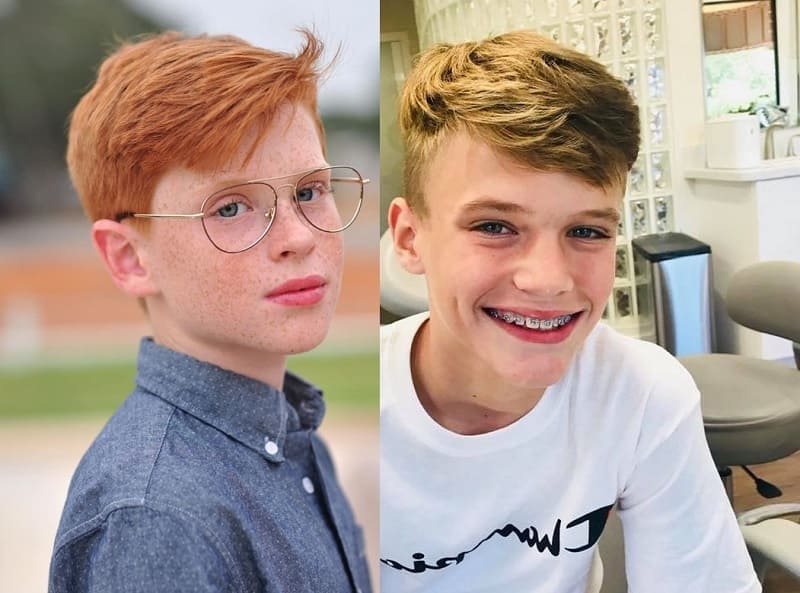 Fades for boys don't have to be extreme or very short, as this style proves. The gentle fade on the sides and back of the head results in a nice cut that doesn't look too extreme even though the hair on the top of the head is significantly longer. The bangs are allowed to be free and have some movement.
30. Highlighted Bangs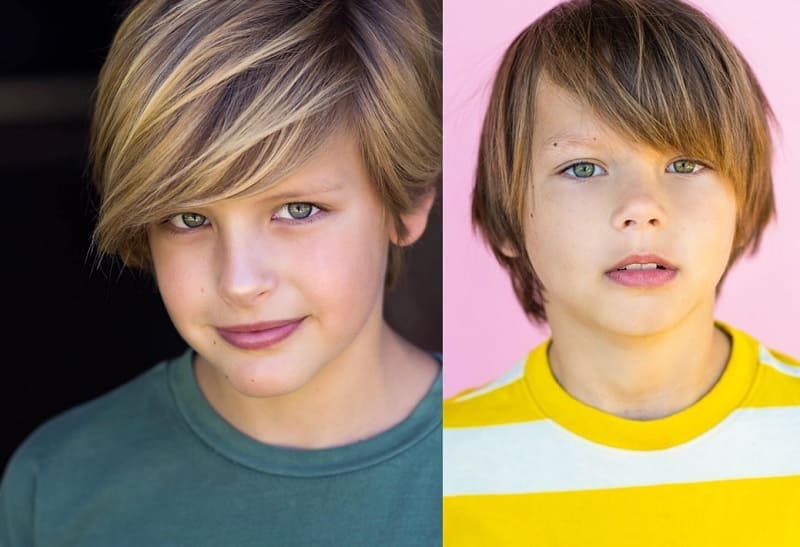 There's something fun about adding a little color to boy's hair and highlighting the bangs is a wonderful way to do this without going over the top.
A little color added to the bangs helps make them pop and gives them a lot of depth and interest. This spot of color looks great when the bangs are allowed to grow longer than the back.
31. Perfectly Sculpted Bangs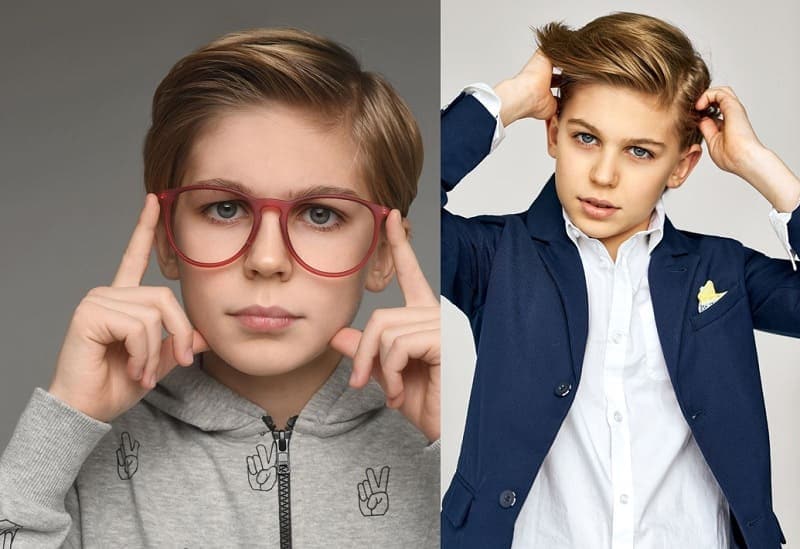 Sculpting bangs up and away from the face looks very preppy, making this one of the best medium hairstyles for tween boys who want to look focused and prepared for school.
Longer hair on the sides tucks neatly behind the ears and the gentle swoop of the bangs is what really becomes the focal point.
32. Longer Bangs on the Face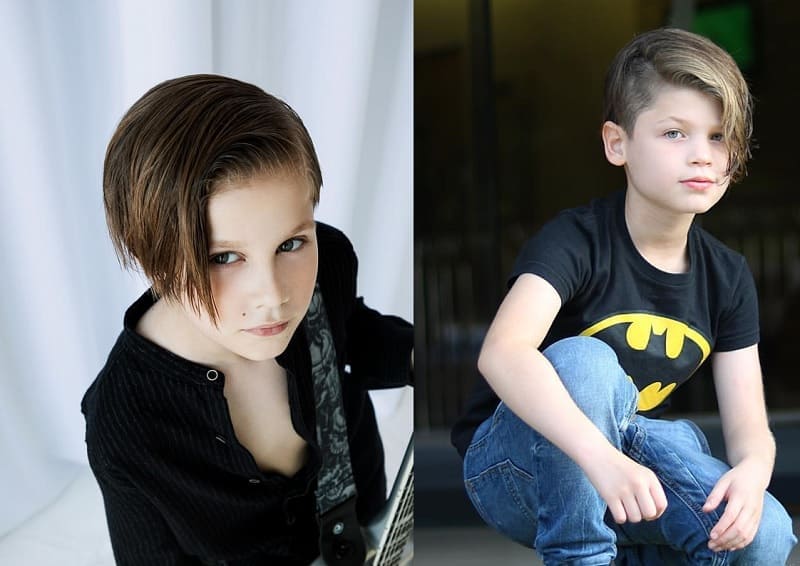 A very short undercut on one side of the head and long bangs that are allowed to hang down on the face makes this an edgy look.
An undercut is great for boys who are tough, driven, and unafraid of having to style their bangs to keep them in place.
33. Shaggy Style with Exposed Ears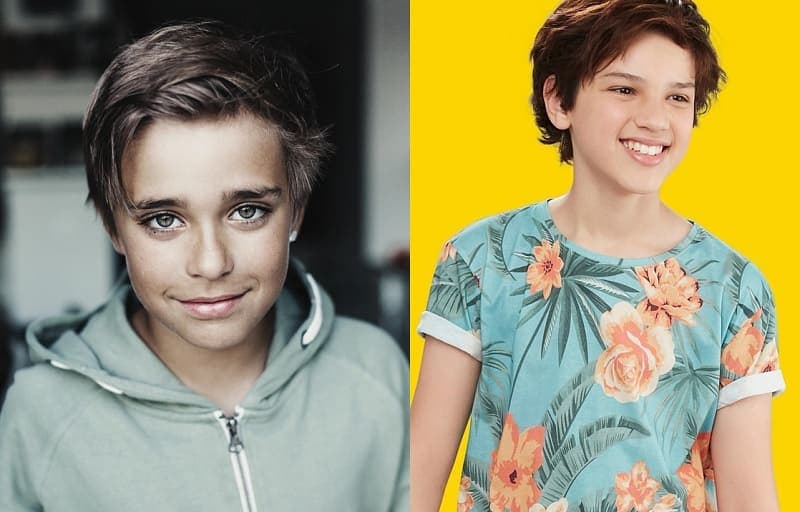 A slightly shaggy style looks effortless when the ears are exposed and the hair is gently pushed back from the face.
This cut has multiple layers in it, which adds to the body and movement of the hair and prevents it from falling flat on the head and around the face.
34. Full Blonde Mess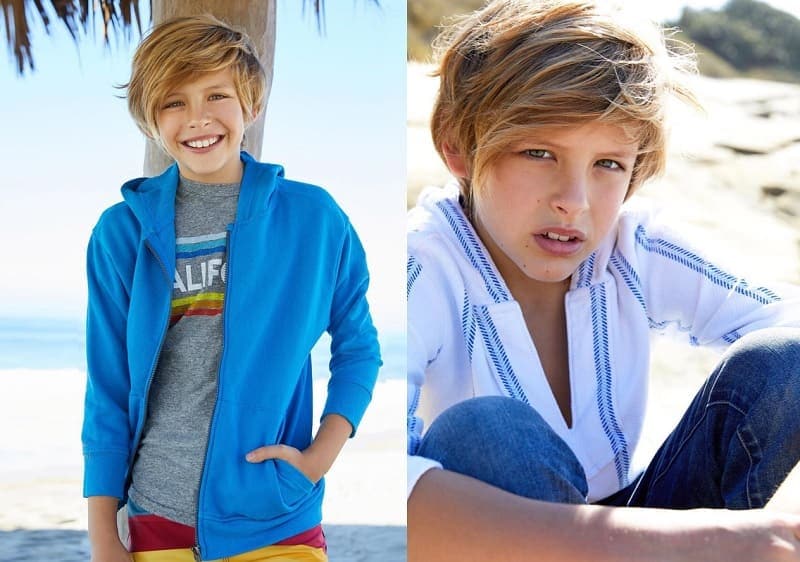 Messy blonde hair is perfect for boys who are lucky enough to live on the beach. This hair is cut to medium-length all over, which can easily hide the ears.
Longer, fuller bangs frame the face and need to be brushed to the side so that they aren't in the way. This is an outdoorsy style that is great for active boys.
35. Sleek, Sculpted Bangs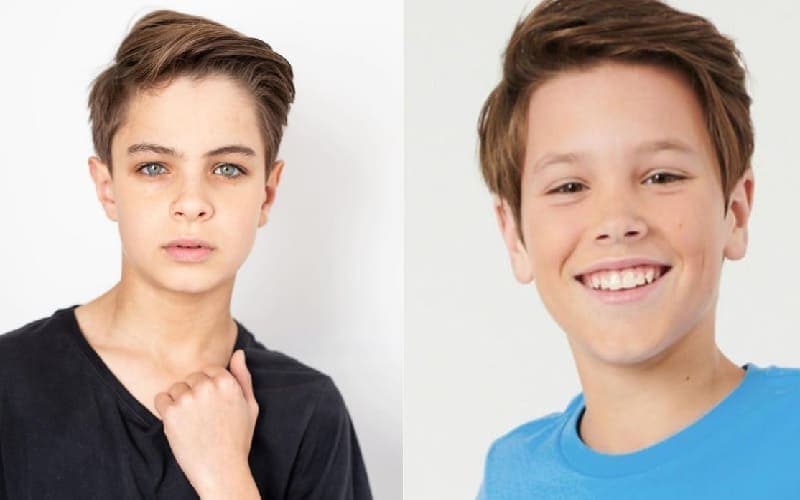 Sleek bangs that are pushed up and away from the face with a little product to hold them in place perfectly frame the face in this style.
It's paired with a slight fade on the sides to expose the ears, allowing the face to be the real focal point of the style.
If you want a fun style that is unique and easy to take care of, then you might want to consider one of these fun haircuts for boys with medium-length hair. They are all great options and these will make you feel instantly more confident and self-assured.