Fun and trendy braided hairstyles are a wonderful way for boys to make sure that their hair always looks great and that they have a chic and modern style that they love. Any boy who wants to update his hairstyle quickly and easily will want to consider one of these great boy braids styles.
Latest Braided Hairstyles for Boys
One of the best things about braids for boys is that they work on any color, type, and length of hair. This means that they can be customized to the individual boy and will always look amazing. Check these ideas out.
1. Lots of Shorter Braids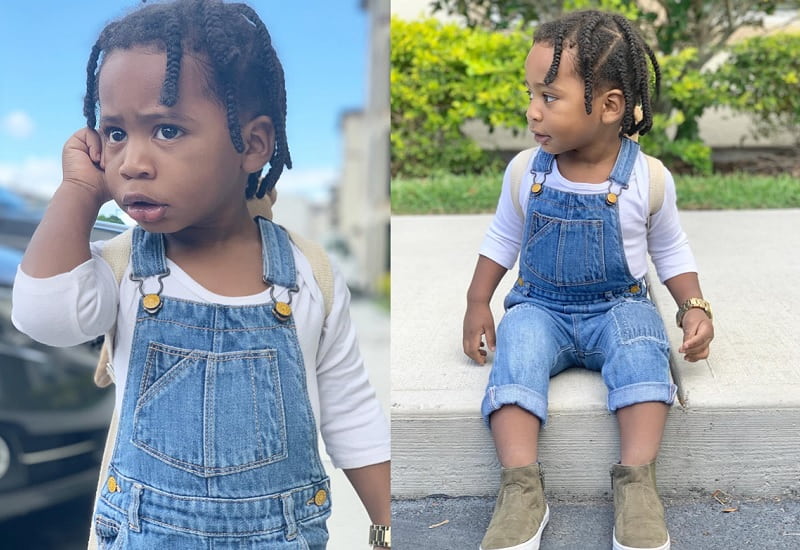 Many shorter braids that are allowed to hang freely around the head and the face make this a cute braided hairstyle that works on little boys, but can also be worn by older ones, as well.
Keeping the braids thicker ensures that they look substantial and don't look too thin or weak.
2. Decorated with Beads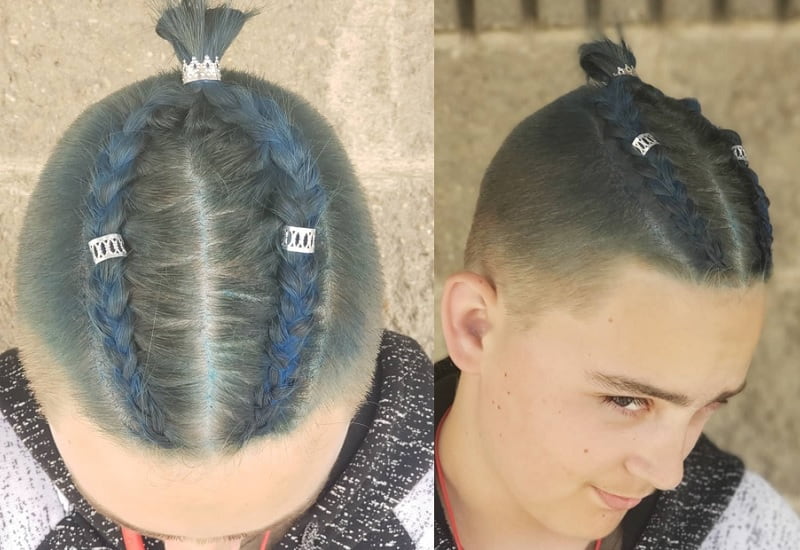 Adding in a few well-placed beads makes these twin braids pop and helps to set them apart from others.
Connecting them on the back of the head with another bead helps to keep them in place without using any rubber bands. This is also a great way to add a mini bun to the style.
3. Zig Zag Designs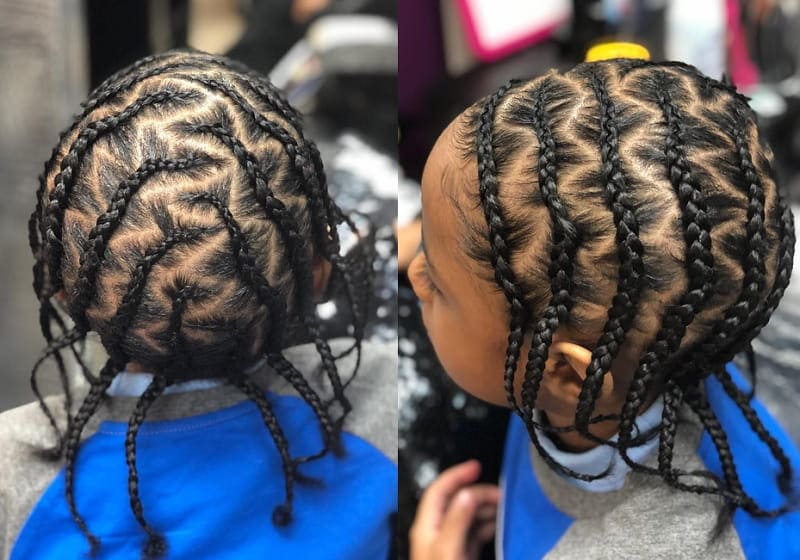 These braids for boys are fun and unique since they are a little bit crazier than others.
The parts between the braids are all strong and aren't messy, but the braids have zig-zags between them, which manage to make them much more interesting than traditional braids, which often have squared parts.
4. Swirled on the Head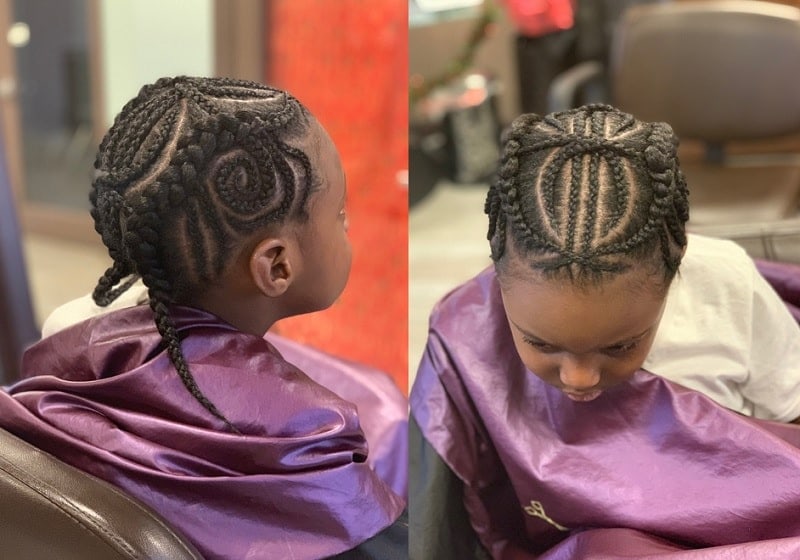 Swirling the braids on the head makes for a unique and very organic style that looks much more advanced.
It's visually very pleasing, especially since the sizes of braids will differ, with some being thinner and more delicate, and others thicker. Swirling them together takes a professional, but the result is worth it.
Handsome Fade Hairstyles for Men
5. Hanging Free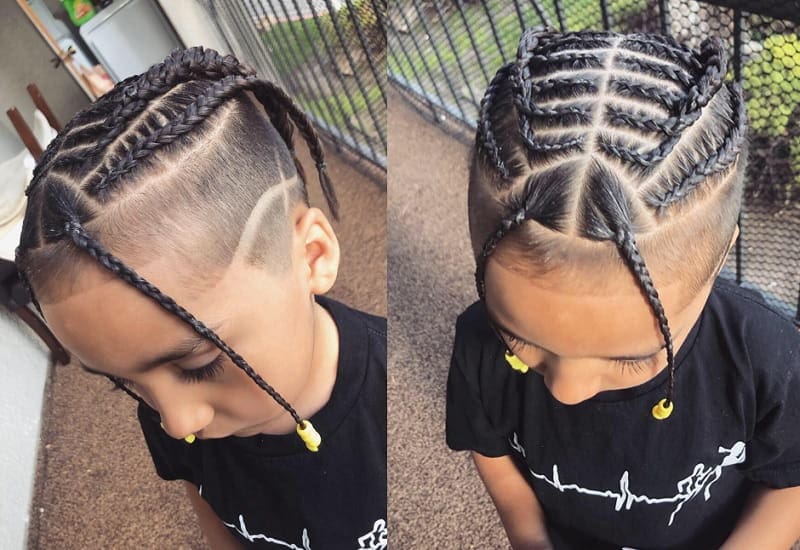 Braids are often used to keep hair out of the face, but this fun style allows two braids to hang down in the face while the others are in the back.
Paired with a great fade and some designs cut into the sides of the head, it's a unique look that is sure to be very eye-catching.
6. Slicked Back from the Face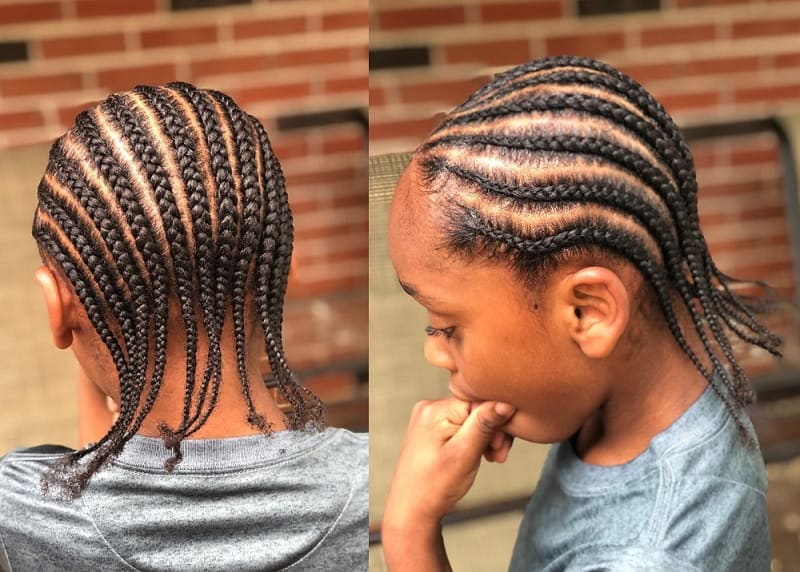 One of the most popular braids for boys is cornrow. Cornrow hairdo has many tight braids against the head and has the hair pulled back from the face so that the braids hang down the neck. This is a great option as it is classic and always look clean and fresh.
7. Criss-Cross Braids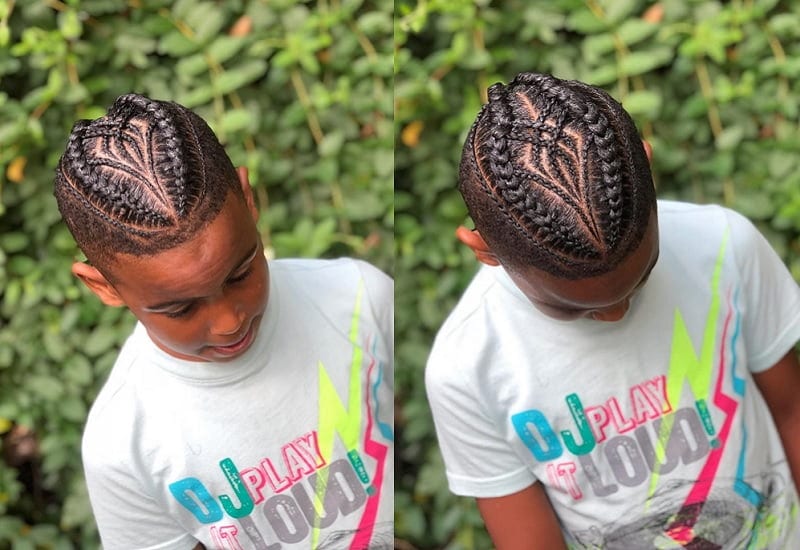 Twisting braids across each other on the top of the head adds a ton of interest to this black boy braids style, while the mix of thick and thinner braids crisscrossing make it beautiful and unique.
This is a bold style, especially thanks to the strong undercut on the sides and the eclectic mix of thin and thicker braids.
8. One Side Braid
A single side braid is a wonderful way for a boy to control the longer hair on top of his head.
Braiding the hair to the very end of the strands makes it possible to make a small bun at the back of the head, which is a fun style and a great way to finish this unique and interesting look.
9. Lots of Braids to the Neck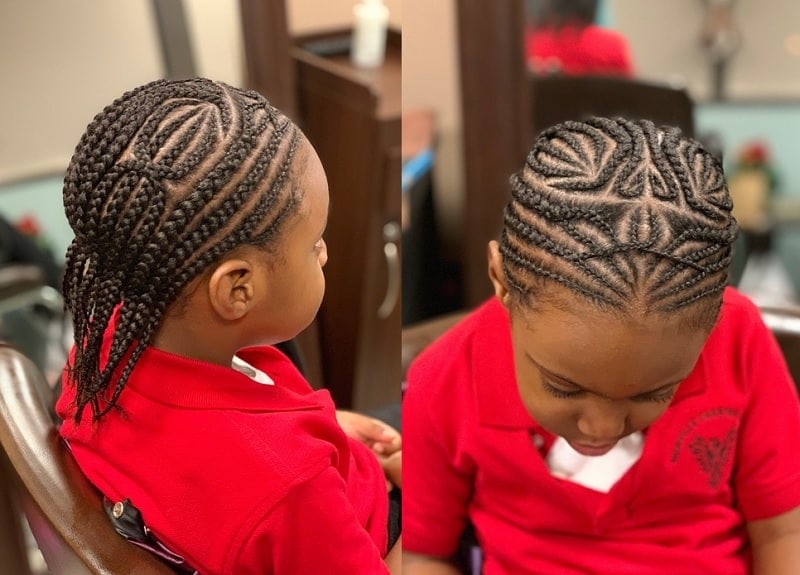 Lots of braids that are a mix of straight and crossed over each other look great when they meet at the back of the neck and extend a few inches from the head. Keeping these braids uniform in size makes the look very cohesive.
10. Middle French Braid
A middle French braid is a bold choice for boys who have long hair on the top of their head and want to show off their shorter fades on the side.
The single braid is fast and easy to do, but won't have the delicacy of multiple smaller braids.
11. Square Sections of Hair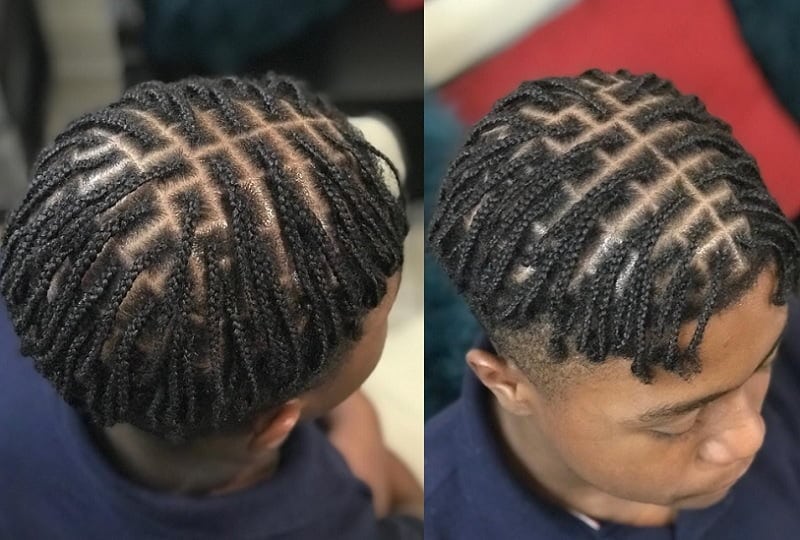 Using square sections of hair to make multiple small braids all over the head makes this a popular choice for boys looking for trendy braided hairstyles.
The multiple braids are all uniform in size, which gives this a trendy look without it being too over the top or wild, which some boys don't like.
Attractive Curly Hairstyles for Boys
12. Strong Middle Part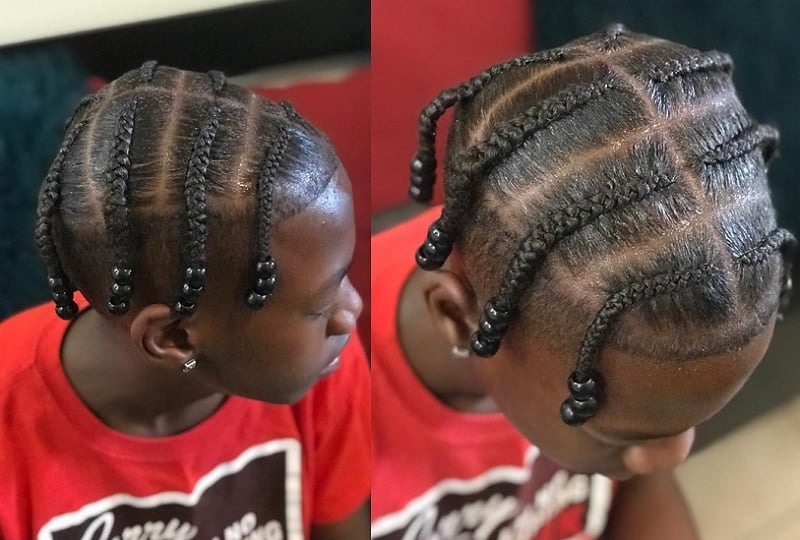 There's nothing like a strong middle part and symmetrical braids to really elevate a simple braided style.
The thicker braids on this style are finished with a few small black beads, which helps to control the ends and also creates a little weight on the braids, helping make the look complete.
13. Horizontal and Vertical Braids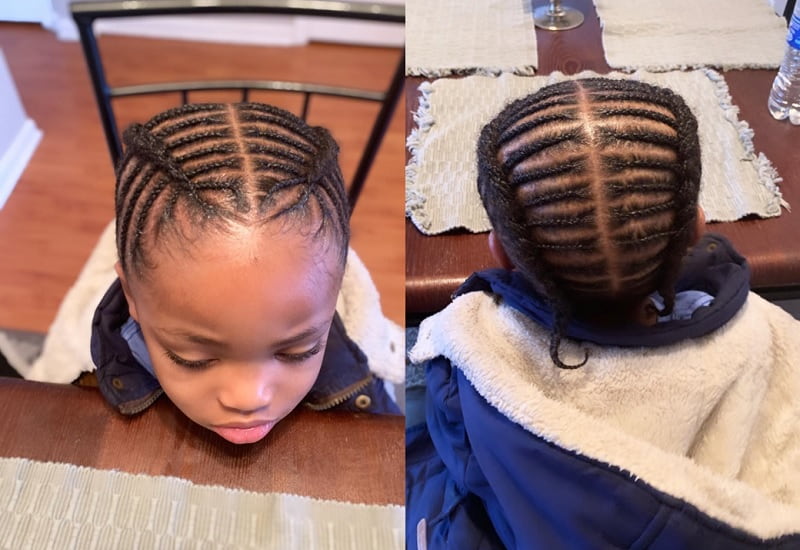 A mixture of horizontal and vertical braids crossing each other sets this boy braided style apart. It's much more advanced than simple braids, but the end result is worth it and a true work of art.
The hair must be long enough to complete these multiple braids for it to look its best.
14. Straight and Zig Zag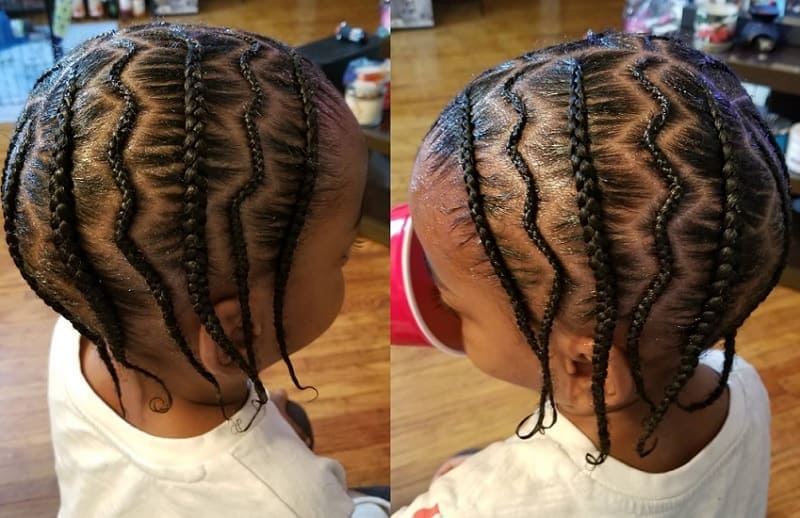 Straight and zig-zag braids can easily work together, as this great style shows. The braids are alternated across the head, resulting in a unique style that is sure to draw attention, thanks to its attention to detail and precision.
15. Braids with Volume
Rather than allowing braids to rest flat against the head, these fun braids have a lot of volumes and stick up some before falling back down.
This will give the boy a unique look and do a wonderful job keeping the hairstyle from being boring and blending in with the crowd.
16. Bright Pop of Color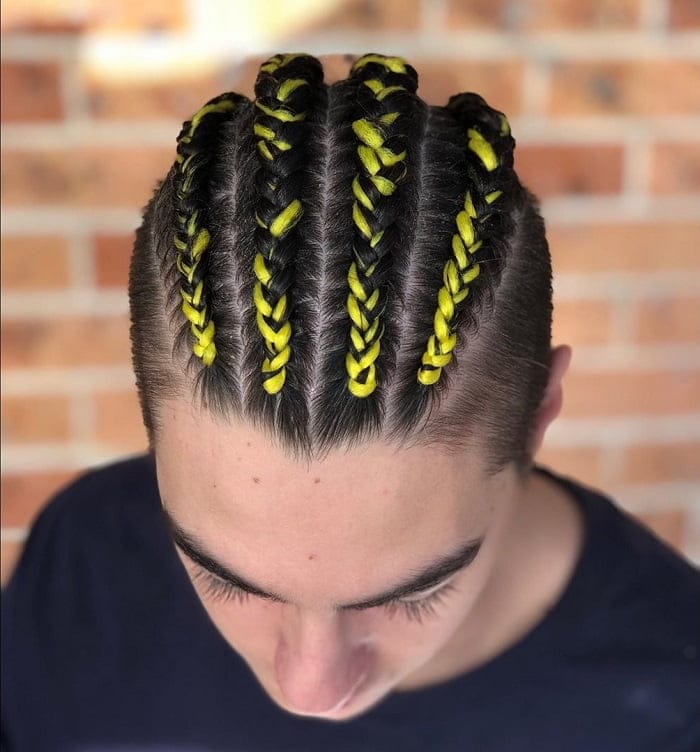 A bright pop of color braided into the braids helps to set them apart from typical braids and makes this simple look a lot more fun and advanced for young boys.
It's easy for most people to braid the longer hair on the top of their head, but adding color takes it a step further.
Best Ways to Style Comb Over for Boys
17. Three Simple Braids
Three simple braids on the top of the head do a great job controlling smaller pieces of hair and creating a fresh look.
This is a great choice when considering simple braided hairstyles for white boys, as it doesn't take nearly as much effort or time as other choices.
18. Keeping the Bangs Under Control
Bangs can be unruly and out of control, but this great braid keeps them out of the way while allowing the rest of the hair to hang free.
It's easy for most people to do at home, but the hair needs to be long enough to stay in the braid for the best result.
19. Center Star
Lots of braids that extend out from a single point in the middle of the head make a star, which is fun and exciting.
The braids can then be ended with a small bun on the end of each one or braided carefully around the face for a finished look.
20. With a Spiked Mohawk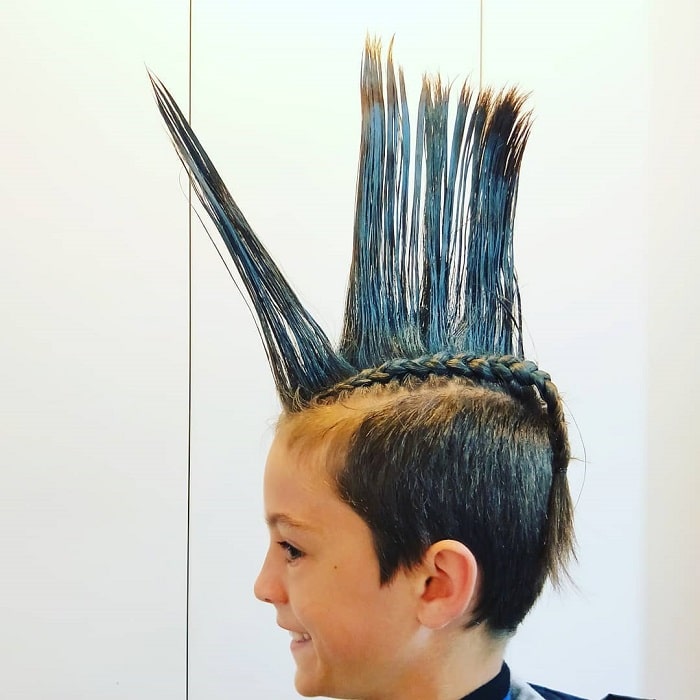 Pairing a large spiked mohawk with a braid on each side is a bold look and also a great way to contain the shorter hair that may not stay up in the mohawk.
Faded sides and a spot of color all over make this style great for a wild night out.
Super Cute Mohawk for Little Boys
21. Simple Double Top Braids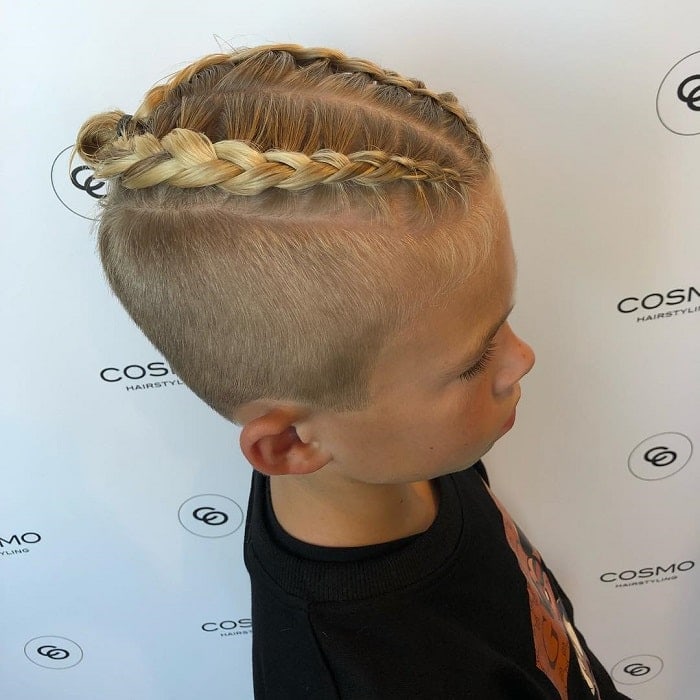 Double braids that control the longer hair on the top of a boy's head are a fresh take on a single braid. Ending the two of them together with a small bun helps to control the ends.
This hairdo with the undercut is a great option for boys who have slightly shorter hair.
A strong fade really helps to set off braids on the top of the head and make them look even more impressive on little black boys.
These four braids all originate from a single point on the forehead and are made even more impressive thanks to strong lines around the face.
23. Smaller Braids on Top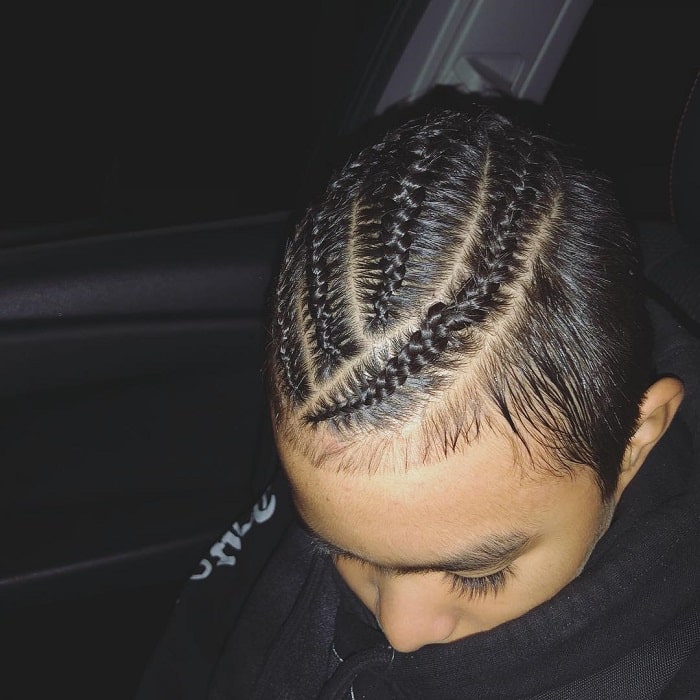 Lots of smaller braids on the top of the head help to control longer hair and look great when they are all connected in the back with a bun.
This braids style is perfect for boys who have shorter hair on the sides of their head, but it doesn't have to be a skin fade to look great.
24. Braids Pulled Into a Ponytail
Lots of mini braids that extend from the top of the head and are braided back can easily be pulled into a ponytail.
This is one of the more modern braids for boy and is sure to attract a lot of attention. It works best on boys who have long hair.
25. The Trio of Smaller Braids
Just three small braids on the top of the head can be striking when professionally braided so that they are perfectly straight.
This cut doesn't require a fade, as long as the sides of the head are noticeably shorter than the hair on the top.
These 25 boy's braided hairstyles are all great options to choose from, regardless of the age of the boy or how long his hair is.
Not only do they look effortlessly chic and updated, but they are comfortable, easy to take care of, and do a wonderful job keeping hair contained so that it doesn't get in the way.