Spending time creating a great nursery or room will help parents relax as their due date grows closer. Parents having a boy may want to consider these baby boy room ideas in blue and white theme, so that they are able to create a space that their son will love.
Best Blue and White Nursery Ideas for Baby Boys
One thing that parents will want to consider when setting up a room for their baby is how it will be able to grow with him as he ages. When a room will work not just for an infant, but also for a toddler and a school-aged child, then parents can continue to enjoy the space that they worked so hard to create.
Here we have got 10 blue and white themed nursery ideas for baby boys that parents need to see.
1. Light Blue Walls and Natural Wood and White
Light blue is incredibly soothing and really looks great when paired with natural wood. A deep blue chair helps add a pop of color against the lighter walls and ties together the space without having to add other complementary colors.
Using plenty of natural wood and white keep the space airy and prevent the furniture from feeling too heavy for the boy nursery.
2. Many Shades of Blue Raindrops
Blue raindrops in multiple shades of blue and gray falling down on white walls and furniture add tons of color and personality to the room for baby boys.
Since the raindrops can be added to any piece of furniture or additional items in the blue and white themed room, they can be used to easily and quickly tie together space, resulting in a room that feels cohesive.
Exclusive Baby Girl's Nursery Decorating Ideas
3. Crisp White and Navy
White and navy have always looked amazing when paired together, and this room is no exception. White is the dominant color, allowing the navy to add pops of interest to space.
Using the navy on the pillows, blankets, and crib tent helps to tie together space without making it seem too busy or dark.
4. Ocean Theme with Whales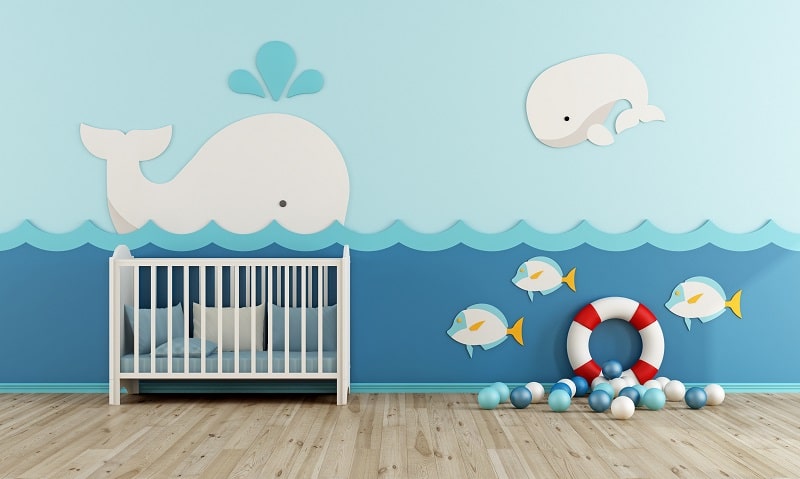 There are many great blues to choose from when parents use the ocean as inspiration, and this baby boy room in blue and white shows how perfectly it can be done.
The walls are turned into the ocean, thanks to a few colors of paint, and happy whales frolic on the wall, which all boys are sure to love. Blue crib sheets and pillows help to complete the space.
5. Blue Walls and Divider with White Accents
Light blue walls and a blue divider will really pop when the rest of the items in the room are white. The white crib, blankets, and wall decorations help to keep the room from appearing too dark.
Hanging clothes out in the open is another great way to add a splash of color to space without taking away from the blue's beauty. This is an amazing baby boy nursery ideas for small spaces.
6. Muted Blue and Plenty of Graphics
A muted blue that is almost gray is a welcome addition from lighter baby blue options that are commonly seen in nurseries.
Adding plenty of graphics in the form of prints as well as in the rug and crib bunting help to make this baby boy nursery feel incredibly modern and updated instead of allowing the blue to make it feel dark.
7. Blue as the Accent Color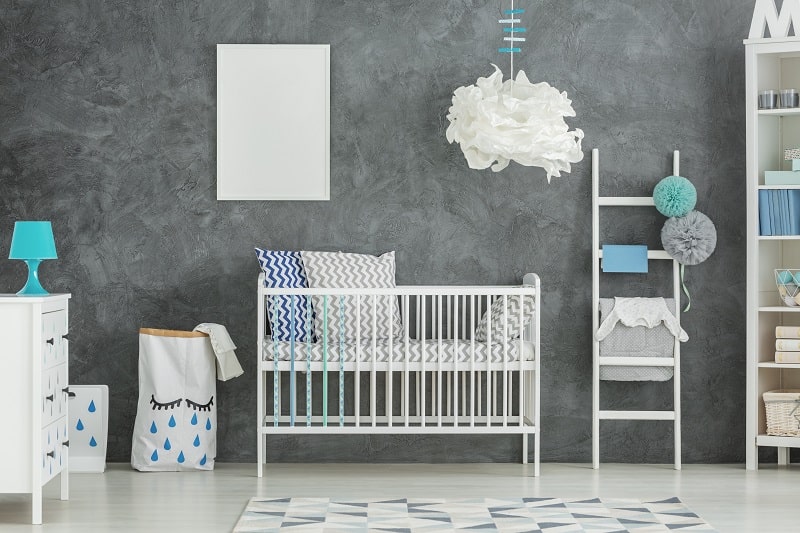 Blue doesn't have to be the main color in a room, which is why using it as the accent color is so popular in blue and white baby boy room ideas.
The gray backdrop allows both the white and blue accessories, furniture, and linens to really pop in this space. Textured walls add another layer of interest to space.
8. Nautical Theme
When most people think of blue and white, they imagine nautical themes. This is because blue and white are clean, crisp, and look great on nautical items.
Anchors, prints of sailboats, and plenty of nautical fabric make this space look great. The white walls provide a clean backdrop for the blue, and the varying shades of blue add a ton of interest to this nursery for baby boys.
Some Creative Activities for Kids
9. Clean White Room with Splashes of Blue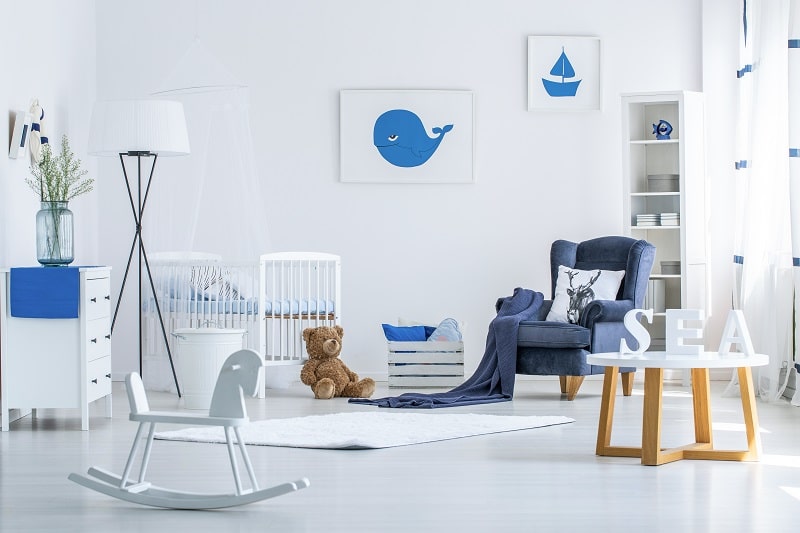 A clean white room is a blank slate for plenty of different splashes and shades of blue. Using blue in the curtains, in prints, in furniture, and even in a vase will create a room that perfectly combines these colors.
The addition of a white crib, rug, and rocking horse help to keep the baby boy's room feeling light and open without allowing the multiple shades of blue and white to weigh it down.
10. Open and Airy Space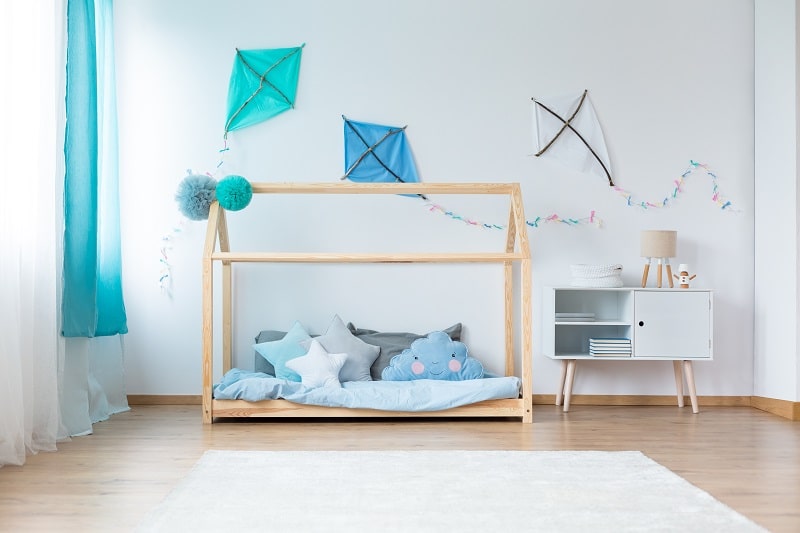 Natural wood, white, and blue all work together in this space to make it feel open and airy.
White curtains, a white rug, and white table all work well against the light blue wall. Adding kites in various shades of blue and white tie space together and add a touch of whimsy.
Any of these great ideas are sure to help parents set up a blue and white room for baby boys that they and their whole family will love.
Gathering inspiration from these ideas will help parents make an important style and design decisions that are necessary to create a great room.