Getting a new look is always exciting and amazing. But, black toddler hairstyles are even more awe-inspiring. It is always suggested to carefully choose a haircut rather than going for just any style.
Choosing a haircut based on how it is looking on others and not taking the features of your toddlers into notice will only lead to a bad hairdo. So, before going for a random haircut, know what is best for your baby.
Unique Haircuts for Black Toddlers
To avoid any haircut mishaps, try the black baby's haircut ideas we have mentioned below.
1. Bantu Knots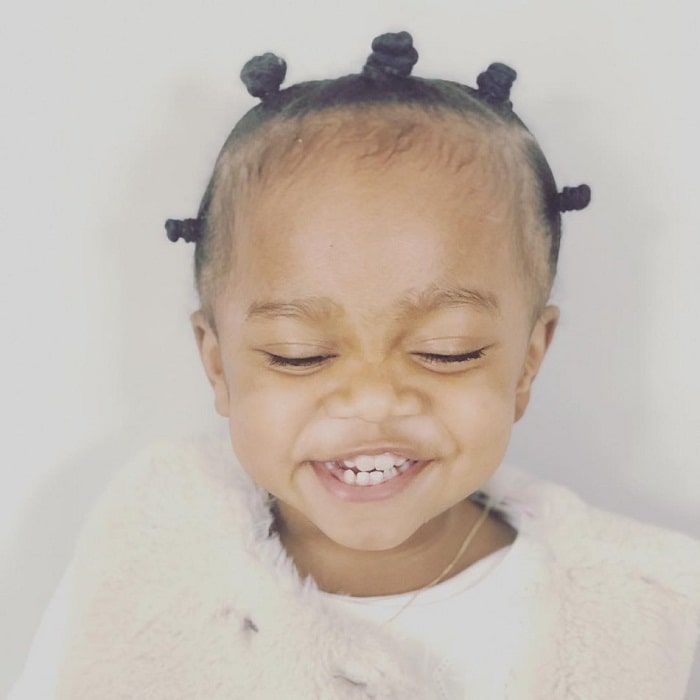 Toddlers are as mischievous as anything. With, haircuts, it becomes even more challenging to find one to hold in that mischievousness. Bantu knots are a perfect hairstyle for a cute baby girl.
Part the neatly trimmed hair into small sections and then, twist those small sections into mini buns all over the head to achieve this sensational black toddler girl hairstyles.
2. Trimmed Afro Hair with Headband
Afro curls trimmed neatly can look ideal. For this haircut, ask your barber to lightly trim those curls from the edges for a heavenly look. Style this simple black haircut with a cute bow headband for your toddler girl.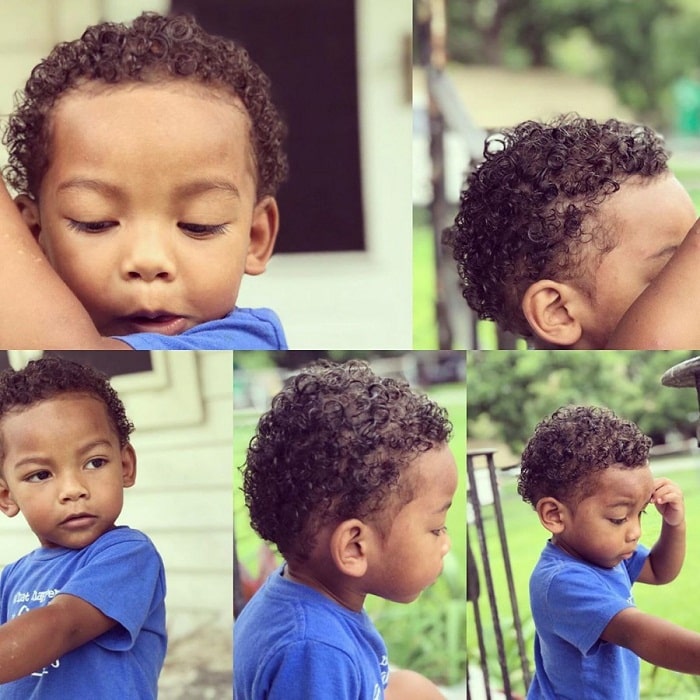 The simplest version of hairstyles for black American-African toddler is the curly cut with light fade. Cut that voluminous hair into a light curly style and trim the hair on the temple to a light fade going down to the sideburns. This haircut is for the toddlers who don't like the mess of long hair.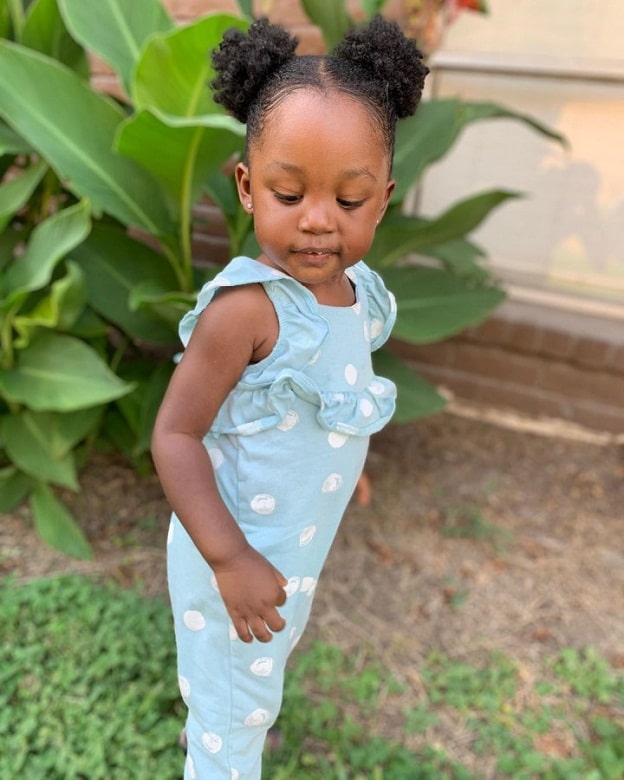 To steal the spotlight of every show, take this black toddler's hairstyle and work it on your baby's hair. This hairstyle looks too superb on your toddler to be left unnoticed. The middle part your child's hair and tie them into space-buns-like short ponytails. Your toddler is all set to go.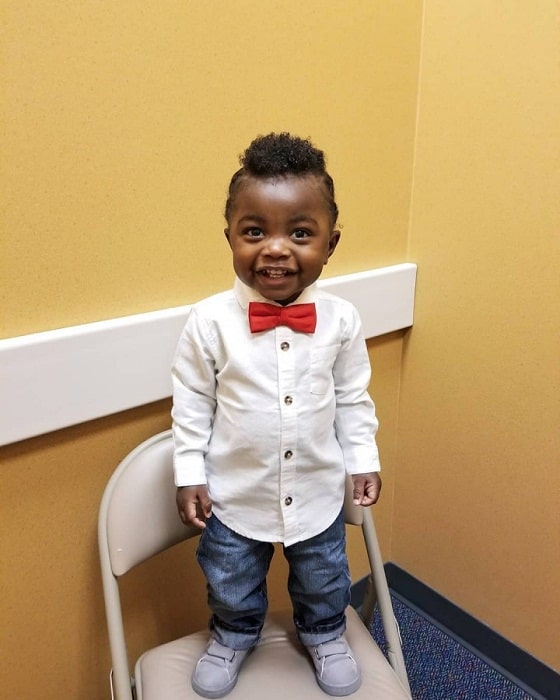 Fohawk haircut is a popular haircut among the elders, teens, and toddlers alike. This haircut looks super modish and cool on whoever dares to wear it. Your toddler is fierce and fearless; you know that.
But, now it is time to tell the whole world and get him this fohawk haircut for toddler black boys. Secured hair on the sides is for a clean appearance.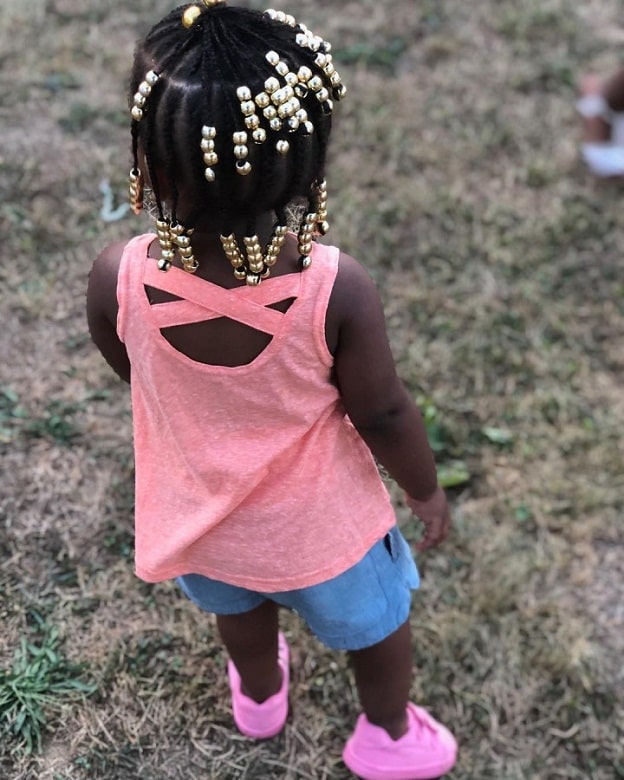 For this toddler hairstyles for black girls, you have to let your baby's hair grow long enough to turn them into cornrows hairstyle. Divide the hair into two sections. Braid the top section into cornrows and then tie it into a ponytail.
Braid the rest of the hair into cornrows as well and leave them down. Secure the edges with shiny beads for a bright toddler.
7. High Raised Kinky Hair
To give your toddler's height an illusion of added inches, give him this haircut for black African-American toddler. This haircut will boost his confidence, and he will find himself to be a grown-up boy already. Trim the hair towards the side shorter than the top hair. Use some styling products to raise the top kinky hair high.
8. Mohawk Kinky Hair
Mohawk hair can suit anyone and everyone, even your toddler. So, why not choose this mohawk haircut for black toddlers and help them rock their look. Style their kinky hair into a high mohawk style running to the back of the head.
To do so, take all the hair into small sections and tie them into ponytails on the top, in a straight line going from front to back, and that is all.
9. Twists with Beads
Twists and beads are a trending combination, and your toddler deserves this hairdo too. To get this toddler black boy's hairdo, twist your toddler's curly hair into pigtails all over the head. Once you are done with the pigtails, style the ends of those pigtails with cute beads.
10. Side Swept Twisted Braids with Cornrows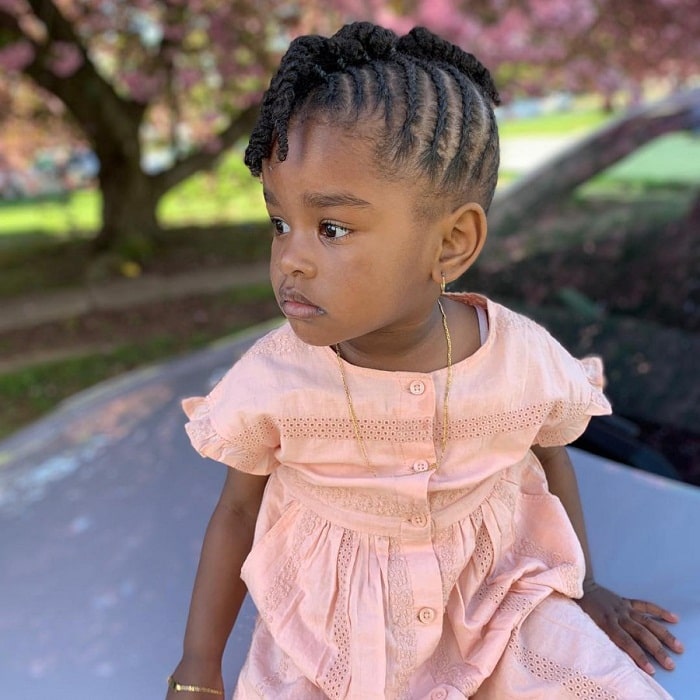 This is a two-in-one black toddler hairstyle and is perfect for your little princess. Braid the side hair into cornrows going to the half part of the head and then, twist the remaining hair into as many twisted braids as possible. This hairstyle is to give your toddler a chic look.
Top Braided Hairstyles for Black Girls
11. Shaved Head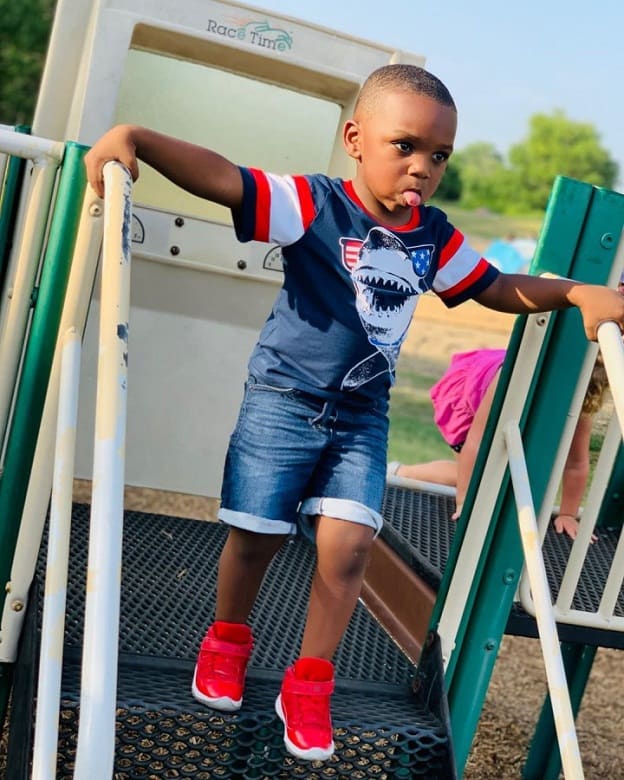 If your toddler can't handle the mess of thick curly hair and is easily irritated because of that, then this black toddler haircut is just for him. Shave all of his hair neatly to the skin to achieve this haircut. It is super easy and straightforward while being fashionable as well.
12. Sleek Topknot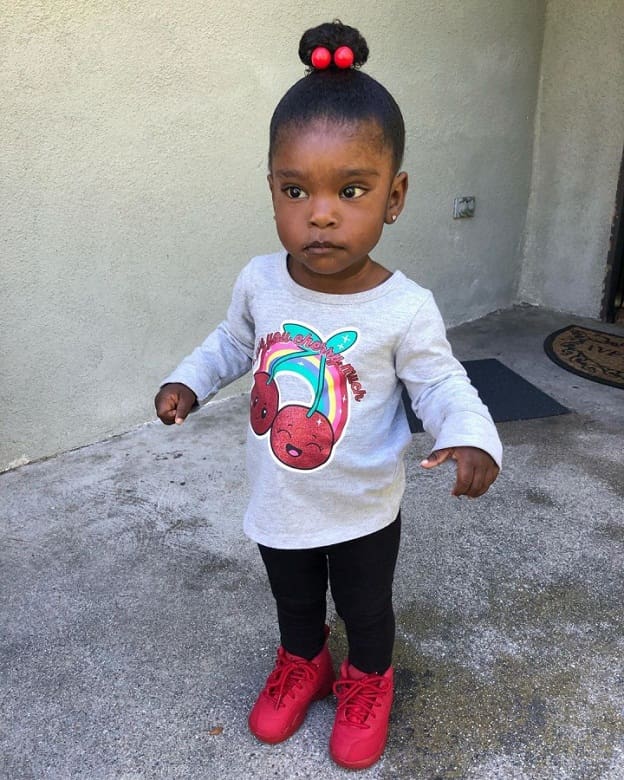 Hair tied into a clean and tight topknot has the power to beat all the other fancy black baby girl's hairstyles. All you have to do is tie all the hair into a tight topknot and use some hairspray to give the stray hair a neat look.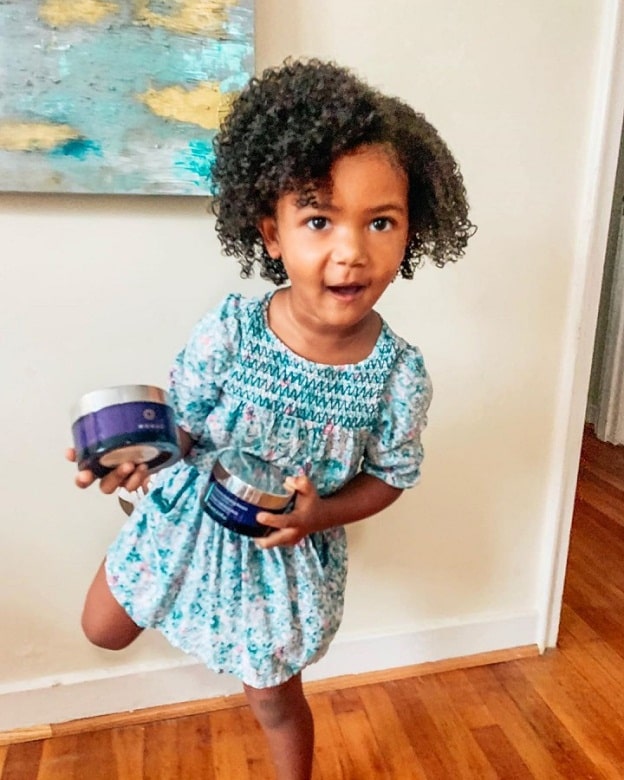 This hairstyle is perfect for every occasion, be it a birthday party or a regular day playing at home. For an everyday but stylish look, leave your baby girls's curly hair into open curls and side part them. This hairstyle gives volume to your child's hair as well as a stylish look.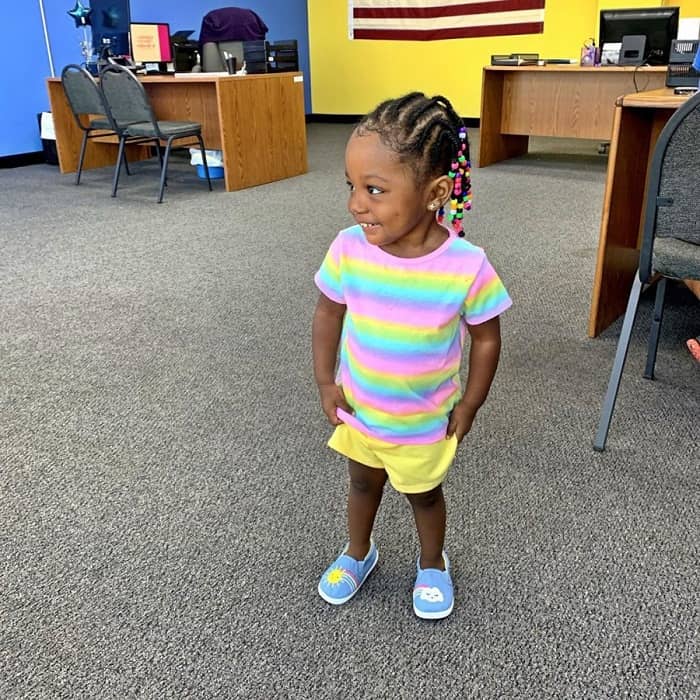 For this hairstyle, do not compromise the length of your toddler's hair. Style the long hair into cornrows stretching from the front to the tip of the head. Turn the rest of the hair into three-strand plain braids and style them with colorful beads for a vivid spark of fashion.
15. Multiple Twisted Braids with Flower Pins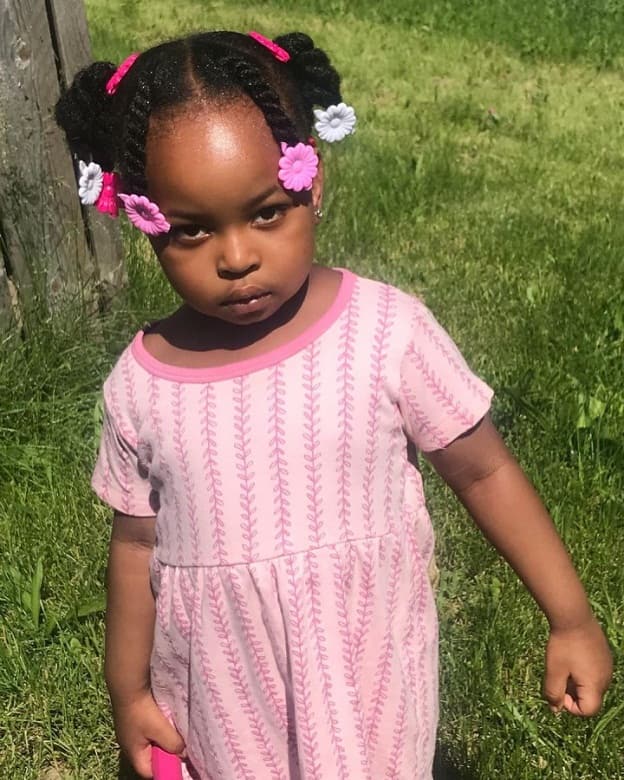 For a flowery look, this black toddler girl hairdo is faultless and goes well with any face cut. All you got to do is divide the hair into small sections and then give them the shape of twisted braids. The more twisted the braids, the better. In the end, style the braids with flower pins.
This hairdo is a flawless example of classic twisted braid and modern bun. Take the top hair and tie them into a clean topknot. Twist the rest of the hair into twisted braid coming from below and going upside to connect with the topknot.
17. Beaded Braids with Short Twists
Short twists are an exceptional look and are ideal black toddler hairstyles if you want your kids to be an ultimate style icon. Part all the hair into four sections and braid them by putting short twists in them. Make two braids in the front and two at the back for a cuter look. Secure the braids with beads to finish the hairstyle.