Parents know what a battle it can be to choose a hairstyle with their teenager. These hairstyles for black teenage girls are great options that parents and teenagers can agree upon. As, not only does the hairstyle need to be age appropriate, but it also needs to make them feel young and attractive.
Glamorous Hairstyles for Black Teenage Girls
These are the most lovely hairstyle ideas for black teenager girls to copy this season.
1. Small Knots
Small knots strategically placed all over the top and sides of the head create a very interesting and cute hairstyle for black teen girls.
This is great for the busy teenager who is always on the go and doesn't want to devote a lot of her time to worry about keeping her hair out of her face or whether or not her style is going to last through the day.
2. Large Top Knot with Bangs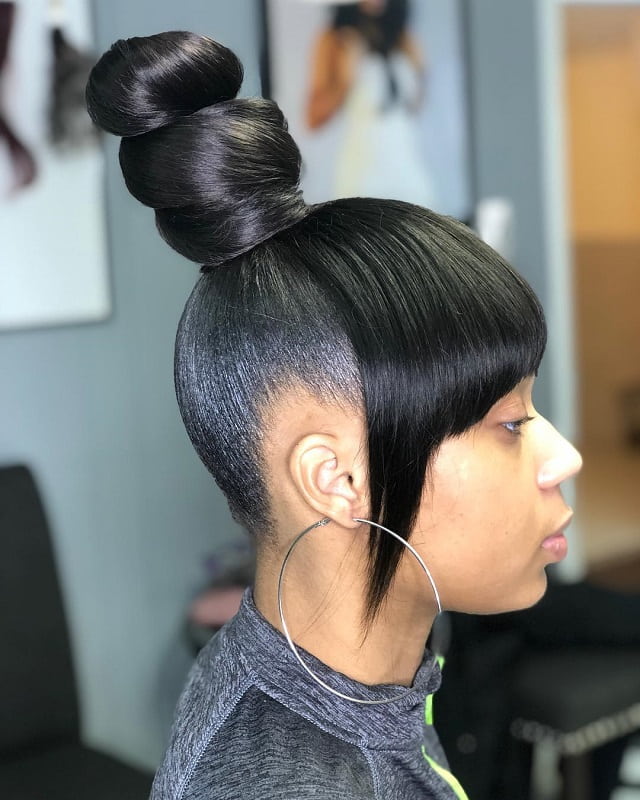 This modern take on a top knot is oversized, which is sure to attract attention. When paired with the mod cut of the bangs, it creates a visually stunning teen hairstyle for black girls.
While it may look difficult to do, it will always look great as long as the bangs are regularly trimmed so that they don't become wispy or uneven.
3. Braided Front Crown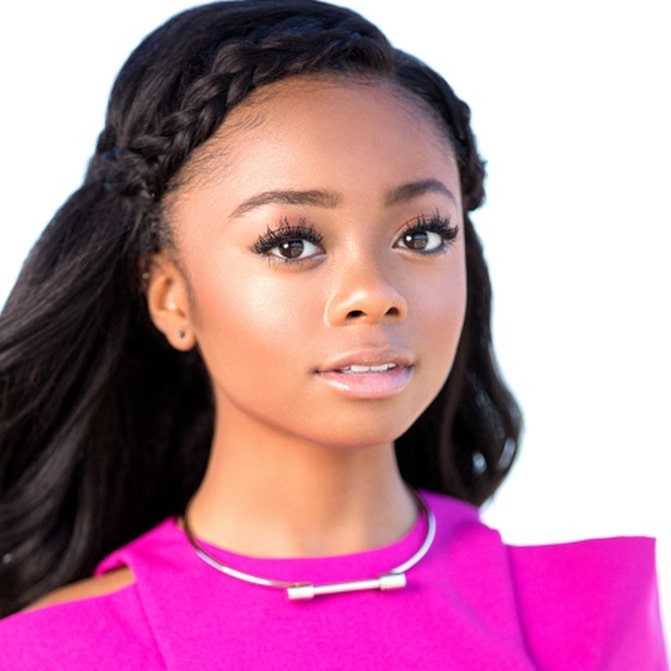 Teenage girls who want to wear their hair down, but still need to keep hair out of their face and their eyes are sure to love the compromise of this natural hairstyle for black girls.
The long and flowing hair in the back is incredibly attractive, and the braided crown at the front draws attention to the face and also does a great job at preventing annoying flyaways.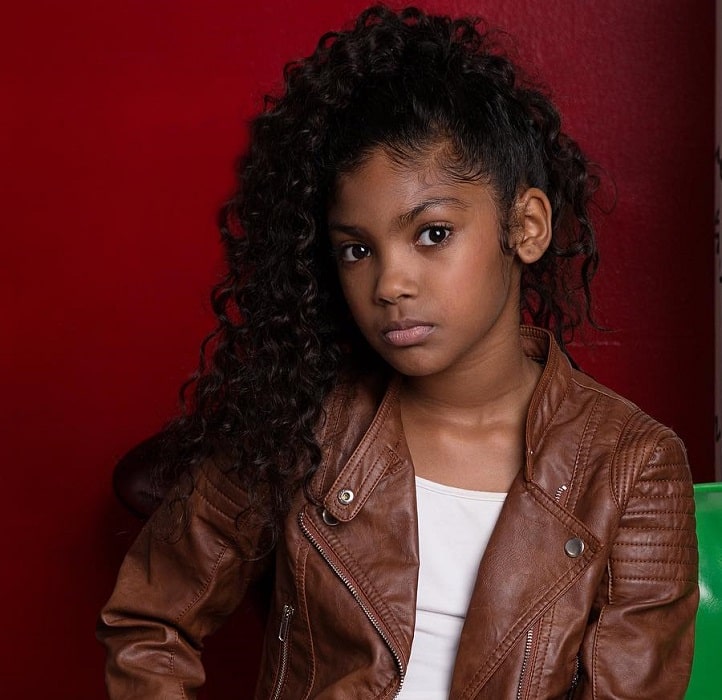 Any teenage black girl who has curly hair will want to wear it down at some point, just to see how it feels.
Rather than wearing the hair hanging straight down, this style has girls flipping it up and over the top of their hair, which adds more body and interest to the style. It's a fun way to wear long hair without any extra effort.
5. Top Braid Pony with Beads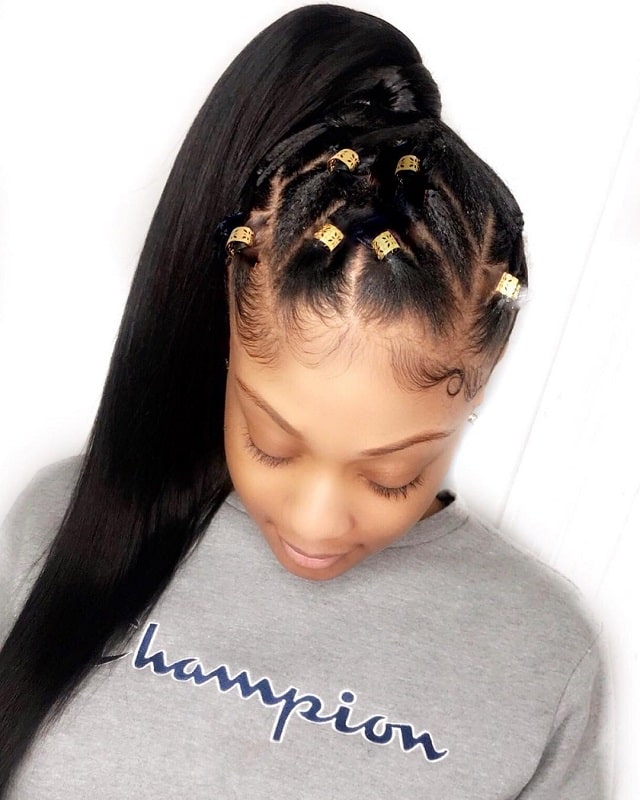 Braids with pony always look great but adding bright gold beads to the hairstyle really sets it apart from others.
The hair can then be pulled back into a high ponytail, which not only keeps it off of the neck but also makes it a very striking style. The beads combined with the sleek ponytail make this hairstyle for black teenage girls really modern and updated.
6. Pull Through Braids with Flowers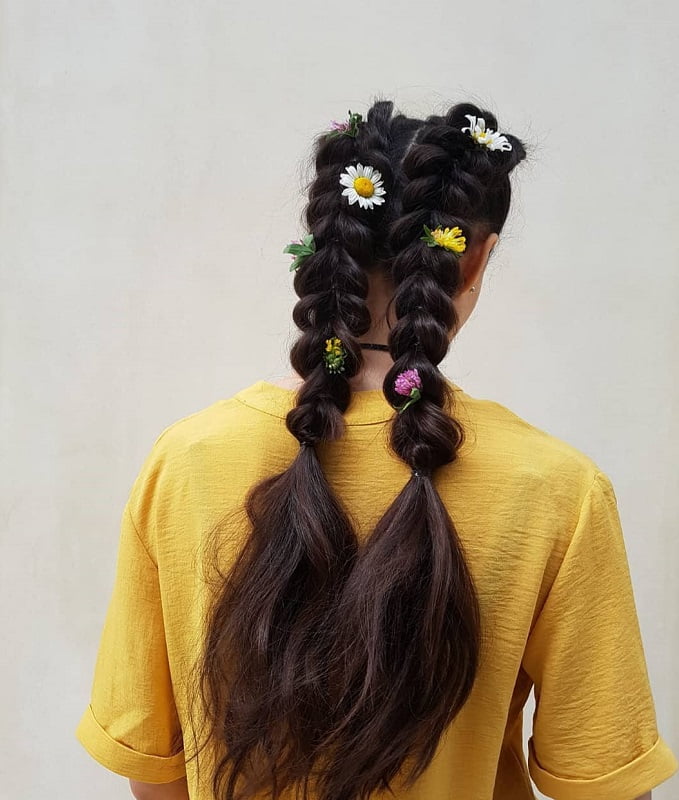 Thick pull through braids are impressive enough on their own, but by adding some flowers to the braid, girls can draw even more attention to their hair.
These natural flowers add a pop of color too thick and dark hair. Letting the ends of the braid hang free and loose makes it look more flowing and natural and will complement the flower.
7. Double Buns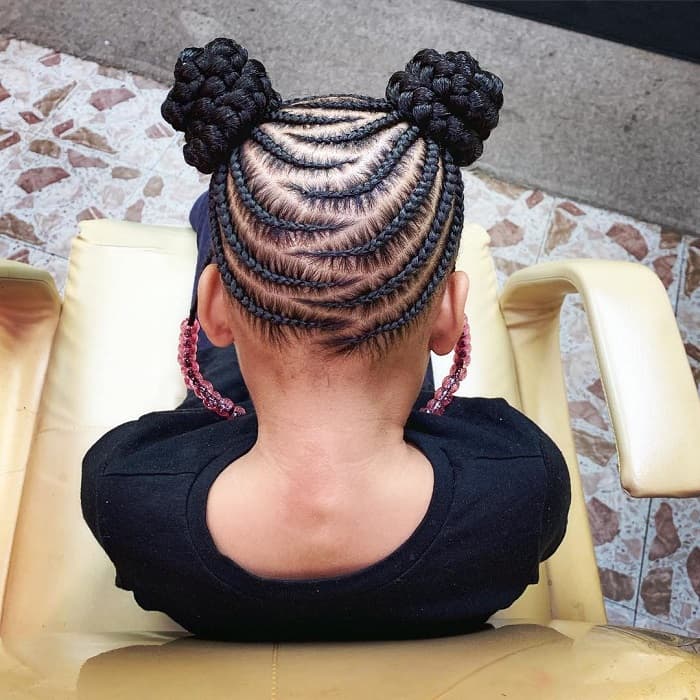 Cornrow braids that run up and along the back of the head are striking, and wearing the braids in top buns will allow the design of the hair to really be seen.
The thicker braids of the top buns add some contrast to the smaller curved braids on the back of the head and make this black teen girl's hairstyle really visually interesting.
Mini braids look incredible when they are worn really long and allowed to appear sleek. These small braids give the illusion of thick hair and add a lot of volume to longer hair, which is great for black teenager girls looking for a lot of hairstyles. They can also be pulled back into a ponytail if they get too hot on the back of the neck.
9. Multiple Braids to Pigtails
Multiple tight braids against the head show off a girl's beautiful face, and wearing them in two pigtails ensures that the braids are controlled.
This is a wonderful way to show off longer hair without it getting too hot, and the braids will beautifully taper from really thick to thinner along their length, making them perfect for most girls to wear.
10. Multi-Colored Dreads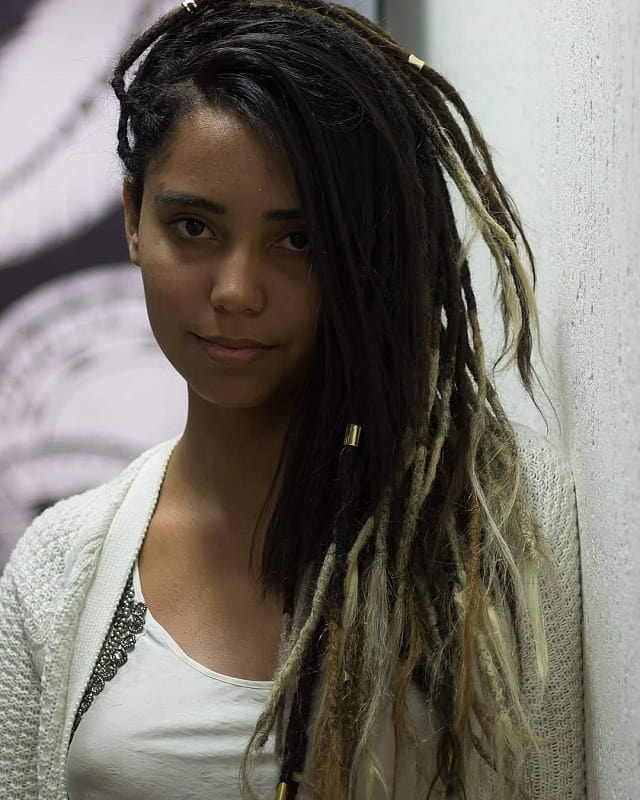 Thin dreads that are dark at the roots and lighter at the tips are incredibly attractive hairstyles for black teenage girl with medium hair. They can be worn in any way, which means that they look great not only down, but also swept across the head or pulled back from the face.
Their smaller size prevents them from overpowering the delicate facial features that some teenage girls have.
11. Loose and Curly Top Bun
Long and curly hair looks great down but can be really stunning when worn in a loose top bun. Instead of trying to make a structured bun, which can look out of place with this loose hair, teenagers can instead allow their hair to move and curl naturally.
This makes this hairstyle look almost effortless and allows teen black girls to get out the door much faster in the morning.
12. High Pony with Long Waves
A half pony on the top of the head looks really impressive when the elastic is hidden with hair. Allowing the rest of the long hair to fall naturally down and around the shoulders makes this style updated and modern. It looks best when girls have long hair and can work for straight, wavy, or braided hair.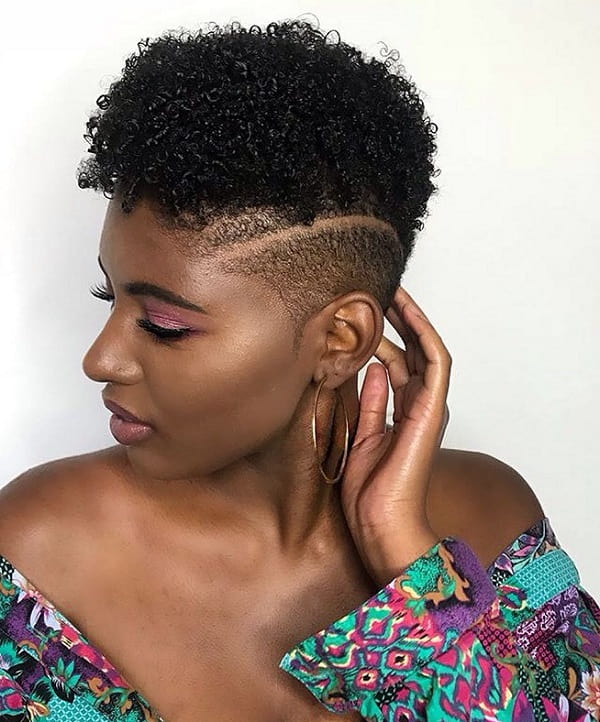 Tight curls look great when they are worn short, and cutting the sides of the hair even shorter accentuates the body on top of the head.
This cut is much shorter on the side and longer on the top, which is a perfect haircut for black teenage girls who are confident in themselves and are looking for something that will help them stay cool and look exciting.
14. French Braid Mohawk with Shaved Sides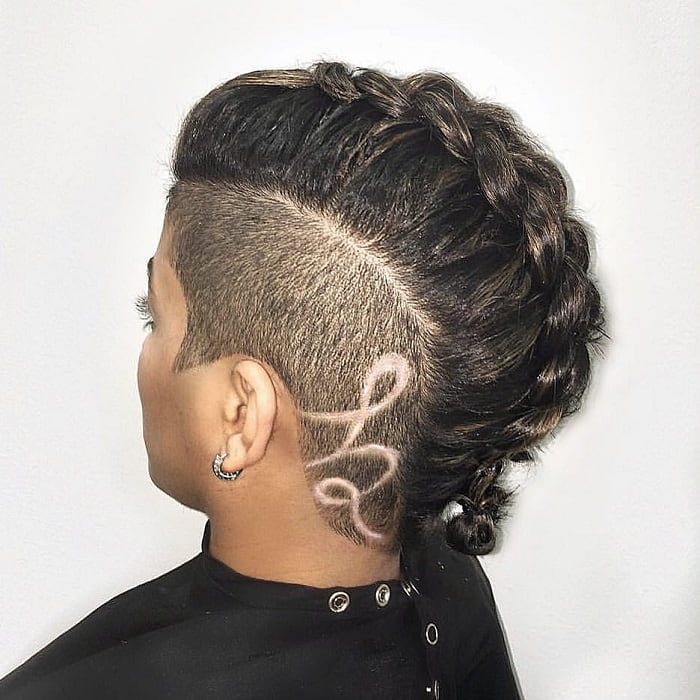 A thick mohawk that is held in a French braid automatically makes a teenager look cool, but by cutting the sides really short, the Mohawk quickly becomes the focal point of the hairstyle.
This is a fresh and updated look, especially when a design is cut into the shorter hair on the side of the head. It's important to keep the bangs back in the Mohawk for the best look.
15. Elaborate Braids to Side Pony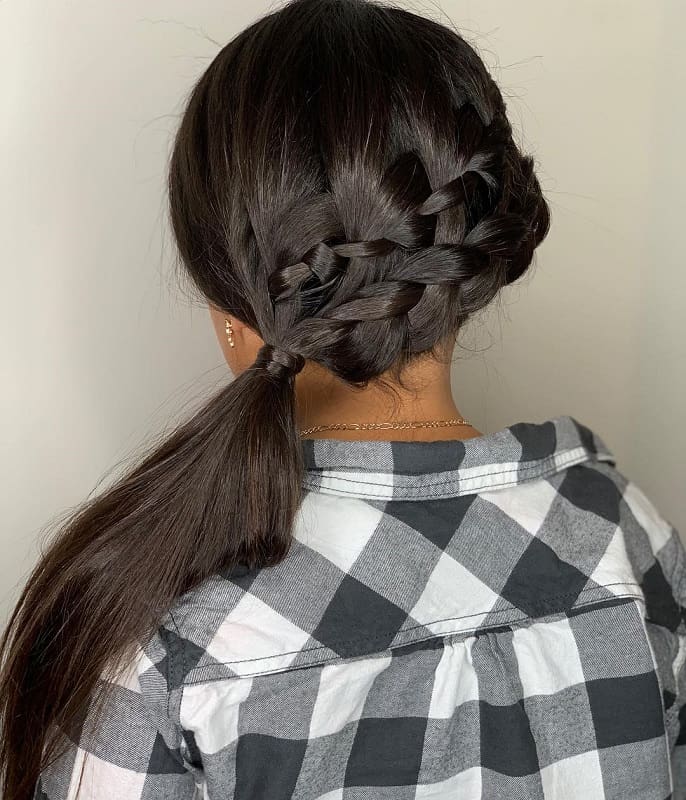 Thick and full braids from the sides and back of the head can easily be pulled into a side ponytail, which looks great but doesn't take a lot of work.
Allowing the length of the ponytail to hang free keeps it from looking too structured and makes this a great hairstyle for wearing to school, to work, or even out with friends or on a date.
16. Small Curls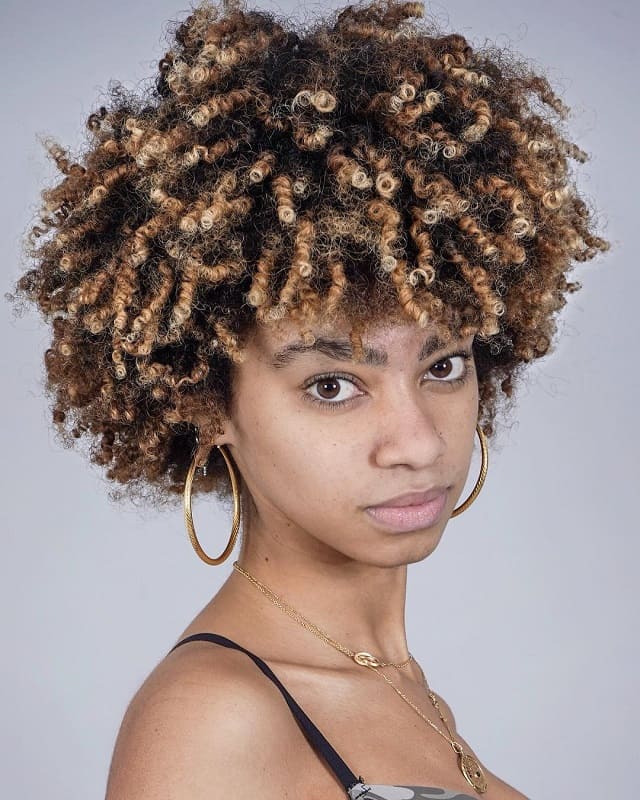 Very small curls give this hairstyle for black teenage girls a lot of energy and make it pop. It's sure to attract attention, especially thanks to the darker roots and lighter tips of the hair.
The shorter curly hair is easy to control and to style in the morning and has a lot of movement that makes it perfect for the girl on the go.
17. Pink Braided Bob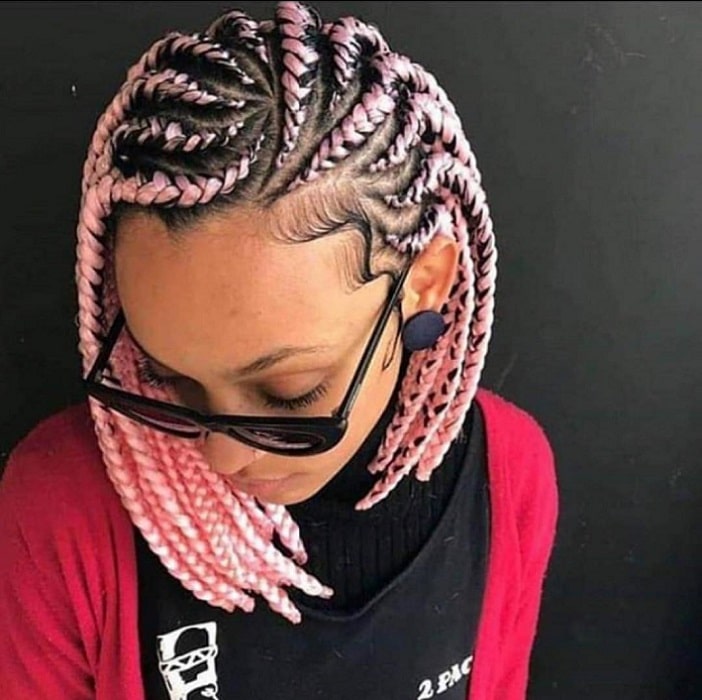 Teenage black girls who want hairstyles that will really make them stand out in the crowd will love these tight pink braided bob.
The pink and black create a gorgeous contrast, and the swirl design on the head makes it even more updated and exciting. This is not a style for the girl who wants to blend in, as it is sure to make anyone the center of attention.
18. Reverse Braids with Top Pony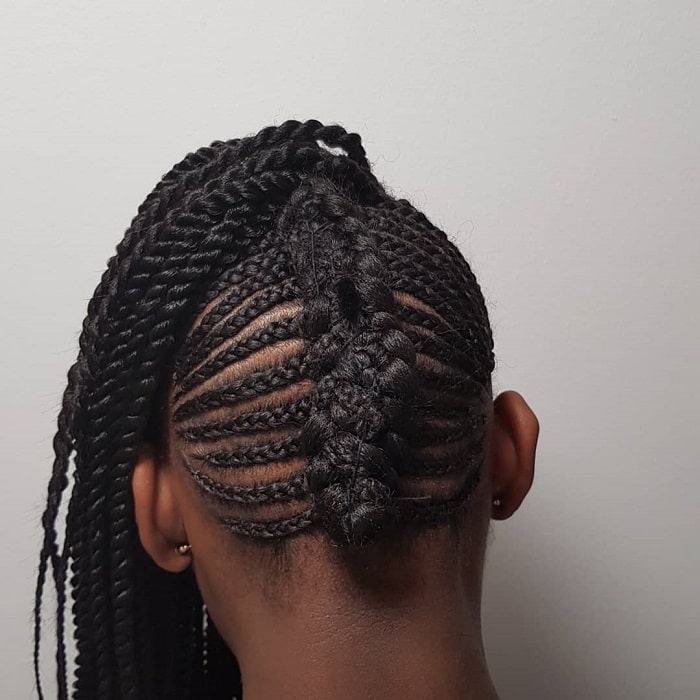 Small braids up the back of the head culminate in a top pony, giving this black teenage girls hairstyle a new life. The small braids meet in the middle of the head and join together with a thicker braid, adding even more style and substance to this look, and ensuring that it looks great from all angles.
A bob of any length looks great, especially when paired with longer and fuller bangs. This hairdo requires regular brushing but is a good choice for a teenage black girl who is tired of wearing braids and wants a hairstyle that is a little different from something that they have had in the past. It looks great when sleek and when left a little messy.
20. Sleek Knot with Braid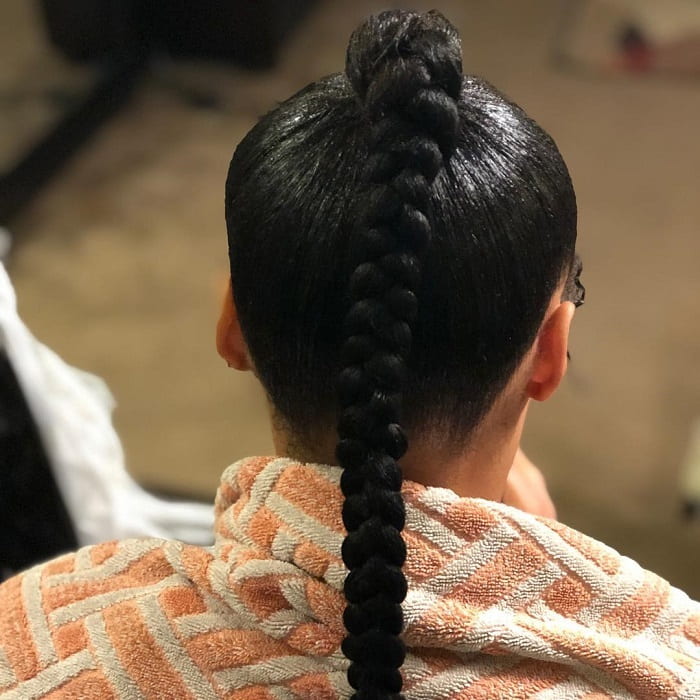 Pulling hair up into a knot and then braiding the hair creates a sleek and modern look. All hair on the head needs to be slicked back into the knot and braided for this teen hairstyle for black girls to look its best. The long braid is generally thick, which adds some interest to the style and helps to balance it out.
21. Crown Braids with High Bun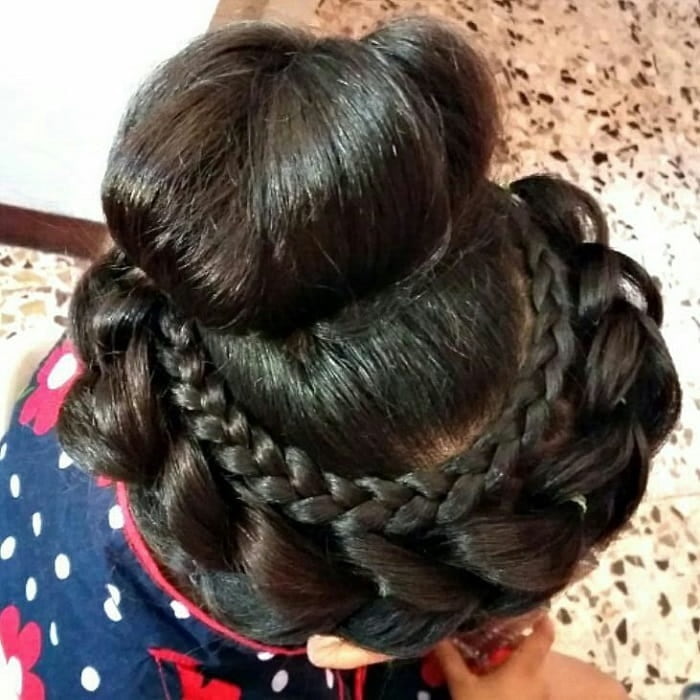 Crown braids that curve around the head are interesting on their own, but then pulling them into a bun makes them even more exciting and attractive.
This hairstyle for teenage black girls features braids that vary in size, which adds a lot of interest to the hair. Additionally, the full bun on top showcases exactly how thick and healthy the hair is.
Any of these fun hairstyles for black teenage girls are a great hairstyle option for the teen in your life. They're designed to look and feel great and are sure to give her the confidence that she deserves.