Black girls have a special type of hair which accounts for their unique and amazing hairstyles. The black girl updo hairstyles are particularly famous for they have all the hair tied up nicely in a way which keeps it out of the eyes.
Sometimes a bun is all that a black girl needs to keep her hair in its place and take on the challenges of the world with strength and confidence. These hairstyles never grow old or go out of fashion, so they are really amazing and evergreen.
Best Black Girls Updo Hairstyles
Well, if you are as big a fan of black girls updos as we are you will love these 7 amazing hairstyles.
1. Classic Afro Bun
This updo hairstyle for black girls is as amazing as an Afro bun can be. The hair is gently twisted in a voluminous thick bun which has all the messy Afro locks in a single bun. The baby hair at the front is neatly brushed and stuck to the skin too.
The accessories add detail and character to this lovely updo which looks even more amazing with summery color outfits.
2. Afro Double Bun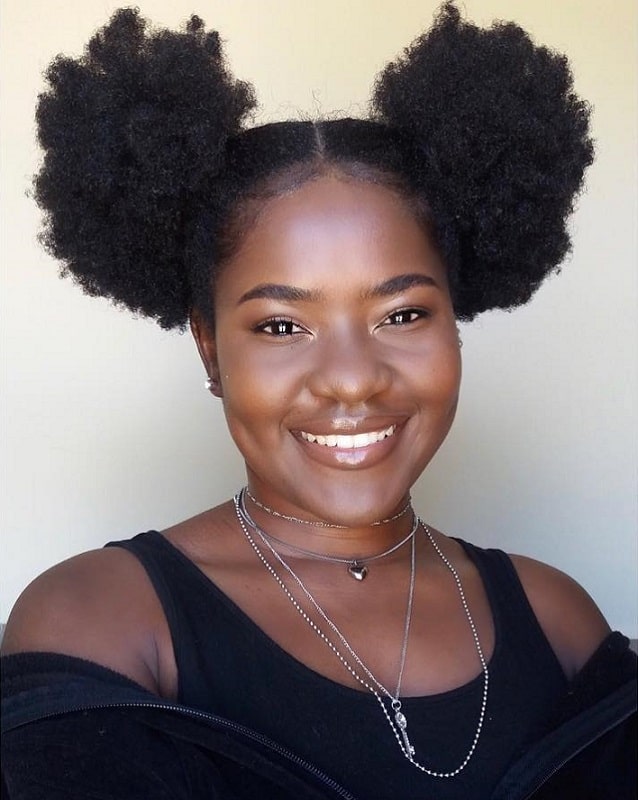 This is a cute and girly hairstyle for black girls who want to look young and refreshing. The hair is parted from the middle and is tied in two neat piles of Afro hair at the sides of hair. You can have this updo for your classes as well as for the shopping sprees and parties as it goes well in all situations.
3. Thick Elegant Crown Braid
This chic and stylish crown can be a real game changer when it comes to black girls updos. This is perfect for weddings and high profile parties where everyone puts in a lot of effort and money to look pretty. You can look like a true diva with this simple and easy hairstyle.
This bubble updo has small bubbly buns along the length of your head and has a very fashionable look. You can go for this one if you love to be confident and bold while you go out in public. This black girls updo hairstyle will surely boost your confidence and lift up your charm.
5. Reverse Braided Updo
This updo for black girls comes highly recommended from the hairstyle experts and can help you look like a fashion queen. The reverse braids at the back need some time, but once they are done you will not be able to stop having them admired.
6. Braided Top Knot
This braided style is the best black girl updo hairstyle for summers when you just want all of your hair tied up neatly. This topknot helps you achieve that with style, so go for it this summer season.
7. Twin Braided Low Updo
This is the perfect hairstyle for black girls with updo who want to flaunt their braids as well as have twin buns. The braids are quite thick and attractive as they roll down into those buns.
These black girls updo hairstyles are all that you need to up your style game this season without making any major changes to your hair.