Black girls are loving the short curly hairstyles and it's making a come back. Sometimes lists of curly hairstyles are dominated by Caucasian girls with long tresses, which isn't particularly representative of everyone with curly hair. We've put together this list of short, curly hairstyles, especially for black or afro hair.
Black Girls With Short Curly Hair
These are the most unique and sassiest short curly haircuts for black girls.
1. Curly Bob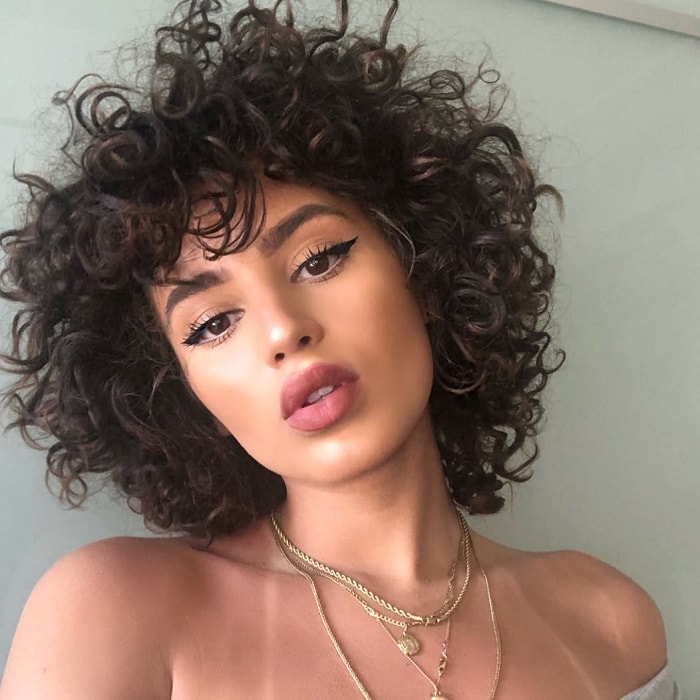 When allowed to grow naturally black afro hair or curls will naturally tend to grow outwards into the classic round 'afro' shape. This black girl's bob on short curly hair is actually extremely on-trend and embracing it will make life much easier. This is not to say that the style is without maintenance.
Regular trims will help to keep the hair in good condition and prevent split ends, whilst some products may be needed to help maintain the shape you desire throughout the day, but on the whole, working with the natural rather than against it will mean shorter styling sessions and less damage to the hair.
2. Pigtails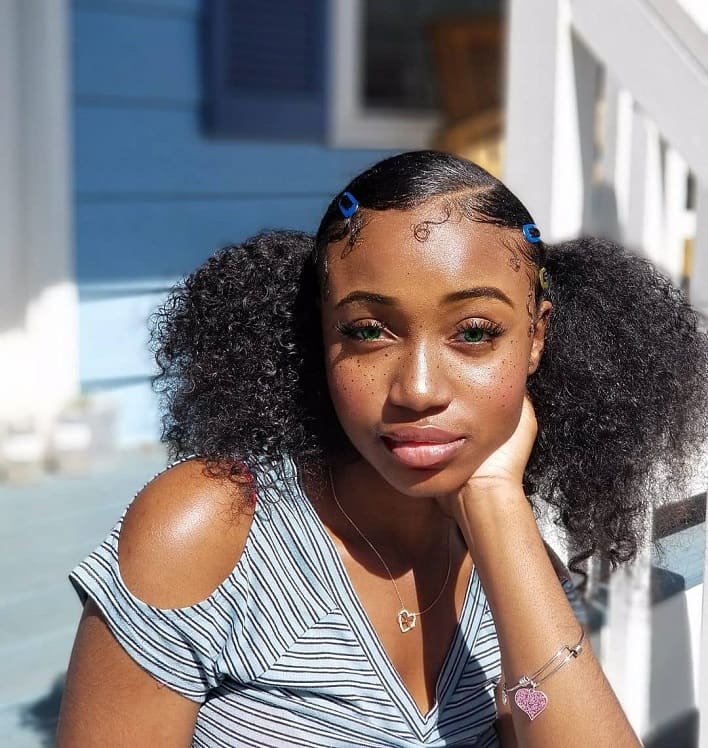 Pigtails are a great, easy to wear short hairstyle for black curly hair. The hair can be kept neat and out of the face, stopping any unruly fly-aways, whilst still showcasing its natural shape and texture once secured in the pigtails.
As afro hair can be hard to flatten down completely using some product and clips to keep it as tame as possible in the front may be the way forward.
3. Afro Pixie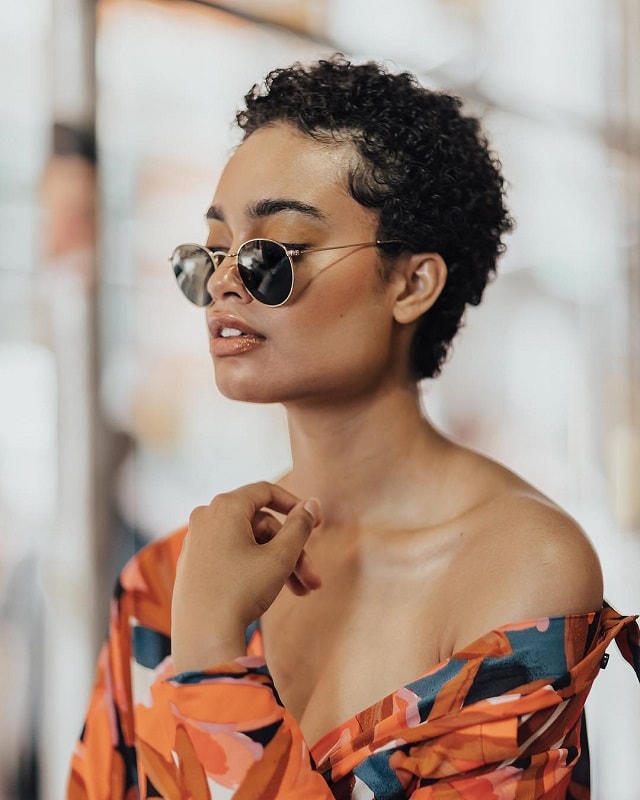 Short curly hairstyles for black girls can draw their inspiration from short haircuts for Caucasian hair too; the pixie cut is a great example of this. The pixie is so versatile, and a good hairstylist should work with their client's hair and its natural texture.
So great results can be achieved on curly or afro hair when using a pixie style cut. Here the shortness allows the texture to really show through.
This incredible short curly hair look is ideal for those who have a really funky, bold personality! The Mohawk is another option for black girls with short curly hair that draws inspiration outside of the typical afro hairstyles. Mohawk is originally a male haircut but recently became popular with the girls too.
5. Space Buns for Short Curly Hair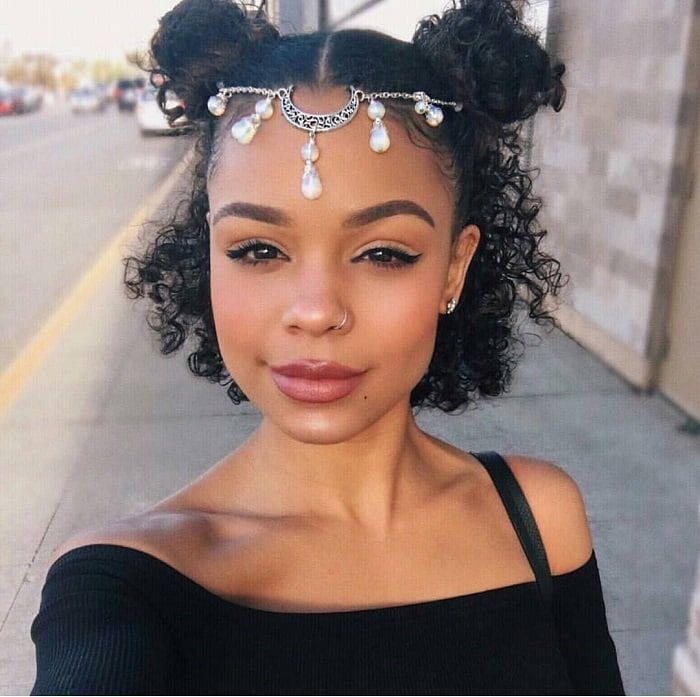 Two small buns to the top of the head, also known as 'space buns', are a great way to keep curly hair tamed whilst still showing it off. The two buns draw hair up and away from the eyes and the sides of the face.
Keeping it under control, whilst hair can be left loose towards the back of the head to show off its natural curl and texture.
6. Short Twists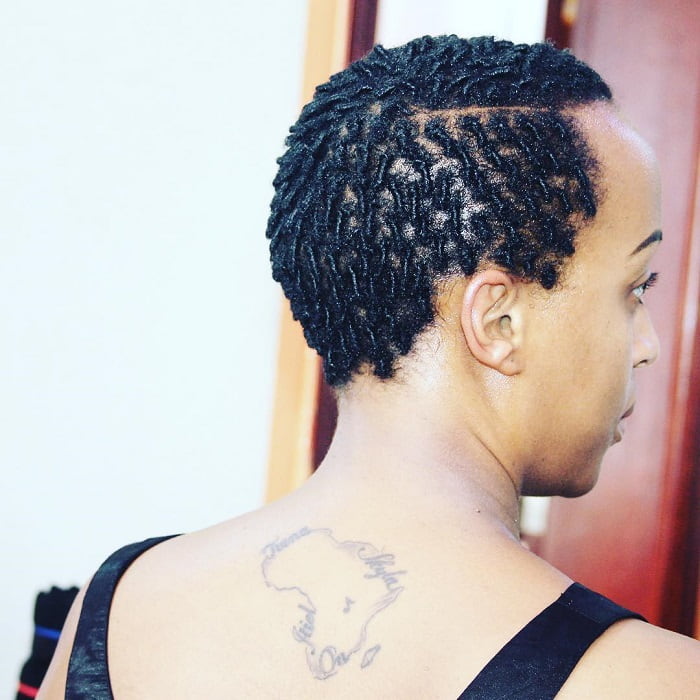 This style keeps the hair very short and yet also highly styles. Using oil to enhance the natural texture of the hair and keep it under control with tiny twists provides the best of both worlds.
7. High Bun
A super sleek, slicked-back high bun is a classic look and a great way to show off the texture of natural, afro hair whilst still keeping it manageable.
Getting the hair slicked down requires combing and product and lots of practice in getting g it to lay flat but once you've mastered it this is a relatively quick style to achieve on black girls short curly hair.
8. Buzz Cut with Shaved Hair on Side
Using the clippers to achieve a closely cropped look is a great way of experimenting with different lengths. You can also utilize thinner blades to shave strips and patterns into the sides or back and add real interest to the look. Short curly hairstyles for black girls can be really edgy as well as practical.
9. Short Purple Hair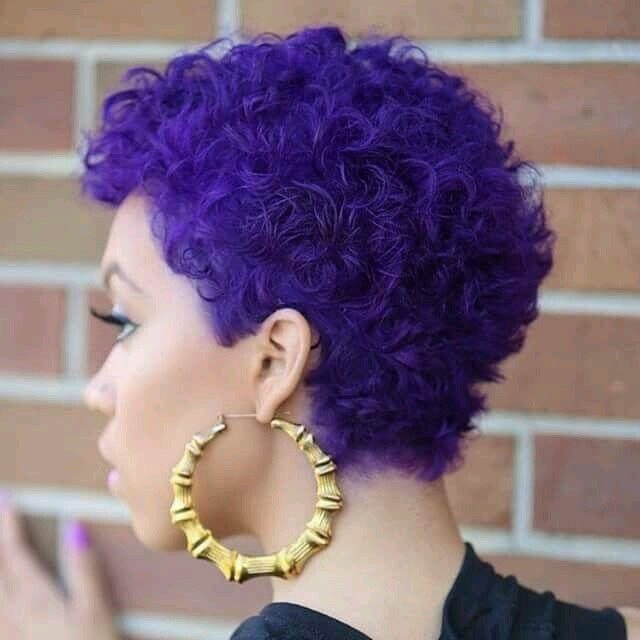 Hair dying techniques get better and better each year and what was previously difficult to achieve on afro hair is quickly becoming simple. Achieving a bright and vibrant purple color is now commonplace so you can experiment to your heart's content!
If you're not quite ready to commit to permanent color then sprays and chalks can help you to achieve a temporary pop of color.
10. Blonde Ringlet Curls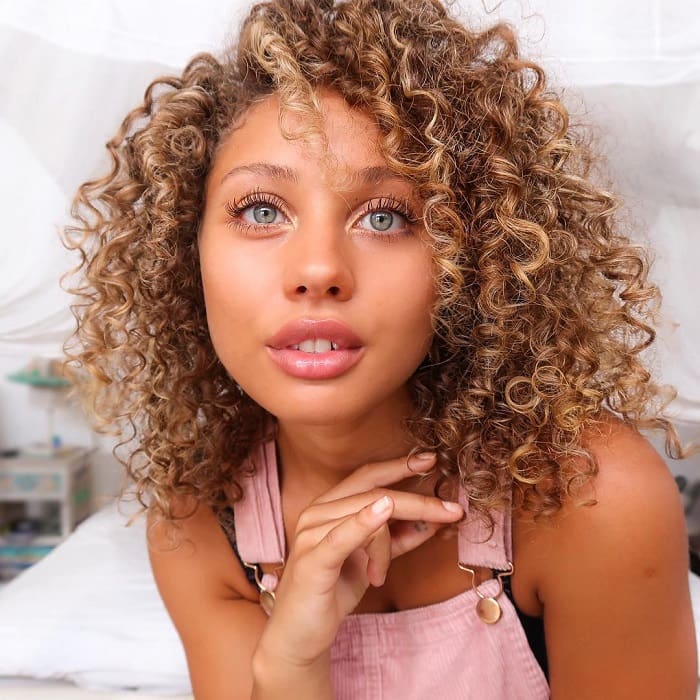 Some girls are lucky enough to have natural ringlets, whilst other girls need a bit of help to shape their curls into the traditional ringlet shape. The result is certainly worth it though, ringlets are one of the most enviable types of curl! This is one of the most beautiful hairstyles for black girls with short curls.
Short curly hairstyles can work on all sorts of hair types, and these ones are particularly suited to black girls and afro-textured hair.
All sorts of looks can be achieved from natural to super edgy so there's sure to be one that matches up with your personality. So which one of these black girls short curly hairdo are you gonna try?