Black girl ponytails are the classiest out of all the hairstyles to ever exist. They maintain their simplicity while being extremely chic and stylish in their very own way.
If you think that ponytails can be quite boring and are appropriate for only when you're staying at home, then you are definitely not enlightened by the beautiful ideas and tricks to beautify your simple ponytails that can be worn at almost any event.
The easy to make hairstyles will add extra style and attraction to your overall look. Even when your hair is not in the best condition, ponytails can be your saviors while looking extremely creative.
Trendy Ponytail Hairstyles for Black Girls
If you are looking for black girls ponytail hairstyles that also compliment your face shape and are specifically suitable for black girls, then this is the place for you. Without further ado, let's get right into it,
This hairstyle is as simple as it sounds; it consists of a classic high ponytail for black girls that further proceeds down to a simple fluffy braid. The simplicity of this hairstyle has its own beauty.
#2. Half Ponytail
If you are looking for something that will make your hair look longer as well as properly secured that they don't get into your eyes, then this black girl ponytail hairstyle is the one for you. All you have to do is tie up the upper section of your hair and voila, you're done.
#3. Bubble Braid Ponytail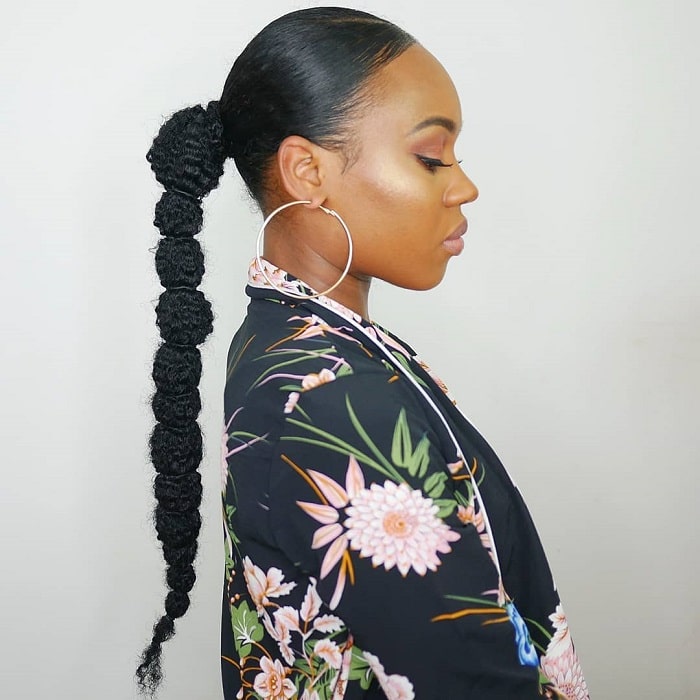 The adorable combination of bubble braids and a ponytail is the epitome of cute long hairstyles for black girls that will make you look bubbly, alive and stylish at the same time.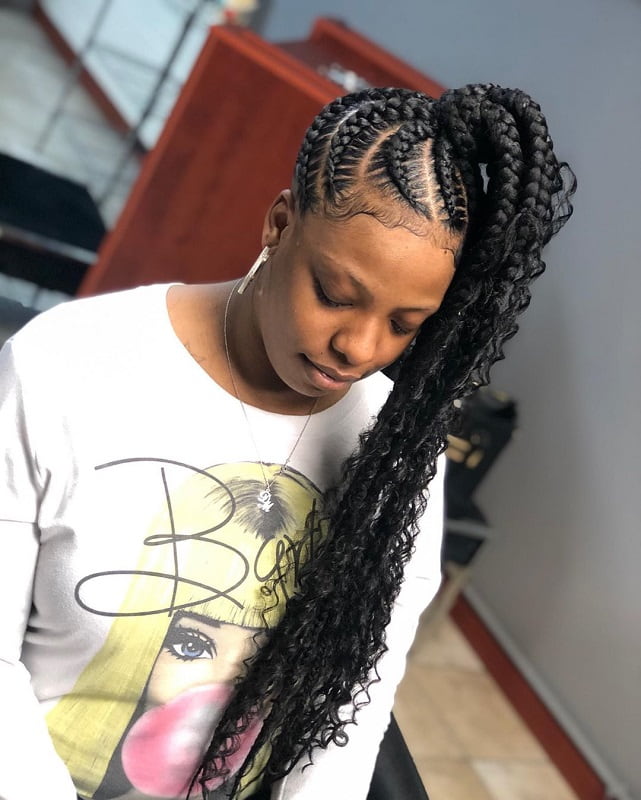 The tightly secured cornrows are a classic as well and when two classics combine, you end up getting the most creative and sexy looking black girl ponytail. Cornrows are famous among black girls so this combination will keep the trend alive.
#5. Mohawk Ponytails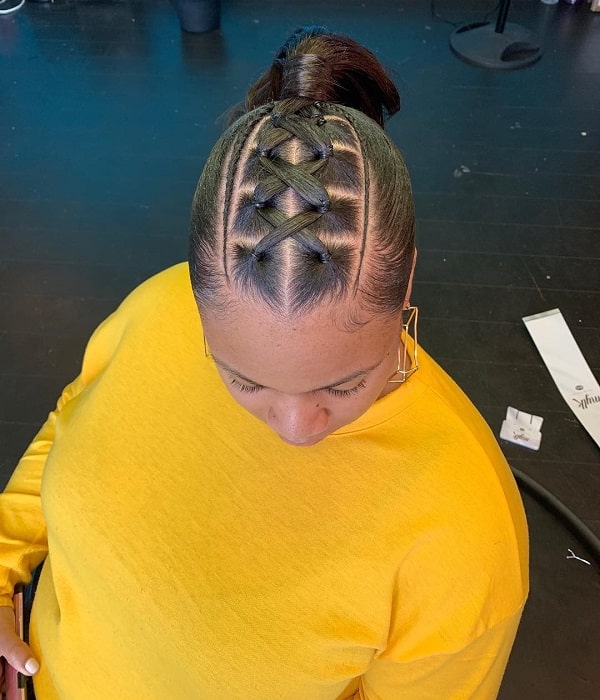 Sometimes a simple old ponytail just isn't enough, adding a bit of your own touch or twist and turns to the ponytail can make it look unique and stylish. All you have to do is part your hair on the top of your head into several sections, cross them over each other and join them to the lower sections. In the end, just tie up all the remaining ends into a ponytail.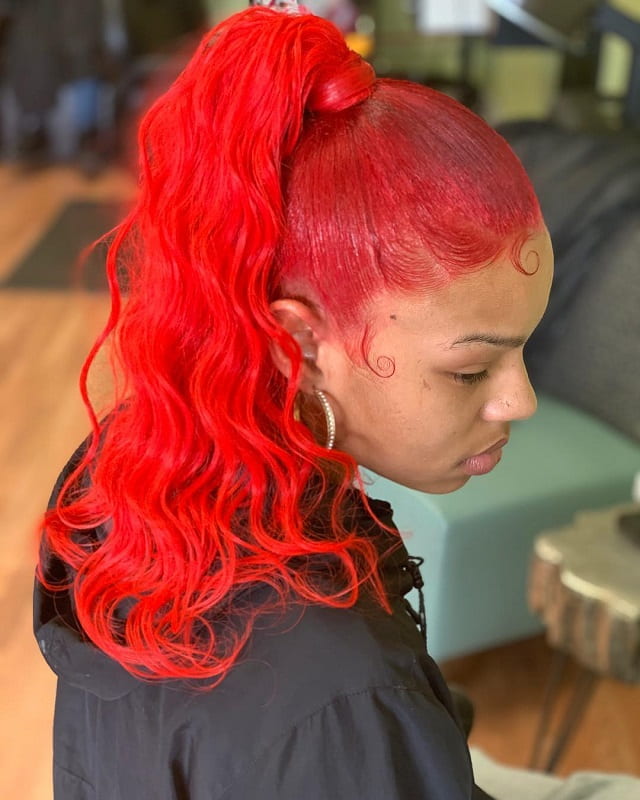 Spice things up with a few vibrant colors. Go for a classic high ponytail for black girls with your dyed hair so you can stand out and impress others with your creativity.
#7. Side Shaved Box Braids Ponytail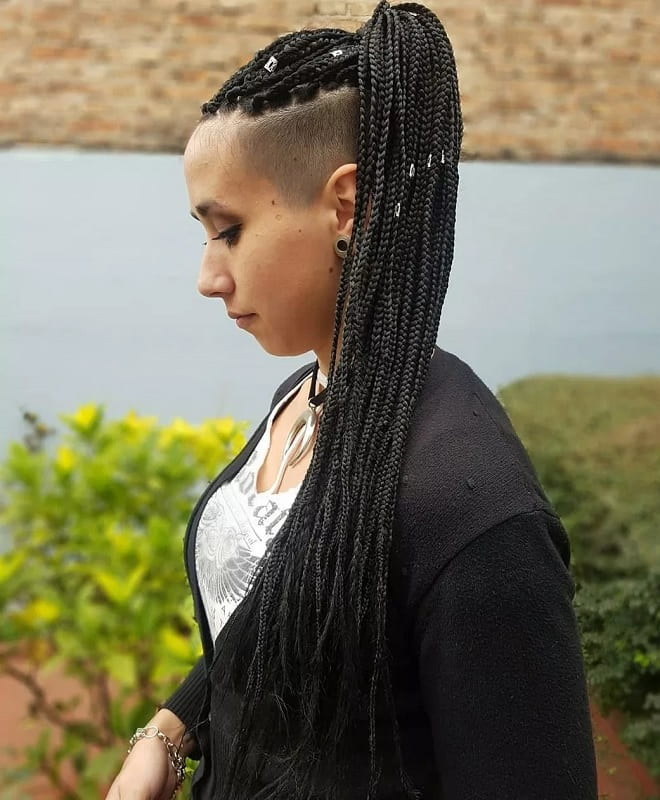 This black girl ponytail style has got to be the most secured hairstyle of all time as it rocks a bunch of tightly made boxer braids, with the hair shaved from the sides of the head, which will prevent the hair from getting in your face or your eyes.
#8. Center Braided Ponytail
Add a bit of beauty to the simple ponytails by braiding the hair from the top and then tying them down to a ponytail. This hairstyle for black girls will not only be easy to achieve but also very unique and stylish.
#9. Multiple Twist High Ponytails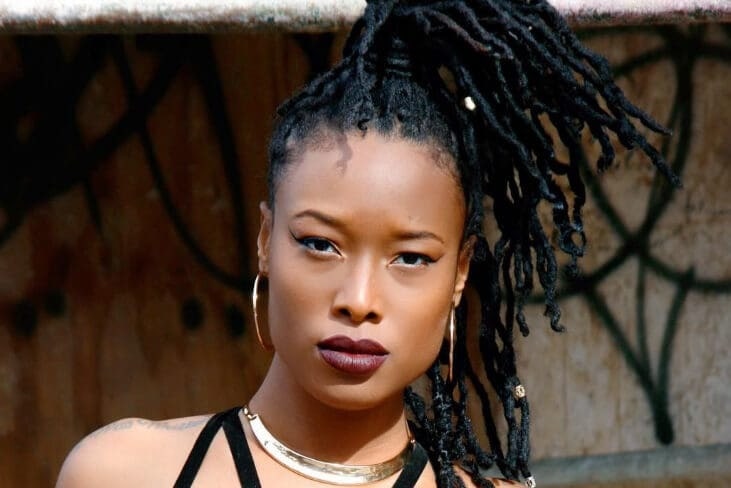 This easy to achieve hairstyle could be the next hairstyle that everyone obsesses over due to its unique yet carefree style. All you have to do is tie up a ponytail and twist the hair into multiple thick strands and secure them from the bottom.
#10. Classic High Ponytails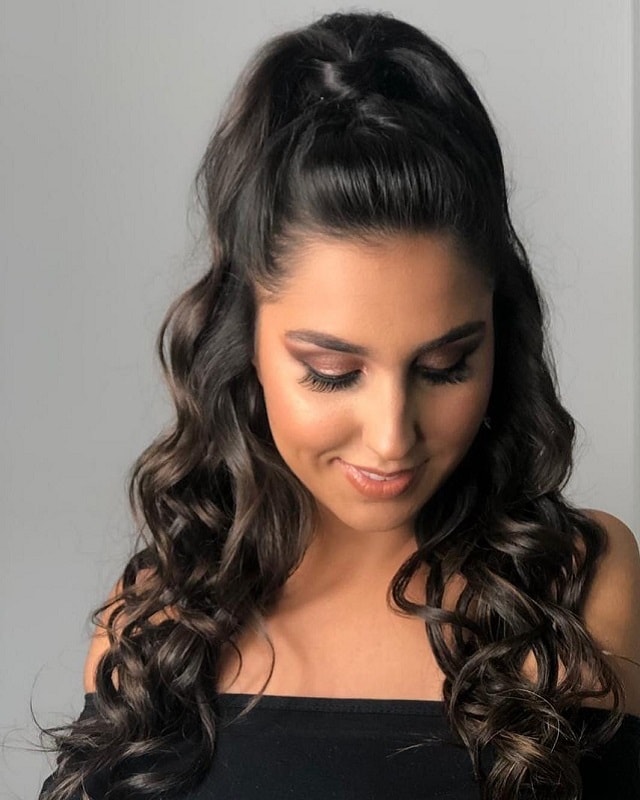 Just go with the simple good old classic high ponytail to keep things natural and plain. The classic high black girls ponytail hairstyle has its own beauty and class that will definitely make you look effortlessly stylish.
#11. Rope Braid Ponytails
There is nothing like a unique mixture of rope braids and high ponytails. Not only is it easy to make but also very helpful in making you look extremely classy and bold.
#12. Fluffy Ponytails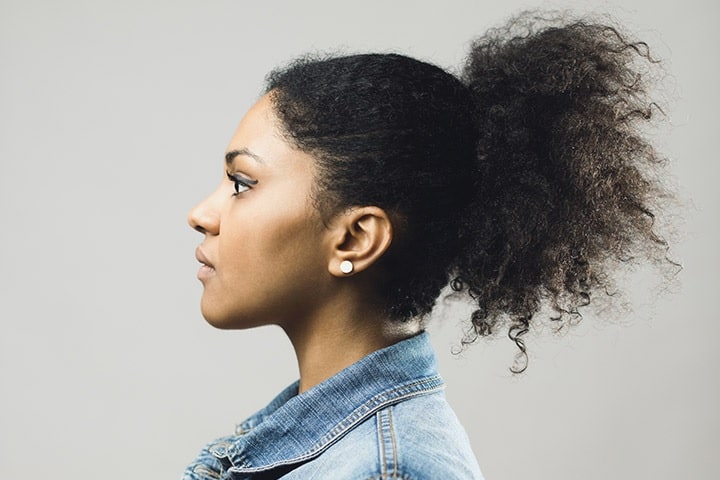 Fluff up that plain old ponytail for black girls to add a bit of cuteness to the look. This hairstyle will make you look carefree yet very presentable for any casual event or outing while being extremely easy on the hands.
#13. Fishtail Braid Ponytails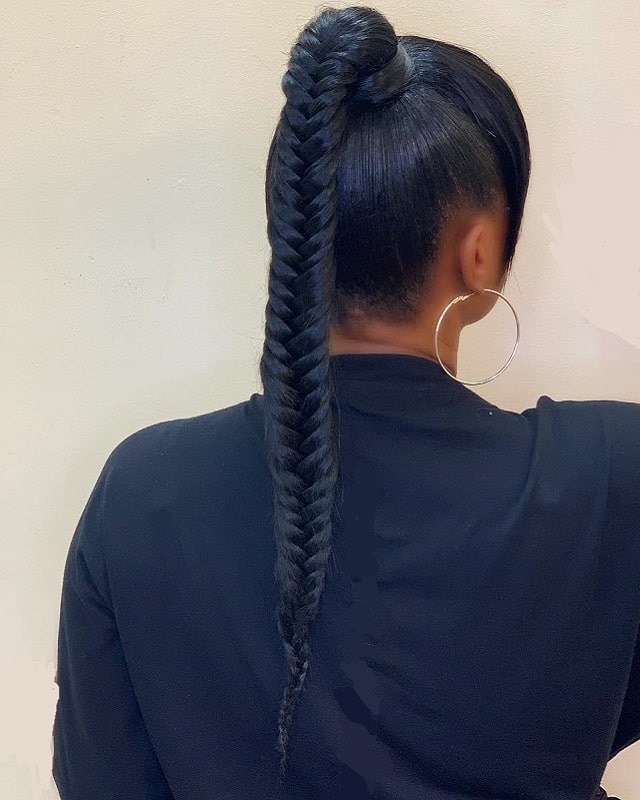 Fishtail braids have been a classic in the braiding department and when two classics collide, the result in the most creative yet easy hairstyle. Just tie down your ponytail into a fishtail braid and here you have it, a well secured and fashionable hairstyle.
#14. Pul Through Braided Ponytail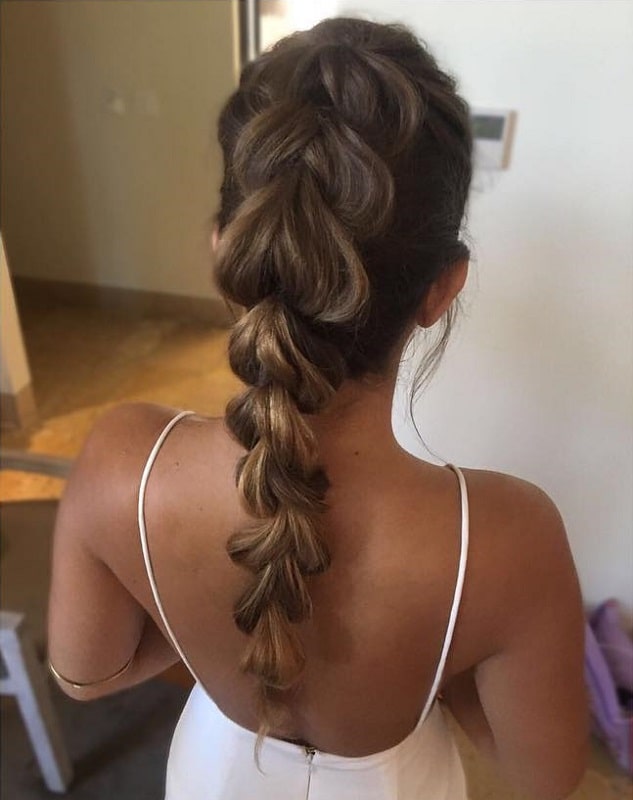 This black girl ponytail braided hairstyle is the one for you if you look forward to adding a feminine touch to your look. All you need to do is tie your hair down into an upside-down braid and fluff it up a little, and you're done.
#15. Sleek Straight Ponytails
Simple sleek straight ponytails have their own way of making the person look extremely bold and classy. This ponytail hairstyle for black girls with weave basically screams class and has a high-end vibe to it. It is the perfect hairstyle if you are going to a night time date or just a fancy high-end party.
FAQs on
Q1. Are these hairstyles suitable for black girls?
Ans. Yes, it is definitely suitable for black girls as they compliment the classy and stylish personalities as well as being the perfect hairstyle to keep all the hair in place.
Q2. Will a boxer braid ponytail look good on a black girl?
Ans. As the boxer braids are quite liked among the black girls, the boxer braid ponytail will be very much loved and appreciated.
Q3. Are these hairstyles time-consuming?
Ans. Definitely not, all these hairstyles will take up to maximum 10 minutes to achieve.
Now that you know about these amazing ponytail hairstyles for black girls, don't forget to try them on and choose the best one for yourself. Don't hesitate to experiment with your hair to try these different styles for any event or occasion.
We hope that these black girl ponytail hairstyles would help you on your way to finding and trying out the best hairstyles that not only look good on you but also keep your hair in place.