Curly hairstyles suggested to black girls are sometimes different from those suggested for Asian or Caucasian hair as black hair performs differently with tools and products. Finding a suitable curly hairstyle that works with, not against the black hair is crucial for success.
Curly Hairstyle Ideas for Black Girls
These are the trendiest curly hairstyles for black girls to copy in 2023.
1. Short Afro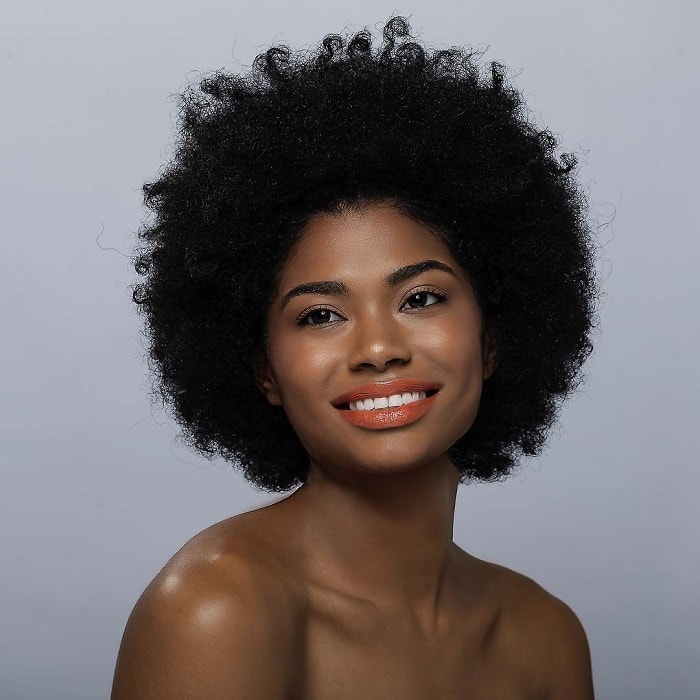 Embracing black hair and shaping it into a round afro shape is becoming more and more popular and rightly so.
The Afro embraces natural black hair and shows off its unique properties and texture, finding a stylist who knows how to cut black, afro curly hair will be key to achieving this look but definitely worth it.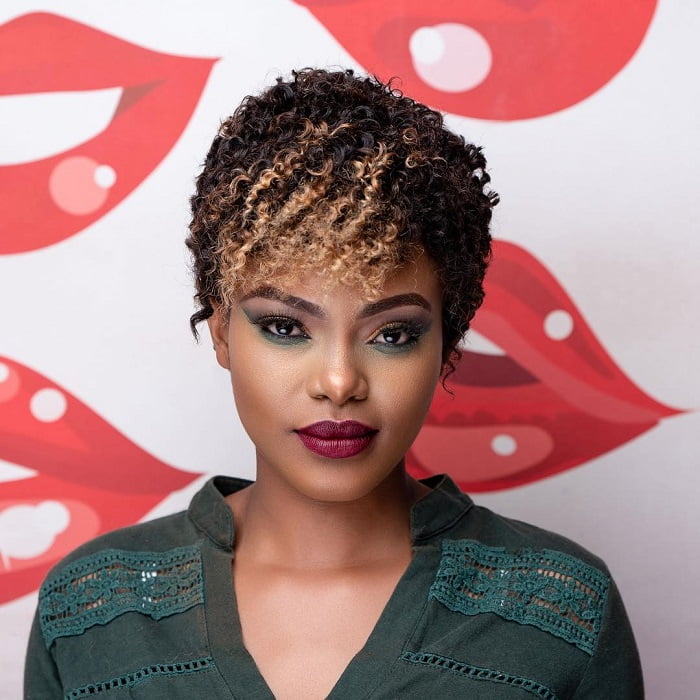 Black girls with curly hair often tend towards very short shaved looks or longer braids, but this doesn't have to be the case. With careful cutting you can achieve a short, not shaved, look that shows off the curls.
3. Curly Updo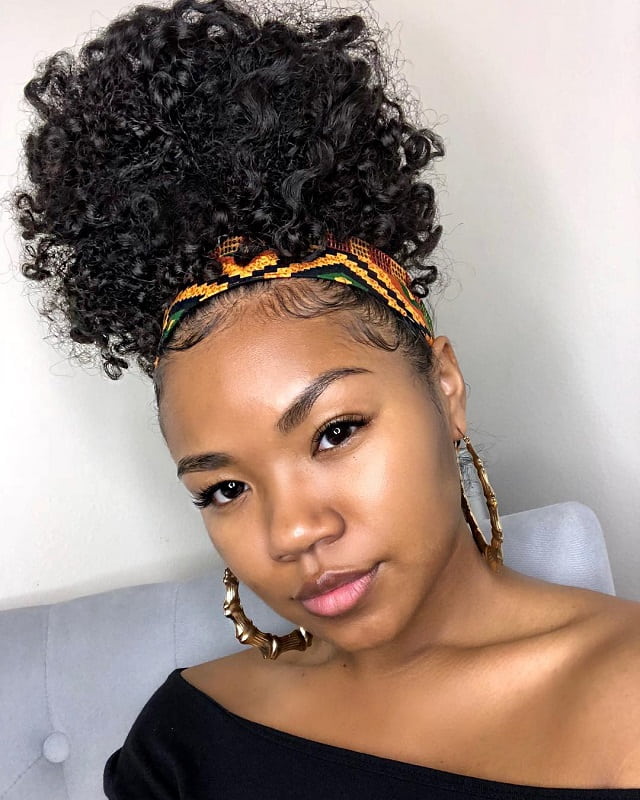 Piling all the curls on top of the head and securing them in place helps to keep hair off the neck and away from the face which can be useful for sports, school or warmer weather. Adding accessories such as hairbands can be a way to dress the look up or down to suit the occasion.
4. Braid and Bun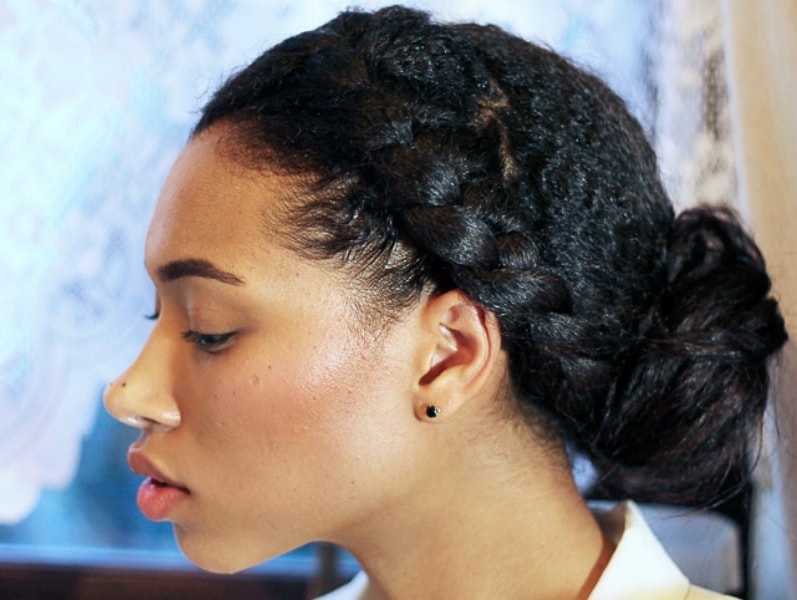 For situations where you need to keep hair contained and neat, using braids and buns to do so is a great way to work with curly hairstyles for black hair. Thick braids on black curls are a great way to showcase the beautiful texture of the hair whilst also keeping the style practical.
Black girl curly hairstyles can utilize specialized braiding techniques for afro hair, such as cornrows. This particular style shows just the very front of the hair contained in braids which is a good option if you still want to be able to show off some of the curly texture of the hair but need the front to be easily contained.
6. Side Braid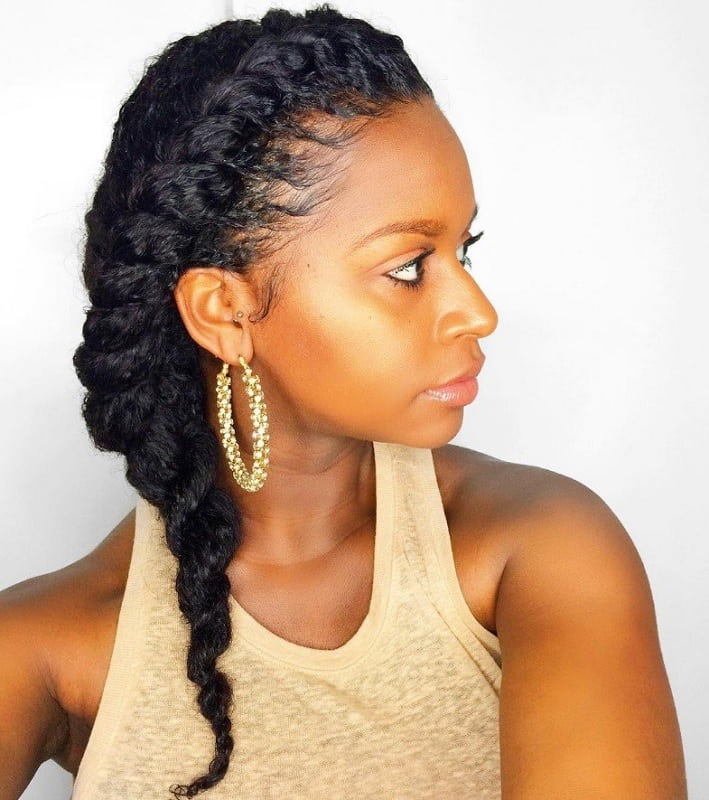 Side braids are a great look on many hair types and there are a lot of different braiding techniques that can be used.
This side braid shows a twisting technique which is a good option for afro hair as it maintains much of the texture of the hair whilst also containing it within a braid, and the result is very pretty.
Originally a boy's hairstyle, the Mohawk is currently enjoying popularity amongst girls too and there's no reason for girls with curly or afro hair to miss out.
In fact, black girls curly hair makes an excellent mohawk contrasting sharply with shaved sides. This is a very bold look, well suited to bold personalities.
8. Faux Hawk
Maybe you like the look of the Mohawk but don't want something as permanent, or you'd like a mohawk for a special event or occasion; the faux-hawk could be the answer. Instead of cutting or shaving the sides, tight braids contain the hair at the sides and the strip down the middle is left loose.
This style is so striking on curly afro hair too as it really showcases the curls and texture of the hair by contrasting it with the tightly controlled sides.
9. Double Buns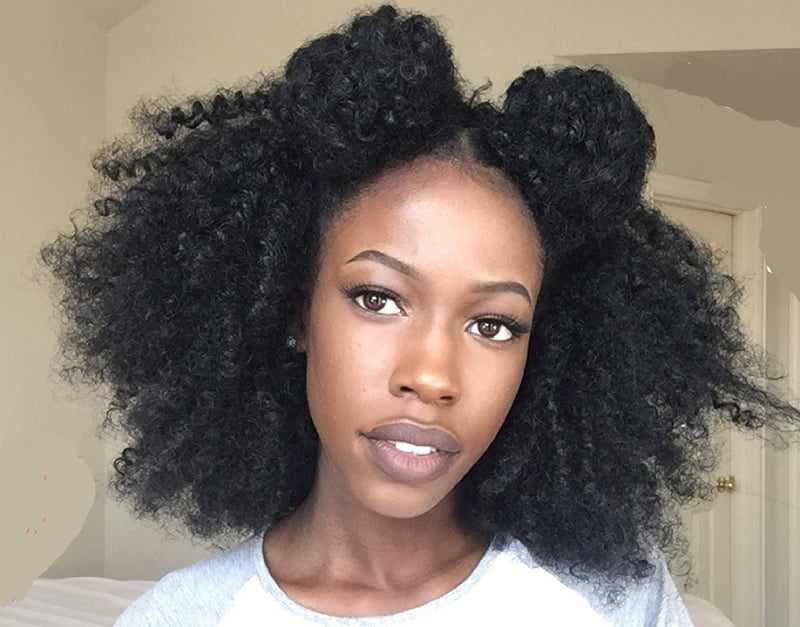 If you want to leave hair loose to show off its natural curls and unique texture, but need to keep it clear off your face there are lots of styles that can draw the hair back from the face.
The double bun look is quite popular and great for working with curly or afro hair too as it allows you to make buns by working with the natural sections and divisions of the hair.
10. Half Dutch Braided Pigtails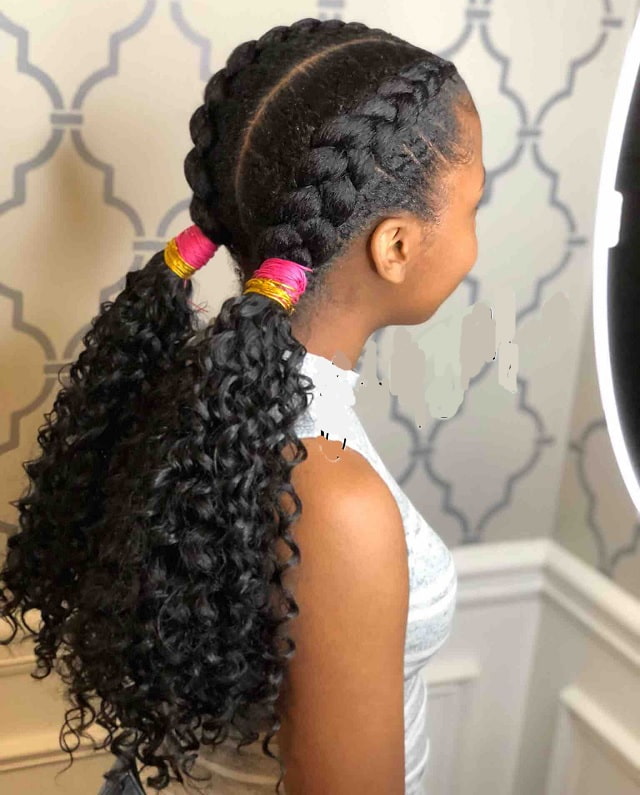 Dutch braiding is a technique that weaves the hair over and under itself and makes the braid sit up on top of the hair. This is great for curly hairstyle for black girls as it keeps the hair neat but doesn't squash the texture.
If you want to show off some more of the hair's natural texture then finishing the braid at the nape of the neck and tying it off is a great way to do so.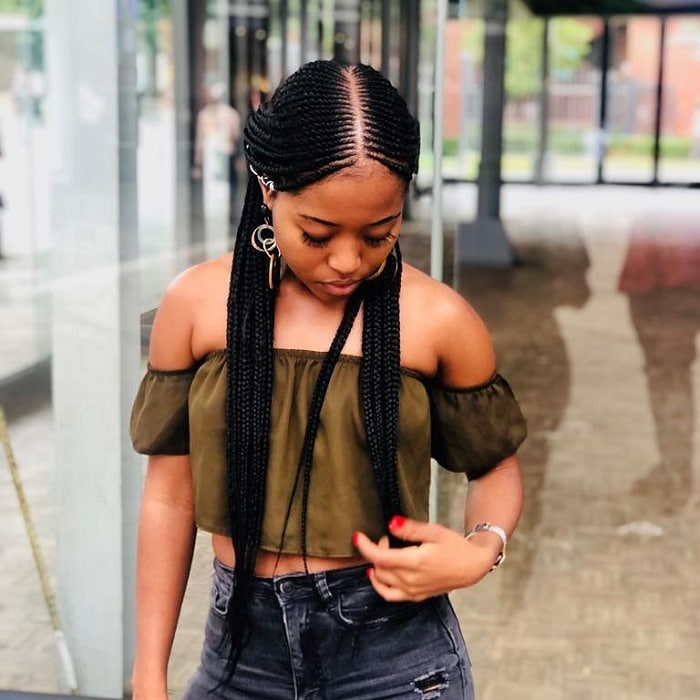 The great thing about using lots of tiny braids is that extensions can be added very easily and can be blended to look very natural.
So, if you want super long lengths without growing your hair out then using tiny braids to get the look is a great way to do so. These braids are also a fantastic way of keeping hair neat and can be styled too.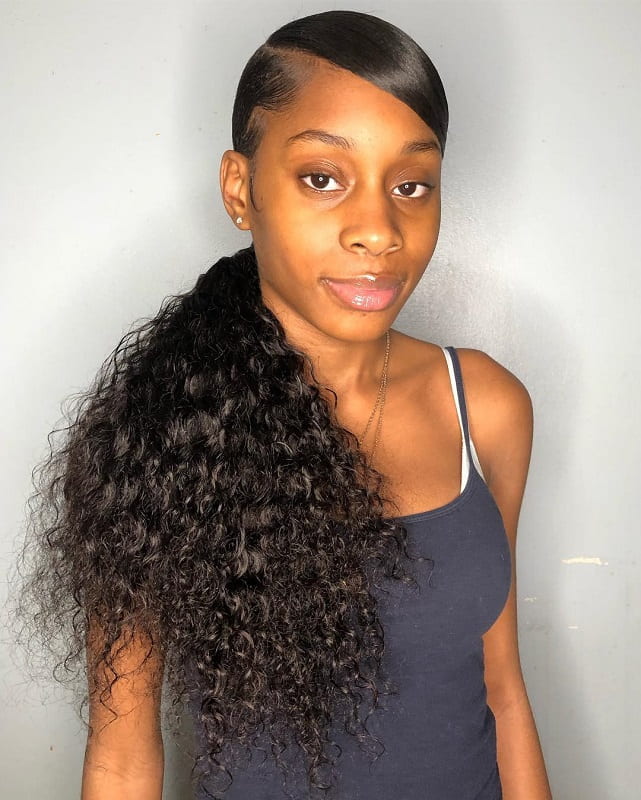 Slicking hair back on top and tying it tightly into a ponytail is a way to keep it looking very neat and professional. The ponytail itself can show off the hair's natural texture and curls but will keep it away from the face, so is very useful for sports and school.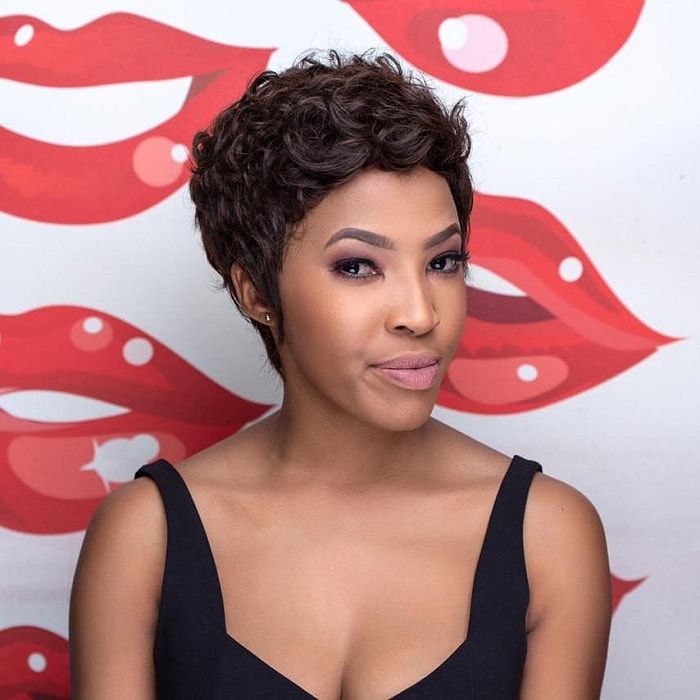 Black girl curly hairstyles often miss out the pixie cut with a mistaken idea that the cut is only for Caucasian hair but with an experienced stylist, the pixie cut is definitely achievable on black or afro hair.
The pixie cut is super popular right now, and with good reason, it's bold and different but also very flattering.
14. Twisted Half Updo
There are many different braiding techniques available for black girls with curly hair, and these twisted braids are a lovely way of keeping some texture whilst gaining more control over the hair.
15. High Ponytail
A high ponytail is fabulous for sports or hot weather but can also be dressed up to look very professional and suitable for special occasions. If you have beautiful natural curls or afro hair then this really adds to the look of the high ponytail.
Black girl curly hairstyles are becoming much more diverse as new techniques of cutting, relaxing and braiding are developed. With such an array of styles to choose from, there's sure to be something that will suit your personality, needs, and hair.