There is an abundance of styles to choose from when it comes to black boy's mohawk. Styling your boy's hair completely depends on his personal style and texture of his hair.
Today, If you are siding towards a hairstyle that looks cool and edgy, we suggest mohawks for black boys. It's the ideal hairstyle for your boy to look stylish and handsome whilst being completely downright trendy.
Best Mohawk Haircuts for Black Boys
We have the best of black Mohawk hairstyles for boys hair. Have a look and draw inspiration for your next look.
1. Curly Hair Mohawk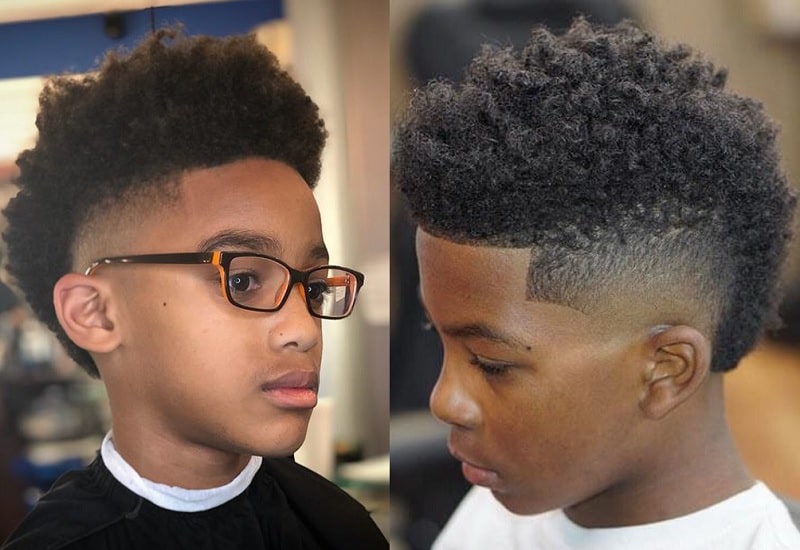 If your son has tight curls, this mohawk hairstyle is perfect for black boys with curls. This haircut allows the hair to have a certain amount of length, making it perfect for the curls to show.
While the high skin fade balances out the hair on the crown and also completes the mohawk look, this haircut is perfect for when your boy is in school, as it isn't extremely fancy.
2. Mohawk with 3D Details
The best way to pick a hairstyle is by trying to understand what your son likes and isn't fond of. This black kids mohawk hairstyle is a little bit bolder than the previous ones listed.
If your son isn't afraid of some extra oomph, this hairstyle is apt for him. The details add an extra eye-catching element to the otherwise mundane mohawk.
3. High Skin Fade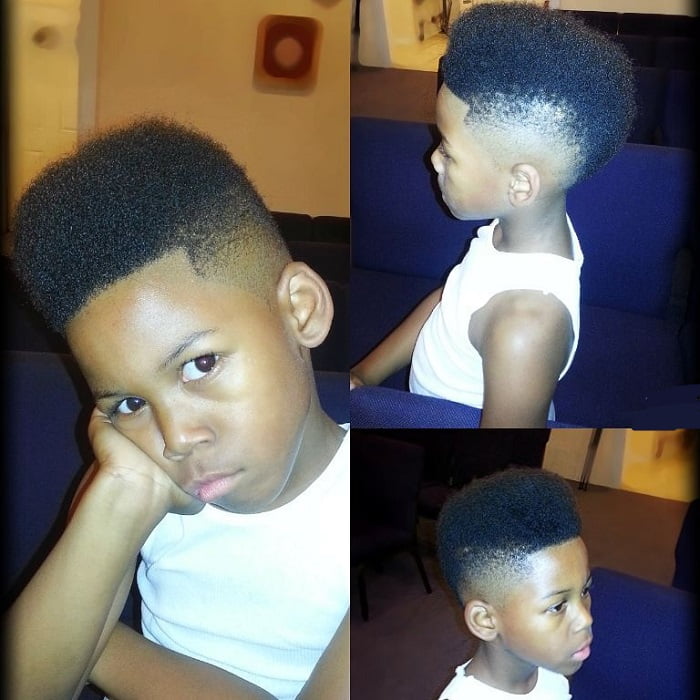 If you notice, the twists are like really small miniature curls. The best way to highlight those curls is to opt for a Mohawk for black boys.
The skin fade that starts high compliments the twists on the crown area. This hairstyle is simple yet trendy and stylish, perfect for school and any other occasion.
4. Graphic Mohawk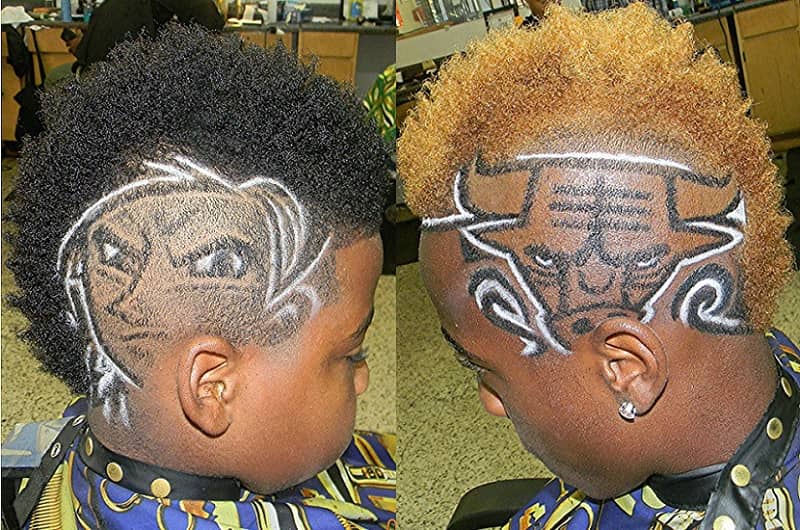 There is nothing that's too much, especially when you are a young toddler. This black boy's mohawk haircut is truly one of its kinds. With the hair at the sides shaped in different cartoon/ anime characters, this mohawk is a kid-pleaser.
This haircut is perfect for summertime wear your kid has the freedom to do whatever with his hair. Even though this mohawk haircut is quite out there, there is no denying that it's cute.
If your boy prefers his hair comparatively short, this hairstyle couldn't be more perfect for him. This black mohawk for little boys allows your son to keep his hair extremely short.
At the same time, the details on the side right before the skin fade adds the edginess to the haircut. This haircut is perfect for any occasion and can be worn anywhere.
Frohawk is exactly what its name suggests. This boy's mohawk haircut for black hair is a mix of an Afro and a mohawk. The hair on the crown is an inspiration of an Afro cut, but the skin fade is an inspiration from the mohawk hairstyle.
If your son already has an afro and wants a little change, this haircut is a perfect transformation into edgy and cool.
7. Dreads and Mohawks
This black boy mohawk is a perfect alternative for your boy if he already has dreads. This mohawk inspired hairstyle, bold, and fun.
The dreads, details, and the skin fade are all elements that go extremely well with each other. If your boy doesn't mind pulling attention this way, this haircut is perfect for him.
Trendy Hairstyle Ideas for Tween Boys
8. Blonde Mohawk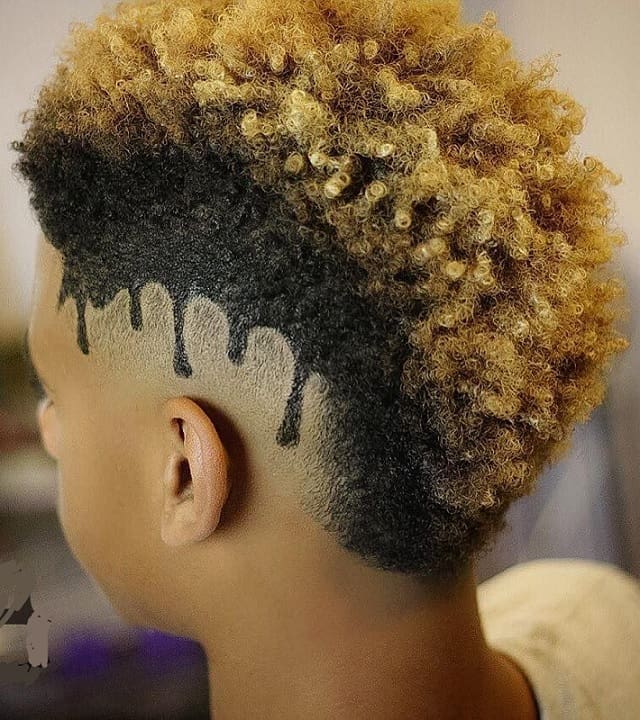 The drip has recently become a trend in everything you can possibly imagine. You see it in designer edits, in the makeup industry and now, it's taking over the hairstyle industry too.
This mohawk hairstyle is extremely recent and more in trend now than ever. The drip side has a trendy modern element paired with tight ringlet curls that complement the fade.
9. Pink Mohawk
A great way to change haircuts and hairstyles up is by adding color to it. Pink is a color that goes extremely well with dark skin tones and looks even better against black hair. This black boy mohawk haircut and style is trendy and fun.
The pink hair gives an illusion of a thin mohawk. The details on the side of the haircut draw attention to the entire haircut. This haircut is perfect for your son if he isn't afraid of a little bit of color.
Coolest Comb Over Hairstyles for Boys
10. Nature-Inspired Mohawk
This mohawk is unlike any other you will ever see. There is something extremely cool, edgy, and inviting about the tree detail on the faded sides. Its uniqueness really pulls you in.
If your son loves things that are out of the box and are one in a million, this mohawk hairstyle is a great option. With the medium length hair on the crown and nature-inspired detail, this hairstyle has everything to love.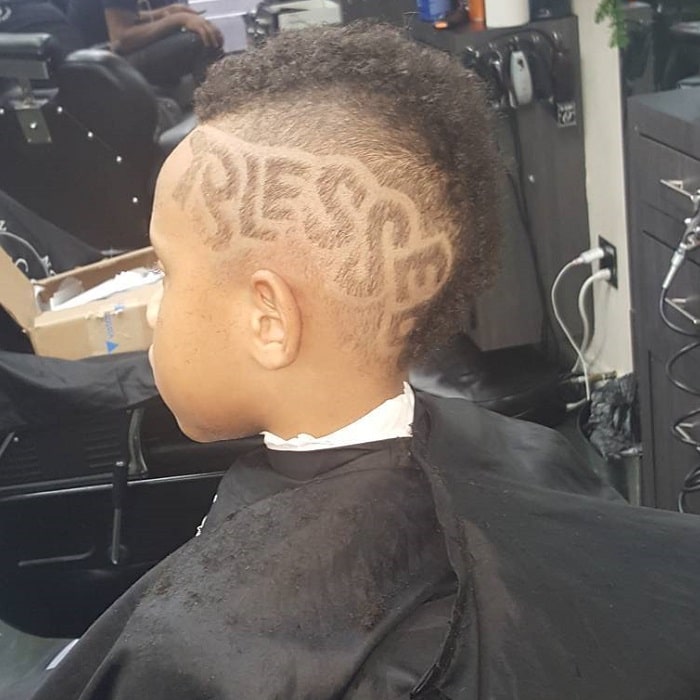 As time passes, one of the most interesting things about mohawks for little black boys is how they are evolving with each trend. The word "blessed" has gained so much importance over this year because it's a word of appreciation and reflection of life.
And to be a part of the hairstyle industry makes it even more interesting. If your boy is into the blessed hashtag trend, this haircut is going to make his beyond happy.
It's perfect for summertime when you don't have school rules to succumb to. The haircut fun and edgy at the same time.
12. Fire Tips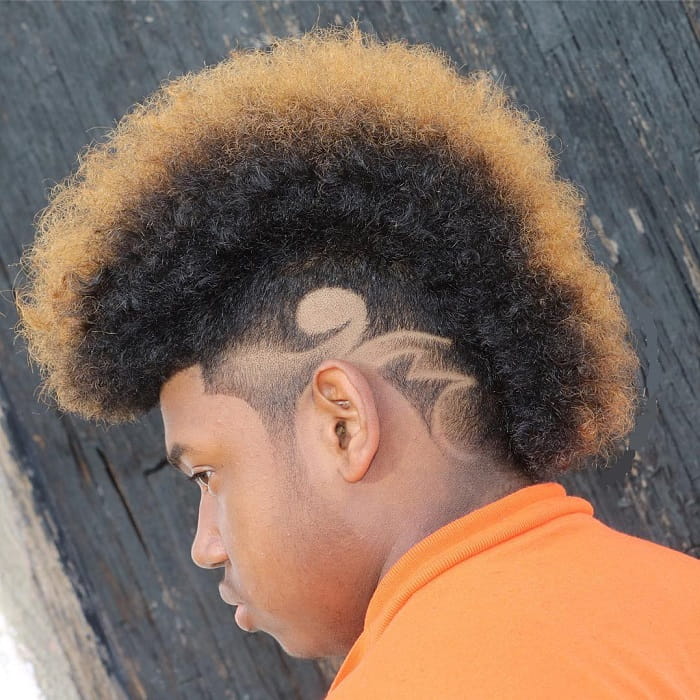 Black boys with mohawk haircut are already considered cool because at the end of the day they are opting for one of the punkiest and edgiest hairstyles that have ever existed.
If you want to turn it up a notch, fiery ends on the mohawk cut paired with details at the side is a great trendy idea.
Mohawks have been around for years and years, with different variations and styles. They have never ever gone out of styles, which is why it's safe to say the probably never will.
This year fades also gained so much attention, and fade goes extremely well with Mohawks, which is why a black boys mohawk style is ideal for getting at this moment.