Black boy haircut with designs are in great demand at the hairdressers because of their obvious appeal. These haircuts have a distinct imaginative touch which is absent in all other hairstyles.
They not only have the Afro hair set in place but also give a rich texture to the hair, making it look even healthier.
Latest Haircuts with Design for Black Boys
So, if your little champ wants a new haircut and you want to get him an adorable hair design then here are 8 amazing options for you.
1. Kinky Coils Taper Fade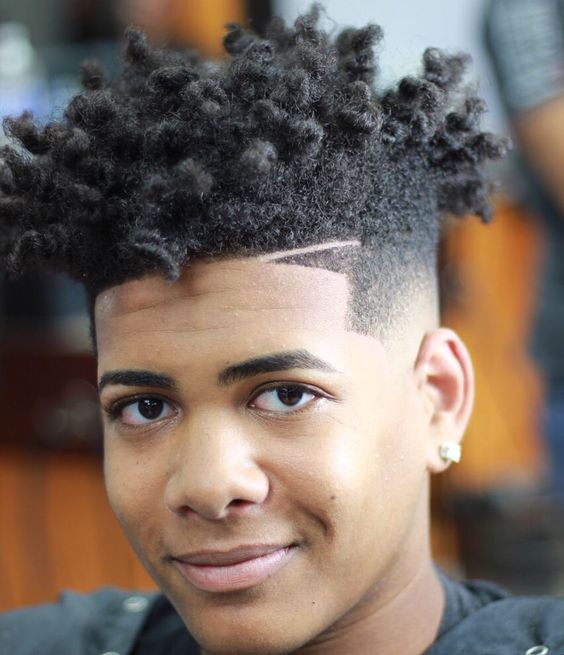 Now this fade is what the cool black boys want as their next hairstyle, isn't it? The natural curls are in the form of kinky coils and they look so funky when styled in this way. The coiled hair is cut to a medium length and the kinky coils are free to roam about.
This is complemented with the taper fade which begins with a tight wavy design. This is definitely one of the coolest hair designs for black boys as it flaunts their natural hair.
2. Curved Top with Design
Curved top looks even more impressive than the flat top. This curved mohawk haircut has a design in the side which makes it pop. The sides have a taper fade that creates a contrast with the curved top.
Attractive Curly Hairstyles for Black Boys
3. Afro Flat Top with Design
Flat tops look like they need a lot of work to reach the desired shape. But it is not entirely true!
The trick is to get your hairstylist to give the top a proper trimming which spreads an even length all over the top. Then you can easily comb the hair up with some wax to keep it in its place and shape.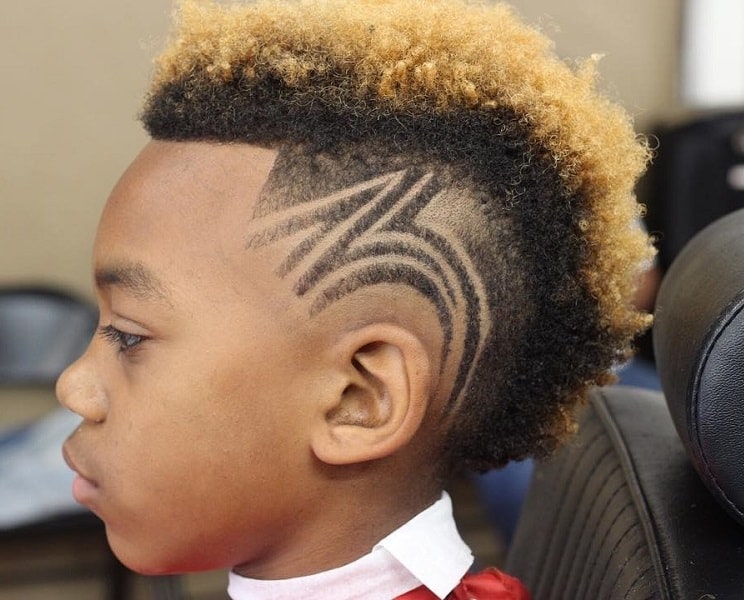 The twist hairstyles are undeniably cute as they have this artistic appearance which is hard to find anywhere else. The twists are dyed and this design hairstyle is perfect for the energetic black boys.
The twists might look somewhat untamed to some of you, so give a fade at the sides to avoid something very intense.
5. Afro with Designed Back
Black boy hairstyles with designs look even better when they have a natural Afro base to them. This Afro buzz is the best way of going for such haircuts as it retains the traditional black boy feel while bringing in some modern designs too.
The crew cut makes the hair quite short and the taper then makes the back prepared for the design. This is surely going to make your boy so popular that he will want to have this haircut for a long, long time.
6. Braided Ponytail with Undercut Fade
The black boys love braids as they knot up their messy hair so well. This haircut makes use of those braids and helps you put together an exquisite hairstyle.
The braids are small and thin with the sides marked by lined design. These hard lines are then followed by the skin fade which brings a boyish feel to this haircut.
This haircut for black boys has an impressive and artistic design. The curls are all coiled up into twists creating a very fascinating block design at the base. The sides and back have a skin fade which goes well with the patterned base.
8. Half Moon Design
This half moon design haircut is the most unique and attractive look for black boys on our list.
Your boy will love the way these uneven waves run along the length of his hair. Make sure the sides and back have a proper trimming to make this look perfect.
With so many amazing haircut designs for black boys, what else are you waiting for? Just go and get one of these!