Who says that only girls can do braids? Let's finish your gender stereotypes. There are so many braided hairstyles for boys too like box braids, cornrows, French braids and yes, fancy plaits; that can surely make kids look chicer and cooler.
There are various ways of styling black boy braids too. Black boys look cool and stylish with different braided hairstyles. The boys with very short hair can even have little plaits.
Little boys and young boys, both can have suitable look at these different kinds of braids. What's further, boy's braids can be styled in a simple way or in an artistic way.
Other than this, long braid strands can give so many options of creative weaving. Adding more, on hot days braided styling can give relief to kids too as all the hair is tied up neatly.
Best Braid Styles for Black Boys
If you have no idea of how to style your hair into braids for black boys, here you are going to know. Braidings require practice and skill. See ideas of awesome braided hairstyles below:
1. Long Graduated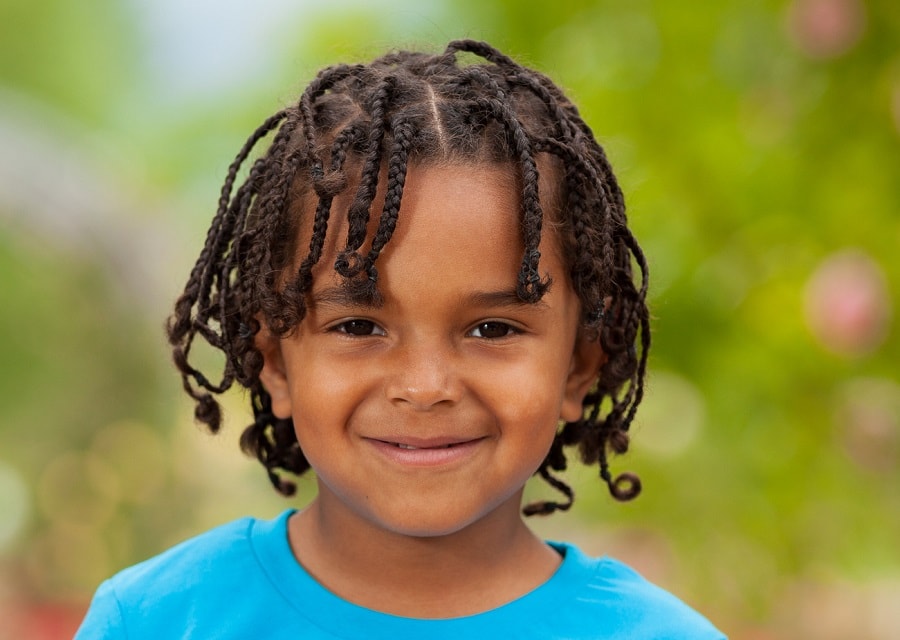 Braids for black boys let you grow the hair pretty long as it remains neat and protected. Have the hair shorter in the front to look like bangs.
At the back you can let the hair extend past the nape of the neck to look its absolute best.
2. Cornrow Bun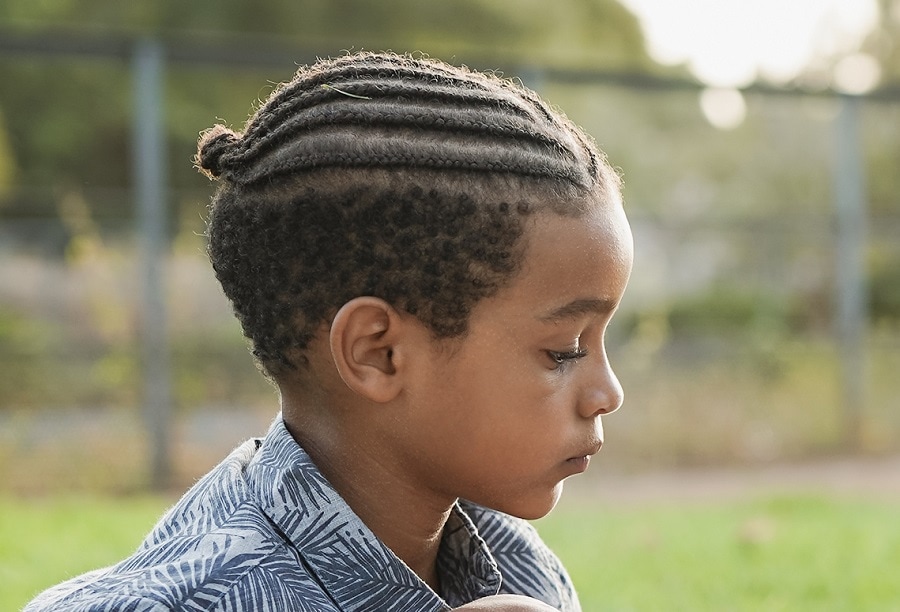 You don't have to braid all of the hair if you don't want to. These cornrows sit directly on top of the head and meet at the crown to form a bun.
The sides and back are short but you can still see a lot of the natural hair texture. It's a very grown-up look.
3. Flyaway Braids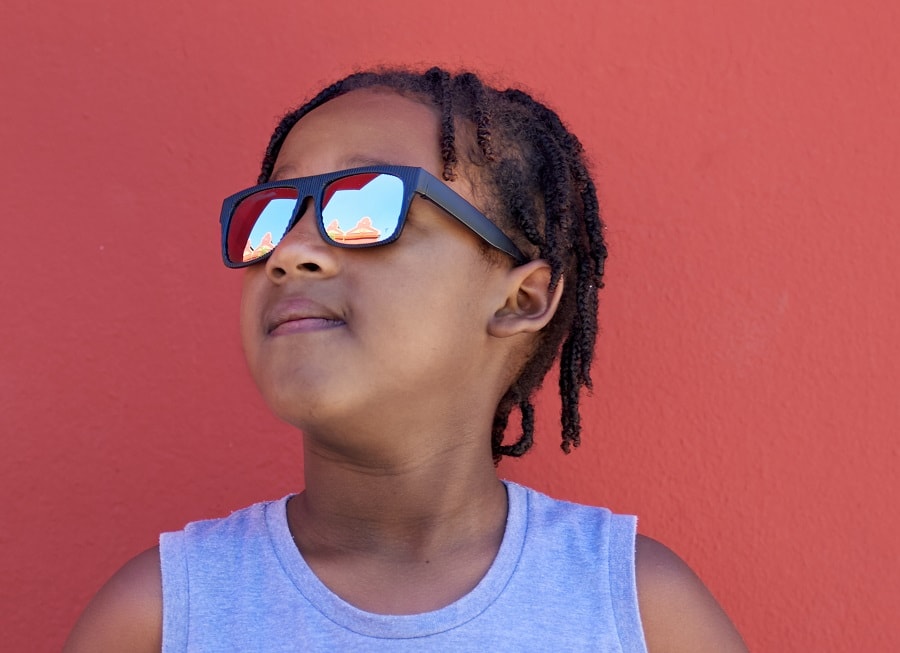 You can make the hair look a lot more natural by letting some flyaway hairs stick out. There are plenty visible on the scalp and on the tops of the plaits.
This graduated style has the sections short in the front. Behind the ears they grow much longer so your son will feel stylish.
4. Skinny Braids
Having thinner hair is sometimes an asset when you want to form protective styles. It means you can create these fashionable thin braids instead of thicker ones.
The hair has also been dyed a brown-gold color to make it stand out a little more. It still appears very natural and age-appropriate.
5. Stylish Shaved Sides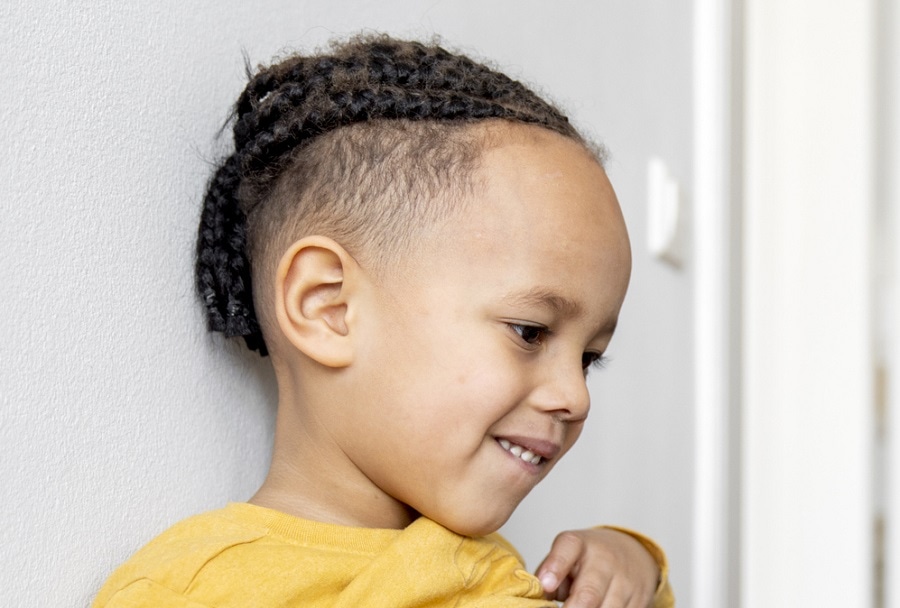 Shaved sides and undercut-inspired looks are in keeping with the latest trends. It helps the thick braids on top stand out more too.
The hair sections on top start thin and end thick. This offers a contrast to many of the common styles you'll see people wear.
6. Undercut Top Knot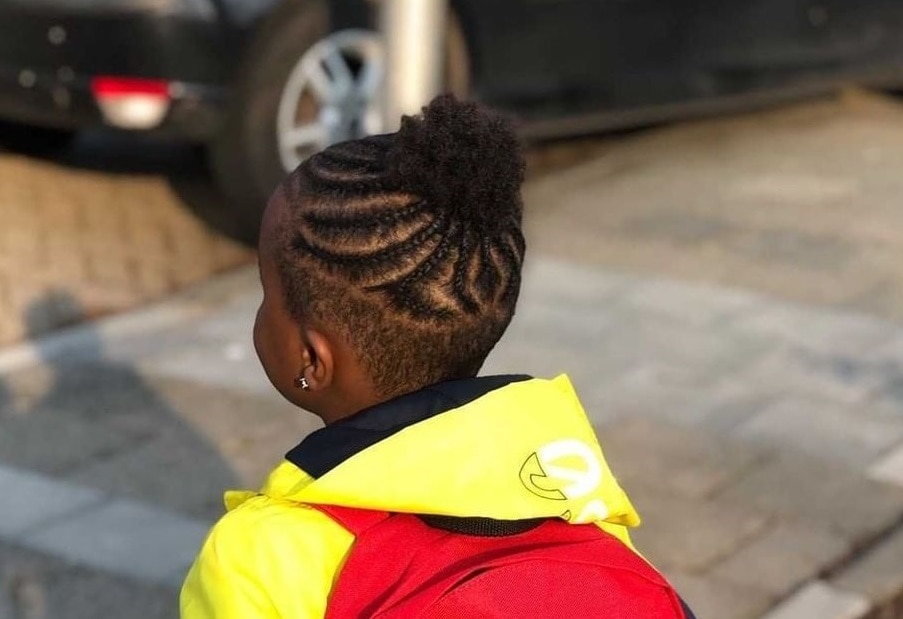 Here you see three styles in one. The shaved sides and back form an undercut. The top hair forms some braids that curve towards the crown of the head.
The hair is left natural as it's secured in a top knot. The curly texture is very sweet so it suits younger kids well.
7. Oval Braid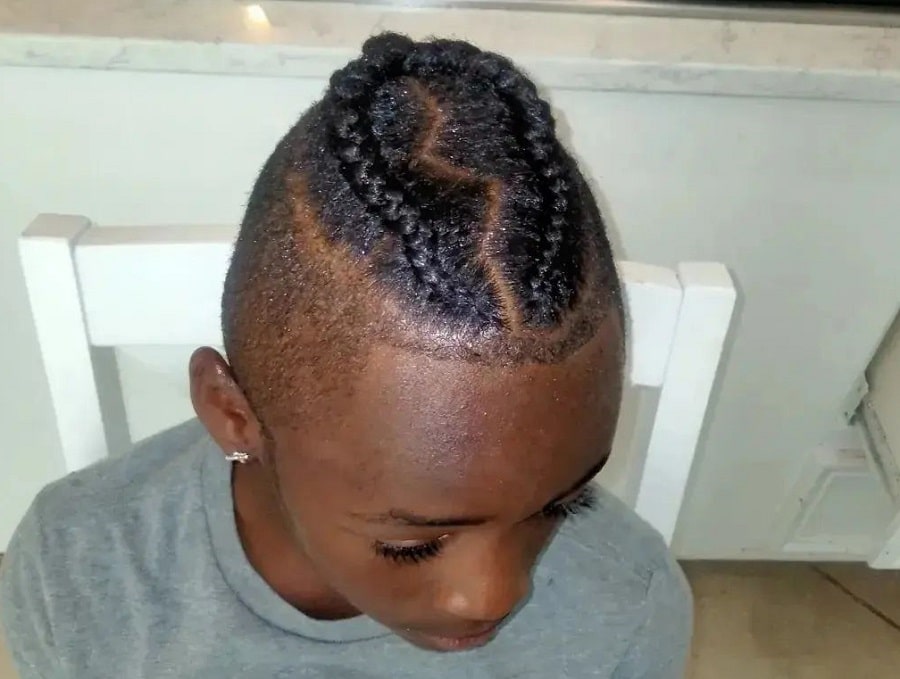 Hip styles that look good on teenagers can also be rocked by kids. There are only two braids in this black boy's hair and they meet at the crown of the head. They form an oval shape and the rest of the hair is shaved short.
8. Twisted Bun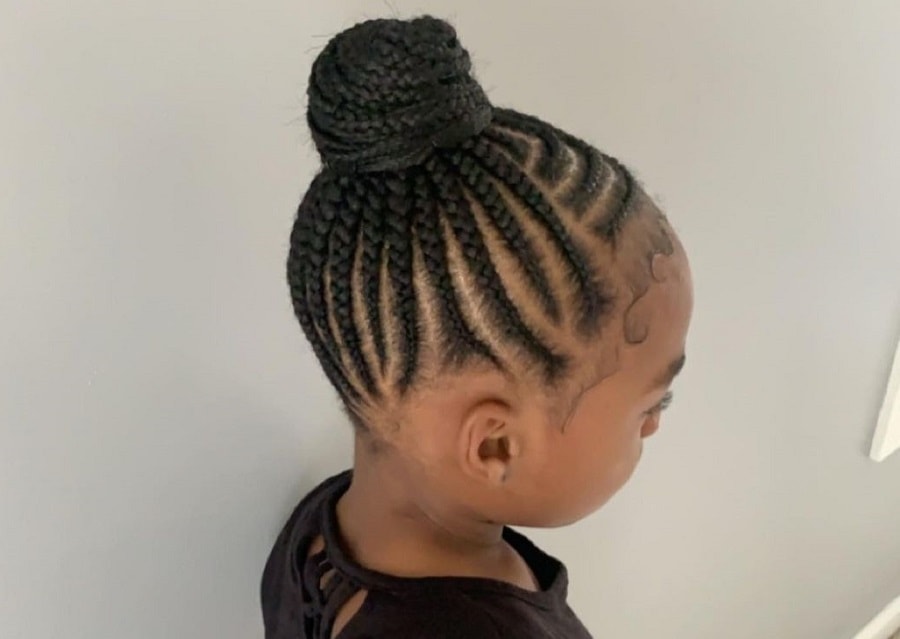 Buns are usually very simple but you can liven them up by how you style them. The braided sections swoop sideways before they're brought into the bun. The sides and back have a straight shape as they mix into the bun.
9. Red Pattern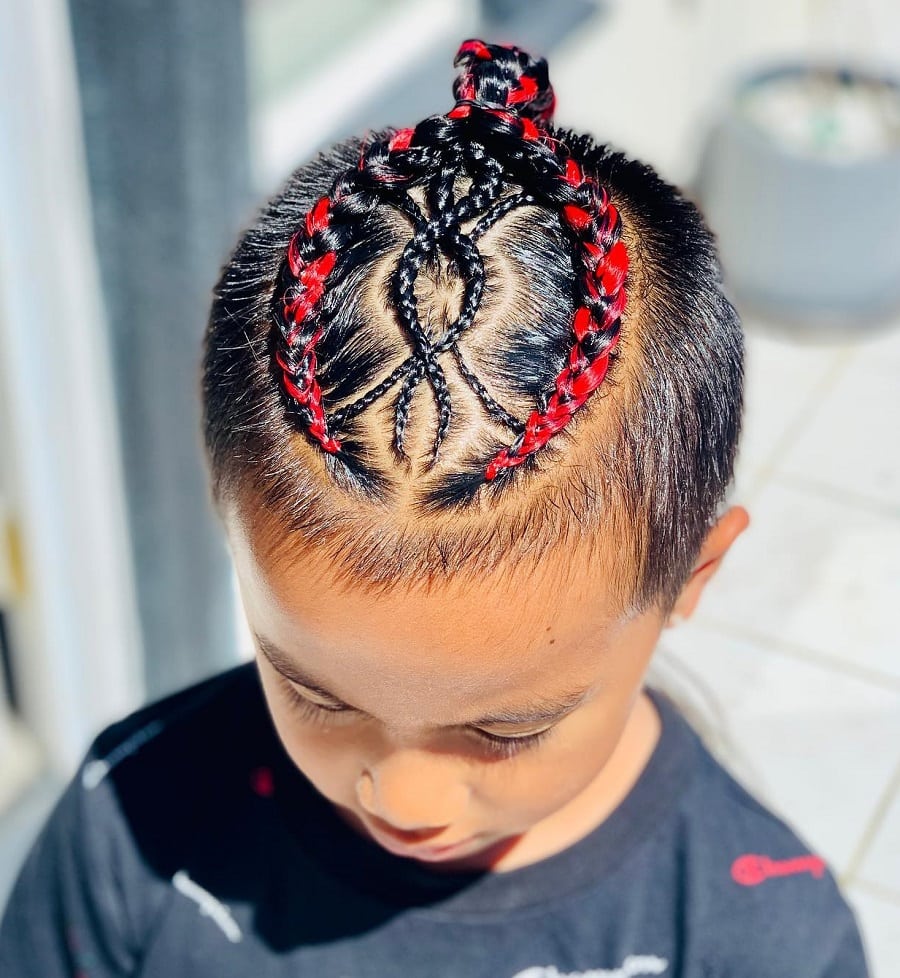 You can create fun patterns in your son's hair if you wish. He'll feel very confident and pleased with his look. Mix in some red extensions or dye some strands red.
Create a circle of braids on top of the head. Let a longer section extend down the back of the head. Create a braid pattern inside the circle.
10. Medium with Shaved Sides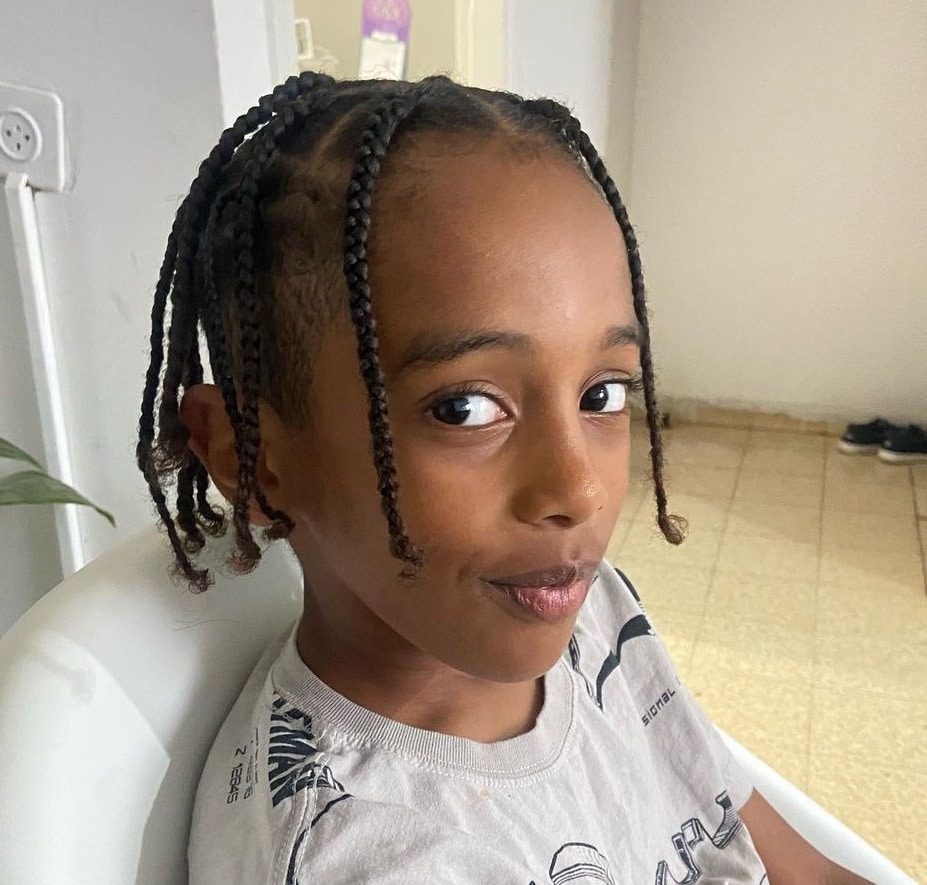 Shaving the sides of the hair makes it much easier to maintain braids. The back is also shaved here. The hair on top is taken in box-shaped sections to form medium-thickness plaits.
11. Thick Toddler Haircut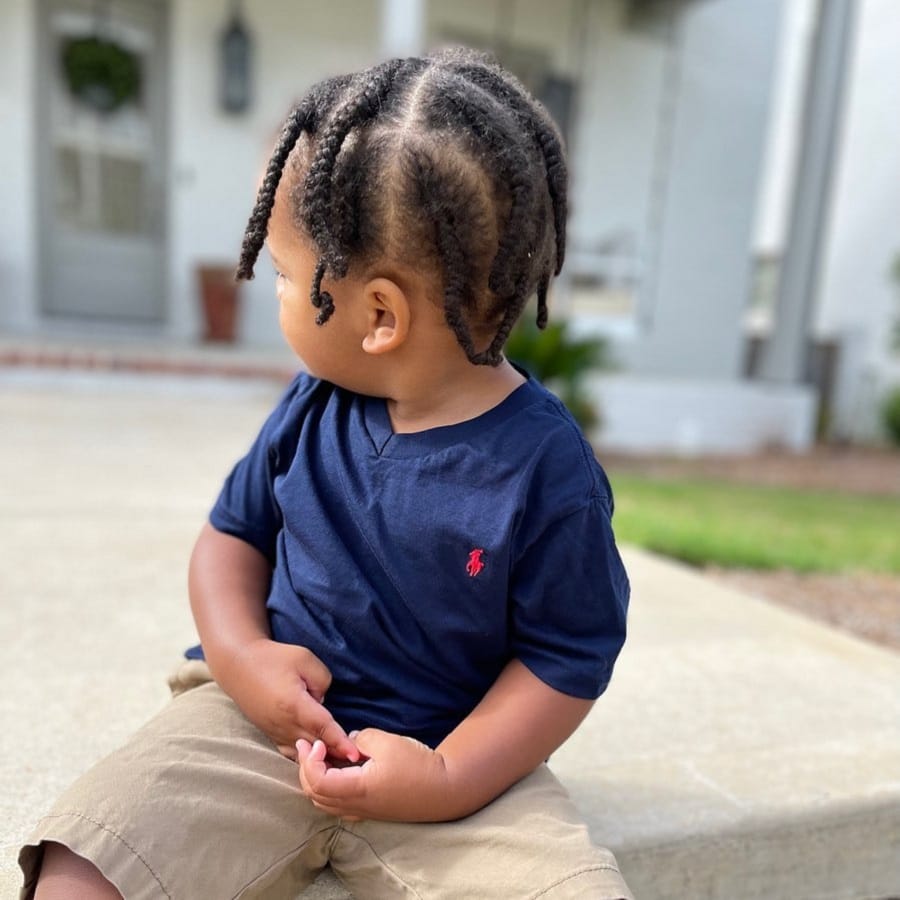 Toddler haircuts can be a little more carefree as toddlers are often messy. There are many flyaways near the roots and the hair's natural hair texture is slightly visible.
The sections themselves are thick and they form plaits of an even thickness. There are some skinner sections in front of the ears.
12. Long Box Braids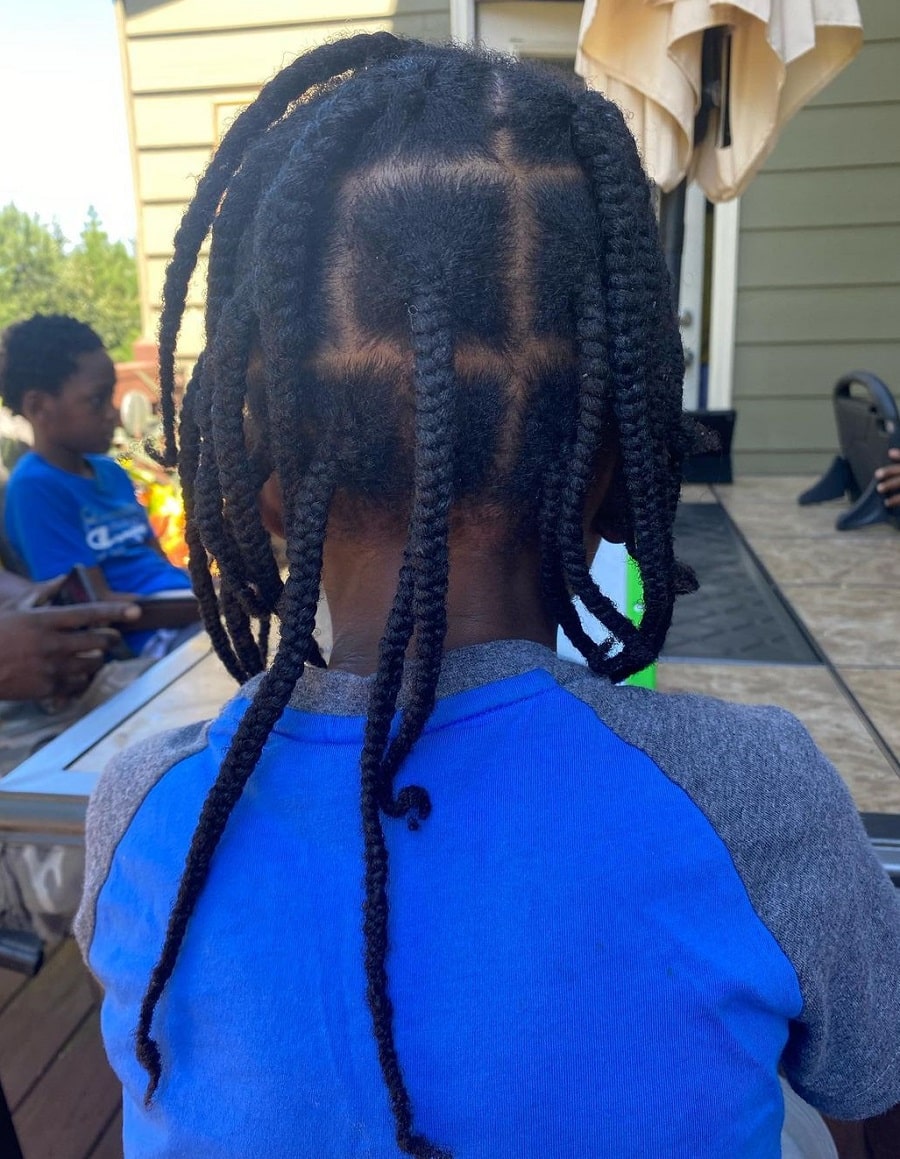 Box braids are a classic look. These ones are formed using quite large box-shaped sections. Most of them aren't quite shoulder-length. There are two very long braids at the back of the head.
13. Short with Fade
You can't deny how good a fade looks with short braids. It's a very gradual skin fade on the back and sides of the head. Each plait ends with a red band that is bright, and it contrasts the dark hair.
14. Sleek with Shaved Hairline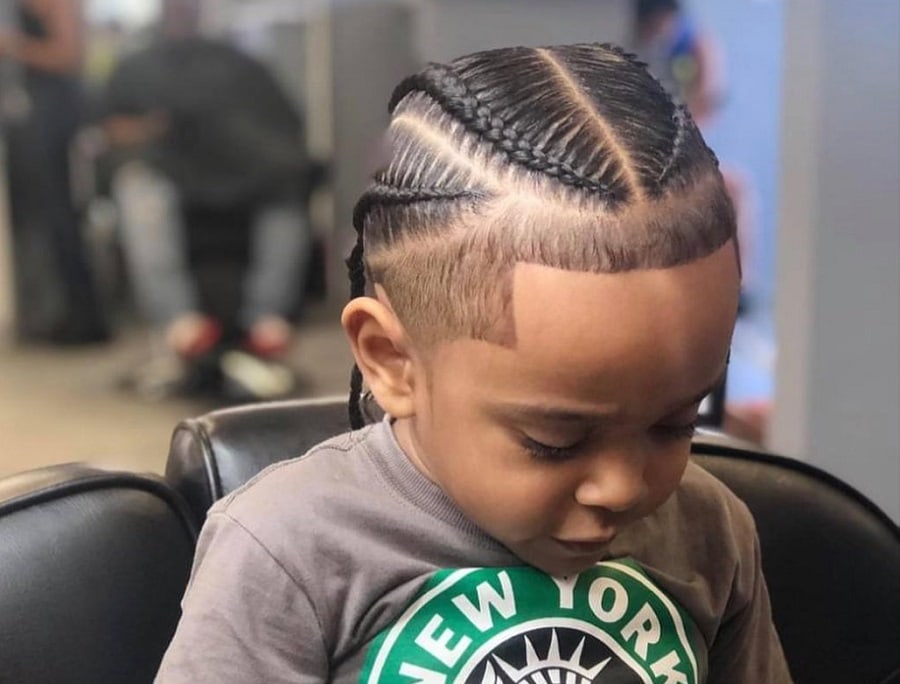 Shaving the hairline short is very common in the black community. The hair on the sides is also short and bristly.
There are four sleek braided sections on top of the head. They're tight to the scalp from the hairline to the nape of the neck. They fall down the back a little too.
15. Beads and Topknot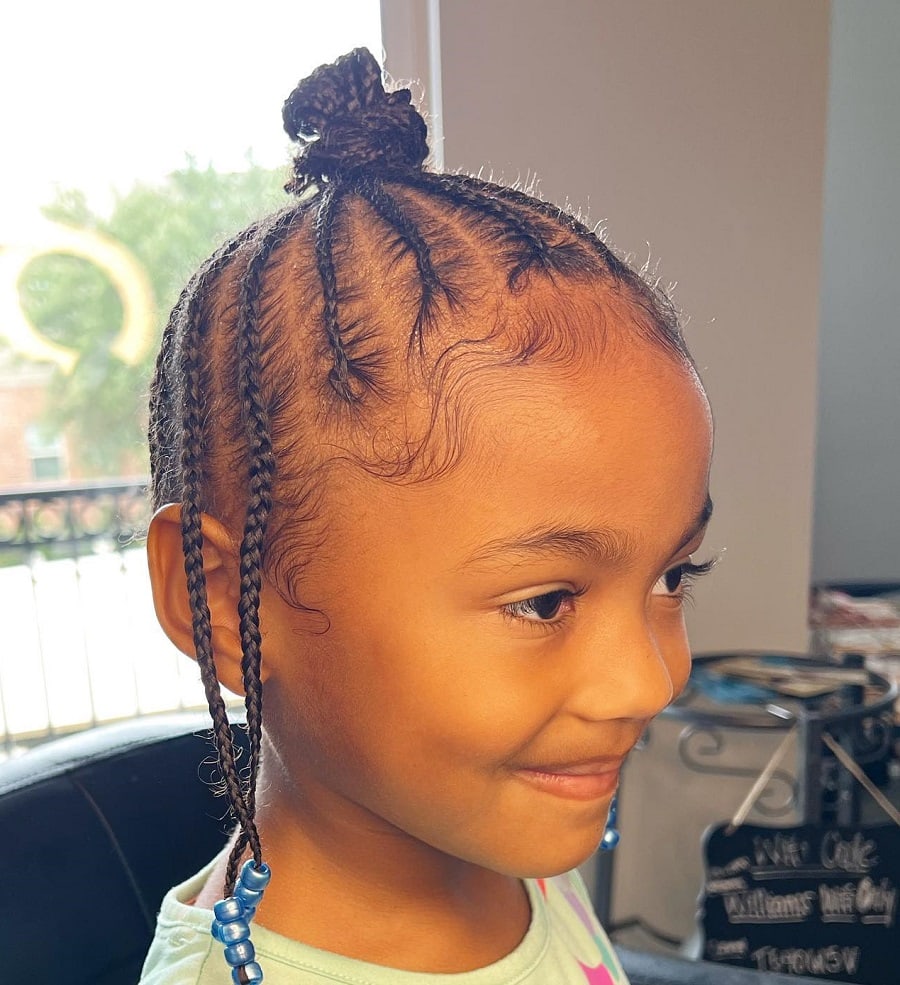 Boys with finer hair can still wear braids but they will be thin. Most of them here are drawn up into a little top knot.
There are two free strands on one side with beads at the end. These beads can really help your son stand out from his peers.
16. Cool Pattern Braids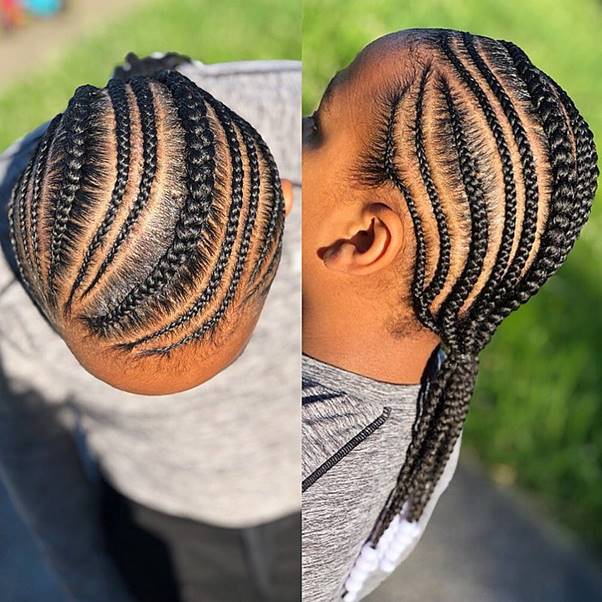 These cool pattern braids are looking so uniform and decent yet stylish, mothers can make their kids look cuter and cooler in this black boy's braid style. It is beautifully styled and increases the charm in the personality of kids.
Braiding the hair in this way can make hair grow faster. In this type of styling, boys with long hair can play free without breakage of hair. Cool pattern braids are common, so, if you want to make your black boy look cool, just try this.
Trendy Fade Haircuts for Black Boys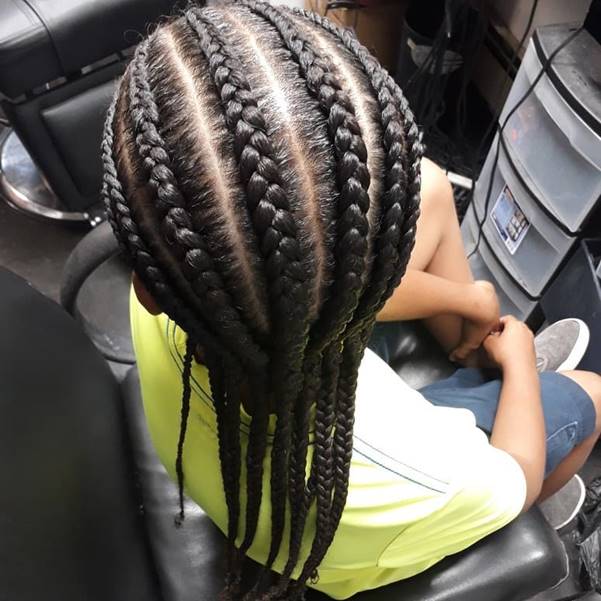 This great stylish cornrow look is perfect for black boys. Go to the nearby hairdresser and try this braided hairstyle as you can clearly see how nice it is looking.
You can make a series of tight strands of hair weaved close to the scalp as it is giving a stable structure. Kids look so amazing in these stylish cornrow braids. It is one of the most famous braided hairdos among black boys.
18. Dutch-Style Clean Braid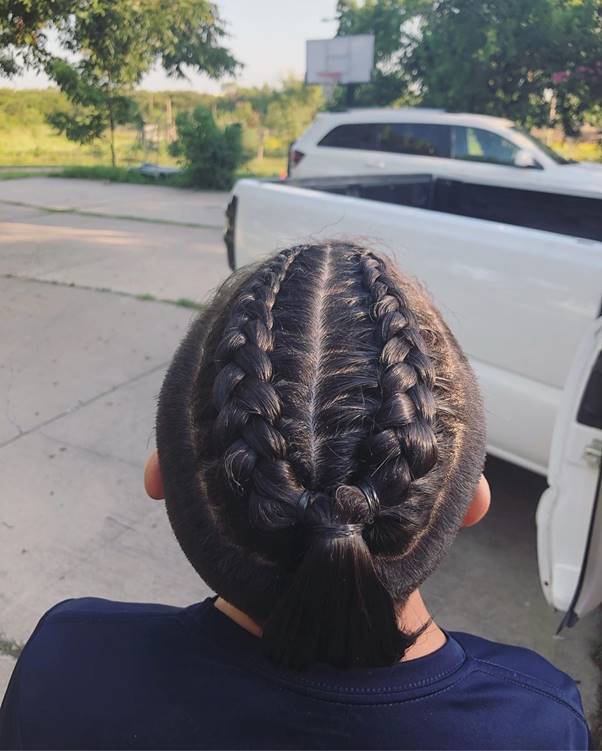 Dutch braids were originated in North Africa. They are a little bit different from the French braids. In Dutch braids, the hair strands are pushed under by holding the hair up at its angle.
This is giving the boy an intense charm and pretty hair look. If you want to have a charming and awesome look for your boy, try Dutch-style clean braid. It is in trend nowadays for black boys.
19. Classic Jaden Smith Style Braids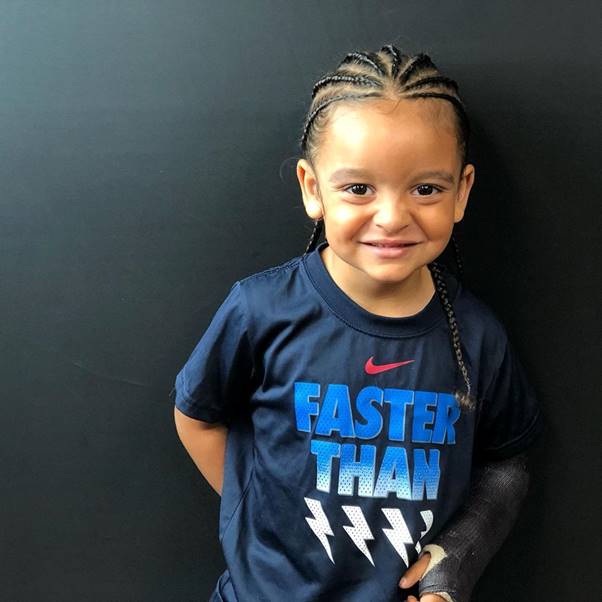 Who does not know Jaden smith? The popular karate kid with braided hairstyle. Make your child feel like a celebrity by trying this cool look. We can say it is one of the coolest little black boy's braided hairstyle.
This style is giving an amazing look with lovely vibes. Having this style, the kid is looking more adorable and it is making the personality of the kid so charming. Don't you want it for your kid?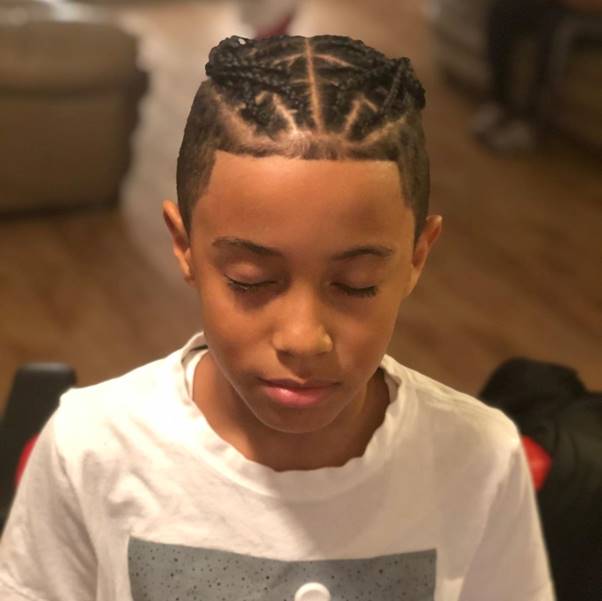 As adding spices in the food makes it yummier, similarly adding different shapes into the braids for black boys makes it more lovely and stylish. There are different kinds of shapes that are used in the braids.
This braids style is giving the black boy an amazingly confident and unique look. We can make the boys happier by trying their favorite shapes in their braids so you must try it for your kid.