Any niece who is lucky enough to have a great aunt in her life might want to make sure to celebrate her birthday with these birthday wishes for aunt from niece.
These great birthday wishes are designed to make it easier than ever to wish an aunt the special day that she deserves.
Not everyone knows the words that they need to wish someone they love a happy birthday, which is why using a quote to help you get the point across is such a good idea.
No matter the relationship a niece has with her aunt, there is a quote that will perfectly showcase the love and affection that the two share.
Any woman who is lucky enough to have an aunt in her life whom she loves and whom she wants to wish a happy birthday, will want to consider one of these 20 birthday wish options.
Best Birthday Wishes for Aunty from Niece
One of the most important things to think about when choosing a birthday wish for an aunt is the relationship that the two share. Some nieces and aunts are closer than others, which is fine.
This simply means that you need to make sure to choose the right happy birthday aunt wishes so that your love and the relationship you share is perfectly shown in the words used.
1. Congratulations my beautiful aunt for successfully completing another year of life! You've always loved me as your own child and supported me as the best friend. I'm really lucky to be a part of your life. Today is your birthday and I wish it becomes as special as you. Love you!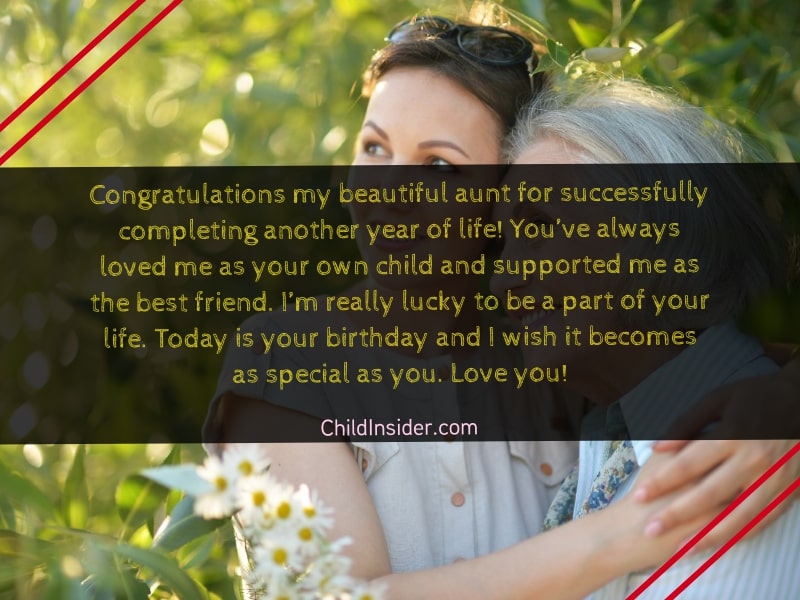 2. My dear aunt, my second mom, happy birthday! I'm always so grateful to God for making you, my aunt. I can never forget whatever you've done for me. I wish you a year full of joys and peace. You are the best!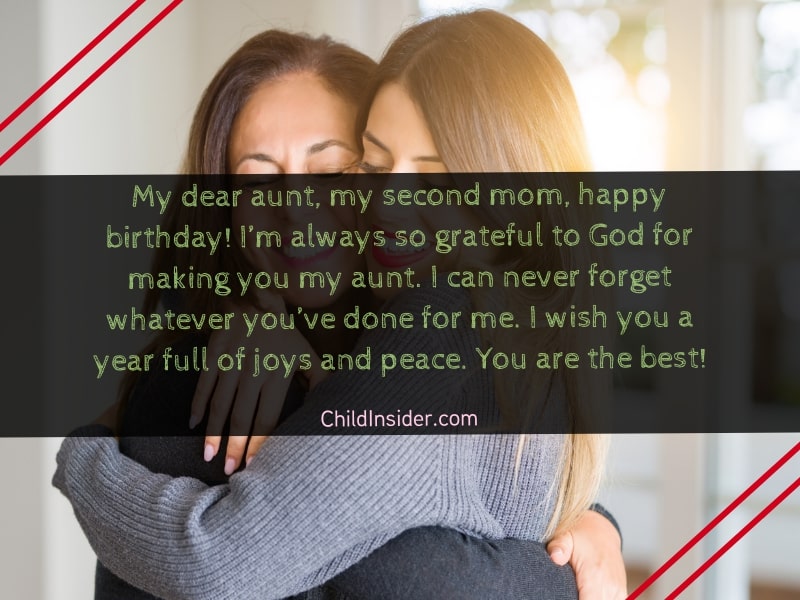 3. Life becomes more beautiful when one can count on the love of the dear ones. I'm so fortunate that, I have you, my dear aunt. Happy birthday! Thanks for your love that made my life more beautiful. I hope you always be surrounded by all the people you love. Have a great day!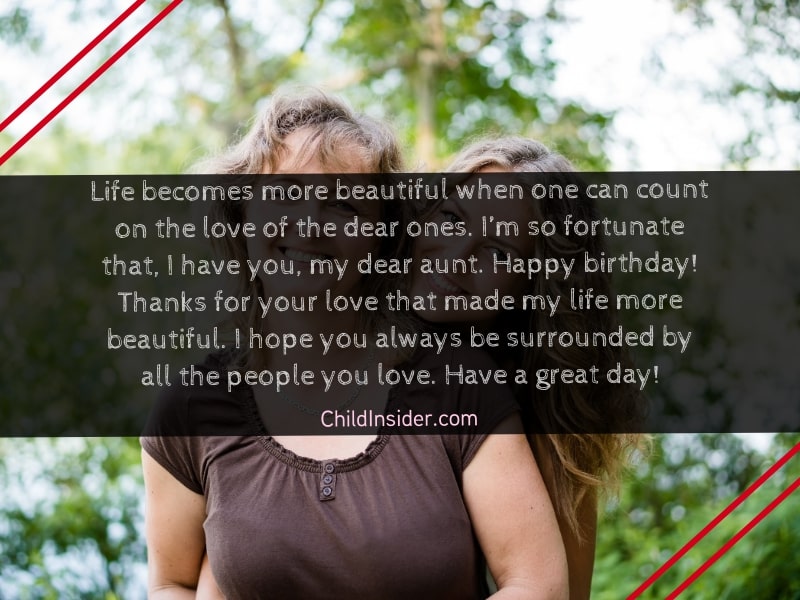 4. Aunties are the synonym of fun, love, and friendship. My dear aunt, you are so friendly and supportive that, I couldn't ask for a better aunt. May you never lack peace and happiness in your life! Happy birthday!
5. Dear aunt. You're my inspiration and my role model. I'll always keep your teaching and your principle with me. Thanks for being so loving and caring. Happy birthday! May this day be repeated in your life countless times!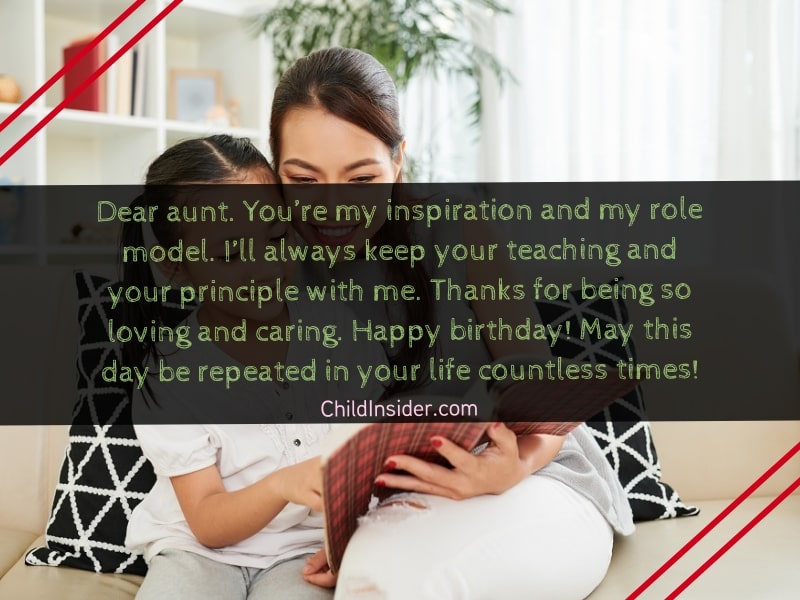 Lovely Birthday Quotes for Niece with Images
6. There are only a few people whom you always keep in your heart. Dear aunt, today on your birthday I want you to know that your place in my heart is permanent. I love you aunt and have a deep respect for you. Have a beautiful and blessed birthday!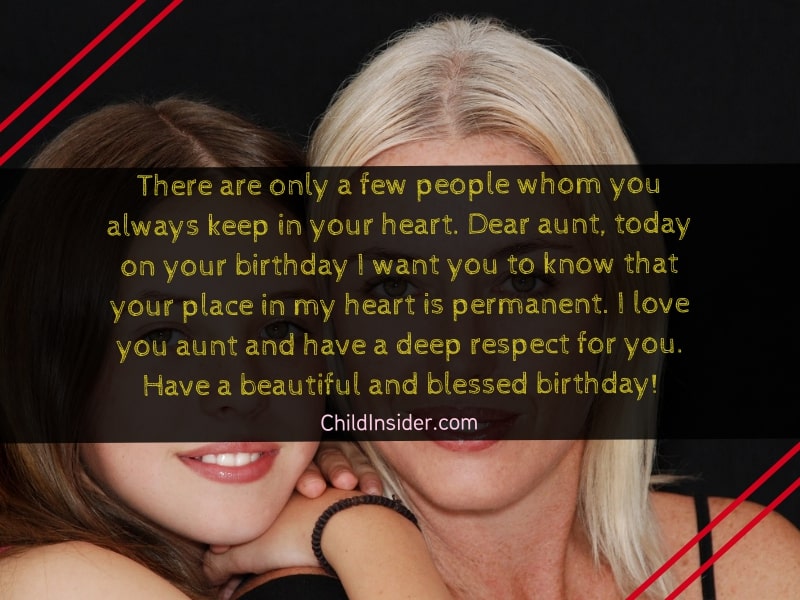 7. Congratulations dear aunt for completing the half-century of life! It's your 50th birthday, but unfortunately, I'm not with you on this big day. I really miss you. Receive a big hug and lots of kisses and have a very special day! Your niece loves you a lot!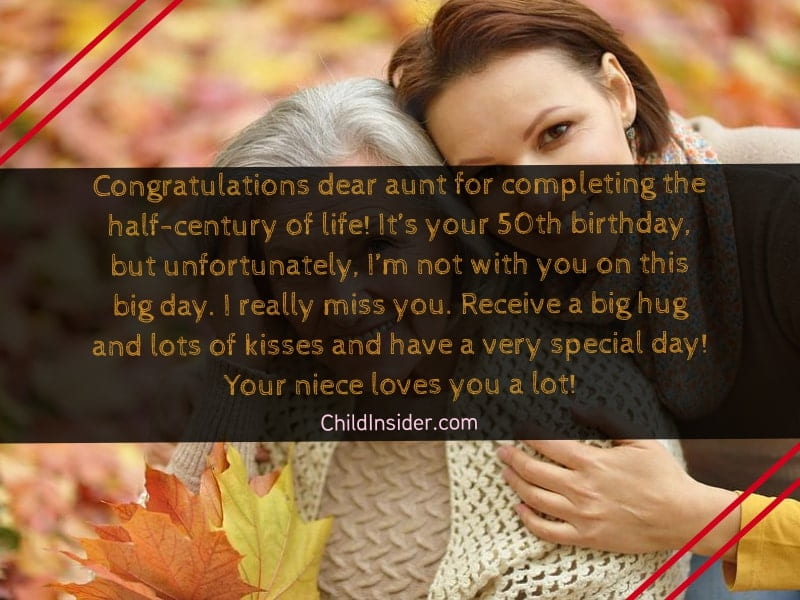 8. Happy birthday, my evergreen beautiful aunt! Who'll believe that you've completed the 4th decade of your life! Still, you look so young and pretty! You have to share the secret with me as I'm your favorite niece. Enjoy your day and have lots of fun!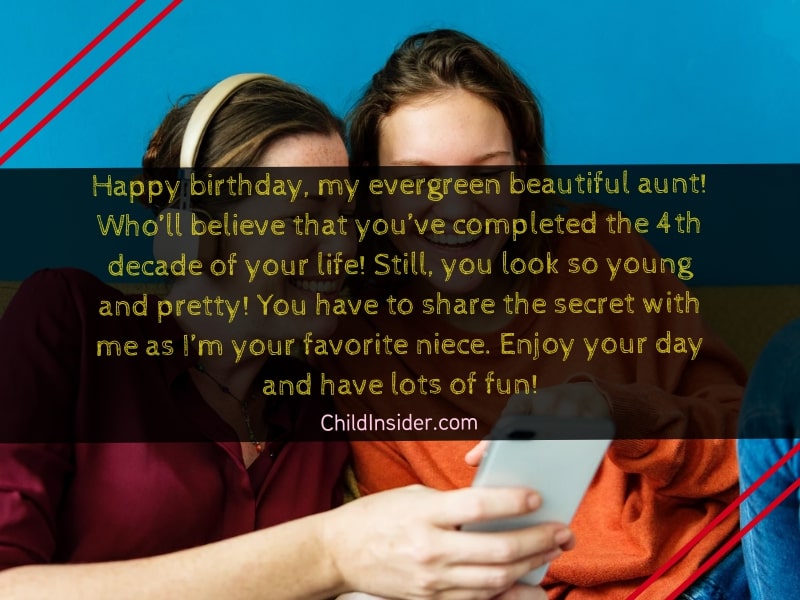 9. You are more than an aunt to me. Sometimes you are my friend, my mentor and sometimes my mother. It's impossible to describe how important you are in my life. Happy birthday, beloved aunt! I wish you a day full of good wishes, surprises, and blessings!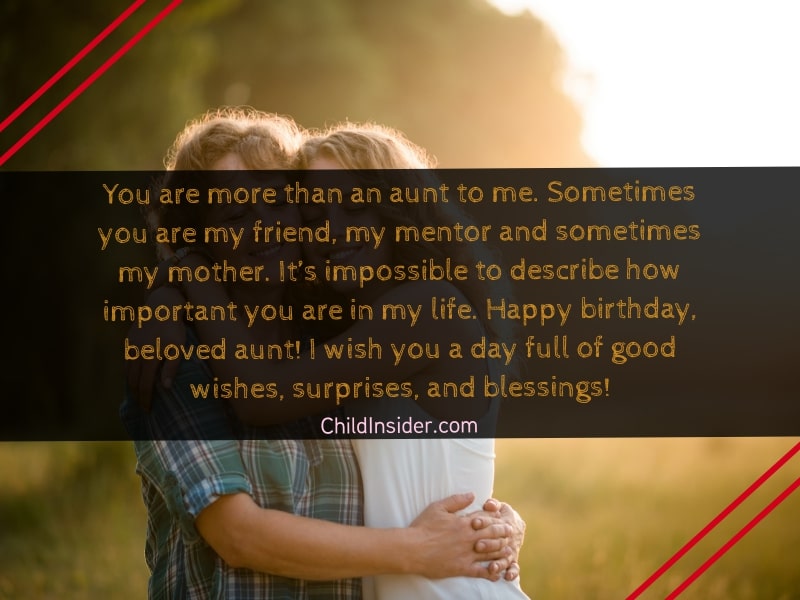 10. One of the most special days of the year has come. Happy birthday the sweetest aunt ever! You're kind, generous and the best human being I have ever seen. I really want to be like you. May all your wishes be fulfilled! Wish you a blessed life!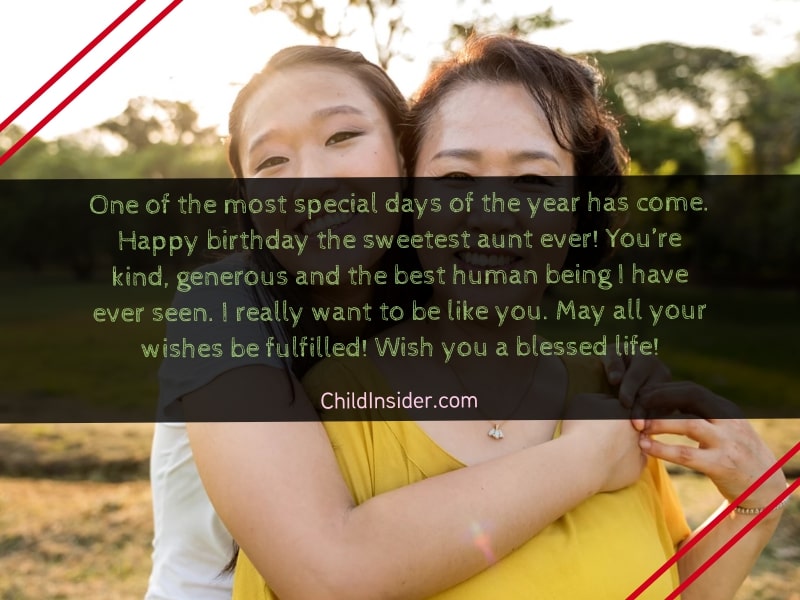 11. You've always played an important role in my life. I'll always remember the love, affection and the support you've given me every time. Today, on this special moment I want to tell you that I love you and will forever be at your side. Happy birthday, dear aunt!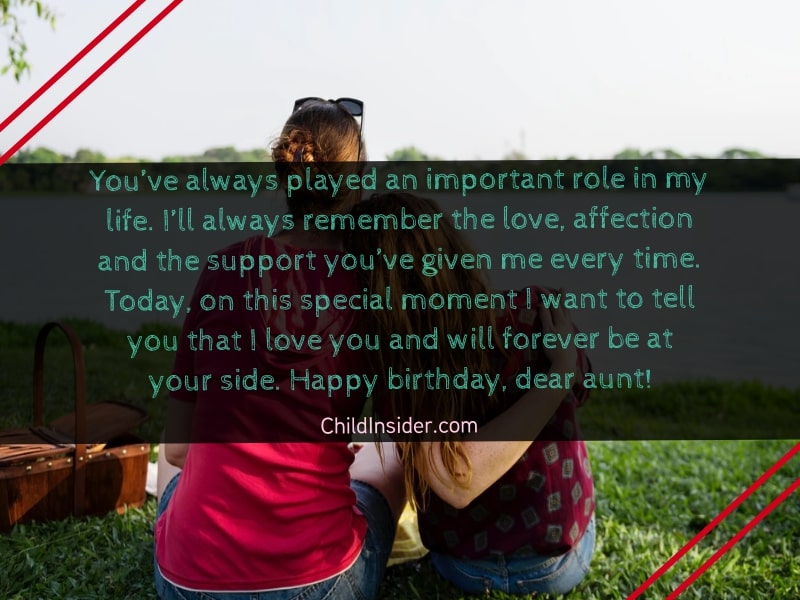 Affectionate Birthday Wishes for Daughter from Mother
12. Forget the number of your age, the wrinkles on the face and all the worries. Just sing, dance and enjoy every bit of this special day. Happy birthday Auntie! Wishing you much health and peace.
13. There's nobody who can replace your place in my heart, lovely aunt. You are and will always be a very special person to me. I hope life brings only affection, love, and happiness for you. Happy birthday, auntie!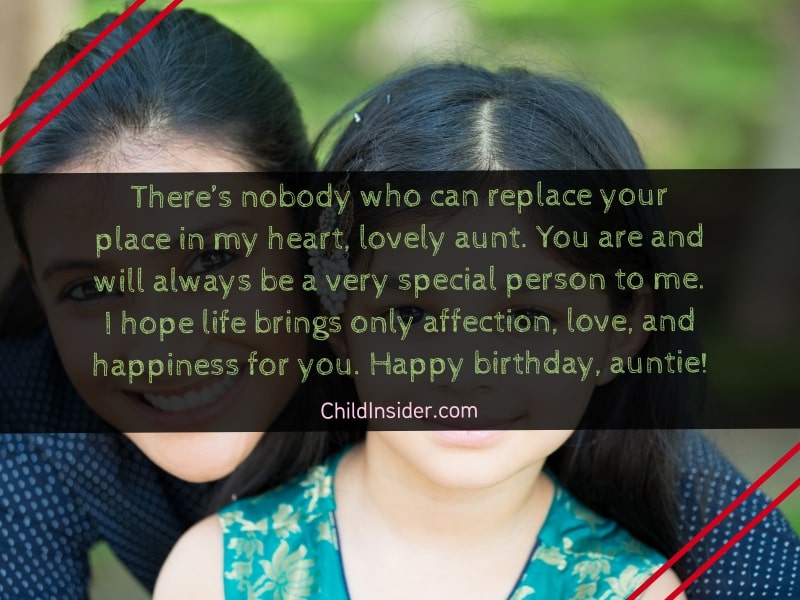 14. Today, you're going to start a new year of your life and I'm glad to congratulate you on your birth anniversary! Happy birthday, aunt! Thanks for all the teaching and advice. May God grant you many years of healthy and peaceful life!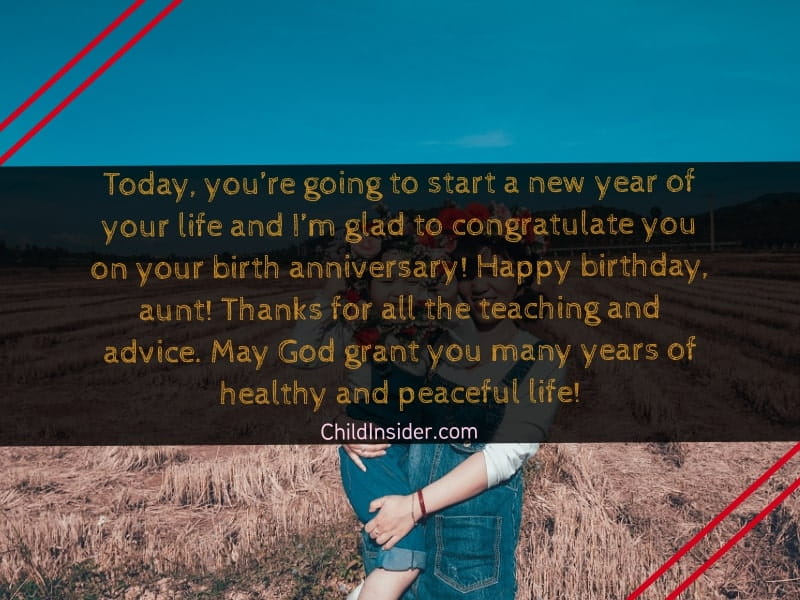 Adorable Birthday Wishes for Little Boys
15. You are a warrior who handles every situation with head held high. Dear aunt, I feel so proud to be your niece. My heartiest congratulations on your birthday! I wish you all the best things you truly deserve. Have a blissful life!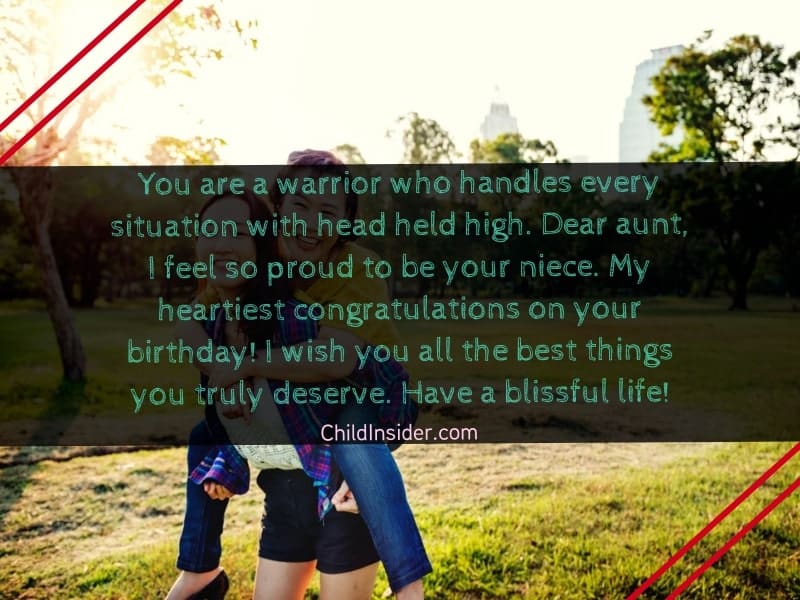 16. Happy birthday to the best aunt in the world! Thanks for always being around me and making me realize how special I'm to you. May you never lack anything! I love you today and always!
17. Happy birthday my aunt in heaven! For the first time, you're not with us on this special day. I can't stop my tears thinking that we can't celebrate this day together anymore. I miss you a lot! I hope you'll have a great day in heaven with all other angels.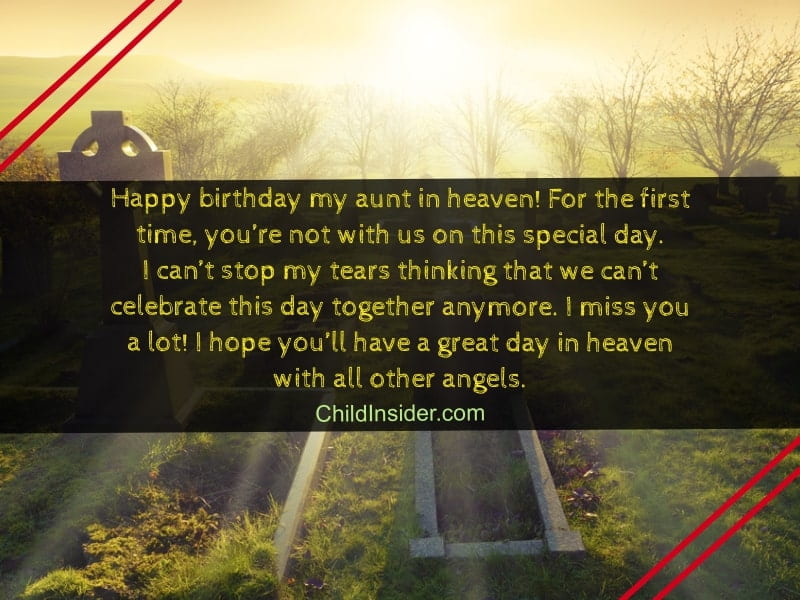 18. What you've done for me is usually done by a mother. You were always there in all my good as well as bad moments and gave your support. Dear aunt, I know that I'll always be like your first child. Happy birthday! I root for your happiness and smile every day!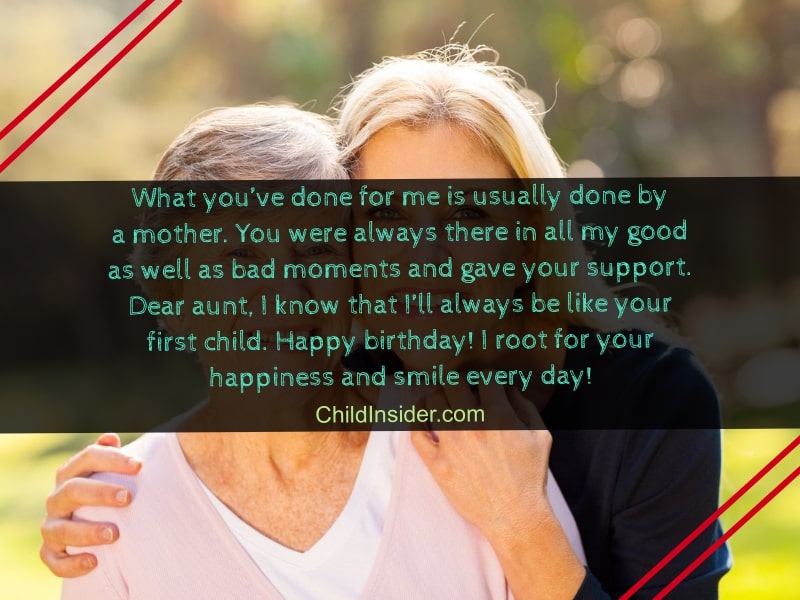 19. What could I ask more from God when I know, I have a safe home in your heart? Lovely aunt, my love for you is increasing day by day. Many congratulations on your birthday! I hope you have the best day you deserve. I adore you!
Best of The Mom Quotes from Daughter
20. It's the day of the best aunt with a beautiful heart. Happy birthday, aunt! It's a privilege to be a part of your birthday celebration. The time we've passed together will always be in my mind. May all peace, health and good things be a part of your life! I Love you!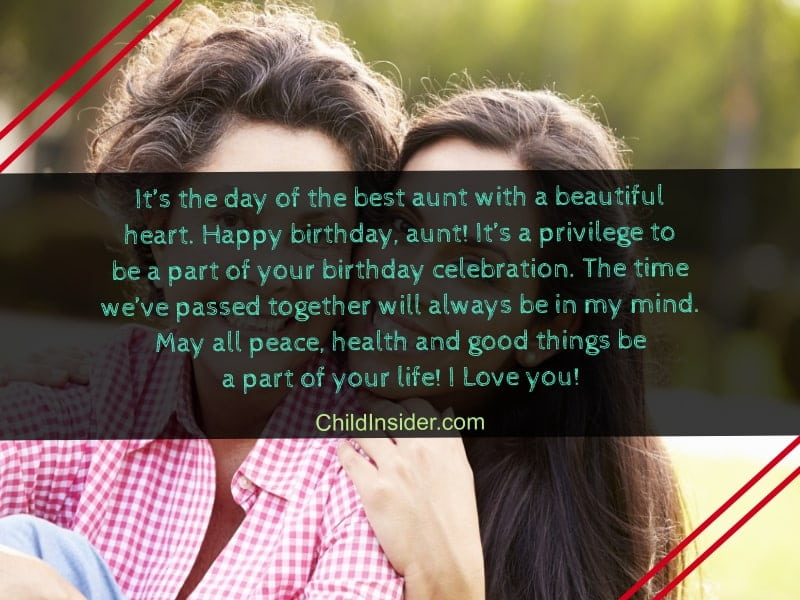 All of these 20 incredible birthday wishes for aunt from niece are wonderful ways to show a special aunt that you care.
If you are lucky enough to have an aunt in your life whom you want to celebrate, then you will want to strongly consider these wishes.
Let us know which happy birthday to my aunt quote you use and what she thought about your special birthday wish, and please pass on the list to anyone else who may need to share the love with a special aunt.