It is quite heart-aching for anyone if they have to wish happy birthday in heaven brother ever! Nobody wants to have to do that but many people live this reality every single day.
Knowing how to cope with the loss of a great brother and how to celebrate them on their birthday is an important part of healing and also ensures that the missing brother stays alive in family memories.
Any of these 20 birthday wishes will help you to celebrate the birthday of your missing brother and make sure that he is still kept alive in memory.
It can feel impossible to move on after the death of a close sibling, but knowing how to grieve and celebrate them is important.
Heart-aching Birthday Wishes for Brother in Heaven
Celebrating the birthday of a deceased brother may feel impossible, but this is a great way to begin or continue the healing process.
Everyone is going to grieve the loss of a family member in a different way, and many people struggle to find the words that they need to do so.
Rather than getting tongue-tied and frustrated with the lack of words that you need to celebrate your missing sibling, you can ensure that the birthday is a cause for celebration by using one of these great quotes.
Celebrate their life and what they meant to you by using one of these happy birthday to my brother in heaven wishes.
1. We would be celebrating your birthday today if you had not gone to God. Brother, there's not a single day that we don't think of you. I know, you can see me and I wish I could also see you. Happy birthday in heaven, my brother!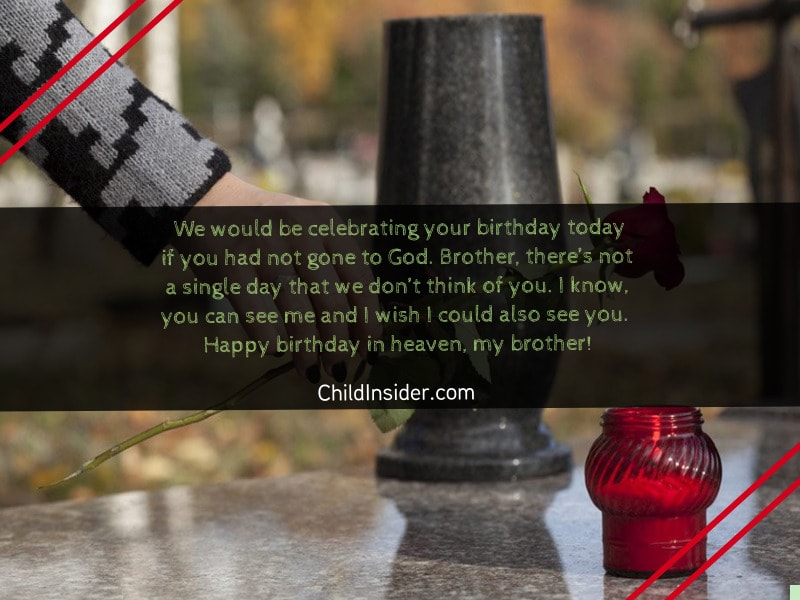 2. I don't know, why you left so early. Dear brother, I miss all the moments we spent together. I had not only lost my brother but also lost my best friend. Really miss you so much! May you have a great birthday in heaven!
3. My little brother, it's your second birthday we're celebrating without you. Happy birthday my brother in heaven! You were the light of the house and after your death, our life has become darker. I hope you are having a great birthday with all the other angels.
4. I still can't believe that you are not with us. I really want to give you a tight hug. Happy birthday, brother! I know, you are having a great party in heaven as you deserve! One day, I'll come back to you and celebrate every special day together.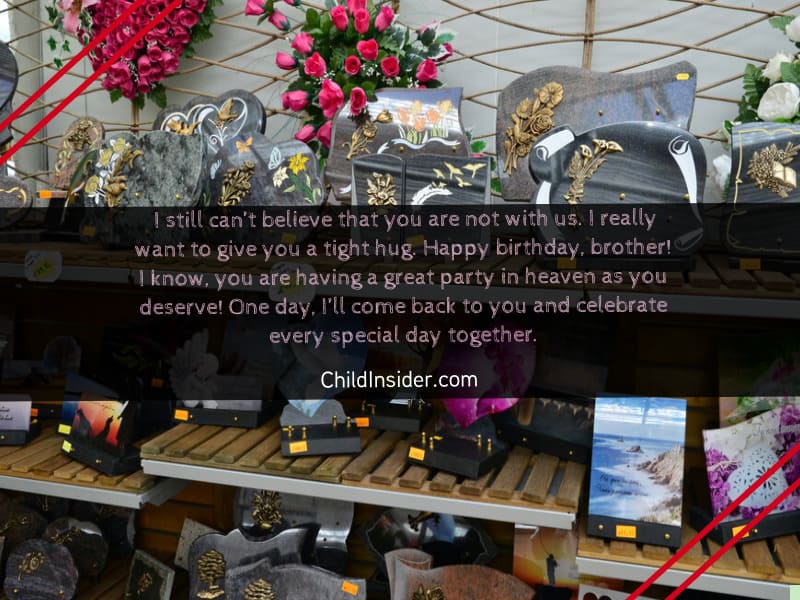 Best Loss of A Child Quotes to Express Sympathy
5. I cannot hold back the tears whenever I think of you, our naughtiness, the laugh we had together. And today on your birthday I feel deep sadness for not being able to celebrate the day with you. Happy birthday in heaven brother! May God give you eternal peace!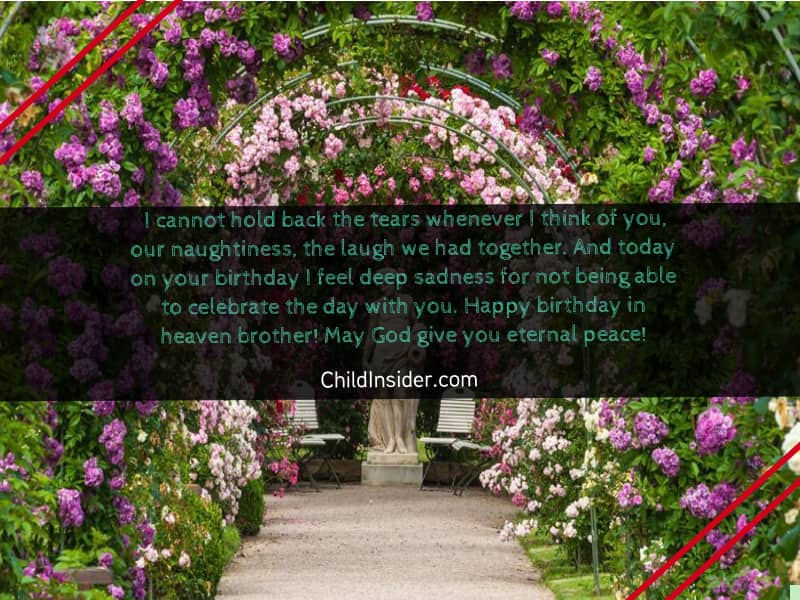 6. Today, it would be a day full of good and joyful things! But my brother, God took you too early and I can't celebrate your big day anymore. You've gone to heaven leaving a big emptiness in our life! On your birthday, I just pray that God gives you all the things you want. Happy birthday in heaven!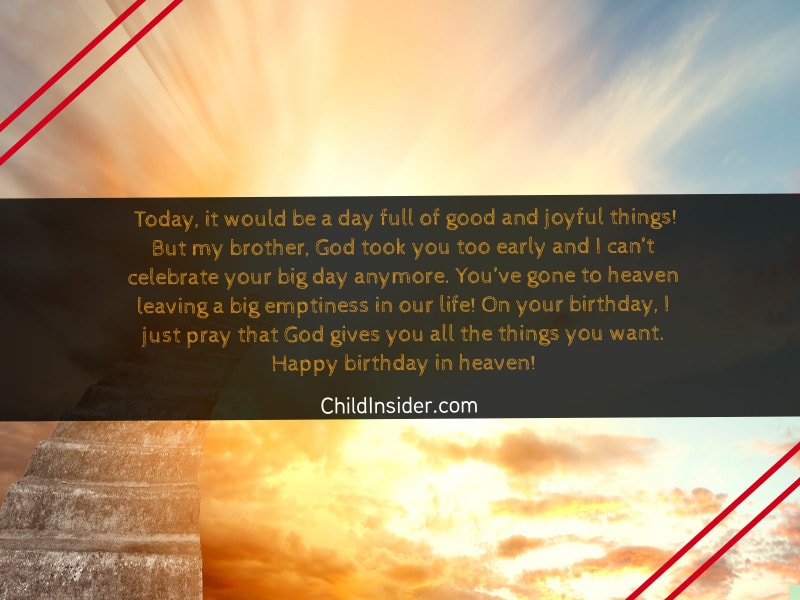 7. I know you are that big star that sparks in the sky every night and say 'I'm okay sis!'. Dear brother, happy birthday in heaven! I wish I could give you a hug of congratulations. But now, I just hope you always be at peace wherever you are. Miss you!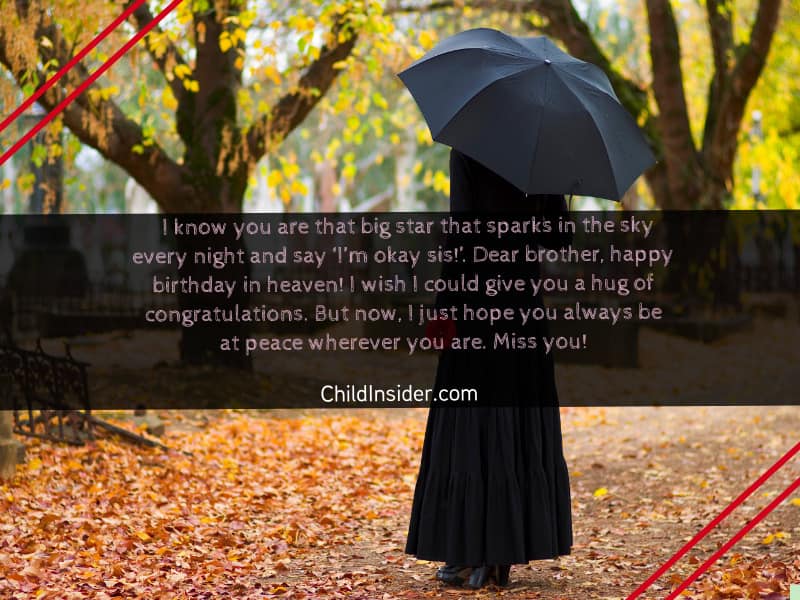 8. It's true that your physical existence is no longer here in the world but I can feel your presence every moment. My beloved brother, I can never forget you and will always keep you in my heart. I hope you're getting much love and wishes in heaven and enjoying your birthday! Happy birthday!
9. Dear elder brother, happy birthday in heaven! You were my friend, my mentor from whom I had learnt many things. Today I feel like crying loudly for not being able to hug you but I know you must be feeling so proud watching me becoming successful. Love you and miss you a lot!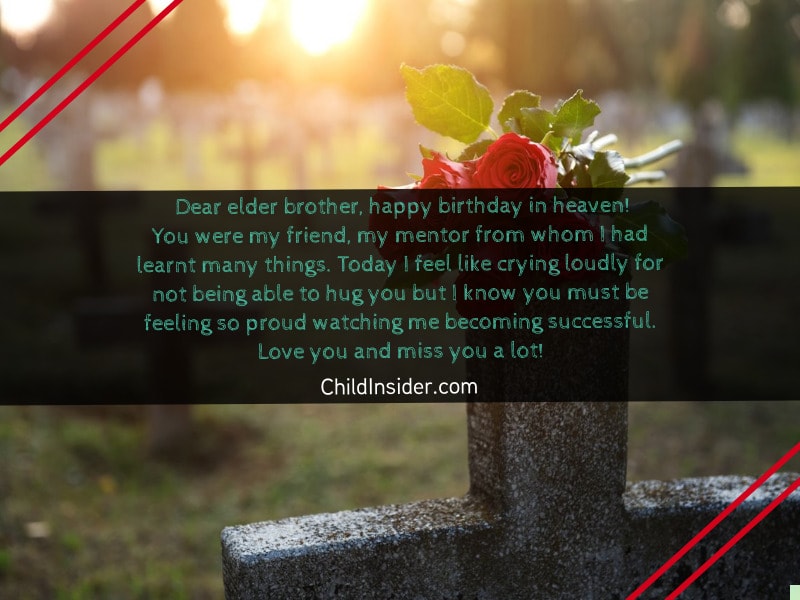 10. For me, you were more than a brother. You fulfilled my wishes like a father, supported me like a friend and did all the things for my welfare. You mean so much to me and I wish you were here among us. Happy birthday, brother! Rest in peace!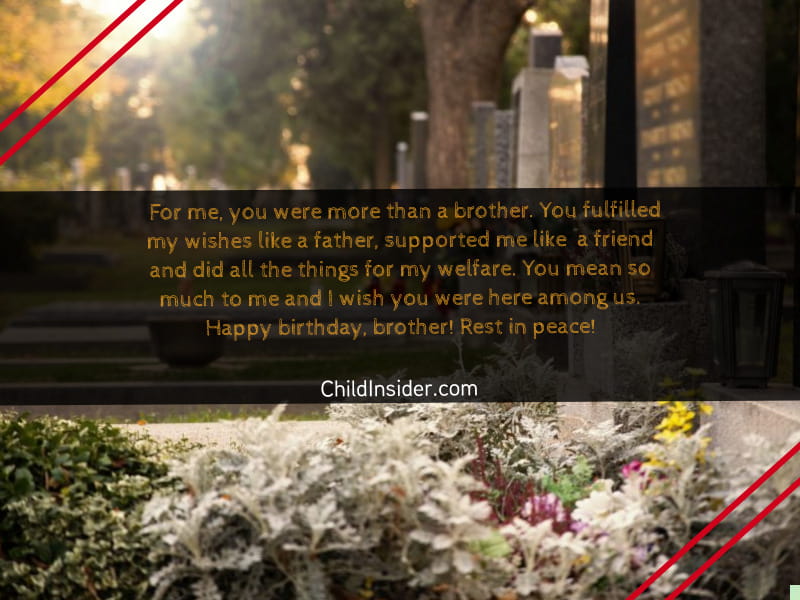 Emotional Mother Grieving the Loss of A Son Quotes
11. The pain will never be healed of losing you, my beloved brother. I miss you even more on every special day. Happy birthday in heaven! I know death has separated us but we are connected by the heart. Love you today and always!
12. Last year on this day we had a huge party for your birthday. But today we are not celebrating because you are no longer with us my brother. Happy birthday, my lovely bro! Wherever you are, feel embraced by me. I hope you are enjoying your 1st birthday in heaven!
13. My loving brother, can you hear me? Do you know how much I miss you? It's really painful to live without you, bro! Today, I hope and pray that you spend your birthday full of happiness and joy! Happy birthday in heaven!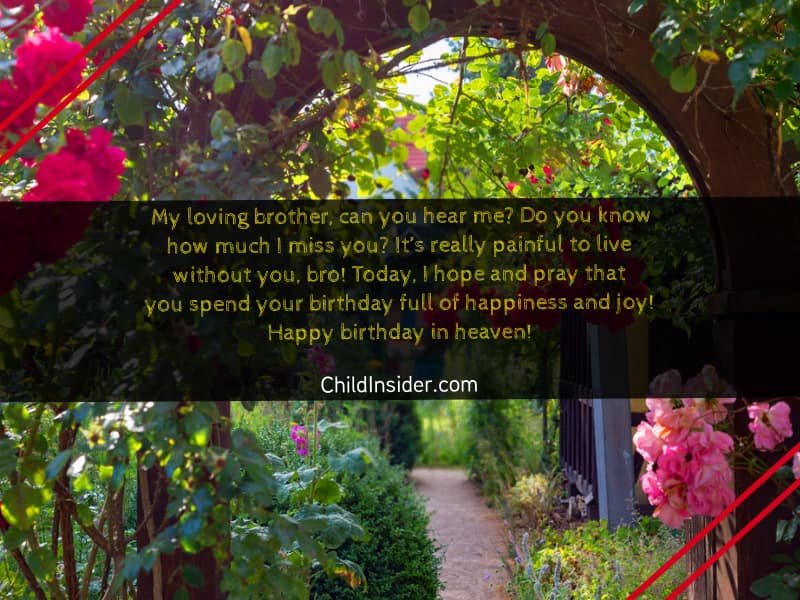 14. I know that death is not the end and we will meet again. Happy birthday my brother! You must have seen that we lighted the candle in your honor, sang the birthday song and prayed for the peace of your soul. I hope you are enjoying the day with the people already departed from this world. Lots of love to you!
15. Death teaches us that, we must value the people around us. Dear brother, I badly miss you and I wish I could get back the time you were with us! May the Almighty bless you with eternal joy and peace! Have an enjoyable birthday in heaven!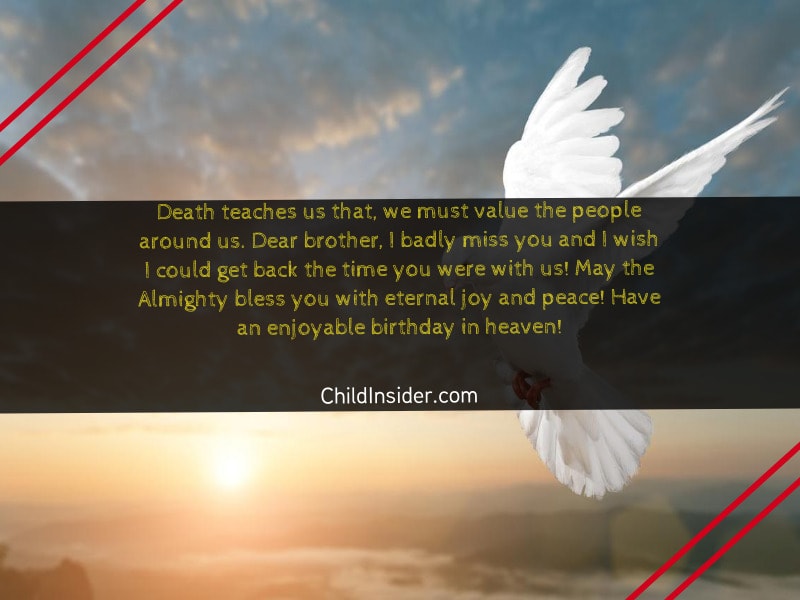 Emotional Happy Birthday Mom in Heaven Quotes
16. It's a very difficult day for me because today is your birthday brother and unfortunately you are far away from us. God called you too early and separates you from all of us. It's not easy for us to overcome the pain of losing a special person like you but all your memories will be alive forever! Happy birthday in heaven!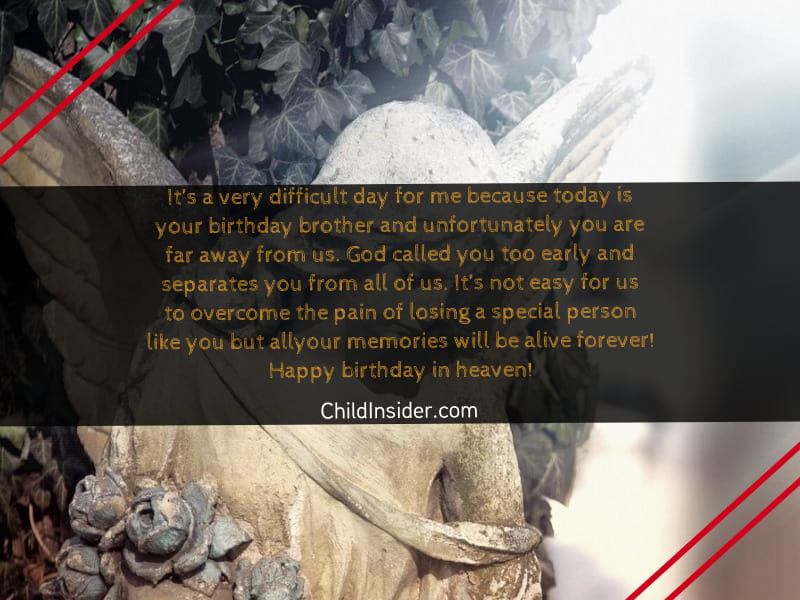 17. Dear brother, you were my best mate, my secret keeper, my friend, and my partner in crime. I miss our love, our fighting and all the time we spent together. I feel heartbroken thinking that I can't do these things with you again. You'll be missed by me every day as long as I live. Happy birthday in heaven brother!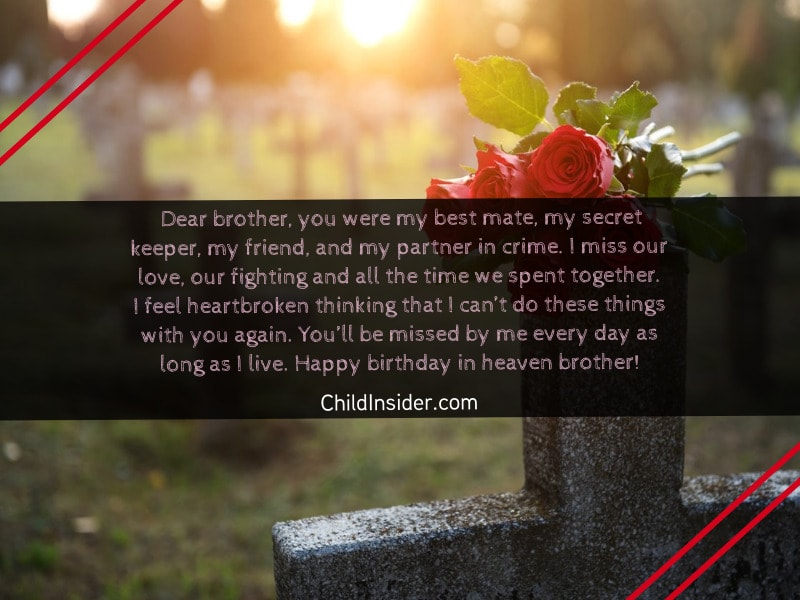 18. Though you are not present here, you are and will always remain in our thought, brother. I hope you're doing well in the new world and having fun with the people in heaven. Happy birthday in heaven, little brother!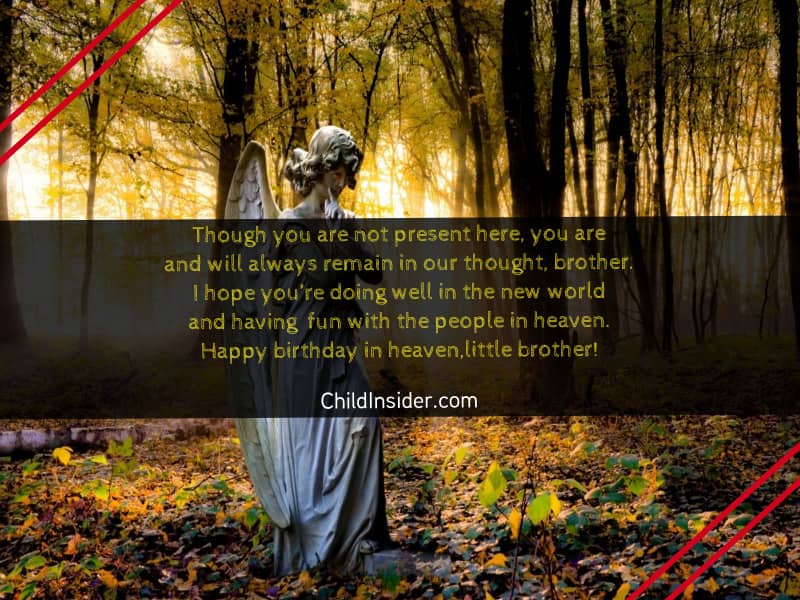 19. Happy birthday, dear brother in heaven! It's been 3 years you left us but still, I wait when you'll come to fight with me, pull my hair, snatch my food and love me with all heart. I really miss all that stuff you did and will continue to think about these every day of my life.
20. We celebrated your last birthday of life last year but it seems that it was just yesterday. We had so much fun all day. But today, I feel so sad remembering you and I wish you could come here again. But it's not possible. All I can do is ask for the blessings of God and pray for the peace of your soul. Happy birthday in heaven!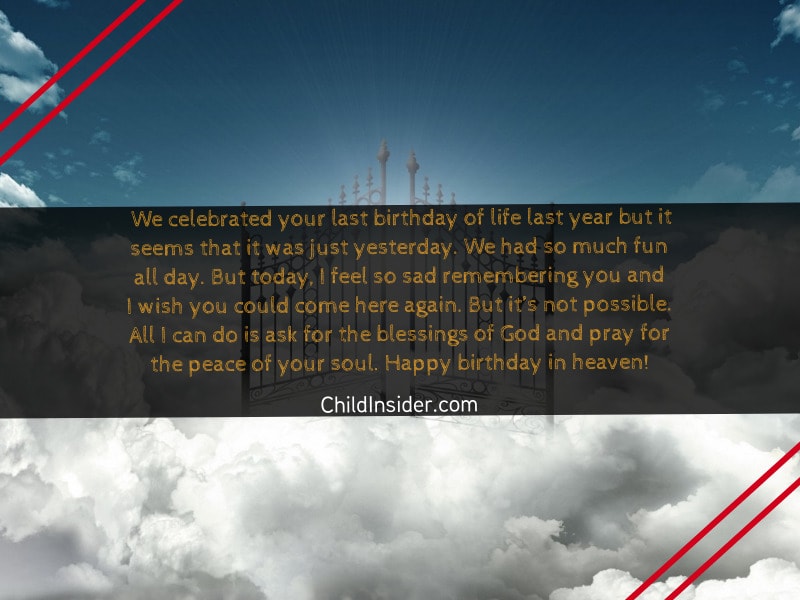 Nobody wants to live without a beloved brother, which is why keeping him alive in memory is so important and why it can make such a huge difference in the happiness and healing that a family experiences.
If you have lost a brother, then these quotes can help you wish him a happy birthday in heaven brother, even though he isn't with you anymore. Please let us know if they have helped and share them with others who may need to read them.