Your baby shower is just around the corner, and you want to look perfect on your big day? A baby shower is an important moment for upcoming mothers, so it's understandable that you want to look your best.
Your outfit wouldn't be complete without a nice hairstyle that's, basically, the cherry on top. We have the ultimate baby shower hairstyles inspiration every expectant mom needs.
Scroll down to see 25 amazing ideas you can pull off effortlessly.
Stunning Hairstyles for Baby Shower
Baby showers are a wonderful opportunity for pregnant women to celebrate the upcoming arrival of their bundle of joy.
It's a great reason to dress up and spend a lovely time with your friends and family. Here are some of the prettiest hairdo ideas you might like to wear at your baby shower.
1. Long and Simple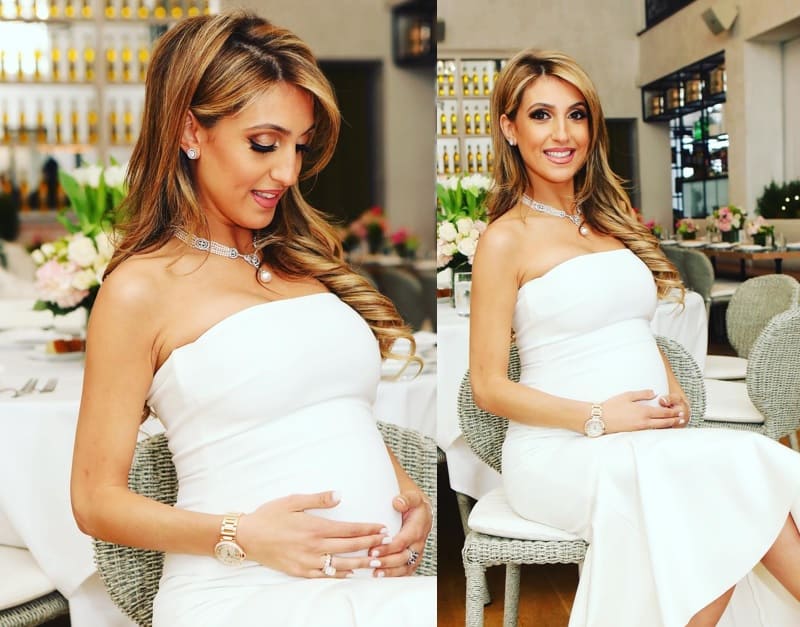 Pregnant women have tons of things on their mind, and even more of them to do before their son or daughter is born.
Your maternal instinct wants you to do everything perfectly, which is exactly why it's difficult to focus on things such as outfits and hairstyles.
So, what to do in situations when you look divine, but without spending too much time or waiting to get that look?
You can choose a simple yet elegant dress and pair it with a simple hairstyle. Let your long hair down and, if you'd like, use a curling iron to create gentle curls, and that's it, you're ready.
Best Baby Shower Quotes and Messages to Congratulate
2. Crown of Roses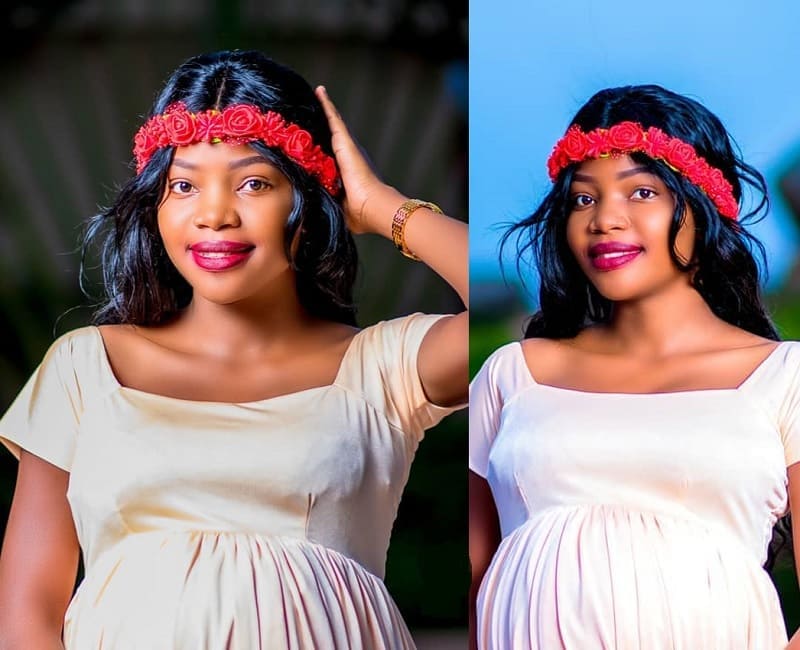 Every mom is treating her baby as a prince or princess, even when the baby is in her womb. So, you should definitely feel like a queen on your baby shower.
Combine your simple and angelic gown with a beautiful floral crown, especially if roses are involved.
Rose crown will give you an additional dose of elegance and sophistication. Plus, when you use floral crown, you don't have to do much with your hair. You can just let it gently flow down your back.
3. Elegant And Carefree
When it comes to baby shower hairstyles, simplicity is the key. Most women don't want anything complicated. They just want an elegant hairstyle that will look great on pictures even ten years from now.
So, one way to achieve that is to let your hair down and create subtle waves. No muss, no fuss.
Plus, this hairstyle is super easy to create meaning you don't have to spend hours on your hairstyle sitting in an uncomfortable position.
4. Up To The Volume

Nobody wants drama at a baby shower unless we're talking about hair. One way to spice things up and take your look to a new level is to boost the volume of your hair and create big, elegant locks.
You'll need a great mousse to boost hair volume, but extensions can also help you out. Although dramatic, this hairstyle is elegant, sophisticated, and will remain perfect throughout the day.
Read Our Top Hairstyle Articles for Babies
5. Face-Framing Style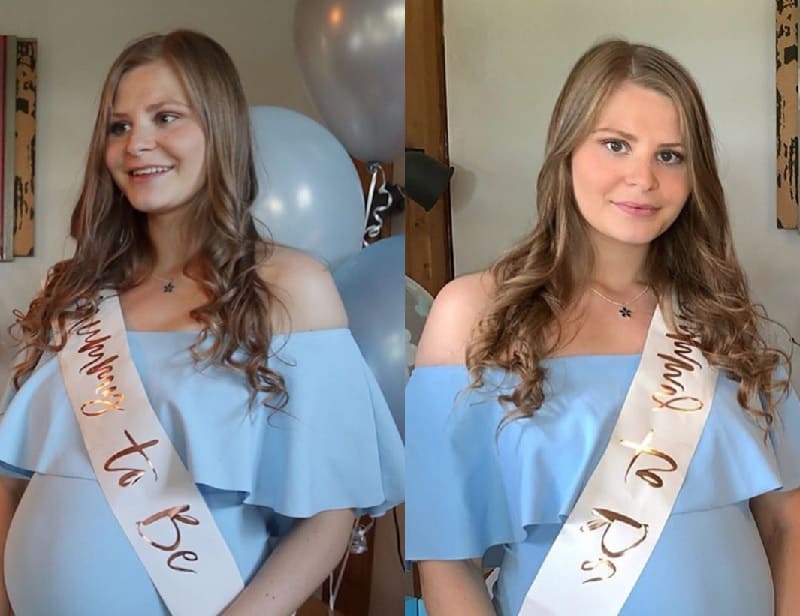 If your hair is thin and medium-length, there's an easy way to introduce more playfulness to your look. How? You don't have to do anything outrageous, though.
It's enough to create locks or curls that will make your hair bouncy and more voluminous. For the best effect, instead of parting in the middle, you may want to move it subtly to the side.
6. Hair Up and Floral Crown
Elegant hairdos for baby shower events come in different shapes and sizes. If you don't really want to let your hair down and would like to do something special, you may want to pick it up in a nice bun.
Give your sophisticated look a new dimension with a floral crown in vibrant color. The best thing is that picking up your hair in a gorgeous updo has a slimming effect and suits every face shape.
7. Braid and Curls Combo
It's your baby shower, and you want to be extra? Good, there are tons of options at your disposal. For example, you can style your medium-length or long hair in a truly creative manner.
Create a braid on top of your head that will look like a hairband or some other accessory. Let your hair down and create luscious curls. If you have bangs sweeping them to one side is a good idea.
8. Romantic Hair
Baby showers call for romantic vibes and delicate looks. Therefore, if you're looking for a way to bring those vibes to life, we have an ideal hairstyle for you.
At the back of your head connect two hair sections from the front of each side of your head. Let the remainder of hair down your back. Add flowers into the combination for a more romantic feel.
9. No Hassle Chic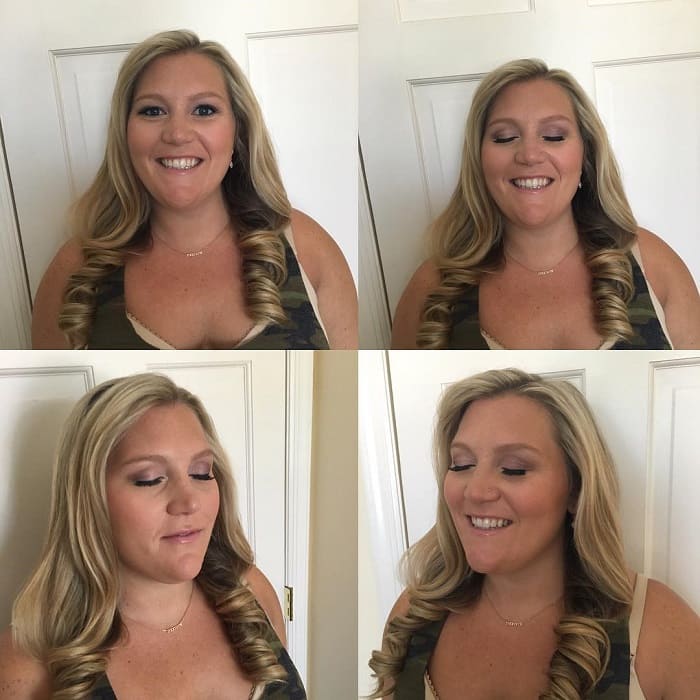 Are you looking for a baby shower hairdo that will perfectly depict your fun-loving yet classy personality? Look no further then. Let your hair down and create big curls.
This hairstyle frames face and are ideal for every face shape. At the same time, this kind of hairstyle looks great on shorter hair as well, just curl the ends, and you're ready.
10. Big Locks for Your Big Day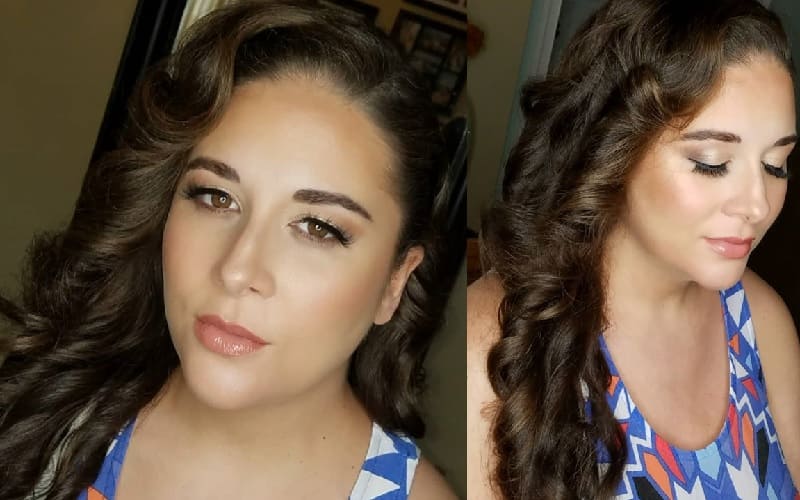 Locks and curls introduce more volume, bounciness, and playfulness to your hair and the look in general. That's why this is such a lovely baby shower appropriate style, and we absolutely love it.
All you need is to create huge curls and get a more sophisticated look by using bobby pins or hair clips to gentle put away hair on one side, just as seen in the photo.
11. Low Bun And Flowers
Buns are in the group of hairstyles that are always trendy or IN. Some hair trends come and go, but buns are considered timeless, and that's a good thing.
A low bun is an elegant style that women rock for formal occasions, weddings, anniversaries, you name it.
For your baby shower, you can opt for this look as well. Take your hairstyle to a new level with flower decorations.
12. Half Up Half Down
There is no rule which states we need to wear our hair up or down only. Hairstyling options are numerous, and half up half down style is a great choice for a practical yet elegant look.
Just connect two hair sections from the front neatly in the back, and you're almost done. Complete the look with curls and locks whose size depends only on you and your personal preferences.
Our Favorite Girl Hairstyles
13. Bangs and Short Hair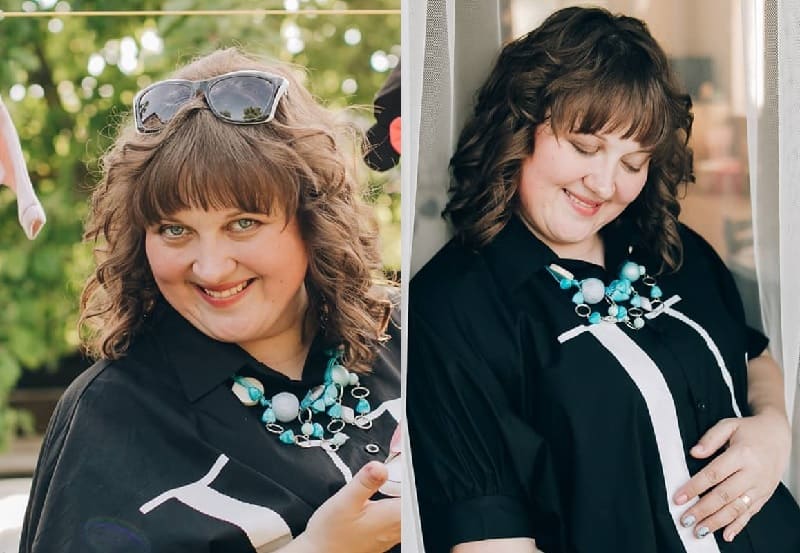 Some women fear bangs, but you should embrace them. The truth is that there's a perfect type of bangs for every face shape and hair texture.
In combination with short and curly hair, your bangs can frame your face, accentuate lovely cheeks, and also add to the slimming effect. Let's not forget this haircut will accentuate your pregnancy glow.
14. Straight and Simple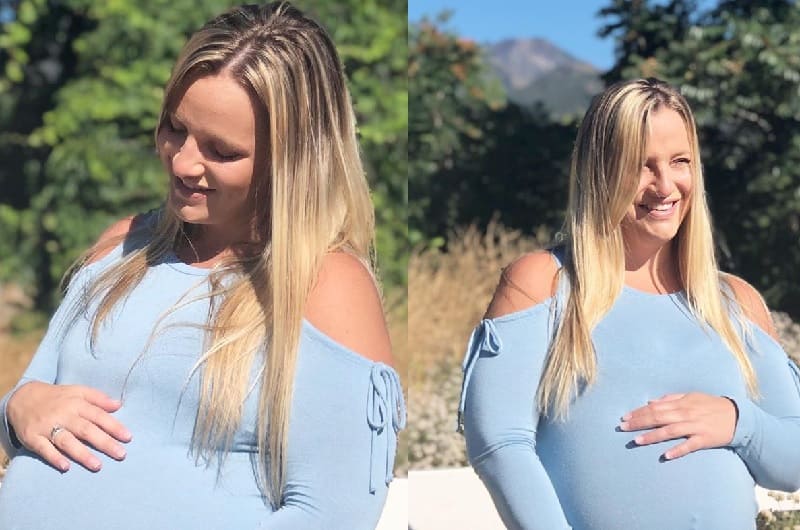 Special occasions such as baby shower don't have to involve curly and wavy hair only. If your hair is naturally straight and you want to keep everything simple, just keep it the way it is.
Straight hair and simple outfit can still speak volumes and ooze sophistication, gentle and delicate nature of an expectant mother, and so much more.
15. Straight Lob
Long bob or lob is the haircut to choose if you want to rock a timeless and classic vibe on your baby shower. The beauty of lob is that you can style it in a straight manner or keep it curly.
In this instance, straight and sleek lob really completes the whole look. Just brush your hair and use a straightening iron to seal the straight effect and you're done.
16. Long Hair and Bangs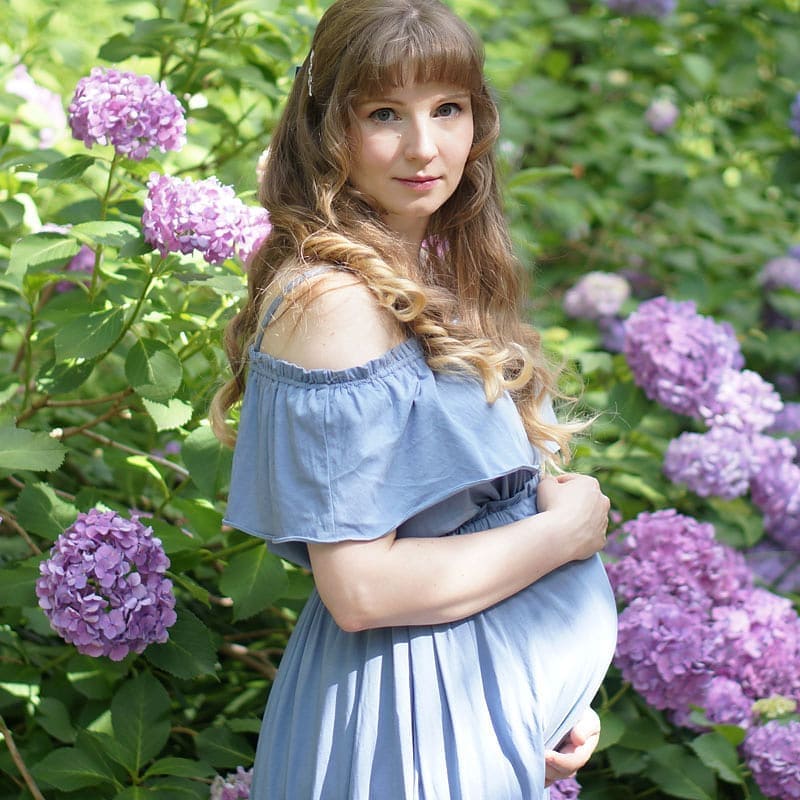 There are tons of styling options for long hair. You can choose some gorgeous updo or just leave it as it is.
If your hair is thick and wavy, all you need is to add bangs into the mix, and your hairstyle for a baby shower is ready.
Bangs will frame your face perfectly. You can style them in a sleek manner, or you can keep them layered, choppy, wispy, you name it.
17. Long Curly Hair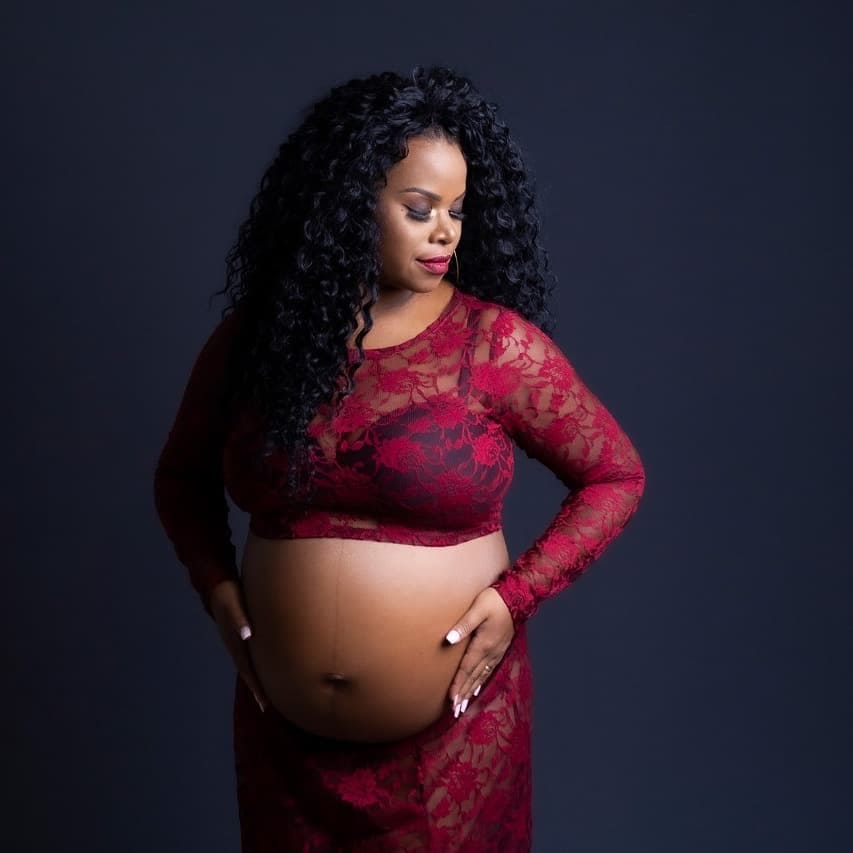 Your long hair is naturally thick and curly? No need to subdue and control it. Instead, allow your curls to be free; they'll bring out the best your hair has to offer.
Curls symbolize freedom, but at the same time, they're delicate and fragile. They're both strong and delicate, and that's exactly how moms are like as well.
More Useful Articles for Parents
18. Waves and Roots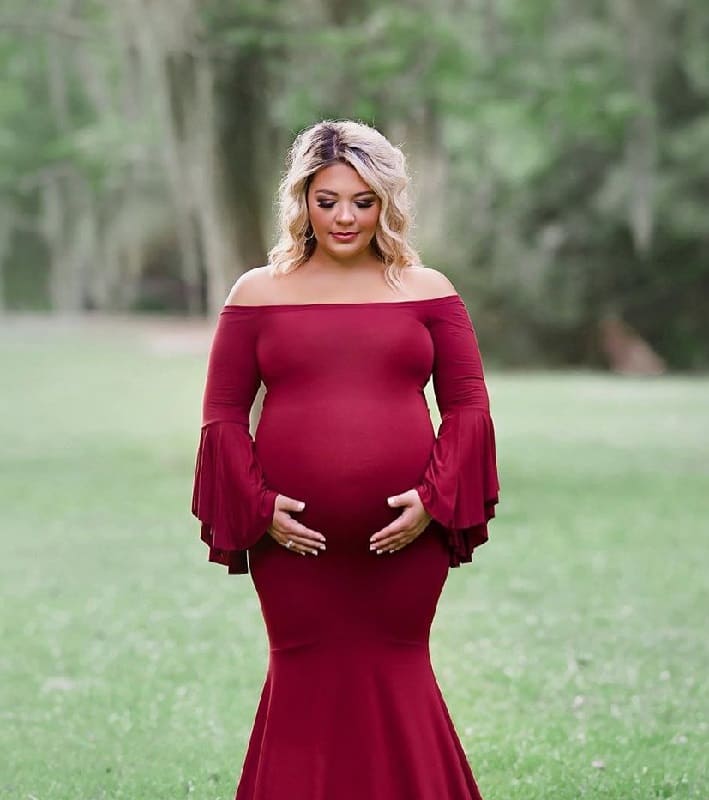 Women are advised not to dye their hair during pregnancy. Roots are nothing you should be hiding. In fact, celebrate them.
A great way to flaunt your two-toned hair is through gentle waves that create more volume and playfulness in your look.
Waves are easy to make, but also one of the most practical styles you can rock because they remain perfect throughout the day.
19. Short And Curly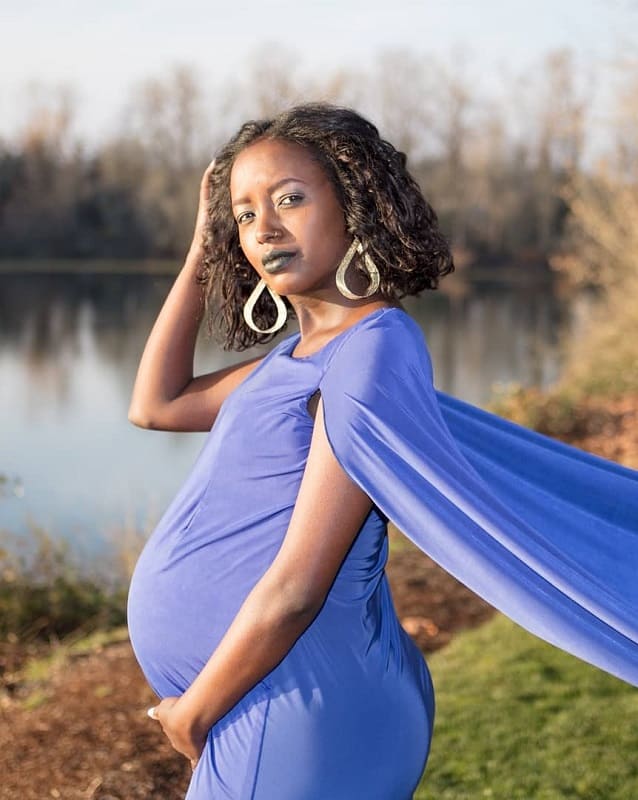 Some women tend to believe short hair can be too restrictive in terms of hairstyle choices. That's really not correct.
For instance, when preparing for your baby shower, you may want to style your short hair in tiny curls.
Thanks to curls, your hair will get more volume, and their bounciness will only add to the vibe of your baby shower.
20. Minimalistic Approach with A Flower Crown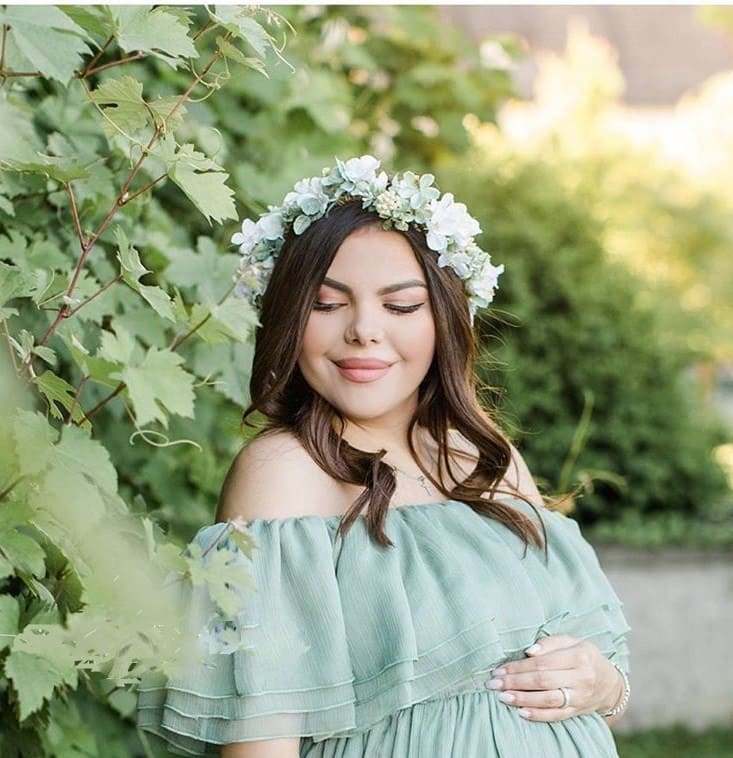 As mentioned throughout this post flower crowns can take your hairstyle to a whole new dimension. They are particularly useful for minimalistic hairstyles.
For instance, create gentle locks in your hair or keep it straight (based on your personal preferences) and put on a flower crown. Look at the mirror, and you'll love the result.
21. Pink and Blue Flowers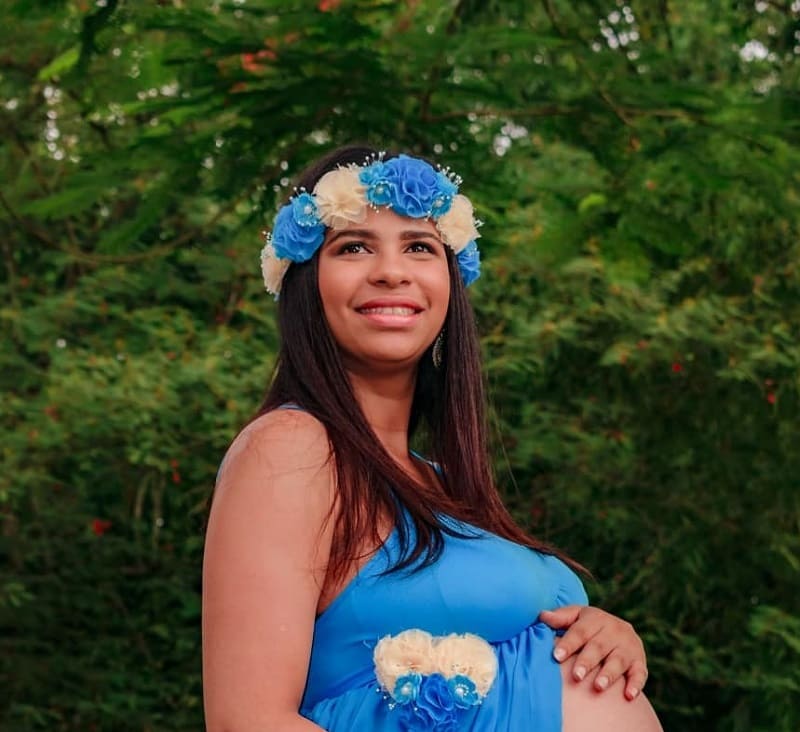 Carrying twins? Then your baby shower hairstyle should definitely feature some sort of symbol to celebrate the arrival of your babies.
For instance, keep your hair straight and put on a flower crown. You can opt for pink and blue flowers (natural or plastic) to represent their genders. Isn't it adorable?
Don't stop there; make sure your whole outfit is done in blue and pink combination for the best possible effect.
22. Medium Length Curls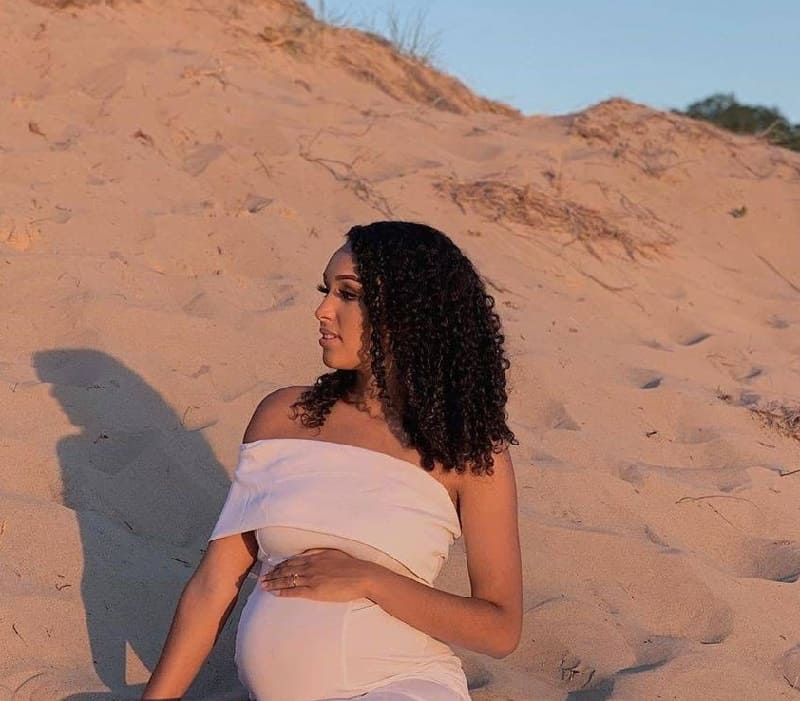 Women with curly hair often feel bad because thick hair is difficult to control. But for your baby shower, you should accentuate your curls.
They bring bounciness to your look, and it's needless to mention they're easy to combine with any outfit you choose.
You don't need to spend hours styling your hair, just apply your favorite hair product for curls, and you're done.
23. Angelic Look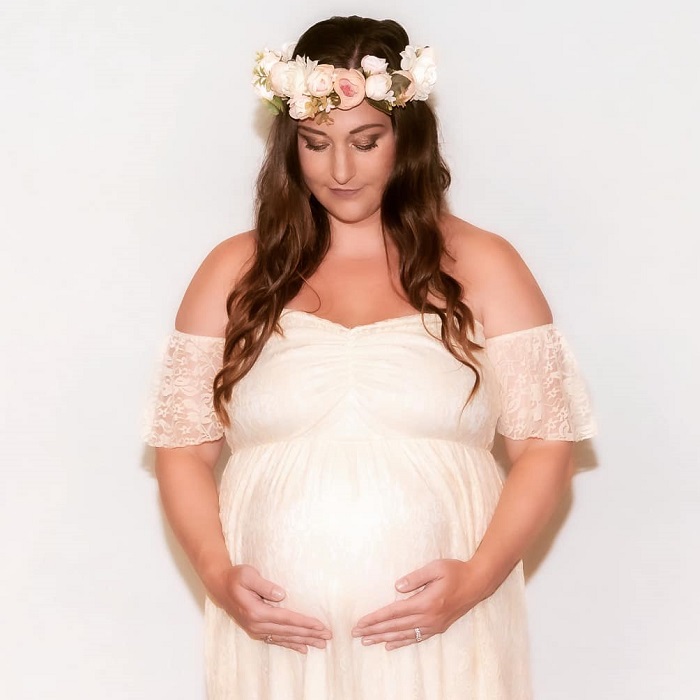 Here's a great hairstyle you may want to try at your baby shower event – the angelic look. All you need is to let your hair down, part it in the middle, and put on a flower crown.
24. High Ponytail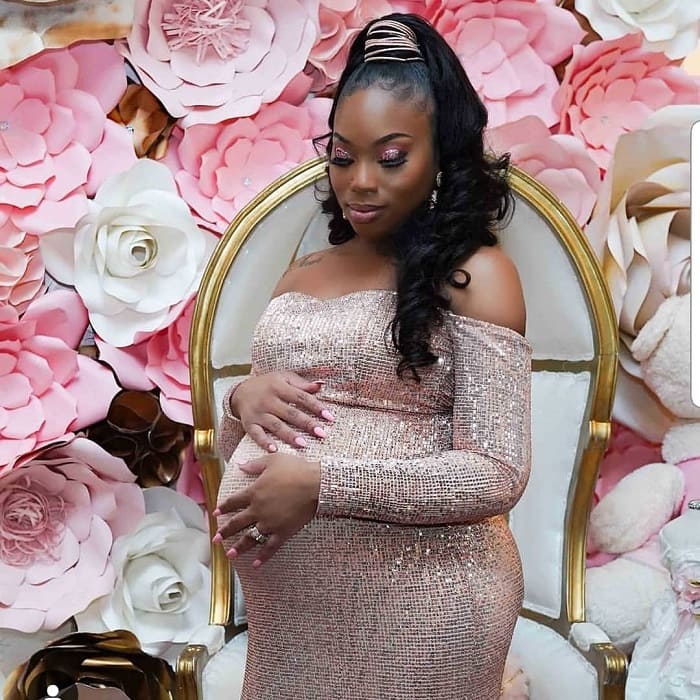 Who says ponytail can't be elegant and romantic? Here's a great style you can rock with ease.
High ponytail makes the whole look playful yet sophisticated. The look gets even better with hair accessories around the ponytail base.
25. Sleek Waves
A baby shower can also be a perfect opportunity for you to bring out your sensual side. Why not? Style your hair in a wavy look that will ooze elegance. This hairstyle looks great on short and long hair alike.
Baby shower hairstyles are elegant, effortlessly chic, and angelic. You've probably found a few options you really liked.
Experiment, try them all before your big day and then determine which one goes best with the outfit you've chosen. Good luck.