Parents who are expecting a baby girl will likely want to spend a lot of time setting up the perfect room for their new baby.
A lot of thought goes into the design, layout, colors, and furniture when decorating a nursery for baby girls.
Because some parents find this process so stressful, having some ideas already prepared will help to make the job easier and ensure that parents have a lot of fun.
Beautiful Nursery Decorating Ideas for Baby Girls
Unless parents are going to want to start from scratch when changing the nursery to a "big girl room," they will want to make sure to make design choices and decisions that their daughter is sure to enjoy for a while.
Great art, furnishings, and color choices will help reduce the amount of work that parents will have to do in the future. Check the best baby girl room decor ideas we have shortlisted hair.
1. Moody Gray with Natural Wood
A highly textured wall will instantly add a ton of depth to any nursery. This moody gray wall is the real star of the space and creates the perfect backdrop for natural wood furniture, white accents, and gray patterned fabrics.
A moody and deep color looks great in a nursery, and older girls will likely love it as well.
2. Monochrome Room with Plenty of Light
Many parents believe that a baby girl's room has to have tons of bright colors, but a monochrome space can be striking.
Using lots of shades of gray in this nursery is a great way to make each piece have value and plenty of weight in the space.
The gray does need to be countered with plenty of light to ensure that the nursery doesn't feel too dark.
Perfect Baby Boy Nursery Ideas for Small Spaces
3. Multiple Shades of Pink
Bubblegum pink has always been a popular option when it comes to baby girl room ideas. Adding layers of pink in this space helps the design to really pop.
Pink curtains, pink crib set, pink walls with decals, and even a pink orchid in the window all work together to create a bubblegum haven for a little girl.
4. Bright Nautical Theme
Nautical themes aren't just for boys, and girls will love this clean, crisp, and open nursery just as much. The bold navy and red accents in the room make the white seem even brighter.
Adding a canopy or tent over the crib ensures that the baby will be able to easily sleep when it is drawn to help the crib stay nice and dark.
5. Perfect Blend of Gray and Pink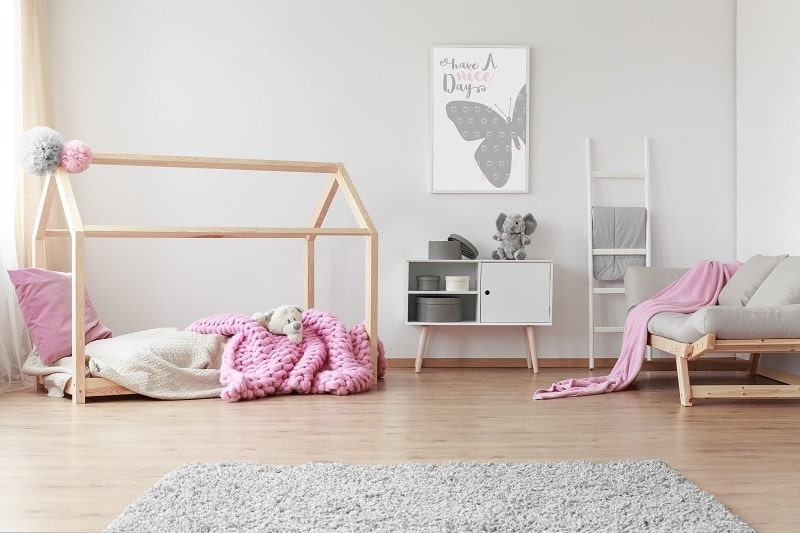 Gray and pink go perfectly together, creating a lighter and neutral nursery that is perfect for any little girl.
The light gray color of the walls provides the perfect backdrop for natural wood furniture and pink linens.
Limiting the amount of pink that is in the room keeps it from being overly girly and ensures that the space can last as the daughter grows up.
6. Happy Sherbet Colors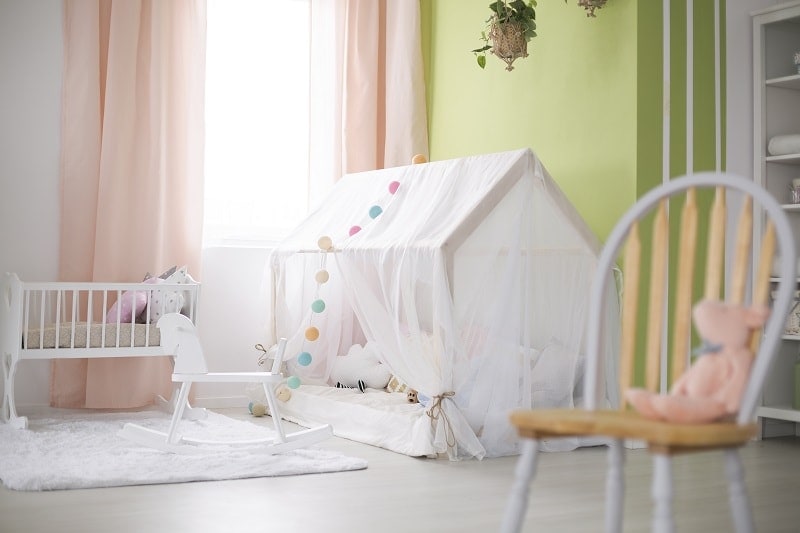 Most baby girl is sure to love the bright and happy sherbet colors in this room. They are a fresh take on white and modern nurseries and add color and warmth to space.
Keeping the windows as open and uncovered as possible ensures that there is plenty of light in the room and will make a smaller space feel even larger.
Check Out These Hairstyle Articles for Your Baby Girl
7. Darker with Large Windows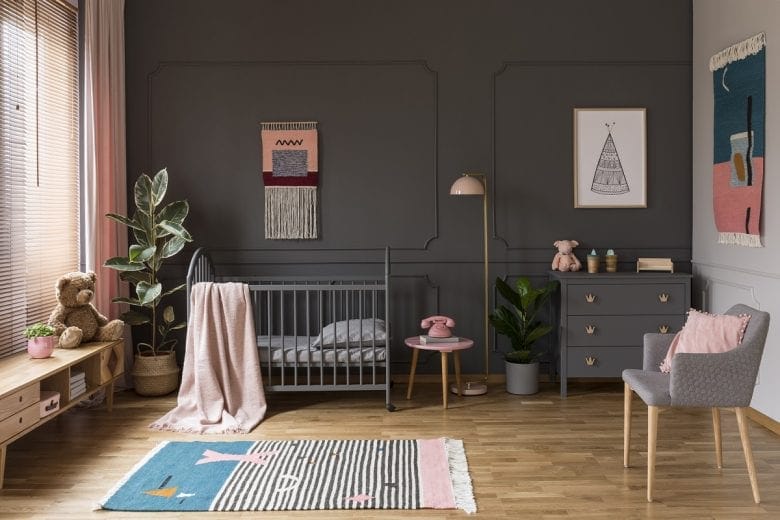 Darker nurseries can be striking and are a great variation on lighter options. The large windows in this darker nursery are key, as they prevent the space from feeling too dark and enclosed.
Adding plenty of large wall art and the exposed wood floor will help to make the space more interesting. Painting furniture the same color as the wall makes the room feel larger.
8. Bright Room with Animal Art
Kids love animals, and using oversized animal art as baby girl room decor idea is a great way to encourage and celebrate that love and hang up great art.
The simple art is perfect in a modern nursery that doesn't have a lot of furnishings, but still manages to add some personality and interest to space.
9. Bold Colors with Fun Graphics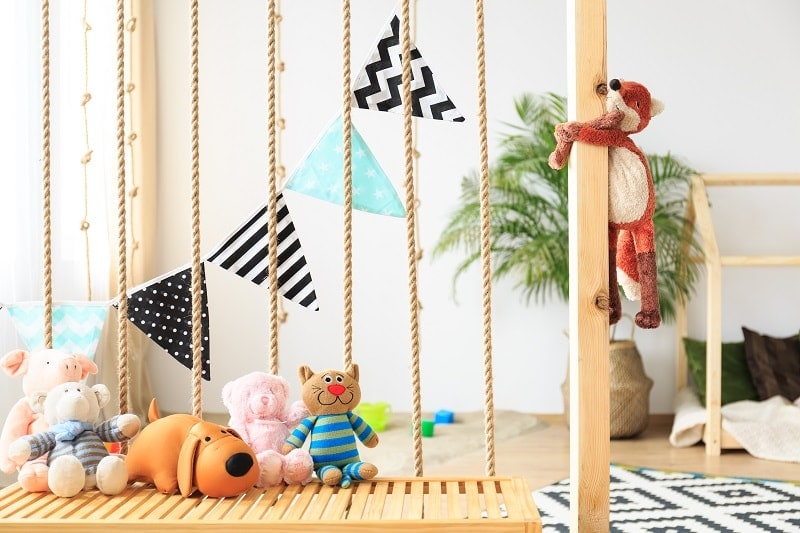 Bold colors will make any nursery feel welcoming and open, and the fun graphics on the bunting and the rug in this nursery make it even more inviting.
The bright and happy stuffed animals are sure to be favorites as the baby girl grows up, making them an incredibly important addition to this fun space.
10. Gold Accents for a Bright Space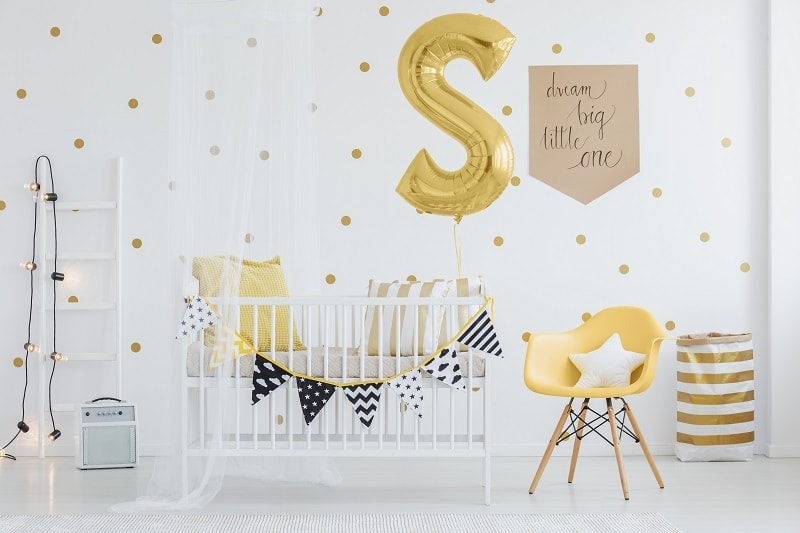 Parents who think that their daughter is going to be a rockstar may want to skip the pinks and grays altogether.
This baby girl nursery decorating idea features gold polka dots on white walls, gold accents, and a large gold balloon.
Together, these features add a ton of interest to the room and prevent it from being just another normal nursery.
11. Modern and Updated Room
Modern homes deserve modern nurseries. This one has simple pendant lighting, plenty of shelves, black and white graphic prints, and a great mix of white and natural wood furniture.
The use of lighter neutrals in this room keep it from feeling dark and heavy. Thanks to the flowing white curtains, the window is a focal point in the space.
12. Bring the Jungle Inside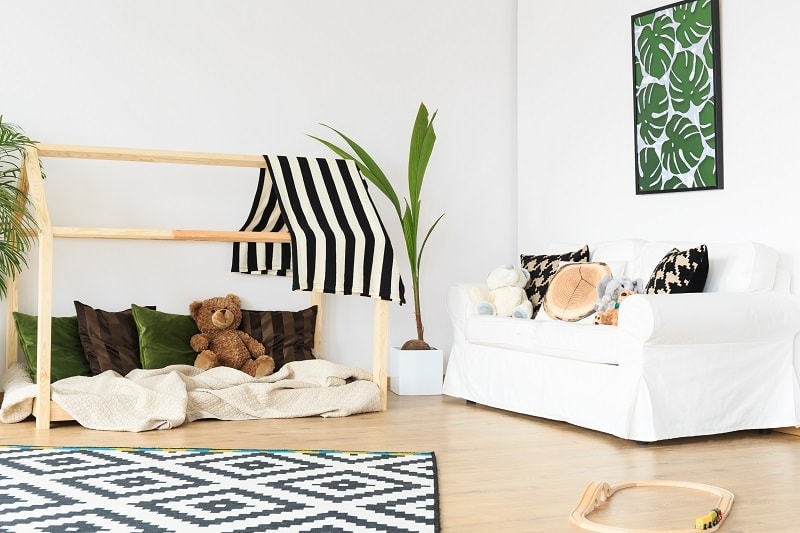 There's no reason why parents can't bring some of the outsides into their new nursery. Bright green leaf graphics, green pillows, and real plants add a lot of interest to this room.
Together they make it feel like some of the outside is in the house, which is great for people who love nature. Any girl lucky enough to have this nursery is sure to love camping.
You Might Find These Useful for Your Little Ones
How to Prepare Healthy Meals for Toddlers
13. Cheery Colors and Plenty of Storage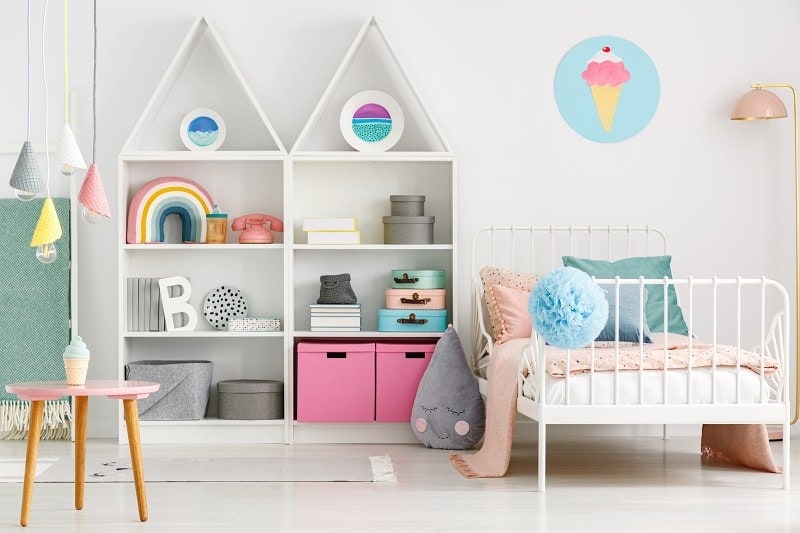 Bright and cheery colors liven up this nursery, but the real beauty is in how much storage it offers.
The double bookshelf not only has shelves for storage but also has enough room for covered storage to keep items off the floor and out of sight.
Hanging pendants in bright colors and plenty of art are some of the best baby girl nursery ideas for small room.
14. Muted Tones for Relaxing
Using muted and neutral tones in this nursery make it ideal for parents and their daughter to relax. A calming blend of pink, gray, white, and gold elevate the space and prevent it from feeling too childish.
There's plenty of storage and still enough room for a rocking horse, as well as storage bags on the floor.
15. Perfectly Peachy Crib Tent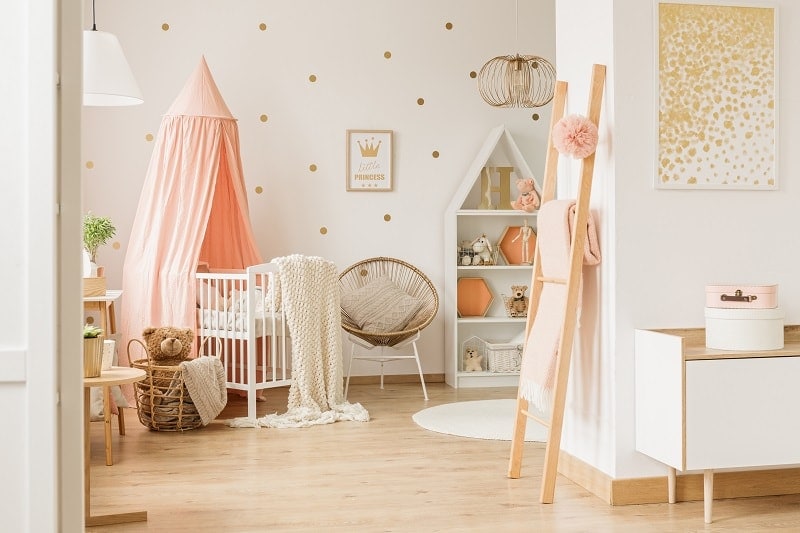 Peach and gold work together in this room to create a fun escape. The real star of this nursery is the peachy crib tent that hangs from the ceiling and surrounds the white crib.
This bright peach color is echoed throughout the room to help tie it all together, and the tent itself is great for helping girls nap.
16. Oversized Blocks and Bright Walls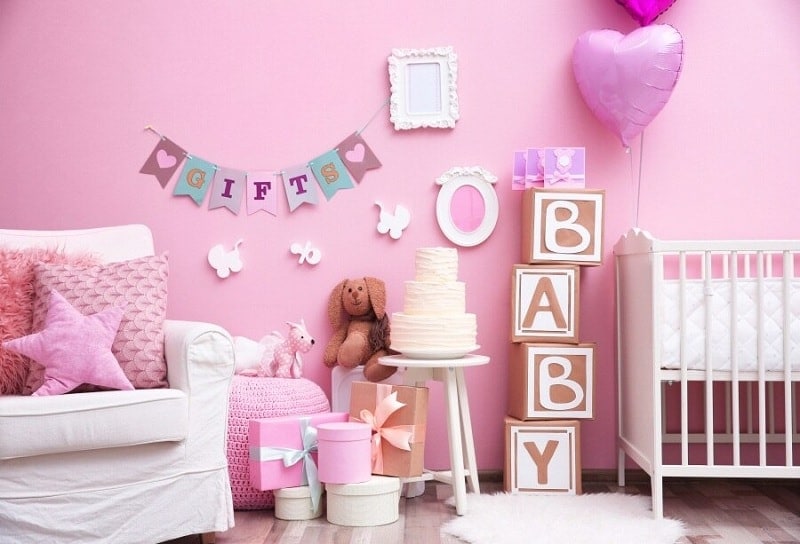 This baby girl room relies on bright pink walls and oversized blocks to make an impact. The large blocks really pop against the pink wall, and the white furniture also stands out.
It's a bold nursery design that is great for parents who have a lot of color throughout their house and aren't worried about adding a little bit more.
17. Open Sleeping Space and Two-Toned Walls
An open sleeping space immediately makes this room feel very visually light.
The two-toned walls are a fun design choice that allows parents to use more than one color without allowing the room to feel too busy or overwhelming.
Additionally, long and skinny legs on the furniture lift it all off of the floor so that it doesn't look heavy and weighed down.
18. Calming Pink and Natural Wood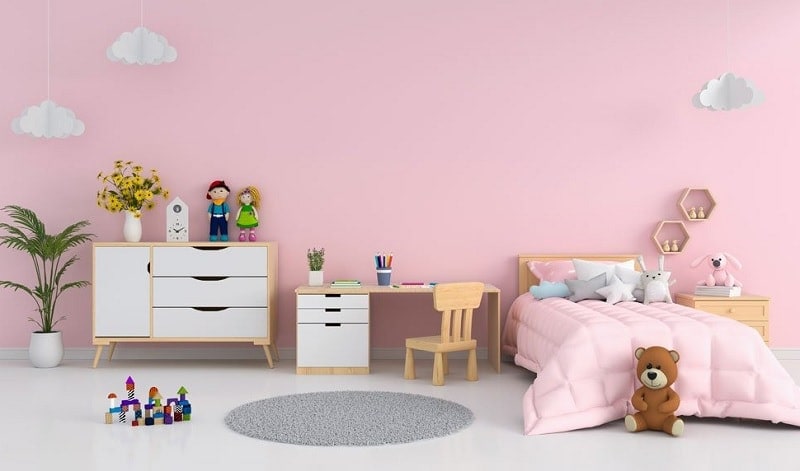 Great nursery decorating is key to designing a baby girl's room that everyone in the family will love. This room relies on low furniture in natural wood to make the ceilings appear a bit taller.
The calming pink color of the walls and the bedspread tie together the room and make it feel very cohesive and intentional.
19. Bright Teal with Yellow
Extending the bright teal of the walls onto the ceiling in this nursery is a bold choice. Doing so helps to make the room feel even larger and incredibly open.
There's plenty of room on the walls for great art, and the large windows add plenty of light. The contrasting yellow rug helps to balance out the bright ceiling.
Cute New Baby Girl Quotes to Welcome Her
20. Impressive Curves on Ceiling and Walls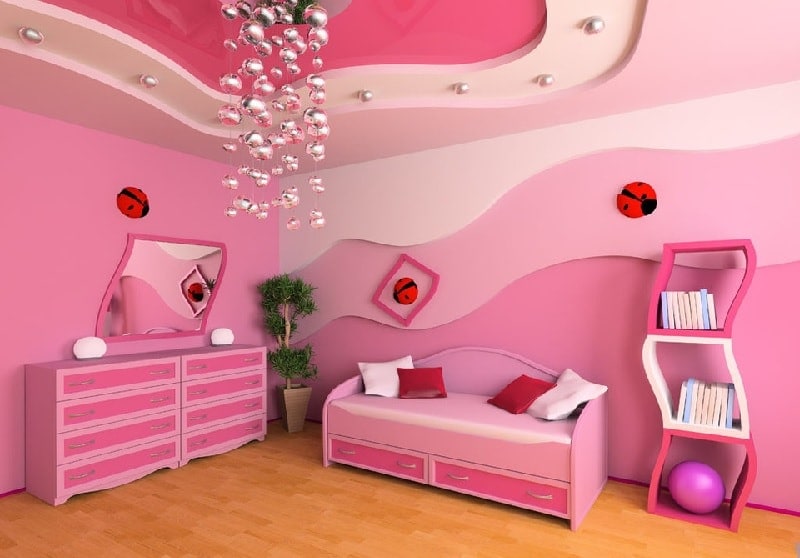 This baby girl room decor ideas is amazing, thanks to the 3D curves on the walls and ceiling.
Painting the layers different shades of pink was a bold choice, but one that adds a ton of interest to space. The eye-catching silver mobile and bright furniture help to complete the look.
21. Softer Shades with Twin Windows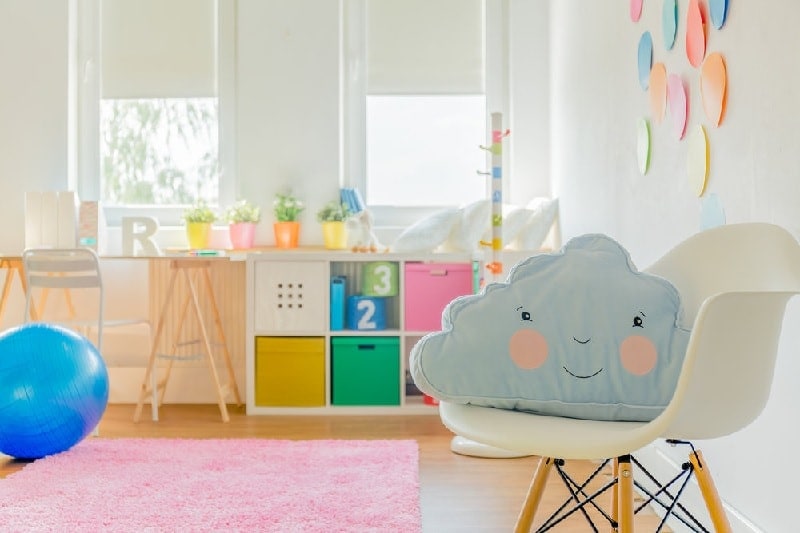 Lighter shades in this room make it a very relaxing place for a baby girl to spend her time.
The twin windows make space feel very symmetrical, which can make decorating much easier. Plenty of storage and a soft, fluffy rug completes the room.
All of these great baby girl nursery decorating ideas are sure to help parents design the nursery of their dreams.
It does take some work, but the end result is worth it and will give a baby a place to sleep when she is younger and a place to play when she gets a bit older.