Is there anything softer and sweeter than those first wisps of hair on your baby girl's head? Unless your little bundle of joy has been blessed with a full head of luscious tresses from birth, baby girl hairstyles are often restrained by a limited mane, but it does not make them any less adorable.
There are just endless possibilities when it comes to baby haircuts, and with the babies being so cute, how can anyone resist these cute faces and their adorable hairstyles?
Honestly, if there is an age range that is most deserving of cute hairstyles, it's these baby girls listed below.
Cutest Haircuts for Baby Girls
Let us warn you first. The hairstyles for a baby girl below are going to be adorable.
In fact, you might start thinking all about the cutest hairdos that you want your baby girl to have next! Well, without further ado, let us move on to the hairstyle ideas below.
1. Pigtail Hairstyles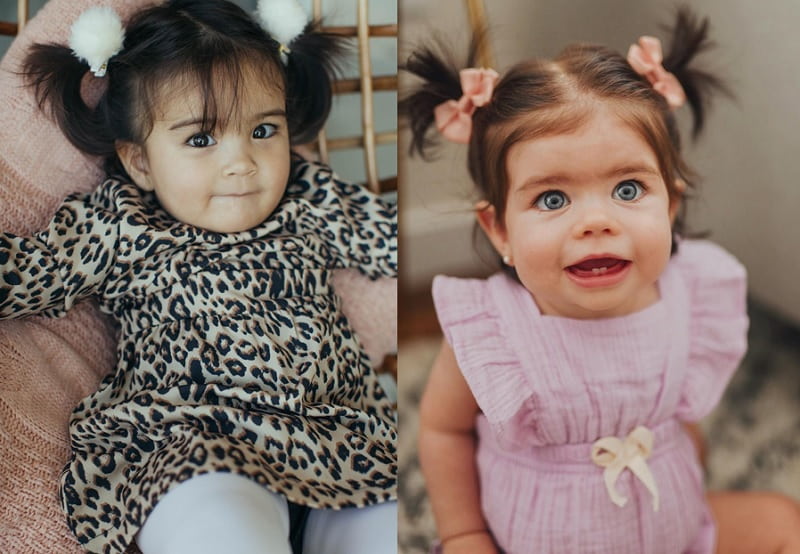 It's called keeping things simple. These pigtails only need a set of cute hairbands or hair clips to keep the hair in place.
Babies don't have that much hair yet, so you don't need a lot of effort or time to tie up their hair.
Unique First Haircut Ideas for Boys
2. Little Ties All Over
See? You don't need much effort at all! Just tie their hair where it's long in several spots.
You can tie them in a pattern so that these hairbands will at least look to be in a proper order rather than completely random.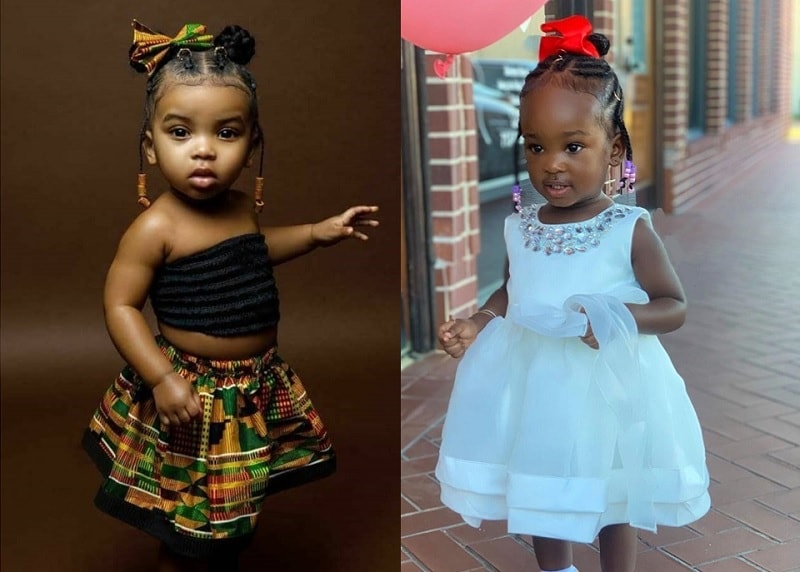 Notice how these baby girl's hair is all braided up? You might also see how their hair is secured in place by big bows.
For some reason, bows look much better on baby girls than on teenagers or women. Is it because babies are just cuter as a fact?
4. Tied on the Top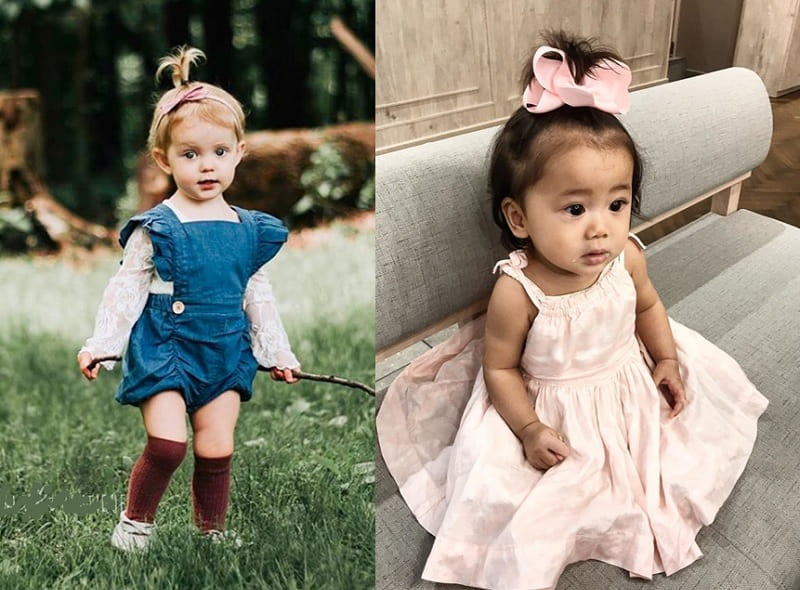 Personally, the writer would have called this the onion hairstyle, because honestly, how does it not look like one? In any case, this is one of the cutest baby girl hairstyles that you can get with almost zero effort.
5. Natural Haircuts for Babies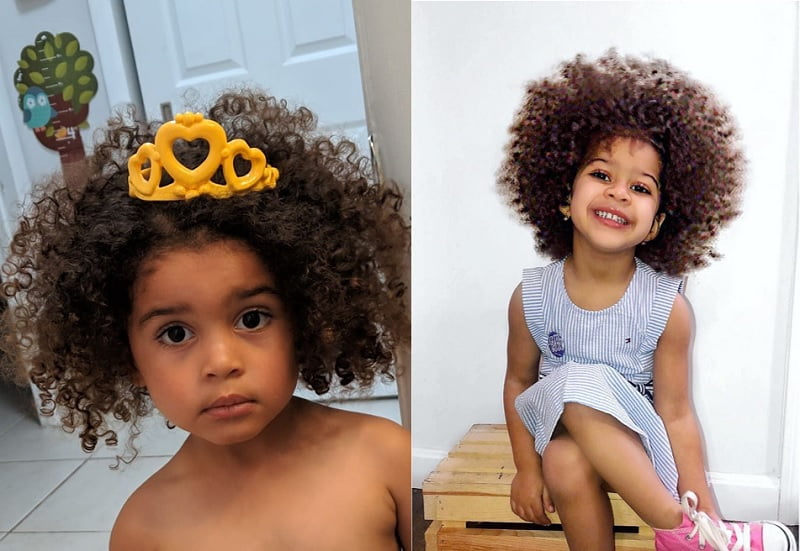 Your baby girl deserves to live stress-free, and this means that even her hair shouldn't be too tightly bound or styled every morning.
Her hair is gorgeous as it is with all its wild curls – let it grow as it should and let your baby girl grow up feeling proud of her own hairstyle!
6. Bow Design Head Band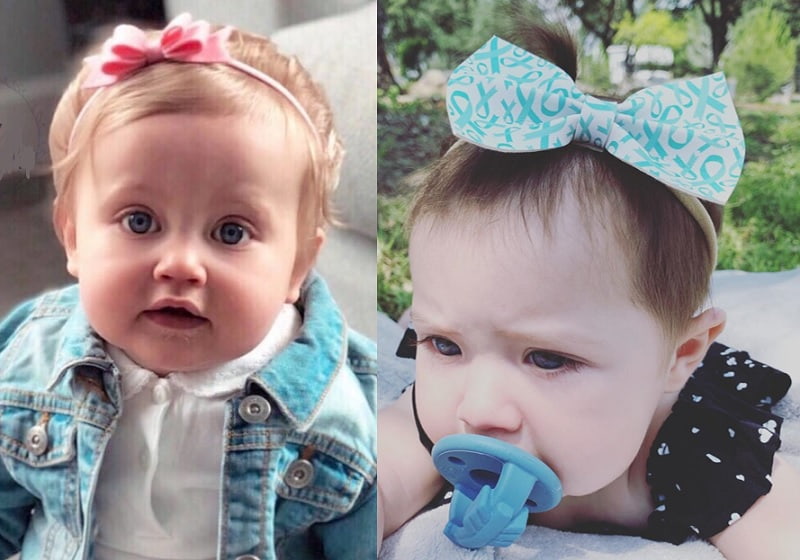 If your baby girl has really short hair and you aren't sure how you can even style it at all, maybe you don't have to. Get a headband just like the ones featured above, and it's pretty much good to go!
7. Braided Hair Band
Don't want your girl's hairstyles to be centered around accessories and elastic bands?
If your daughter's hair is long enough, you can get a small braid tied across her head and make it look just like a headband. Works well, doesn't it?
Rose-patterned hairbands will always look amazing.
Whether you're a baby girl, a teenager or even an adult woman rose headbands will always look amazing, especially so when you have a head full of gorgeous hair like this adorable baby girl!
Cutest Toddler Girl Hairstyles with Bangs
9. Short Bob with Bangs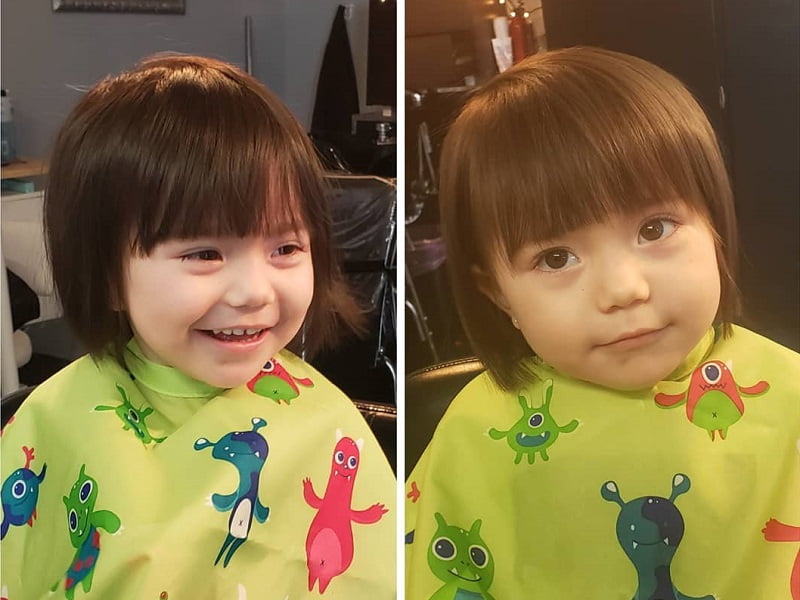 The best baby hairstyles never need much more alterations.
Let your baby girl show off her beautiful crown of hair as it is, all-natural with loose curls, straight hair or any other traits that her hair can boast. This includes her beautiful hair color!
10. Colorful Butterfly Clips
If your toddler has thin hair, then you can consider decorating her head of hair with lovely little butterfly clips like these ones.
These butterfly clips often come in many colors, and so you can easily create a cute and colorful look for your baby girl.
Lovely Baby Girl Hairstyles
From the very first tendrils of a newborn to the sometimes untamable curls of an energetic toddler, hairstyles for baby girls can be a constant puzzle for a new mom.
You want something comfortable for your little one, and more importantly, quick and easy for you to put together before your little princess finds something better to do than to sit quietly at your feet.
After all, young toddlers are not known across the land for their ability to stay immobile for very long. Besides, retailers have come up with a seemingly unlimited number of bows, headbands and other hair clips to match every single of your little princess.
They also come in very handy when it comes to keeping stray growing locks under control. Only one issue: how will you stop yourself from buying everything?
Thankfully, it is the perfect time to have some fun with your little girl hairstyles: no matter what you pick, could it be anything but charming on such a sweet face?
11. Like a Lion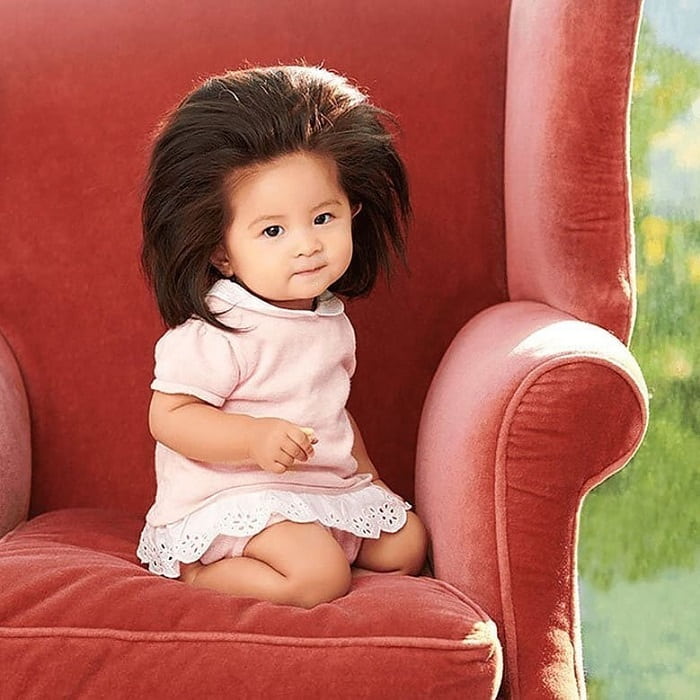 This baby girl hairstyle is going to need some spraying and styling to get. If you're not a big fan of little hairclips, maybe a look like this would do instead, especially for babies with thin hair.
I'm sure you can agree that this look makes your baby's hair look much thicker than it actually is!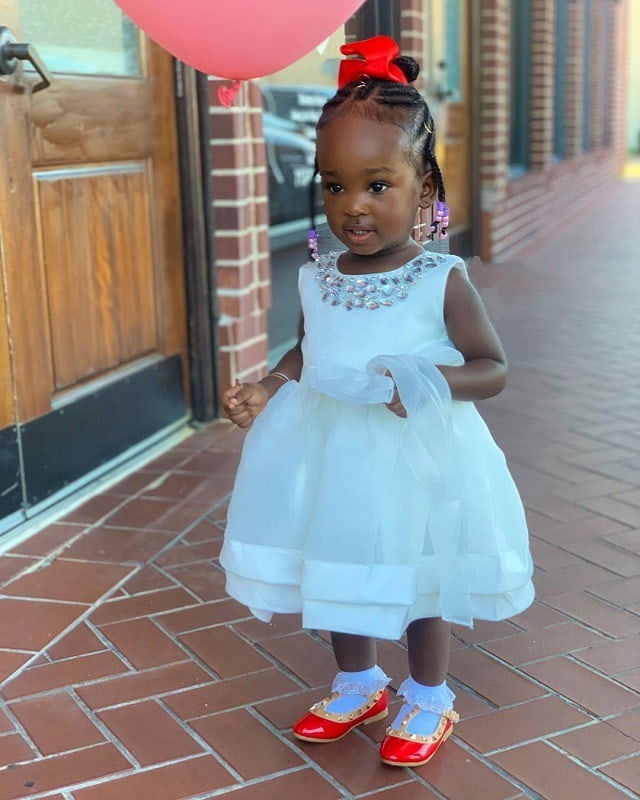 Black baby girls often go with hairstyles just like their momma's, and this includes having little braids all around just like cornrows or dreadlocks!
However, as it is with most hairdos for baby girls, the braids are decorated with colorful beads and patterns.
Majestic Hairstyles for Black Toddlers
13. Ring o Roses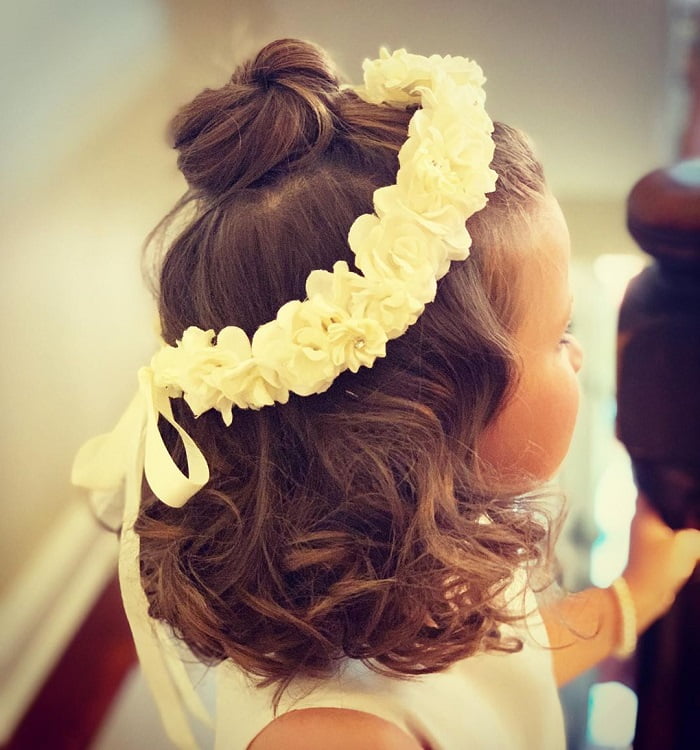 Tie a little bun around the back, and pair it up with a beautiful little hairband around, just right above the loose curls.
Just like the other examples shown in this list, flowers are a good addition to any baby girl hairstyles.
14. Little White Flowers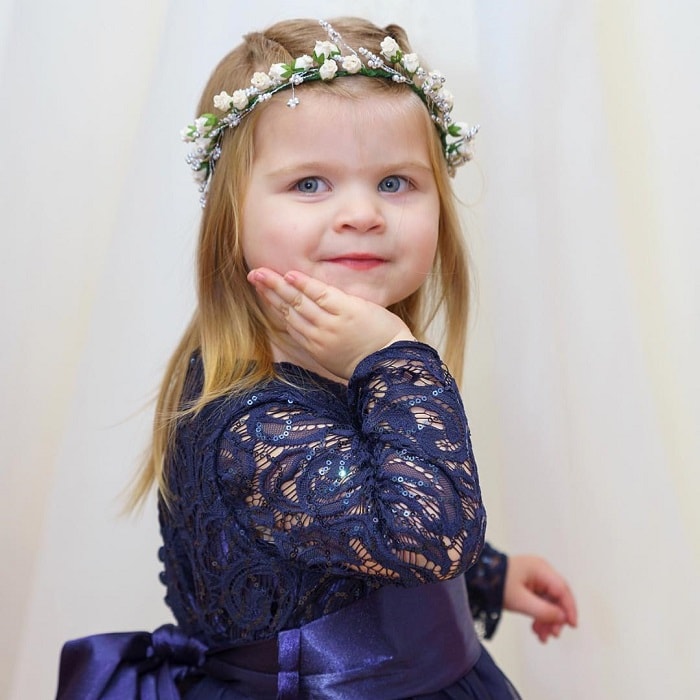 Any hair colors would look good with little white flower decors, no exception.
It won't matter if your hair is jet black, dark brown or any other color – you can bet that these colors will all look amazing.
Some More Useful Articles for Your Little Ones
How to Prepare Healthy Meals for Toddlers
15. Braided Back Up
If you are looking for one of the more unique hairstyles for your baby girl, then you can go for something like this – it's simple braids, but everything is braided back up to the middle of the head area to create tiny loops. Cute, isn't it?
16. Short Curly Haircuts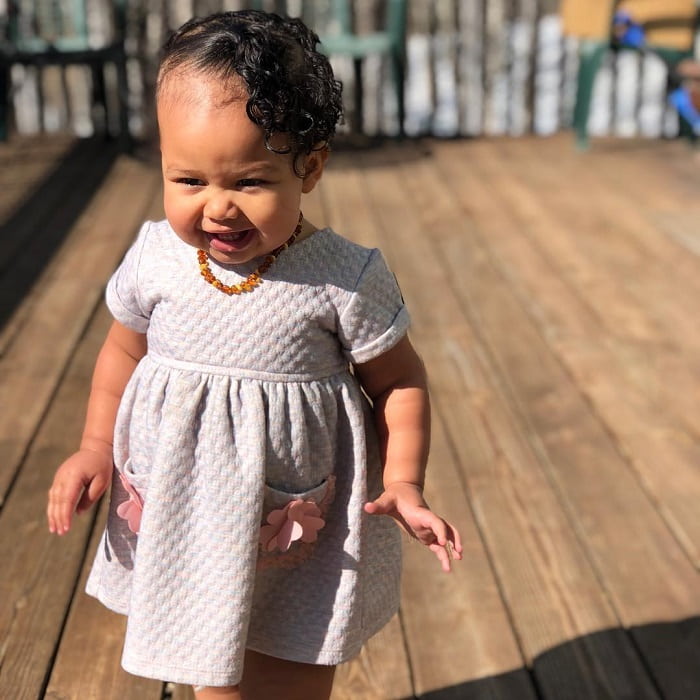 Here's another simple look for your baby girl with curly hair! This hairstyle depends only on your baby's natural hairdo – if she has curly hair that she can show off easily, well, then there you have it!
It's one style that you can leave as it is.
17. Segment It Up!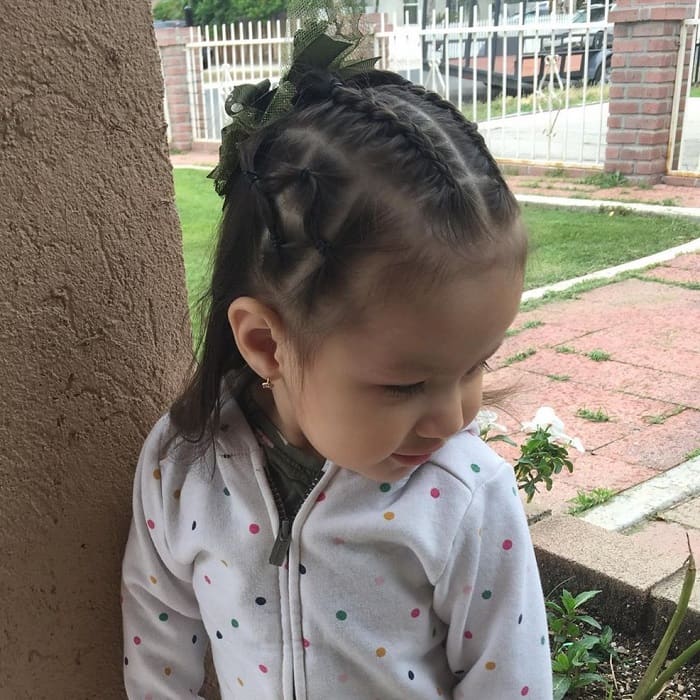 Baby's hairstyles can also be segmented just like how other adults do it. When you segment your girl's hair into several neat and organized parts, any hairstyles you create afterward will only make it look even better.
18. Pigtail Buns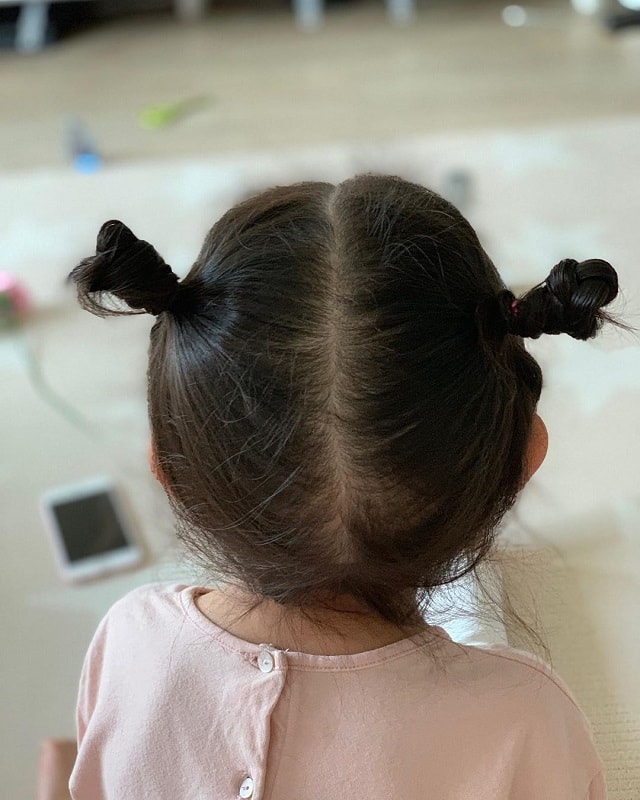 Short hair or long hair, any baby girl can pull this look off! After all, a pair of pigtails only require a decent length to tie, although thicker and longer hair would look cuter on little babies.
Pictured above is one of the cuter ones. Isn't this look just adorable?
19. Adorable Hairstyles with Accessories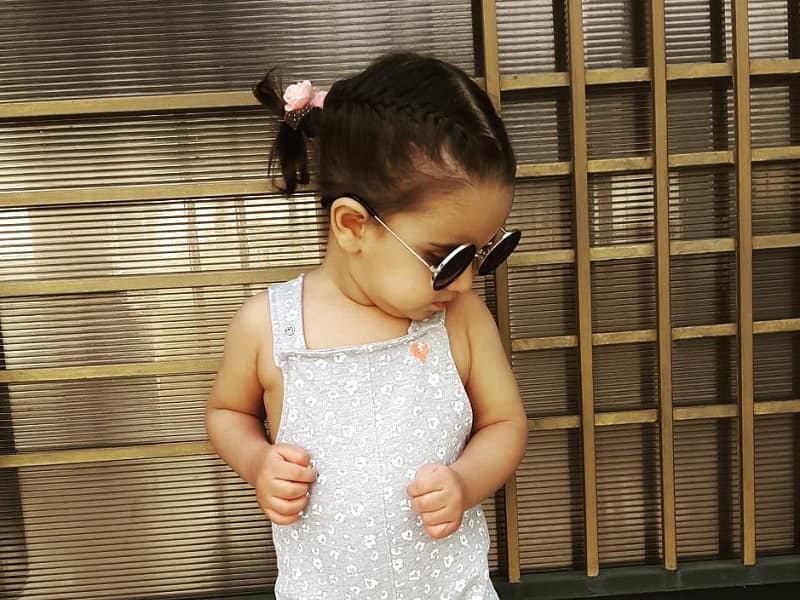 Just look – isn't this an adorable look for a baby girl? Her cute little ponytail is only made cuter with that pair of sunglasses!
If you're ever uncertain about the hairstyles that you can give your baby girl, know that you can always depend on these lovely accessories. There's nothing not to love about this look!
20. Just like Minnie Mouse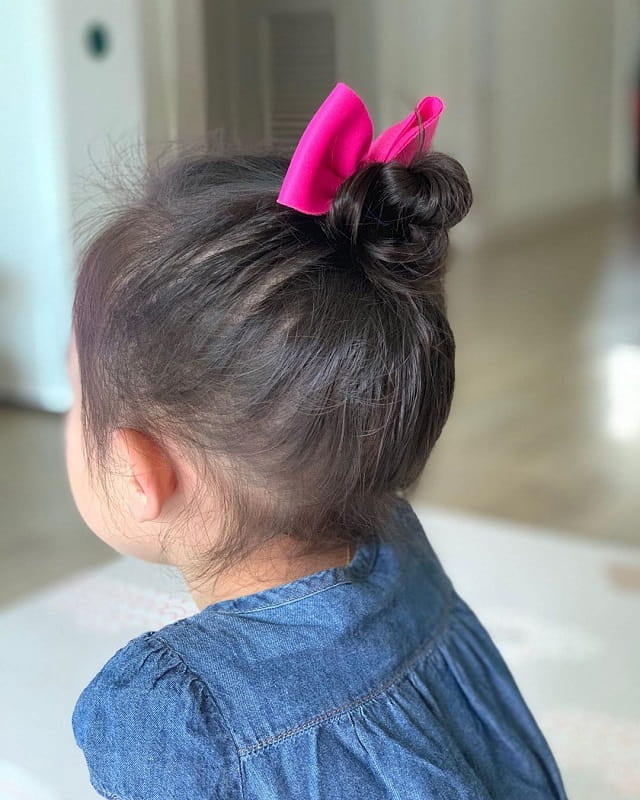 A cute little pink bowtie like this is bound to make any little girl feel like Minnie Mouse themselves.
Most of the work left would just be to tie a little bun on which you can place your bowtie. It's easy, won't take much time, and looks gorgeous!
21. Three Ponytail Hairstyle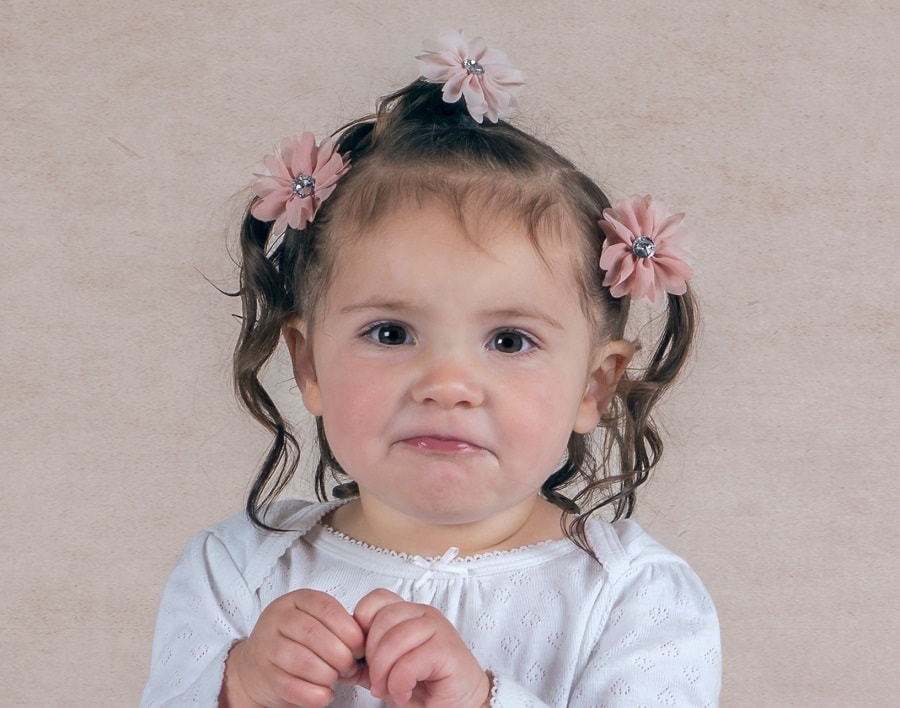 We know you hate it when your child's playtime gets disrupted or they feel irritated. One reason for it could be the hair falling on their faces.
Now, if you do not want to cut it, you can check out the hairstyles given to her, which are elegant and quite charming.
22. Blonde Pixie Cut
As the name suggests, it is one of the sharpest-looking hairstyles for baby girls. However, it is most preferred when the child is a toddler.
It is also the ideal choice for many as it does not take much effort to be maintained. Just make a side part, and you're good to go.
23. Side Top Ponytail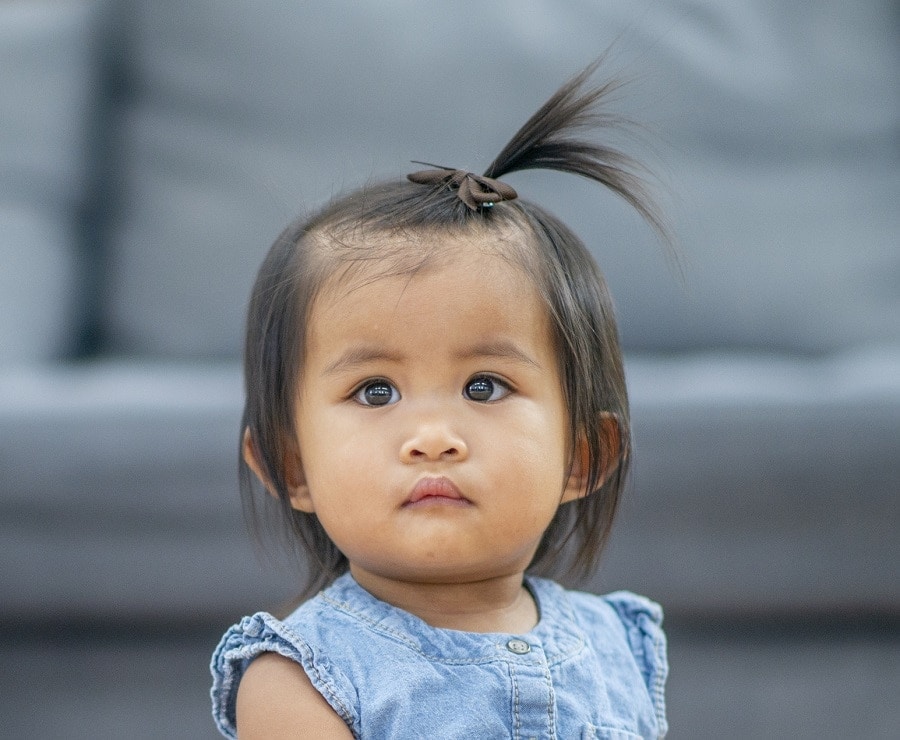 Add a little bit of spunk to your girl's style with this hairdo. Just tie all the hair on the top at one side and let the other hair loose.
If you are getting your baby girl ready for an event or an outing, this can be the perfect choice to opt for.
24. Two Cute Buns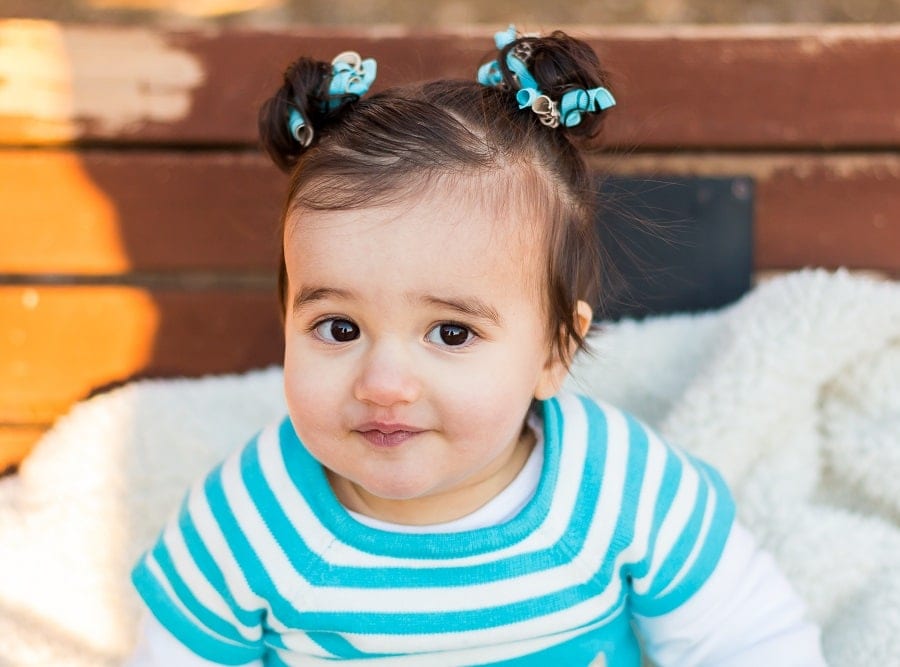 Let those adorable little faces out in the open for the world to be mesmerized by, and try this hairstyle for baby girls. It includes tying the hair up into two buns on each but with a side part.
Then, add a little spark with beautiful rubber bands and accessories.
25. Lovely Bob with Bangs
Just look at how breathtakingly precious this haircut looks on baby girls. This hairstyle includes cutting the hair short until the nape and bangs fall half an inch above the eyebrows.
It is perfect for parents who love their girls to have long hair but do not want them to get bothered by it.
Which of these haircuts for the baby girl did you like the best? We couldn't pick a favorite among ourselves, but we're sure that at least one or two of these cute baby girl hairstyles will charm moms worldwide!
If you have any other haircut ideas that you think should be included in this list, let us know by dropping a comment in the section below.