When aunts and nieces want to show their love and affection for each other, using great aunt and niece quotes is a suitable option. Choosing the right quote for a special time, such as a birthday, anniversary, graduation, or wedding will ensure that both the giver and the recipient feel special and loved.
Finding the right quote, however, can be a bit tricky, which is why it's a good idea to choose from some of the best quotes around.
Lovely Quotes for Niece from Aunt
No matter for what reason you need niece quotes from aunt or quotes for a niece, ready-made quotes are a wonderful choice.
These ensure that the person sharing the quote, no matter if it is in a card or verbally, has the right words for the occasion. It's a good way to ensure that everyone is on the same page regarding how they feel about each other.
1. I can't explain how happy I am to be a part of your life. I may not be the perfect aunt but you're the perfect and best niece in the world. May God always protect you from all evil things and give you a happy life!
2. It feels amazing to see you becoming a great woman. You're the girl I love the most and I'm proud to be your aunt. Distance may separate us but we're connected by heart and you're always in my prayers.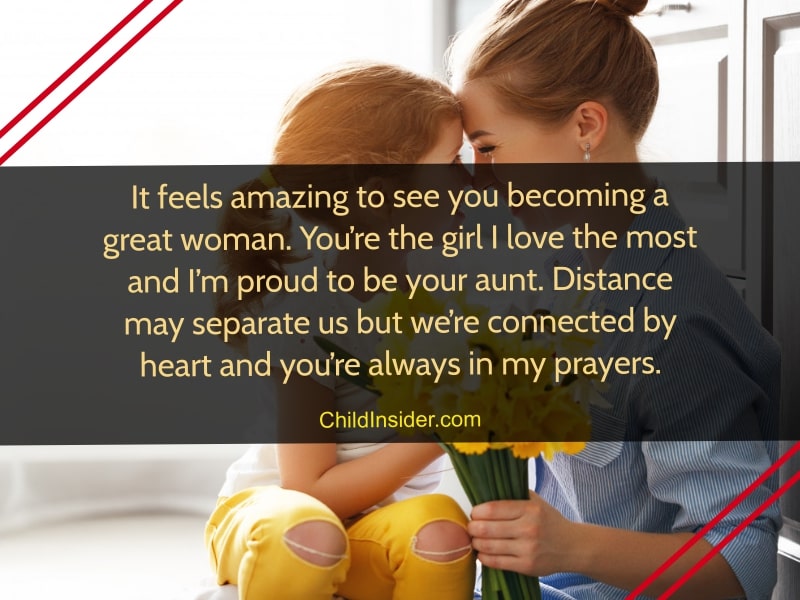 3. The sparkle of your eyes gives me peace and the beautiful smile on your face brightens my day. My dear niece, you're the most adorable, prettiest, and sweetest person I know.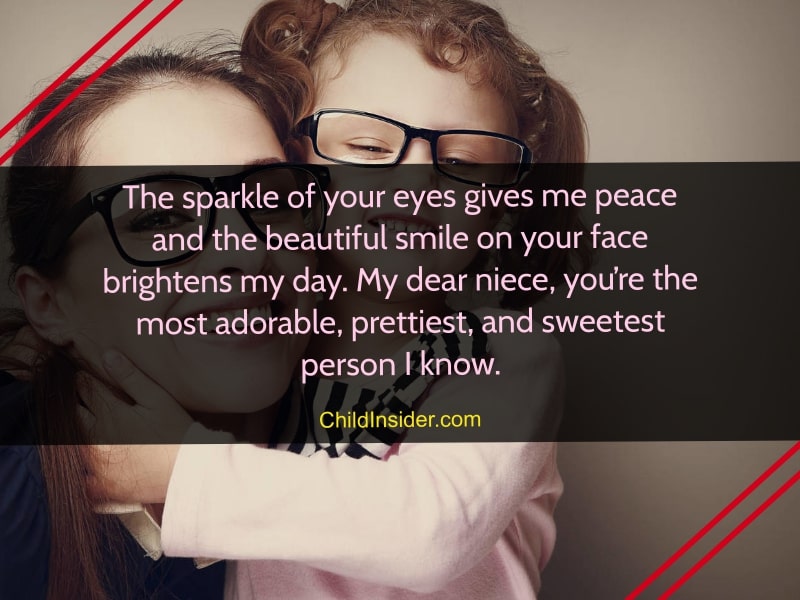 Adorable Birthday Wishes for Niece
4. My beautiful niece, you're very special to me. I've always considered you as my own daughter and nobody can take your place from my heart. Count on me always, my child! Aunt loves you a lot!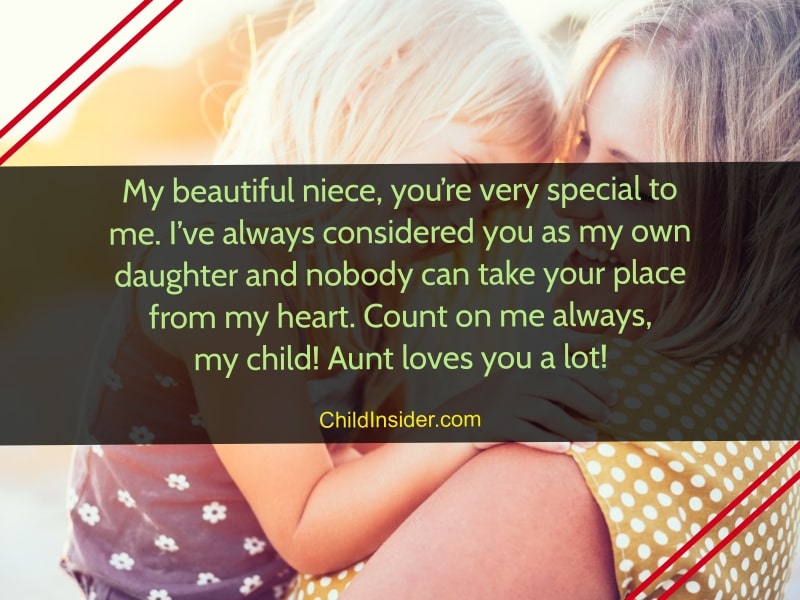 5. My days become brighter whenever I'm with you, my niece. Today and always count on me because your happiness matters a lot to me. Best wishes for your life!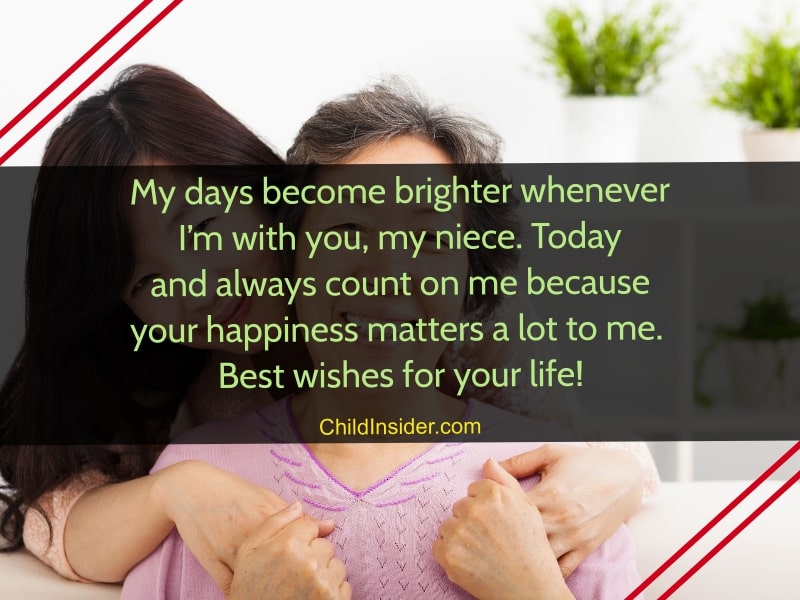 6. Being an aunt of such a wonderful niece is like a blessing. Your innocent smile makes my day. May God give you a life filled with success, love and lots of victories! All the best in your life!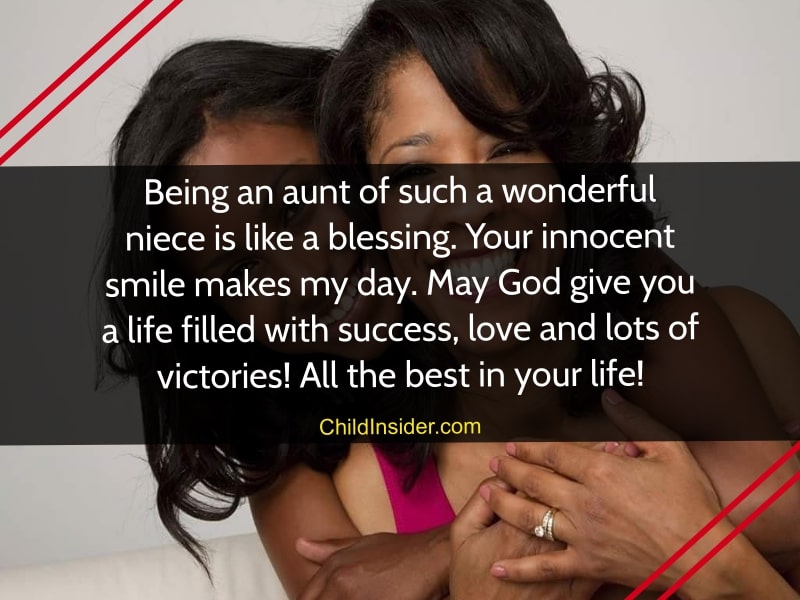 7. One of the happiest things for me is when everyone says that we look alike. My dear niece, my cutie pie, I love you a lot and want to be at your side forever!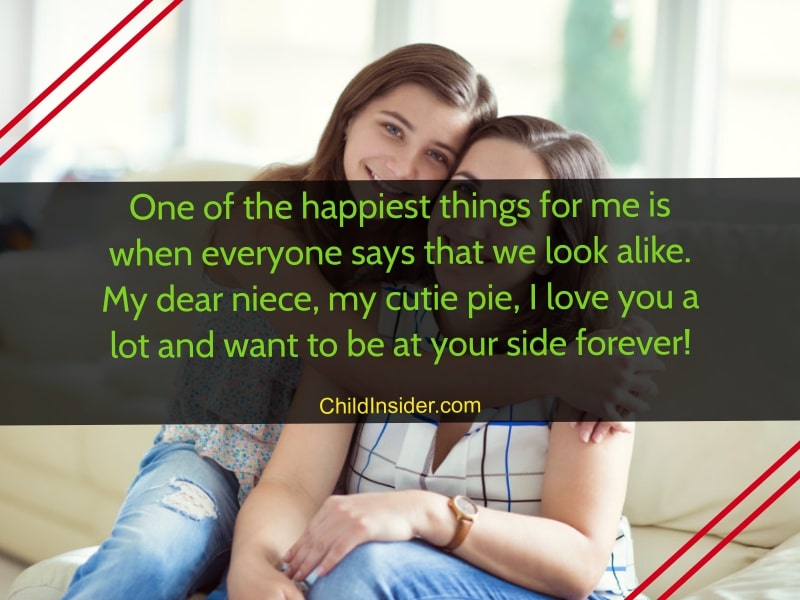 8. I'm always thankful to God for giving me the best niece in the world. You are like a daughter to me and I love you with all my heart. May God keep you happy forever in your life!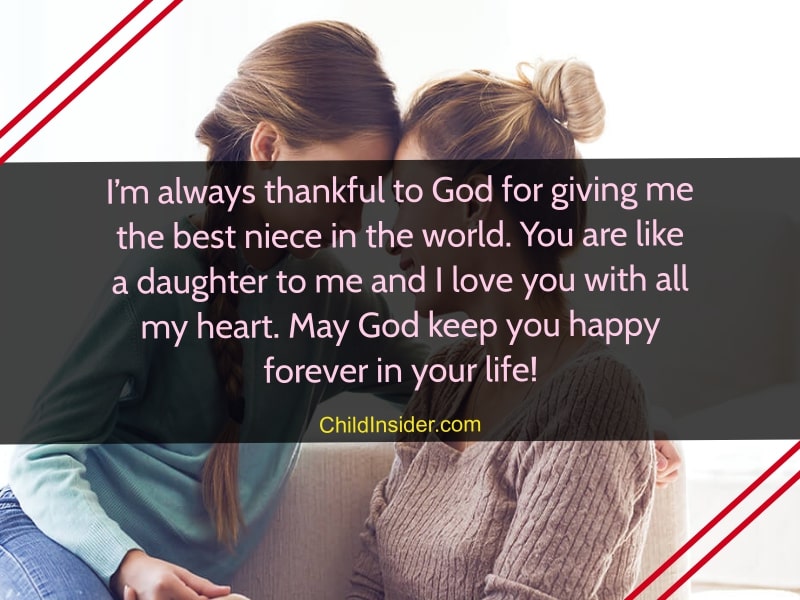 9. With each passing day, you're getting more beautiful not only by face but also by heart. You're the best child I've ever met. I'm so proud of you, my dear and hope that God fulfills all your wishes!
10. Though we're aunt and niece, we always have a friendly relationship. I know you can feel how much I love you. Keep in mind that, your aunt can do anything for your welfare!
Unique Happy Birthday Wishes for Aunt from Niece
11. It's a great feeling to see you becoming an amazing person. The beautiful smile on your face brings light to my heart. My dear niece, you're one of the best things that happened in my life. I love you!
12. I didn't give birth to you but raised you in my heart. You're my life and I always love and care for you. I know God has the best plan for the best niece in the world! Love you a lot!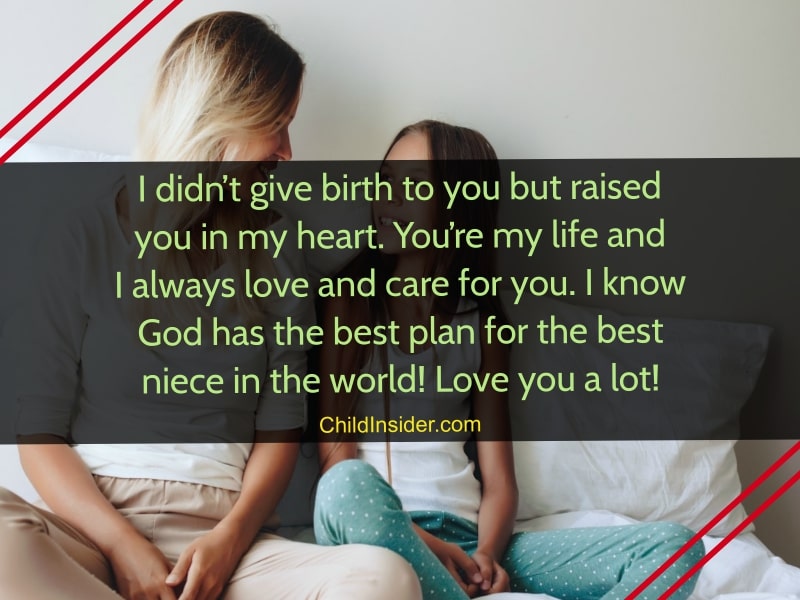 13. You are the best niece I always wanted to have. I cheer for your happiness, my child and always want you to achieve everything you want. I'm always here with you to help you and to support you.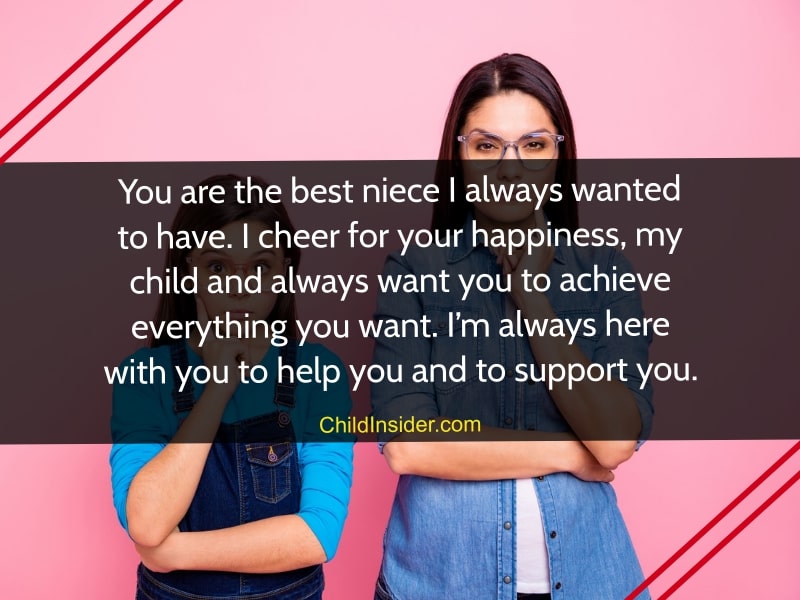 14. You've come to this family to brighten up our lives and I'll always be thankful to you for this. My beloved niece, never forget that your aunt is here with you for everything.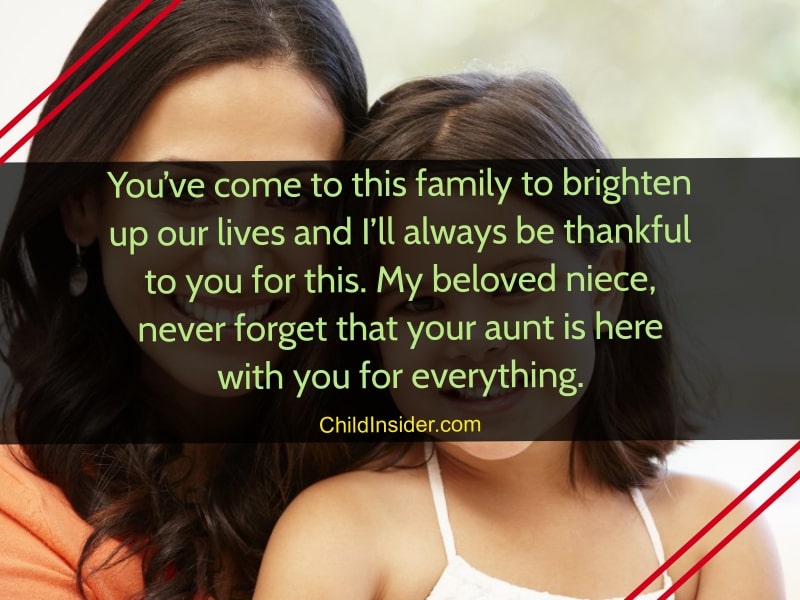 15. Despite having a huge age difference, we've always been like friends. I'm lucky to have such a good relationship with you. My dear niece, you're the best and deserve only the best!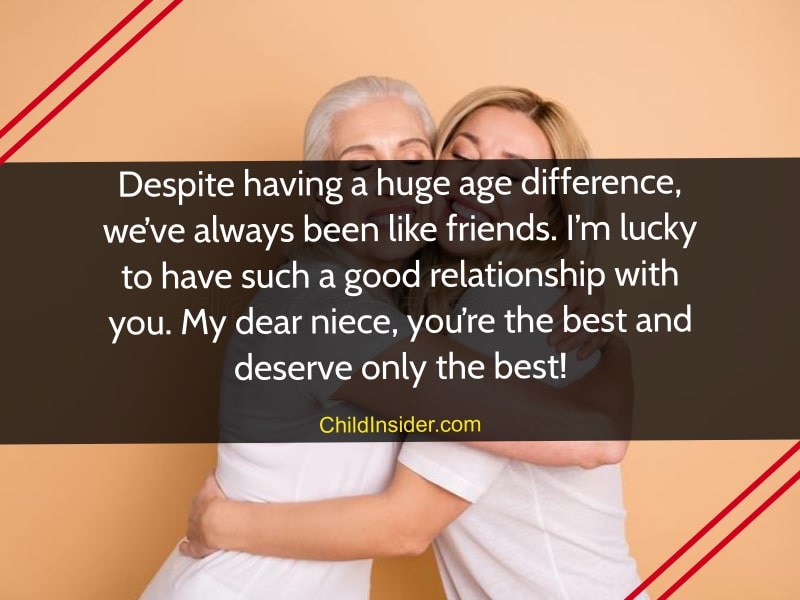 16. What a joy to have an intelligent and hardworking niece. I have the confidence that you can do anything if you want. I pray to God to help you in gaining success and give you a bright future!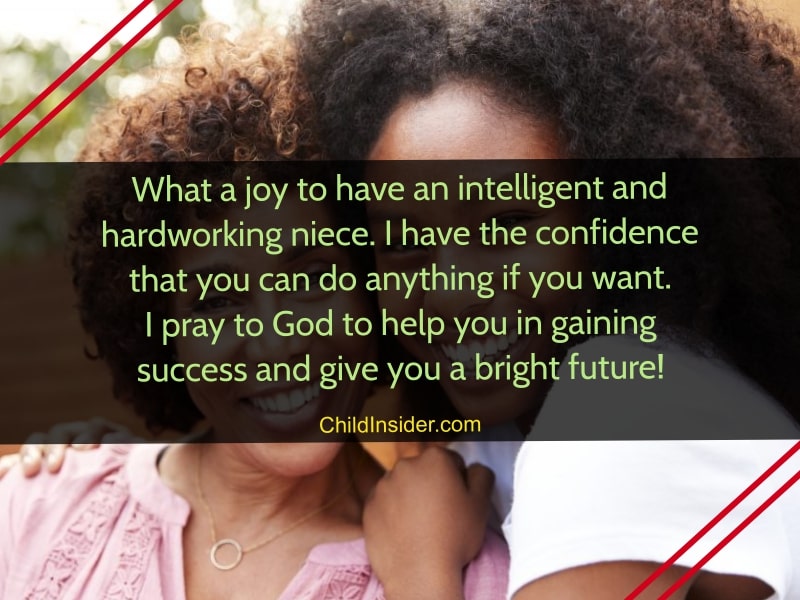 17. You're the sunshine of my day and the sweetest dream of the night. My niece, whenever I see your face, my heart fills with love. I adore you dear!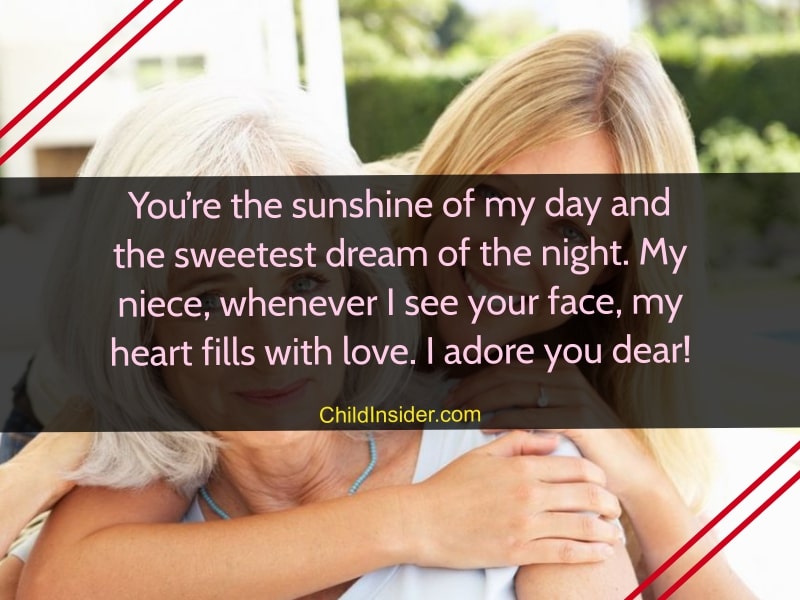 18. I'm so glad and proud of whatever you've already done at this age. I love you, my niece! A life full of love and success is what I wish for you.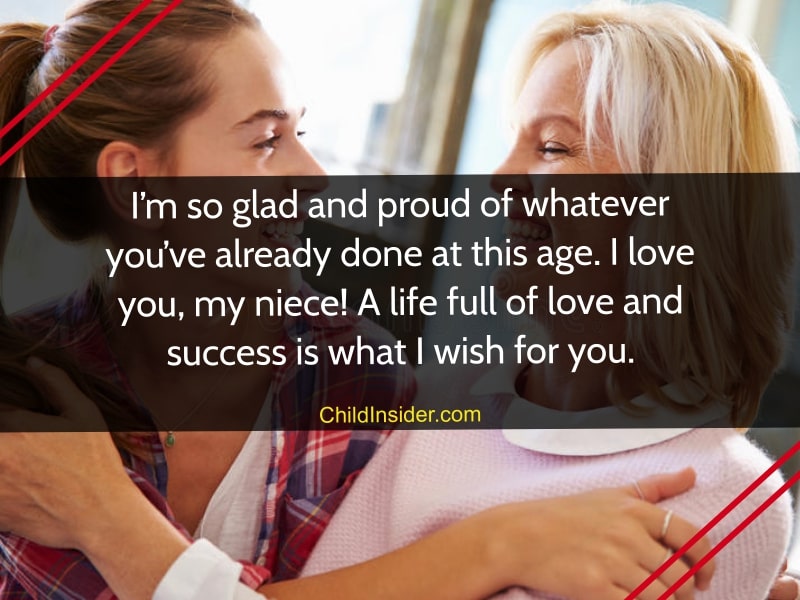 19. I'll always be thankful to God for sending the cutest doll in our family. My dear niece, you're the star of my eyes and the biggest reason for my joy. God bless you!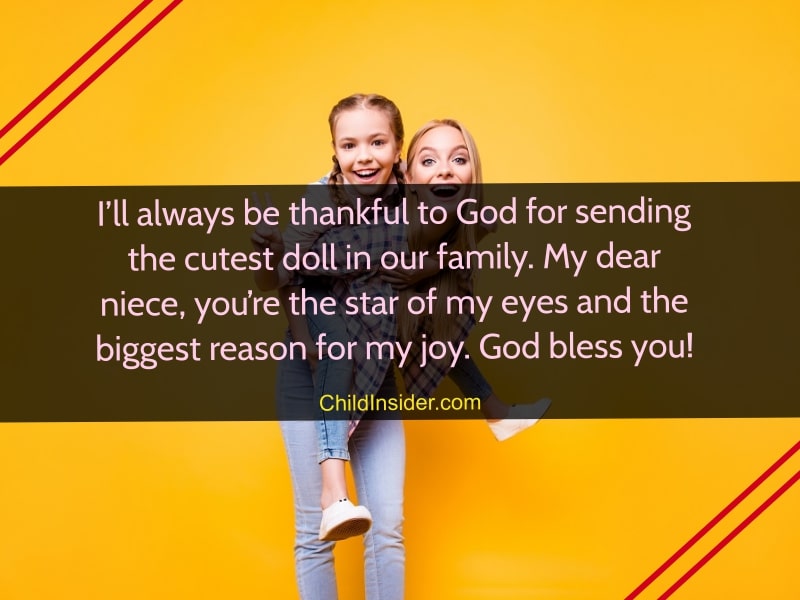 20. Having a niece like you is a great fortune. God gave you the most generous heart. I hope you continue being this kind and lovely girl! Love you, dear!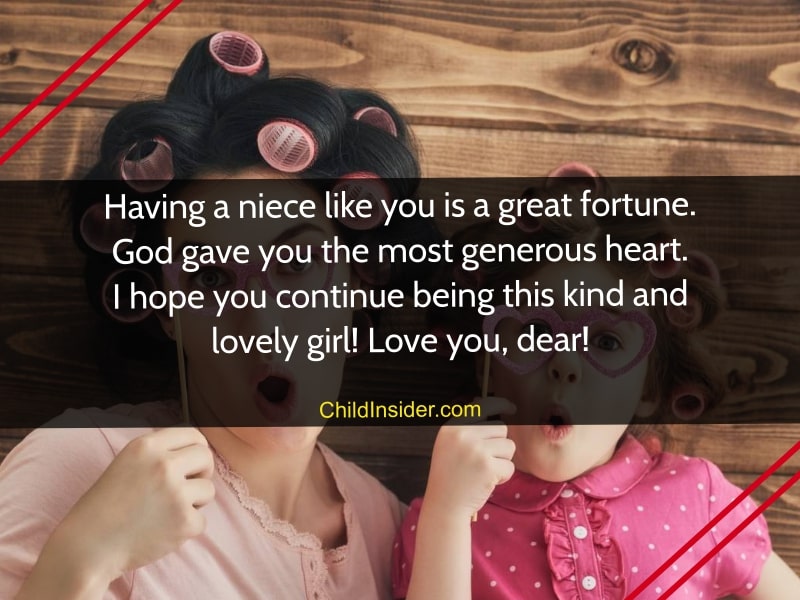 Warm Birthday Wishes to Nephew from Aunt
Best Aunt Quotes for Niece
The most important thing to remember when choosing an aunt and niece quotes is that the person's personality should be considered. This will ensure that the quote matches their personality and that they will appreciate everything that is being said. The age of the person, as well as their personality, will dictate if the quote is serious or funny.
21. Never lose hope and strength because this world is for them who have the courage. I'm sure God has the best plan for the best child like you! Good luck with your future, dear niece!
22. My niece, the little princess of our family, you've illuminated our life. You are the light of our house. Wishing you a long, happy and adventurous life!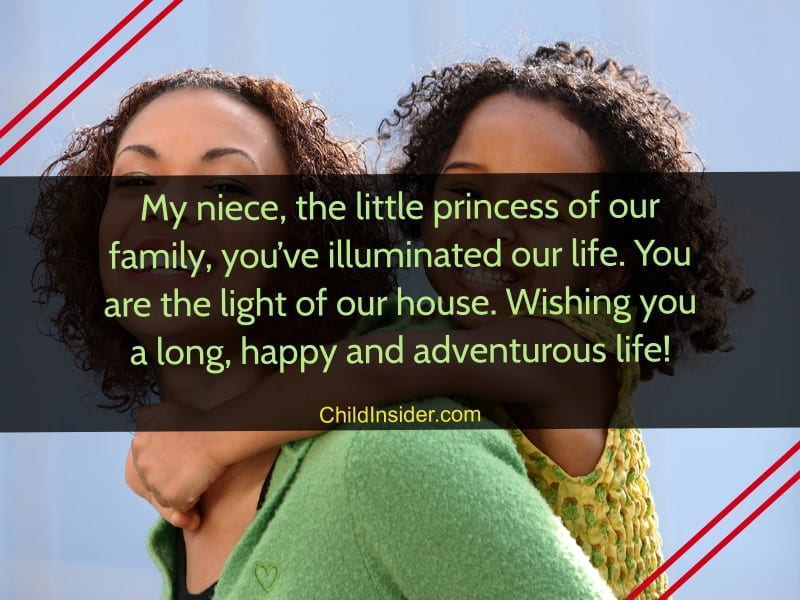 23. I feel pride and happiness when you call me "aunt". Continue being that lovely and good girl. I hope God makes the way of your life colorful and full of success!
24. Dear niece, you're the best gift my brother has given me ever. I hope your life be full of laughter, joys, love, and success! Many good wishes!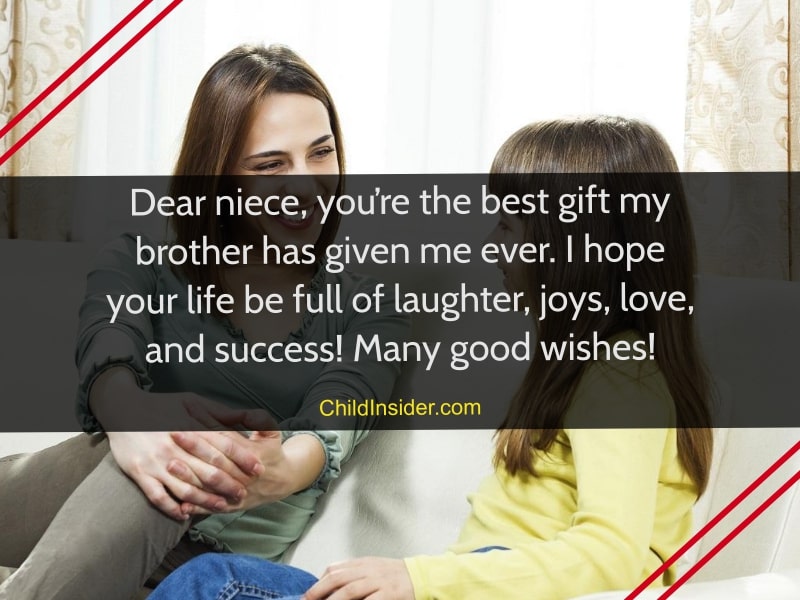 25. There's no word to express how happy I'm to be your aunt. Adorable niece, the day you were born was one of the best days of my life. I pray to God to give you enough strength to fulfill your wishes!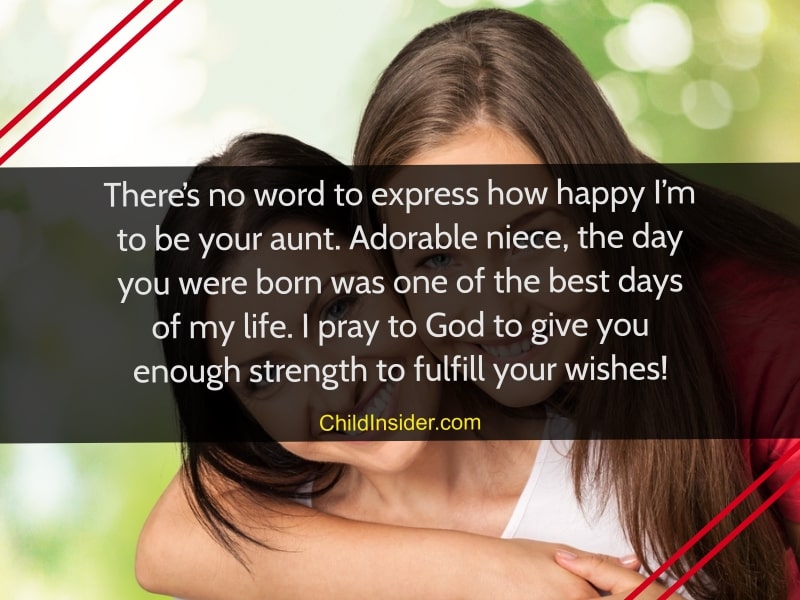 26. It's impossible to describe the love I have for you. Dear, you're exceptional and deserve all the love and affection of the world. May God continue showering his blessings upon you!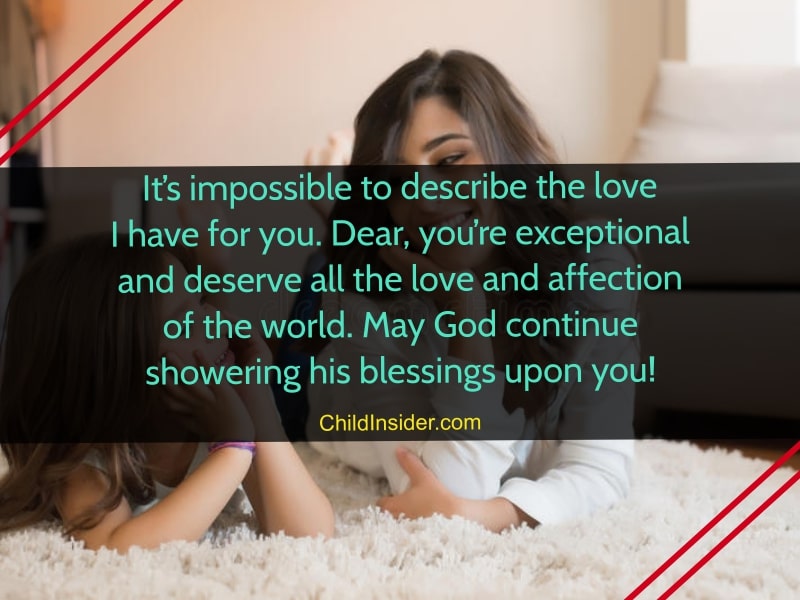 27. I may be like a second mom to you but for me, you'll always be my first child. I'm so proud to see you becoming an amazing person. May you always be healthy and get all the success you want!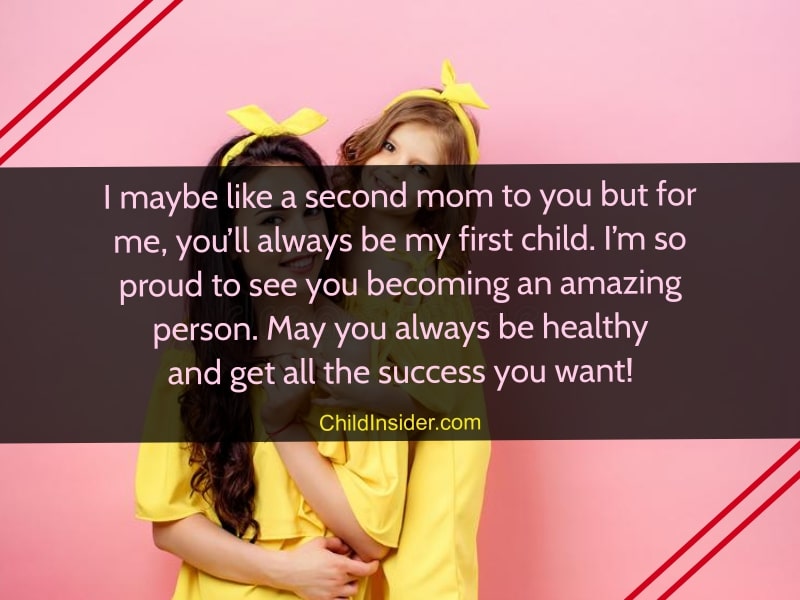 28. From you, I learned the true meaning of love. The time I spend with you is always the best. I hope you never lack anything in your life. Lots of love from your aunt, lovely niece!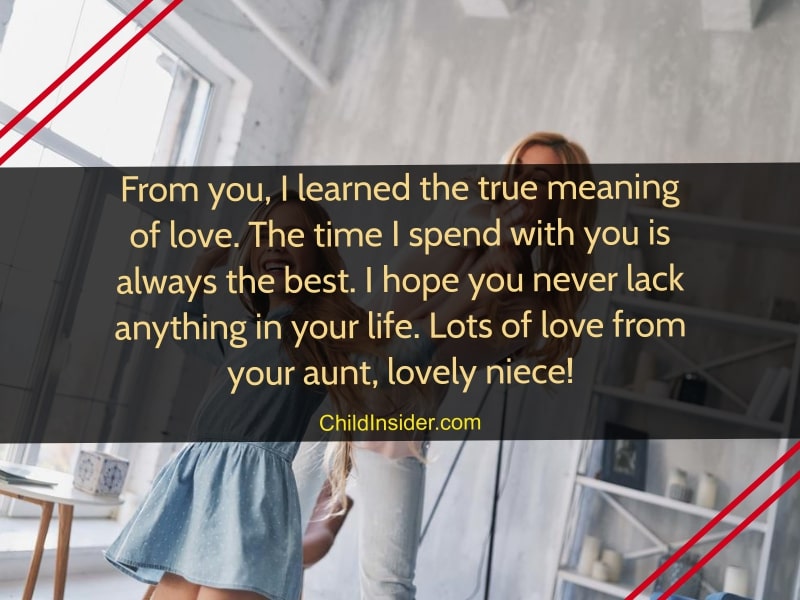 29. I just don't want to be an aunt to you, I want to love you as a mother and want to support you as a friend. My dear niece, you're the best part of my life, which can never be separated. Love you!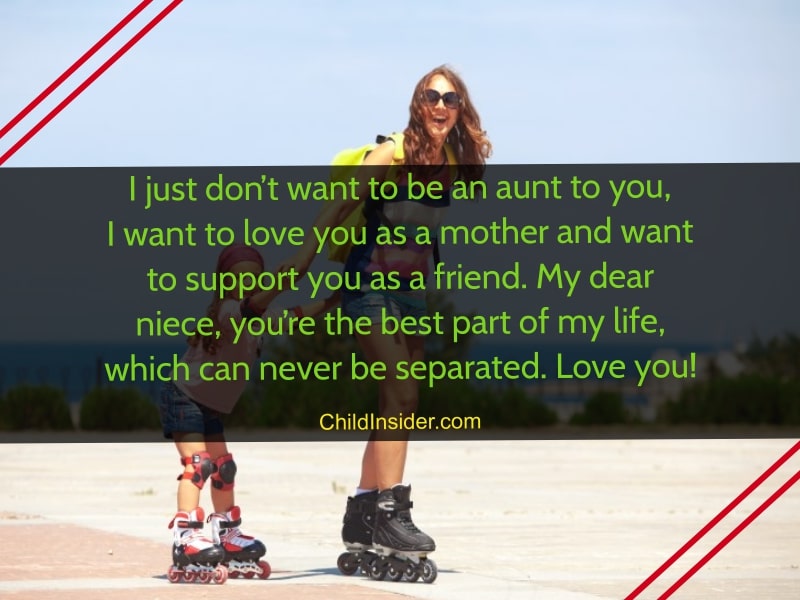 30. I love you like my daughter. You're a precious child and I'm lucky to have you. May no sorrows ever touch you! My prayers are always with you.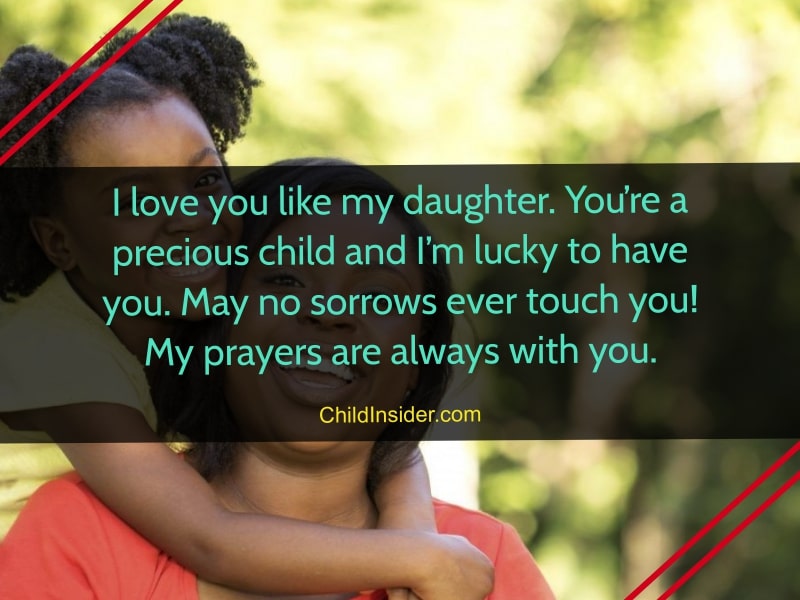 31. My dear niece, you're the owner of my heart.  You give me immense happiness and my love for you is unconditional. I pray to God to grant you with many years of happy and healthy life!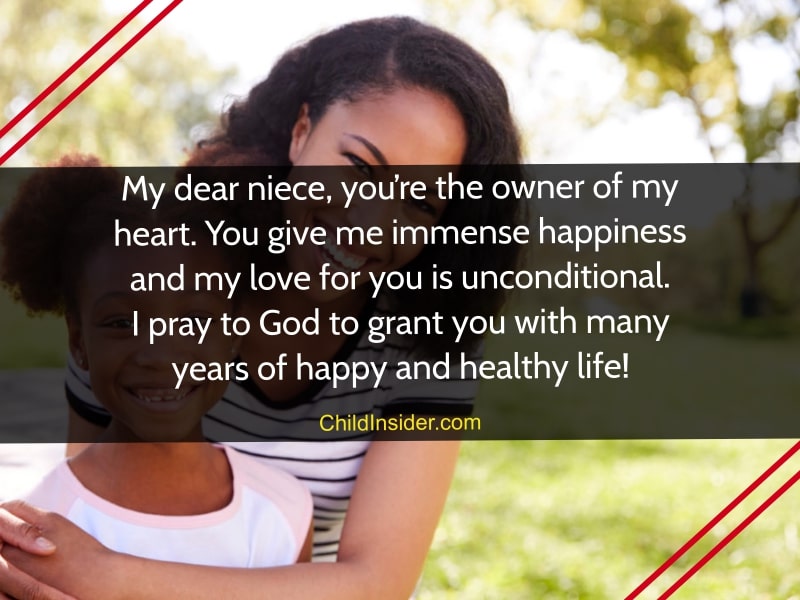 32. My heart fills with love and joy whenever I see your innocent face. I love to carry you in my arm, hug you and kiss you. Always remember that your aunt loves you a lot and can do anything for your happiness!
33. You came into this world and made me feel how good it is to be an aunt. My dear niece, thanks for coming into our lives. With all my heart, I wish you a life full of fun, joy, and victories!
34. I could feel the true happiness when for the first time I became an aunt of such an adorable and special niece. You are a blessing for me, dear niece. May God never leave you and continue to guide your path!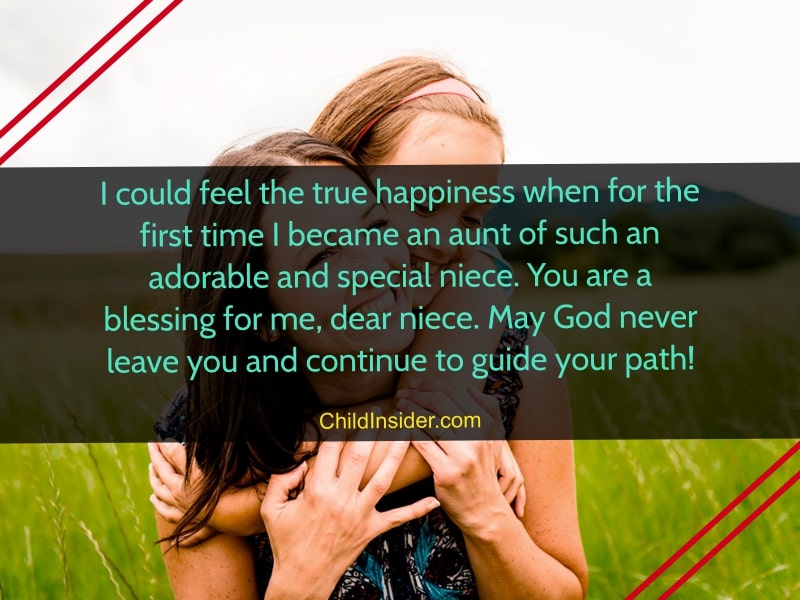 Respectful Birthday Wishes for Uncle
35. I happily say that I'm the aunt of a beautiful princess! You are and always will be very special in my life. Have a blissful and blessed life!
36. I'm really glad watching you grow up so well. Whenever I think about you, my heart fills with joy. My niece, I'll always love you and support you no matter what comes!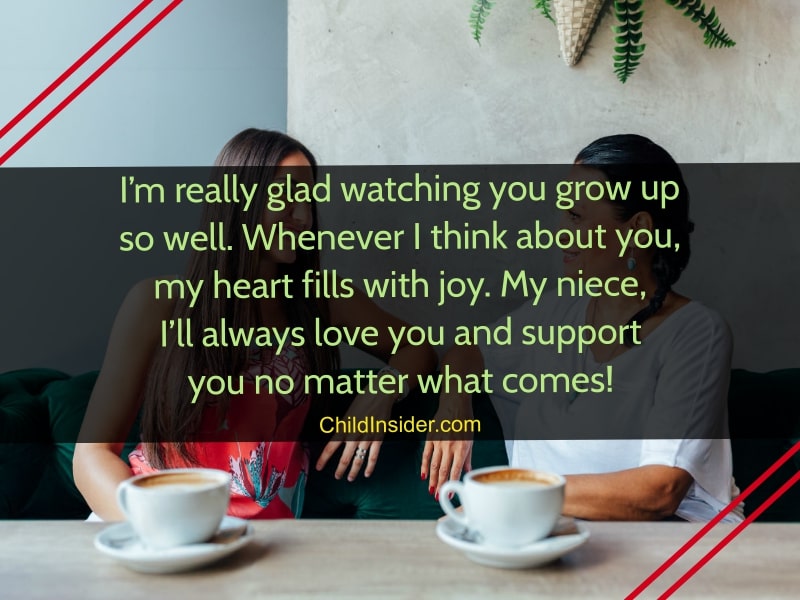 37. I can't express how lucky I am to be able to call you my niece. Never forget to count on me because you're very important in my life. Love you, darling!
38. Being an aunt of such a lovely doll is a blessing. My little niece, you are my life and I'm very grateful to God for having you. Lots of good wishes and countless blessings for you!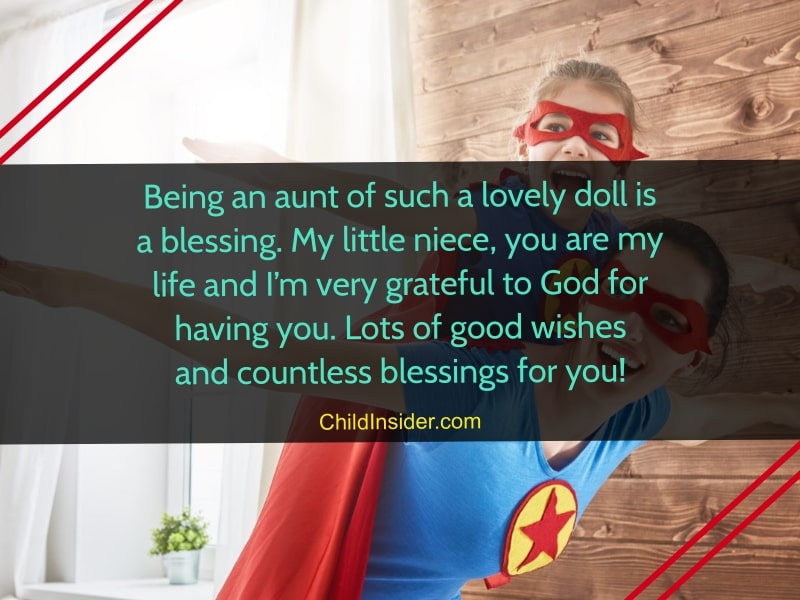 39. You are a very dear child and it always gives joy when you're by my side. There's no niece on this planet as special as you. You're the best. May you always have joy in your heart!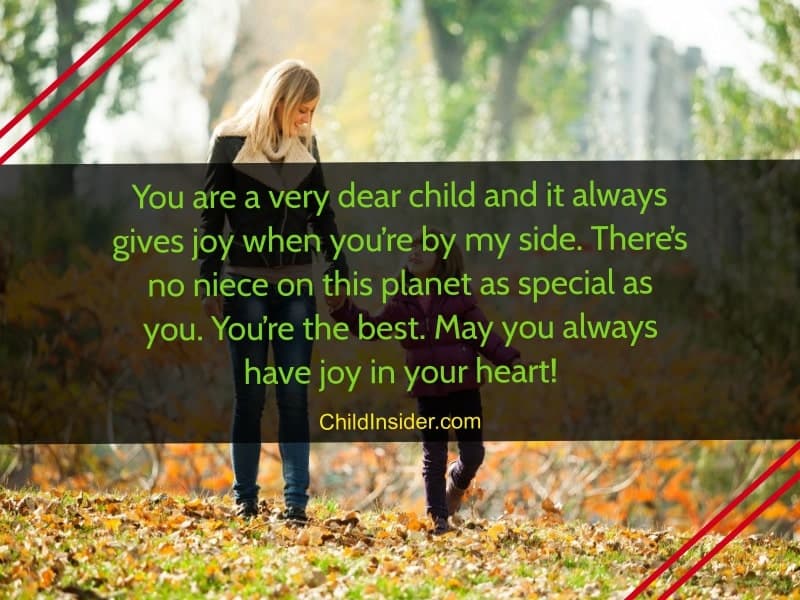 40. You have a large space in my heart. You're the loveliest niece that any aunt would like to have. I hope, all the moments you spend be filled with beautiful things, love, and joy!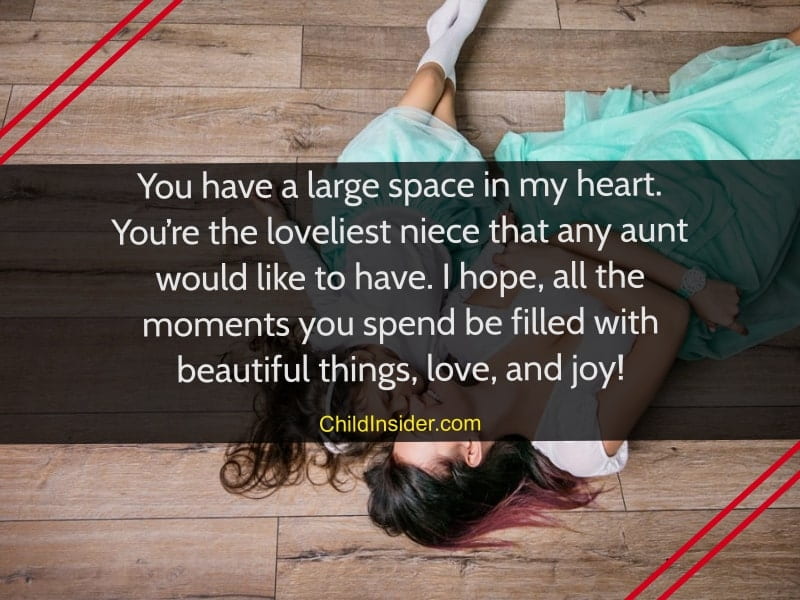 Great quotes are a wonderful way to share love with another person. If you are stumped as to how to express your feelings for either your aunt or your niece, then you can count on these 40 aunt and niece quotes to help you show your love and affection.
Let us know which one you choose and also how much it meant to the person with whom you shared it.