Young boys love being popular among their friends and they put so much thought into everything. Hence, 7-year-old boys need to have the cutest hairstyle to be the perfect mix of a gentleman and an innocent soul. They deserve royal treatment, don't they?
Trendy Haircuts for 7-Year-Old Boys
So, here are the 18 best hairstyles for 7-year-old boys for you to choose from.
1. Short Waves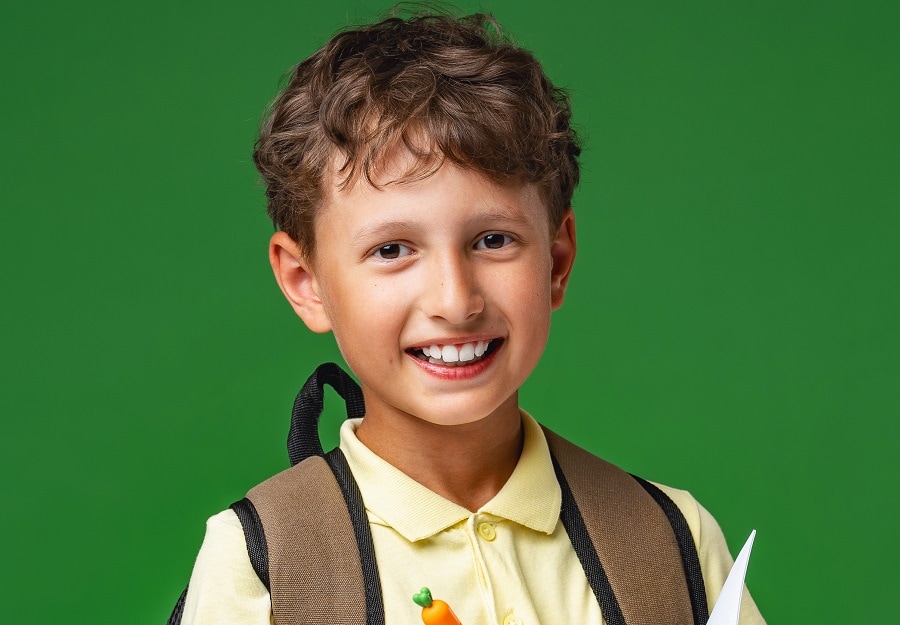 If your son has wavy hair then let him show off this natural pattern. Keep the hair short enough to stay out of his eyes. However, let some of it fall effortlessly onto the forehead.
The hair above the ears is nice and short too. It's a 7-year-old-boy haircut that will never go out of style.
2. Long Tresses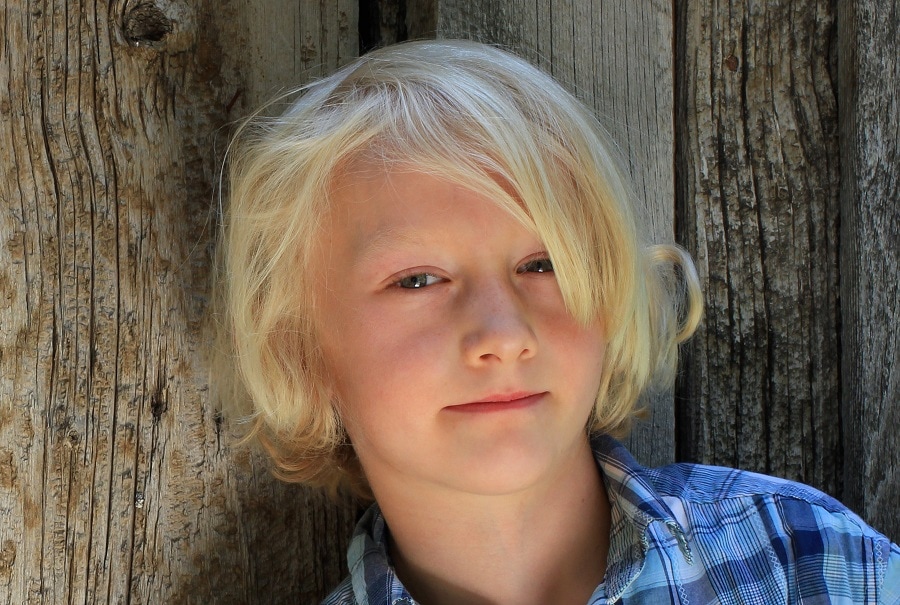 More and more boys are embracing long hair these days. A nice jaw-length haircut will do wonders for your son. He'll look quite grown up with it.
There are some bangs that are cheekbone-length. Most of the hair falls down to the jawline. However, there's a little more length at the very back.
3. Long Curls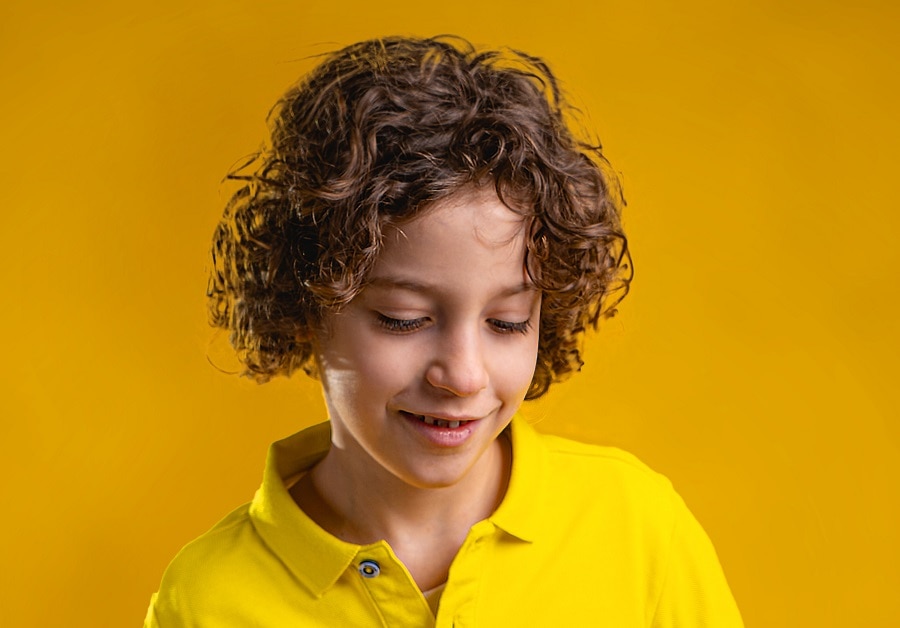 Curls look good on everyone so if your son has curly hair then he should show it off. This is a longer hairstyle that's a mostly even length. It comes to just below the ears.
There's a shorter section in the front to act as bangs. It blends into the rest of the haircut well.
4. Simple Red Haircut
You don't have to do very much to make red hair stand out. A simple haircut with short sides and a longer top will suffice.
Brush the hair forward from the crown of the head. The hair will sit lightly on the forehead. It's not long enough to be considered bangs.
5. Slick Side Parting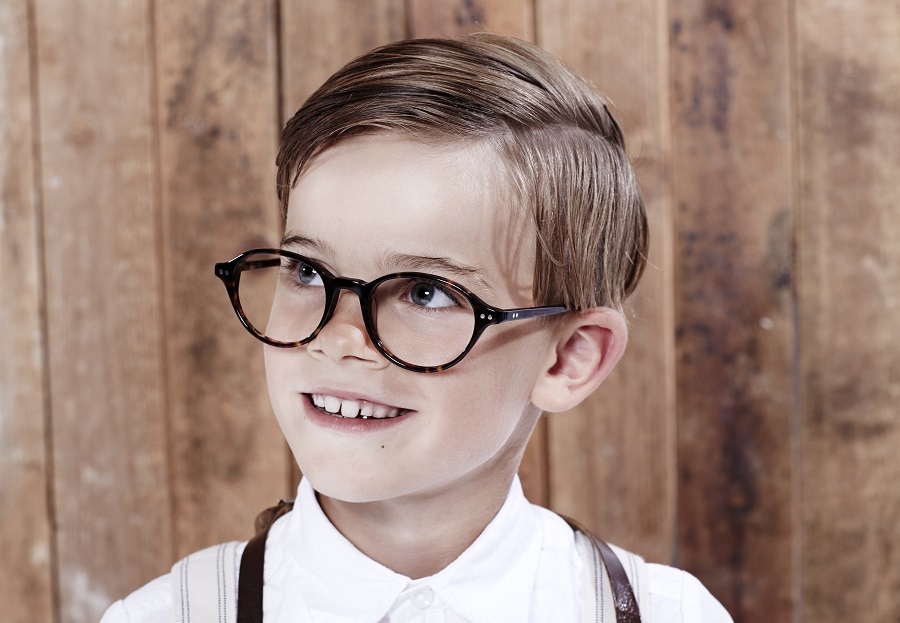 Some little boys would prefer to look like dapper mini-gentlemen. A slick hairdo is exactly what they need to achieve this. Add some gel to create that slick effect.
Here the hair is parted at the side so one side has more volume than the other. It's a look that's very easy to maintain.
6. Textured Fine Hair
Fine hair can often look thin even when that's not the case. The little boy here clearly has quite a lot of hair, but each hair strand is thin.
Adding lots of texture to the hair makes the individual strands look thicker. Brush the hair forward onto the forehead to ensure it's highly visible.
7. Messy Waves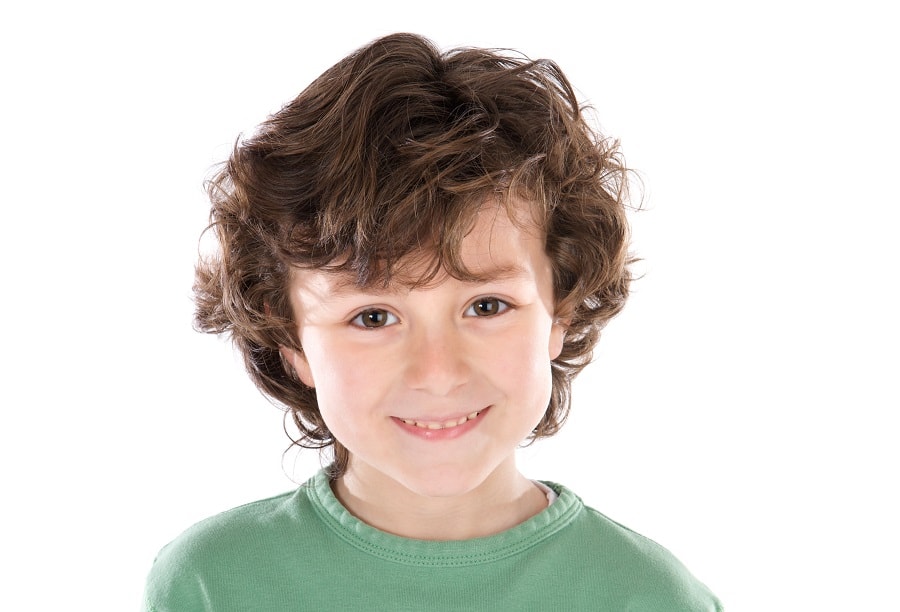 A 7-year-old boy's haircut should signal that he's young, carefree, and excited to have adventures. You can achieve this vibe with a messy haircut.
A natural lightly wavy texture makes wearing a messy style easier. Simply grow the hair relatively long and ruffle it up to look like this.
8. Long Layers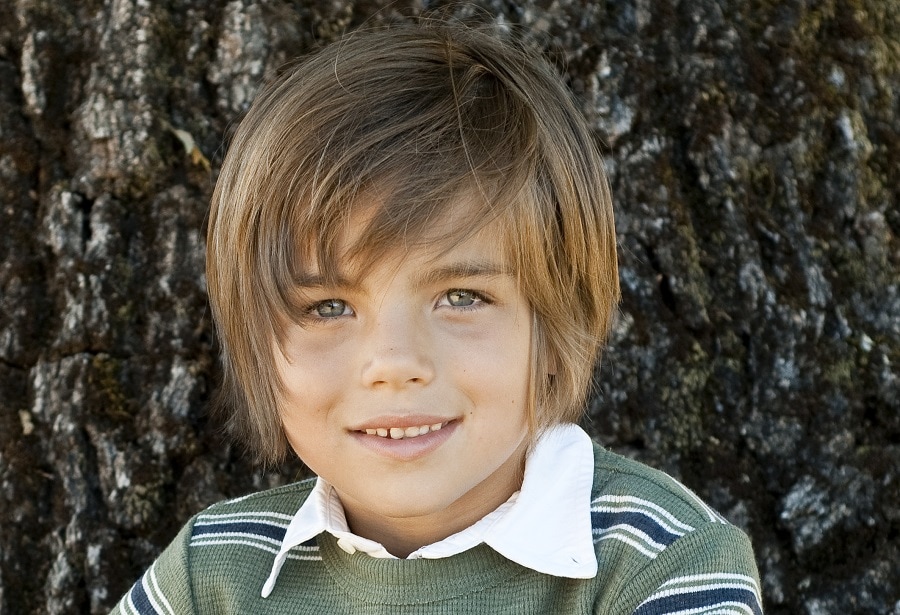 Long straight hair can sometimes look dull. Adding layers will bring it back to life as seen here. The layers add thickness and some movement to the look.
Bangs sweep across the forehead here. There's also a lot of hair framing the face.
9. Super Short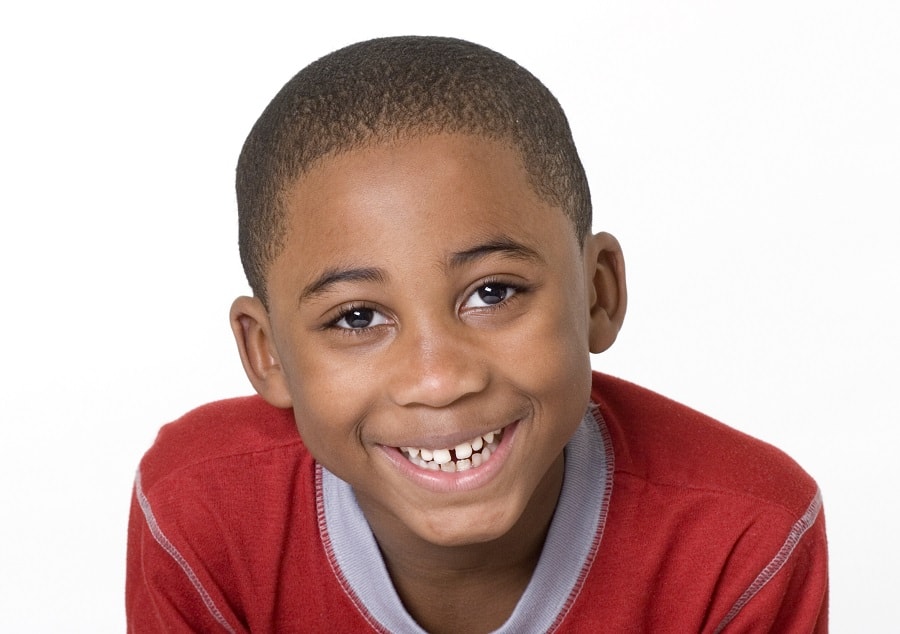 If your lad doesn't want to spend too much time on his hair then going extremely short is the way to go.
This cut is just barely longer than a buzz cut. You can see lots of the hair's texture but it's not long enough to style.
10. Short Forward Brushed
Short and simple is sometimes the easiest way to cut your son's hair. The sides are short and thin. The hair on top is also pretty short. It's just long enough to fall onto the forehead very slightly.
11. Shaved Sides
Shaving the sides of your hair is a pretty bold move. Most of the back is shaved, too. There's a stripe of hair extending from the crown of the head to the hairline.
12. Comb Over Quiff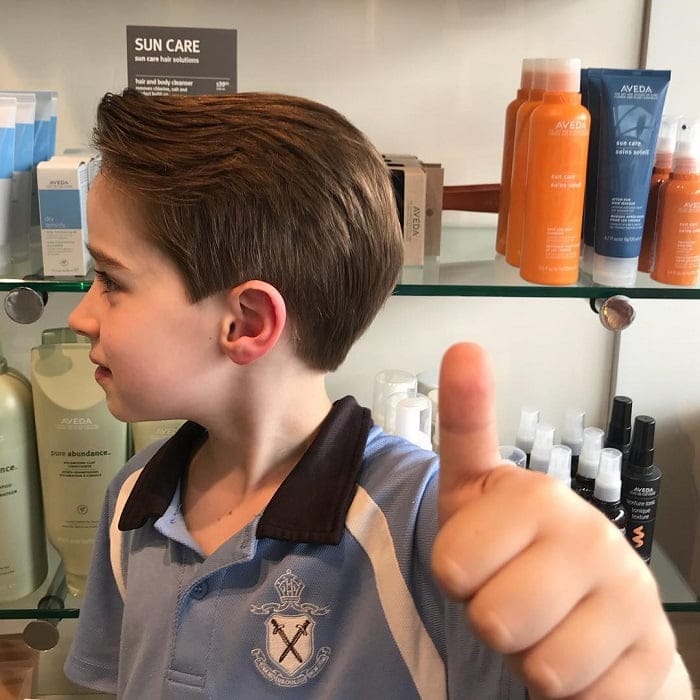 This cute and gentlemanly hairstyle is going to make your son the star kid that you want him to be. The quiff is kept short at the front and is slightly swept to a side. The comb overruns the entire length of the top of the head creating a very charming look overall.
This boy's comb over hairstyle is so easy to make and maintain that your 7 years old can do it without any problems. Also, to keep it perfect, keep trimming the hair around the ears more frequently.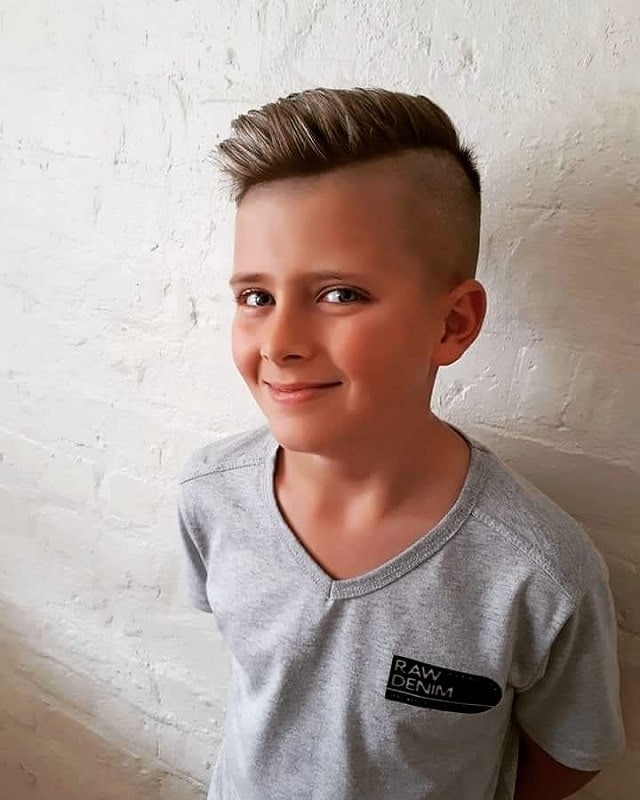 Do you want to give your cheery little guy a stylish haircut which lights up his personality? This neat comb-over with side fade is the best way of doing so. The hair is cut to a medium length and combed over in a tidy way to a side.
The other side of the head has a skin fade which brings more focus on the comb-over. You have to cut the hair at the back short too in order to complete this age-appropriate 7-year-old haircut.
Amazing Mohawk Haircuts for Little Boys
14. Classic Side Part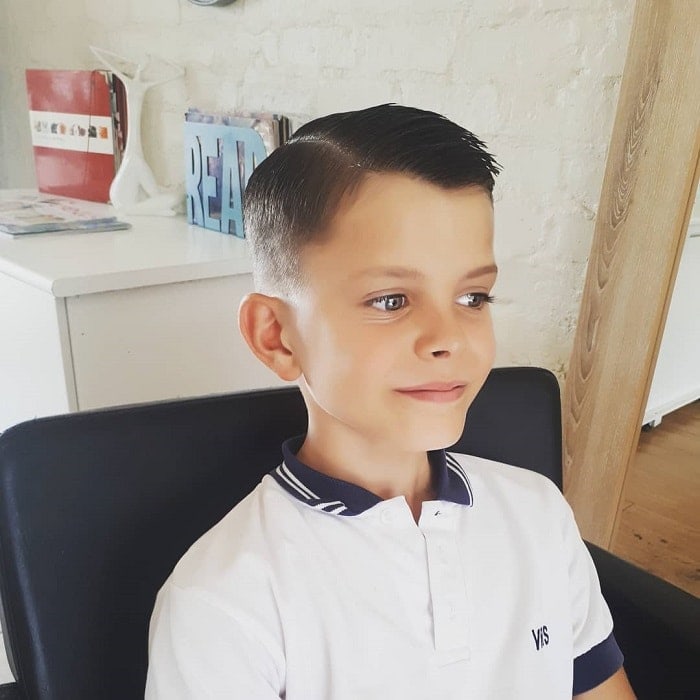 If your young lad wants something classic and funky at the same time then this is totally his thing. The hair is parted from the side making it look so classy that your little boy is going to be a favorite of all the uncles and aunts.
The hair is slicked to keep it from getting all messy which helps you have a low maintenance hairstyle. No matter how much your champ runs around, he will go to have perfectly set hair throughout the day.
15. Parted Side Bangs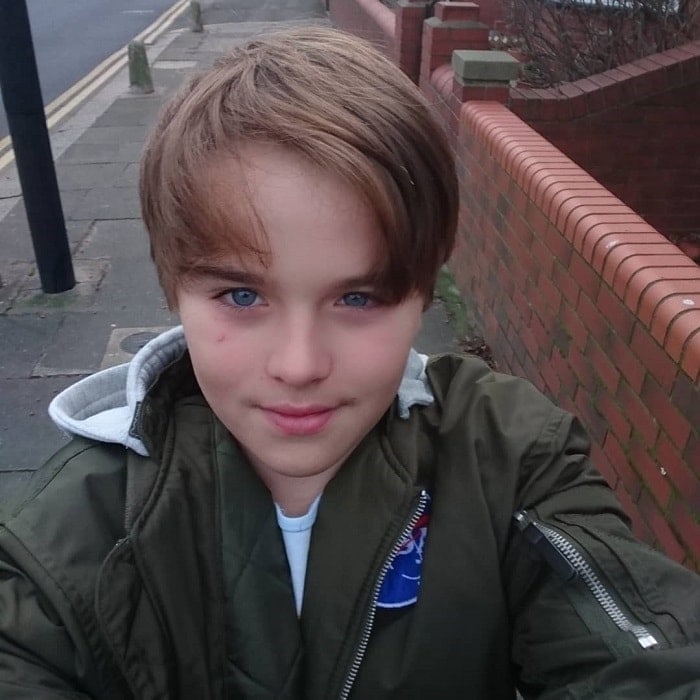 If you want a quirky and fun hairstyle for your 7-year-old lad then these side bangs can be great. The hair is on the longer side of medium growing in all directions evenly.
The hair is then divided inside bangs which fall about in a messy and natural manner. This hairstyle has the free-spirited side to it which suits your little explorer.
The Best Cornrow Braids Styles for Men
16. Spikes with Undercut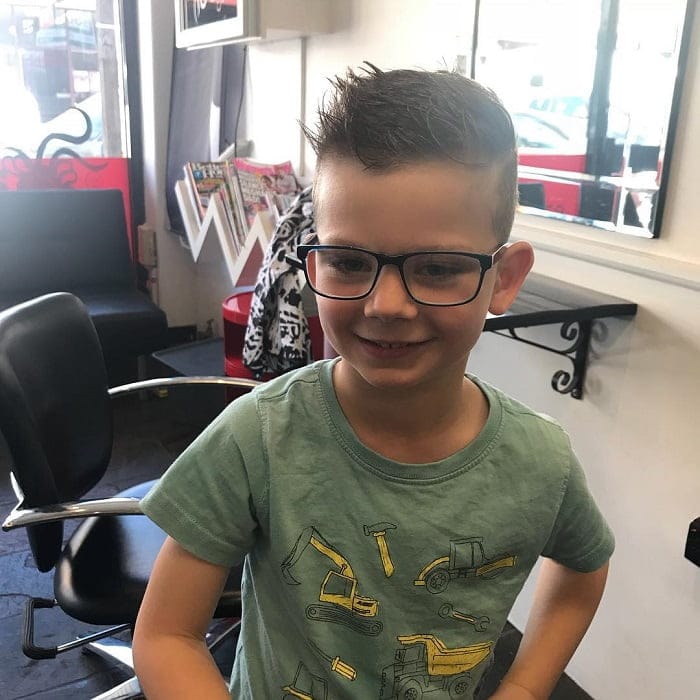 Spikes are always going to be in fashion as they make everyone look so put together. These side-swept undercut look so appealing on boys that nobody will be able to resist them.
Get these and see how you find it hard to ruffle your little dude's hair all the time. And the low fade that goes with it is sure to balance the overall style.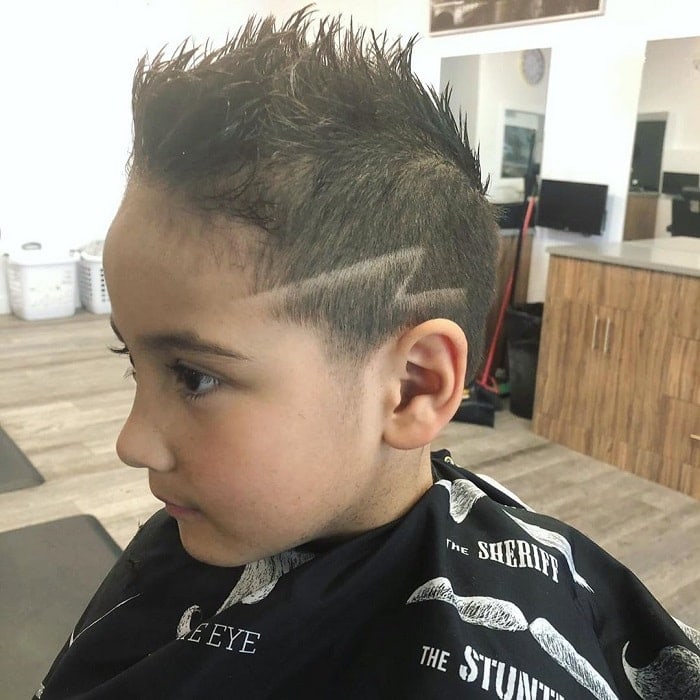 Why settle for a boring hairstyle when your little boy is so full of energy? And what better way is there to match his energies with his hairstyle than some good old spikes?
These spikes are small and messy but have a cute feel about them. The sides have a design which your boy can show proudly.
18. Dyed Spikes
Who said that haircuts for 7-year-old boys can't have a dash of color? Well, nobody did. So, why not add a touch of blue to the neat spikes of your kid to make him love his hair even more?
So, play around with these amazing 7-year-old haircuts and help your little boy to get the coolest hairstyle this season!