Birthday wishes for 2 year olds should be unique and adorable, befitting of the little toddler's age and playfulness. The 30 birthday wishes for 2 year olds below seek to fit exactly these criteria, so you can use them for a child's second birthday!
When a child turns two, they start learning to speak with about 50 words in their vocabulary. You will see them form simple two-word sentences such as 'Big frog' or 'Car go', as an example. When children turn two, they even start learning to jump, show you more affection and constantly improve at tasks that have a certain fixed routine.
There's so much that a child would learn to do at two that birthday wishes for 2 year olds would actually be understood by them, much more than you think they would! If you are one of the attendees for a 2 year old's birthday party, you will surely benefit from this compilation of birthday wishes for 2 year olds. Just remember to personalize the birthday wishes the best you can for these toddlers, simply by including their names or gifting them something that they like as well!
When you read the birthday wishes for 2 year olds below, keep in mind that you can always pair up a birthday message with another to make your own completely unique birthday wish.
Feel free to share these wishes with other guest parties or with your family members as well! Meanwhile, let's take a look at the birthday wishes for 2 year olds and choose your favourite for the toddler's upcoming birthday.
1. Little one, there's so much more for you to explore out there! Happy birthday!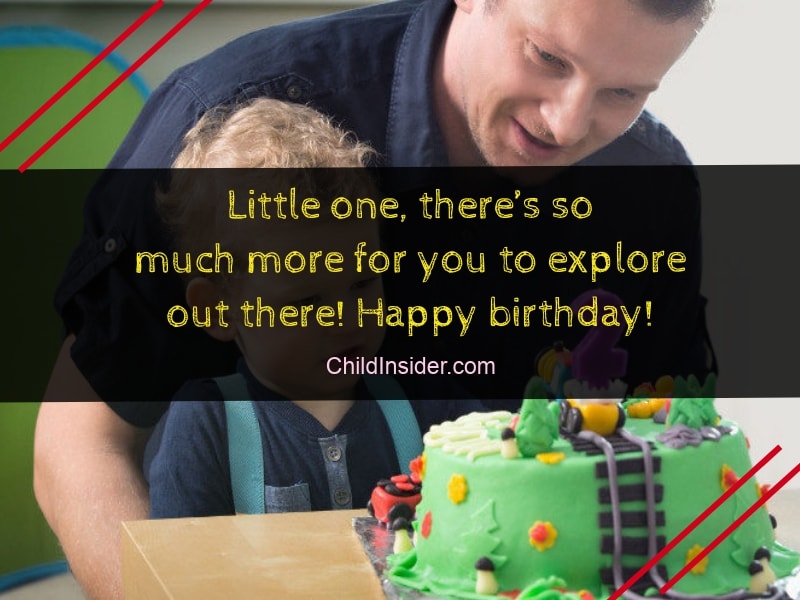 2. Happy birthday to you, as you turn two. May you be happy, joyful and lovable too!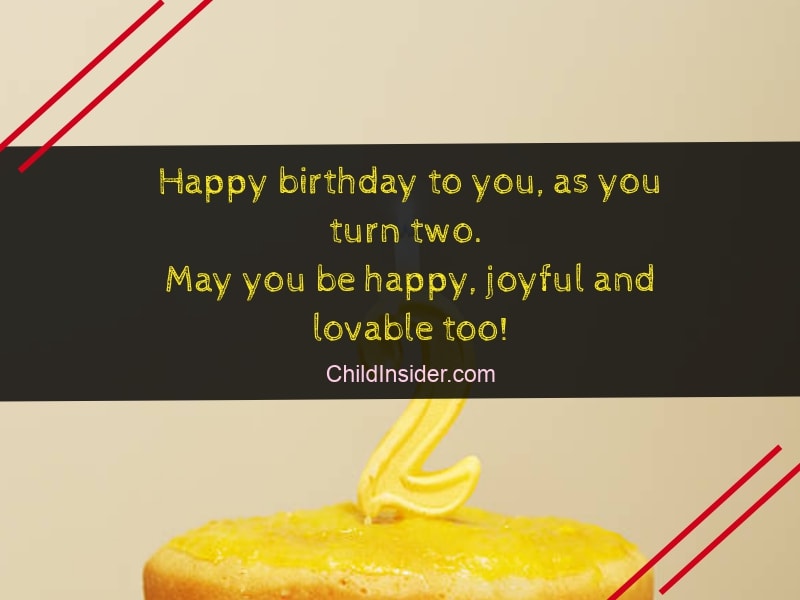 3. You're simply the cutest 2 year old I have celebrated a birthday for. Happy birthday!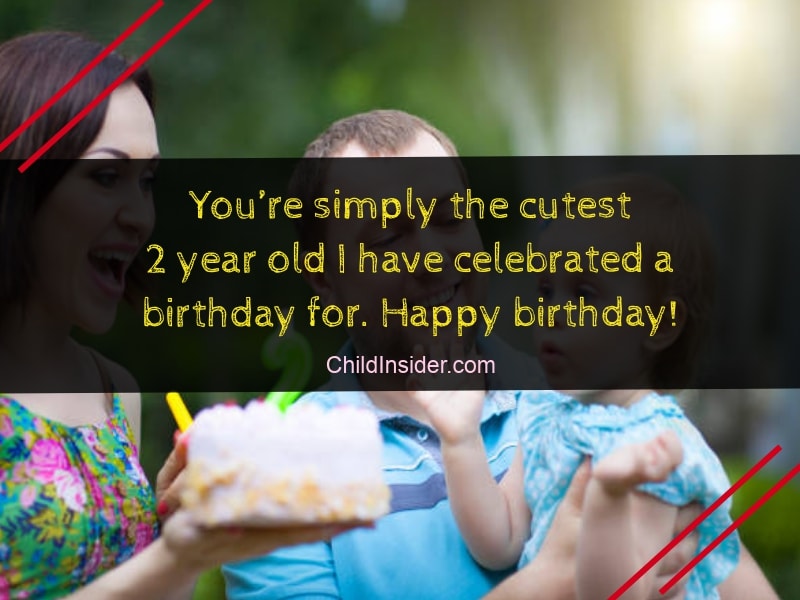 4. How lucky am I to be celebrating the cutest baby's birthday ever? Happy birthday little one!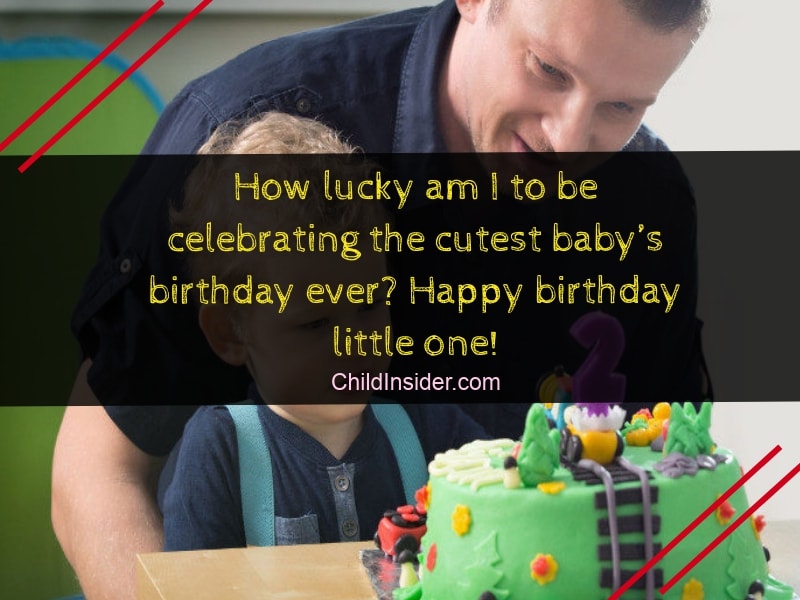 5. Your little smile brightens up my day and I already love you. Happy birthday!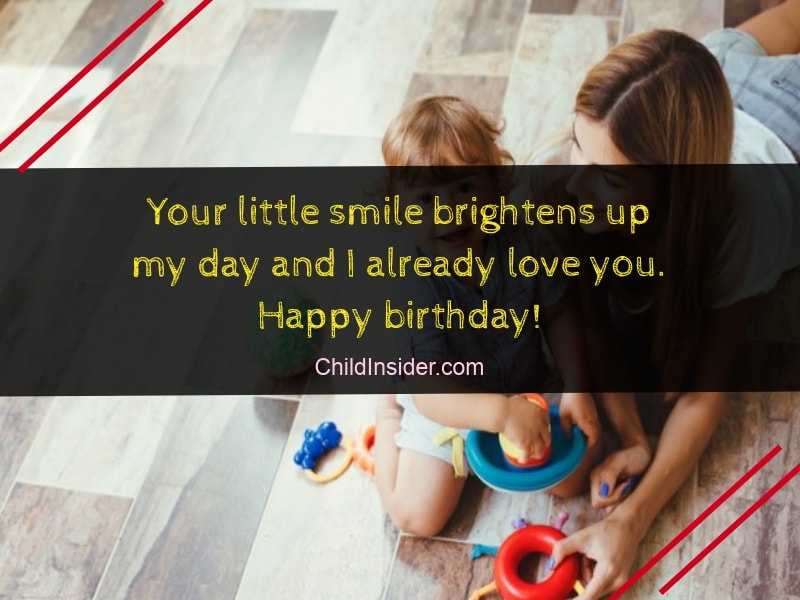 6. You're on your way to bigger footsteps, little guy. Have a great birthday!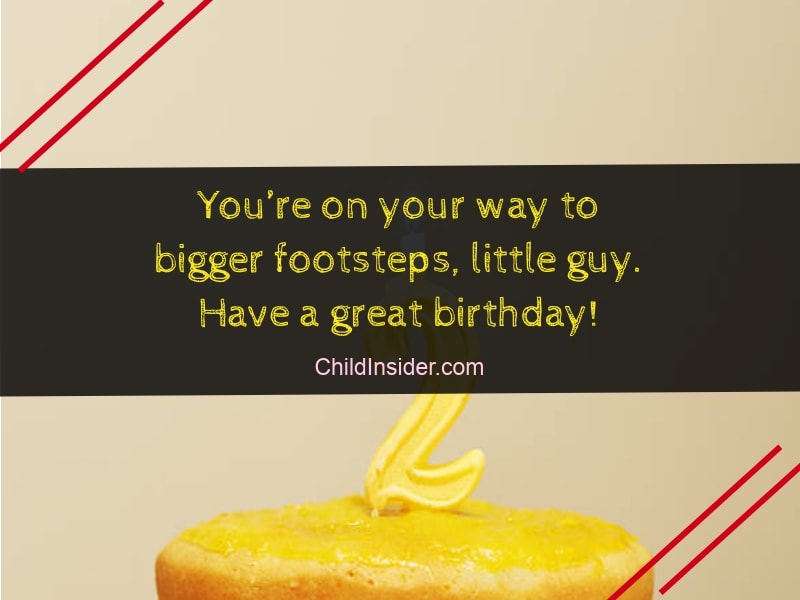 7. Your little gurgles are starting to make more sense as your vocabulary widens. Happy birthday!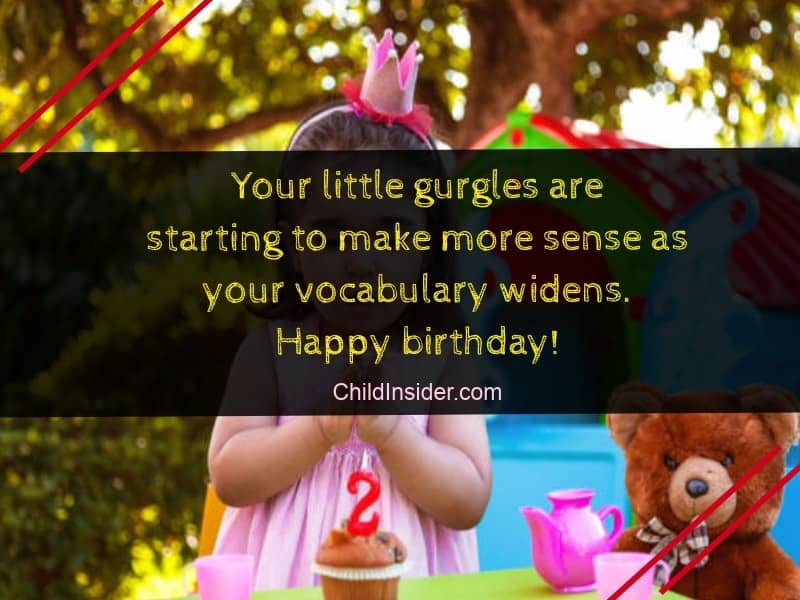 8. Hey, little angel! Guess who's turning two and getting new toys today? Happy birthday!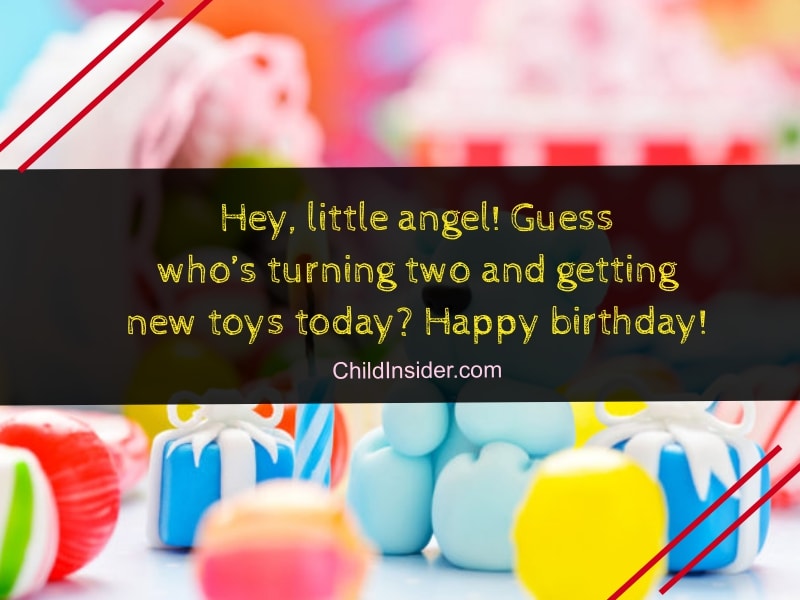 9. If I were your fairy godmother, I would bless you with everything that your 2 year-old brain wish for. Happy birthday!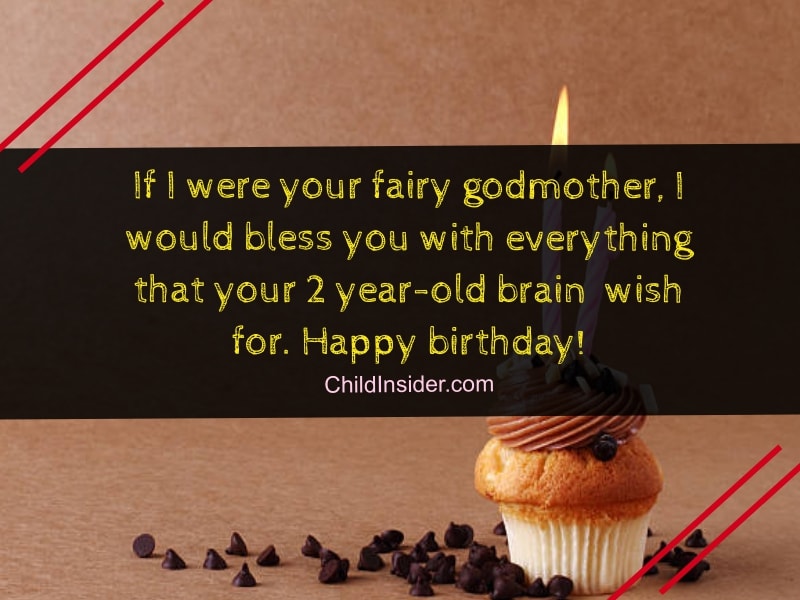 10. Two years old and already such a sweetie? How lucky your parents are! Happy birthday!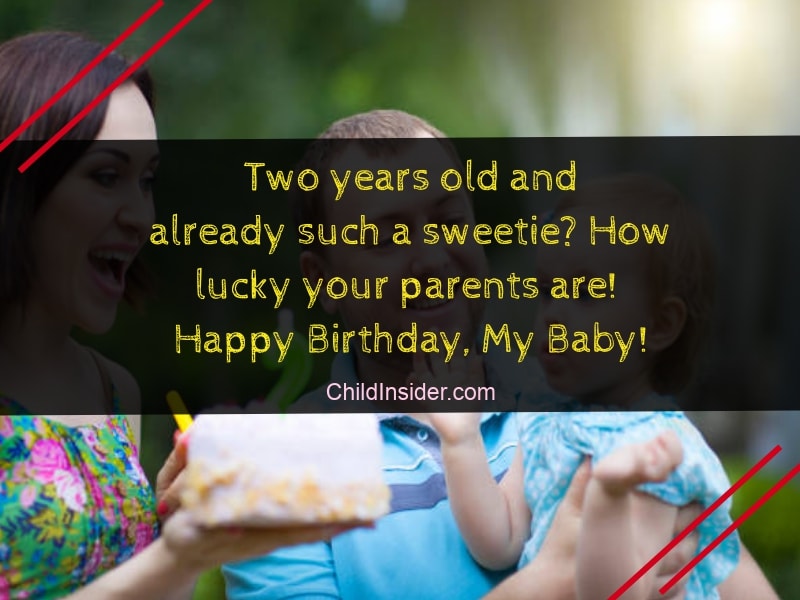 11. Guess which little hero is turning two? That's right, it's your birthday! Have a great one!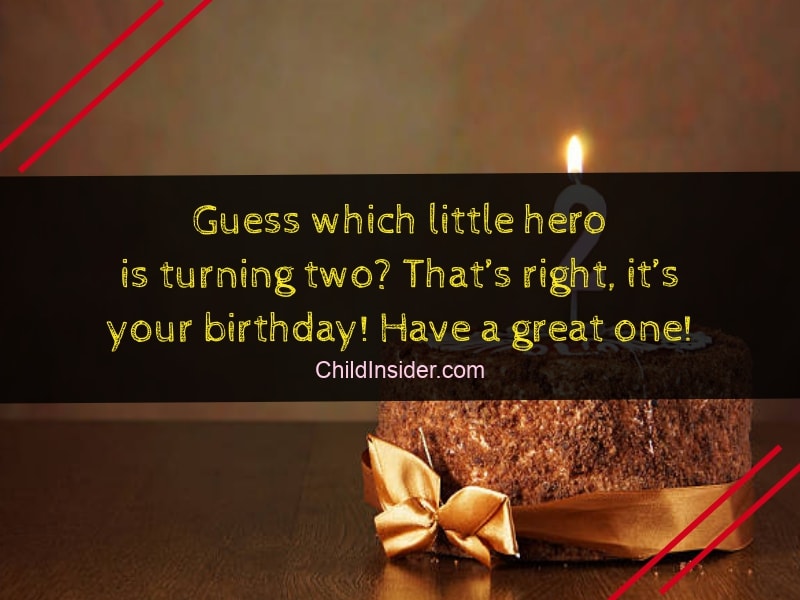 12. Look at you, so happy and prancing about! Happy 2nd birthday, sweet child!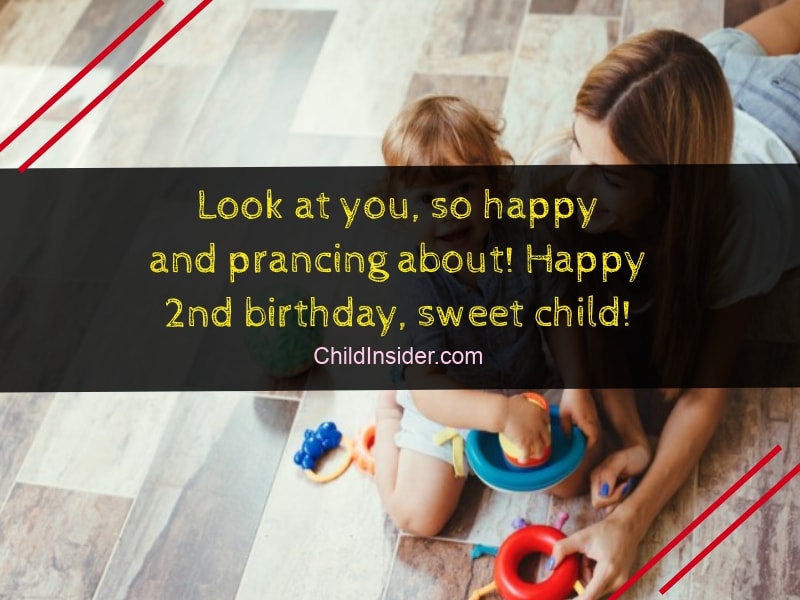 13. The little angel that God sent to bless us has turned two today. Have an awesome birthday!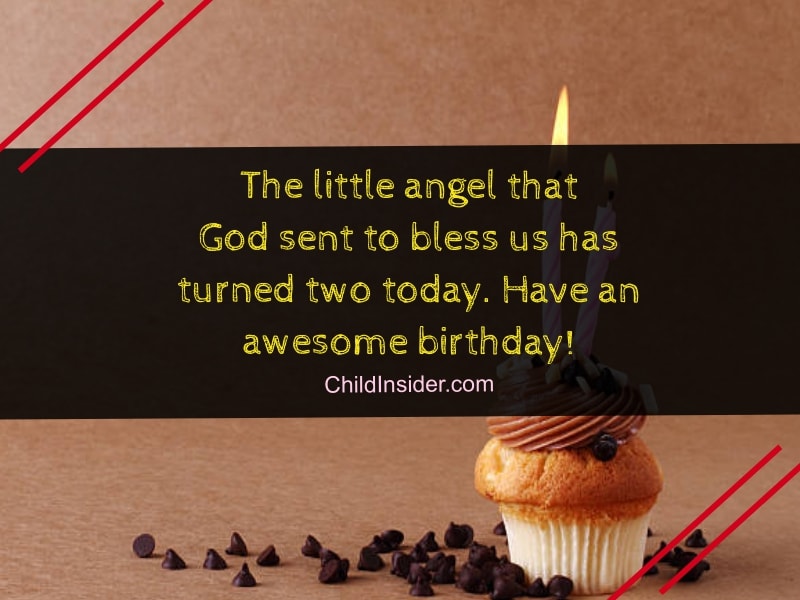 14. Child, may you grow up to be loving, nice, beautiful and caring. Happy birthday!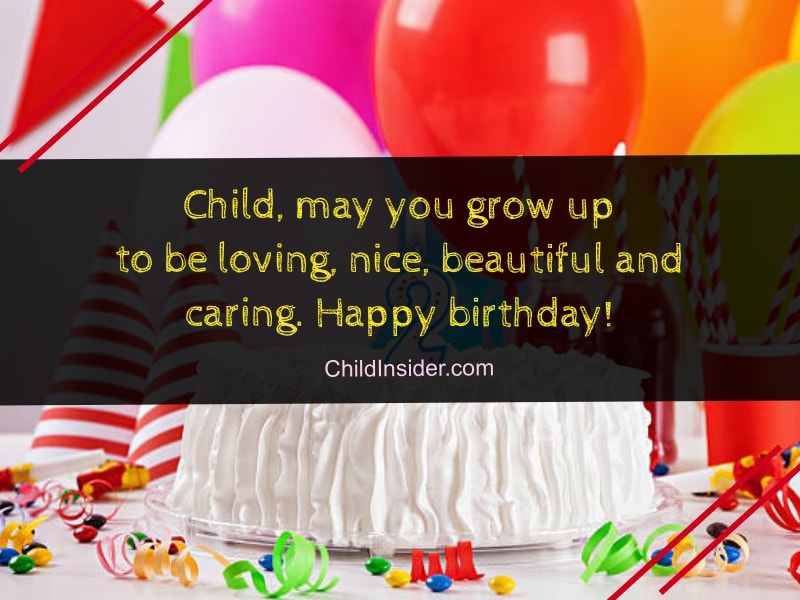 15. Only 2 years old, but you have already brought everyone so much joy! Have a joyous birthday celebration!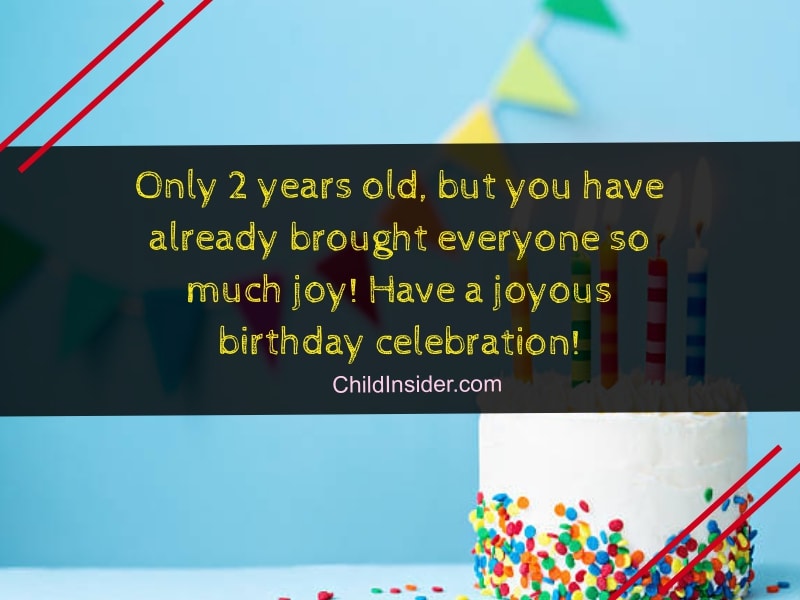 16. Little one, words can't express how lovely it is to have you with us. Happy birthday!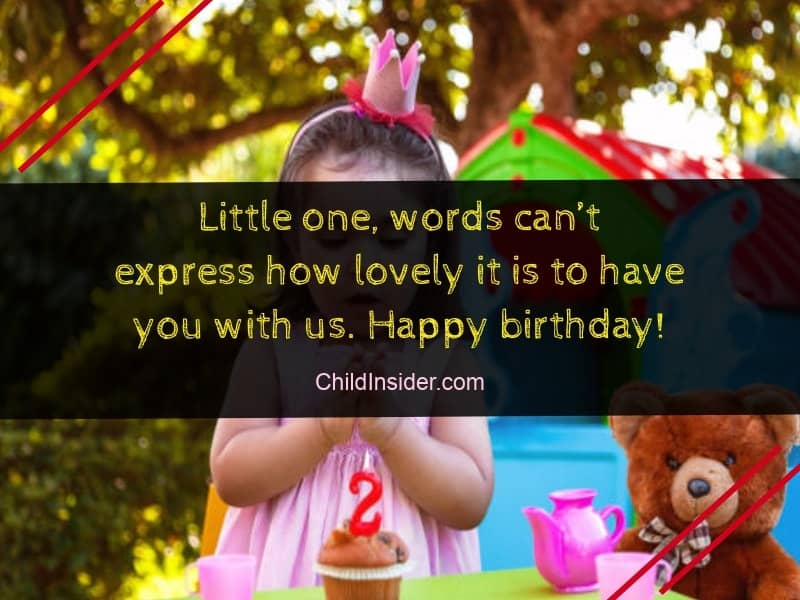 17. Two little hands, two little feet. Two little cupcakes for the two-year-old kid!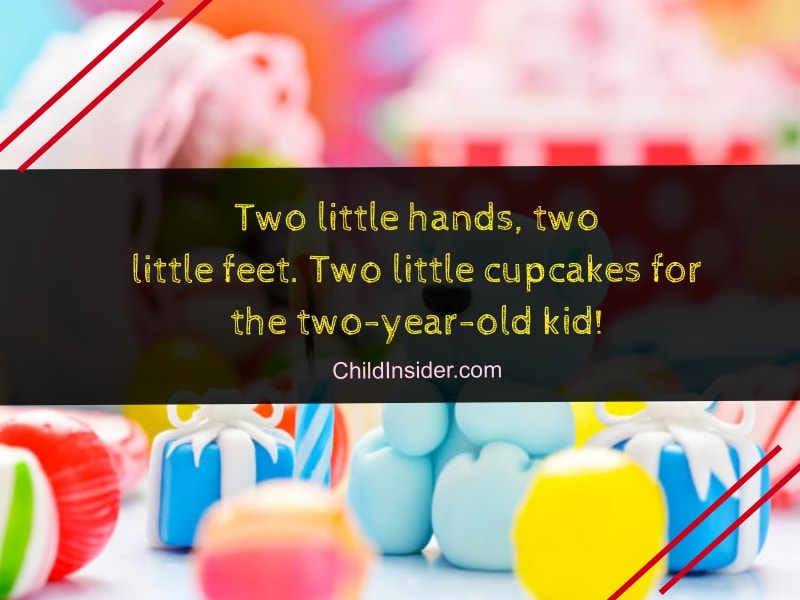 18. Two years ago, God sent us you and you have been so lovable ever since. Happy birthday!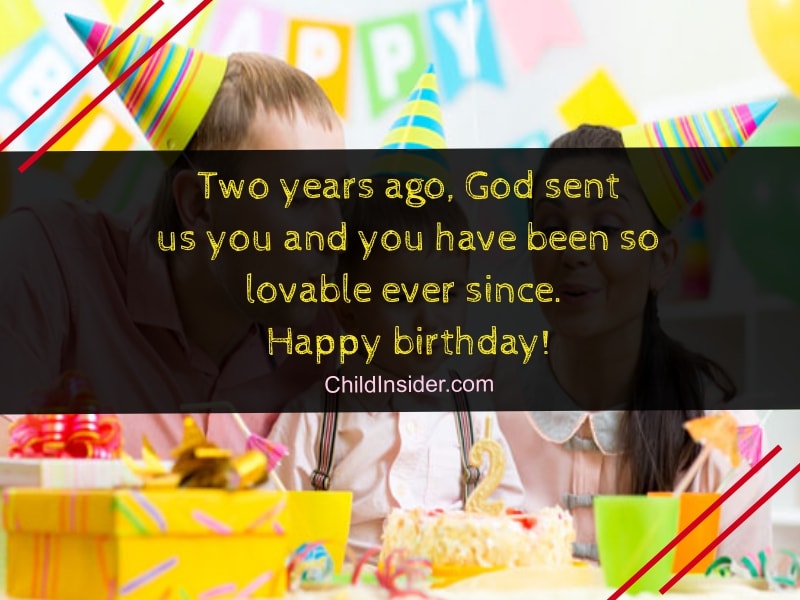 19. How are you enjoying your second birthday? We hope you like this little party we threw for you!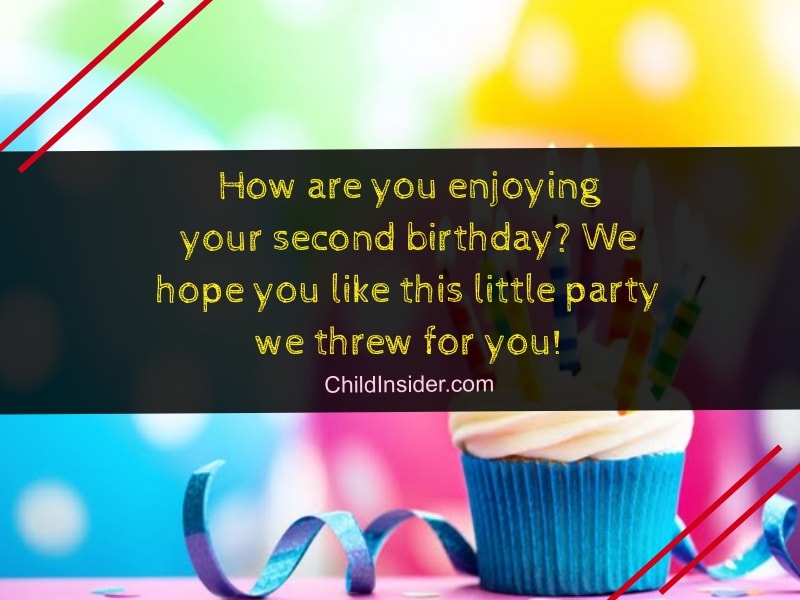 20. This lovely two-year-old here deserves the best of everything in this world. Happy birthday!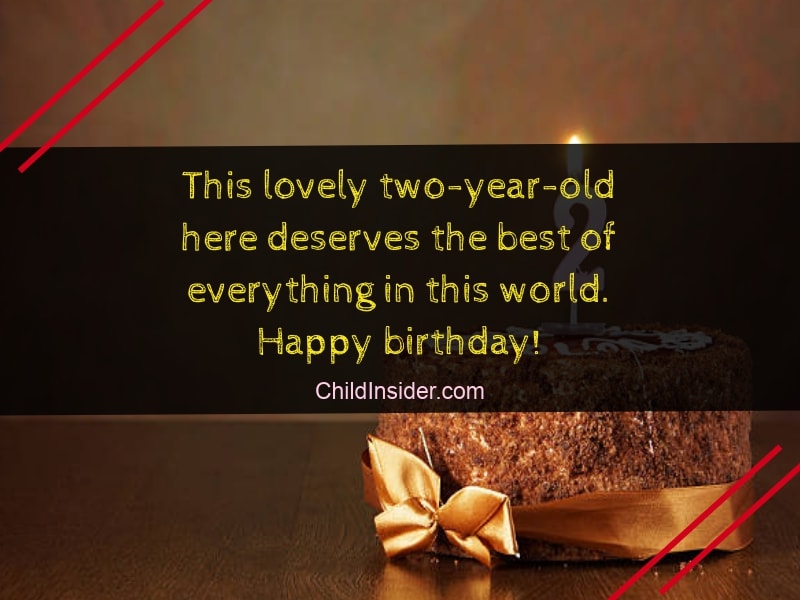 21. You're still too young to understand the grand scale of your birthday party, but happy birthday anyways!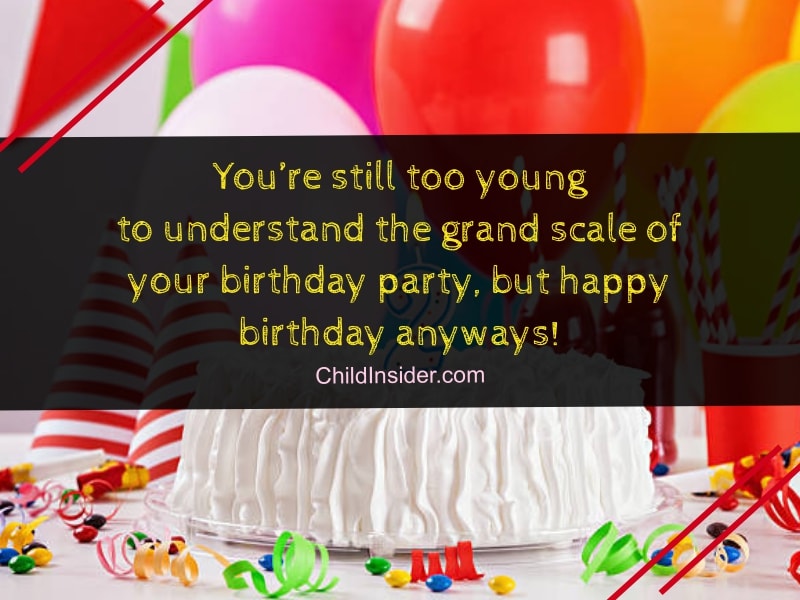 22. There's so many surprises waiting for you in this world, and you're only two! Happy birthday!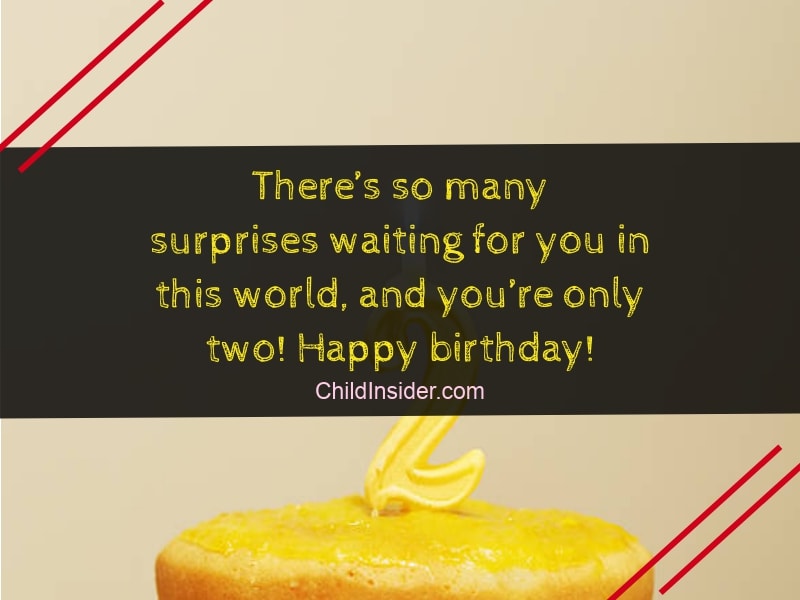 23. You'll speak your first sentence this year, and we can't wait! Happy birthday!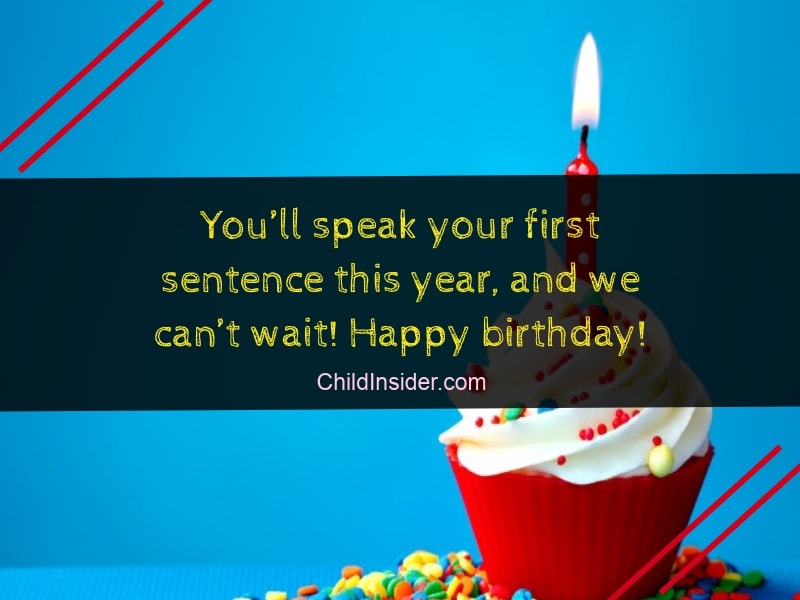 24. What a great day it is to be celebrating a little angel's birthday. We wish you nothing but the best!
25. Happy birthday little one! We wish you the most joyous birthday celebration yet!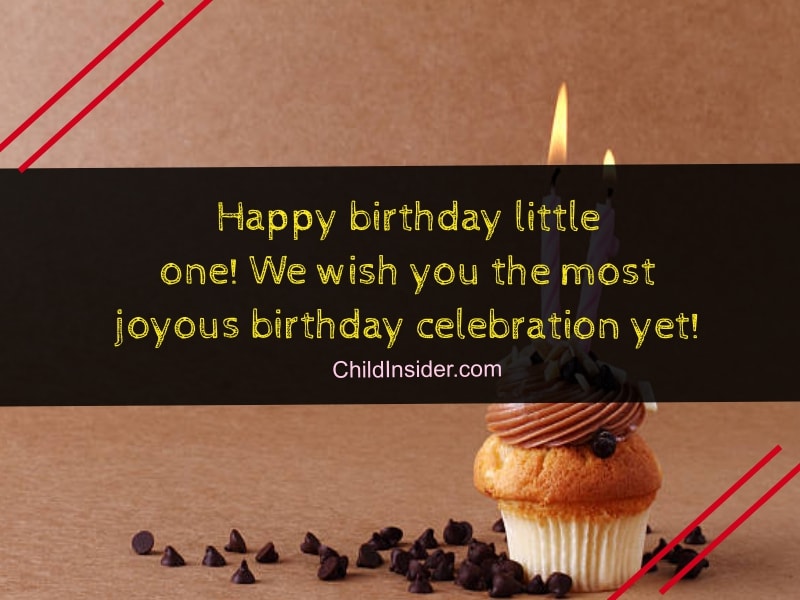 26. 2 years old and already so charming? You're going to win so many hearts my dear, Happy Birthday!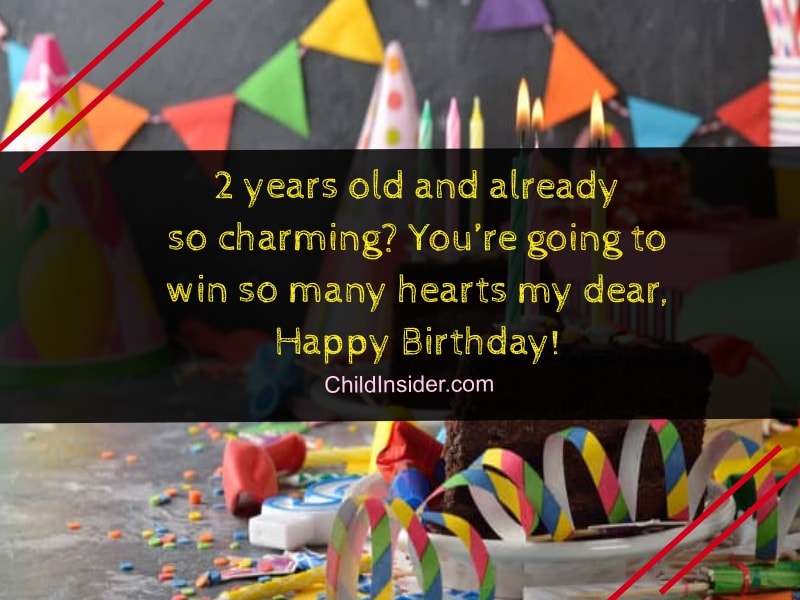 27. Congratulations on turning two today! Warm wishes and hugs coming your way!
28. The cutest 2-year-old deserves the most awesome birthday party! Happy birthday!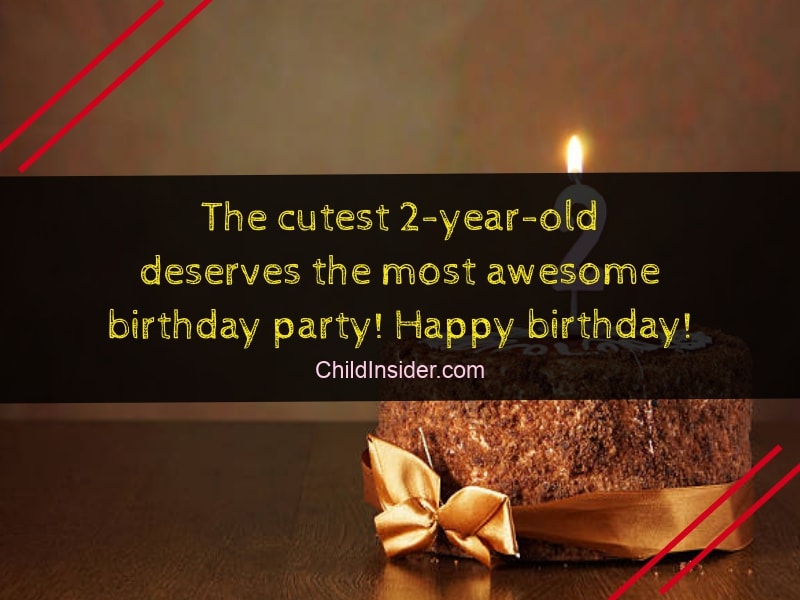 29. The pitter-patter of your little feet has brought us so much joy. Happy 2nd birthday little one!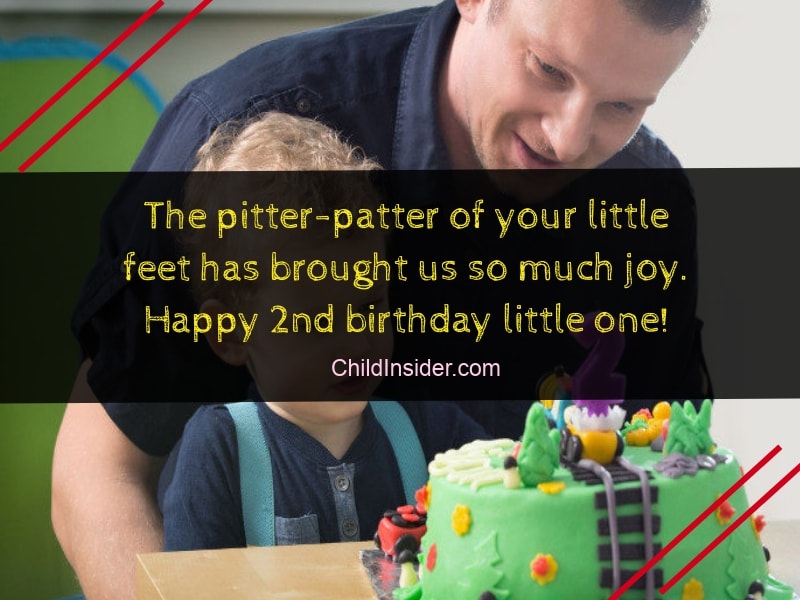 30. May your little smile always shine through as you grow. Happy birthday and we love you!
Did you like the birthday wishes for 2 year olds that we have compiled for you? We hope that the toddler receiving them will like it too! Do wish the little kid a happy, happy birthday from all of us here, and we hope that the party turns out well!