There are tons of 14-year-old boy haircuts options at their disposal, and we're going to see some of the best ideas. Scroll down to see the best 14-year-old haircuts.
Sometimes the only change we need to feel cool is the new hairstyle. It's simple; new haircut gives a whole new dimension to our look and boosts our confidence. When we feel great about ourselves, it shows in our behavior and the vibe we ooze.
Popular Haircuts for 14-Year-Old Boys
When it comes to hairstyles for 14-year-old boys, you can try options are numerous. Let's see some of the coolest styles you can rock with ease.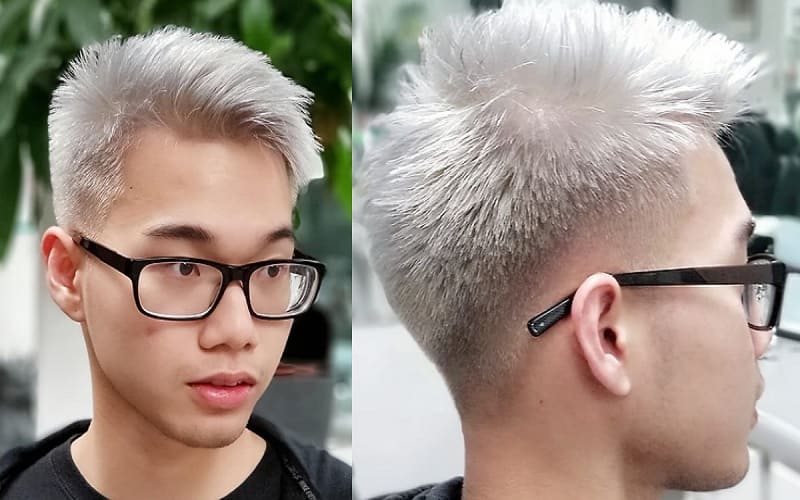 You've probably seen a grey hair on young people outside or online. That's because this hair color has become one of the biggest trends.
What we love about grey hair is that it suits everyone. You may want to try it out. Comb your hair to the side for a sleek and fashionable look.
2. Wavy Hair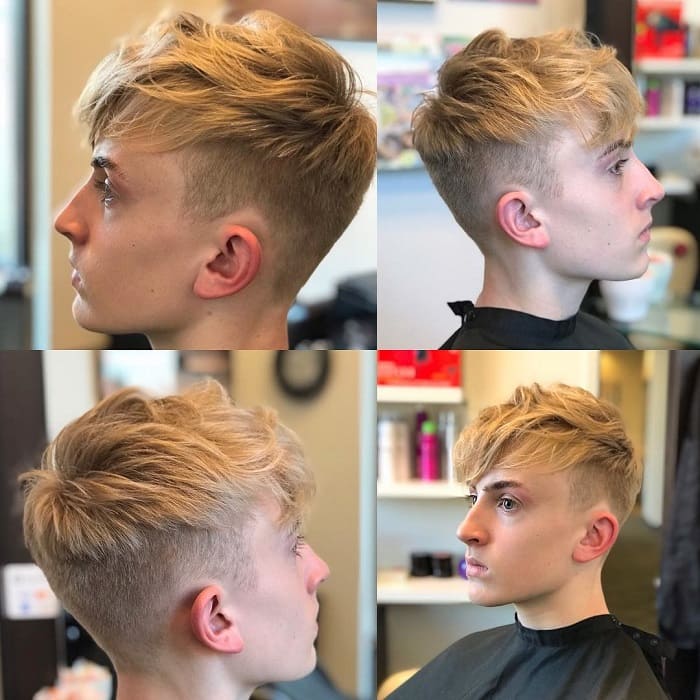 Guys who want to do something new with their plain hair will definitely love this look. The hair on the sides is shaved off while the hair on top is wavy.
Waves and layered boost volume of your hair and make it bouncy. Not only is it easy to style this 14-year-old haircut, but it looks beyond cool.
3. Sleek Hair with Low Fade
Some boys love their hair on the messier side, while others prefer a sleek look. If the latter is your choice of hairstyle, you'll be happy to know there are many haircuts for 14-year-old boys you can try.
Hair with low fade and tapered off or shaved sides and sleek hair on top is one awesome option you'll want to rock.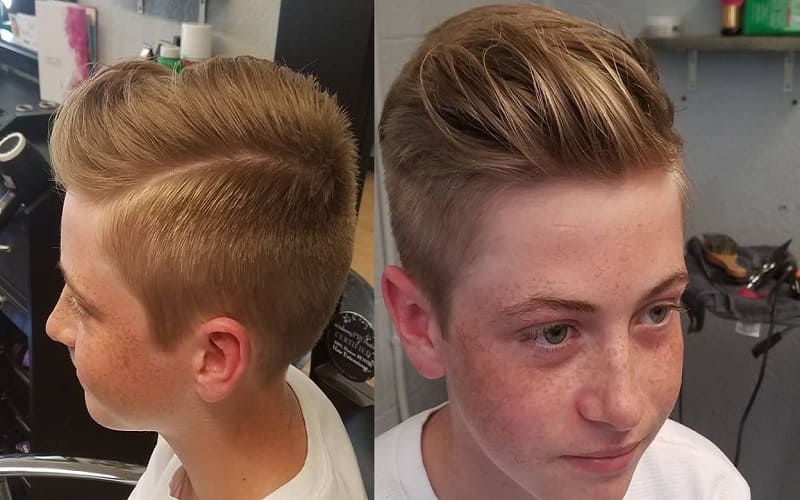 Your hair is thought, voluminous, middle-length, and you want to show it off? Not a problem; we have a perfect style for you to try. Shorten hair on the sides and get a razor shape line that defines side parting.
Make sure hair on your top remains longer and more voluminous. Use mousse to add more fullness and style it any way you like. This is one of those boys hairstyles for 14-year-olds that will always be IN.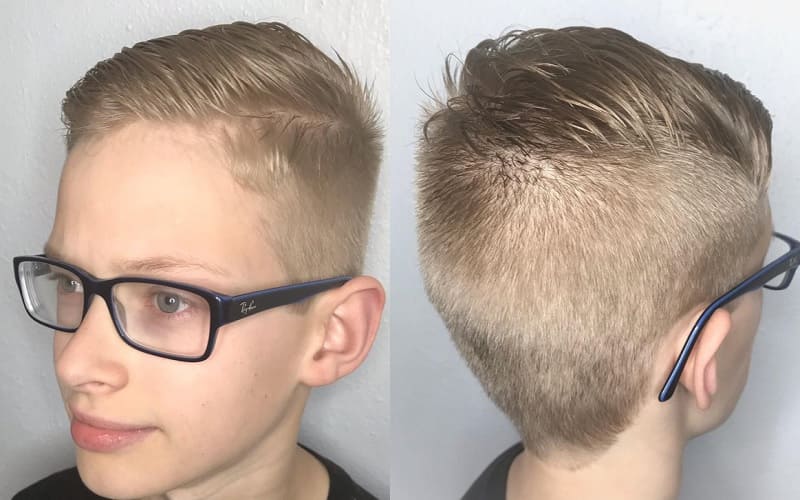 Some teens love to experiment with their hair, which is why they choose something edgy. On the other hand, some guys prefer short and simple styles.
If you're in the latter group, we have a perfect style. This haircut is sweet, cool, and requires little to no maintenance.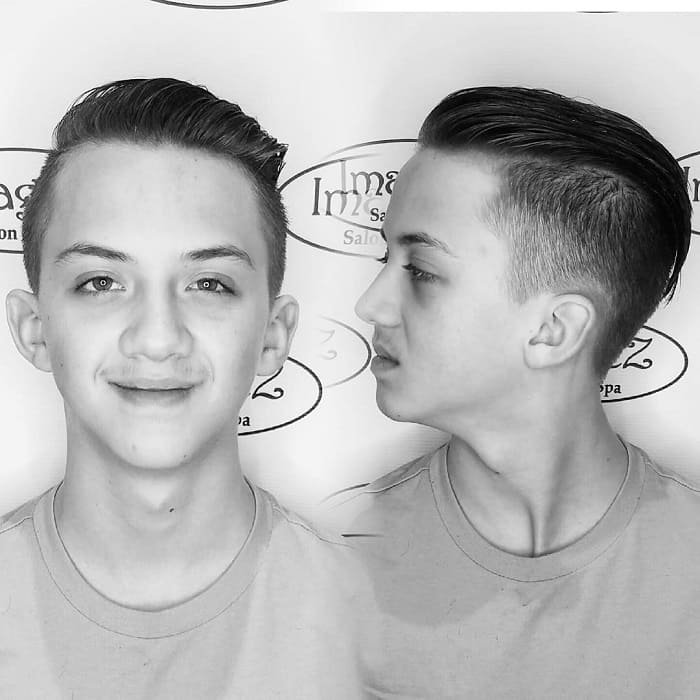 You have that cool guy vibe and want a hairstyle that could match it? Look no further! Shave hair on the sides and style hair on top by combing it back. You'll need a quality hairstyling product to keep it sleek and firm.
It's one of the simplest 14-year-old boy hairstyles, and it's also in the group of the most awesome haircuts you can rock.
7. Spiky Hair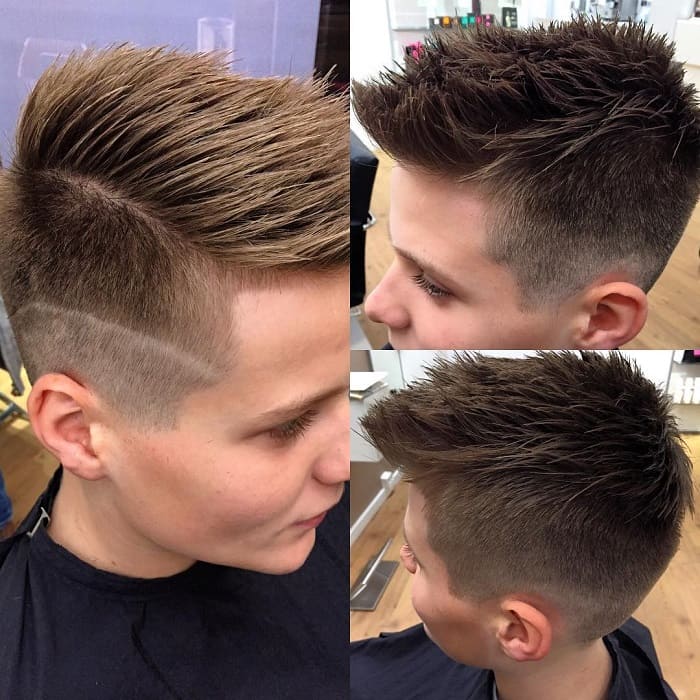 Spiky hair has been around for quite some time, and it's still trendy for teen boys. While some hairstyles come and go out of style spiky hair remains IN.
To make it happen, you'll need a hair styling product like gel. Style your hair to accentuate subtle spikes, and you're good to go.
Amazing Fohawk Hairstyles for Little Boys
8. Side Swept Bangs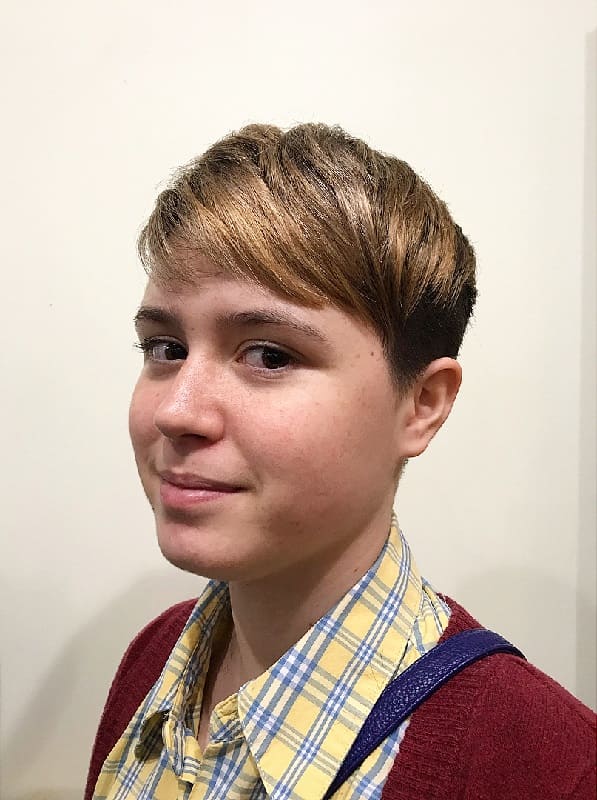 Boys with medium-length hair should not rule out the power of bangs. No, they're not for girls only. Emulate the classy vibe by sweeping your bangs to the side.
The best thing about this 14-year-olds hairstyle is that it doesn't require too much care and maintenance. All you need is to comb your hair, and you're ready to leave.
9. Bedhead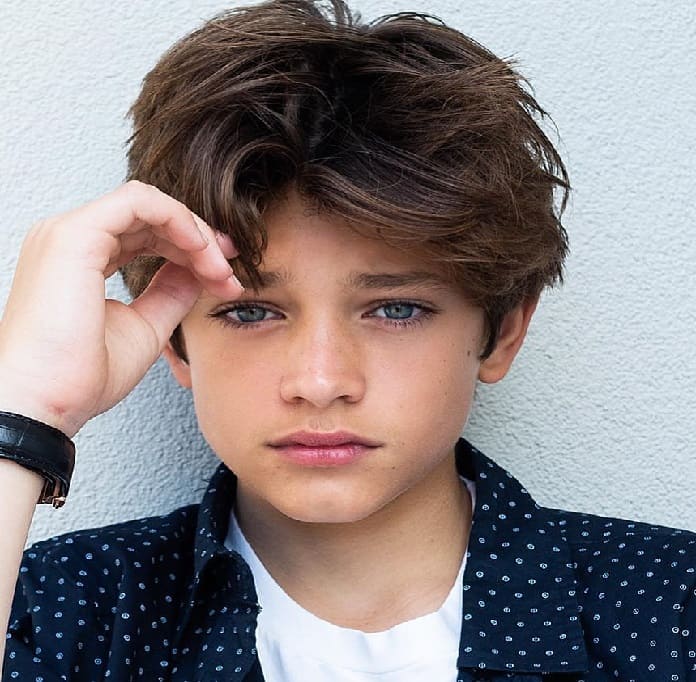 There comes the time when we want to look like we didn't bother to look great, but it just happened because we're awesome anyway. Achieve that effect with bed head. Instead of combing, tousle your hair using fingers.
10. Slick back Hair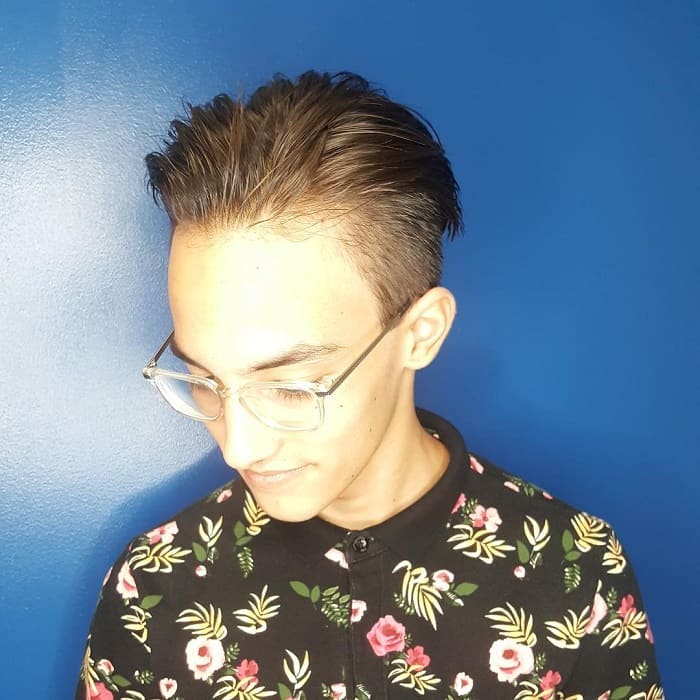 If your hair is not super short, but it's not long, either you may want to keep it the way it is. Just comb it backward and use a hairstyling product to add your look a new dimension. This is one of the most popular 14-year-old boy haircuts.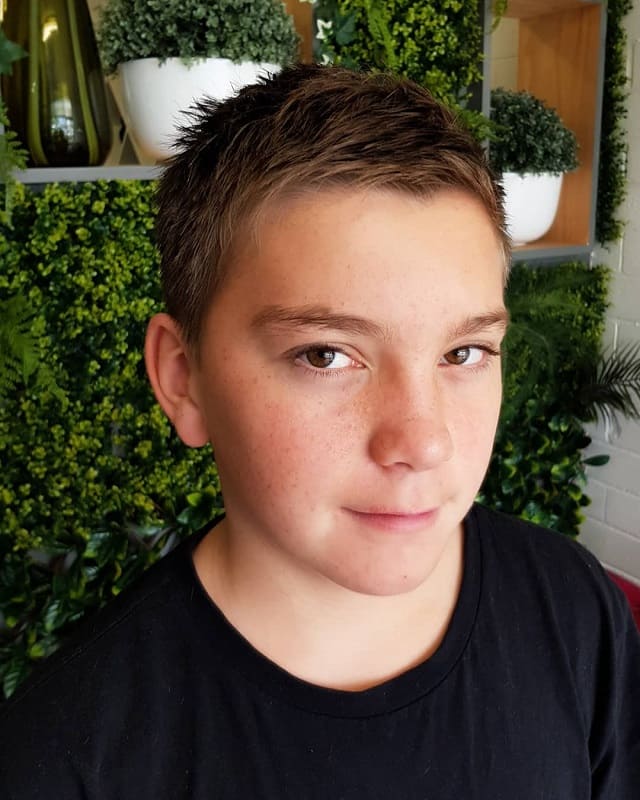 Cut your medium or long hair short for a simple and classy look. What we like about this 14-year-old haircut is that it looks great on every face type and is a perfect match with every hair texture.
Trendy Hairstyles for Tween Boys
12. Popular Guy Hairstyle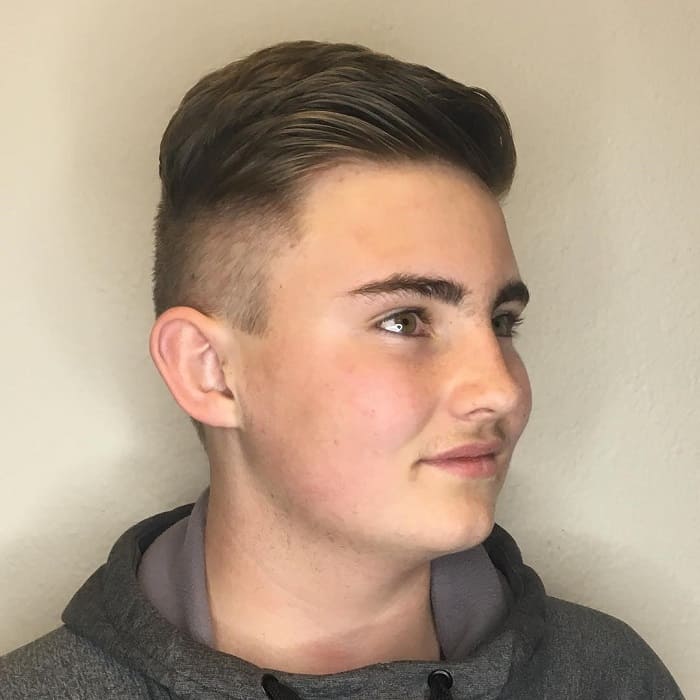 Popularity comes with confidence, and the best way to feel confident is through a new haircut. Get a sleek boy hairstyle for 14-year-olds that girls in your school will absolutely adore and you'll be the most popular guy.
After seeing all 12 awesome ideas for 14-year-old boy hairstyles, you probably can't wait to rock some of them.
This is your time to experiment with hair to find what works for you best. Remember, you should always opt for a hairstyle that makes you feel comfortable and confident.