African American hair i.e black hair is so mesmerizing. Finding a suitable hairstyle for 10-year-old black girls can be a little overwhelming but you can do so much with it!
Look at the little girls going to Primary school. They have new hairstyles every day and yet they still want new ones and are constantly experimenting with their hair.
Black hair is notorious for being difficult to handle and of course, mothers are hard-pressed in spending enough time on their daughters' hair to make it just perfect. All those braids, cornrows, buns and so much more. It's hard to keep track of all the styles.
Awesome 10 Year Old Black Girl Hairstyles
So here's a list of the best hairstyles to keep you updated on what's new in 2023 for the hairdos of 10-year-old black girls.
1. Sleek Long Bob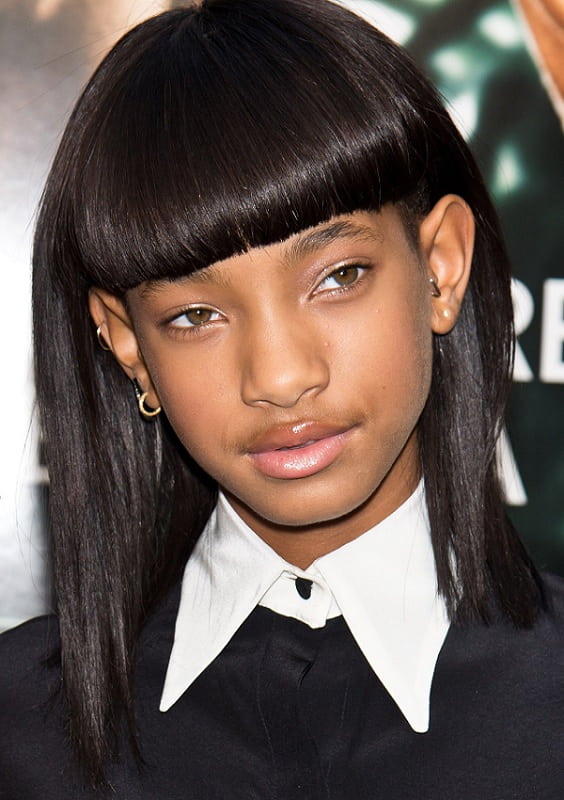 The first and favorite hairstyle for any 10-year-old black girl is a long sleek bob that brushes just a little past the shoulders. The style is made even more adorable and classy by adding some fringes in the front that fall to just above the eyes.
2. Braided Pigtails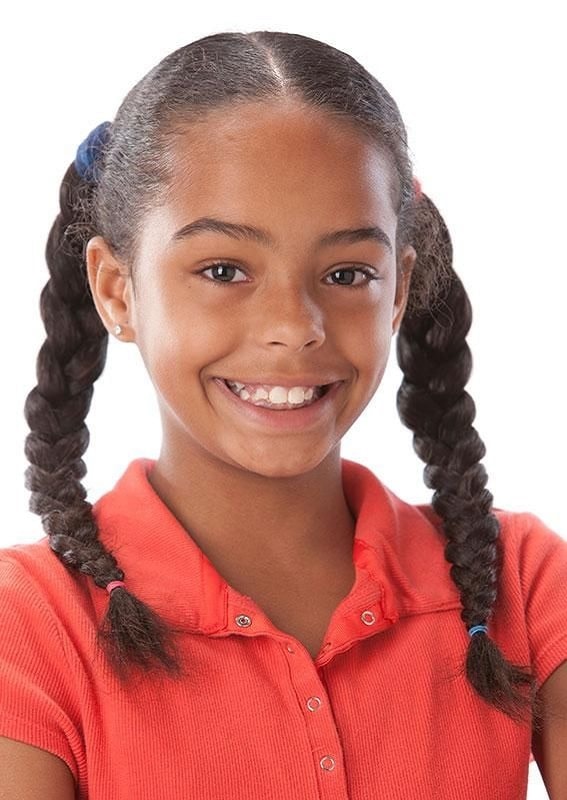 The braided hairdos are the easiest hairstyle that you can choose to make for not just an African American but for any little 10-year-old. They practically shout innocence, cuteness and all-around adorableness.
They're pretty easy to maintain as well since once they're made and made right, they do not need much maintenance at all. You could just play without having a care about it!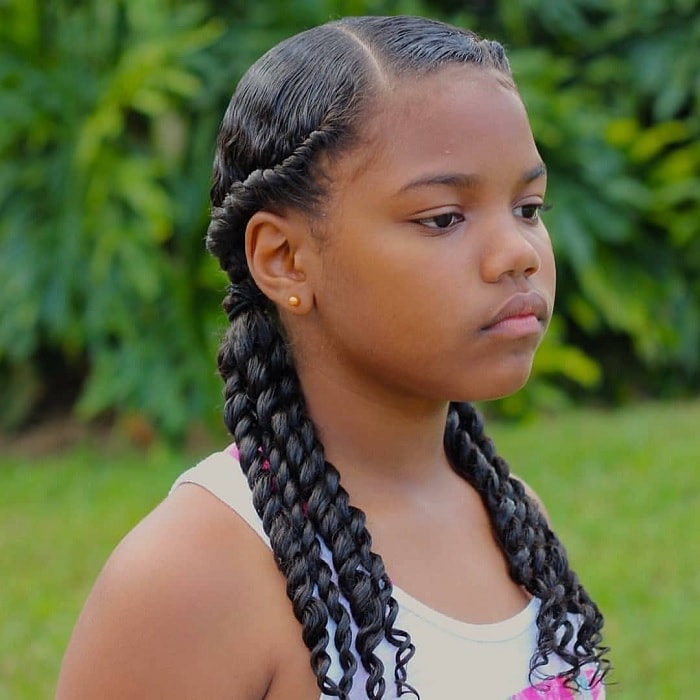 If you want a little pomp and pazazz added to your hairstyle of the day then the twisted curly pigtails are the hairstyle for you.
It is absolutely perfect for African American hair and this hairstyle will make that little girl look like a little innocent princess, which of course she absolutely is.
4. Side Braid Curls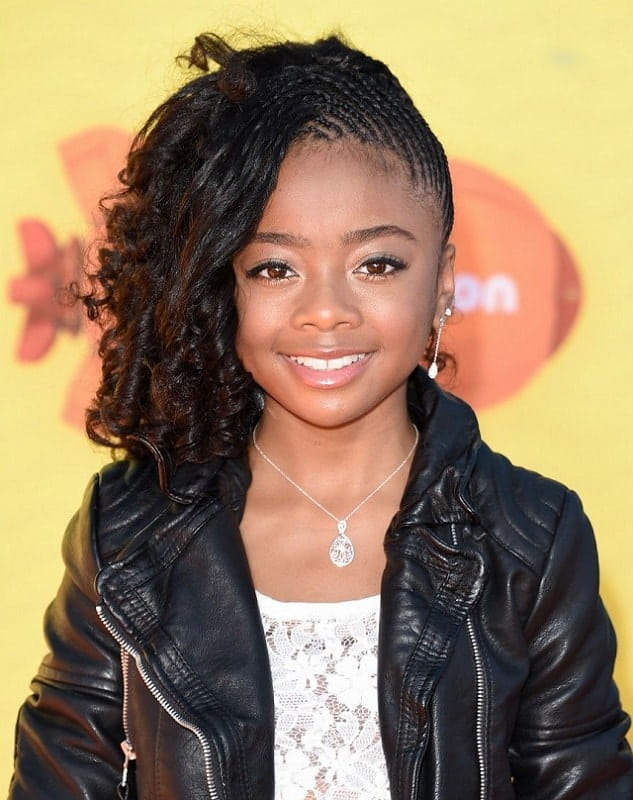 If your little princess is going to a party then these tiny side braids tapering off into voluminous curls are the perfect hairstyle to make that little girl stand out from the crowd.
This hairstyle is very chic and very rockstar-like, which is the dream look of every 10-year-old black girl ever.
5. Messy Bun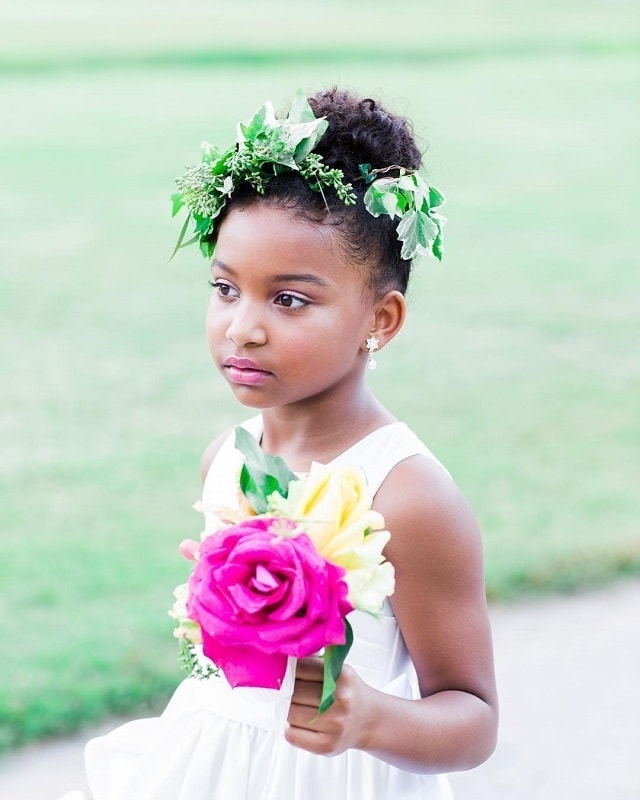 If it's a wedding or a formal affair then this hairstyle is absolutely perfect for any 10 years old girl of black origins.
Scrunch up that hair on the top of that little head and pin it up in a messy bun. Add a finishing touch by gracing it with a beautiful flower crown or beaded pins.
6. Afro Buns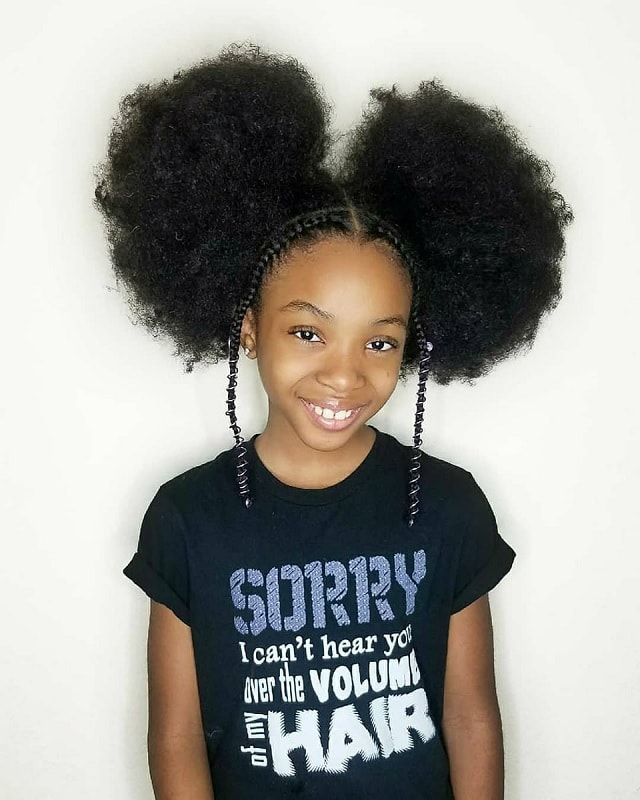 The Afro is what can be typically called as the mainstream hairstyle for any black girl with medium length hair. This style is very chic and pairing it with little braids hanging on either side? Well, it would be absolutely adorable for anyone.
7. Fishbone Updo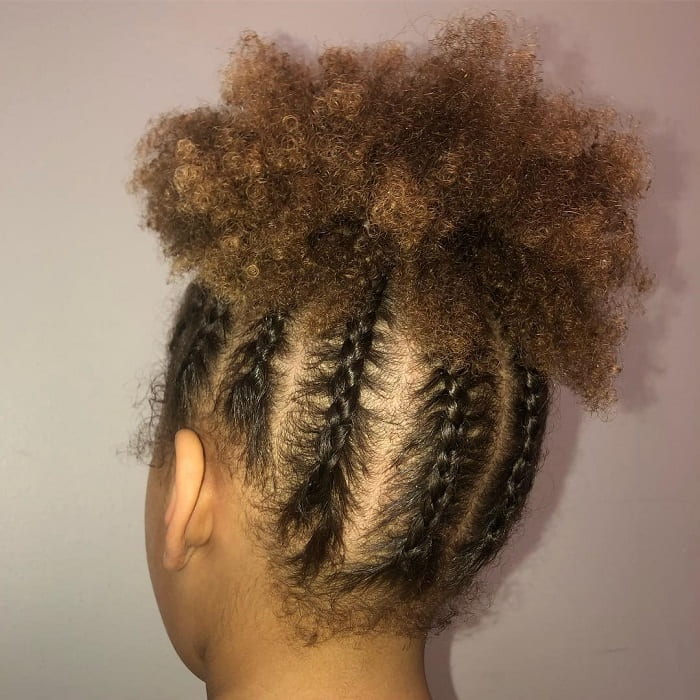 Fishbone cornrows from the root of the neck leading into a classic messy updo is a very stylish hairstyle for a 10-year-old.
It's a known fact that little African American girls in the ages between 10 and 12 absolutely love cornrows and braids. So having a hairstyle that has both cornrows and a bun that keeps her hair out of her eyes while she plays is a major plus!
8. Twin Buns with Little Braids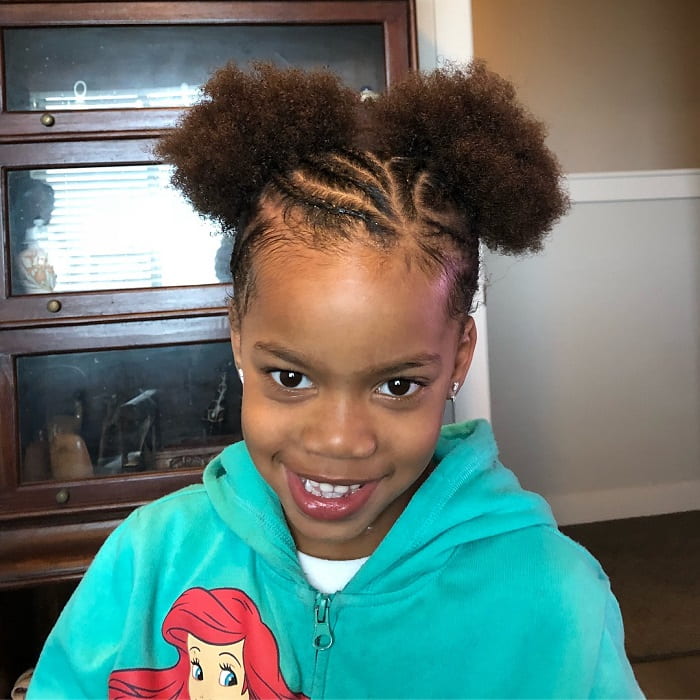 Having two little buns on top of your head and then a crossroads of braids running into it from the crest of your forehead is the kinkiest black girls hairstyle that any 10 years old could have. It's cute and has a rock and roll feel to it as well.
9. Fulani Braids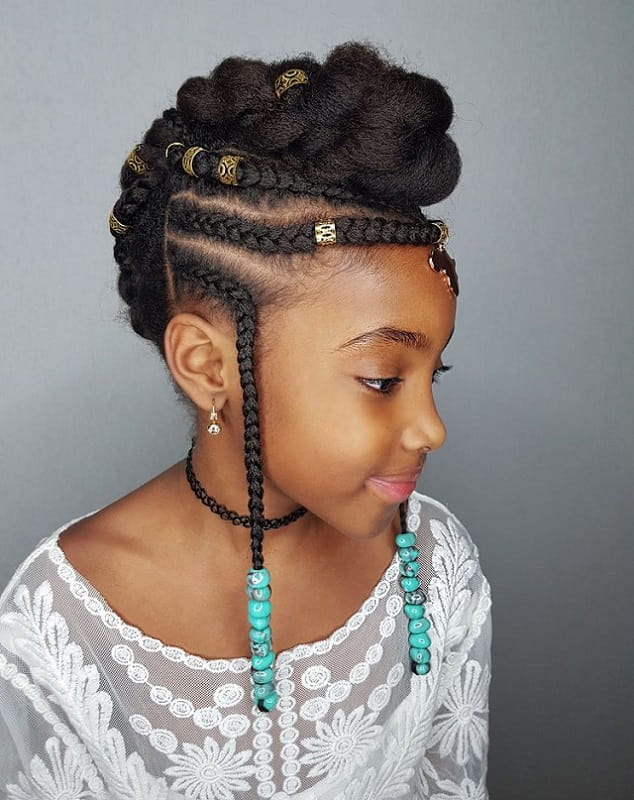 This particular hairdo has been inspired by Fulani i.e. the Muslim theocracy of Western Sudan. This hairstyle has a multitude of braids wrapped into each other creating a very unique look.
Every Fulani hairstyle is always rare and beautiful. To make the look even more authentic and fun for the kids, you can always add some colorful beads and hair accessories.
10. Curls and Bangs
This is one of the most classic hairstyles for 10-year-old black girls you could ever have. If you're in a hurry and don't have time to properly create an intricate hairdo then simply curl your hair into little ringlets and fall it onto the shoulder.
If you have 3 more minutes you could straighten the bangs and let them fall gracefully on that cute African American forehead and be on your way!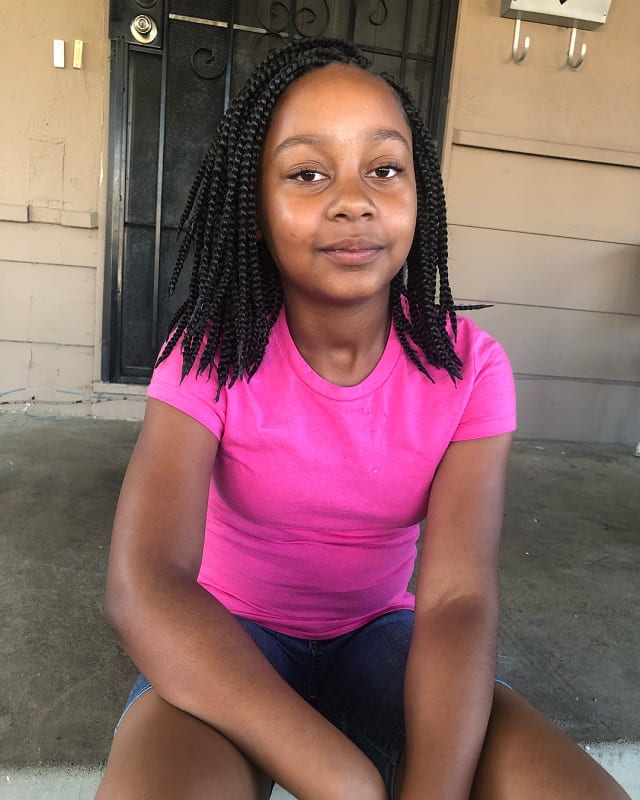 Box Braids are the most common natural hairstyle for black girls of any age after Afros. It's actually more popular. Every 10-year-old black girl would be ecstatic to have this particular hairstyle every day in school.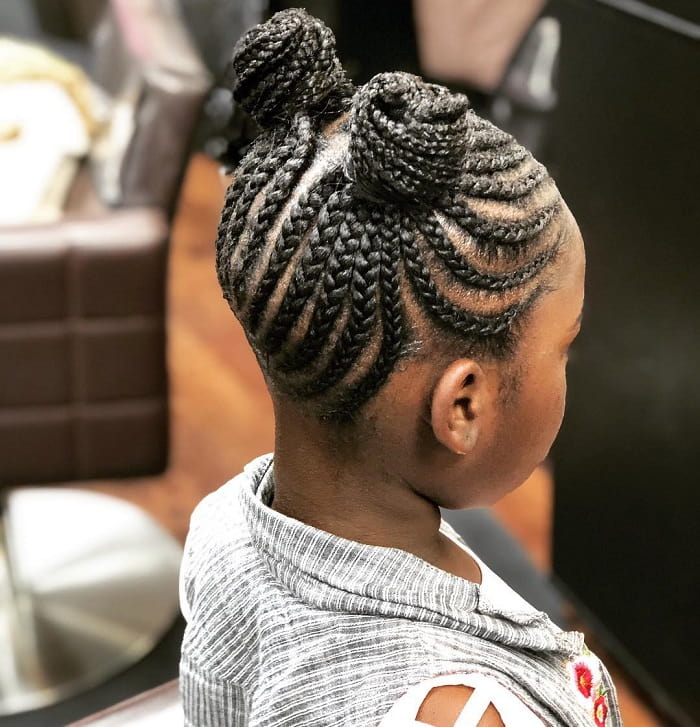 If your little girl loves cornrows and braids then make them for her and if you're afraid that they'll get in her way and will get messy then just twist them into buns on top of her head. Easy right!
13. Braided Tops With Waves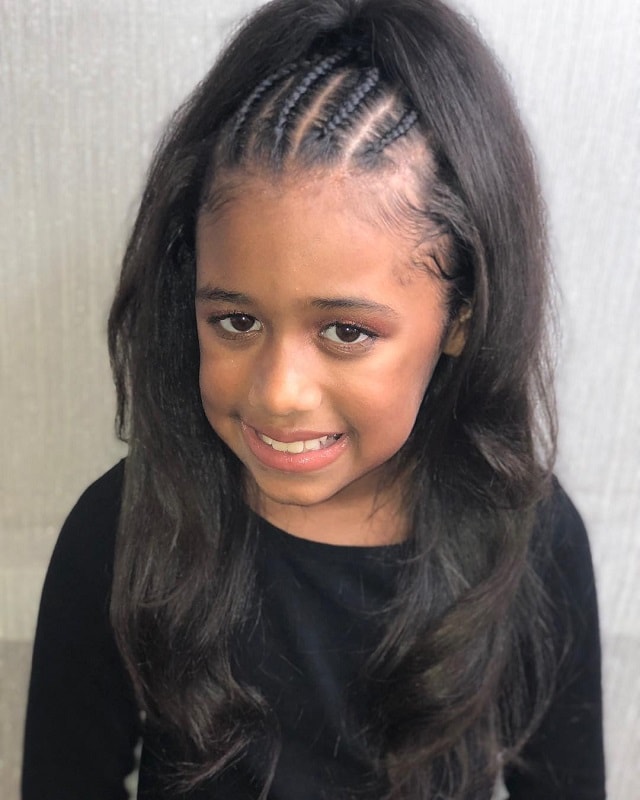 It's party time for your little girl and she wants a classy yet chic look. So just turn her hair into voluminous waves, let them fall over her shoulders while pulled back from her face in braids. She's perfect!
14. Curly Afro Bob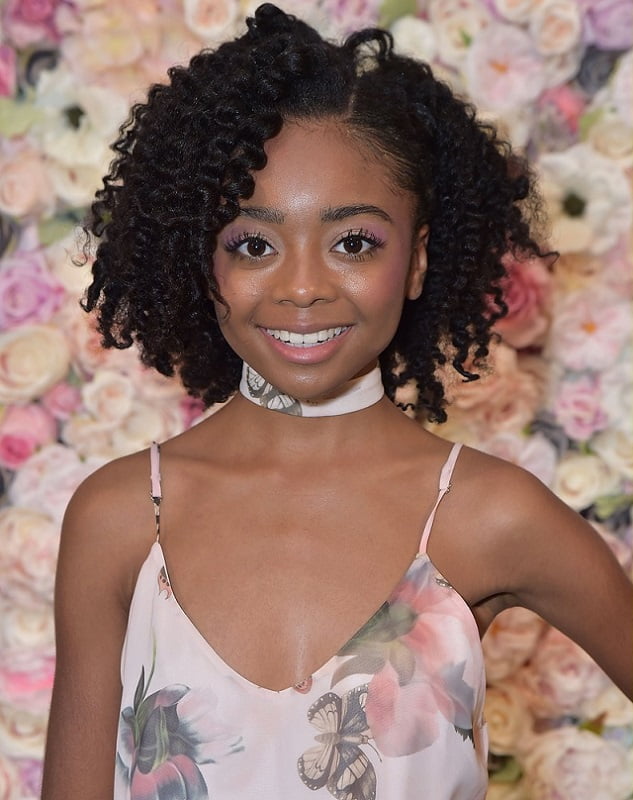 If your little black princess has an Afro craze going on and she wants curls as well? Then have no fear and help her make them because they will look absolutely fabulous. This is the absolute hairstyle for 10-year-olds black girl to try with curls.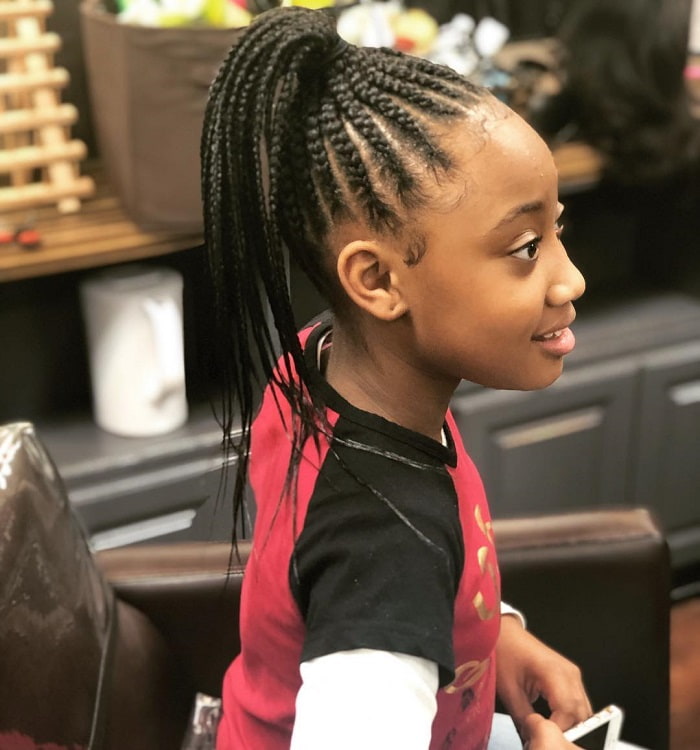 If your 10-year-old black girl is a sports fan and loves playing but also wants fashionable hair, then help her create some cornrows and then pull it back into a simple high ponytail.
16. Flower Girl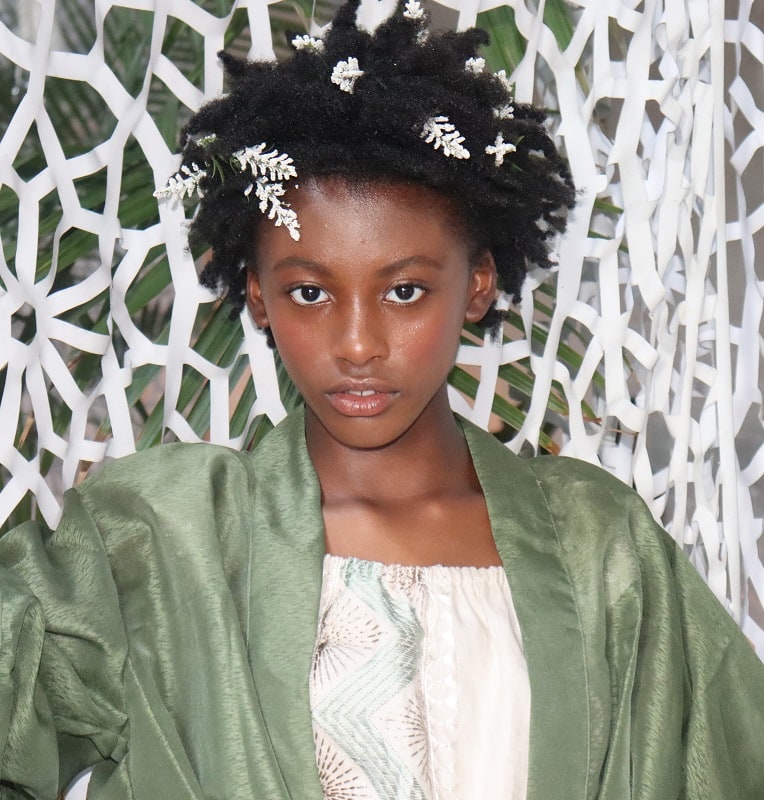 Do you have a special wedding coming up where your little girl is going to be the flower girl?
Take her afro-textured hair and make small twists at the ends, then top hair with small white flowers!
17. Thick Curly Ponytail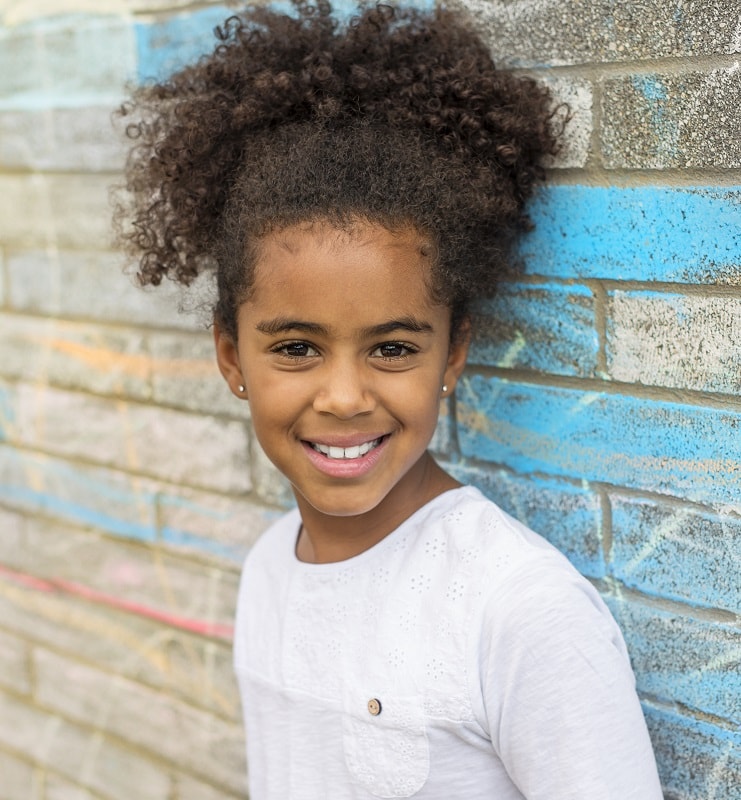 For the 10-year-old girl who is always on the go, a high ponytail to tame her thick curly hair in a cute way is classic! This is a style she can even pull together on her own!
18. Long Micro-Braids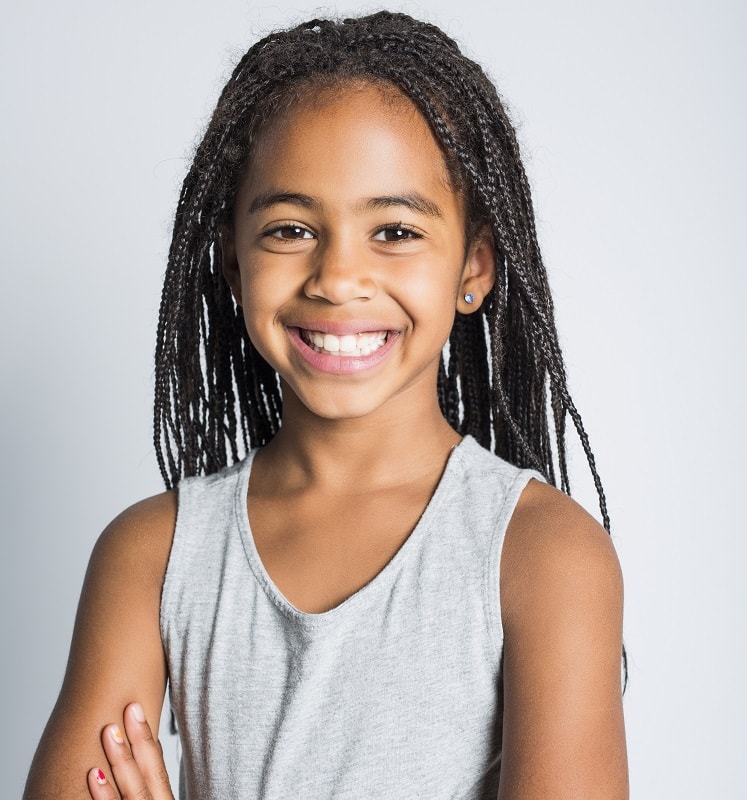 Little girls with long black hair will love how micro-braids make them stand out! This is a style that will take a bit of time to form, but it will last several days and is adorable!
19. Heavy Parted Straight Hair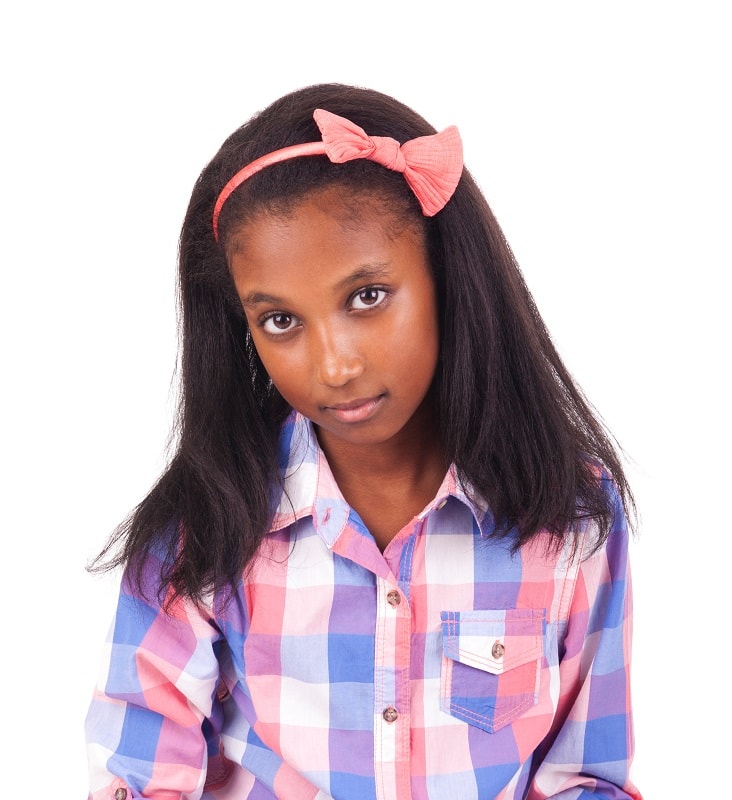 For picture day or a night out with the family, 10-year-olds will love how straight hair makes them look older. To get this look, create a heavy part and use a headband to smooth hair back.
20. Half Up Bun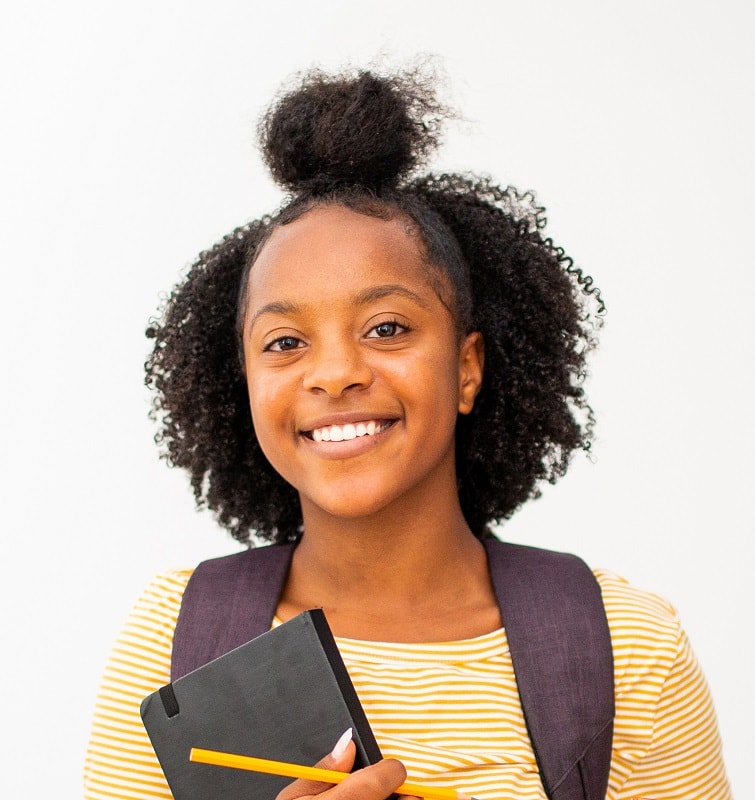 For 10-year-old girls with very curly afro hair, a style that keeps hair out of the eyes is helpful. Try this half up bun; she can even pick out a colorful hair tie for contrast!
21. Braid with Extensions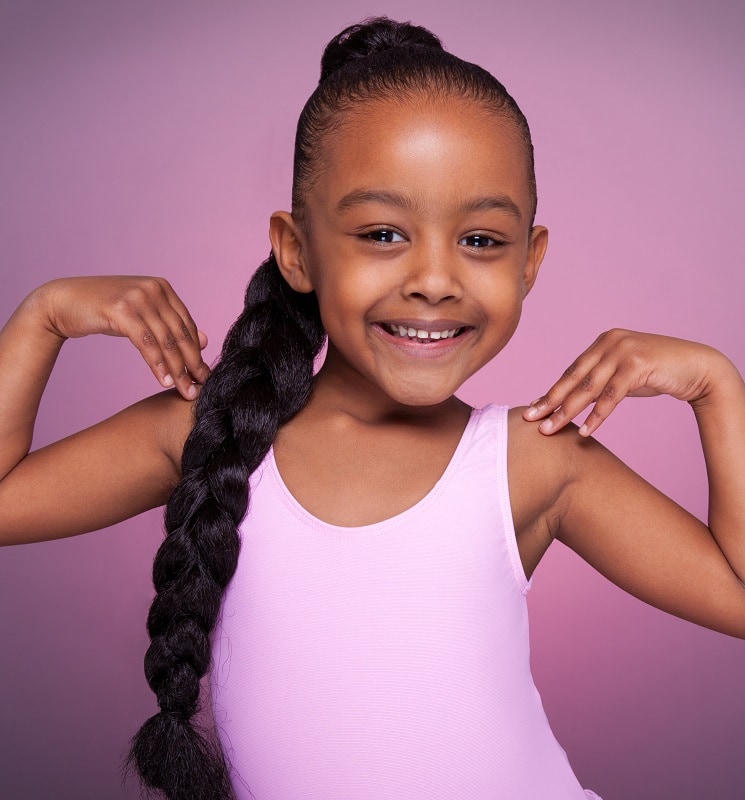 Little black girls who are dying for long hair can try hair extensions. You would never know this long ballerina braid is actually extensions!
22. Twist Braids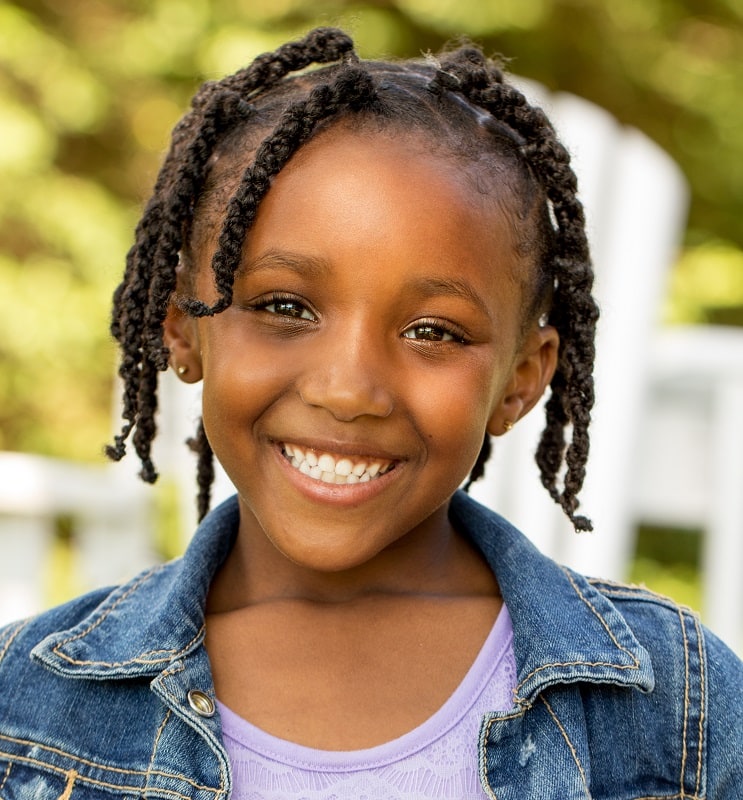 Twisted braids are one look that suits all little girls no matter their hair length. Let your 10-year-old choose the thickness of them, then use product to smooth frizz. She can make the style more playful by using colorful hair ties instead of plain black ones.
23. Voluminous Pony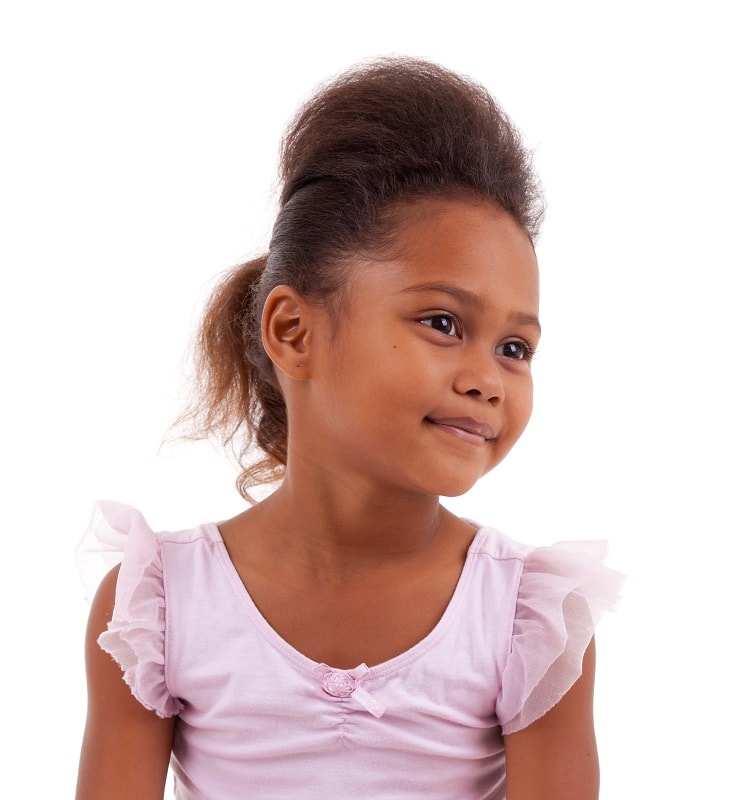 To give your 10-year-old a dramatic hairstyle, tease the front half of the hair with a comb and hairspray for beautiful volume before securing it in a low ponytail. She can wear this style to a dress recital or a birthday party!
24. Long and Thick Afro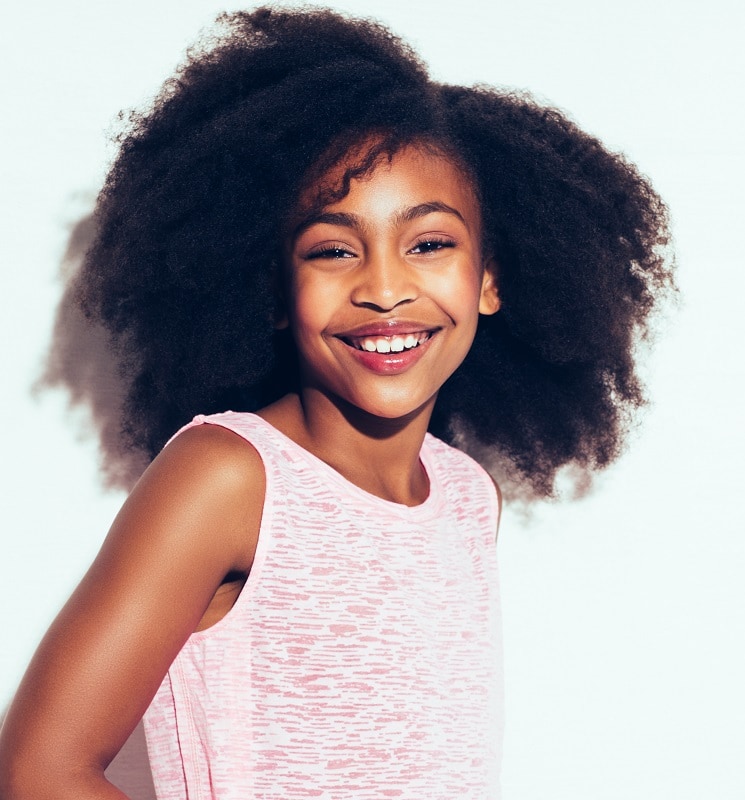 Encourage the 10-year-old girl in your life to rock her natural black hair. After parting hair off center, wear it naturally and let the thickness show! Layers will help the hair not be too overwhelming and will also add shape.
25. Tiny Braids for Long Hair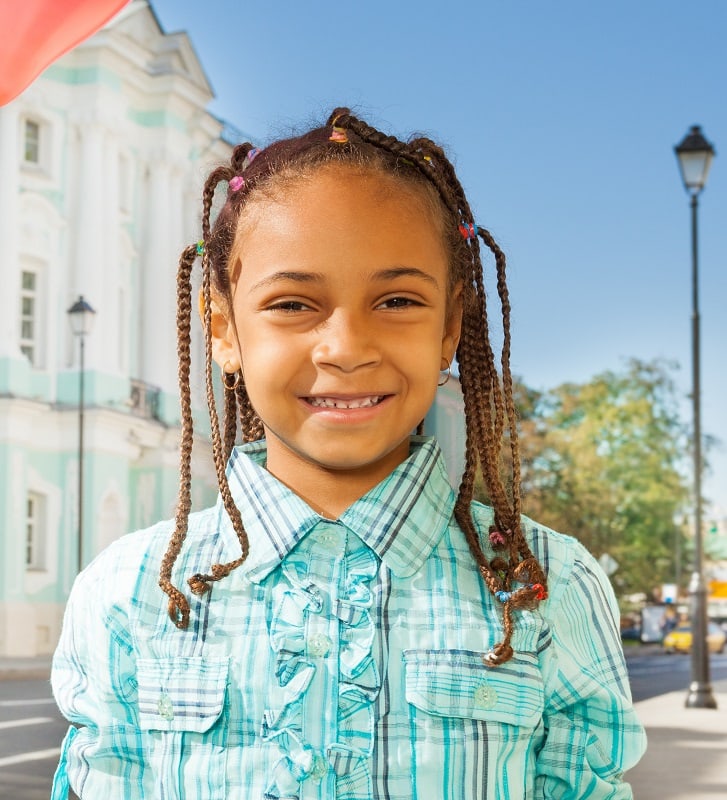 Another way your little girl can tame her long hair is by going for lots of tiny braids. Don't worry about creating symmetry; add colorful hair ties to each braid.
These hairstyles are 25 of the best hairstyles that any 10-year-old black girl would die for. Actually, every little girl would. So hurry up and try them. Start your engines and full steam ahead.