A toddler can be difficult to please, especially when they aren't allowed to do what they want. if you are stuck inside and need to make sure that your 1 year old baby is as happy as possible, then it's time to consider great indoor activities.
These will ensure that a child stays happy and has fun being active instead of just sitting in front of the TV. Choosing the right activity is key, and all babies will have their own favorite activity that they are going to want to play.
From quiet activities that are great for slowing down for bed or a nap to something a little more active and fun, this list has everything that a parent or guardian needs to keep children as happy as possible inside the house.
Fun Activities for 1 Year Old Baby at Home
Not all babies will respond well to the same indoor games or activities. That's why it's a good idea to have in mind a few different options to consider when a baby is bored.
With these 21 great options, it's fairly easy for you, no matter whether you are a parent, guardian, or babysitter, to choose a great activity that both you and the baby will love, preventing everyone from getting bored and frustrated.
1. Bubbles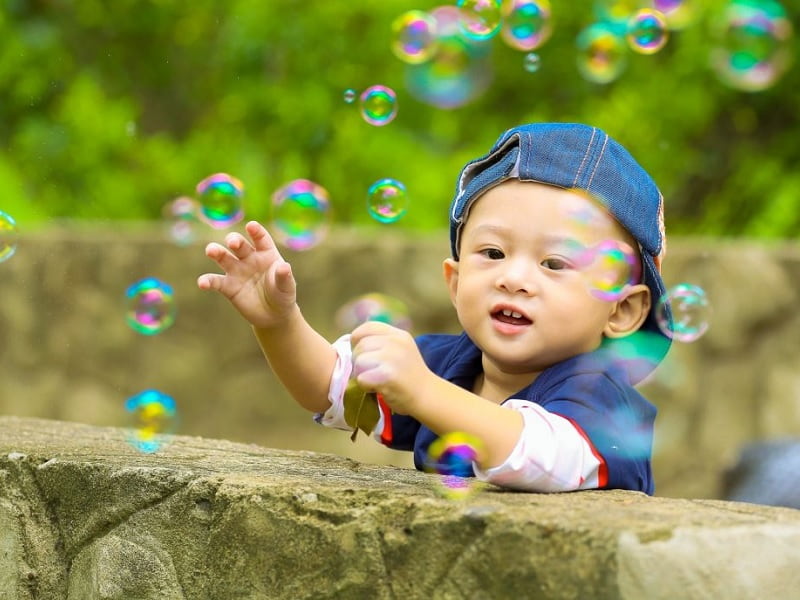 Bubbles are a classic indoor activity that kids of all ages love.
When your baby blows bubbles and plays or bubbles blown by someone else, they are improving their fine and gross motor development as well as developing spatial and body awareness.
Here are some neat tips for bubble play with your one year old:
Add a few drops of food coloring to your bubble mix to make colored bubbles
Give your one-year-old a paper towel roll to swap bubbles
Using straws to blow bubbles can make the process easier
2. Edible Playdough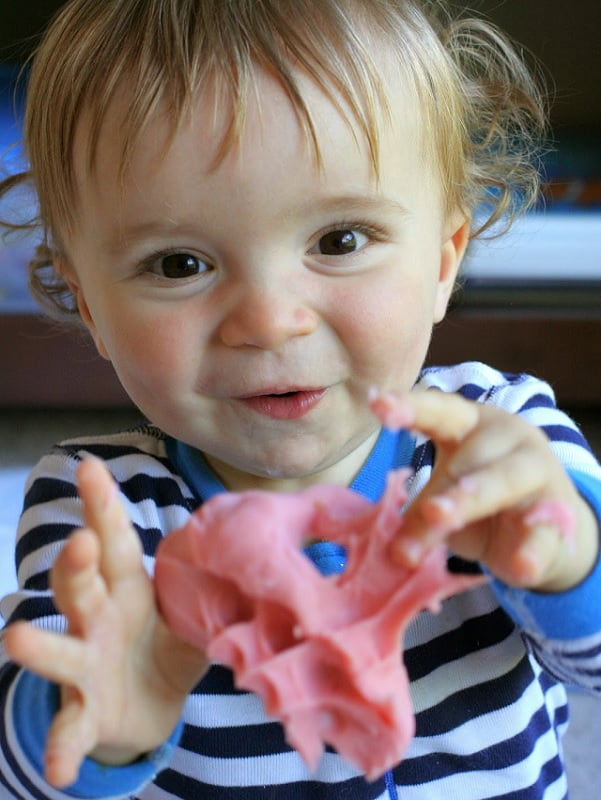 Your 1-year-old baby has probably already settled you into the reality that most of the things they play with will end up a part of a toddler taste test.
Edible playdough gives your baby all the benefits of playdough and allows them to be safe when they take that inevitable nibble.
Playing with playdough can help develop hand-eye coordination, encourage hand dexterity and creativity. Pull out some cookie cutters and rolling tools and your little one may be captivated for a while.
Edible Playdough Recipe: 
2 cups of water
2 ½ cups of white flour
½ cup of salt
1 tablespoon of cream of tartar
2 (.13 ounce) packages of unsweetened soft drink mix
3 tablespoons of vegetable oil
Boil the water and set it to the side while you mix the other ingredients in a bowl. Add the water slowly and mix until formed into a pliable dough.
3. Boxes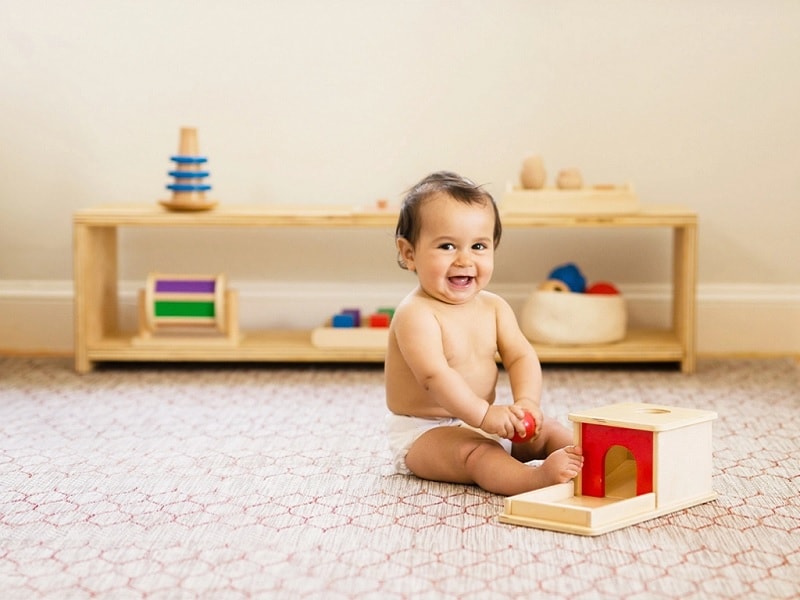 Give your baby a new toy and you may find that they spend more time playing with the box the toy came in. Boxes are great sensory tools for curious young minds to explore.
Save a few boxes of different sizes and allow your baby to get inside larger boxes or put things inside smaller ones.
Give your baby a washable marker or crayon to decorate boxes
Cut holes in boxes so that your baby can explore by placing objects through them
4. Set up a Market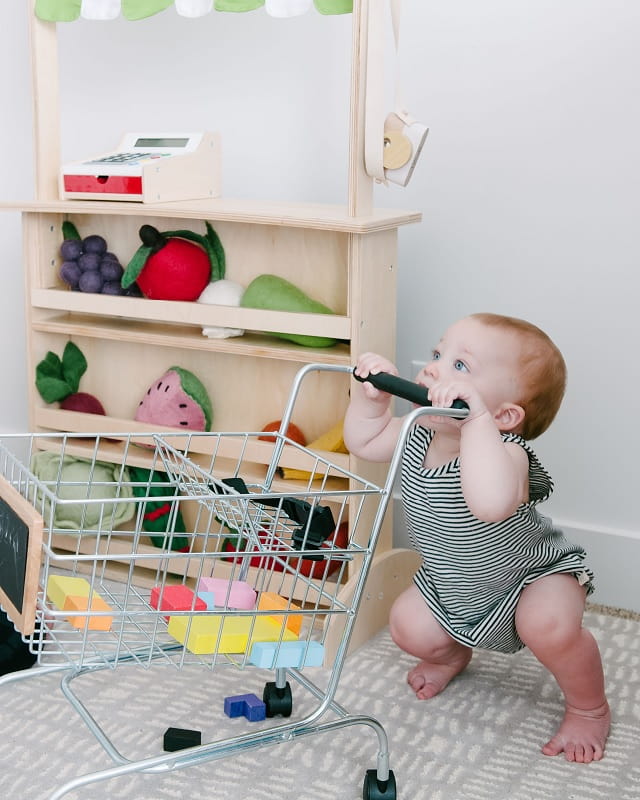 Your baby has likely gone to the grocery store with you more than a few times. Small children love to mimic their parents in everything from brushing their teeth to cutting up food.
Setup a market for your baby to shop with pretend food items. If you're crafty you can use cardboard to create cutout produce or simple sort items into containers and give your baby a basket so they can shop.
Related Articles
5. Clean Up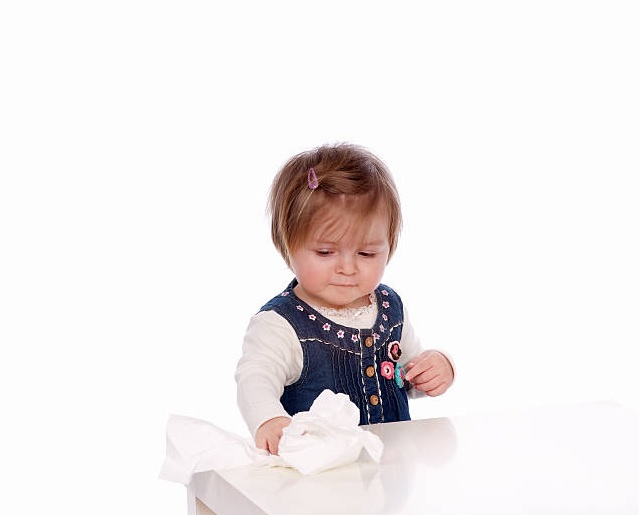 At one year old age you won't have to do much to get your baby to clean up. Give your baby a dust rag and show them how to polish tables and chairs.
A full-size broom will be too heavy for little arms to lift but a handheld one works perfectly for a baby. Make cleaning up fun with music and your child will become excited to play the cleanup game each time they hear the cleanup song.
6. Pots and Pans as Instruments
Playing instruments is excellent for the cognitive function and motor skills of small children. Pull out some of your sturdier pots and pans and allow your baby to play with their hands or wooden spoons.
Love the idea of DIY instruments but not all that excited about the sounds your steel pots and pans will make? Try using plastic bowls instead for a more muted sound.
7. Coloring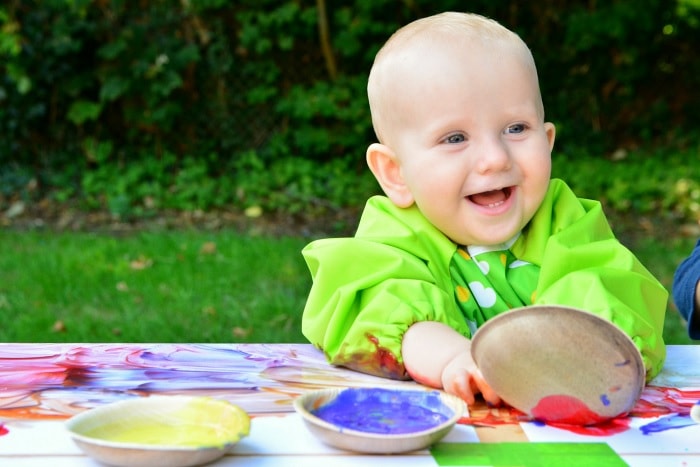 Never underestimate the appeal of plain paper and crayons to a one-year-old. Provide your baby with a coloring book of their favorite characters or simple paper and they will go to work creating little masterpieces.
Just make sure whatever coloring tool you give them is washable as children at this age don't quite understand what should and shouldn't be a canvas.
8. Sorting Games (Color pom poms in a water bottle)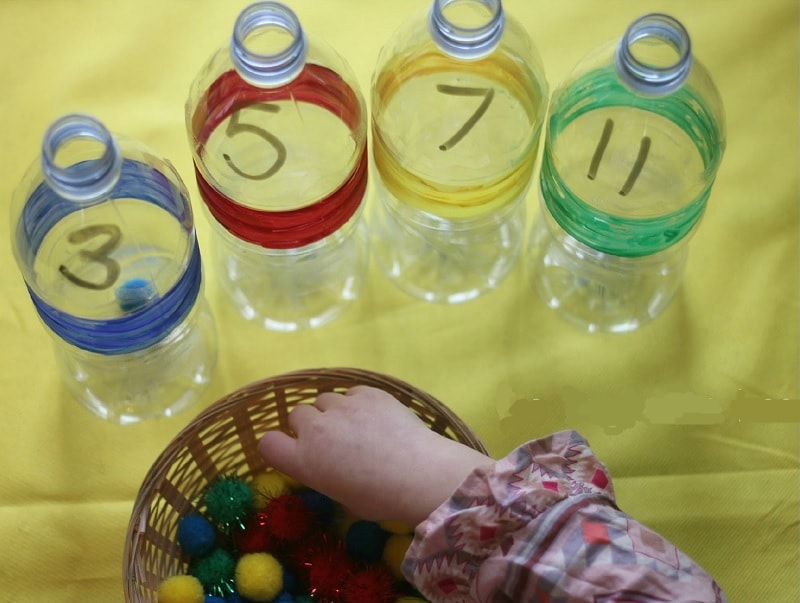 Sorting games help build analytical skills as your child uses logic and critical thinking to decide where objects belong.
Children naturally love to sort and may do so without any prompting from you. There are many different ways you can help your child sort. Color and shape are just two.
Color Pom Pom Sorting Game 
Begin the game by putting a few pom poms in each bottle, using a different color for each bottle.
You will need:
Recycled water or drink bottles
Color pom poms
9. Water Table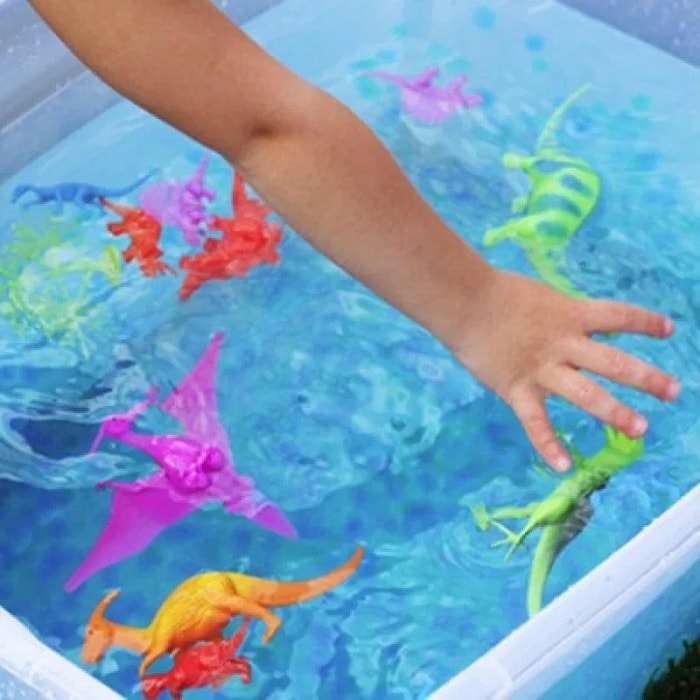 Water tables are fun ways for your child to play safely in water without having to put them in the tub.
A shallow plastic storage bin with an inch of water and water safe toys are all you need to provide your baby with hours of sensory fun.
10. Sensory Bags and Bottles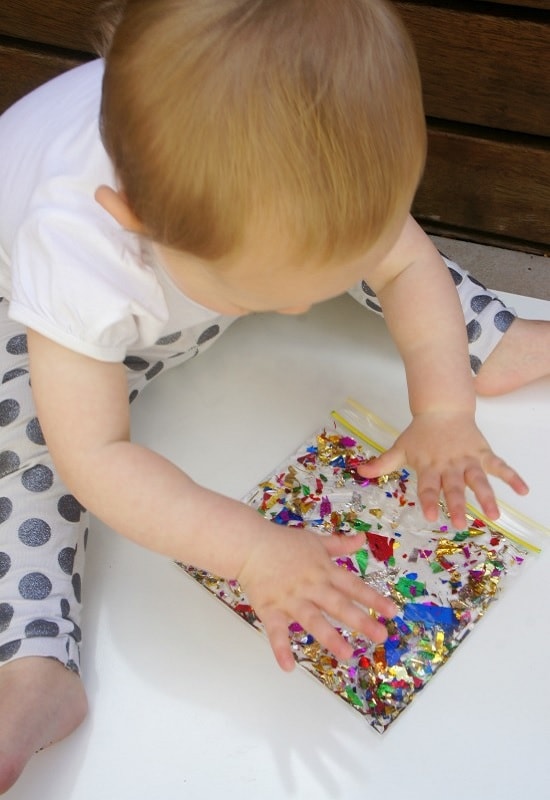 Sensory bags and bottles are filled with gel or water along with glitter, beads, buttons and other objects that engage curious young minds to explore and imagine.
You can fill sensory bags or bottles with anything you think your child will find interesting. Themed sensory bags and bottles for holidays and birthdays will help mix things up.
Sensory Bag
Sandwich bags
Hair gel
Packing or duct tape
Filling objects: Googly eyes, shoelaces, tiny plastic toys, buttons, confetti, etc.
Fill the sandwich bag with hair gel and filling objects and close. Seal with a double layer of packing tape around all four edges of the sandwich bag for additional support.
For sensory bottles fill a recycled bottle with water and filling objects and seal with the cap. Glitter works well with sensory bottles.
11. Building a Fort
Using blankets, sheets, or boxes to build a fort is an imaginative way for your toddler to pass the time while indoors. Pretend play is important for child development.
A regular old blanket can easily become a castle or a pretend house for little ones and help build their social and communication skills.
Use empty laundry baskets in fort building
Yarn tied between table or chair legs helps keep little tents stable
You May Want to Have A Look at These
12. Puzzles
There are lots of age-specific puzzles available for your one-year-old to enjoy indoors.
Jigsaw puzzles can help improve your baby's hand-eye coordination, fine and gross motor skills, problem-solving skills, and memory. Make sure to get larger piece jigsaw puzzles that have fewer pieces.
13. Toilet Paper Drop Chute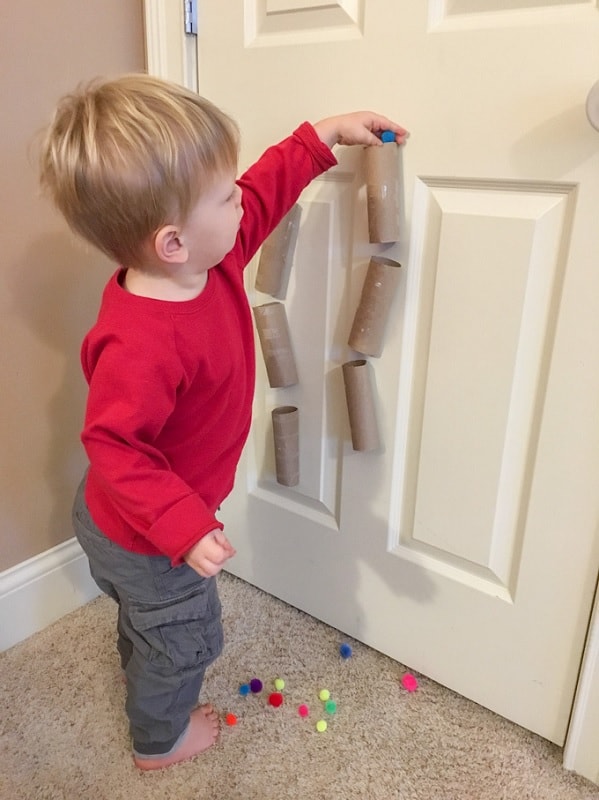 This creative DIY can potentially keep your one-year-old occupied all afternoon.
Take several saved toilet paper rolls and tape them onto a way at a downward angle to allow for pom poms or other round objects to be dropped down them.
Get creative by coloring your chutes and making a sorting game with baskets at the end of each chute.
14. Moving Items with Tweezers
Pick up a pair of large plastic tweezers at your crafting store or if you have kitchen tongs you can create a fun indoor activities for your 1 year olds that helps improve their motor skills.
Transferring objects using tweezers into containers such as ice cube trays will delight most toddlers. You can even make it a part of lunchtime by using food such as cut fruits and veggies.
15. Clothespin Game
Another indoor game that improves fine and gross motor skills, the clothespin game requires a container that your baby can clip clothespins onto.
Fill the container with clothespins and show your baby how to clip a few. The pinching motion required to open a clothespin is a developmental milestone for babies at this age.
Make the game more interesting by decorating the clothespins with colors and designs.
16. Water Painting
Painting is a great indoor activity for babies but the thought of a messy cleanup may not be appealing but here is a neat trick that will entertain your baby and save you the headache of a paint clean up.
Give your baby colored construction paper, a tiny bit of water, and a paintbrush or sponge. Painting with water provides all the developmental benefits of painting without the mess.
Related Painting Articles for Toddlers
17. Sensory Board Books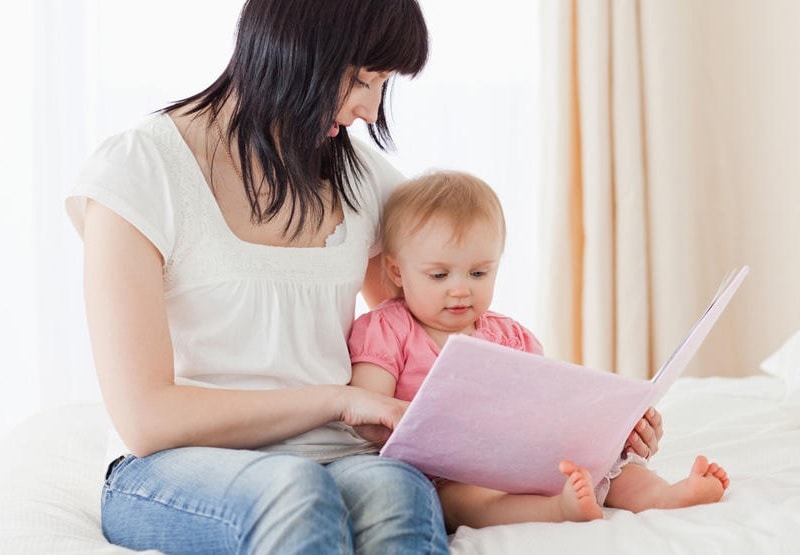 Keep books on hand that have buttons little fingers can push. Books that play music, squeak, or have other engaging sensory features are a big hit with children of this age.
Books with paper thin pages may not be appropriate until your baby develops better motor skills.
18. Rice Sandbox
A rice sandbox is an alternative to traditional sand. It's easier to clean up and your toddler will enjoy using cups, funnels, and rakes to move it about. Dying the rice gives a visual pop and is easy to pull off.
19. Stacking Cups
If you don't have any plastic cups you can buy a package of cheap party cups for your baby to play stacking games with.
Draw faces, numbers, or letters onto the cups with your 1-year-old baby for a fun indoor activity.
20. Colored Water Mix Up Game
Little ones love playing with water. Add color into the mix and your baby may not want to give up this fun game.
A few containers, food coloring, and a water dropper are all you'll need. In three separate cups add yellow, red, and blue food coloring and in a few other cups just plain water without the food coloring.
Show your baby how mixing yellow and blue makes green then allow them to create their own combinations.
21. Lacing Paper Plates
Your baby may not be able to tie their shoes at one-year-old age but lacing games can not only get them ready by improving their motor skills it is a fun game that keeps little hands busy at home.
Take a paper plate and puncher multiple holes in it and use a couple of shoelaces to thread throughout. You can create a pattern with the holes and you're not limited to using paper plates as your medium.
No matter the weather, the interests of the child, or what the parent or guardian wants to do for the day, these 21 are all great choices for indoor activities for 1 year olds and are sure to help break the monotony.
Have you ever tried out any of these fun activities to do indoors with a child? Let us know in the comments below, or share this article on social media so that you can help other people who need ideas when choosing a fun activity to enjoy with their child.